December 16, 2004
Stuttgart, Germany to Atlanta, Georgia
Delta 117
B 767-300ER
Flight time: 10:29
Seat: 20G
On December 8, I flew from Atlanta to Brussels, and then I traveled through Belgium, Luxembourg, France and Switzerland to Stuttgart, Germany. It was a pleasant vacation, and a joy to drink much 'vin chaud' or 'gluehwein' depending on the side of the Asatian border.
On Thursday, December 16, I took a taxi to Stuttgart Airport from my hotel in a nearby suburb. As I am Medallion on Delta, it only took a few minutes to check in for my 1140 flight, and I was out of the line by 0930. Therefore, I walked around Terminals 1, 2 and 4 of Stuttgart to pick up some timetables, drink an espresso and read the
Financial Times
.
It only took a few minutes to clear the first security check, and then another 10 minutes to clear the second one for Delta's flight to Atlanta. After that check, I passed through German immigration, and then entered the waiting area at Gate 110. If you a leaving the EU at Stuttgart, you should be aware that here are not any shops or restaurants after the exit controls.
At 1050, the agents called for Business Elite passengers, and then Medallion got to board at 1100. The agents rechecked my passport, and took my passenger information card.
I was among the first to board in coach.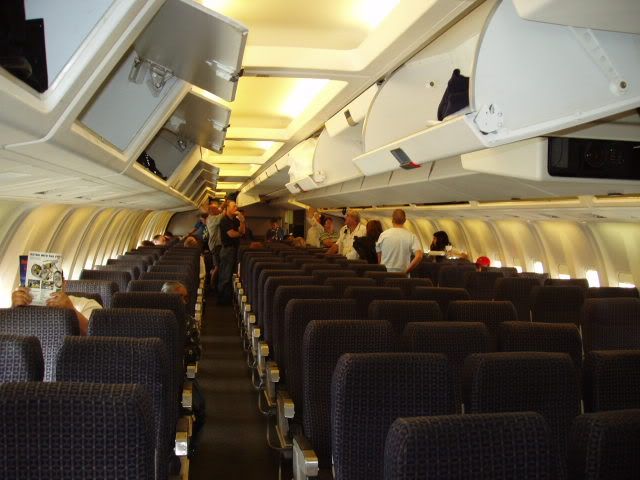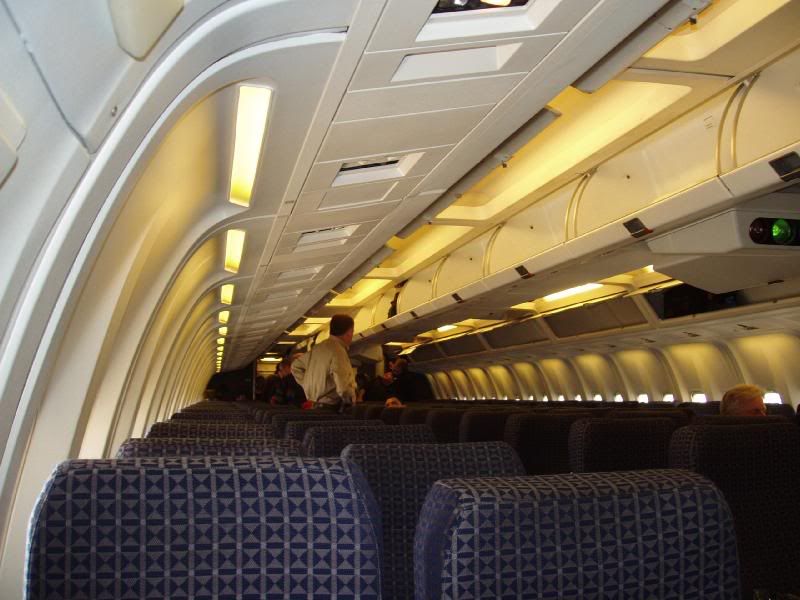 My seat was located in the forward mini-cabin, which was quite cozy.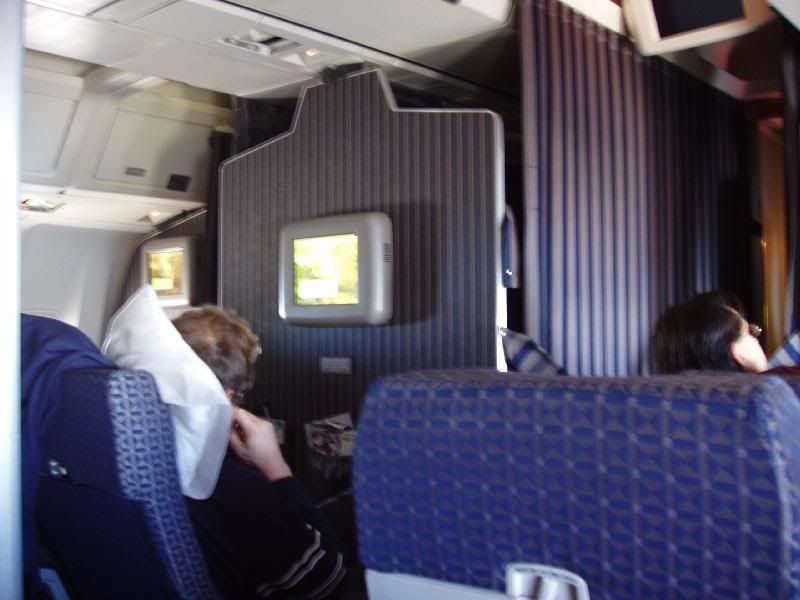 My seat, 20G, was an exit row, and it had plenty of leg room.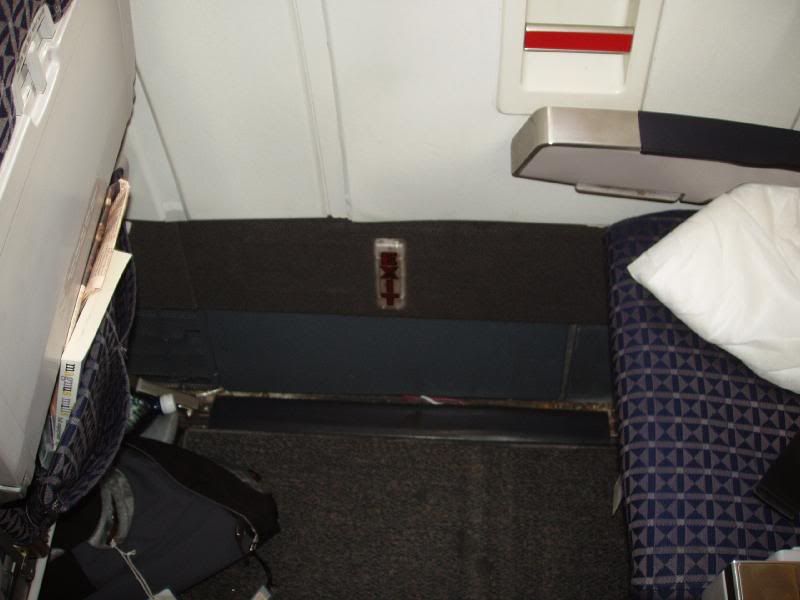 Delta's B767 fleet does not have individual entertainment systems, so one had to watch one of two screens.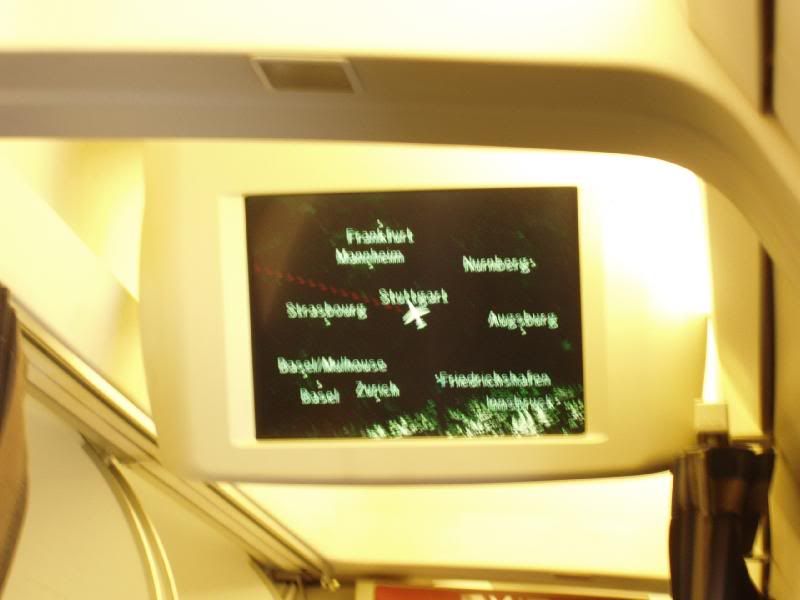 However, my inflight entertainment was limited to Magnus Mills'
The Scheme for Full Employment
and the Condor and Lufthansa timetables.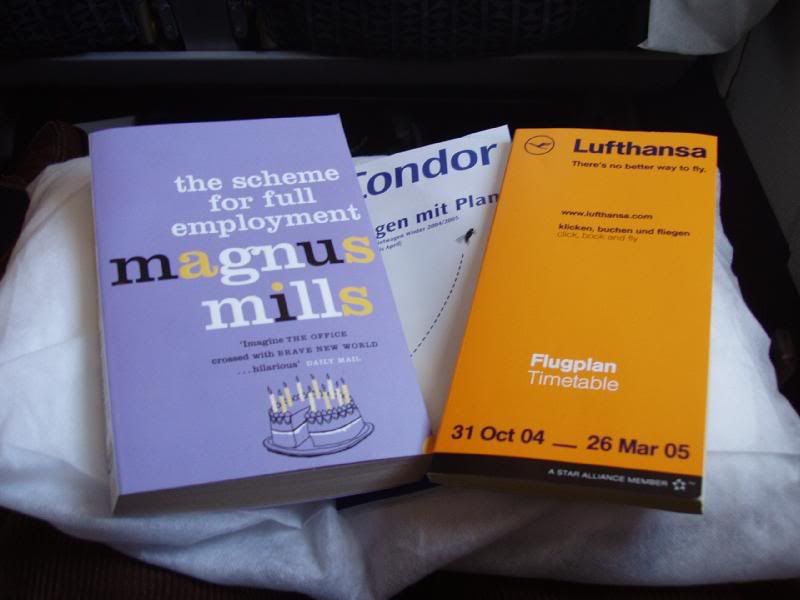 After putting my bags away, I took a photo of a Lufthansa 737.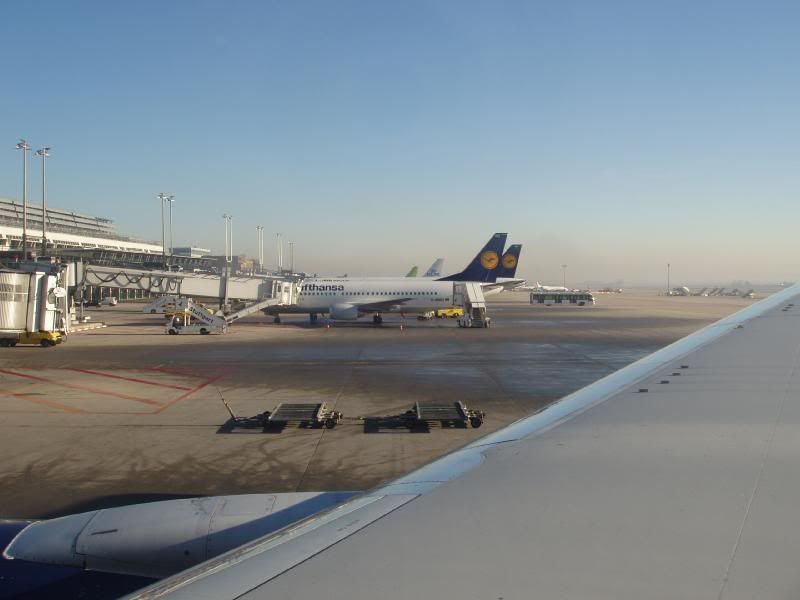 At this point, the captain greeted us. He informed us that the headwinds were exceptionally strong today, so our flight would take 10:25 minutes rather than the normal 10 hours. He also said that we would travel on a more southerly course, rather than a more typical routing over Greenland and Labrador.
As we pushed back on time at 1140, I snapped this photo of a Lufthansa 733 that had just arrived.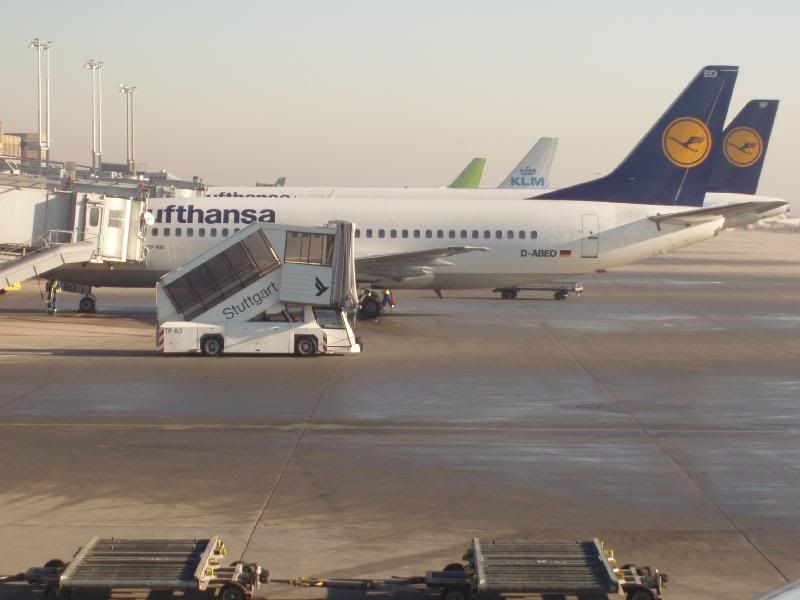 We taxied to the runway, and were number one to departure. The takeoff roll took about 30 seconds on that cold German morning.
Initially we climbed to 34,000' as we flew west over Strasbourg to Paris. The crew quickly began to serve drinks, and I paid $4 for a bottle of Chilean Merlot to have with my lunch of pesto tortellini, a
small
green salad, a roll and an unidentifiable moose.
During lunch, the crew started
The Bourne Supremacy
, so I took a break from my reading to watch it on the monitors. I have to say that
The Bourne Identity
was much better, but the sequal was still a good way to waste two hours.
After the movie, we just cruised over the North Atlantic for what felt like hours on end.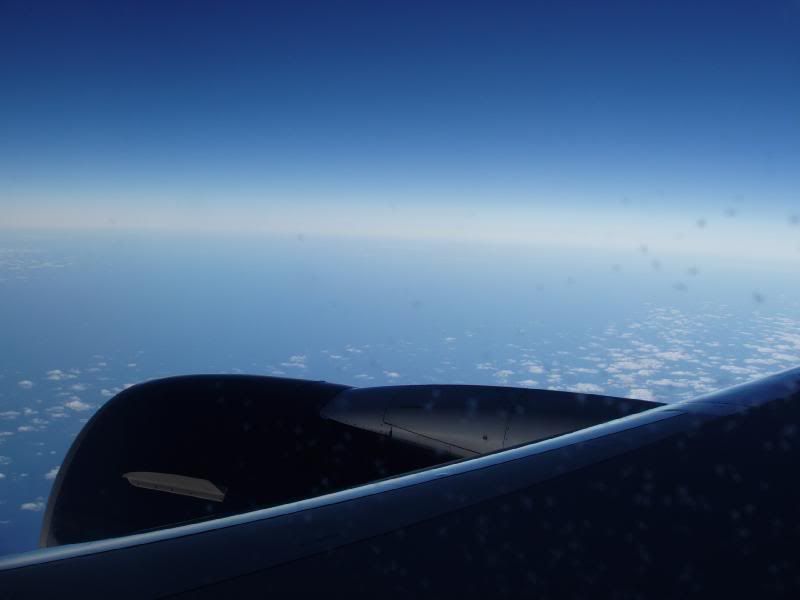 The crew did come by with water periodically during the flight, and served drinks and peanuts about four hours before landing.
Ninety-minutes before arrival, the flight attendants offered mini-pizzas, cookies and drinks again. They also passed by twice with coffee and tea.
Approximately, 30 minutes before landing (1600 EST), we began to descend over the Smokey Mountains.
We flew south of downtown Atlanta and then turned for landing to the east at 1630 EST.
I was one of the first off of the airplane, and I passed through immigration, customs and boarded the MARTA train in less than 30 minutes.