My second trip report. Sorry for the bad quality in some of the pics, as they were scaled down from a very large size, and the smaller ones were extracted from a video.
Enjoy!!
Summary
In July 2004 I went to Fiji for two weeks.
This was about the 50th+ time I had been to Fiji, and my third trip out of five during 2004. So Far this year I have been twice, but there may be some trip reports for those flights and others to other destinations later on.
4th July 2004 (Independence Day)
Departing: Auckland AKL - New Zealand
Arriving: Nadi NAN – Fiji
Flight Time: 3:00 hours
Airline: Air New Zealand
Flight Number: NZ66
Cabin: Business Class
Seat: 12K (upstairs)
Aircraft: B747-475
Registration: ZK-SUH
I arrived at Auckland Airport about two hours prior to the flight and headed for the First/Business class AirNZ check-in lounge. The line was hellishly long with people pouring in from all directions, and the small area was cramped fill of people, so much for a premium line. Air NZ needs to do something to expand this area, as every time I go, it is like this. I waited about 20 minutes before it was my turn to check-in.
It was quick, and the check-in chick gave me my pre-assigned seat of 12K. She circled the gate number on by boarding pass, gate one (why do they always do this?), and I thanked her and left. I paid my departure tax then got my passport scanned and went upstairs. Security was a breeze with no major problems. I looked in the duty free shops for about five minutes, but didn't need anything, so I headed up to the Air New Zealand lounge.
After showing the front desk staff my boarding pass and Airpoints card, I went inside. It was still only about 9am, so they had breakfast out on the tables. I put some pineapple, a croissant, and danish pastries on my plate made myself a coffee, grabbed a newspaper and took a seat by the window. The lounge was only about half full, so there was plenty of room to spread out, read the paper and see 'what's going on in the world today'.
View from the lounge on an overcast Auckland day. My aircraft is the first B744 at gate 1.

After about just over an hour, they announced that, "Passengers on flight NZ66 to Nadi should go immediately to gate lounge one", so off I went. Not long had I arrived when they made the announcement "NZ flight 66 is ready to board. We now invite Business class travellers and star alliance gold members to board now or at anytime". I jumped in the queue, got my passport and boarding pass checked, then preceded down the aerobridge to ZK-SUH. As I stepped on, I was greeted by the friendly crew, and the nice soothing music in the background. Up the stairs I went, and located my window seat of 12K. I love the little lockers between the seats and the walls on the upper deck, and you can store your bag without having to get up and open the bins every time you need something from it. I took a pre-flight drink of fresh orange juice.
After about 15 minutes all the passengers had boarded and the doors were then closed.
The captain made his announcements, and then the safety video was played.
No one was in 12J, so it was a nice chance for some space and 'spread out' room. We taxied to runway 23L and in no time at all we were up in the air.
I can't remember what movie I watched on the ptv, but do remember I had blueberry pancakes for Breakfast. I was also asked to fill out a survey.
Somewhere between New Zealand and Fiji:
The flight went quickly and soon enough we had passed the island of Kadavu, then the colourful coral coast of Viti Levu, and were on approach to Nadi Airport.
Here are some pictures while on short finals, and landing at Nadi. Sorry for the bad quality as they were extracted from a video of the landing.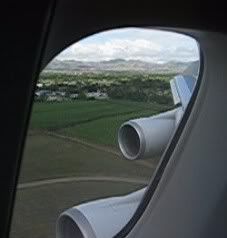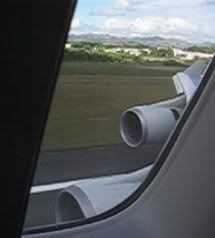 After we landed, we briefly taxied to the gate. I didn't have to wait too long to disembark as Business Class passengers were allowed to leave first. As soon as I stepped out the door, the nice warm and humid tropical Fiji weather hit me. It was so nice, after a cold winter's day in New Zealand.
My plane after I disembarked on what was an excellent ride onboard SUH.
I proceeded through to immigration where as usual, the band was playing Fijian music. I jumped in a line, and quickly enough, got my passport stamped. After going down stairs, I had to wait ages for my bag, even though it had an Air NZ business class label on it, so it should have come put first, never mind. It was hot, and the fans were barely on. After getting my bag, I went through the very basic customs procedure of telling the guy I had no food, drugs, or porn (yes porn, I don't know why they ask me this) then he let me go through.
The Nadi airport arrivals area is ridiculous. It is full of locals and taxi drivers trying to pick up a tourist scam. I pushed my way through, rejected all the taxi drivers along the way, and headed for the Air Fiji check-in desk.
Departing: Nadi NAN - Fiji
Arriving: Suva (Nausori) SUV
Flight Time: 25 minutes
Airline: Air Fiji
Flight Number: PC???
Cabin: Economy
Seat: A cramped window seat
Aircraft: Embraer EMB-110
Registration: DQ-???
I was surprised that they had my flight on the system this time, as almost every time they don't and then they have to ring the Air Fiji office and recheck, the whole process usually taking half an hour by the lazy ass staff. This time there was no problems, and I made sure my bag was locked, so they don't go searching through and take all my stuff while out the back.
Because I had an hour till my flight, I went to the air conditioned café, got some Fiji water..mmmmmm.. (I don't know what they put in it but it's the best water) and took a seat by the window. I watched an Air pacific 737 depart to Brisbane and read a magazine. After 45 minutes I went back to the domestic area where my flight started to board.
Took this photo of the Air NZ B744 I had just arrived on.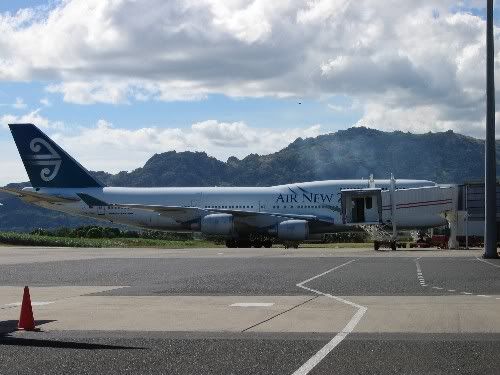 I boarded the small plane, and took my small cramped window seat. The stoned - red eyed looking pilots made their announcement and started the engines. Aviation fuel fumes soon filled the cabin.
We taxied passed ZK-SUH to runway 20.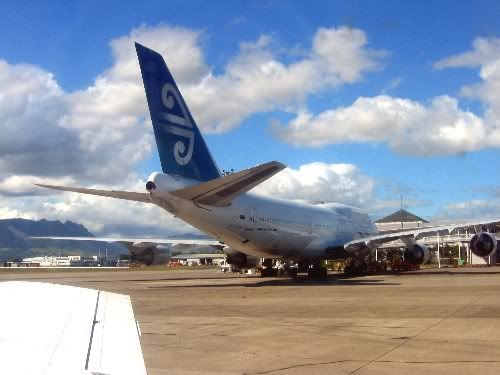 We took off towards the south and over Nadi. After a exciting bumpy rollercoaster ride over the harsh Viti Levu mountain terrain, we landed at Naurori Airport on time. I hoped they hadn't picked my lock and stolen my stuff from my bag, or worse, not put my bag on the plane at all. Thankfully it arrived on the baggage carrousel with all the belonging still inside.
Here are a few pictures I took one night of the famous Fijian sunset, while in Suva.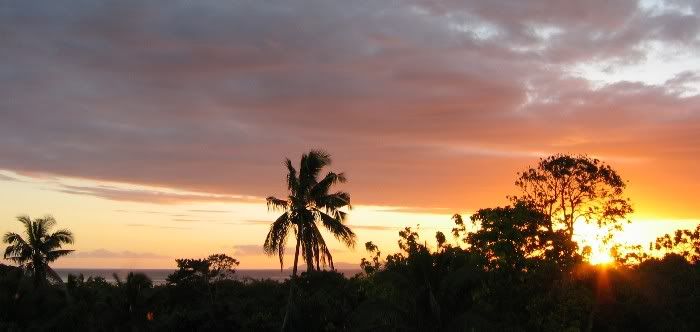 Some more photos: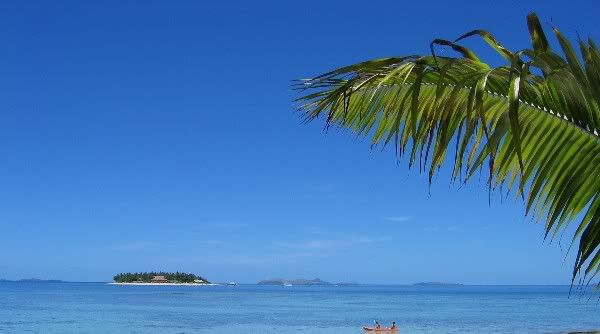 28th July
Departing: Suva (Nausori) SUV - Fiji
Arriving: Nadi NAN
Flight Time: 25 minutes
Airline: Air Fiji
Flight Number: PC???
Cabin: Economy
Seat: another cramped window seat
Aircraft: Embraer EMB-110
Registration: DQ-???
I arrived at Nausori airport at about 10am for my 10:30am flight and checked in. The facilities are limited, but I took a seat near the window and waited. They made a boarding announcement at about 10:25 that was impossible to understand. I went through the metal detector and because there was no x-ray machine, they had to do a rough check on my carry on bag. The guy by the door then crossed my name off the list and told me to sit in 6C.
Soon enough we were up in the Air.
The blurry thing in the middle of this photo is Nausori airport soon after takeoff.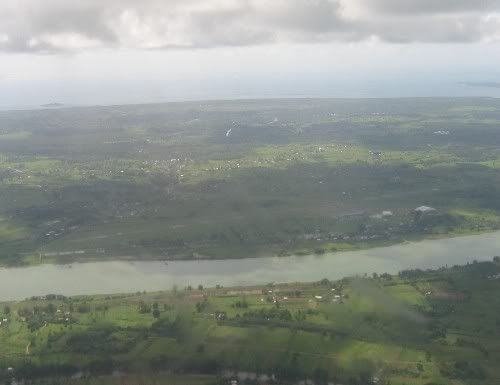 The flight was surprisingly smooth at during the flight we were chasing a Sun Air DCH-6 Twin Otter that was about 700 feet in front and 100 feet above us. The flight deck looked rusty and need of maintenance as usual.
We were soon over Nadi, where we circled around before landing.
After we landed, I got my bag and went to the International end of the Airport.
28th July 2004
Departing: Nadi NAN - Fiji
Arriving: Auckland AKl – New Zealand
Flight Time: 3:00 hours
Airline: Air New Zealand
Flight Number: NZ67
Cabin: Business Class
Seat: 12A (upstairs)
Aircraft: B747-419
Registration: ZK-NBW
The check-in line for economy was extremely long with about 300 people between 4 desks; I felt sorry for them having to wait so long. Thankfully I wasn't travelling economy class and went in the business class check-in line that was completely empty. Took about a minute, and the guy gave me my pre assigned seat of 12A on the upper deck.
I proceeded through immigration and security then I had a look in the duty free shops, got some stuff for friends back in NZ, and then went into the Air NZ lounge. I was the only one in there for about 20 minutes. It is small and dark, with limited window views. I had a sandwich, took a juice and the Fiji Times news paper and waited for my flight. The lounge quickly filled up with more people than there were seats. It simply is too small for the premium passengers of a B744. About an hour later they made an announcement for the Business Class passengers to board, so off I went.
My Aircraft ZK-NBW on my way to the gate:
I stepped on the plane, again greeted my the friendly crew and the soothing background music, then went upstairs and took my window seat and a glass of fresh guava juice. After the rest of the passengers had boarded and the announcements were made, we taxied to runway 20.
View of Nadi Airport from runway 20: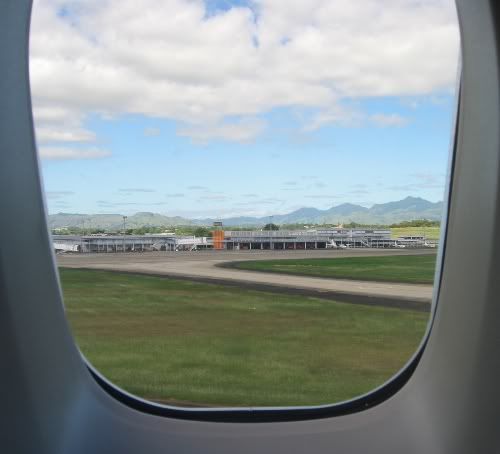 The pilots pushed the throttle forward and we were quickly up in the sky, and passing the Coral coast.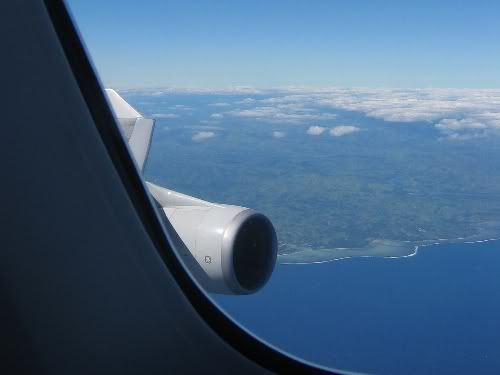 I can't remember much about the movie I watched or the meal.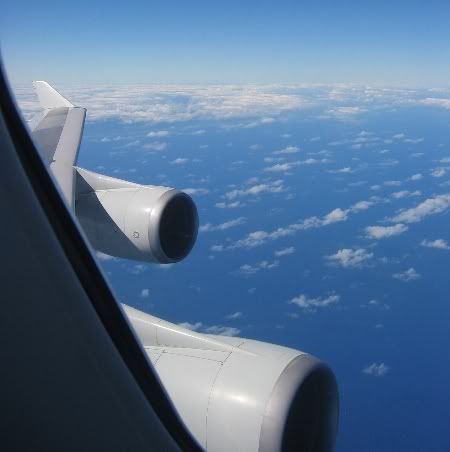 After no time at all we were over Auckland and on approach for runway 5. The weather was shitty, and after coming from sunny Fiji, it wasn't nice.
You can see the airport in the middle of this pic: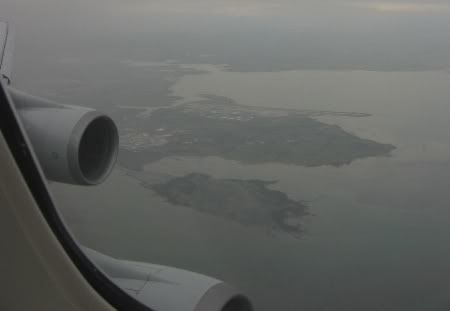 The landing was smooth.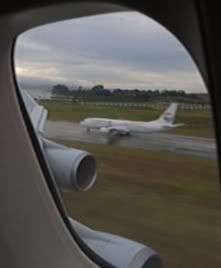 END
Thank you for reading
.