This is the much-belated second half of my trip to Mexico last month. I had flown down to Hermosillo (via Mexico City) to visit a college friend whose job had deployed him to one of their Mexican factories. I booked an itinerary on Mexicana (between Chicago and Mexico City) and AeroMexico (between MEX and Hermosillo) – the first half of the report can be found here.
My four-day stay in Hermosillo started off just fine – there's quite a bit to see in the area, and beaches in Bahia Kino and San Carlos are just a short drive away. On the evening of my second day, however, my host's wife and I got sick… really, really sick – the special sort of sickness that Mexico is notorious for. We barely left the house for the rest of my stay. I was terrified that the sickness would complicate my trip home, but amazingly, it went away ONLY for the day I was scheduled to fly home.
**********************************************
Monday, April 11, 2005
Hermosillo General Ignacio Pesqueira Airport
My friend and his wife dropped me off at HMO early in the morning. I was going out on the first of AeroMexico's daily flights to MEX, and I had plenty of time to wander around and explore Hermosillo's small but pleasant terminal: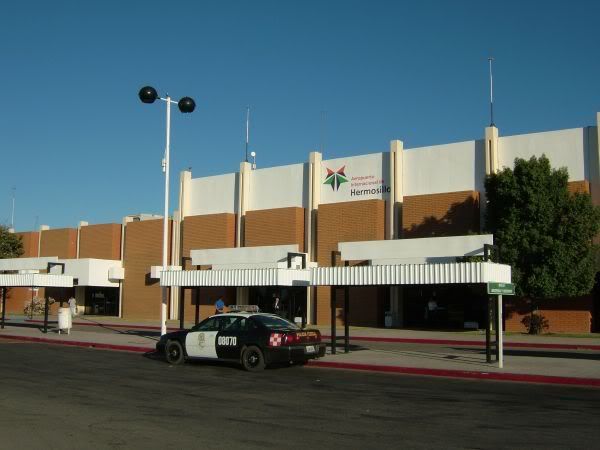 Here's the ticket lobby, with counters for AeroMexico, Azteca, Aero California, Aviacsa and America West: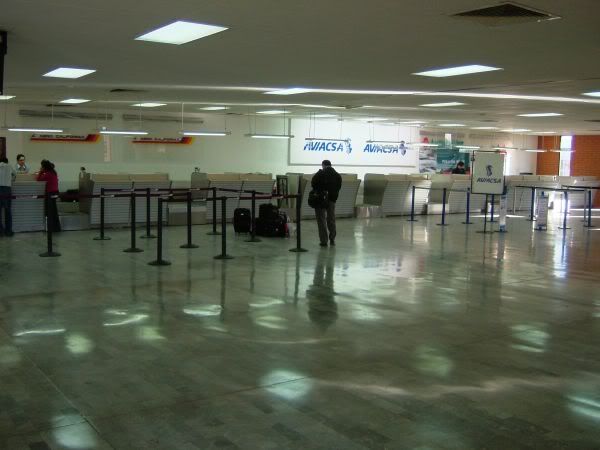 There was no line at AM's counter (I had shown up pretty early) and once I checked my bag I headed through security into the single large departure lounge. HMO doesn't have jetway loading bridges, but there were five or six doors opening onto the apron, each with a separate gate number. Our flight appeared to be the first of the day, although a charter 737 arrived shortly after I took a seat in the lounge.
About half an hour later our MD80 landed (presumably from Mexico City) taxied to the terminal, and unloaded a full complement of passengers. Once the aircraft was cleaned and reprovisioned, the door was opened and boarding for Mexico City got underway: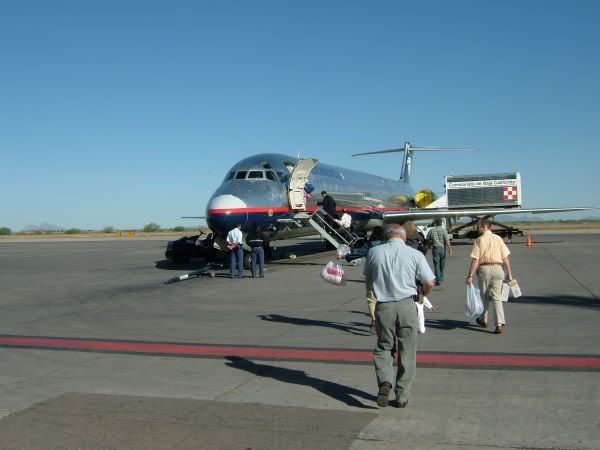 **********************************************
AeroMexico Flight 703
Hermosillo Ignacio Pesqueira (HMO) – Mexico City Benito Juarez (MEX)
Departs HMO 8:10am, arrives MEX 12:40pm
McDonnell-Douglas MD80 (EI-BTY), seat 29E
Flying time: 2 hours, 20 minutes
This was a seriously empty flight; there were maybe 20 passengers on board an aircraft that could seat almost 150. Nonetheless, there was a full complement of cabin crew (AeroMexico puts four flight attendants on its MD80s, versus three on most US carriers) and candies and newspapers were distributed to all of us before pushback.
Looking out the aircraft window, with the aforementioned chartered 737 and an AeroLitoral Saab 340 at the arrivals end of the apron: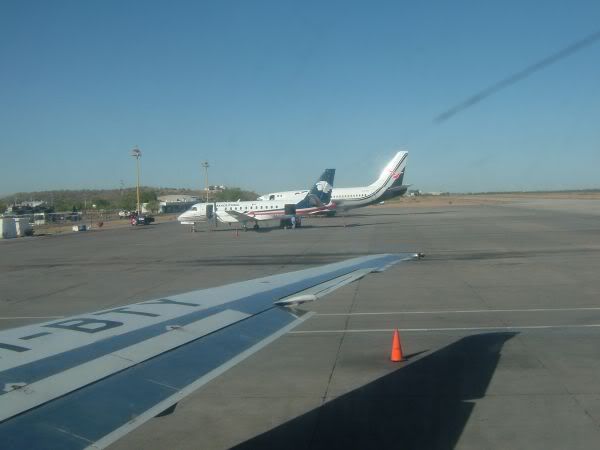 We pushed back on schedule, just as an Aero California DC9 was touching down on HMO's sole runway (I wasn't able to get a picture, sadly). The two engines were started and we slowly turned past the terminal building: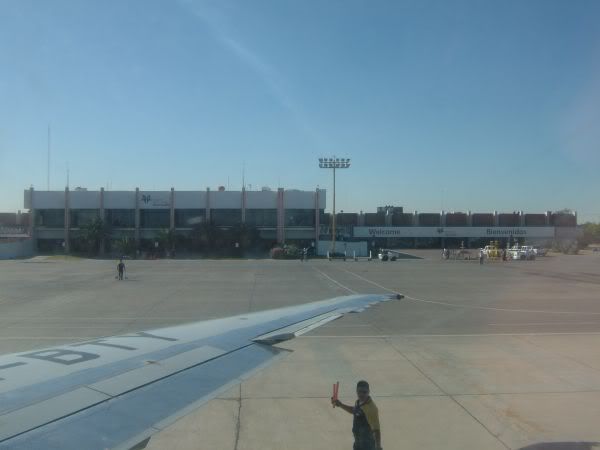 Winds in Hermosillo were blowing from the west this morning, so we had a relatively short taxi to the threshold of runway 23. On the way we passed what appeared to be Hermosillo's old terminal building, now used by charter operations (including the company jet my friend and his wife use to commute home to Michigan):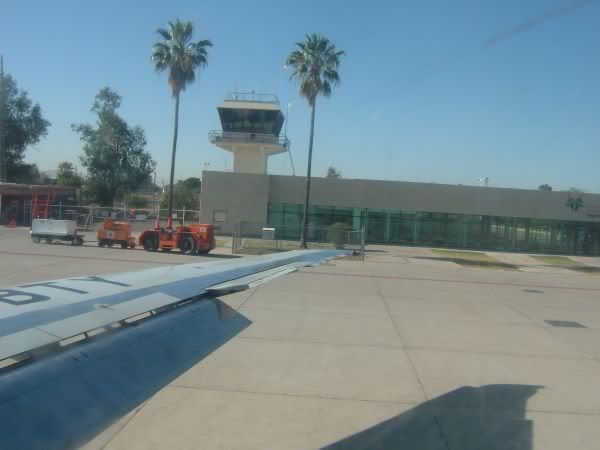 Turning onto runway 23: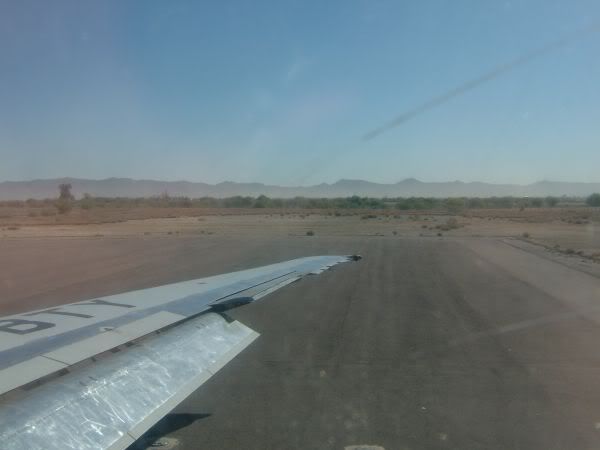 VIDEO: TAKEOFF FROM HERMOSILLO
Departure to the west, over the Sonoran Desert.
http://www.flightlevel350.com/public_viewer.php?cat=85&pic=2530
The highway linking Hermosillo to Bahia Kino passed under the aircraft shortly after takeoff, as we made a long gentle turn back to the southeast: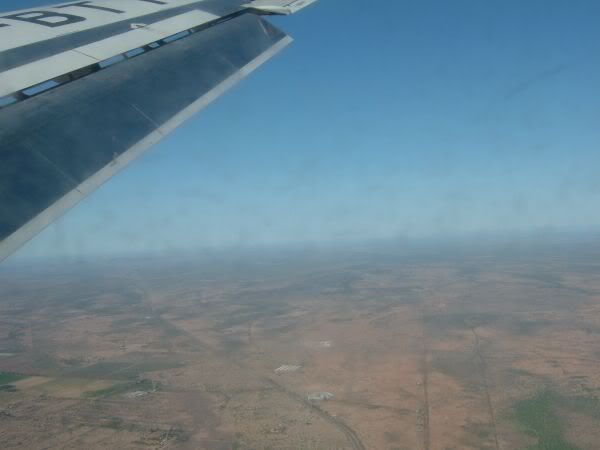 We headed up to our cruising altitude, following Mexico's western coastline about 20 or 30 miles inland. The landscape below looked pretty stark and barren – dry mountains and almost no roads, villages or towns: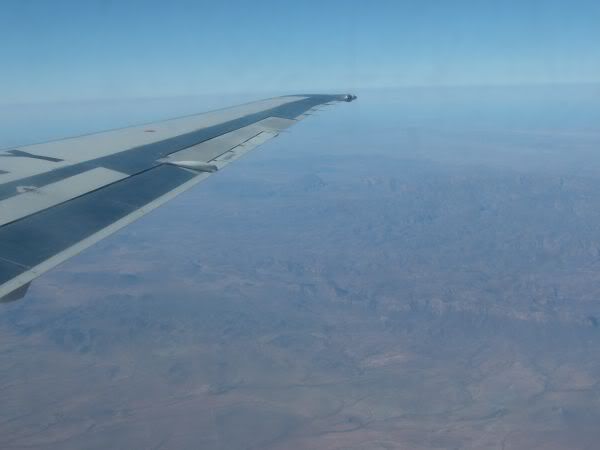 The inflight service began immediately after we got up to cruise. Two cabin attendants came through with coffee, tea, orange and apple juice, and soft drinks, followed by the other two FAs with a hot breakfast. I can't even remember the last time I got a hot breakfast on a 2.5-hour flight in the US. As far as I could tell, there was only one breakfast option this morning – scrambled eggs over beans with sliced potatoes and salsa, a bowl of cold fruit, a muffin and a roll: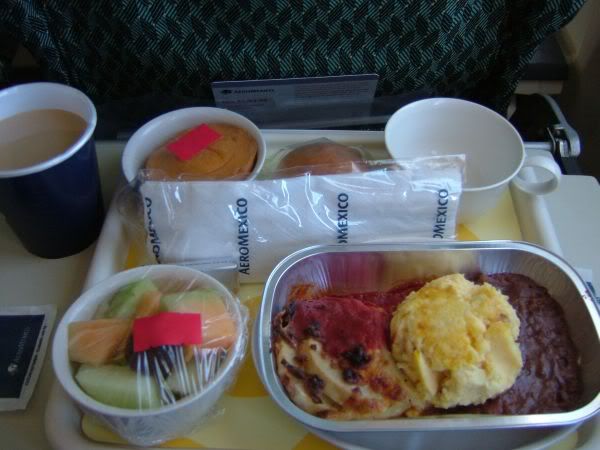 Our route took us over more mountainous country as we headed south, over the Sierra Madre Occidental range: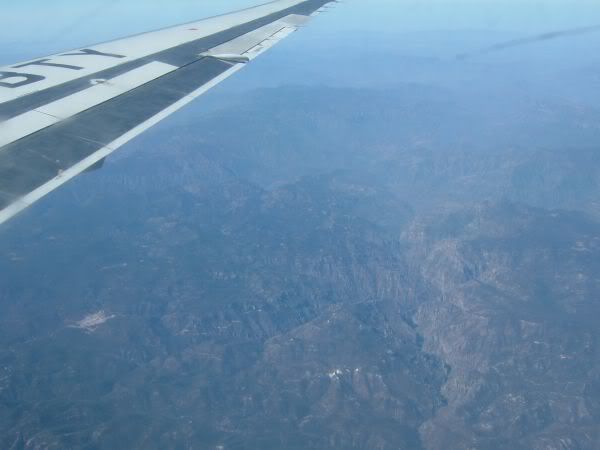 The remainder of the flight passed by slowly; I read the newspaper we'd been given at HMO and watched Mexico slide by down below. Once we cleared the mountains, we passed over two or three larger cities, although I have no idea which ones they were (and the route map in AeroMexico's
Escala
magazine wasn't helpful). There was a distinct lack of divided highways; I saw some big roads bypassing the cities, but as soon as they got into the country they immediately went back down to two lanes. I know there's been a significant amount of highway construction in Mexico, especially in the northern part of the country near the US border, but the south-central section doesn't appear to have gotten much.
About an hour and a half out of HMO the nose pointed down and the captain announced (in Spanish) that we were on our way into Mexico City. It was a nice clear day outside with just a little haze – a nice contrast from the overcast and smog I'd had when I landed at MEX on my outbound trip. As we headed down and the cabin attendants prepared for landing, we flew over the mountains that ring Mexico City (and help make it such a polluted place):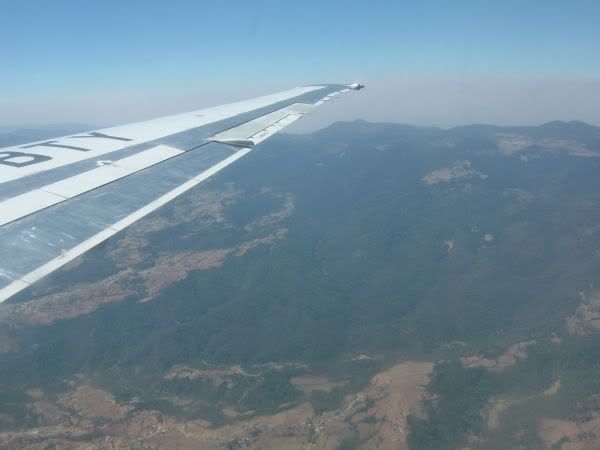 Once we'd cleared the mountains the first fringes of Mexico City started appearing… suburban American-style developments of larger houses, getting closer and more tightly packed as we flew southeast across the city and the flaps were lowered: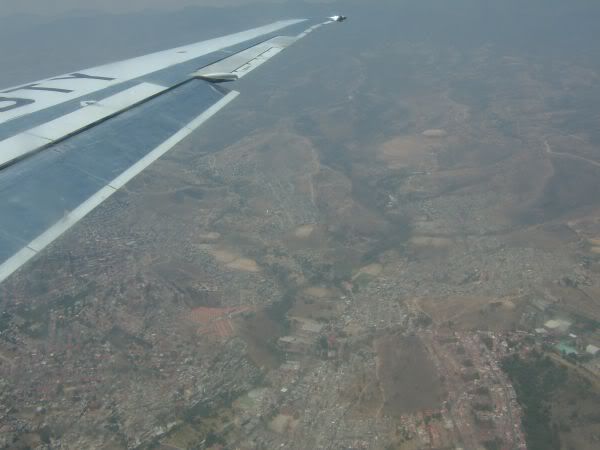 The haze grew thicker as we made a sharp left turn over the city to line up with runway 5R: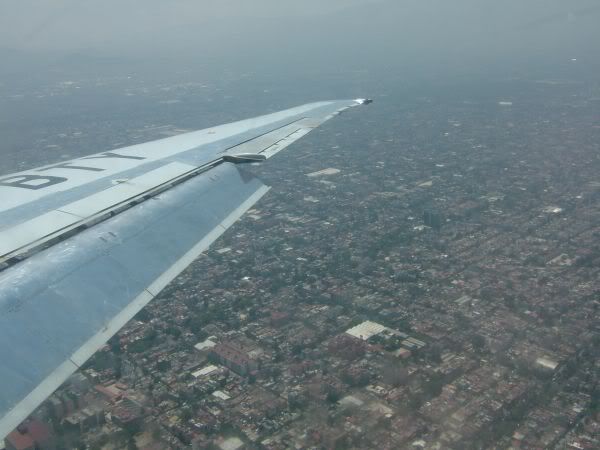 VIDEO: LANDING AT MEXICO CITY
:
Final approach over central Mexico City and landing on MEX's runway 5R. The city is packed more densely than any other city I've ever seen. The video really doesn't give an idea of how many buildings are jammed together down below. We had an extraordinarily long rollout once we touched down.
http://www.flightlevel350.com/public_viewer.php?cat=85&pic=2541
Turning off the runway and passing the houses and apartment blocks that come right up to the airport perimeter fence. There's no question that MEX needs replacing (although these residents have a view most of us would love to have):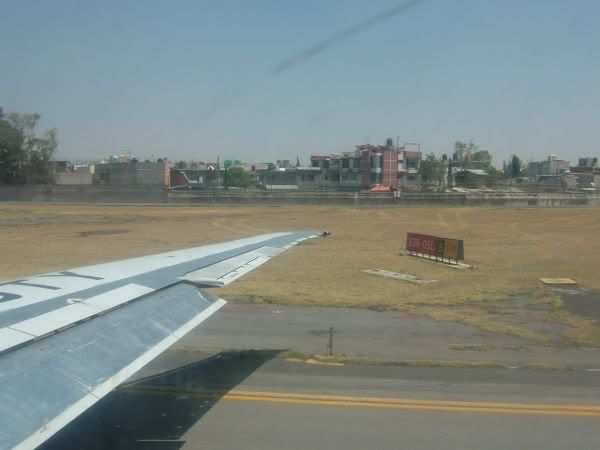 Our MD80 joined the slow queue of arrivals taxiing back toward the terminal, first passing Mexicana's maintenance base…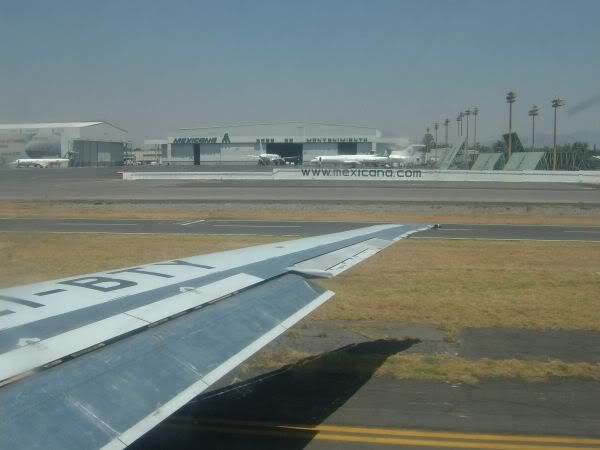 Maybe Braniff didn't really shut down in 1982…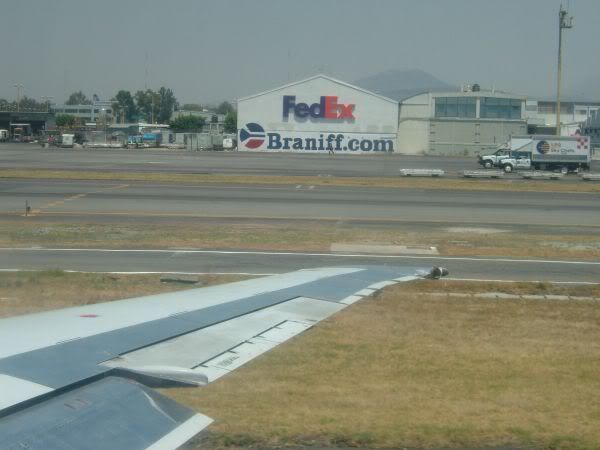 American and Mexicana twinjets parked at the newer portions of MEX's international terminal: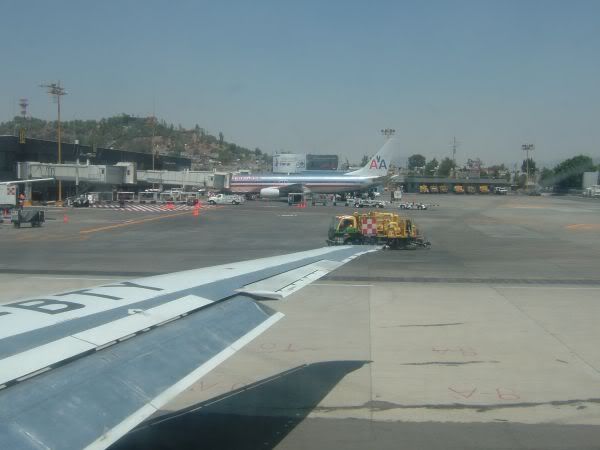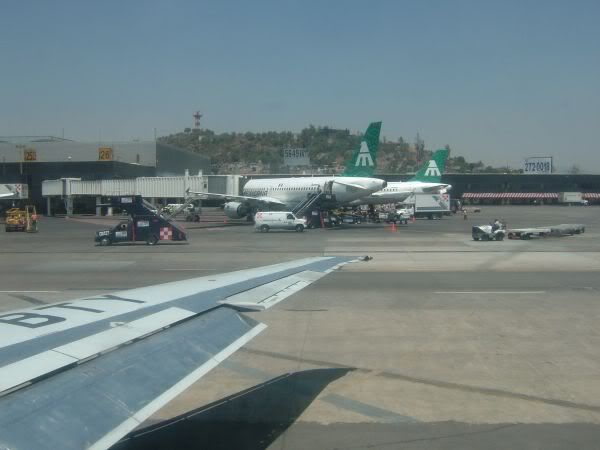 The international terminal itself: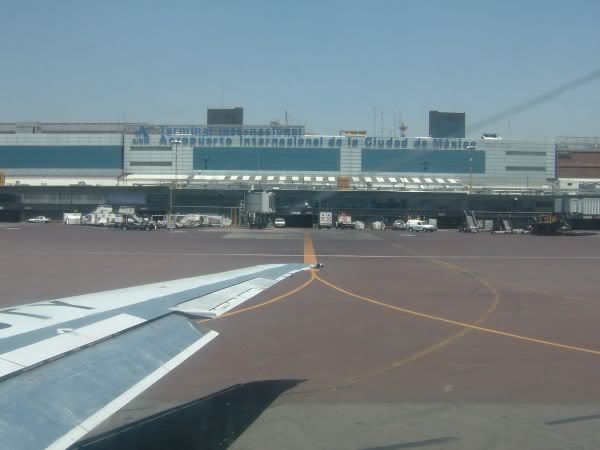 And the domestic terminal: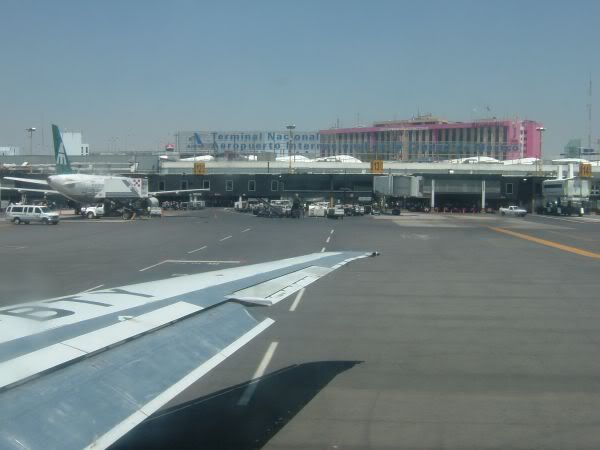 The domestic terminal was full of Mexicana A320s and F100s, AeroMexico MD80s and 737s, and a few more interesting visitors from Azteca and Magnicharters: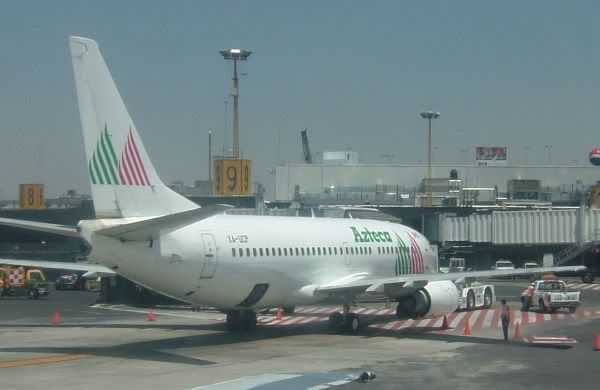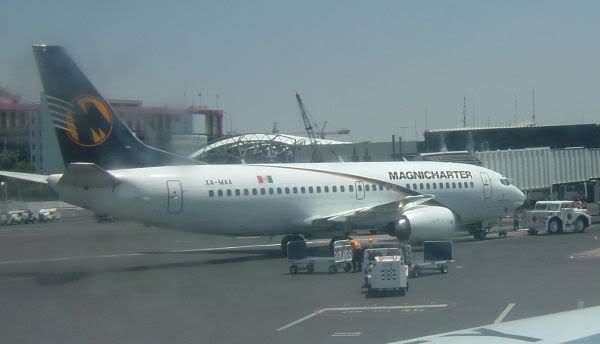 Pulling into the gate: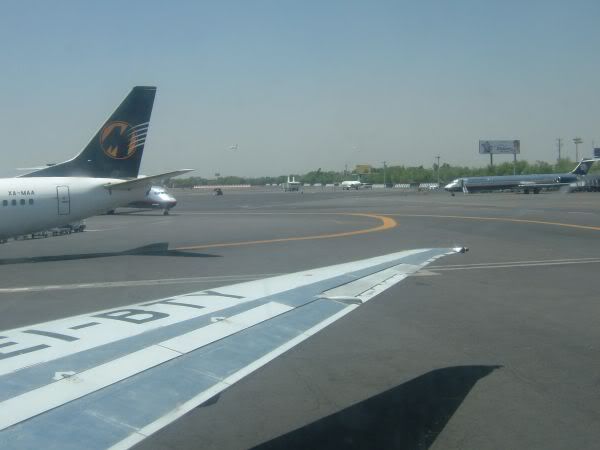 *********************************************
Benito Juarez International Airport
I had about two hours to kill at MEX, so I headed down through domestic baggage claim and out into the main domestic departures hall. The terminal at MEX is under serious construction – an impressive new canopy is being built over the entire domestic wing, including the ticket lobby and departures roadway. To facilitate construction, the front of the domestic terminal has been ripped off, leaving the whole building open to the outside air. As a result, the terminal was hot, humid and dusty – not at all comfortable:
I headed over to the much newer international wing, where the air conditioner appeared to be running very feebly. It was still hot and crowded, especially with passengers from Europe (British Airways, Lufthansa, Iberia and Air France) pouring out of international arrivals as I walked by.
I joined the line for the international security checkpoint; the security procedures reminded me of conditions in the US before 9/11. IDs and passports were checked, but we were hustled through the metal detectors quickly, in the interest of keeping the line moving. Every passenger was given a plastic sandwich bag to put his or her loose change in; I thought that was a nice touch.
Once through security, I found myself back in MEX's international concourse, which is long, narrow and (surprise!) crowded. There were a few moving walkways, although not all of them were working.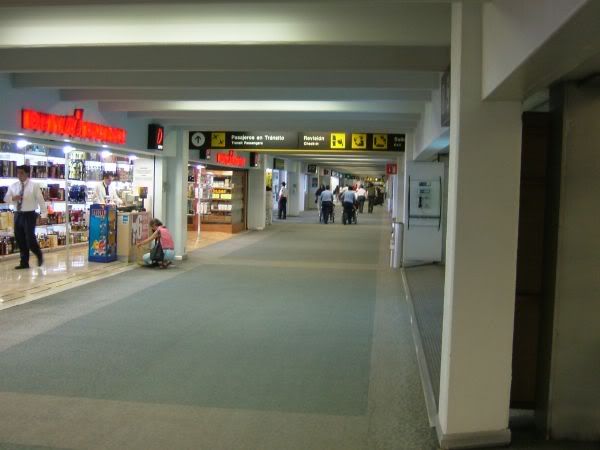 To my surprise, at one of the gates I found an Air Canada 767 in the new company livery, taking on cargo for its return trip to Toronto. This was my first time seeing the new colors, and I didn't find them too impressive: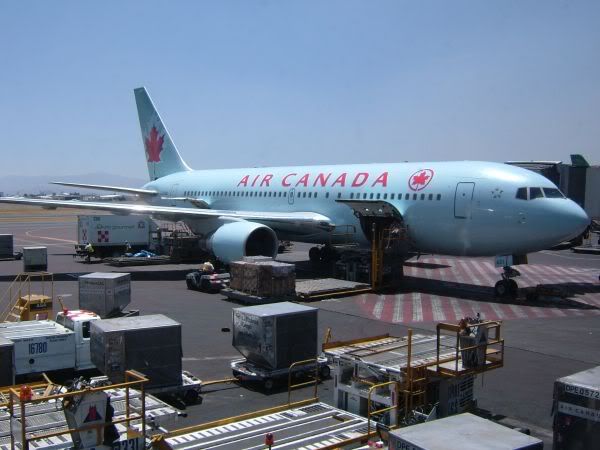 When my flight to Chicago finally showed up on the departure monitors, I was disappointed to see we'd be leaving from one of the mobile lounge gates. Ordinarily I would have been thrilled to be using a mobile lounge, but two hours in the hot, sticky terminal (coupled with my still-not-quite-right stomach) had taken their toll on me, and I was ready to get out of Mexico.
Once we showed our boarding passes, we were herded into the mobile lounge, which slowly filled up with passengers. The doors were closed, but we sat at the gate for another 20 minutes as the heat built up in the lounge. It was miserable – kids were crying and everyone was packed elbow to elbow. Finally the lounge jerked to life and drove across the apron to our remote parking stand at the north end of the terminal apron. The windows were unfortunately too filthy to take any photos.
*********************************************
Mexicana Flight 802
Mexico City Benito Juarez (MEX) – Chicago O'Hare (ORD)
Departs MEX 2:40pm, arrives ORD 6:35pm
Airbus A320 (N291MX, "Morelia"), seat 6A
Flying time: 3 hours, 55 minutes
After several tries, our mobile lounge connected to the aircraft and we were able to board our Airbus. The flight appeared to be almost 100 percent full, and when I headed to my original seat (8A), I was disappointed to find a couple with a lap child sitting in 8B and 8C. The baby was shrieking and crying – ordinarily I don't mind kids, but I was feeling pretty sick at that point, and four hours next to a screaming baby wouldn't help.
The look on my face must have said it all, because a cabin attendant came over and told me that seat 6A, in the bulkhead row, would be empty and I was welcome to take it. I gratefully moved up a few rows, where there was someone in the aisle seat but the center seat remained open.
At the gate preparing for departure, with a Continental 737 at another remote stand: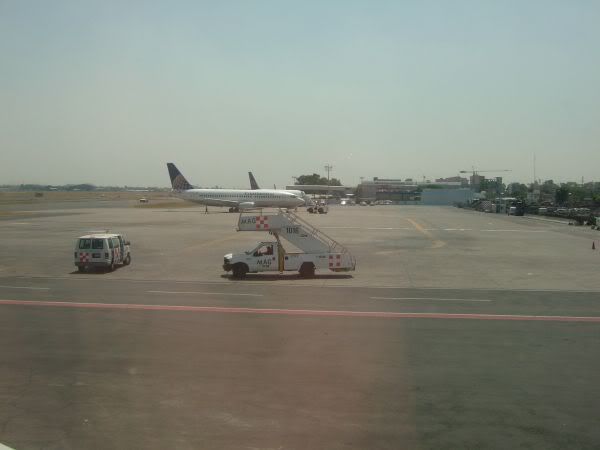 The captain started the engines and we were towed through 180 degrees off our stand and onto the taxiway. The winds had shifted during my layover, and MEX was now running takeoffs and landing on the 23L/23R runways. We joined the line for departure and when our turn came, taxied out to 23L (the further runway) and made a full turn at the end of the strip to line up for departure: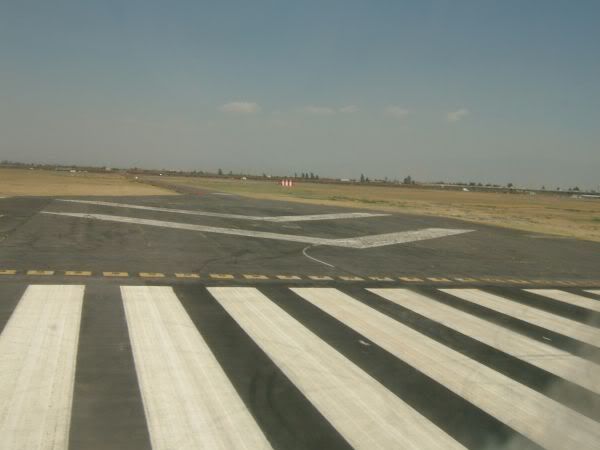 There were about six babies in the cabin and most of them were screaming at this point, so I didn't bother shooting a takeoff video. I did take lots of pictures: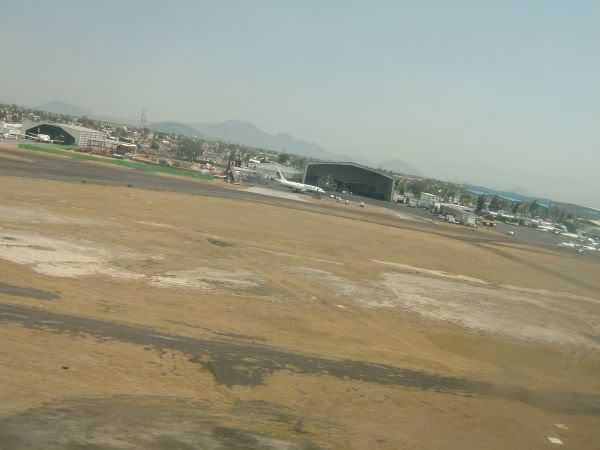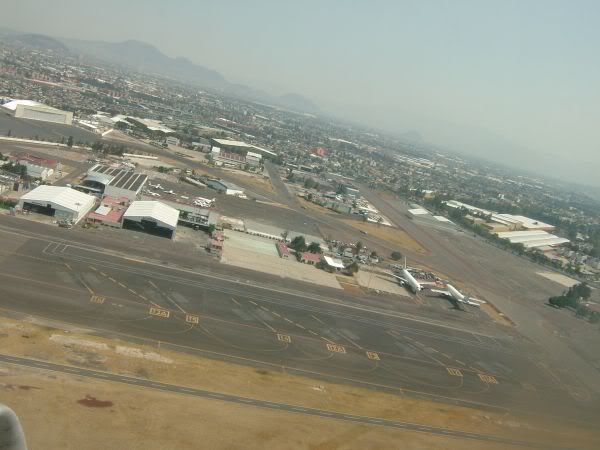 Climbing out over the same neighborhoods I'd flown over while landing earlier in the day: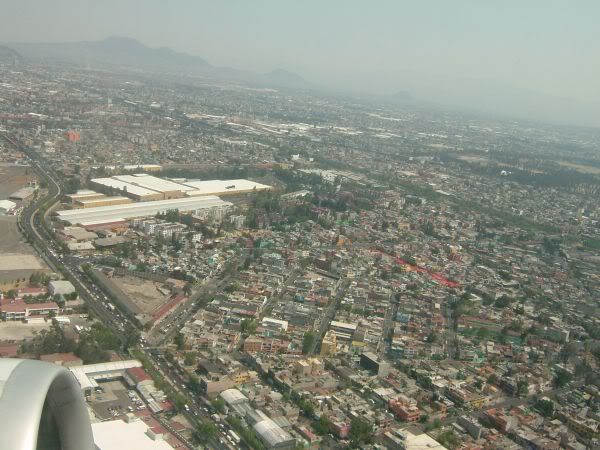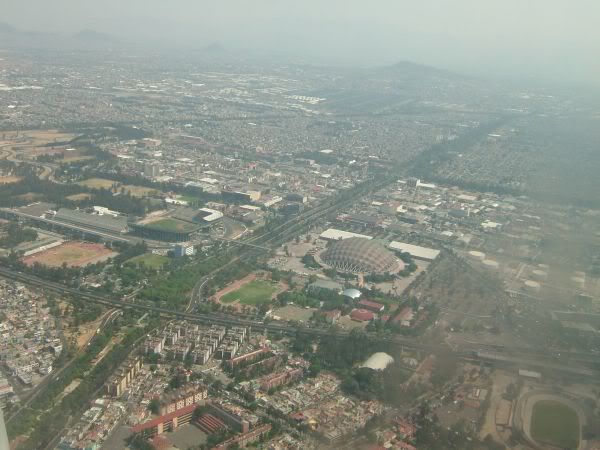 We turned off the runway heading and through 180 degrees as we headed back to the north. As we did I had a nice view back towards the airport: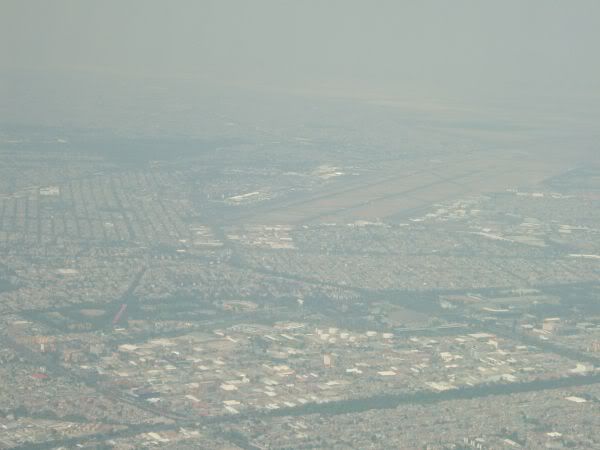 One of Mexico City's infamous shantytowns on the outskirts of the city. I'm not sure which one this is, although it's built up and around the small mountain in the center: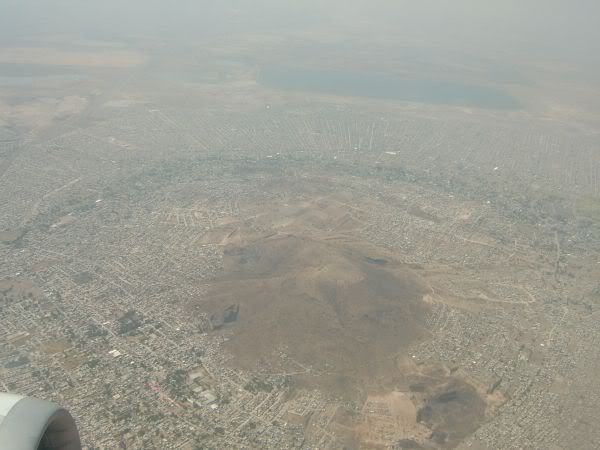 We headed back up to cruising altitude over the mountains north of the city. There appeared to be quite a few fires burning on the slopes; one was so large I could even see the orange and red of the flames, as well as the smoke.
This A320 was far and away the dirtiest of the aircraft I flew while in Mexico. The seats, walls and carpets all had a slightly sticky layer of grime on them, and the bulkhead panel in front of me was scuffed and dented. There were flip-down overhead screens, but they were never deployed, not even for a safety video. Don't get me wrong – I've been on some filthy aircraft in the United States as well, but I had expected Mexicana's A320s to be a little less worn looking, especially for an airline whose motto is "la flota mas moderna en el mundo" (the most modern fleet in the world).
Crossing the Mexican coastline along the Gulf of Mexico: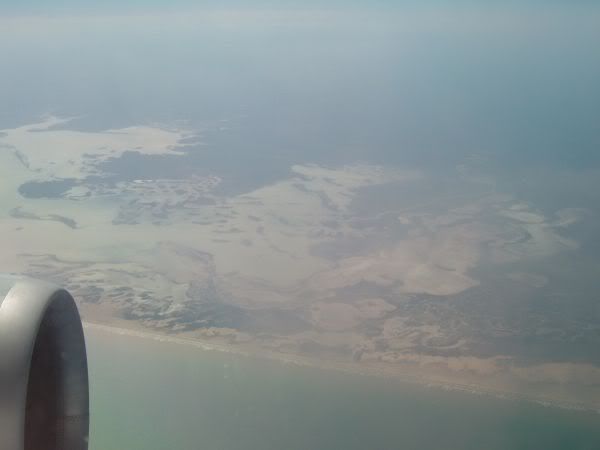 Lunch and beverages were served as we cut across the Gulf, headed back toward Texas. Choices were pasta or chicken; I chose the pasta, since I was still having some trouble with meat at that point. The pasta was pretty unappetizing – it was served over spinach, with a really thick cream sauce, a sesame bun and cookies. My outbound meal on Mexicana (and both meals on AeroMexico) had been delicious, but this one struck out: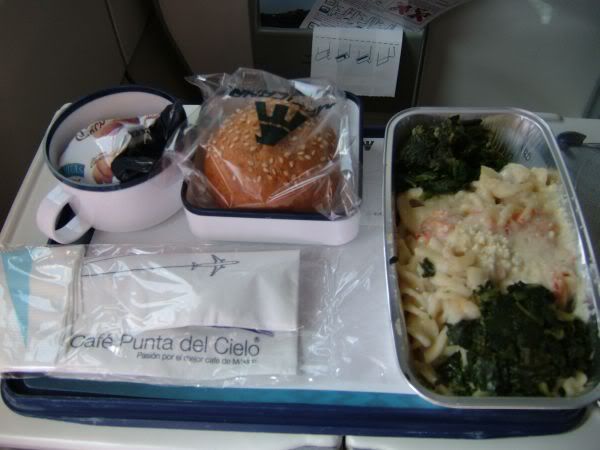 Before long we were crossing the Texas coastline, right over the high-rise resorts of South Padre Island: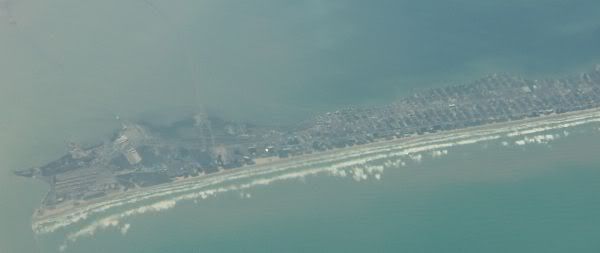 I dozed on and off for the remainder of the flight; we skirted the western and northern reaches of the Houston area, but I was on the wrong side of the cabin to get any kind of view. Clouds moved in as we headed north, and for the rest of the flight there wasn't much to see out the window.
I was pretty eager to get back on the ground by then, so I was relieved when the engines throttled back and we started our descent into Chicago. Aside from one gentle turn to line up with the runway, we flew an almost direct approach in to land on runway 4R.
VIDEO: LANDING AT CHICAGO
:
Coming in over Elmhurst, the Interstate 290 extension and Bensenville before skimming the Irving Park railway yard and touching down on runway 4R.
http://www.flightlevel350.com/public_viewer.php?cat=85&pic=2538
We taxied past the threshold of runway 27L (being used for departures) where two American MD80s were waiting to take off: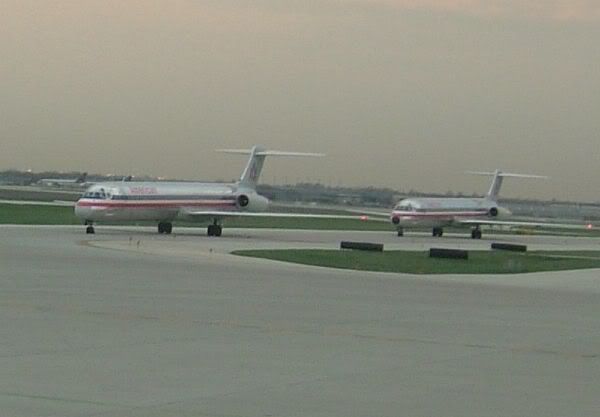 Terminal 5 was full of transatlantic arrivals and departures this time of day; our A320 seemed tiny mixed in with 747s, 777s and Airbus heavies at most of the gates. Our neighbor at the next gate was an American 777 just in from London Heathrow: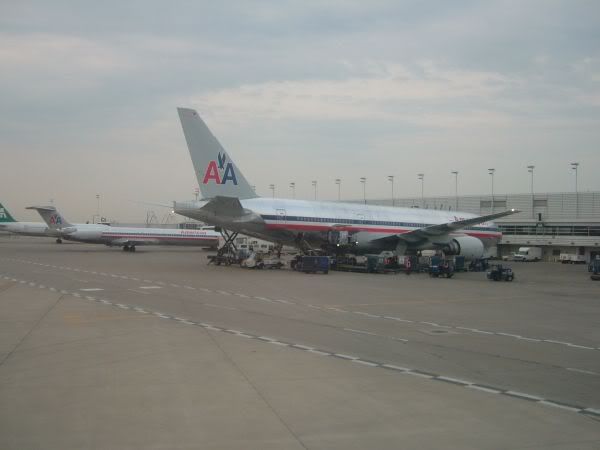 *********************************************
I'm sorry if this report seemed a little shorter; since I was feeling well I wasn't quite as diligent about taking pictures or recording details as I normally am. Although I enjoyed my time in Hermosillo, the illness definitely cut the trip short, and it will probably be a long time before I work up the guts (literally) to visit Mexico again.
Mexicana and AeroMexico, dirty planes aside, offered great service and friendly staff. Since most of my flying is within the US, I've gotten used to substandard service, and I almost had to pinch myself when I saw hot meals, ample legroom and genuine smiles. The biggest difference is in the level of staffing – the Mexican carriers offered more than the bare minimum number of flight attendants per aircraft. One extra set of hands made a huge difference… the crew were able to offer a much more personalized service. Our US carriers could learn a thing or two about service from the folks at AM and MX.
I went to Toronto this past weekend, so that'll be my next trip report. Keep an eye out for it in the next week or so!