London Heathrow, Terminal 3 (LHR) - New York JFK, Terminal 4 (JFK)
Flight: AI111
Operator: Air India
Aircraft: Boeing 747-437
Reg: VT-EVB
Aircraft Name: Velhagoa
Seat: 43A
Boarding Time: 12:15
Scheduled Depature Time: 13:15
Actual Departure Time: 13:20
Scheduled Arrival Time: 15:40
Actual Arrival Time: 15:19
View Large
View Medium


Photo © Chris Sheldon
Check-in & Departure:
We arrived at Heathrow's Terminal 3 at 10AM and decided to make our way to check-in. The flight was being prepared to open for passengers to check in, we were third in the que so we had great seats! We then decided to pre-book our return seats at the Air India ticket office (free of charge)! We then made our way to the shops above the check-in hall, the shops were pretty boring so we qued up to get into the departure hall. We went through LHR's immigration with no trouble, there was about 4 or 5 lines and the ques were quite short, espically good for the early morning rush! The shops were fairly busy, but there was lots of varieties of shops in the departure area. Spotting was not that good from the departure area so we walked down toward the gates hoping for some good spotting! I walked to the end of the pier, there was a Star Alliance Thai Airways 747-4D7 pushing back for the flight to BKK. There was also a BWIA A340 in plain blue colours pushing back to the Carrabean! As I walked back to see the VS 747's a big crowd of people were comming towards me, it was Peter Andre at the gate boarding a Virgin 747 bound for the US!
Two AI 744's were parked up together being prepared for their flights to JFK and ORD! The flight was called and we decided to board the a/c before the rush. We boarded the flight and made our way to our seats. The flight was only about 50% full so pretty much everyone had a window seat
! The flight pushed back just 10mins late, as we pushed back a Varig MD-11 taxiied to T3! We followed the UAL 772 also bound for JFK to the runway. We passed the construction site fot T5 and entered the runway for take-off. Take-off was pretty smooth and we passed over Twickenham before heading to the US!
In-flight:
The flight was only half-full so the service was great. We were served with a snack and a lunch which was very nice. The cabin crew were very efficent and qucik with your requests!
Landing:
The pilot annouced landing into JFK and then the crew made their final checks for landing.We approached over long island and made our way to JFK! We passed the Empire state building (on the right of the A/C) before lining up to the Runway. We landed and taxiied towards terminal 5. We could see; Emirates 345, NWA 744, Swiss 332, Aer Lingus 332,333, UAL 772 and many DL aircraft. The landing was very smooth and the short trip to the terminal was very quick.
Arrival:
Immigration was very quick and were very polite. Only problem we had was the man was a Mets fan and I was wearing a Yankies hat!
We collected our lugguge and made our way to the taxi's!
-----------------------------------
New York JFK, Terminal 4 (JFK) - London Heathrow, Terminal 3 (LHR)
Flight: AI112
Operater: Air India
Aircraft: Boeing 747-412
Reg: VT-AIE (Ex. SQ 9V-SMG)
Aircraft Name: Mamallapuram
Seat:
Boarding Time: 18:20
Scheduled Depature Time: 19:10
Actual Departure Time: 19:30
Scheduled Arrival Time: 06:50
Actual Arrival Time: 07:05
View Large
View Medium


Photo © Carsten Blümel
Check-in & Departure:
Check-in at JFK's Terminal 4 was very quick so we decided to some spotting at JFK! After check-in at the AI first class desk we hopped on the AirTrain and went round the terminals. (see below for pics!) We then looked round the shops in T4. I also went to look at the new VS lounge, but they would'nt let me in!
The flight was called and we decided to "try" and get through to the gates. We had to go past about 3 scanning areas before we could boad the aircraft! But best to safe though!
We boarded the aircraft and sat in our seats which were near the back of the aircraft. Our plane was next to a KU 772 bound for LHR and KWI! The aircraft pushed back, we could see the EK 345 being prepared for the flight to DXB! The aircraft was a ex SQ 744, you could still see the logos on the PTV's! We were 5th in line for take-off after a BA 744, IB 346, AA 772, EI 333 and a Swiss 343! We took off as it started to snow! The flight was full this time, which was not as fun!
In-flight:
Shortly after takeoff we turned and flew towards BOS and Halifax. We then passed Ireland before sunrise over Wales! The flight was very comfortable, but the PTV's were old and had no camera's!
Landing:
We headed to LGW before lining up for the runway at LHR! We arrvied after a VS 343 and taxied to the terminal behind the 343! We parked up next to a GF 332. Shortly after the doors opened a EK 332 taxied in from DXB!
Arrival:
We de-planed the aircraft and the boarding cards were taxen of us to make sure we were LHR passengers not BOM passengers! We made our way to immigration and the ques were very slow! There was about 6 flights that had just arrived and most of the PAX were Britsh and all in one line! They checked our passports and we went to get our luggauge. My high ratings of LHR immigration had just sunk! We then made our way to Terminal 2 were we got picked up and transfered to parking!
My ratings:
London Heathrow: **** Very good but no way as nice as airports such as DXB,HKG!
New York JFK: ***** Suprised at how good JFK was, the terminal was almost brand new and very modern!
Air India Service: *** Good, but not as good as BA,VS...
London Heathrow Immigration: *** Not to slow but still not fast enough for me!
JFK Immirgation: Great, very polite and very quick!
London Heathrow Ground handling: **** Very quick and not a strach on the luggauge!
JFK Ground handling: **** Quite quick and very polite.
Aircraft: ***** 5 Stars for me, the 747's are great!
Pilot and Co Pilot: ***** Again 5 stars, the pilot was very polite and kept us updated!
Spotting at JFK:
JFK's spotting is very good and there's a large variety of aircraft. From Terminal 4 you can see two runways and the ramp at Terminal 4! If you hop on the AirTrain you can see much more and can catch some good photos!
Here's some pics: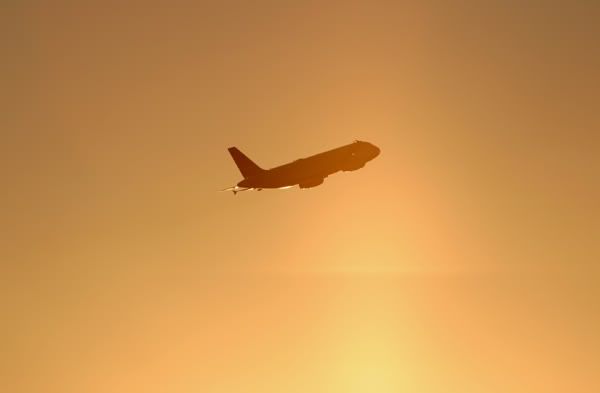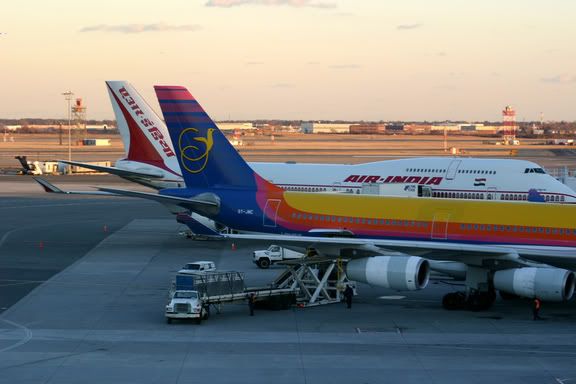 Thanks,
Rob!