So time has come to take a trip to visit friends outside SFO, and I chose to upload a trip report about it.
Date: May 16th, 2005
From: Minneapolis/St Paul (MSP)
To: San Francisco (SFO)
Flight number: NW357
Load factor: 100%
Aircraft type: Boeing 757-200 (755)
Aircraft registration: N508US
Seat: 40F

Check In
I chose to check in online, in hope of getting the bonus miles from Refer A Friend, but as I had referred someone else, NW would not me be referred (thanks for telling NW...). Anyways, I got my boarding pass the day before travel and picked my seat. Seatguru lists rows 40D-F and 41A-C as poor seats, but I have good experiences from last row seats. Got to the airport, and there was one agent working eight kiosks. Took a while, but she was friendly. Asked about chances for a bump, and she said it was full, but not overbooked. I also replaced my BP printed at home with a kiosk one.
Security
Don't even get me started on this one. Here we have the classic TSA efficiency. Six agents working one (of three) lines in the checkpoint. Took a while to get through, but at least I wasn't pulled aside for more screening.
Boarding
When I got to my gate, F7, the first thing I did was to ask the gate agent about the bump. She said the same thing as check-in, but wrote down my name in case she needed me. When they started boarding they only boarded exit rows, and people who needed extra time. Then First Class was boarded, but they made an announcement that they would not be doing elite boarding due to the high number of elites. I asked the gate again if they would need me, and since she said no, I boarded.
My plane, ship number 5508 at the gate in MSP
Flight
As soon as I got settles into my seat, I did my usual routine, thumb through the inflight magazine, to see what I wanted to read later. At the gate next to us was one of my ex-colleagues in his tug, waiting for a plane.
The plane filled up, and soon the plane was filled to 100% of capacity, I heard the flight attendants say there wasn't a single seat open. We pushed back and then sat there for a while, then saw a DC9 being towed past us.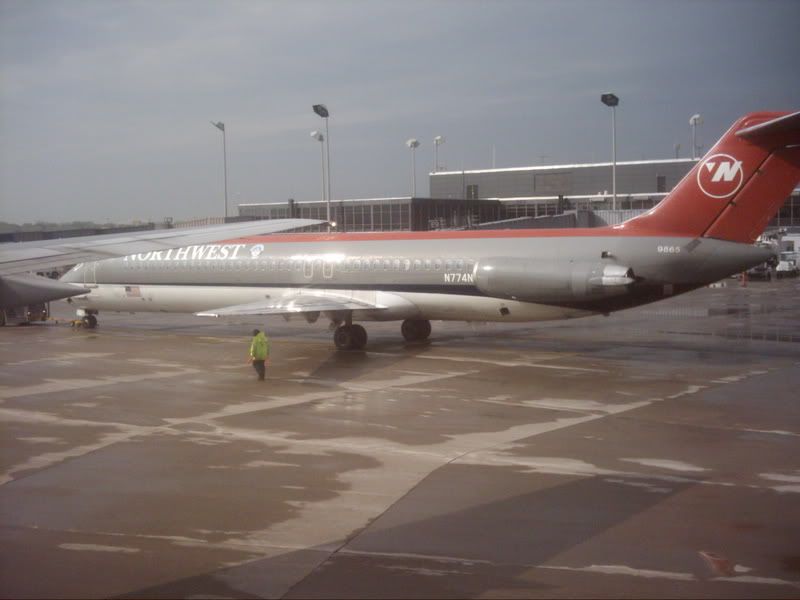 We finally started moving, and it was obvious this was rush hour at MSP. Planes were waiting to get into the alley between F and E, and long lines at the taxiways leading to runways. Luckily, we departed from 12R, and the line was mostly at 12L. I shot a video of the takeoff, and you can download it
here
(click Save as, video is 3 Mbs)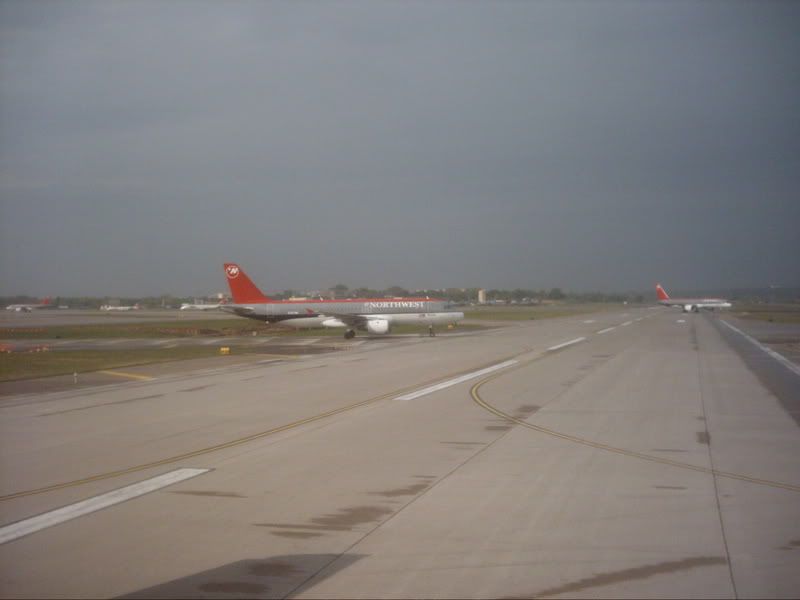 As we climbed out I shot a couple of pictures of the south suburbs of Mpls/St Paul, and we are here over Eagan I believe.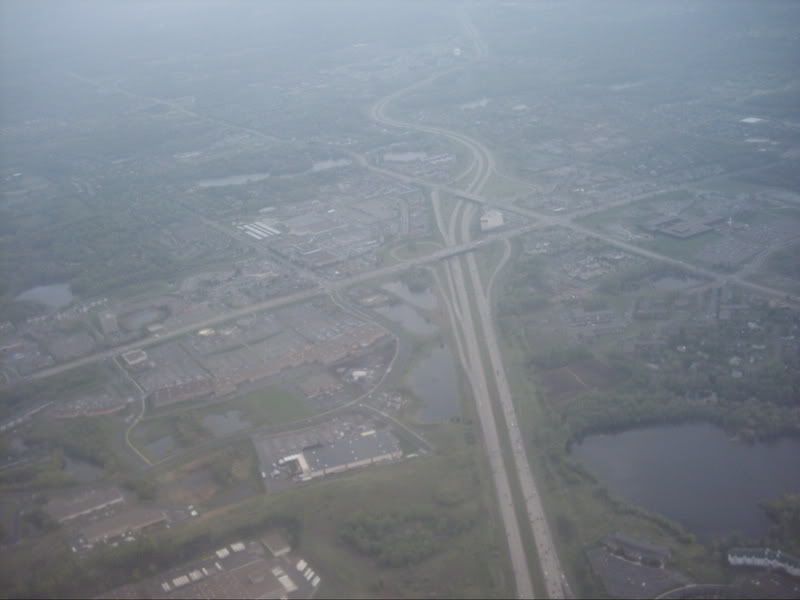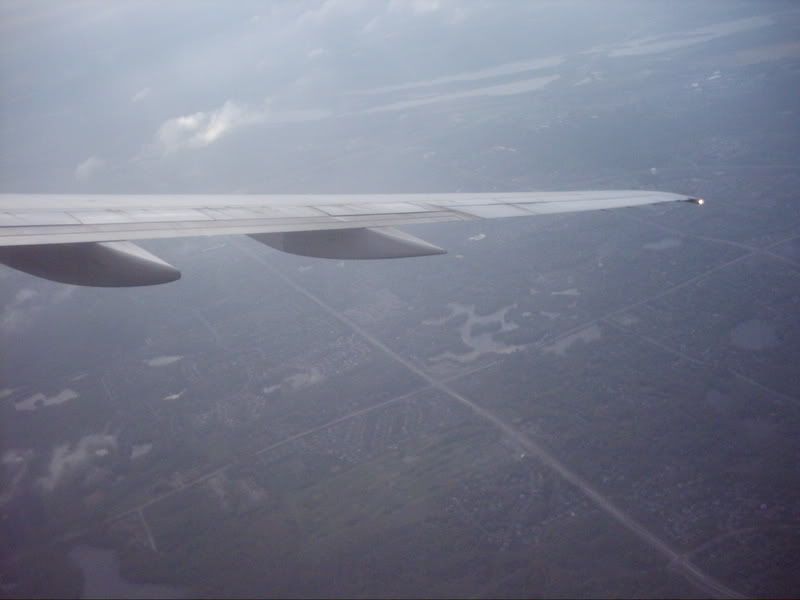 From my seat I noticed something I have never seen before, I could see the horizontal stabilizer from my seat.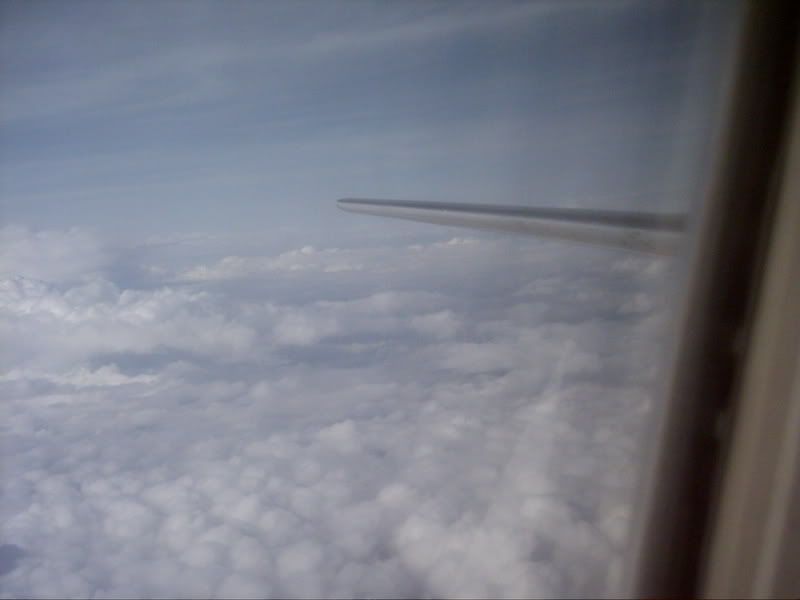 Shortly after we climbed away from MSP, it became cloudy.
As we were still climbing, they announced that they would be serving beverages and would have a snack box for sale. I opted to spend $3 on it just to have tried it, and I think it was worth it. I also got a (whole) can of Diet Pepsi. I think it is poor that they don't serve any snacks at all, however, for those who don't want to buy the snack box.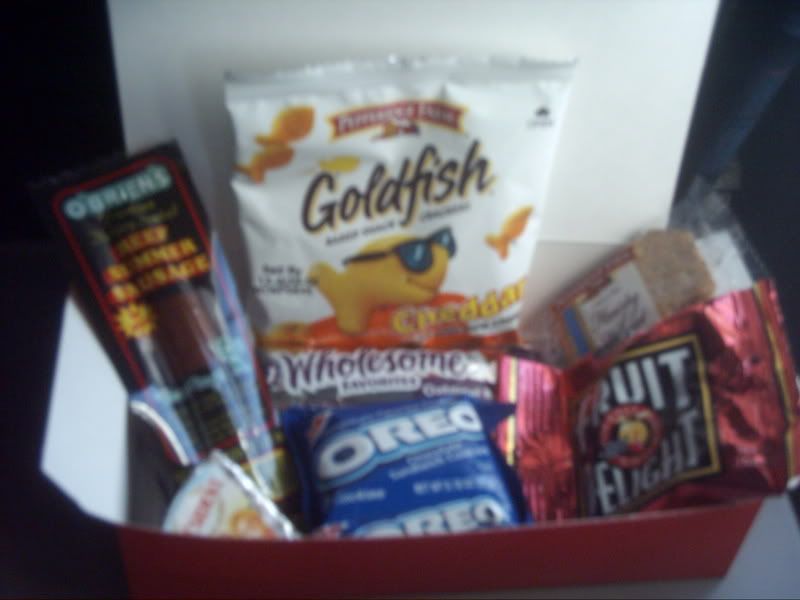 The flight was pretty smooth as we traveled over Minnesota and South Dakota. When we approached the rockies, however, it got rough and stayed that way until we landed in SFO. Somewhere by Reno (I think, me and my seat mate discussed it and decided it had be around there, as we were about 30 minutes from SFO) I saw a big lake that at first I though was Salt Lake.
At this time the F/As were doing a second beverage service, and again I got a can of Diet Pepsi. Halfway through the beverage service however, the captain came on the PA and told the F/As to stop the beverage servive as, "it is just too bumpy to be out with the carts". He apologized to the parts of the cabin that didn't receive a second service.
A few minutes out from SFO I heard the landing gear go down, and got my camera ready again. I started shooting the approach, but we were still far out. The video of the approach and landing is
here
, but it is big (18.5Mbs), so be patient (and click Save As...). As you can see, our ride was pretty bumpy all the way to the end.
After we landed, the captain came on and apologized for the delay (we landed right on time...hehe) and also apologized for the very bumpy ride, but there wasn't much he could do about it.
When we parked at the gate, it seemed to take forever (10 minutes) before people started moving in the aisle. I don't know what the reason was. Since we were just sitting there anyways, I decided to shoot a little clip of
our bags being unloaded.
Baggage claim
We were told twice which carousel our bags would arrive at, and by the time I got to the carousel, the bags were already arriving. I got both my bags and left to go ride the AirTrain.
AirTrain
As I had about an hour before I would get picked up, I took the AirTrain out to the rental center, as I have heard this is a good spot to shoot. And it was, just not at that time.
Conclusion
All in all I was satisfied with my flight on NW, and wouldn't hesitate to fly them again. I will be returning on the redeye SFO-MSP on May 23rd, and another trip report will come from that.