As part of our spotting trip to MAN, we thought that it would be nice to fly on the ATP as well, so we had booked a daytrip from Liverpool to the Isle of Man on flyjem.com, part of Emerald Airways. We, that's Christoph (Contact Air) and I.
We got up early to catch the train to Liverpool and from there the bus to the airport, where we arrived at 8:30.
LPL-IOM
02 June 2005
JEM304
STD: 10:15 ATD: 10:45/10:50
STA: 10:50 ATA: 11:20/11:25
BAe ATP
Number of passengers: 64 plus two infants
G-JEMA
First flight: 18Sep 1990
View Large
View Medium


Photo © Fergul Mc Clean
This aircraft was flown by United Express/Air Wisconsin from 1990 till 2000. Then it was stored for more than three years, before it was taken up by Emerald. Here are some photos of the aircraft in its earlier life:
View Large
View Medium


Photo © Gary C. Orlando
We entered the rather new-looking terminal of Liverpool John Lennon airport...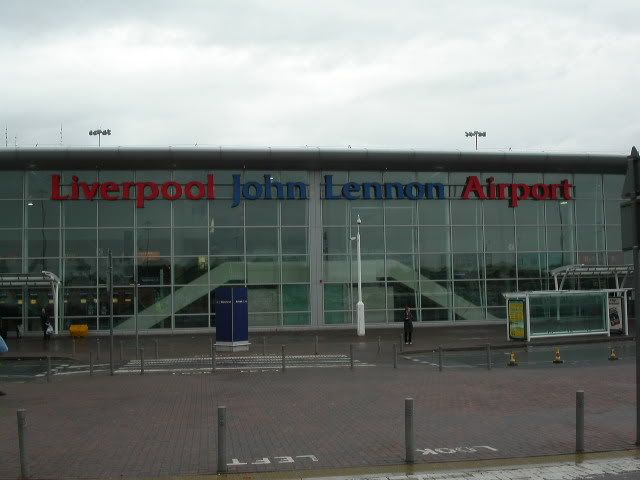 ...and proceeded to the check-in counter for the flight to IOM: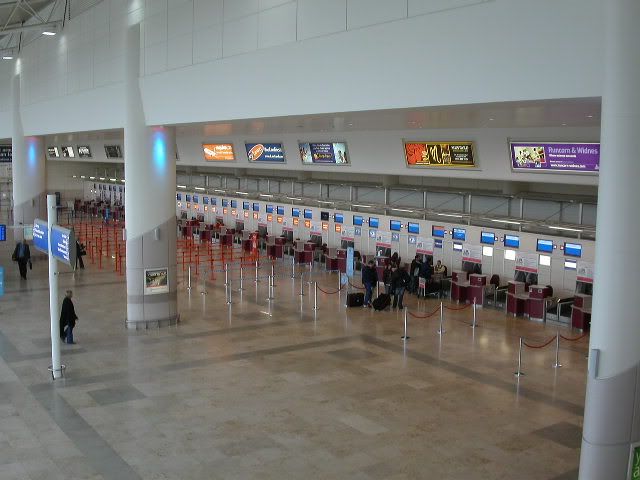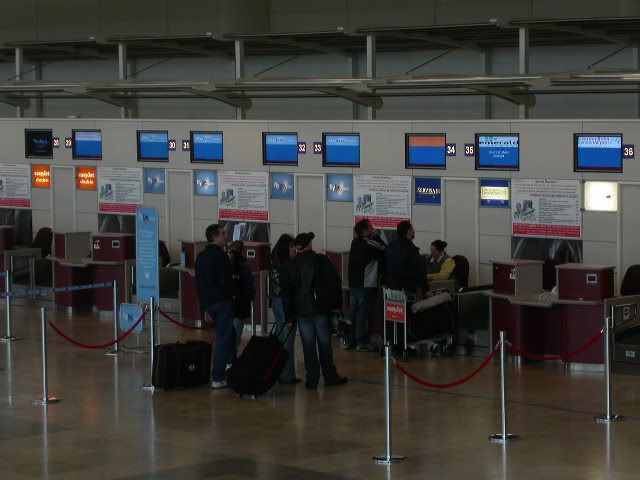 At the counter (as well as everywhere else) it only said "Emerald Airways", never "flyjem", so I guess flyjem.com is really only their internet address - not like other lowcost who make their internet address to their name. Of course we had only carry-on, so check-in was quick, we got manual boarding passes with sequence numbers 006 and 007 and no assigned seats - it's free seating on Emerald. I asked the SevisairGlobeGround agent how many passengers there were booked on this flight, but she refused to tell me, for security reasons. Well, later I found out myself that all 64 seats of the ATP were taken, not a single seat remained empty. Quite impressive for a late-morning flight.
So we spent some time at the cafeteria from where you can see most of the airport. But traffic wasn't much, two Easyjet B737-300s, one Ryanair B737-800, an Air Wales ATR42 and a VLM F50, plus one parked Flyjem ATP and a parked Atlantic Airlines Lockheed Electra(!).
The screens showed the inbound aircraft from IOM delayed by 30 minutes, so me knew our flight wouldn't leave on time. Still we went through security soon, they took photos of every passenger at the security control and stickered barcodes onto the boarding passes, I still don't know what these photos are good for. The boarding gate became crowded soon, no information about a delay, but as soon as we saw G-JEMA landing from IOM, the gate agent already made her boarding announcement. Between ramp and tarmac, there is a corridor and a stairway, so in a Ryanairesque way we were sent into this corridor where we had to wait another 15 minutes for boarding. "Stand on the left please" we were told, because boarding staff had to use this corridor as well... Finally the door at the end of this dark corridor was opened and we could board our aircraft to the Isle of Man: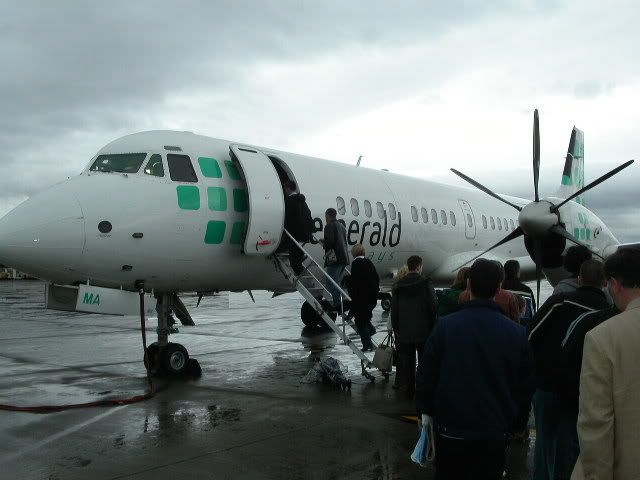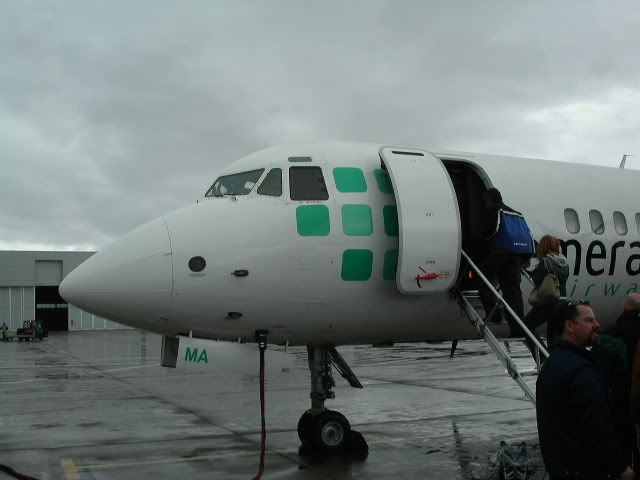 It's free seating, so Christoph and I decided to take the window seats in the last row, 17A and 17D. The cabin filled up, soon everybody had found a seat, so boarding was quite quick although every seat of this aircraft was taken. Although one could see the age of the cabin, it was still in excellent condition. The captain made a welcome announcement and apologized for the little delay. He also introduced himself and his first officer by their last names, and the two flight attendants by their first names.
The cabin crew, during boarding dressed in green jackets, did their safety demonstration. Soon we were pushed back and started our short way towards runway 27...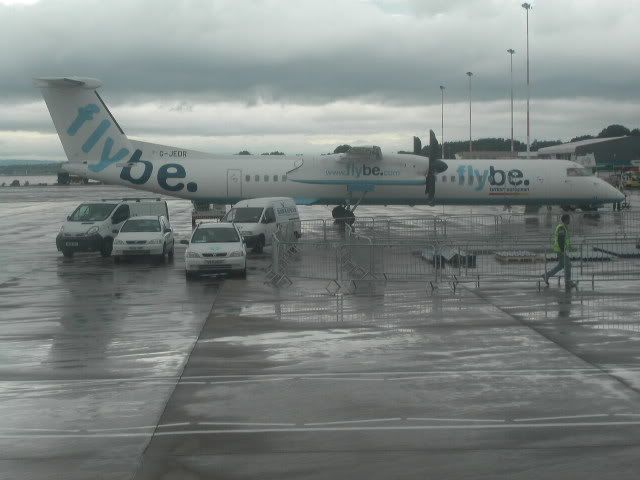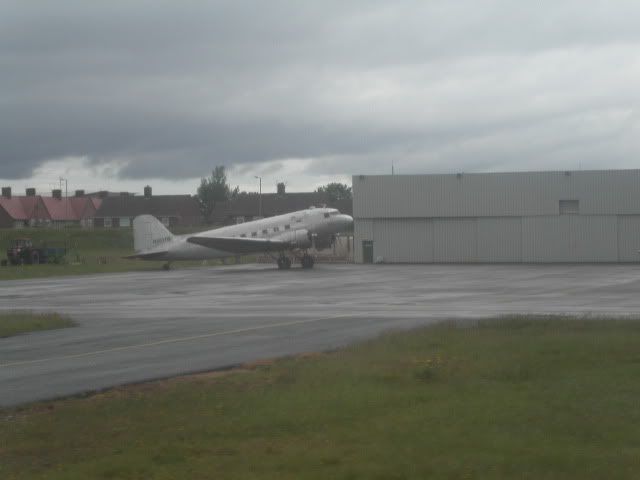 ...and took off: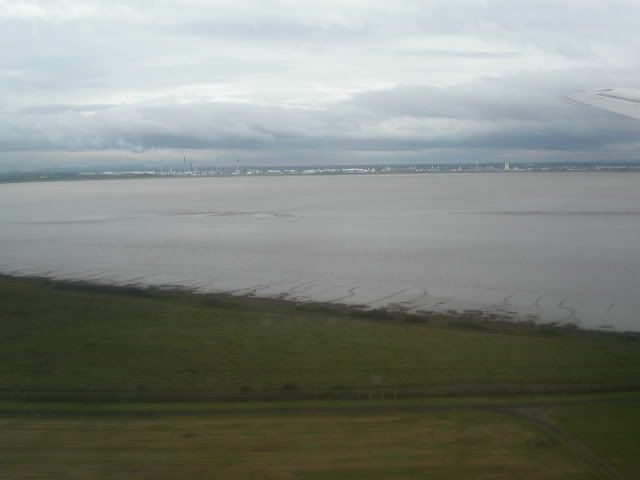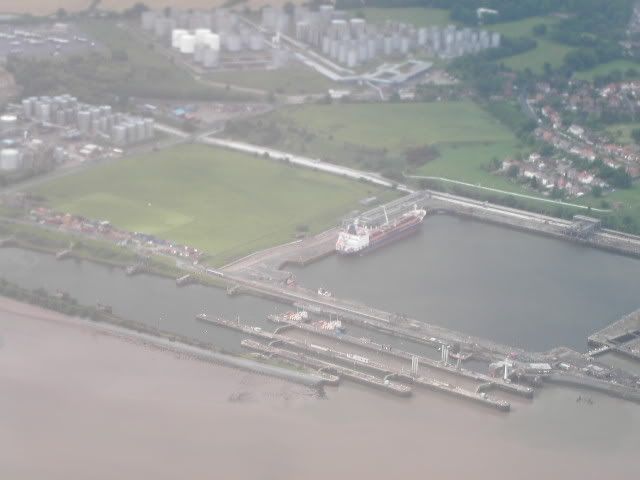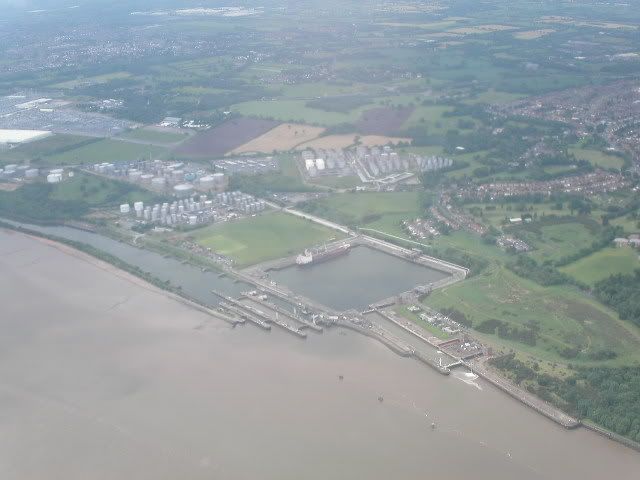 Only a few seconds after take-off, the cabin crew already started their drink sale. I didn't order anything on this flight and won't go into detail here, because I ordered something on the return flight, so that's where I'll write about it.
Unfortunately, the weather was not so good, clouds above and below us, so I couldn't take any good photos, anyway here are some: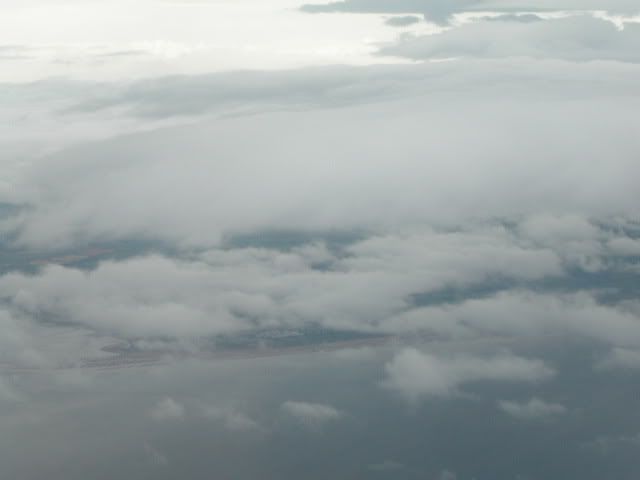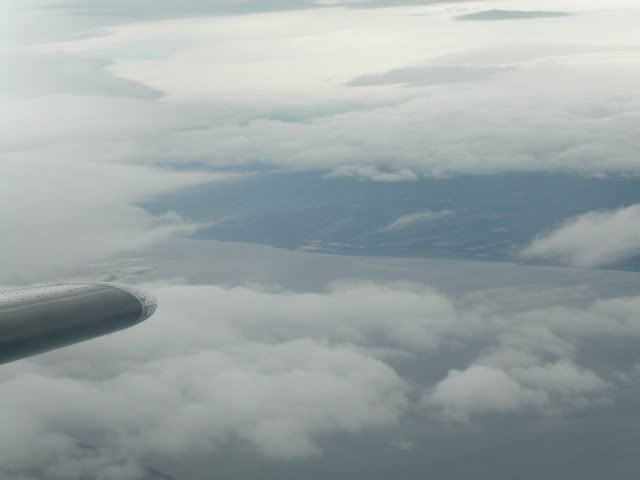 After 30 minutes of flying above, below and through the clouds, we approached IOM's runway 26, which means we were approaching over water: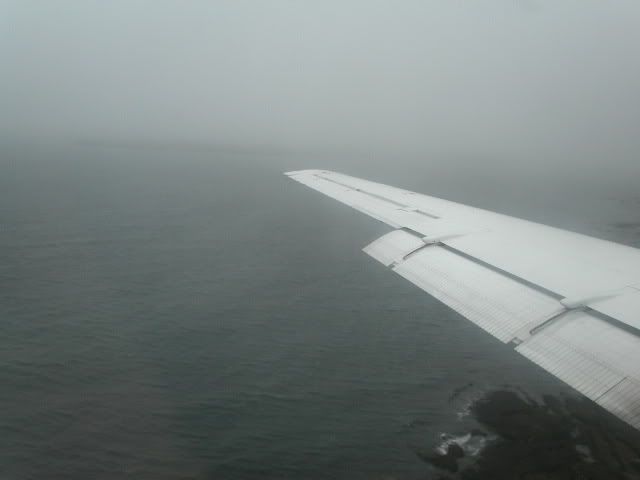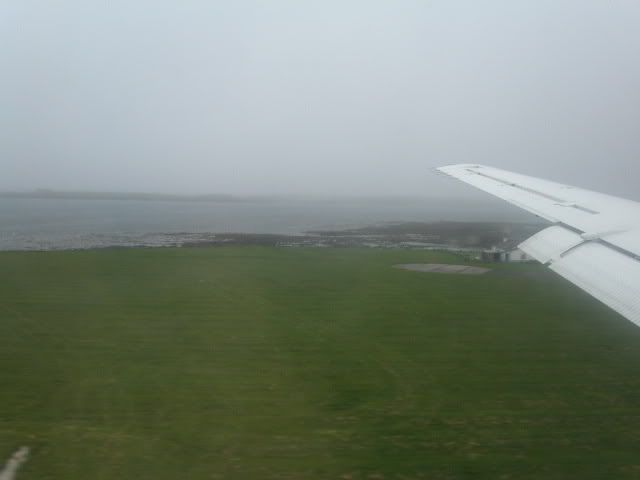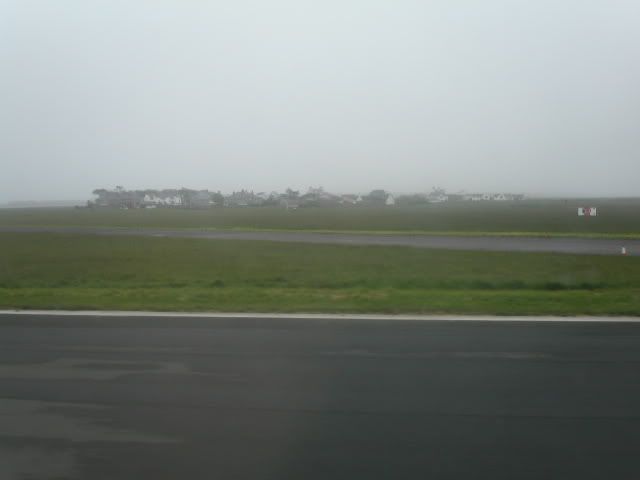 As we were taxiing to our stand, we passed some nice aircraft, for example the two Do328s which were delivered to Euromanx only the day before: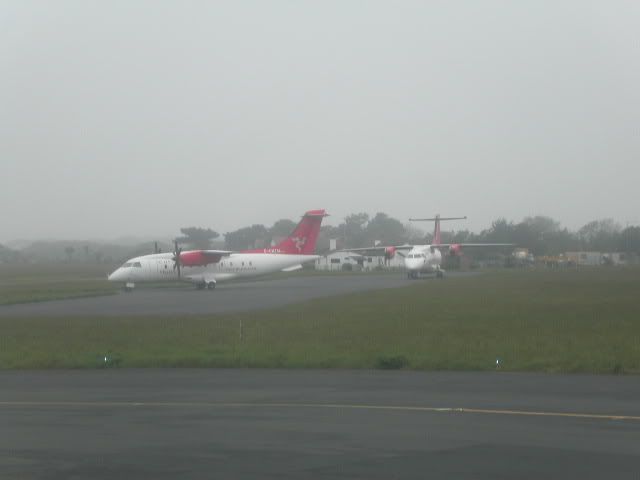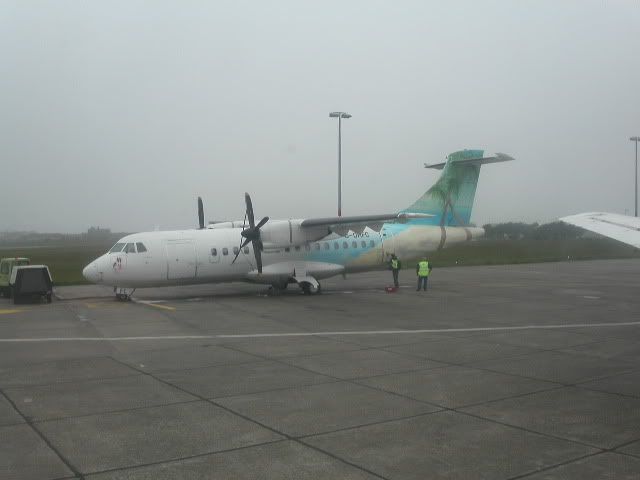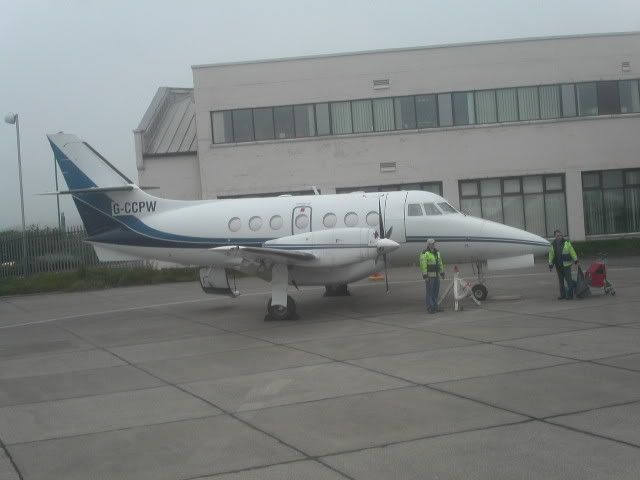 Sitting in the last row, we were the last to de-board the aircraft, so I got the chance for a cabin shot: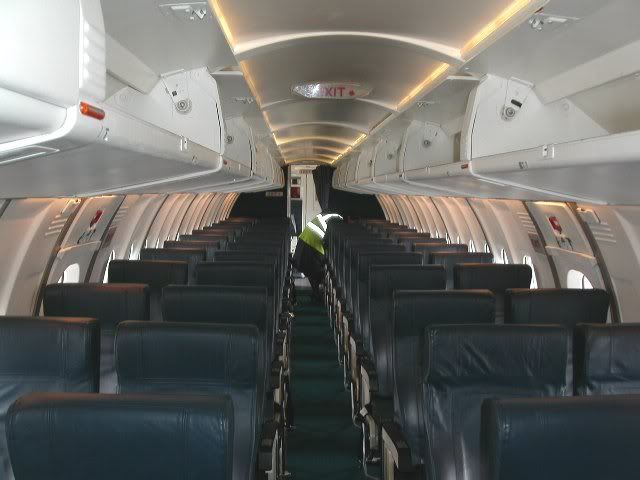 The captain was so kind to let me even take a photo of the cockpit:
We entered the small arrival hall and then left the terminal soon to see what else there was parked at IOM, e.g. an Emerald HS748: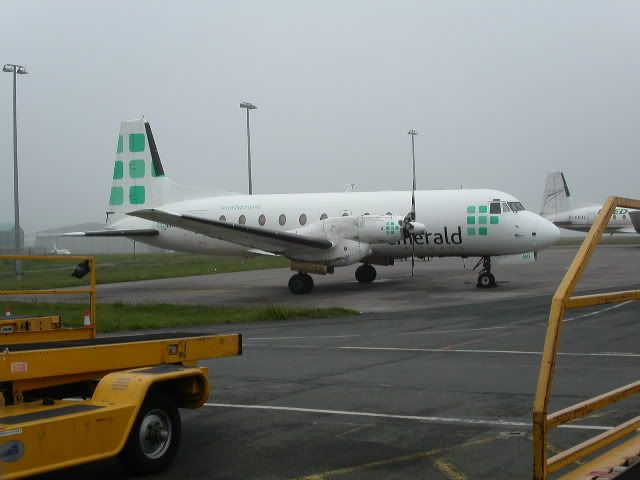 Here's a photo of the terminal building: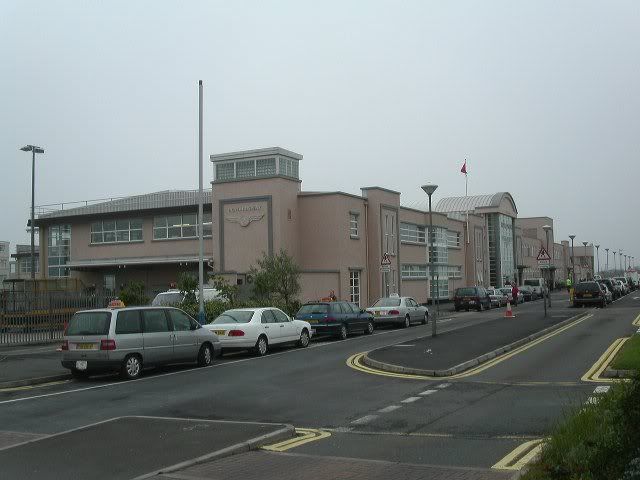 It was raining, so we decided to take a meal inside at the restaurant. Here we also met our crew again, just like G-JEMA, they were also waiting to fly back to LPL three hours later.
Though there is not much difference between the UK and the Isle of Man, there are some small details: They have own GBP coins and notes (which are not being accepted in the UK as far as I know, so you have to be careful not to get too much change...), and the internet addresses end with .co.im instead of .co.uk ...
IOM-LPL
02 June 2005
JEM307
STD: 13:45 ATD: 13:45/13:50
STA: 14:20 ATA: 14:18/14:20
BAe ATP
Number of passengers: about 50 (including three unaccompanied minors)
G-JEMA
We went to the check-in and got our boarding passes with Emerald logo: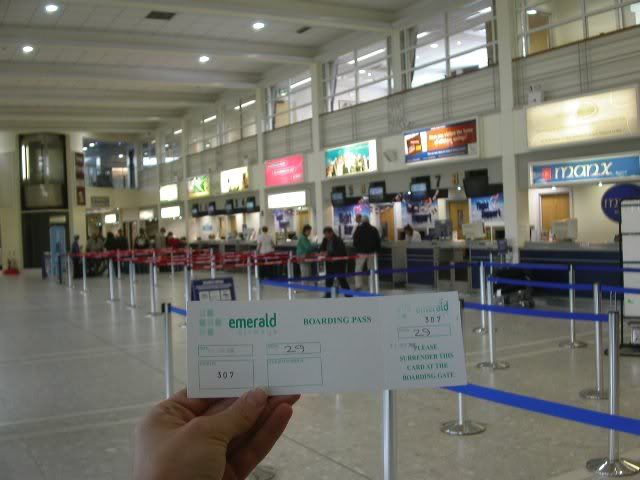 Then we went through security and waited for boarding to start. This time we were bussed to the aircraft, yes I know it doesn't make much of a difference if you stand in the bus or if you stand in a corridor and wait, still it's a different atmosphere. About 50 passengers were on this flight, and of course it was the same crew as on out LPL-IOM flight three hours earlier. We took seats 5D and 6D this time, in order to get the feeling of sitting next to the engine. Still it wasn't as loud as expected, and it's nice for taking photos of the spinning propellers.
We taxied towards runway 26 on which we made a 180° turn: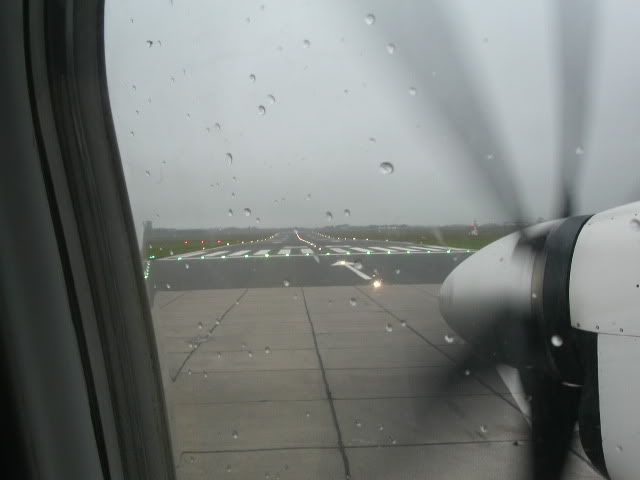 We took off, on this photo the gear is just coming up: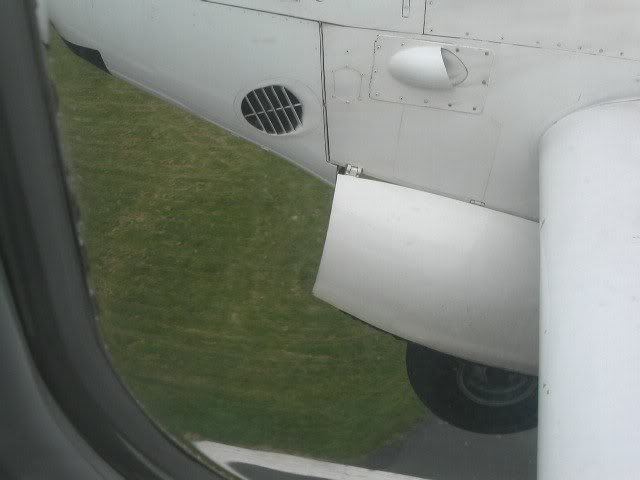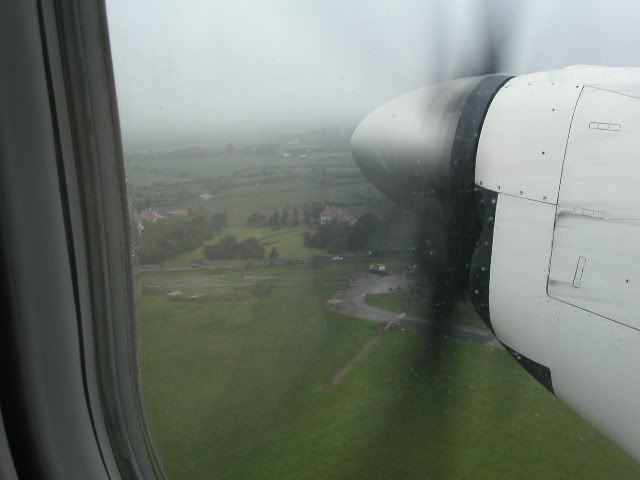 Cabin crew started their inflight sale of drinks, and I have to say that prices were very reasonable, much cheaper than on Ryanair or other low-cost airlines. I had a "Slimline Tonic" for 50p and took a photo of the pricelist: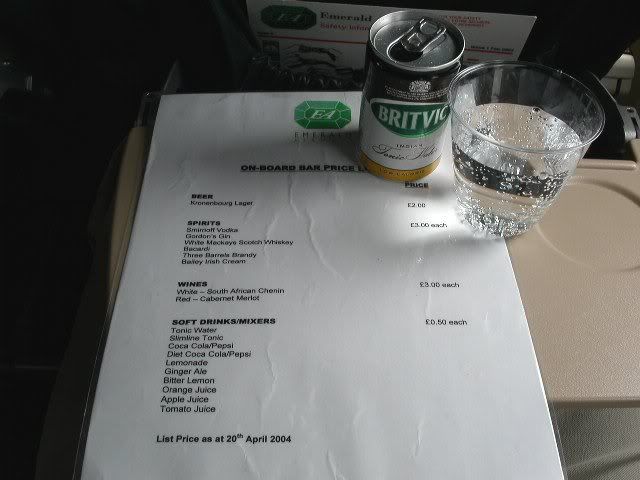 Not sure if you can read it as I had to downsize the photos a bit, so basically all softdrinks were 50p, beer for 2.00GBP and all spirits for 3.00GBP.
Routing was exactly the same, also the weather wasn't the best, flying in 9.000ft there were clouds all around us. At least on approach to Liverpool the view improved a bit: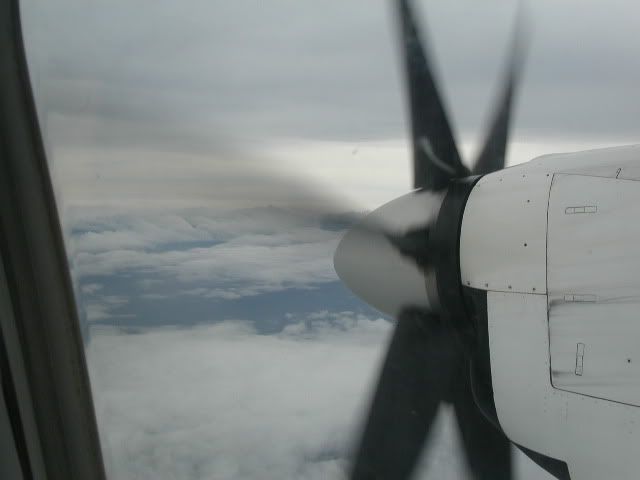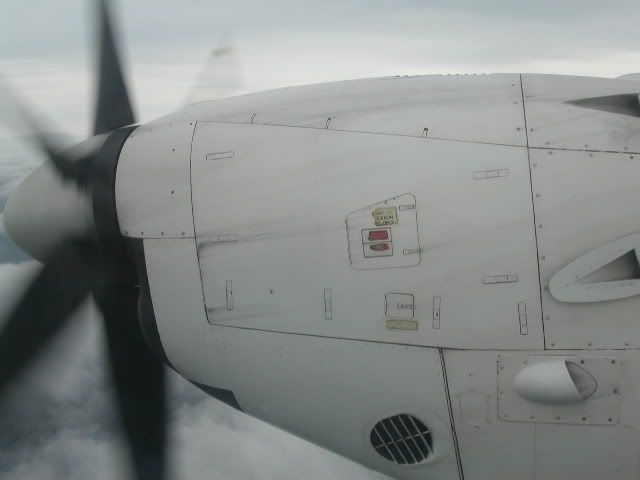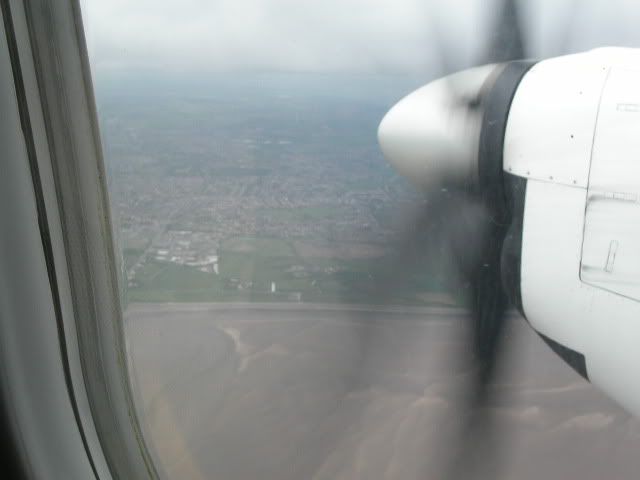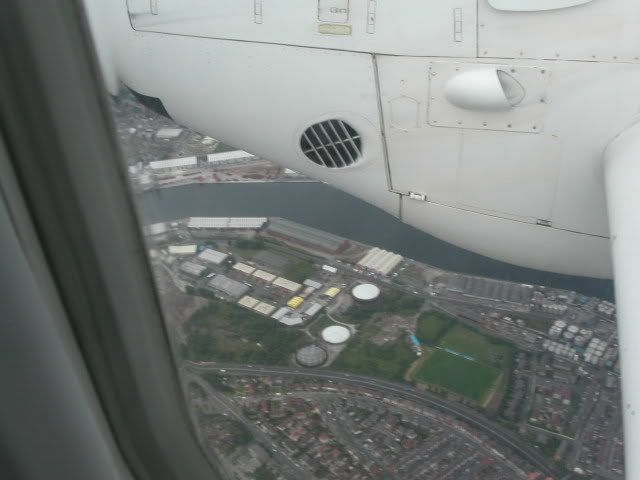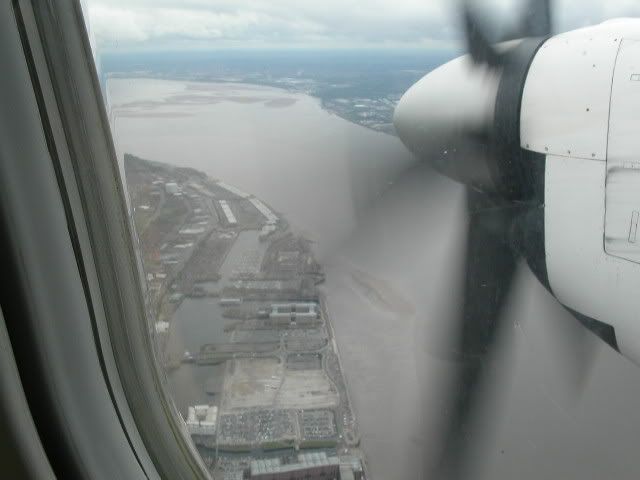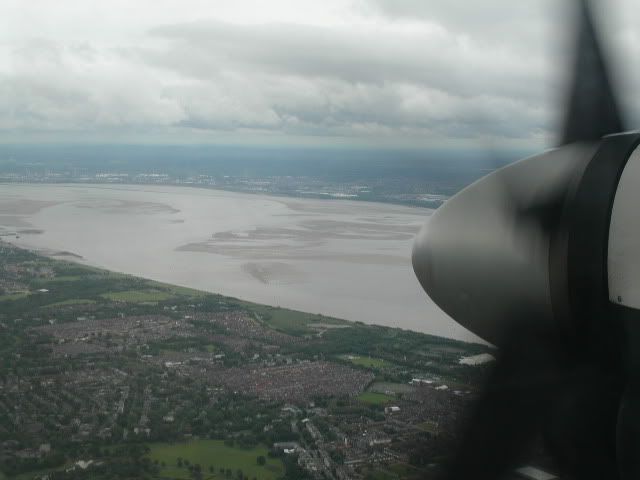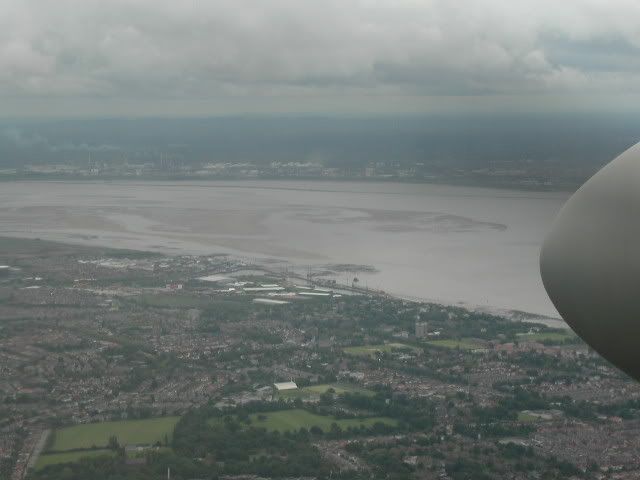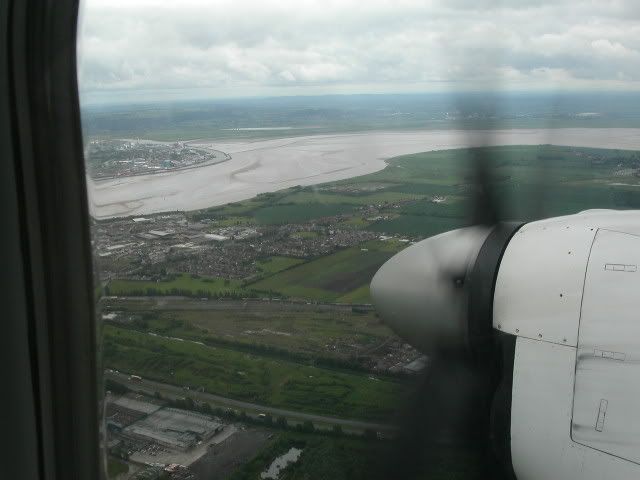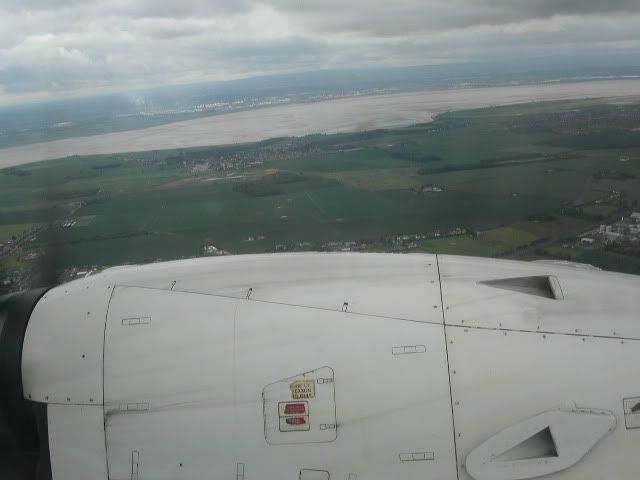 On this photo you can see the airport: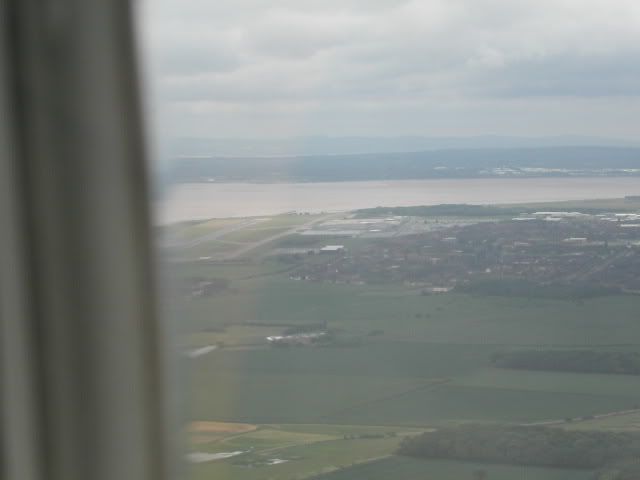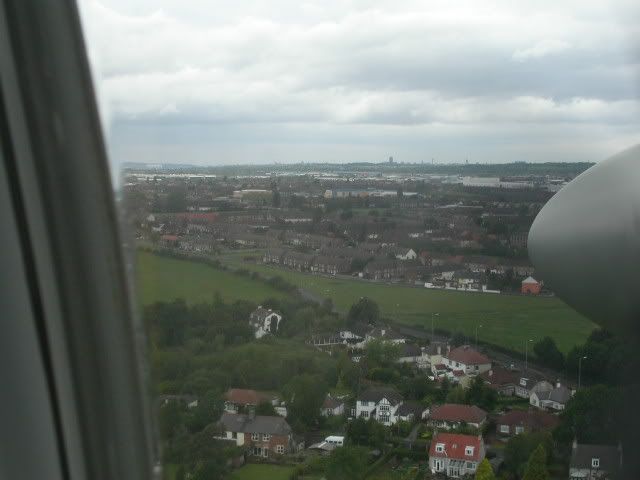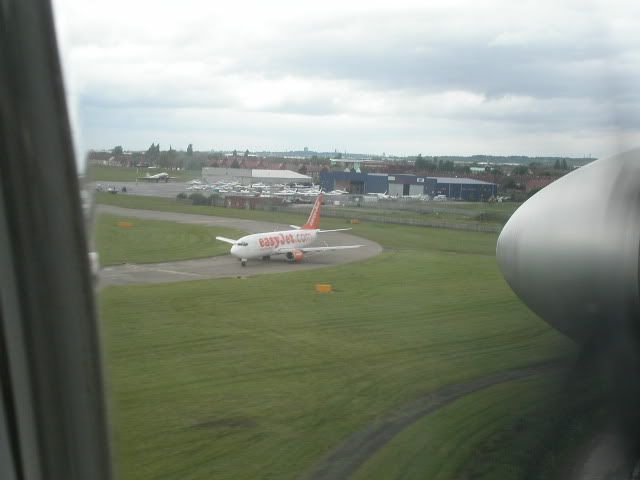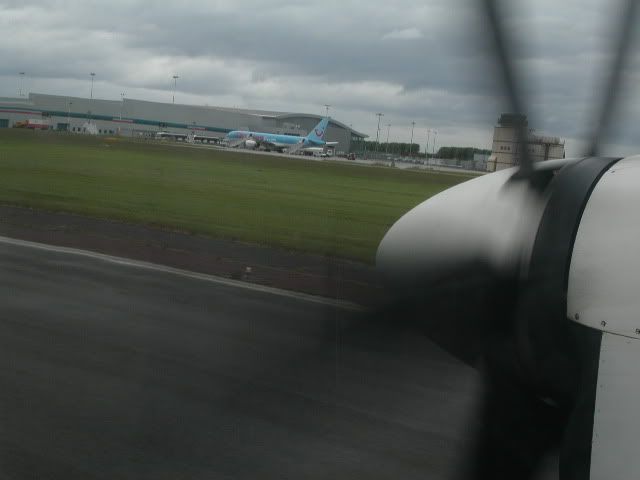 We taxied to our parking position, de-boarded and were bussed to the arrival hall. The end of a great trip on a great aircraft and a great airline. Though the ATP certainly isn't state-of-the-art when it comes to passenger comfort for longer flights, it's a great aircraft for short flights like this one. The cabin in the rear is really quiet, and even next to the engine it's not as loud as expected. The crew was very friendly, the flights were cheap when booked well in advance, we paid 19GBP one-way including all taxes - but even if you book a few days before, you still won't have to pay outrageous fares. So take your chance and fly the ATP as long as it's still possible, and flyjem is certainly a good choice, I enjoyed this airline very much.
Thanks for reading this report, I hope you enjoyed it, feel free to reply. Thanks in advance, Alex.