Alex (Ndebele) and I thought it was time for an other spotting trip to MAN. We searched the web and found a good deal on HLX for EUR 59,98 per person return, including taxes. For me it was also the first time flying HLX which was about time as they serve my home airport STR for nearly two years now, and I haven't yet got the chance to try them.
Wednesday, 01 June 2005
Stuttgart (STR) – Manchester (MAN)
Airline: HLX (Hapag-Lloyd Express)
Flight number: HLX 5520
Scheduled departure time: 18:35
Scheduled arrival time: 19:25 (local time; time difference -1 hour, so flight time was 01:50)
Type of aircraft: B 737-500
Registration: D-AHLD
This aircraft was built in 1990 and originally delivered to Hapag-Lloyd. After being leased to Malev in 1997, the aircraft returned to the TUI group in 2004 and is now flying for HLX.
Alex and I met at Stuttgart airport about two hours before departure and went to the HLX check-in. There were two counters open for "HLX all flights except PMI" (PMI is handled at a different counter). Check-in by Stuttgart Ground Services was quick and friendly. After that we went to the viewing terrace for a while, then we proceeded through security to our gate 410 which is one of the few gates in the connecting building between the Terminals 3 and 4. As the aircraft had already arrived about an hour before, boarding started early (for low-cost flights) at 18:00 for the 18:35 departure. We were bussed to the aircraft which was D-AHLD. We decided to enter the aircraft through the rear door as nearly everybody uses the front door. HLX has a free seating concept; we chose 19 E and F, in the second last row. There were 93 passengers on board (load factor 73%), most of them German tourist of all ages; only very few English speaking people. Cabin crew consisted of 3 flight attendants (a male purser and two female colleagues).
The cabin was in a good condition with grey leather seats and video screens: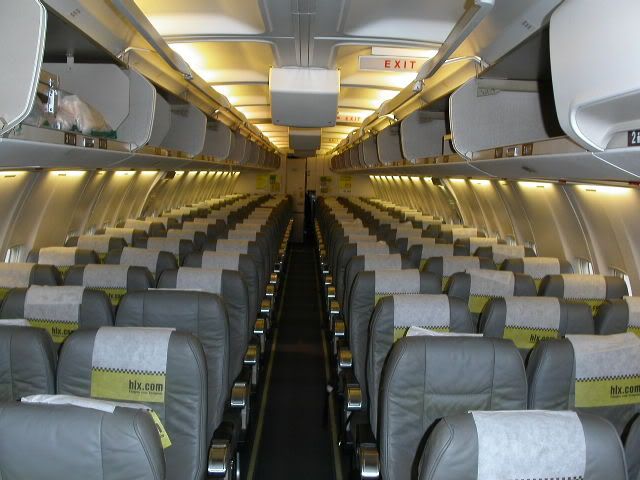 Seat pitch was all right for low-cost. The seats still contained plugs for head-phones (probably from former Hapag-Lloyd times) but the audio system was not in use.
We were off-block on time but had to wait a bit at the runway. At 18:50 we took off in Eastern direction. When turning into the runway, we saw the Tu 154 which is owned by Stuttgart Airport and is used for emergency and fire training: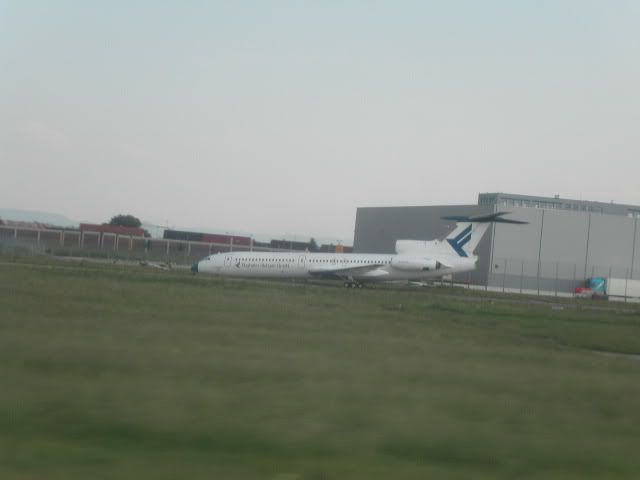 After take-off we passed the industrial area of Neuhausen (here you can see the dependence of Thyssen Aufzüge):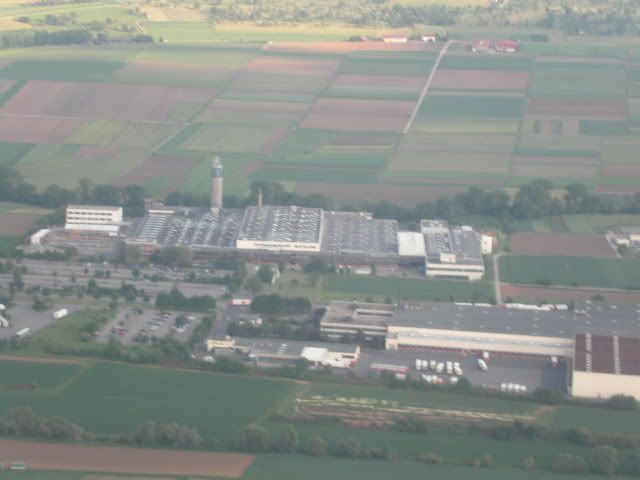 Later we passed the town of Neuhausen: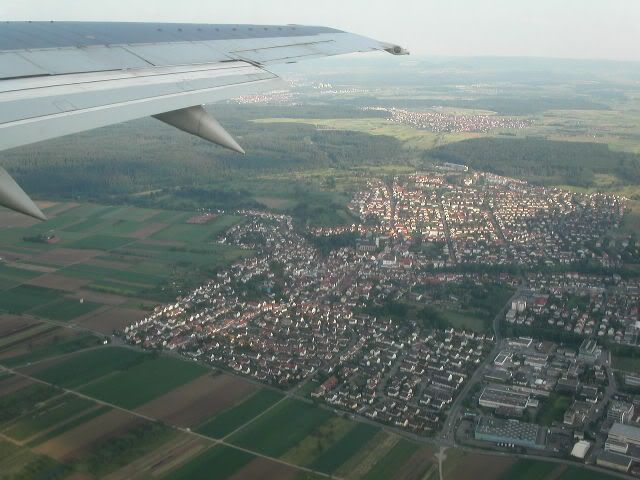 We climbed up to our flight level. Near Mannheim we saw a small airfield (but I think it wasn't MHG):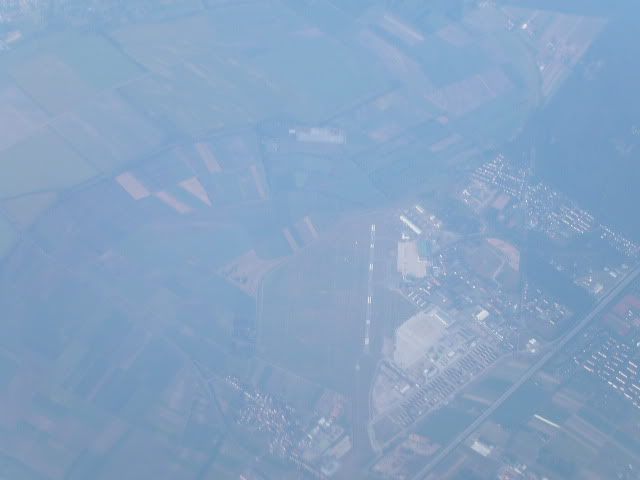 Later cabin crew started meal and drinks sale (no free food and drinks like on nearly all low-cost carriers). The typical variety of sandwiches, cookies and all kinds of drinks were available for sale. In addition to that, HLX offers larger tray meals as well which have to be booked in advance on their web page. You pay with your credit card and print out a voucher which you hand over to the flight attendants. We wanted to try this out and had ordered some chicken nuggets with a sweat and sour sauce (reminds of McDonald's, but at HLX they were served cold):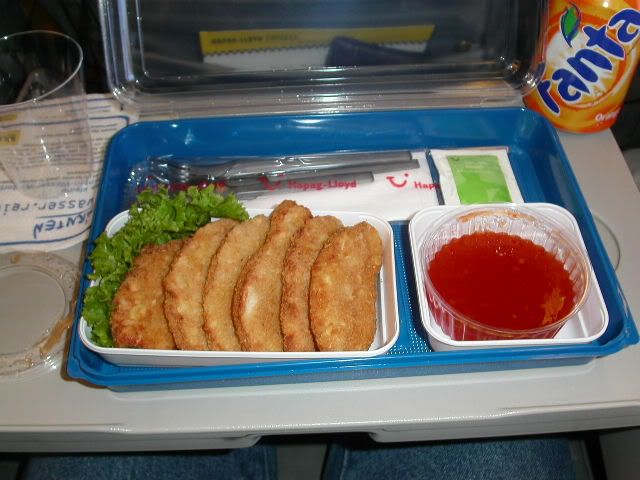 The food was very tasty. For EUR 7,00, the meal should include a soft-drink of your choice as well, according to the HLX web-site. However, the flight attendant refused to give me a cold drink for free; she told me the offer included only a coffee. Who wants to drink a hot coffee to this meal with a spicy sauce?. The problem was that the printed voucher didn't say anything about the kind of drink, so I couldn't prove that I was right. I was charged additional EUR 2,00 for a Fanta
(I didn't take the coffee). After the return from this journey I wrote an E-Mail to HLX about that.
The captain provided very detailed information about the flight route and the weather. Our route was STR-MHG-LUX-BRU- North of Dover – LTN – Coventry – MAN. Unfortunately, the weather in England wasn't as good as on the continent, so there were no views to the channel or the British mainland.
Later during the flight, cabin crew started their on-board sale with non-food items (perfumes, gifts, etc.) but nobody bought anything. They also announced that HLX was happy about any feedback from their customers. However, I couldn't find any feedback forms available (and I think if they really want feedback, they should distribute some kinds of forms). After that they started a promotion for Coca-Cola light: every passenger got a can for free: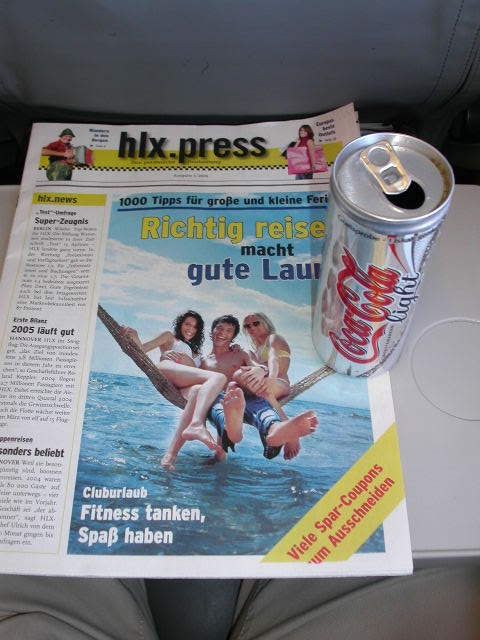 I had read about this promotion in an other HLX trip report in this forum a few weeks ago, written by FLIEGER 67:
Taxi-Trip To Italy: HLX: STR-PSA-STR
So this offer obviously last for quite a while. The sense of this promotion has already been discussed in FLIEGER67's report: why does Coca-Cola offer free product samples? Everybody knows what Coca-Cola tastes like; for me, this promotion seems to be a waste of money for them. However, I won't complain about a free Coke...
Two more remarks to this promotion: Of course it was done at the end of the flight, after the drinks sale had been finished (otherwise nobody would have bought a Coke...). All cans were opened by the crew before being given out to the passengers and everybody was asked to return the empty cans (probably because of the can deposit in Germany). It was a funny sound hearing the crew opening about 100 cans in the galley...
Shortly before landing, the crew provided some ground transport information which is a really good thing if you come to a place for the first time (which trains and busses go to city centre, how often do they run and how much does it cost).
Some pics taken during approach (note the bad weather which inspired me to the title of this report):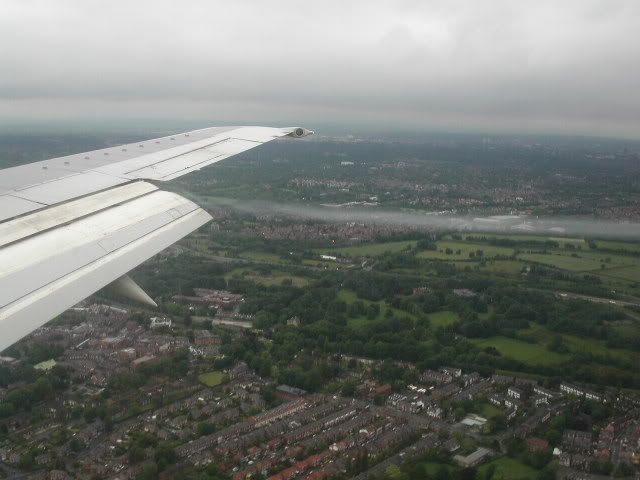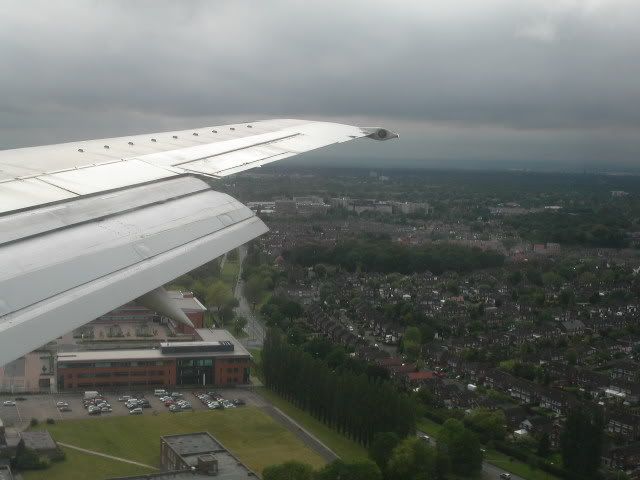 We touched down on runway 24R and were welcomed by lots of interesting traffic: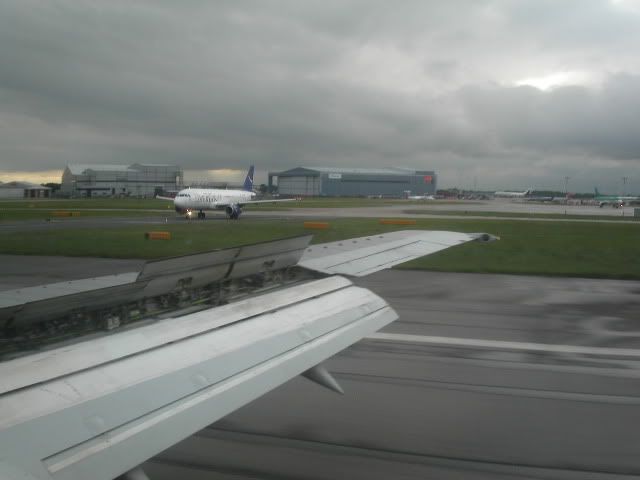 While we taxied to the gate, the purses announced: "Please stay in your seats until your taxi has reached its final parking position" (they always call their planes taxi).
We left the aircraft through the front door via a jet bridge. After clearing immigration, we headed to the 13th floor of the main car park for some spotting. Later we walked about 10 minutes to the Manchester "Airport Hotel" which is in fact not a typical airport hotel, but a place for spotters: Situated at the end of one of the runways, it offers breath-taking views to the landing aircraft. It is mainly a pub with a nice garden area which is also a popular destination for families on summer weekends. Besides, they have 3 rooms on offer. We had booked one of them for GBP 35,00 (twin room). For British standard a very reasonable price at a great location (but probably only for aviation enthusiasts – with MAN airport being open all through the night, you won't get too much sleep…).
Here is a picture of the Airport Hotel, taken during landing: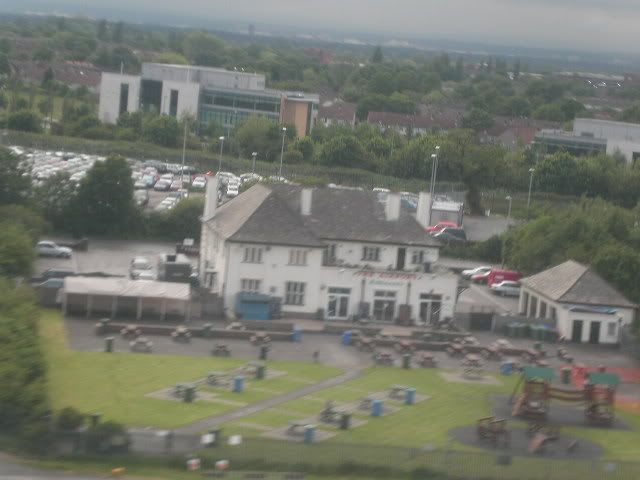 We had dinner and a drink in the pub and enjoyed spotting in the garden until it got dark (and started to rain heavily).
On the next morning we got up early for a day trip to the Isle of Man. For details see a separate trip report, written by Alex:
To The Man And Back: LPL-IOM-LPL On Flyjem BAe ATP
We returned in the late afternoon for our flight back home.
Thursday, 02 June 2005
Manchester (MAN) – Stuttgart (STR)
Airline: HLX (Hapag-Lloyd Express)
Flight number: HLX 5521
Scheduled departure time: 19:50
Scheduled arrival time: 22:40 (local time; time difference +1 hour, so flight time was 01:50)
Type of aircraft: B 737-500
Registration: D-AHLD
HLX at MAN is handled by Servisair / Globe Ground in Terminal 1. Check-in started 2 hours before departure. They had two counters open for the STR-service (plus two more for CGN which left about an hour earlier). We got paper boarding passes with sequence numbers 36 and 37. The agent told us that there were 95 passengers booked on this flight.
We made our way through security check (quick without a wait) to the waiting lounge. Like at most larger airports in Britain, gates are announced only shortly before departure. The inbound aircraft arrived about 10 minutes late from STR, then the gate was announced (gate 10). As soon as the aircraft had arrived, people started queuing at the gate. This is the reason why I somehow dislike free seating policy: you can either do the same as everybody else and stand in front of the gate for half an hour, or you will be the last one to enter the aircraft and have to take one of the last remaining seats which usually won't be the best places on the aircraft. So we also stood in line…
Boarding started at 18:50 through a jet-bridge; there was no priority boarding for lower sequence numbers (like for example on Ryanair), so it didn't matter at all at which time you checked in. An other disadvantage of free seating when only the front door is in use: everybody wants to sit in the front, so many passengers blocked the aisle in the front section and nobody could follow into the aircraft. Like that, boarding was rather slow which didn't help to reduce the delay. The crew made several announcements that people should also move to the back of the aircraft. One of the flight attendants tried to do this in a funny way: He said: "Liebe Mitbürger, …" ("Dear fellow citizens, …"), an expression you usually only hear from a politician. We belonged to the few passengers who really went into the back and took our seats in row 20.
This time we had an all-male cabin crew (again three flight attendants). One of them seemed to be quite new on the job as his announcements sounded a bit read from notes and his English was not the best. Nevertheless, the crew on this flight was very friendly and helpful.
We still managed to be off-block at 20:03 and taxied to runway 24L. On this picture you see the nose of an former Monarch DC-10 which is displayed at a visitors area, together with a Concorde and the prototype of the Avro RJ X (the latter ones not visible on this pic):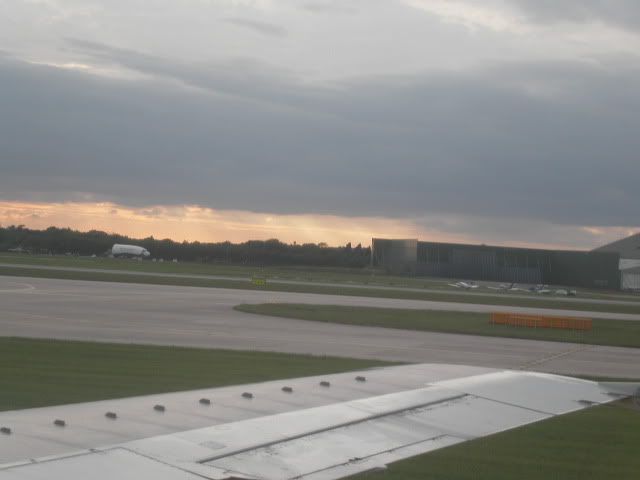 We were airborne in no time and got some views to the nice green countryside around MAN and the sunset: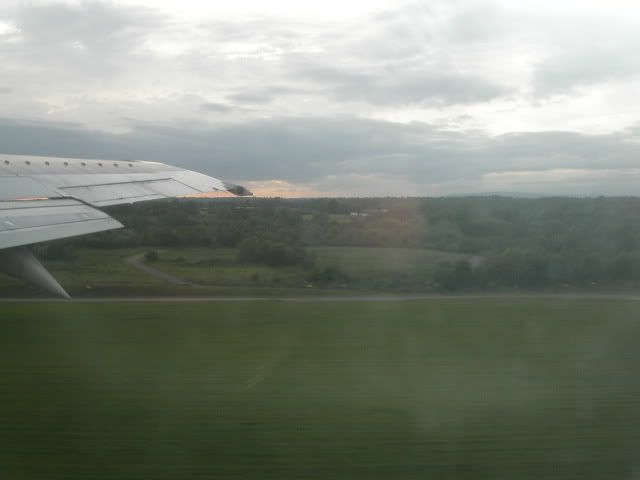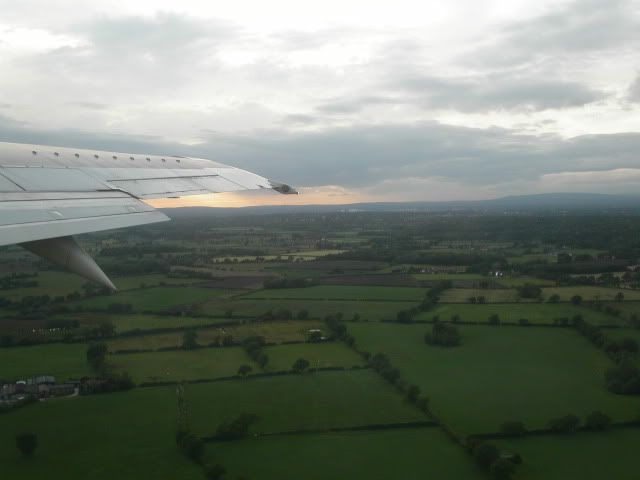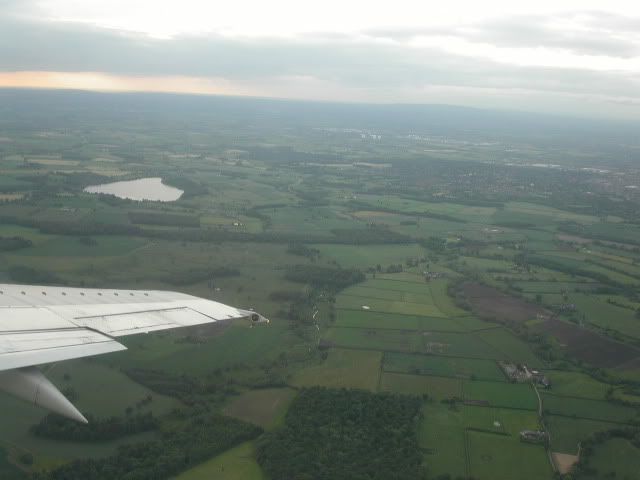 After a U-turn we got a view to MAN airport (unfortunately it was a bit dusty):
Some unknown town in the North of England: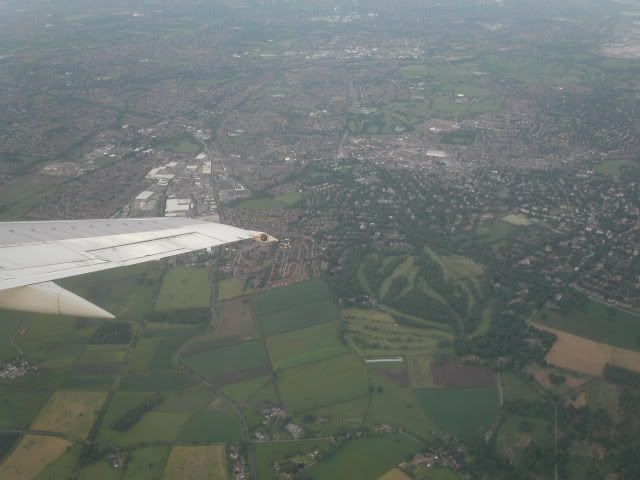 A last pic of the green landscape before we were off in the clouds: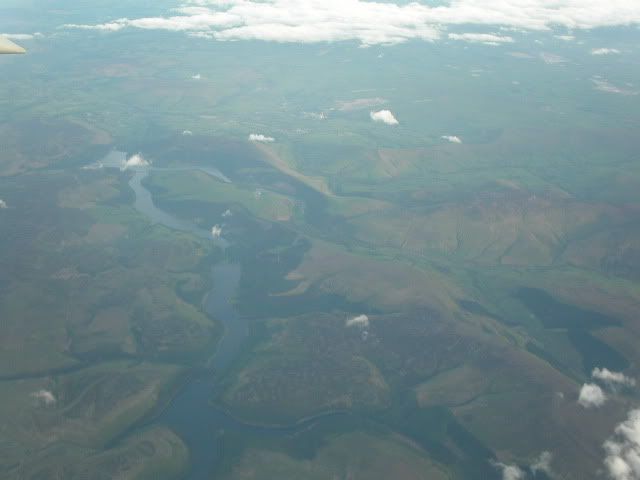 This time our flight route was further more in the North via Sheffield and the North Sea to AMS, later to CGN – FRA – STR. We could watch our route on the air show: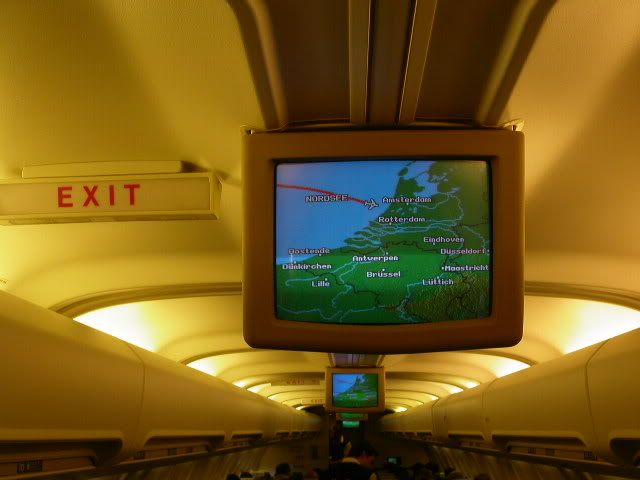 Service was quite similar like on the outbound leg. Again we had ordered something in advance; this time it was no problem to get a soft drink with the meal: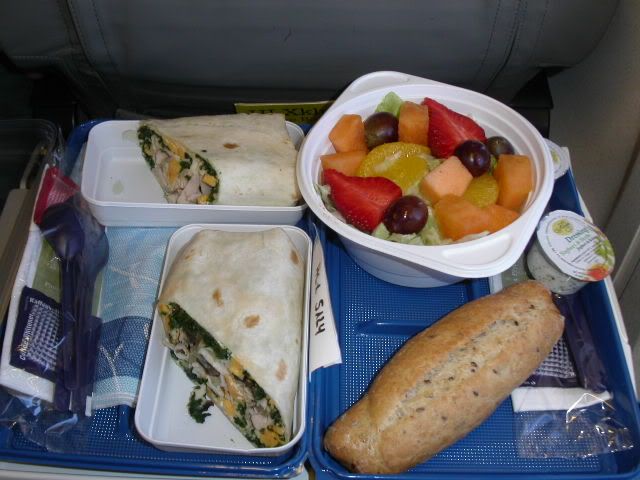 Again food was very tasty. They also sold quite a lot of sandwiches and drinks. And even on-board sale of non-food products was a bit more successful this time.
For those who have eaten too much, HLX has sick-bags with different word-jokes printed on them available: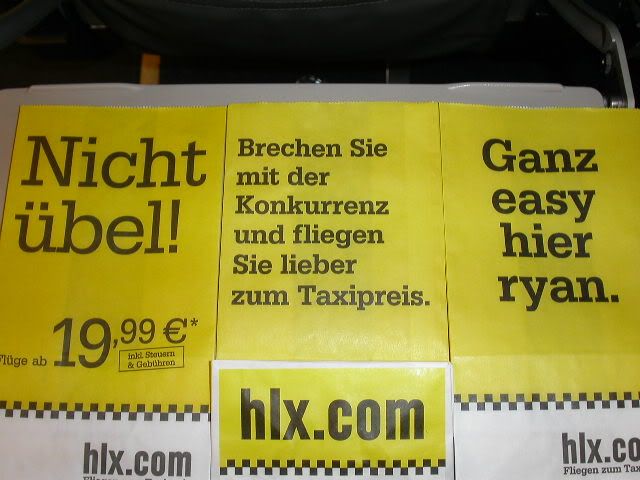 For the non-German speakers among you, I will try to explain the jokes:
"Nicht übel !" means on the one hand "Not too bad" while the original meaning of "übel" is "feeling sick".
"Brechen Sie mit der Konkurrenz und fliegen Sie lieber zum Taxipreis." means "Be unfaithful to the competition and fly (with us) for the price of a taxi" while "Brechen" means also "to vomit up".
"Ganz easy here ryan.": (no idea if I have to explain that one): "Just easy in here", referring to Easyjet and Ryanair in the context with vomiting up.
I leave it up to you if you find these ideas funny or stupid…
Anyway, we got again a free can of Coca-Cola light shortly before landing. We approached STR from the East. It had become completely dark outside. We touched down and taxied to a parking position on the apron where two other HLX aircraft were already parked for the night (one more 735 and a 73G).
We were bussed to the terminal and made our way to the railway station from where we left in different directions.
This was the end of e very enjoyable short break. MAN is always worth a visit. British airports still offer a lot to aviation enthusiasts, even after September 11.
Conclusion about HLX: They are a typical low-cost carrier, comparable to 4U and others: they take you from A to B for a reasonable price and with no service included in the ticket price. They connect their hubs in Germany mainly with holiday destinations, so they might be a good choice for private travel as long as the price is right. Only few of their routes might be interesting for business travel as well (STR-TXL and CGN-TXL come to mind). Crews are friendly; many of them are very young and therefore not yet too experienced, but I wouldn't rate this as a disadvantage. You just realize the difference to major airlines like LH or BA where crews tend to be very professional which sometimes makes them act a bit stereotyped. On HLX you realize that some of the flight attendants are quite new on their job and not yet too familiar with their product. One example for this is my story about the (missing) soft drink to the meal, an other one is a pax asking if HLX serves any other places in England besides MAN which was answered with a "No" by the f/a (but in fact they do serve EDI, NCL and Coventry as well…).
So much for today; I will be happy to answer any further questions.
Regards
Christoph