Hey,
This is the report for my flight back to Manchester with bmi regional.
You can view my outbound report on flybe.
here
.
This flight was to be my first flight on bmi regional and on the Embraer 145 so I was really looking forward to it!
Enjoy!
June 2, 2005
bmi regional BD 392
Glasgow - International (Abbotsinch) (GLA / EGPF) to Manchester - International (Ringway) (MAN / EGCC)
Embraer ERJ-145EP G-RJXE (CN 145245)
Gate Departure Scheduled/Actual 1955/2002 Local Time
Gate Arrival Scheduled/Actual 2050/2057 Local Time
Seat 10C
G-RJXE was delivered to bmi regional in August 2000.
We arrived at Glasgow Airport at 0520; more then two hours before the flight was due to depart. We caught the shuttle bus (which runs every 15 mins) from the City to the airport, the City is really nice by the way (2nd time I have been there) and worth a visit.
We preceded straight to the bmi self check-in desks.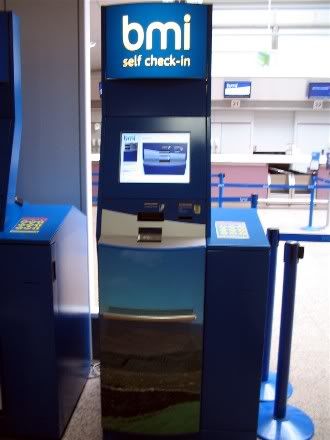 We didn't have any luggage so we decided to use them, they were very easy to use and within a few minutes we received our boarding passes.
Here is mine.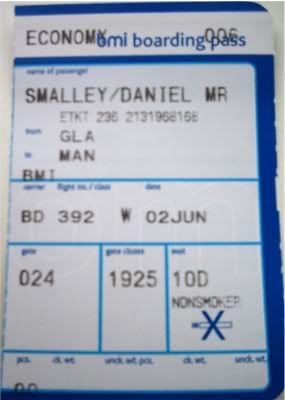 Note that I didn't have a window seat, but my mum had so she happily swapped (ERJ-145 and 135 are both 1-2 configured aircraft). And also note that the seats were selected as 10 D F instead of 10 B C, the system must do it this way as if it was a 3-3 configured aircraft.
First impressions of Glasgow Airport were very good; some bits reminded me of Heathrow (the carpets etc.). GLA is the first airport I have been to which have all the shops/bars before security, after security there are only gates.
While my mum had a look at the shops I found a decent vantage point, where I took a photo of an ex SAS flyglobespan B736 just about to push for STN.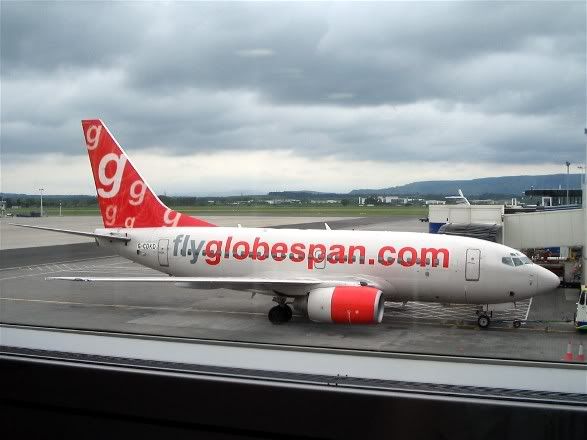 Glasgow was very busy with numerous flights from easyJet and British Airways and the main UK charter airlines. Excel, First Choice, Thomas Cook and MyTravel were to be seen. I only took note of where the MyTravel was going (Kos) and it was an A321.
The time passed very quickly and before we knew it, it was time to go through security.
G-RJXE
was just touching down as BD 397 when we went through security. It arrived at 19:15, 45 minutes before scheduled departure time.
Here it is on-stand in its "interesting" bmi regional/British Midland hybrid livery (Excel B738 in the background).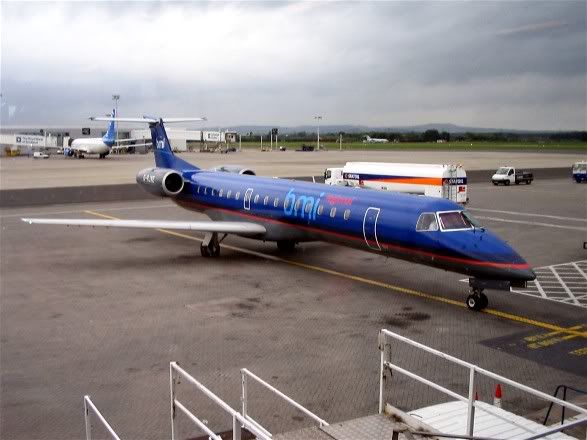 It was at this point when the weather started to get worse and the sky grew darker, so awful for taking window shots of the departure!
The good thing about bmi is that they provide free newspapers at the gate, which in this case was The Daily Mail. Only a handful of passengers were at the gate which I expected really.
Boarding was now upon us and we made a short walk to the aircraft where we were greeted by two friendly cabin crew (one male, one female). First impressions of the "Jungle Jet" were very good, not much head room but still very pleasant. The seating was the normal bmi blue cloth with the blue and yellow headrests (picture of the cabin will be further down).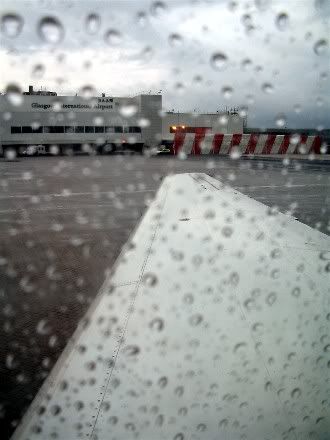 The Captain came on and welcomed us on-board and gave us some flight and route information. We would be cruising at 20000 feet, which is the standard cruising flight level for this aircraft on this route. Routing today would be over Carlisle and the Lake District and from there we would begin our descent into Manchester. He also said the flying conditions would be smooth once we get out of the clouds. He gave a lot of information!
The 19 or so passengers had now boarded and pushback was commencing. The number 2 Allison AE 3007 had now begun to wind up, the engine noise was much quieter then the Dash 8 as to be expected.
Soon pushback was completed and the flaps were set for takeoff.
Apologies for the rain drops!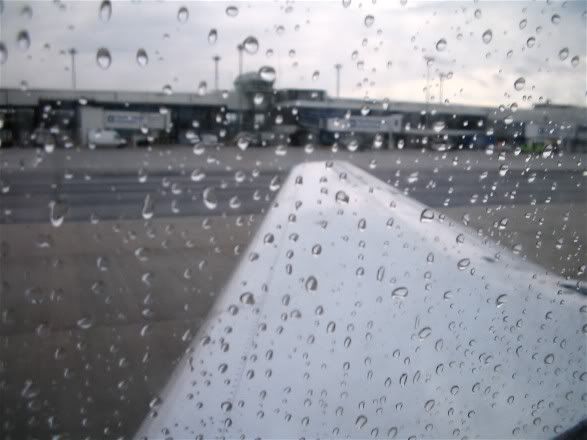 Thrust was increased slightly and we were on our way. Quite a long taxi to Runway 23 as you will be able to see on this chart.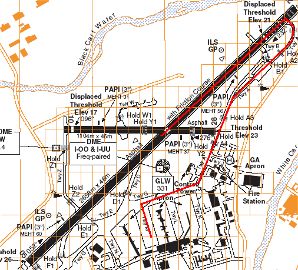 We taxied behind another ERJ 145 of BA Citiexpress going to SOU or BRS. After waiting for a short while for him to depart the thrust was increased to allow us to taxi onto the runway at a more reasonable speed.
So brakes were released and thrust was applied (no stabilisation as in most cases with the ERJ). The feeling of thrust was great, you really felt pushed back into your seat unlike any aircraft I have flown on (and yes I have been on a B757!).
After using up half of the runway we rotated into the dark Glasgow skies. Apologies once again for the rain rushing all down my window at the point of rotation!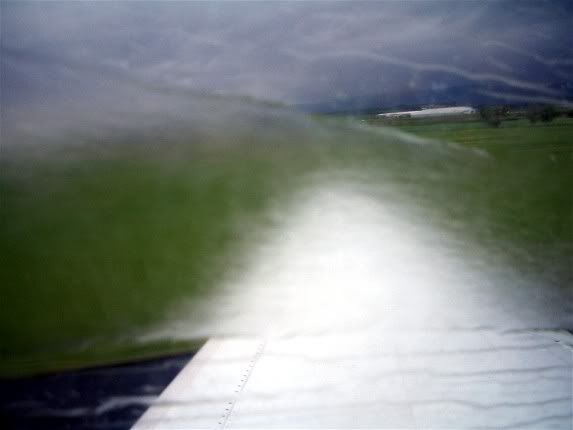 We maintained a pitch up attitude of 14 degrees as standard on the ERJ 145, which doesn't give the steepest climb out which would be useful in this weather.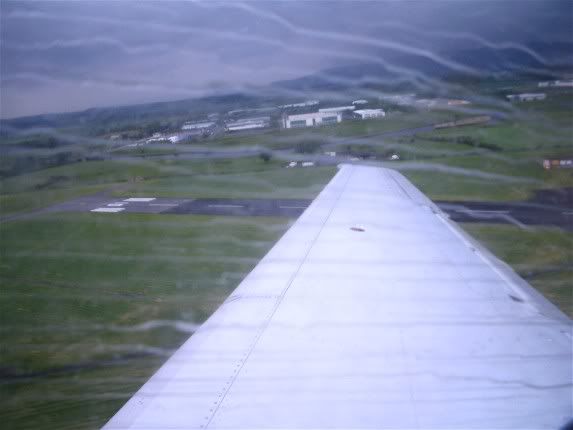 Continuing the initial climb out.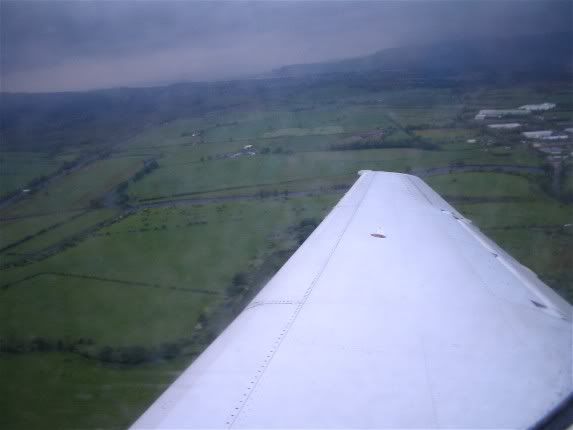 At this point we were entering the cloud layer, and as expected it was a little bumpy but this only lasted for a few minutes then it calmed down. The Departure (SID) today was a Turnberry 3A, so a little left turn and then that would take us pretty much straight over Carlisle.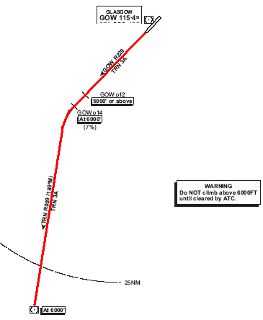 Making that left turn now, flaps up at this point.
Fantastic light here.
Cabin crew were released at this point and they began there cabin service, the seat belt sign was also switched off.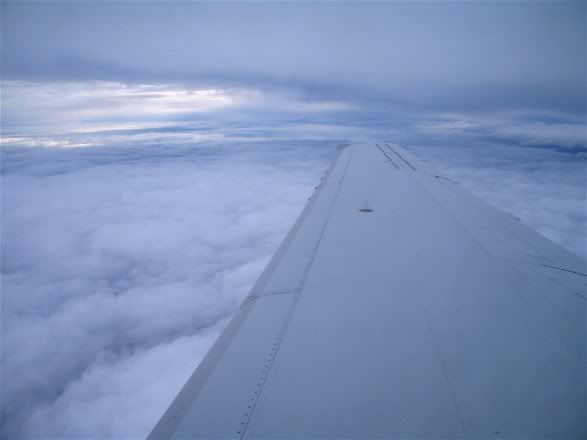 The cabin crew offered a cold beverage (soft drink or wine/beer) and a basket full of nibbles. Note the Embraer on the packet!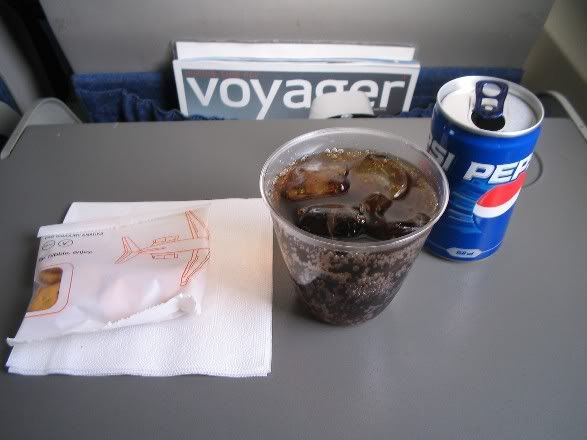 Perfectly reasonable for a 45 min flight.
At this point we cleared the clouds and I saw blue sky for the first time today!
Levelling off at FL200.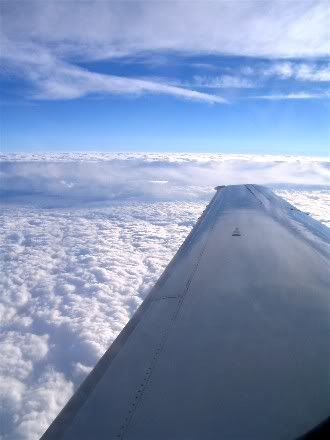 I then started to read my copy of voyager (bmi's in-flight magazine) which is a very good read and has a nice route map and fleet page.
This is what you have all been waiting for, a cabin shot! Business cabin is at the front, only one passenger was there today.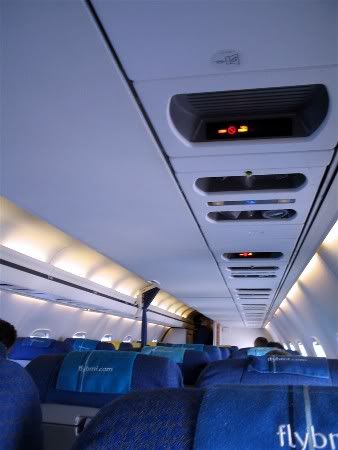 Very comfortable cabin.
The First Officer spoke to us (he was Irish and I think ex Jetmagic) he updated us on our progress and said we were beginning descent shortly and was expecting to be landing on the south-westerly runway at MAN (24R). He said thanks for flying bmi regional and hoped we enjoyed the flight (which I definitely did!).
Throughout the various announcements they always referred to them as bmi regional which is good, I thought they might just have said bmi.
Descent had now begun after 15 mins of cruising. Engines wound back and we began a gentle descent.
Rubbish was collected in and the seat belt signs were turned back on again. We were now on the ROSUN 1 A arrival (STAR) into Manchester.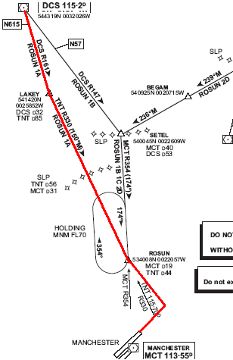 Just about to hit the cloud base.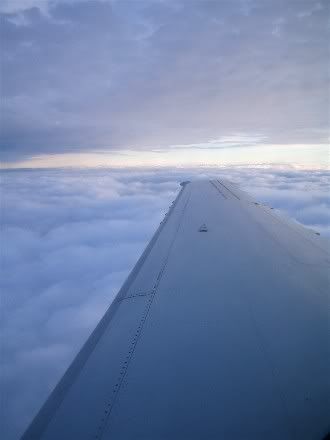 Using some spoiler to increase the rate of descent.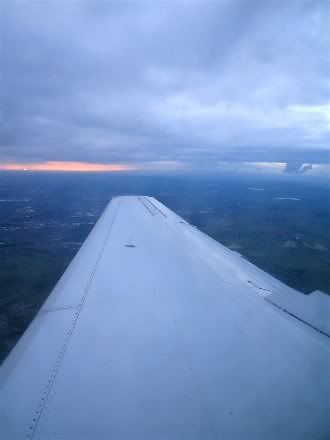 We were now fully established on 24R, full flap was selected for landing (45 degrees on the Embraer 135/145) and the gear was unlocked. What was very noticeable on approach was the feeling of the different thrust settings been applied.
Passing the Wythenshawe area.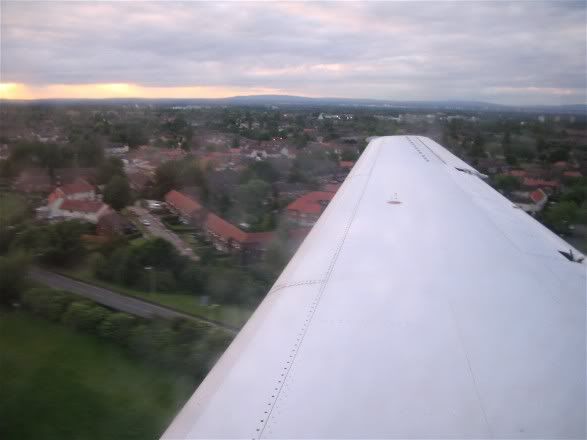 The Airport Pub.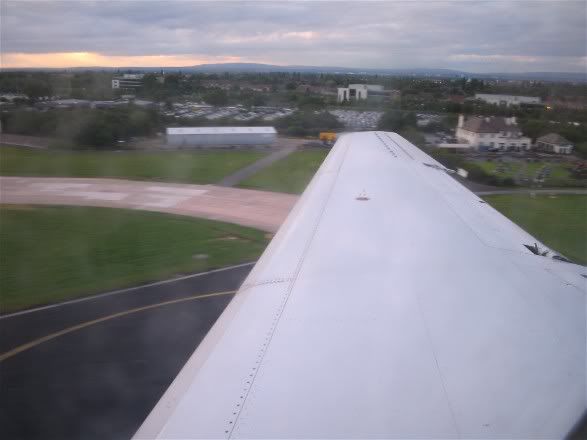 And flaring over the runway to eventually make a nice smooth touchdown on 24R.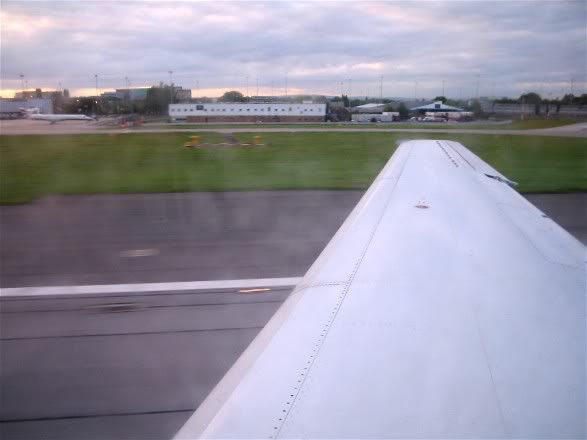 Spoilers are open and firm braking applied as we were going to turn off at the high speed exit.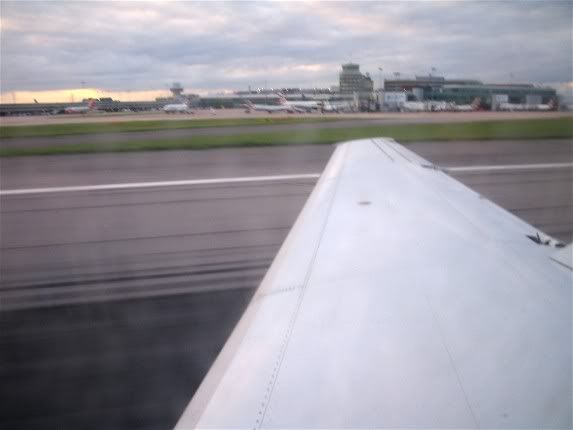 Our taxi to stand.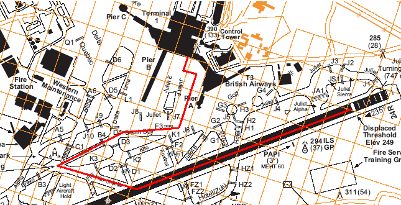 Flaps were brought up, and we taxied fairly quickly to our stand.
We soon parked up on stand, engines where cut off and the seat belt sign was switched off.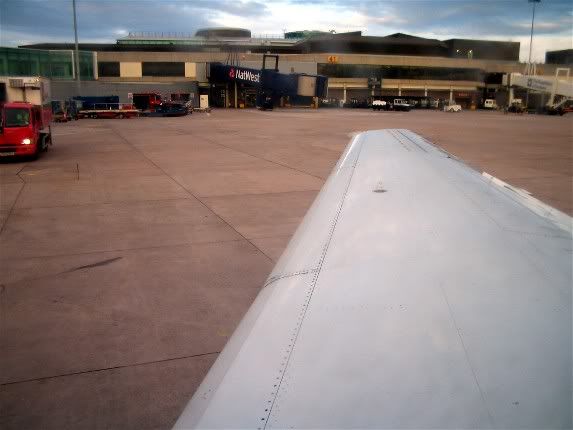 I waited for all the other passengers to disembark, and then (again) I asked for a flight deck visit. They said they would have to ask, I was allowed in (very lucky day today)!
They had turned all the screens off as this was this aircraft's last flight of the day. The crew were really friendly and they were quite young (both early 30s) and the Irish F/O said I could sit in his seat and he would take a photo of me. It would be foolish to put a picture of me on here so I have cropped myself out!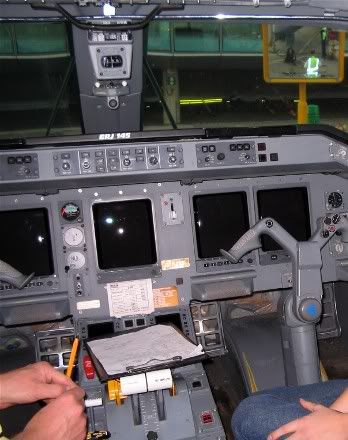 The wonderful Embraer 145 flightdeck.
After a good 5 mins spent chatting with the guys it was time to go, I said my thanks to them and the cabin crew and walked onto the apron.
----------------------
What a great flight, excellent crew and an excellent aircraft to match. The Embraer 145 might not be the most exciting of aircraft to watch but it's a fantastic aircraft to fly on and you get a real sensation of speed. And I would jump at the chance to fly on one again!
I would highly recommend bmi regional, they are quite expensive but they do have some good deals from MAN, sometimes.
Hope you have enjoyed both reports on two quite quite unique types that aren't really covered on A.net trip reports. Any comments/questions will be greatly appreciated as always.
Cheers
Ryanair737