Hi all,
after some months of lurking around at this place I finally decided to sign up, just to be a part of this great site. This is my first post as well as my first trip report, so please be nice to me!
June 5, 2004
Innsbruck-Heraklion
OS 9093 op. by Lauda Air
Boeing 767-3Z9/ER OE-LAX
Seat 32G
Now, where do I start...
At the end of May last year I had a kind of a successful time at university, having passed a few exams I hadn`t thought I would, but it was also a very stressful time with a lot of studying, of course. But even without all that studying, there was not much to do since the weather was terrible in Tyrol. So I decided to move southwards for one week between two exams (I figured I could also read the books which were necessary on the beach; of course I didn`t do that but the exam at the end of June was nevertheless a success
). At a last minute travel agency in Innsbruck I found my perfect vacation: One week in small hotel on the beautiful island of Crete, but the best thing came when the woman in the agency showed me my assigned flight: with NG departing from INN! I had thought I had to depart from MUC since it`s always a bit difficult to get last minute trips from INN (I have no idea why, btw). Then my thoughts went further: I knew there was only one NG flight to HER that summer season - a 767-300ER! For most of you this may not sound exciting but this is the largest aircraft to land at INN on a scheduled basis! Knowing that none of my friends had time/money/aviation enthusiasm to come with me I booked just for me alone. But hey, I´ve once read on a.net "vacation = wasted time between two flights", so who cares!
On June, 5 I drove to the airport full of excitement. There weren`t many people around on that Saturday morning and the check-in line for my flight was rather empty. Obviously the plane wasn`t going to be full and I had no problems getting a window seat.
After I had entered the gate (or whatever you call this at INN)I spotted my plane for this trip and I was very happy to see this big 767 in front of me!
Then the funny boarding sequence began: At INN, you leave the gate simply through a door and then you stand right on the apron, but even if your plane is just a few meters away from you, you have to enter a bus which brings you to the stairs! These were the two most senseless minutes I´ve ever spent on a bus! I was brought to the rear entrance but there were too many people blocking the stairs so I decided to go to the forward door, having the nice opportunity to stand right next to a damn-good looking PW4060 engine.
Sorry I didn´t take a photo of it, my first pic is the view from my seat:
A NG 738 with winglets after arrival on rwy 26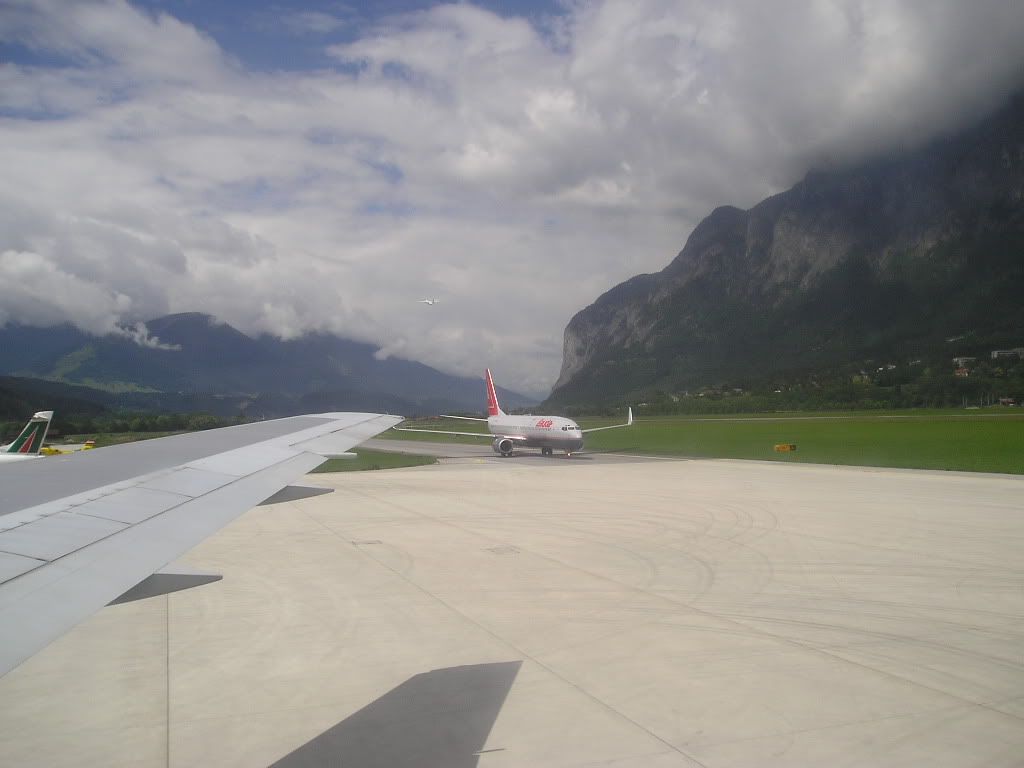 Soon boarding was completed and to my delight, the seat next to me stayed empty!
We started to taxi to runway 26 after the obligate backtrack we lined up and take-off thrust was set.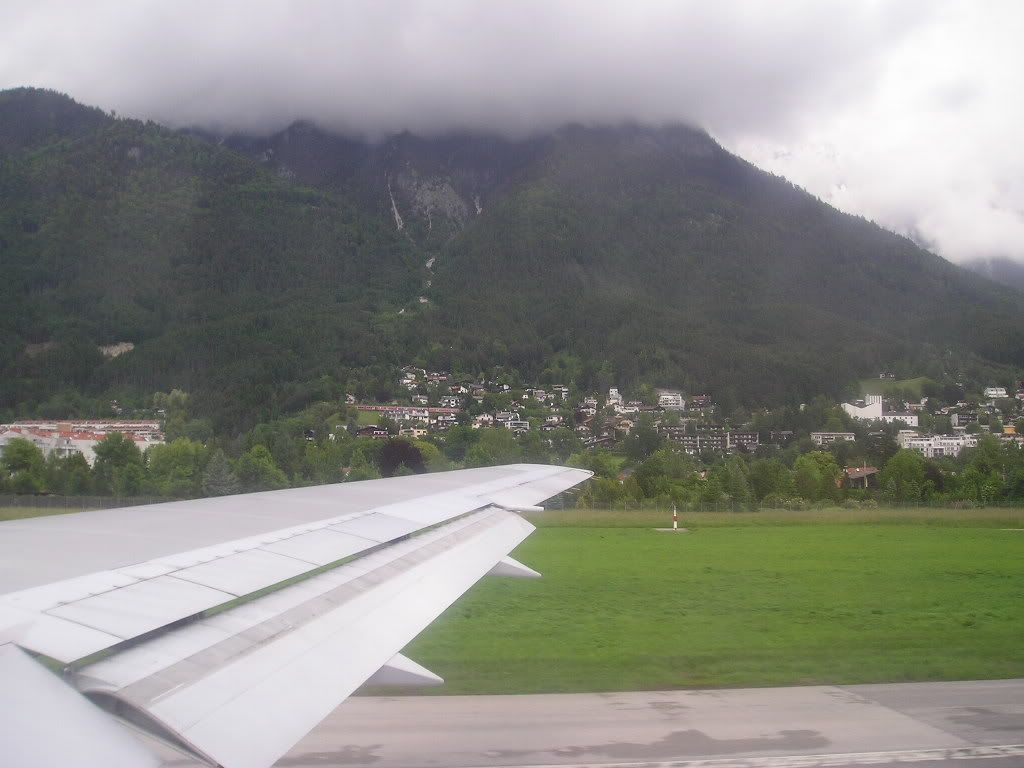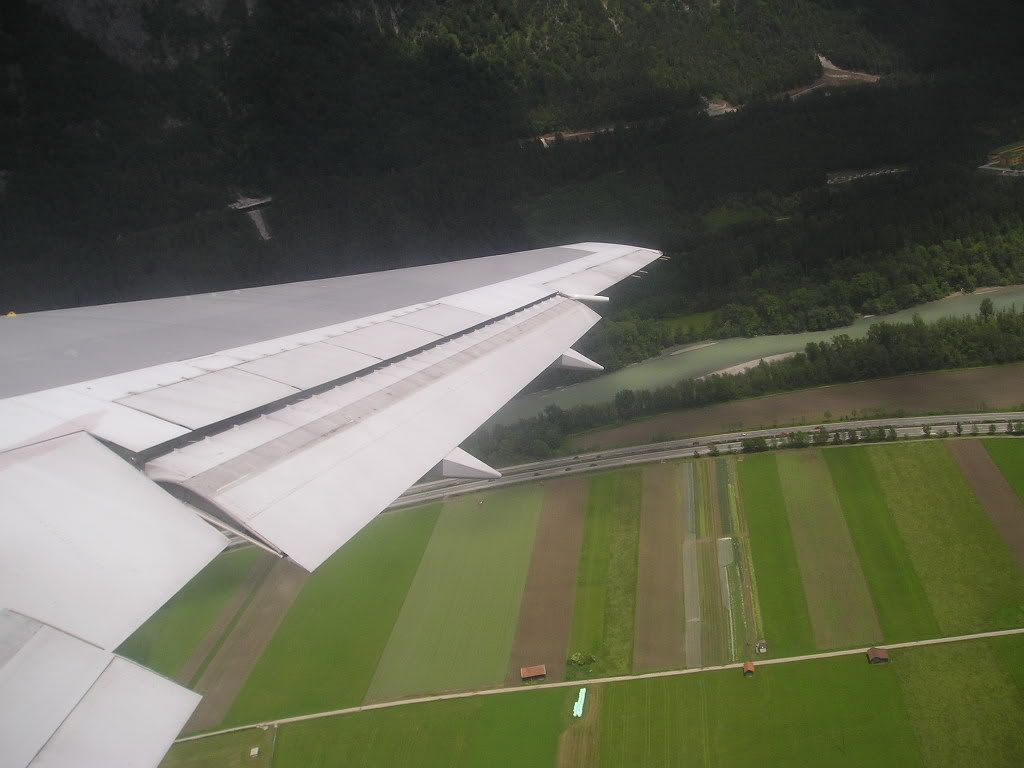 After take-off we banked towards the mountains before we started a left turn.
The ski area "Axamer Lizum" can be seen here.
Look at that snow! It was June! I was really looking forward to some warmer climate!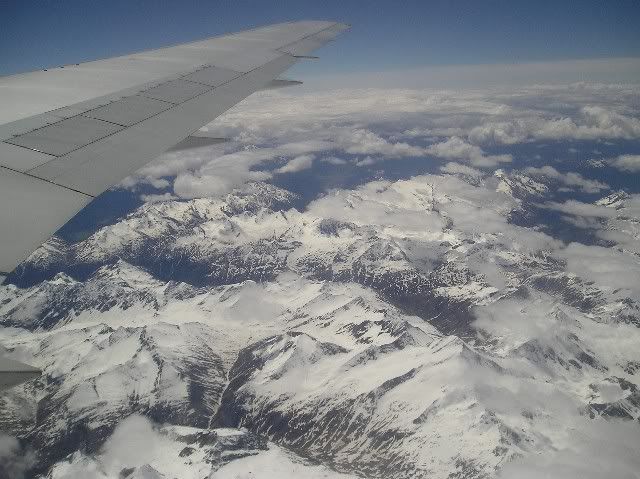 Once at cruise level I started to play with the PTV. It was really cool having an airplane equipped with it for this flight which only lasted two and a half hours! You could clearly see that this A/C was also doing long-haul operations.
Finally above a warmer country - Mt. Olympus below us!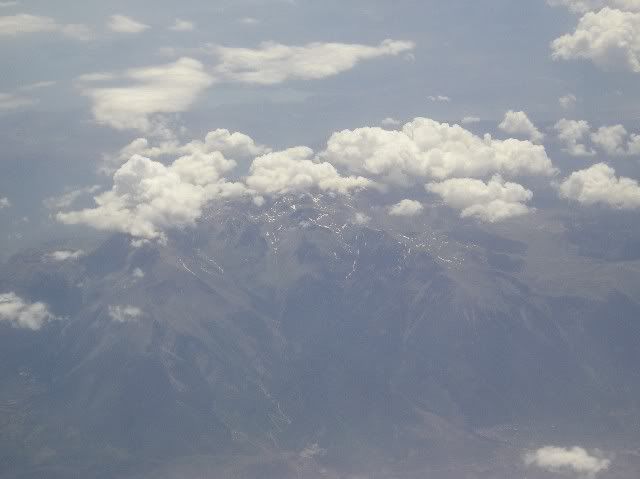 After a great flight with a lot of space, a friendly crew, good lunch, PTVs, great views and so on we started our descent into HER. It was a bit foggy but the captain told us the weather would be sunny and warm.
A really cool flight came to an end on rwy 27.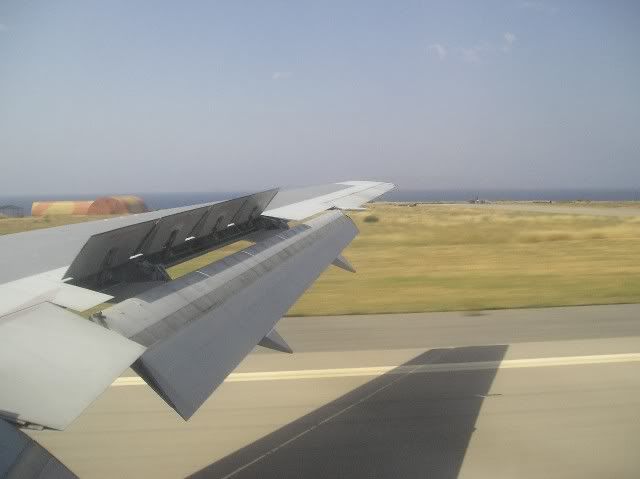 Stepping outside into the hot Greek air was wonderful. Inside the airport, I was the first to get my baggage!
Then my vacation started, but in fact I was just lying on the beach getting tanned, spotting aircraft on finals for rwy 27 and waiting for my return flight. But as nice as the first flight was, as bad was the return trip. The aircraft was OE-LAU, also nice but no PTV, it was packed full and I hadn´t got a window seat even though I had asked for one and the girl at check-in had said "no problem"!
Nevertheless it was a great trip, a nice week and cool flights!
I hope you enjoyed reading my trip report!
Sebastian