I apologise in advance for the lacklustre photography you'll experience in this report. Having widely criticised Docpepz's horrific attempts and having spent the last five months analysing his photos and wondering what on earth he was photographing, I'm embarrassed to say my attempt is far worse. The combination of glare, turbulence and movement plus the sheer embarrassment of taking photos in an aircraft cabin surrounded by fellow passengers has yielded an unmitigated disaster. But should anyone dare criticise them below, given the embarrassment I endured, I can only assure you that you're destined for death!
Airline: Qantas
Flight: QF 15
Scheduled departure: 1700
Actual departure: 1805
Scheduled arrival: 2200
Actual arrival: 2240
Aircraft type: Boeing 747-400
Registration: VH-OJU
CHECK-IN
Arriving for check-in at around 3pm I was greeted with the queues and chaos that have become synonymous with Perth's International Terminal on any given afternoon. With three departures – Singapore Airlines' B777-200, Malaysia Airlines' B747-400 and my Qantas B747-400 to London via Singapore, the international terminal evidently struggles despite its enormous size that only London's Heathrow can mirror.
Today I was privileged to be ushered towards the exalted First Class counter and of course felt deeply honoured that my humble shoes were allowed to touch the superior carpet. I was greeted by a friendly and acutely professional middle-aged woman who handled the whole process very efficiently. Indeed a good start to the trip, particularly as she jumped up and ran after me shouting my name loudly having left the counter. Absolute devotion, dedication and just so besotted with me that she couldn't contain her sexual excitement? I think not. Einstein had instead forgotten his passport at the counter. What an idiot.
After that interlude that no doubt will be discussed in airport staff bitching sessions for the next seven years, I thought I was on a quick journey to the Qantas Club prior to boarding my very late 747. Instead, I was greeted by the charming sight of yet more chaos in the microscopic outbound immigration hall which was this afternoon full of Chinese Singaporeans and Malaysians headed North, perhaps for Chinese New Year. Joining the queue was indeed an exciting and amazingly pleasurable experience for me and I took great pleasure for the next forty minutes analysing the pattern of the new carpet and any minor flaws and blemishes in the terminal's newly painted walls. Should any of you have any questions about the terminal's aesthetics, please don't hesitate to contact me at your convenience. My thesis will soon be available for a nominal fee that is commensurate with the effort and dedication I put into my studies.
Having endured the immigration queues for such a painful duration and only barely awake, it was like a breath of fresh air for a whole 90 seconds as I wandered up the stairs for security screening. Such relaxation was short-lived as I of course was forced to remove my shoes, my belt, my computer, my I-Pod, my telephone, my video camera and my still camera from their respective bags, pockets and crannies. I was just waiting for the invitation to remove my clothes for the benefit of other passengers. Unfortunately or unfortunately such an opportunity was not forthcoming which is probably good considering even a 90 year-old-woman who hasn't experienced the joys of intercourse would have been disgusted and terrified of my body. Yet another horrific escapade or perhaps interlude of indignity and I was then invited for random security screening which left me feeling proud, honoured and special because so few passengers are so privileged to be able to participate in such an activity that is so widely loved among the world's travellers. I look forward to your congratulatory messages below but please, you need not send gifts for I am but a humble Australian unworthy of such kindness.
THE "LOUNGE"
Security screening aside and I finally thought I was headed for the relative solace of the Qantas Club. Upon entering I was impressed. I was greeted by two quite charming and erudite elderly ladies who appeared at once to be accommodating and was impressed at the appearance of the lounge which has been renovated since my last state visit. Heading to the all-important food counter was when the panic unmistakably set in with some interesting revelations – a complete and utter lack of hot food or even lukewarm food, heaven forbid. Now as who know me well will attest, food is the centre of the universe for this individual and to enter an airline lounge completely lacking in such a luxury as food that has seen an oven is at once horrifying, appalling, disgraceful and of course regrettable. If global warming presents a massive threat to humankind, the lack of hot food for me means the end of our species on this polluted and corrupt planet we live or survive on, depending whether you're an optimist or a pessimist.
Having obviously seen my evident dissatisfaction at the condition of this food counter catering only to herbivores who appreciate the sensous thrill of tasteless, course matter that mediocre food aspires to provide, one of the dear old elderly lounge attendants rushed, like a doting grandmother, to ask whether all was okay with this horrible insolent traveller, often referred to as an ungrateful little shit. I politely questioned her about whether she had perhaps forgotten the home-made hot food in her little kitchen at her house in the suburbs, of course a symptom of Alzheimer's which affects many of her generation, to which she responded proudly that "hot food is no longer available at the international lounge". Interesting. I'm still contemplating how the dear old lass was able to say such a frightening thing with such a beaming, friendly smile and whether such a reaction is characteristic of a women possessed by the demons that keep us awake each night. I will never understand old people. Never. The fact that my family and friends refer to me as such is perhaps because of my inability to understand this foodless world. With a dismal food selection primarily consisting of woefully cheap cheeses that even my snob of a dog would turn his nose up to, being fruit and water crackers; the food selection was boycotted and a decision was made to try and use the wireless internet to bitch to anyone who would listen on MSN or email about how tough my life would be without something decent to eat for the next hour or so.
This wireless internet service is one of Qantas' babies obviously as they are so quick and proud to proclaim it as being available in their lounges. This too was to yield yet another horrifying discovery – the wireless internet uses Telstra's Hotspots which requires a subscription fee. Needless to say, Mr Stingy was unwilling to pay a subscription fee to use the service for ten minutes of sheer boredom and in a state of absolute starvation. The combination of a lack of food and extortion almost had me keeling over in the dark and windowless lounge in what is unarguably the city of excitement. The fact that I survived Perth Airport is only testament to the dedication I have for this great city. Alas I digress.
BOARDING
The call to board VH-OJU, one of Qantas' newer queens of the sky finally came at approximately 1745, some 45 minutes after the scheduled departure. After heading out of the "lounge" (I begrudgingly use that term for a lounge implies that it is a place of enjoyment) for Gate 51, it was apparent that this was to be a full flight with almost 400 passengers crammed into what is a painfully small 'alleyway' with countless screaming and irritated children desperate to get aboard and begin their journey or perhaps the fear of being greeted by one of Qantas' elderly prison wardens who are peculiarly referred to as flight attendants in much of Qantas' corporate literature. Impressions of yours truly pointed to the fact that most passengers looked like they were headed for London, Frankfurt, Paris and Rome and many were evidently exotic Europeans. I could only wonder why on earth they were travelling Qantas when they had the option of being seduced by the sarong-glad Singapore Girls on SQ226 which, as is typical of Singapore Airlines, left on the dot at 4pm.
It was entertaining standing next to a family with two young children who kept asking questions about the respective aircraft on the apron. I was at first impressed with dad's knowledge as he managed to wisely tell his six-year-old son that we were travelling on a 747-400, the newest model of the 747 as it had winglets. I of course was about to extend an invitation to him to attend one of my famous soirée luncheons as a reward for his contribution to aviation education. But when Emirates' A340-300 arrived and he called it a 707, the expectations and respect for my friend took a shattering blow which of course negated the need to make any small talk and instead led to cessation of any further respect and admiration. I'm sure the look of thunder on my face left him a devastated and broken man, surely single as no wife would tolerate such ignorance. Though evidently an idiot, I wish him all the best in his counselling. Please give a moment of silence. That said, perhaps my diagnosis was wrong. Maybe Family Man was right and was doing a great service to those around us. I'm sure Emirates is thrilled to think that their passengers believe they are flying on two hundred year old creaky metal tins. Nostalgic, yes. Families were invited to board the aircraft first but I think it would have been nice if they made it an invitation also for First and Business Class passengers to board first as Singapore Airlines does. Perhaps it's something Qantas could think about at some stage though of course it's not yet a matter of urgency. (I say that in fear of being caned).
Greeting passengers at door 1L was the Cabin Services Manager, probably in her late 40s and she looked cheerier than I could have, particularly as this crew was doing a Singapore-Perth-Singapore turnaround – with a duty time in excess of 12 hours. Up the stairs and I was the first passenger on the Upper Deck which was to have all 22 seats occupied for the first segment to Singapore. A very attractive blonde flight attendant offered to help me with my cumbersome carryon and I was finally seated with an orange juice in hand, kindly given to me by a flight attendant who looked to be of Korean origin. Obviously I scared her badly as I was never to see her again. Poor woman. I hope her psychologist is helping her but at least I didn't see a carcass or even blood on the tarmac as we departed so I'm assuming she's alive, though probably a vegetable in some noble Perth institution.
THE SKYBED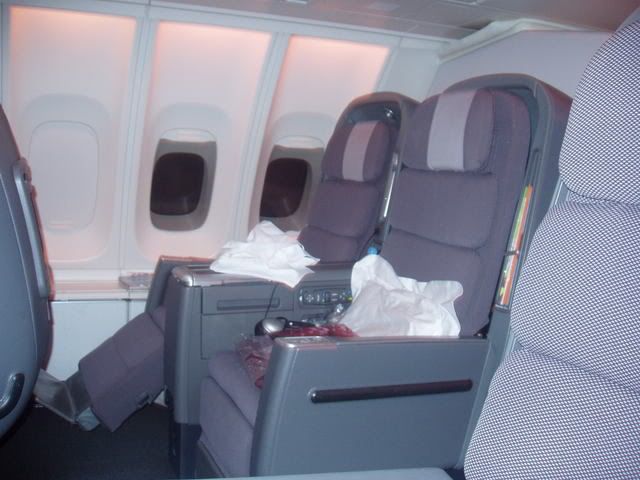 First impressions of the Skybed were excellent – spacious, comfortable, versatile and evidently well-designed. The most prominent of the many impressive features upon boarding was the number of storage compartments on the 747-400 – two under the armrest, one at the side for headphones, a water bottle holder, shoe compartment and a literature pocket located on the side of the hood, along with obligatory side storage compartments of the 747's upper deck.
Not having experienced a lie-flat Business Class product before, I was sceptical about whether such an incline could really be comfortable when in the fully-reclined position. To put it bluntly, such reservations were foolish and I found it extremely comfortable when reclined, particularly with the lumbar support extended fully. Further, I also found that by using three of Qantas' excellent pillows (2 for the head and one for the back) this enhanced the comfort further. Though I'm an expert in just about everything as you will already have gathered, I regret to advise I'm sorely lacking in ergonomic proficiency. However, I shall give my seal of approval to the ergonomics of the Skybed and I am quite certain that is the best recommendation available to such a product. And to think I don't get paid for such endorsements… In terms of the oh-so-important length and width, I can offer no derogatory comments whatsoever unfortunately and would instead commend the respective designers who have evidently designed an impressive product though many criticise the dear old Skybed for what they believe is a product that screams of a lack of innovation. If she aint broke don't fix it mate!
For relaxing, the Skybed is wholly impressive but the controls can be somewhat confusing. I generally don't consider myself a full fledged idiot, though I do have many idiotic tendencies, but the SKybed's controls are peculiar, particularly the legrest which offers four adjustments but interestingly enough, and defying basic logic, the button at the opposite side doesn't undertake the same function (pressing the button opposite down doesn't mean it goes up) so it can be somewhat difficult to find the ideal position. The electric motors are also amazingly loud and I was just waiting for takeoff as I tried to recline it as it whirred and carried on like only an old, creaky and rusty Nissan could do. If a car's electric seats were that noisy we'd all have to wear ear muffs when the seat is adjusted. The headrest too is somewhat interesting – it provides good lateral support around the head but instead of a height and/or fore/aft adjustment, the top of the headrest just tilts forward and I really was unable to see the point of it. Perhaps others may disagree.
Control panel for the seat within the hood
All Skybeds are fitted with an electric massage function which seemed to work fairly well, though a little extra strength would be appreciated for someone whose nerves are about as sensitive as Ozzy Osbourne's. The stalk-mounted LED reading light however seemed a little useless for it doesn't have sufficient length and always seemed to be shadowed by my bulky shoulders characteristic of such an obese frame. The night light, on the other hand, which is located in the seat shell, was excellent for reading with a very decent white light. Even better is how idiot proof this particular light is to operate. Any respective idiot merely hits the light and it activates. Magnificent for technophobes who are yet to come to terms with the sophisticated nature of electric illumination. Unfortunately my neighbour who was certainly large enough to do the aircraft's pushback manually herself, found such simplicity a very difficult thing to grasp as I'm sure her intellectual capacity was far beyond indulging in such simplistic forms of illumination activation. When I took the time to explain the principles of this light she at once wanted to bestow the exalted AFASOP on me. Though I'm sure many of you dream of receiving such an award, for those who haven't heard the acronym, it stands for the Award For Assisting Seriously obese Passengers. I also liked the fact that there are controls for recline within the privacy pod so you need not lean forward to the end of the armrest to adjust the seat when it's reclined. The seat is also fitted with an AC laptop power supply port for those who, subconsciously at least, see the need to work throughout the flight. All in all, there is little to complain about with the Skybed and I'm now more convinced that the distinction and differentiation between First and Business Class is decreasing and at the end of the day paying for First Class' few extra degrees of recline, food, wine and service is somewhat nonsensical unless your time is so very valuable that you cannot waste a second or your fingers are so soft and delicate that you cannot touch anything but the finest Connolly leather and Burr Walnut, as nice as such luxury is!
THE CABIN
The cabin on VH-OJU looked extremely chic and modern and I'm a fan of the dull cabin scheme of the black and grey contrasting with the white – it gave the impression the whole cabin was fresh from Everett. Orange juice was topped up and piping hot towels distributed as the full contingent of passengers filed aboard and the doors were closed at 1805 – one hour and five minutes behind schedule, according to Captain Jumbo because of delays in London.
DEPARTURE
Safety demonstration was a manual show but because of the size of the Skybed it's difficult to see. Quite when Qantas will join the masses and create a video demonstration remains to be seen but I do hope that it will happen sometime soon as I'm sure it makes it far easier for passengers and cabin crew alike. Most horrifying of course is when the demonstration is undertaken by effeminate stewards as unfortunately many have a habit of being creative with their gestures and body movements which can leave this poor innocent deeply traumatised. That said, I desperately wanted to stand and give them a standing ovation for such an entertaining show but I controlled myself given that the 200 year old couple behind me would probably have screamed, fearing a highjacking. Respect for the elderly has always been one of my core values. Doors to automatic and we were off for a runway 21 departure after a relatively short takeoff roll. Made a right turn on a NAMBU2 departure and headed for the beach, or my summer sand residence before making another right turn and heading North for Splendid Superior Singapore (SSS). Seatbelt signs turned off at around 10,000ft and the cabin crew sprang into life in a spirit of enthusiasm that only the Late Pope John Paul could mirror with his impressive desire to stay alive. Bless his heart. The world isn't the same without him.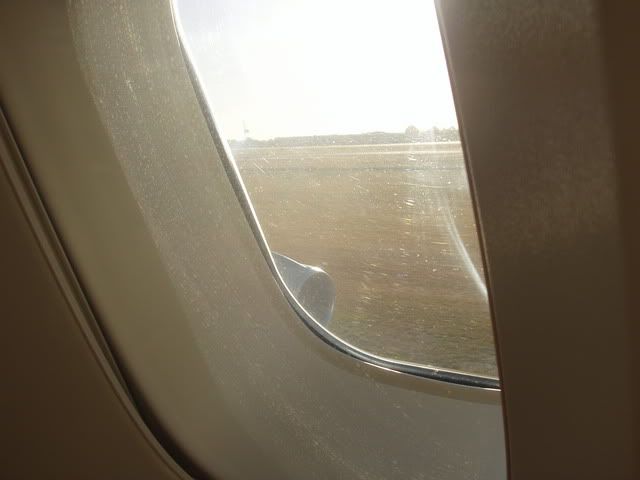 Forward of the wings, the Rolls Royce RB-211s sound like an outboard motor on your dinghy ploughing away with quite a distinctive groan that could be clearly heard until around 10,000 feet as thrust was reduced.
As we continued our climb the Cabin Service Manager began her state visit to the upper deck accompanied by her humble minions and made an effort to welcome aboard each passenger, find out where they were going and get an idea of their connection times from Singapore given our late departure. She was friendly and relaxed and it reflected very well upon Qantas. I was impressed. I'm sure Singapore_Air would have commented that she would make a good wife, before chaperoning her to the galley for the obligatory sanitary napkin tests that have become such a legendary activity at this website. The CSM was particularly friendly with the elderly British couple behind me who felt the need to ask seven thousand of the world's most obvious questions nineteen times and still be unsure of the answer. Bless the poor old senile dears. I hope they're not still wandering around Changi Terminal One in a daze looking for her. I hope even less that they followed her out of the terminal as I'm sure they'd have seen activities that would have left them deeply scarred for life.
ONBOARD AMENITIES AND SERVICES
The famous L'Occitane amenity kits were then distributed and they are quite impressive with a fairly decent range of toiletries and comfort items. As nice as these kits are, and I've gone to great lengths to take photos of the contents of this pack for you though they aren't with this initial posting, I still fail to see the commercial sense in offering them as so few passengers ever use them onboard and they invariably seem to end up at the back of the bathroom cabinet only to be used seven years later when a guest arrives and is in desperate need of a disposable toothbrush because they can't afford to bring their own. Alas whilst Qantas still sees a need to provide these small luxuries, I have no right to complain.
The lavatories, kept extremely clean throughout the entire journey, were also stocked with L'Occitane toiletries with a water spray and moisturiser, obviously for the pretty ladies aboard so they could keep me entertained for the flight. The marble effect in the lavatories is classy and elegant in an understated way. To my chagrin though, there was no paper towel to dry my hands so I'd advise any of you who sit in 17A on VH-OJU to refrain from touching the armrests or seat controls as you're bound catch some horrible disease from me after my return to the seat with wet hands and the remnants of my dinner with the bonus of my bodily fluids. I apologise in advance to the poor sod who dies. I promise I'll write a sympathy card upon your untimely departure and send a representative to your funeral.
ENTERTAINMENT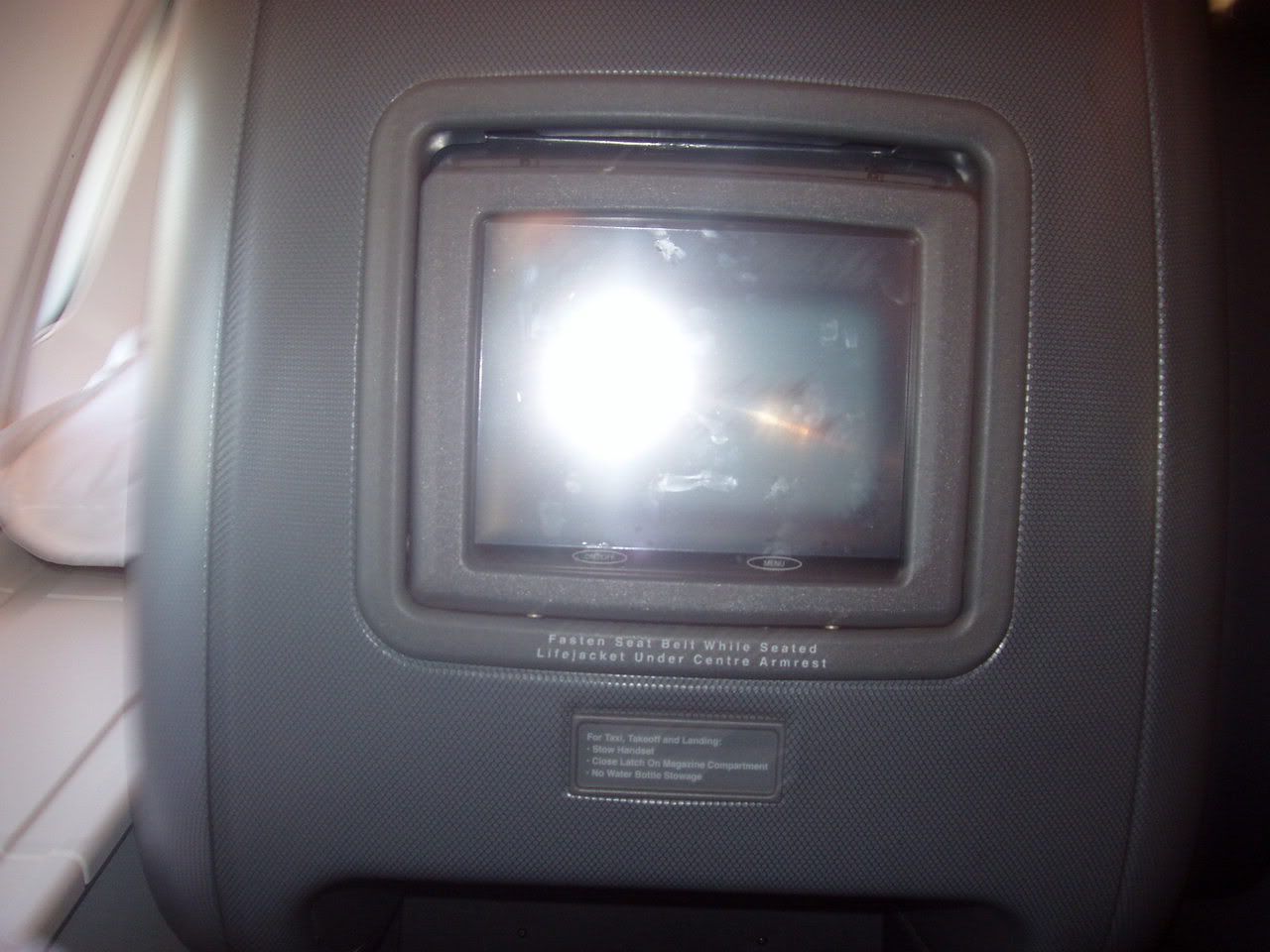 (Thankfully I have now worked out how to turn the flash off!)
The IFE system aboard this aircraft was the Rockwell Collins TES system which, in J Class, is screened on a 10.4" touch-sensitive screen and minus the AVOD system ostensibly being installed across the international fleet. With direct sunlight on a quite magnificent evening with a memorable sunset, the screen was difficult to see due to glare with the window shades up or down and my only suggestion would be that they try to look at ways of improving the number of possible adjustments and perhaps be very innovative and extravagant with glare protectors on the side. Again, these are relatively minor comments and I'm not yet willing to ring Geoff Dixon at 4am in a fit of rage to demand an instant explanation and many millions of dollars of compensation. But that's only because my own sleep is far too important to me.
Entertainment options weren't atypical of the normal drivel that accompanies the increasingly sophisticated entertainment systems of airlines worldwide but that's more the fault of my antipathy to movies rather than Qantas' selection. The system is easy to use and is somewhat less retarded than the arguably more advanced yet flawed Matsushita 3000 system patronised by Singapore Airlines and others.
DINNER
MENU
Entrée
Copper Platter with Italian Accompaniments
Main Courses
Chicken Kapitan with Jasmine Rice and Asian Greens
Marinated Lamb Fillet with Greek Style Vegetables and Tzatziki
Strozzapretti Pasta with Roast Pumpkin, Feta and Pine Nuts
Green Leaf Salad with Herb Vinaigrette
Dessert
Selection of Seasonal Cheese and Dried Fruit
Blueberry and Almond Cake with Double Cream
Sliced Fresh Fruit
Chocolates
Or
Express Dinner
These dishes will be delivered and cleared as a service priority to allow maximum time fr work or relaxation
Asian Style Sweet Corn soup
Hot Smoked Salmon Fillet with Capsicum Salsa and Green Beans
Green Leaf Salad with Herb Vinaigrette
Refreshment
Fresh Whole Fruit
Mother Meg's Scottish Shortbread
Chocolate Bars
The appetiser for the meal came around 45 minutes after takeoff and was an interesting, if somewhat basic compilation of copper and other balls filled with something that I feel it healthier not to consider. The appetiser tasted fine but I couldn't help but feel that I was on a romantic picnic with my seatmate eating such cold food. Interestingly enough, Qantas is still using plastic knives which aren't particularly useless but still not a true or dignified match for proper metal cutlery. Let's keep our fingers crossed for the return of the amazingly sophisticated metal set. My next suggestion would also be to change the very basic plastic trays that the meals are presented on in favour of something perhaps a bit more elegant for those who have nothing better to do than sit and criticise. The appetiser was fine – though I certainly didn't feel compelled to write a postcard to my mother telling her all about it. I'm sure she was distraught.
My glass was continuously kept filled by the flight attendants, most of the time with Apple Juice or Evian and the meal service was efficient yet didn't seem rushed and the drill was always "Would you like a refill Mr Insolent?" Very hospitable. Service from the attractive blonde flight attendant never failed to impress me. Excellent.
My selection of main course was for the chicken which was good – probably one of the better airline meals available. Chicken to me always seems the safest option on aircraft and Qantas Catering did a good job of making a decent meal, though you'd probably pay $5 for the same quality in a market. It's worth noting that the food isn't much better than the regular Economy Class rubbish – just more rubbish to chew through and served on china in the spirit of pretentiousness.
There were two runs through the cabin with the bread basket which were nicely warmed.
I decided to go back to the galley and ask for another main as I was still hungry and wanted to prove to my neighbour that I was the bigger man, though she evidently was. Upon hearing my request, the male said "no. you can't", then smiled. I of course didn't want to smile and instead retorted firmly with clenched lips "do you want a kick up the backside you little shit?" and remained straight-faced for about 10 seconds. As the look of absolute fear covered his face and I could see him evaluating the Emex as his only escape, I couldn't help but burst out laughing, having achieved my objective and won. I reminded him that the passenger is always right and so automatically wins any joking contests. Content at my victory, I returned to my seat, awaiting for him to concede that I had become the champion. Don't get the wrong impression – we both got along very well and had a lot of fun pulling the piss out of each other – something that is relatively unique to dear old Qantas.
Dessert too was decent with an apple cake and double cream.
Feeling somewhat civilised, I asked for a glass of port after the meal which was pleasant and a smooth way to finish the meal whilst continuing to enjoy what was a fairly stunning sunset.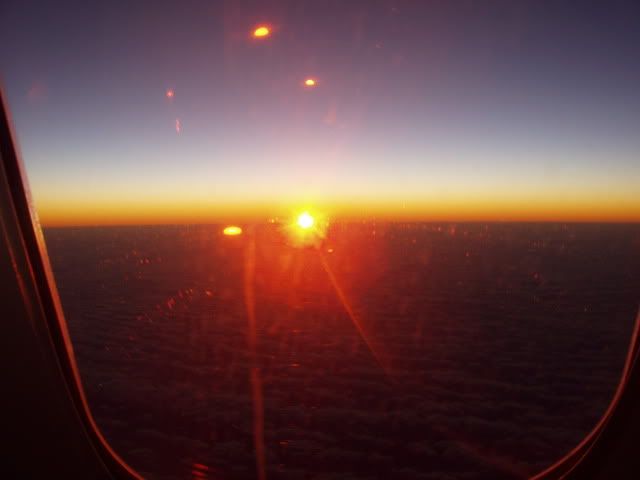 Continuing with my demands throughout the flight I requested a hot chocolate which was also, believe it or not, enjoyable – though Qantas are big fat liars when they say that they offer 'chocolates' after the meal. If I supported a litigious society, have no doubt that I'd be in court opposite Qantas for their false promises and advertising in their menus. They strictly abide by the premise that each passenger is worthy of only one Valhrona CHOCOLATE and when my large though highly entertaining neighbour rejected her chocolate due to her Weight Watchers commitments, the crew cleverly snubbed me. Any accountant would be deeply impressed at such thriftiness.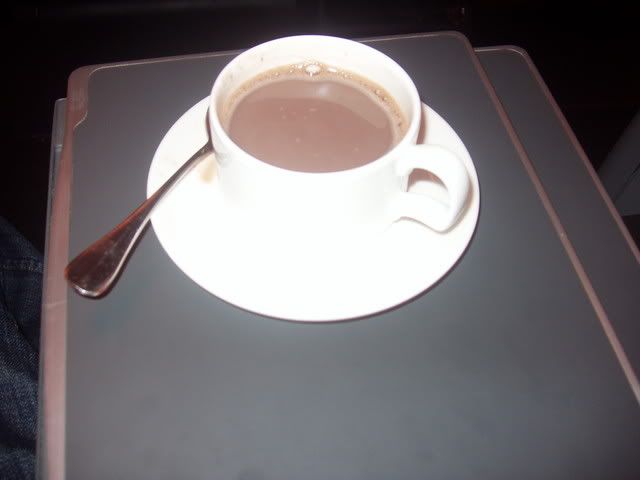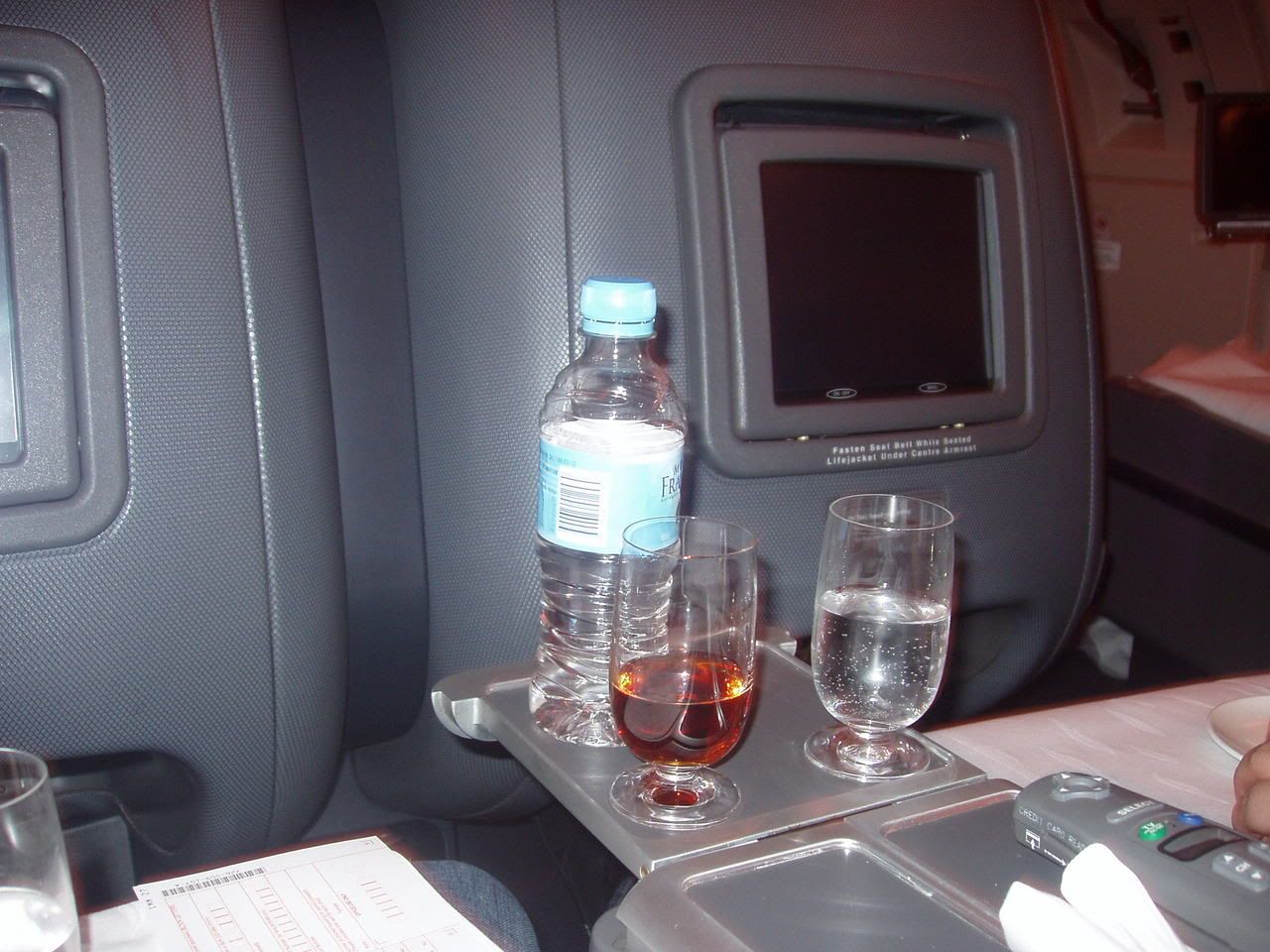 Having survived the meal service and feeling somewhat tired on what is one of the world's longest flights, I reclined my seat all the way and actually managed to fall asleep quickly which is testament to the comfort of the Skybed and I'm not particularly short at around 190cm though Docpepz might feel the need to interject and argue that such a claim is pure fallacy. Take no notice of him or you'll have my wrath to deal with.
Horrific photos with the seat in the reclined position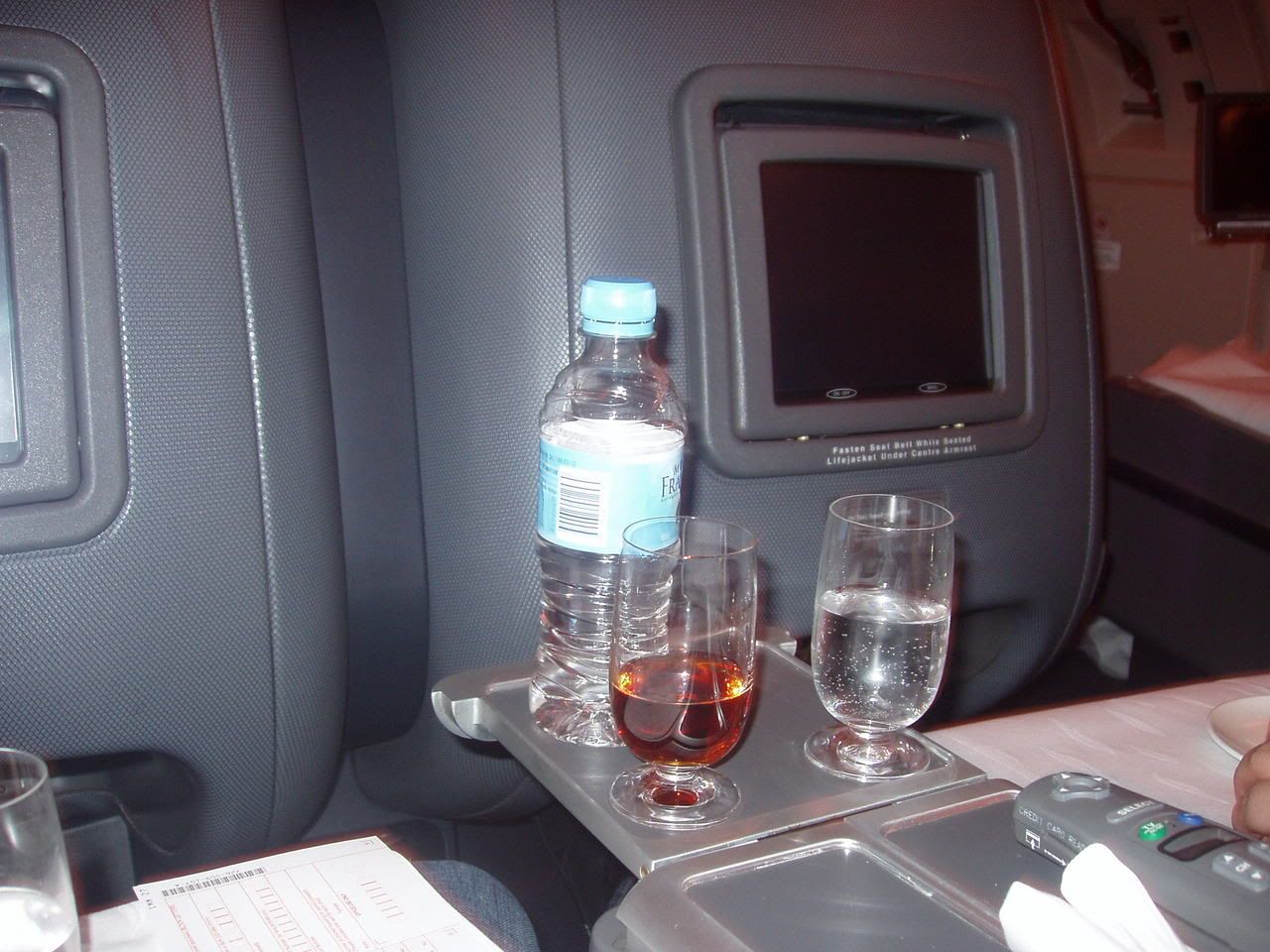 The rest of the flight was spent lazing in the grey throne and we began our descent into Spectacular Splendid Singapore (SSS2) around 10:15pm, touching down at the famed Changi airport very smoothly, accompanied by the usual roar of Rolls Royce RB211s in idle reverse thrust. Taxied to the gate and I was greeted with wonderful Singaporean humidity.
All in all, Qantas was impressive. With a decent onboard product (compared to other airlines on the route) and good, though at times overly casual service, Qantas deserves to do well. Perhaps one day they'll learn how to make airline food taste mildly appetising!
I also did the return flight on their A330-300 with AVOD so if there is a demand, I'll post that too though I'm sure few of you have the stamina to read yet another of my reports.
I'll also apologise for its lateness as it has been sitting on my computer's hard drive since Feb.
Seeing as you've come this far, it's only fair that you make a donation to my retirement foundation. Please email me for the postal address. All donations above $1000 are quite welcome.