Date: June 7, 2005
Leaving: New York JFK
Arriving: Zurich ZRH
Airline: Swiss
Flight Number: 17
Scheduled Departure: 18:25
Actual Departure: 18:25 takeoff at 19:11
Scheduled Arrival: 08:15
Actual Arrival: 08:32 landing at 08:25
Departure Gate: B29
Arrival Gate: E34
Departure Runway: 31L
Arrival Runway: 14
Cruising Altitude: FL370
Seat: 41A
Aircraft: Airbus A340-313X
Registration: HB-JMC
View Large
View Medium


Photo © Stuart Lawson
My final year of college now done, it was time again to go to home to Switzerland for the summer for a few months. I booked about a month in advance roundtrip from New York JFK to Zurich. The outbound would be on 6/7 and would be operated on the new A340! SWISS operates the A343 twice a week into JFK (Mondays and Tuesdays) and the rest of the time it is the A332. For the return, I had no choice but to go with the A332. At the time I booked the flights, I was unable to select my seats. I called the SWISS number and spoke with a very friendly agent who assigned me window seats on both flights. Great! I was eagerly anticipating my first A340 flight.
I arrived at Kennedy International airport Terminal 4 a good two hours before departure. A quick scan of the monitors showed exactly where to go to check in. I headed to row number 3 where, oddly enough, I was greeted with a short line. The folks over at KLM one row down were not as lucky. I was summoned over by one of the agents. A rather nice agent was trying to check me in but his computer kept on freezing. Finally, after a few minutes, he was able to print out my boarding pass and tag my luggage. So far, so good. I had to take my bags to the dreaded TSA screening area where I dropped them off.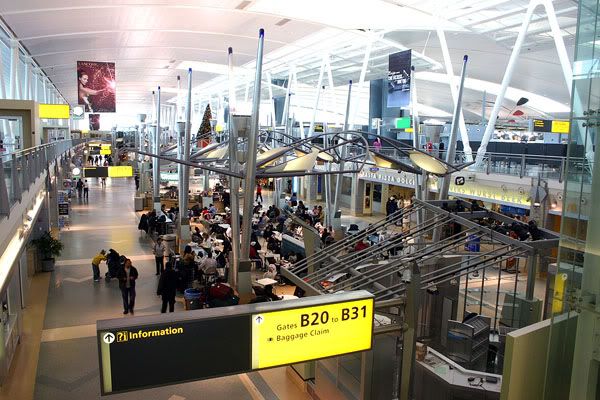 The International Air Terminal at JFK airport is one of the nicest terminals I can think of. It offers all the amenities in a bright and spacious environment. It even has its own website –
www.jfkiat.com.
To my delight, there was a Samuel Adams bar located in the central terminal area. I could simply not pass up the opportunity to enjoy a beer there. There are a number of shops in the mall including everything from duty free to newsstands to designer apparel. To my dismay, there was no Krispy Kreme as there was last year – I really wanted some donuts one last time before heading to Europe. I enjoyed an excellent Sam Adams Boston Ale on tap (you can also order good food there) before going over to the security area. The security line was short and the process was efficient.
Once in the familiar concourse B, I noticed one thing: virtually all the gates were taken. The two Swiss Airbuses were parked at their usual gates (B27 and B29) so naturally I would check those out first. Parked at B27 was the Geneva flight, an A330 HB-IQP. At B29 was an A340, registration HB-JMC. This would be my first time flying the A340, especially after quite a few A330 flights. I had the opportunity to see a few exotic birds including an Emirates A340-500 (not so exotic in ZRH), a Ukrainian Air B767-300 UR-VVG, and, best of all, a Primaris 757 N740PA; the plane the governmental press uses and also the first B757 to land at TVC. I could definitely tell it was the evening rush. I even logged two MD-11s, which are getting increasingly rare these days – Finnair and Varig.
Once inside the concourse, there is not much opportunity to shop or grab a bite. There is a brew house and one newsstand and that's it. The other end of the terminal offers a good view of the tarmac. I spotted there for a while without hassle. However, you can't take a photo there without a getting a reflection. My camera did serve one purpose: getting all the registrations. As I was going back to the gate, I took a look at the A340. A couple, maybe in their late 40s, were talking about the aircraft. The husband said "This Airbus sure looks bigger than a Super 80". He then went on to say how often he flew the S80. I just felt like telling him all about the A340 and Swiss as he got some of his facts wrong but I just kept quiet.
Boarding started at exactly 17:40, the precise time indicated on my boarding pass. Back to Swiss efficiency it is. I entered the cabin of the A340 and immediately noted that there was not a speck of dust in sight. Both the inside and outside of this plane were exceptionally well kept. The business class seats seemed really roomy and looked like an improvement over the old ex-Swissair seats. Back in Economy, the seats didn't seem like an improvement at all. Legroom still was limited. The seats were hard. The light brown color of the seats looks better in person than in the pictures. I took seat 41A and was disappointed the seats felt exactly the same as the old Swissair ones on the A330s. This A340 had the old-style Airbus cabin (HB-JMI has the new cabin) but it still looked great.
View Large
View Medium


Photo © Peter U. Wuillemin
The PTV screens are unlike any I've ever seen. They are huge. I was pretty bummed to find out they weren't touch screens like those found on Song. They were displaying a "Welcome to Swiss" message in English, German, French, Italian, and Romansch. It really makes you, the passenger, feel at home. Unlike the old days of flying Swissair and the early days of SWISS, you no longer get an amenity kit in Economy. With 40 minutes until scheduled departure, I checked out departing and arriving planes. Luckily, no plane was obstructing my view. About five minute before departure, the maitre de cabin came on the PA welcoming us on board Swiss and announcing the Captain and First Officer. Pushback was prompt at 18:25 during which the safety demonstration was shown in English, German, and French.
During the taxi, the screen was showing footage of some sort of airport and random planes taxiing by. The planes were not even centered and it looked like a very poorly shot video. Then, I figured it out. It was the live nose camera feature available on the A340 but not on the A330. Sure enough, as the plane started moving under its power, I saw the yellow taxi line moving also. We started moving towards what looked like runway 22L. All the other planes were heading in that direction. After a very slow taxi, we finally lined up with 22L. I could see on the screen that the Mexicana A318 in front of us was also on the runway. Not only that, but the A318 turned right onto another taxiway. In essence, we were using 22L as a taxiway. In fact, after we turned off 22L, the captain came on the PA explaining that we were "number 8 for takeoff for runway 31 left." He then proceeded to explain our routing. He also added that right after our takeoff, we would make a left turn. Of course, I knew this since it is the procedure following 31L takeoffs, also known as the Canarsie Departure. At 19:10, we lined up with 31L, or 45 minutes after our pushback.
During the initial takeoff run, I could not help but thinking of all those underpowered-A340 jokes and that the only thing making it take off is the curvature of the earth. About 45 seconds later, I noted on the PTV screen was showing the liftoff. The initial climb was a bit steeper than I'd expected. Almost immediately, we banked left following first the Canarsie Departure, where I got treated to great views of the airport, and then an east southeastern track along Long Island.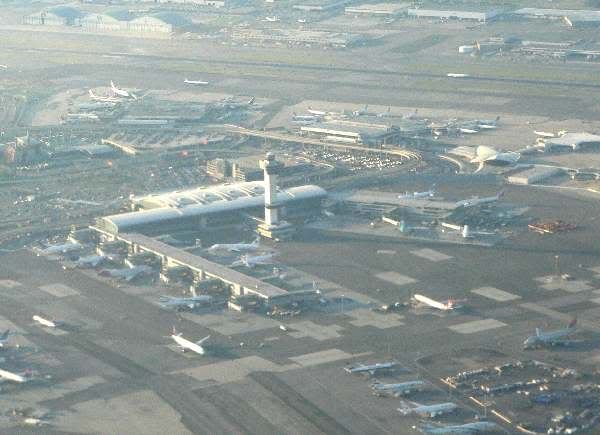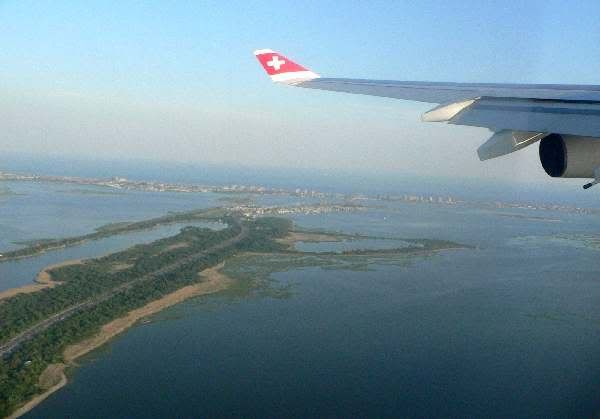 We then turned due northeast. About five minutes after takeoff, the captain came back on the PA announcing the IFE would be activated in 20 minutes and offered a slightly more precise detail of our routing and that we would top out at a latitude of 49 degrees north. This is further south than normal for the JFK-ZRH route. As the IFE wasn't on, I couldn't see how slowly we actually were climbing. I just sat back, checking out the coast of Long Island.
Not long after leaving Long Island, I could see the IFE booting up. This would give me an opportunity to evaluate it. The IFE has Audio Video On Demand (AVOD), which means you can watch movies and listen to songs when you want, starting when you want them to start. There was a whole list of movies to choose from, about 10 in total, each of them available in different languages. The music jukebox feature is very similar to that on Song. There are several albums from different genres and you can play any song from any album. Other options from the main menu include "Flight Information" which has the Airshow, the Nose Camera View, and the Down View (looking below the aircraft). There is a separate "TV Shows" option, where you can watch several shows. There is also a Financial Information section that is helpful for business travelers. For the less serious among us, there is a "Game" section. I noticed a few people playing "Millionaire", but there are about 6 other games to choose from. The IFE is very easy to navigate and rich in features. That coupled with the immense screen and I am happy to give this system a perfect 10 out of 10.
Upon reaching cruising altitude, we were served drinks. Unfortunately, there were no snacks as some airlines offer today. I don't really care as dinner is served shortly thereafter. Plus, the snacks that come are so small, they don't add to your "fullness" at the end of the day. I see them as more of a hassle. Dinner was served about 1 hour 40 minutes into the flight. The two options, say it out loud, were Chicken and Pasta. I chose the chicken. It came with some rice and string beans. There was also some Monterey Cheese and a marble brownie and a salad with Caesar dressing. The chicken was a bit overcooked as was the rice but both tasted quite good. I didn't have the salad. The marble brownie was great. Overall, I would give it a not-bad 7 out of 10. Dinner was cleared rather quickly.
I also had the opportunity to check out the bathrooms. They were identical to the ones found on the A330-200s; not bad but a far cry from the palatial ones found on Northwest's A330-300s. I also snapped one perfect shot of the cabin but when I returned to my seat, I found I had left the ISO on 200 from a previous shoot. On a Panasonic FZ3, the noise levels at 200 are very high. So, I left my seat not even a minute after having returned to it, to do a re-shoot at ISO 80, all the while making myself look as least suspicious as I could be. I took what I thought was a good picture but when I returned to my seat, I found that a flight attendant was in the aisles – badpeople. Obviously, I wasn't going to rise again so I would have to wait until the morning. By the time morning came, and another opportunity to get up from my seat, I snapped two more shots. One of them looked good enough if a bit dark. When I got home, I found out some guy in the back had his face facing the camera. Another badpeople albeit not as bad. The second came out blurry. Cabin shots are bloody hard to take when you're handholding exposures of ½ a second to a full second (even with Image Stabilizer) and the plane is unpredictably shaking. Oh well, there are many LX A343 cabin pictures on a.net – even one from HB-JMC!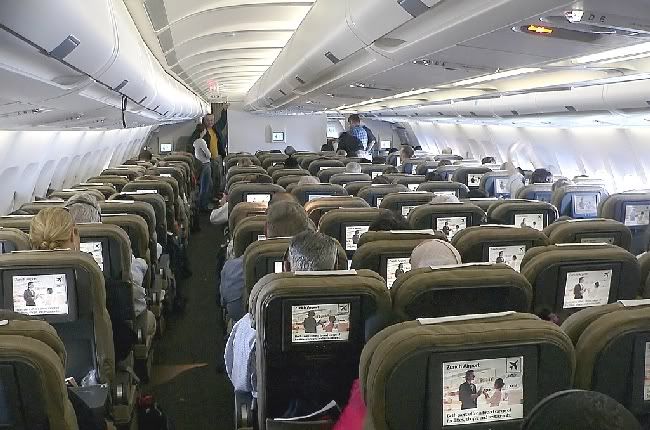 I was planning on sleeping right after dinner but I decided to check out the movie selection first. There, I decided I was going to watch
Hitch
. It felt so good being able to start the movie myself. I found it was a good movie when I saw it in the theaters and wanted to see it again. I later found out my seatmate was watching the same movie, about 45 seconds ahead of me. Two hours less of sleep for me. Oh well.
After more than 4 hours into the flight, the movie ended and I started my attempt at falling asleep. This was a difficult task. SWISS provides you with a warm blanket but it is too small. The pillow was quite comfortable. During cruise, the A340 was a bit noisier than I expected though the levels are well below the B747 and B777. With the exception of about five minutes over the middle Atlantic, there was virtually no turbulence. It took me a long time to actually fall asleep for a few minutes despite the pillow and the winged headrest. This is a new aircraft and is supposed to have improved seats. Travelers with Gold or Silver status can upgrade for about $50 to business, something I would definitely recommend.
I kept on falling in and out of sleep so I decided on skipping breakfast. My dad told me it wasn't that good anyway. When I finally woke up, the flight attendants were passing out hot towels, something reminiscent of Swissair. At that point, we were flying above central France at FL370. The IFE was switched off during the initial descent. The screens started displaying information about the Zurich airport as well as flight connections. A nice touch though I do miss Swissair's short documentaries taking place in the Swiss mountainside.
With the engines at or near idle, the A340 descends very quietly. This is the first time I noticed this aircraft was designed with a focus on keeping the decibels low. We flew over northern Switzerland before making a slightly left turn. During this portion of the flight, the Airshow was on. The scenery is really beautiful. I would really like to live in one of those towns on the approach path. At 08:24, we made what initially seemed like a smooth landing but then the nose gear came down harshly. The screens started displaying a "Goodbye" message as soon as we turned onto the taxiway. It was a short taxi to gate E34 but due to some sort of issue, we had to stop before reaching the gate. Our arrival time was 08:32, about 15 minutes late. I was off the plane in 8 minutes, which is about average, if I'm in the back. The flight attendants were saluting nearly everybody leaving the plane. I made my way into the new Terminal E.
I found SWISS to be only a small downgrade from the excellent service I always received on Swissair, mostly 1-there being no amenity kit and 2-the flight attendants lacked the overall exoticness on Swissair. I found their service, overall, to be better than British Airways and Air France, and on par with KLM – all good airlines. One thing, however, I do not get is how Swiss configures their A340s with a mere 228 seats (a Song 757 has just 31 fewer seats than this) yet the seats are narrow and legroom of 31 or 32 inches is not that great. To be honest, none of the European airlines I've flown on to date has/had great seats in Economy, save for the comfy seats on the Swissair/SWISS MD-11s. After arriving at the gate, a passenger in front of me was moaning to his wife that they were going to have to spend another six hours on an Airbus in those seats. It is nearly impossible to fall asleep in them. It is such a pity since the F and C seats are so nice. It is ironic how US airlines such as AA domestic, B6, and Song can get away with 33 or even 34 inches of seat pitch on flights of only a few hours but the economy seats on 8-hour flights or more are cramped. Overall, the flight attendants were nice and professional, the food was OK, and the service was good. The other airlines should copy the IFE system as it is the best I've run into so far. If you find you can't fall asleep, just watch two movies and listen to some of the music on demand. Zurich airport has a "freshen up" lounge free to First and Business travelers, CHF 10 for Economy travelers in case you are not feeling great the next morning.
The signs at ZRH are very good and it took not even 7 minutes to get from the gate at the distant Terminal E to the Terminal 2 Arrivals Area/Passport Control using the very efficient train. There were about six different officers, so I didn't have to wait one minute there. The arrivals area is clean and modern. The bags were on the carousel in good time. I deplaned at 08:40 and had all my bags by 09:10. I would still consider SWISS to be a great international airline despite the disappointing seats. With that in mind, I headed on home.
An interesting side-note: when I was checking out my ZRH pictures from last summer on my computer's hard drive, the SWISS A340 I photographed the most happened to be HB-JMC – and those photos were also the highest quality!
I hope you enjoyed reading my report. Feel free to leave any criticisms or comments!