Departure Airport: London Heathrow, United kingdom (EGLL/LHR)
Arrival Airport: Abu Dhabi - International, U.A.E. (AUH/OMAA)
Airline: Etihad Airways
Flight number: EY 304
Aircraft type: Airbus A330-223
Registration: A6-EYX (c/n 232)
Date: 31st May 2005
STD: 2115
Class: C (Pearl Zone)
Ticket Status: Confirmed
Scheduled Flight time: 7hrs 15mins
View Large
View Medium


Photo © Ivan Coninx - Brussels Aviation Photography
After arriving into Terminal 1 with bmi, I collected my baggage and proceeded on foot to Terminal 3, via the underground walkway. I passed through the Virgin Atlantic check-in area into the main Terminal 3 check-in concourse, which was as busy as ever. I went straight so the SAS check-in in Zone E, where Etihad are checked-in by SAS.
After collecting my ticket and checking-in, I proceeded upstairs and through security, to escape from the hectic place that is Terminal 3 landside. I changed some of my money from GBP to AED, and headed straight to the O'Neill's pub for a nice, cool pint of Stella. At GBP3.00, I was pleased to see it was still possible to get a pint for under 3 quid in London. I enjoyed my drink, but rather than get carried away, I headed off to Gate 6, from where flight EY304 would be departing. After having my passport checked again, my boarding pass was pulled and I entered the secure gate area.
I took a look out of the window to see which aircraft would be taking me to Abu Dhabi tonight, and was pleased to see that it was not one of the two EY aircraft I had flown on before. Etihad's current fleet comprises the following aircraft, which are in a variety of seating configs as they are leased from various operators:
A6-EYA – A332 – F18C36Y171;
A6-EYB – A332 – F18C36Y171;
A6-EYC – A343 – F10C30Y225;
A6-EYD – A332 – F12C24W28Y152 (sold as F12C24Y180);
A6-EYV – A332 – C31Y267;
A6-EYW – A332 – C31Y267;
A6-EYX – A332 – F18C36Y171;
A6-EYZ – B763 – F10C36Y150.
Tonight I would be flying aboard A6-EYX.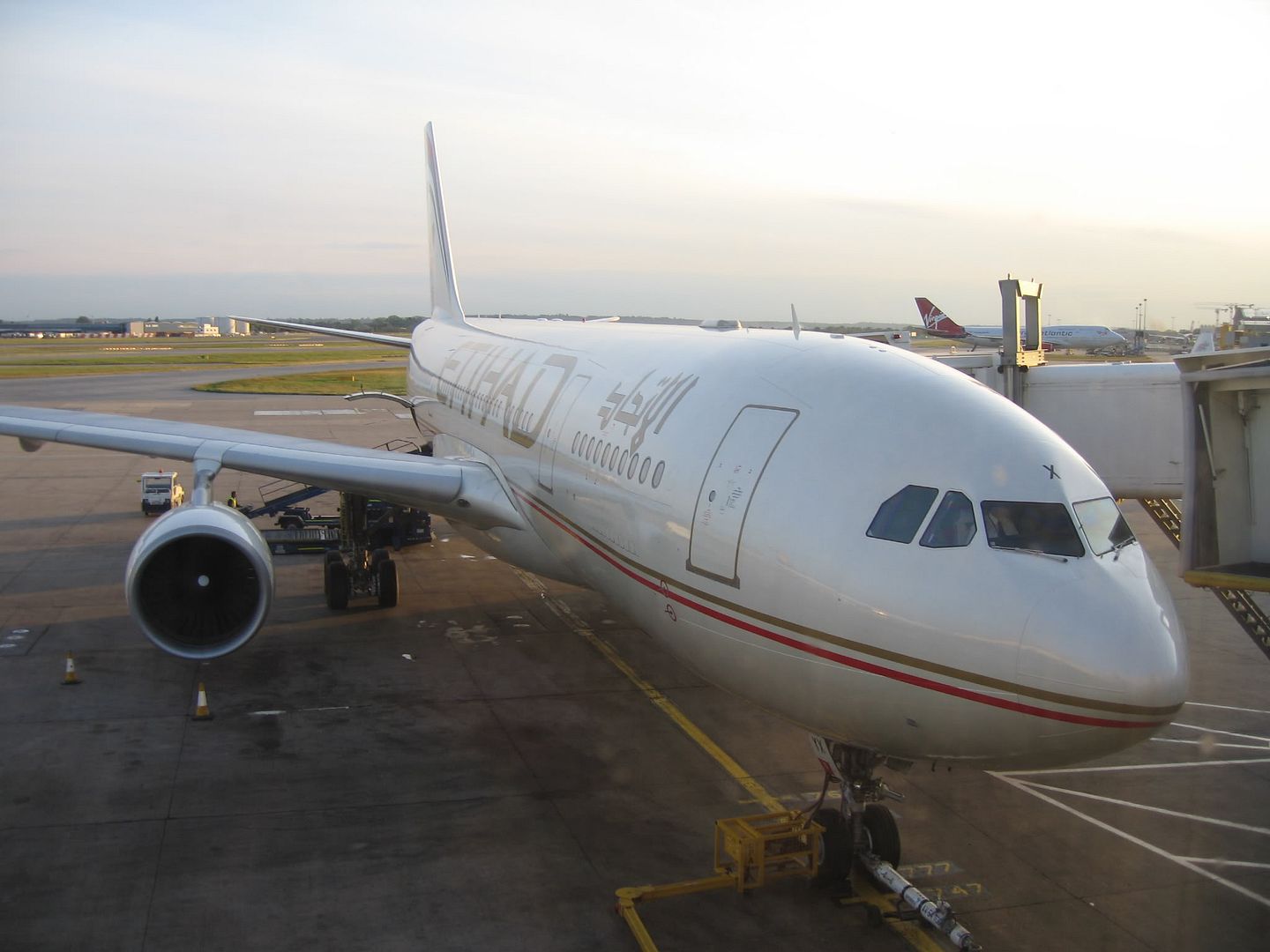 As I looked out at 'YX, I noticed Jet Airways' A340 VT-JWB on an adjacent stand, ready to operate 9W's newly established LHR-BOM service. I think the 9W colourscheme particularly suits the A340, and ranks among my favourites.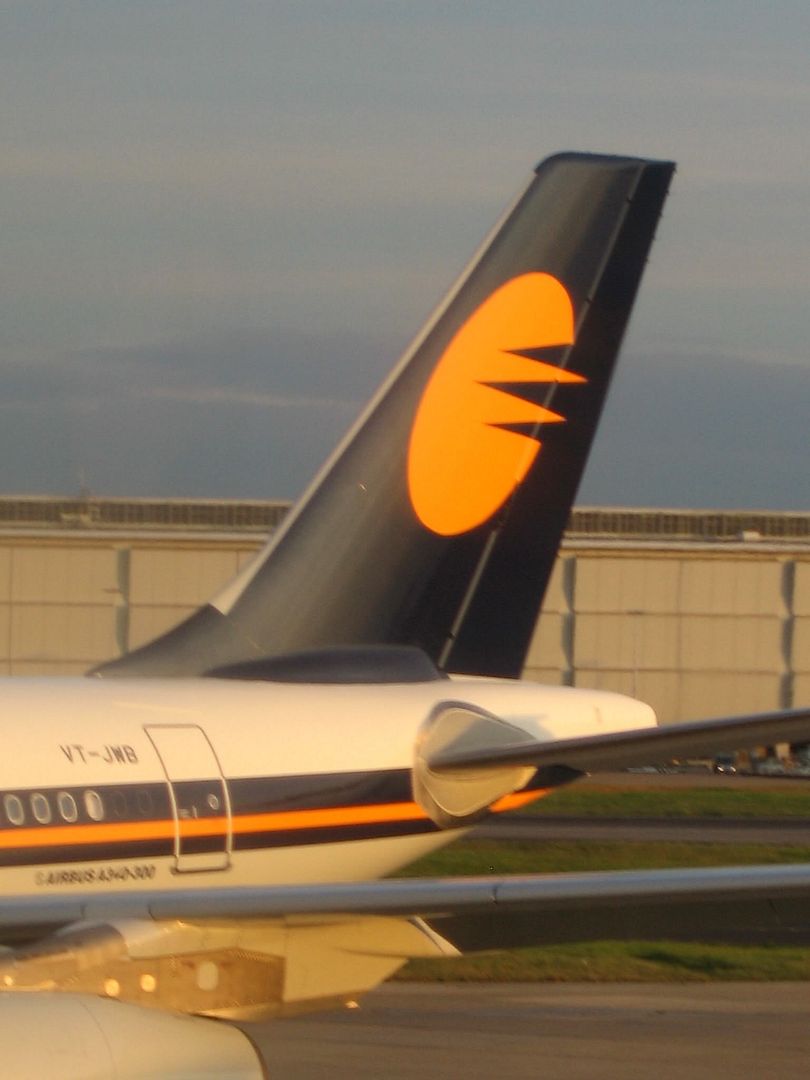 I made several phone calls to friends from the gate, and then a SAS agent made the boarding announcement. Etihad Airways refers to passengers as 'guests', and guests traveling in Diamond Zone (F) were invited to board first. I don't actually think anyone was traveling in Diamond Zone on this flight. When it was the turn of Pearl Zone (C) guests to board, I made my way down the jet bridge to the aircraft. I was welcomed at the L2 door by three very smart-looking crew members, dressed in Etihad's smart dark grey inform with white veil. I had been allocated seat 9C in Pearl Zone, and had seats 9AC to myself. Naturally, I took seat 9A, by the window. The cabin of 'YX is unchanged from when it was flying for TAM, Brazil.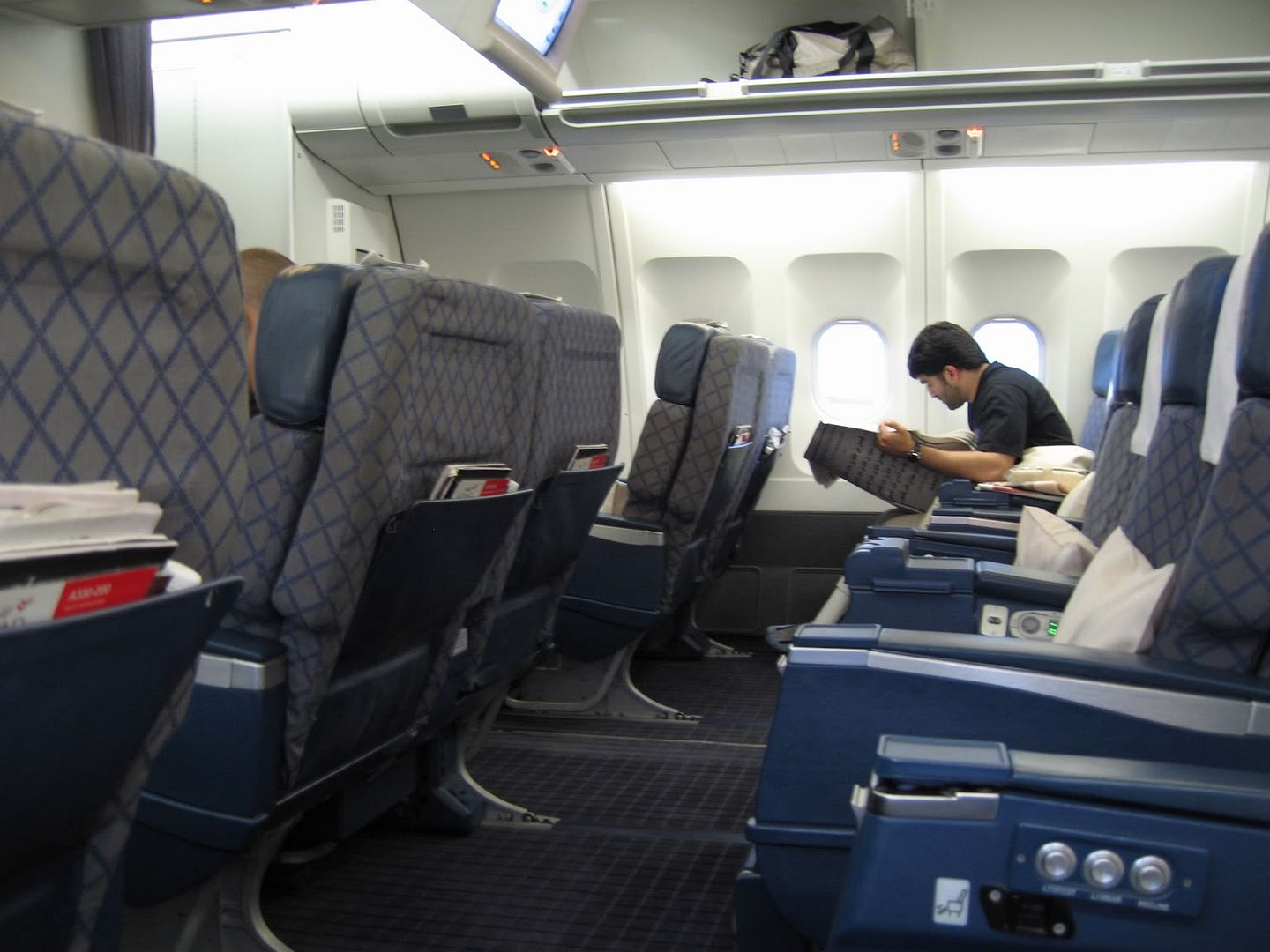 After a few minutes, one of the FA's offered a selection of pre-departure drinks from a silver tray. I took a glass of freshly squeezed orange juice, which was very refreshing.
Departure time was just a few minutes away, and the Captain spoke on the PA system to advise of a technical problem which would probably cause an approximate 30 minute delay if it could be rectified, which would mean powering down the aircraft. A minute or two later, the APU cut out, and the power and lighting were lost for a while.
I glanced to the left, and admired the AA 777-200 on the adjacent stand. The AA livery is so timeless, and should never be replaced, I thought.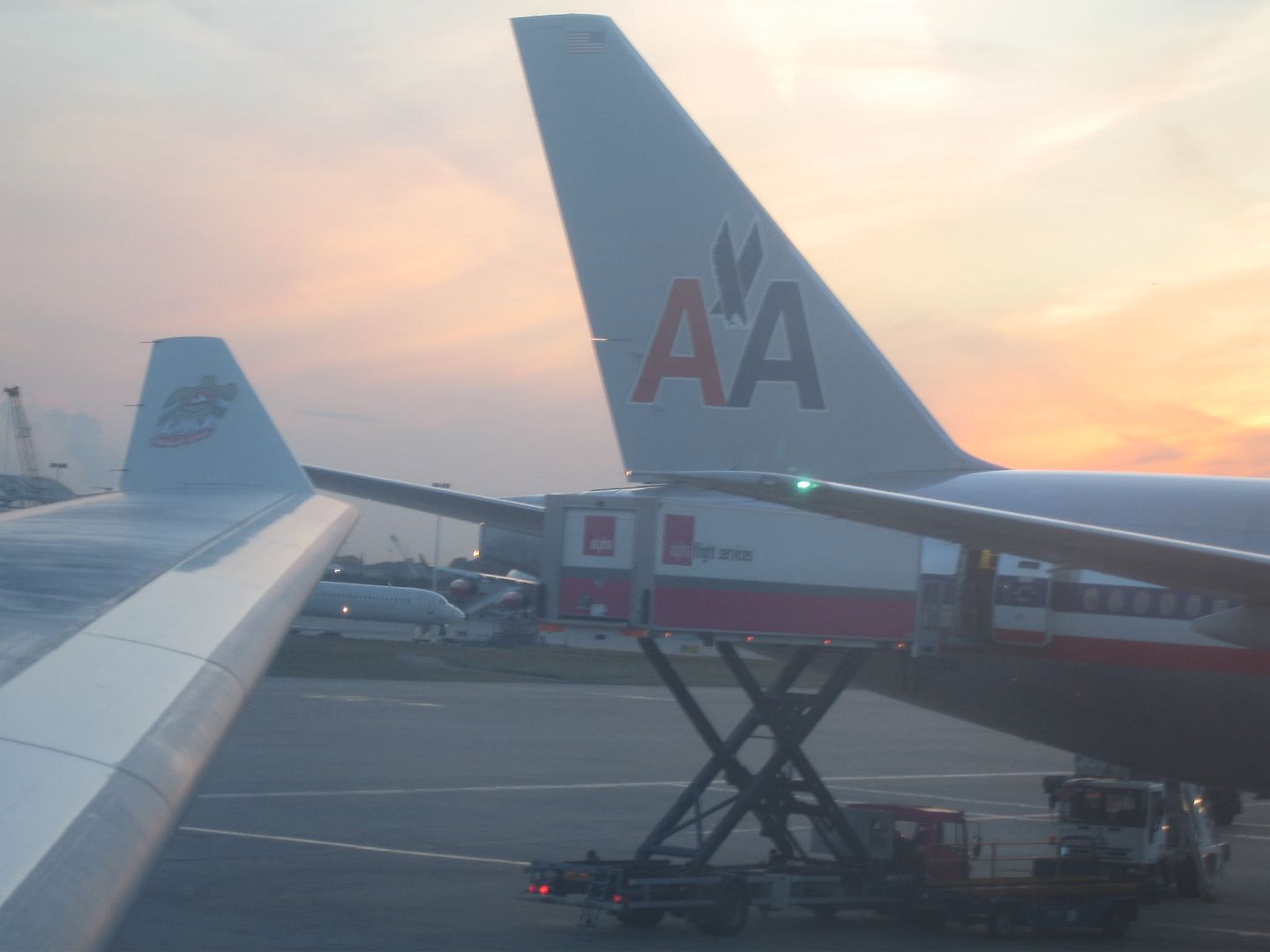 The power came back on after a few minutes, and the problem was sorted. After about a 1hr 15min delay, the BA engineer finally left the aircraft, and we pushed back. By now it was dark outside. 'YX taxied out past Terminals 3 and 1, and joined the queue for take-off on Runway 27R, onto which my bmi flight had landed earlier. Several aircraft departed before us, including a BA 744, VS 744 and EK 773. Taxiing behind us was a World Airways MD11. I assumed this was operating on behalf of BWIA West Indies, as I had seen a BW flight on the departure screens which had been delayed since that morning, and I have seen WO filling in for BW on the BGI-MAN route in the past.
It was now our turn for departure, and 'YX lined up on 27R. The engines whined into life, and the take-off roll commenced. Take-off was extremely smooth, and a nice view was had of the lights of LHR and the surrounding area. We soon banked to the left, and I was able to watch the WO MD11 take-off behind us. After departure, I was served a glass of white wine which I had ordered earlier, when asked what I would like to drink after take-off. I was my intention to sleep on this flight, as the IFE still leaves a bit to be desired on EY's leased aircraft.
About 40mins into the flight, the meal service began. The Pearl Zone menu offered the following: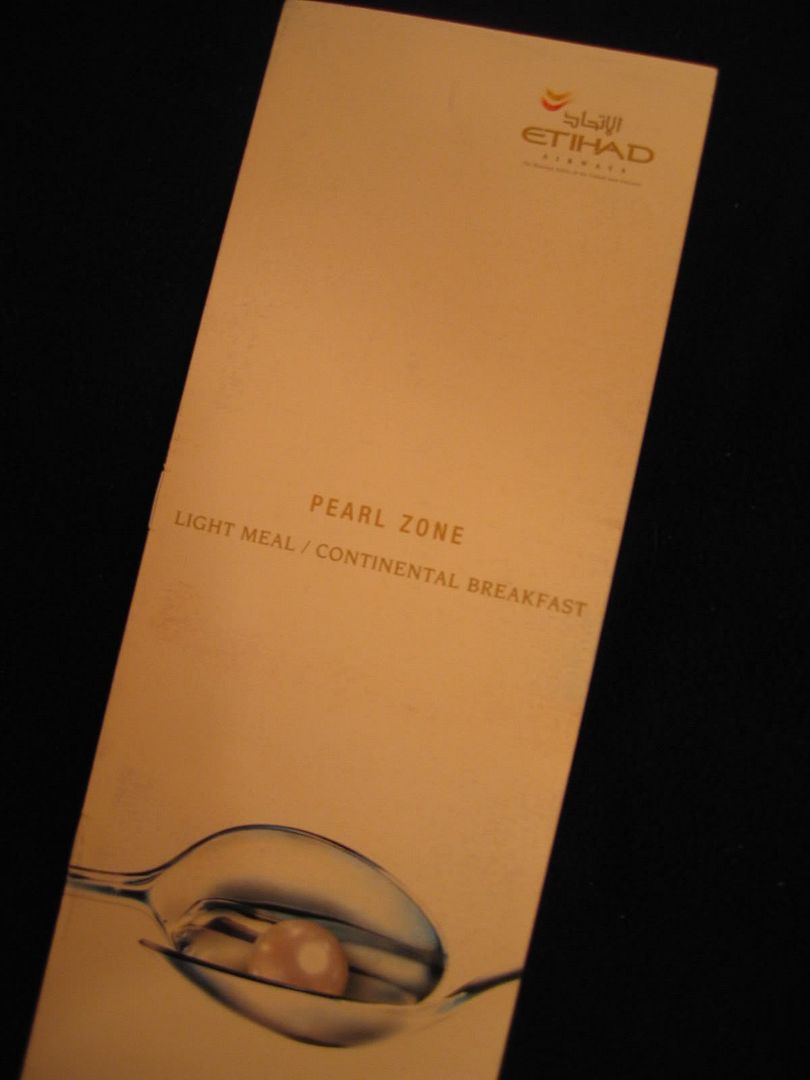 Appetiser:
Smoked Peppered Salmon
On a bed of grilled artichoke served with pesto and salad julienne
Main Course:
Thai Prawn Curry with Arabian Rice (signature dish)
Green Thai curry served with Arabic style rice, accompanied by baby squash, roasted red peppers and baby spinach
Chicken Korma with Lemon Risotto
An Indian style preparation of chicken in a rich, mildly spiced curry sauce, served with Italian risotto rice, and sliced green eggplant
Cold Selection Medley (light option)
Of hot smoked peppered salmon with artichoke heart, and garden salad
Dessert:
Mascarpone with Mango Coulis
Italian Cheesecake garnished with summer fruits
Cheese and Fruit:
Cheese with Crackers
Fresh Fruits
Beverages:
Assorted Teas: Ceylon, Earl Grey, Green Tea
Coffee: Brazilian - Freshly Brewed, Decaffeinated, Cappuccino, Espresso
Hot Chocolate
I opted for the smoked peppered salmon, followed by the Thai prawn curry. Having had the same last time I flew on EY's LHR-AUH service, I knew it would be good. It was presented nicely on Wedgwood china, although UK security rules still stipulate that plastic cutlery must be used on flights to/from the UK. After the service, I pulled down my window blind, reclined my seat and slept under the Etihad blanket for a few hours.
I awoke after the breakfast service had been completed – not that I'd have had anything but a cup of tea if offered. I pulled up the window blind to see that it was daylight outside. Within a few minutes we began our initial descent towards AUH, with the speed brakes being deployed for a short time.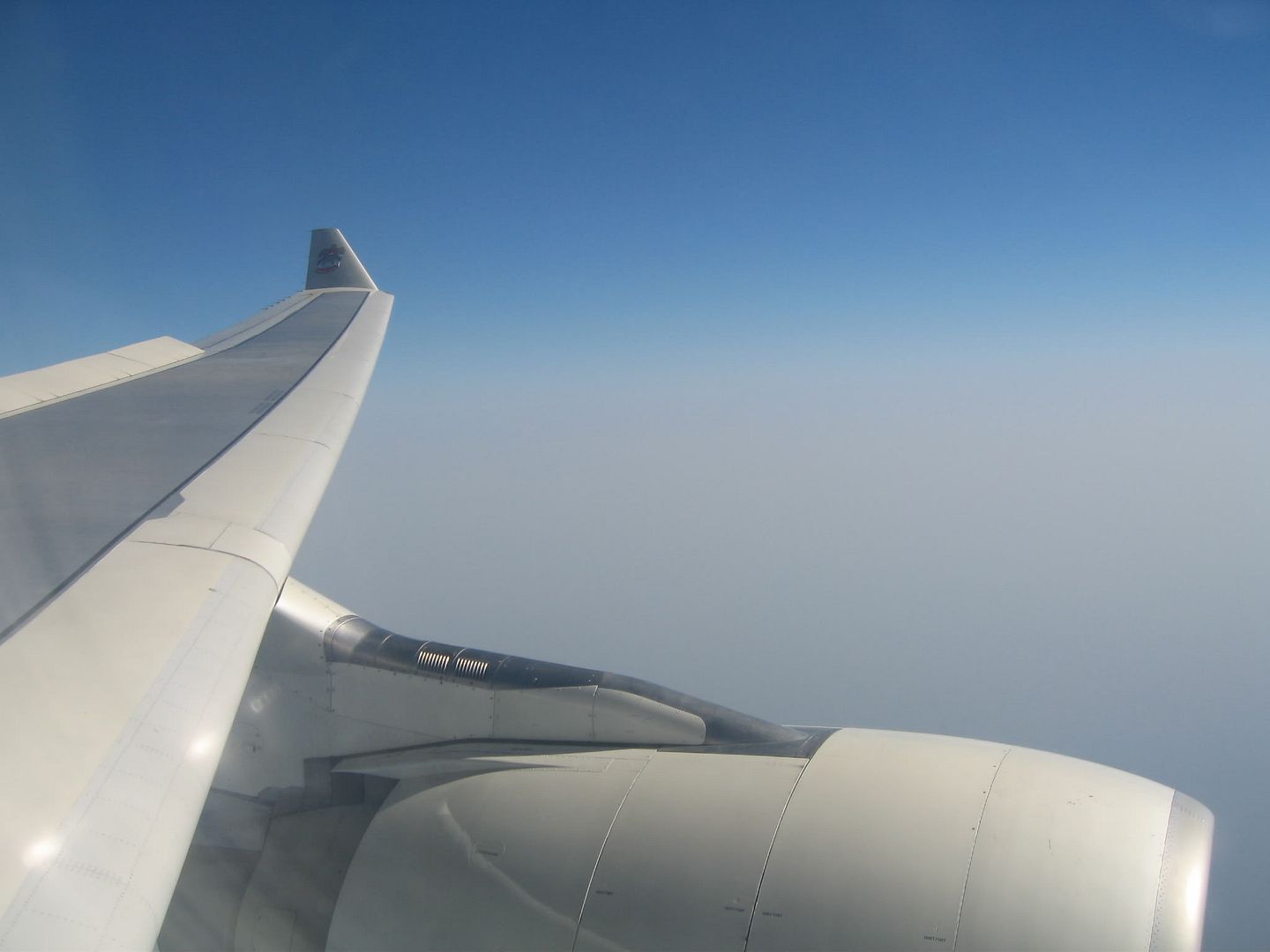 As we approached Abu Dhabi, there were nice views of the many islands and sandbanks in the area.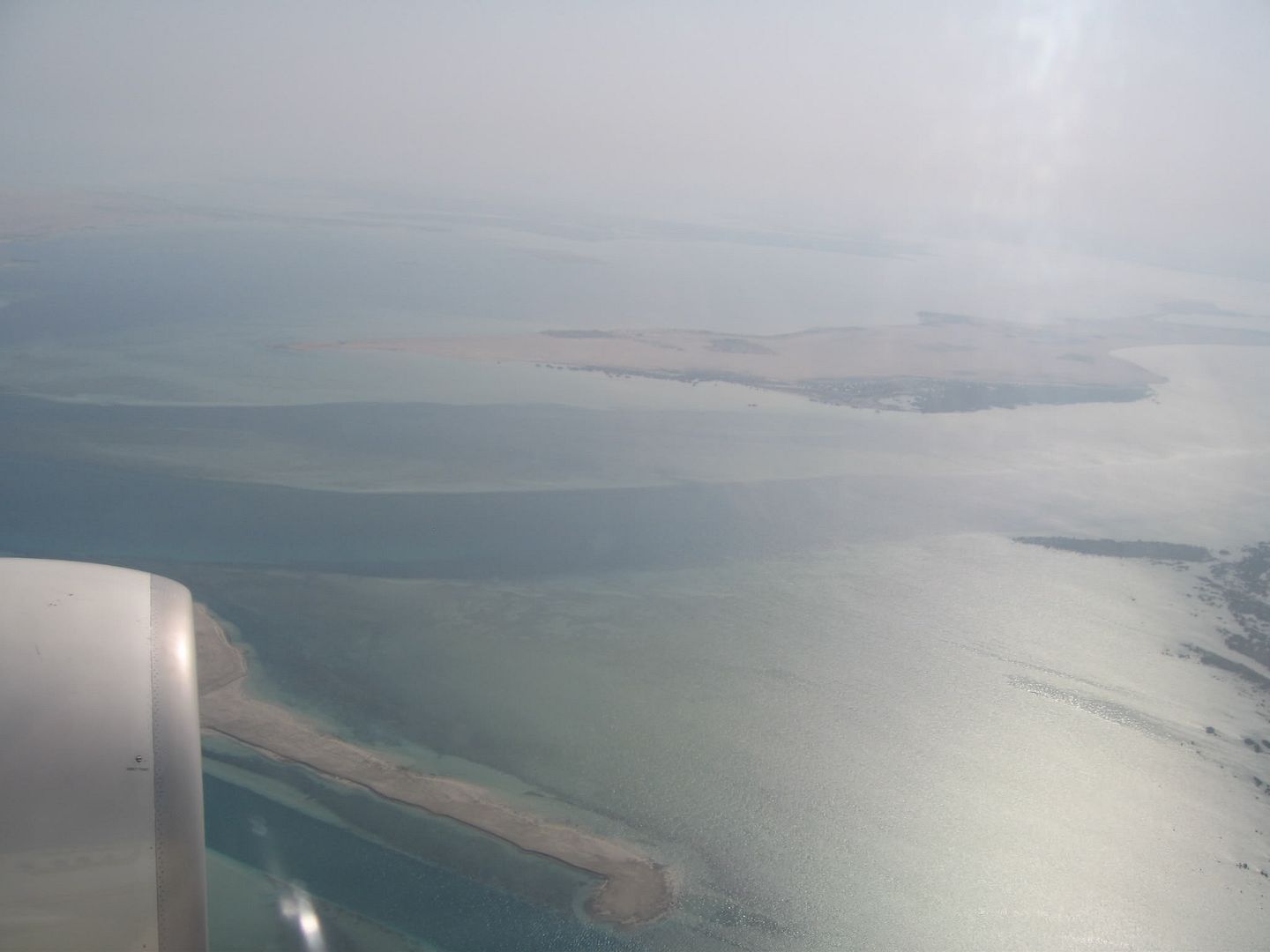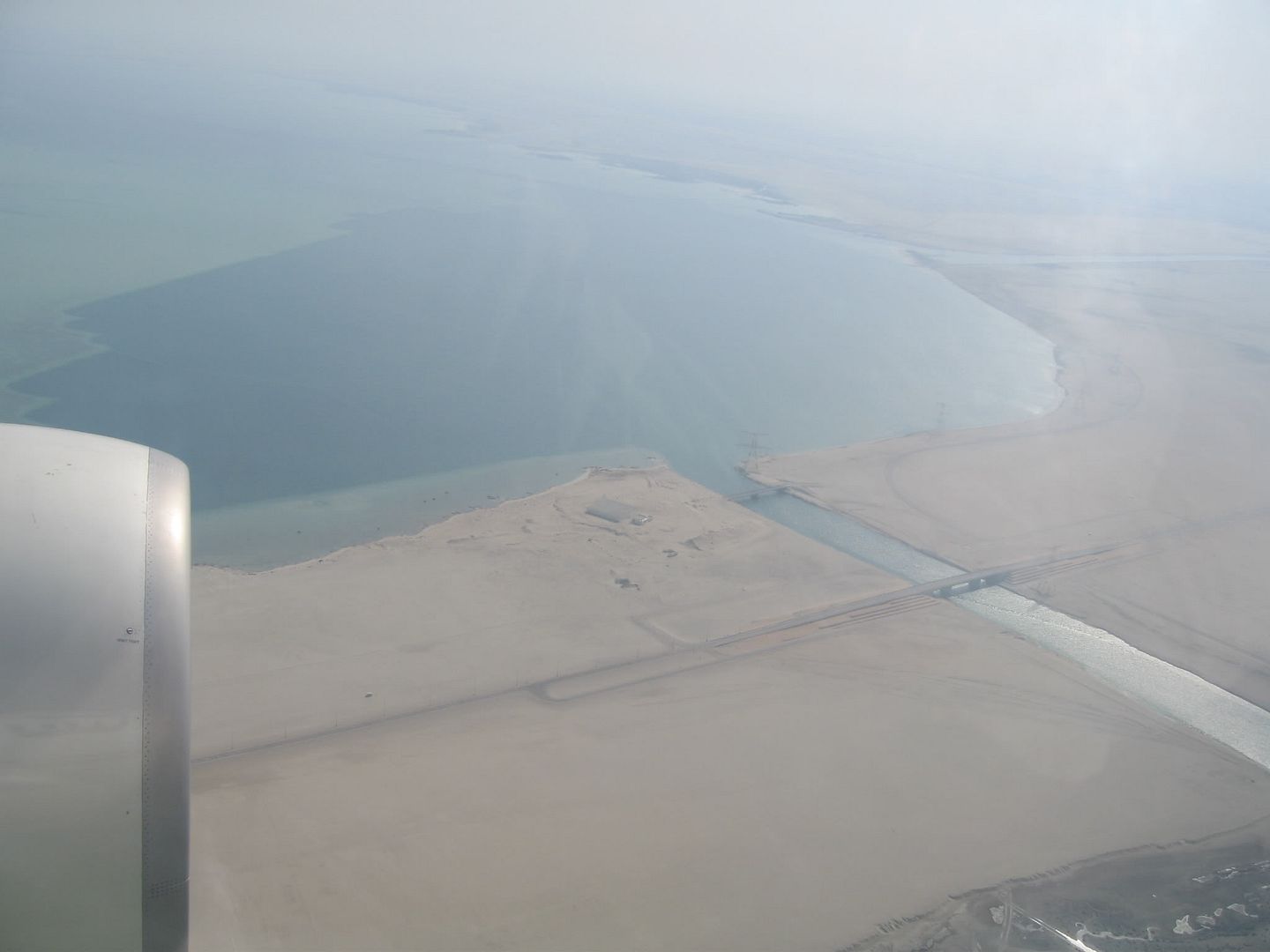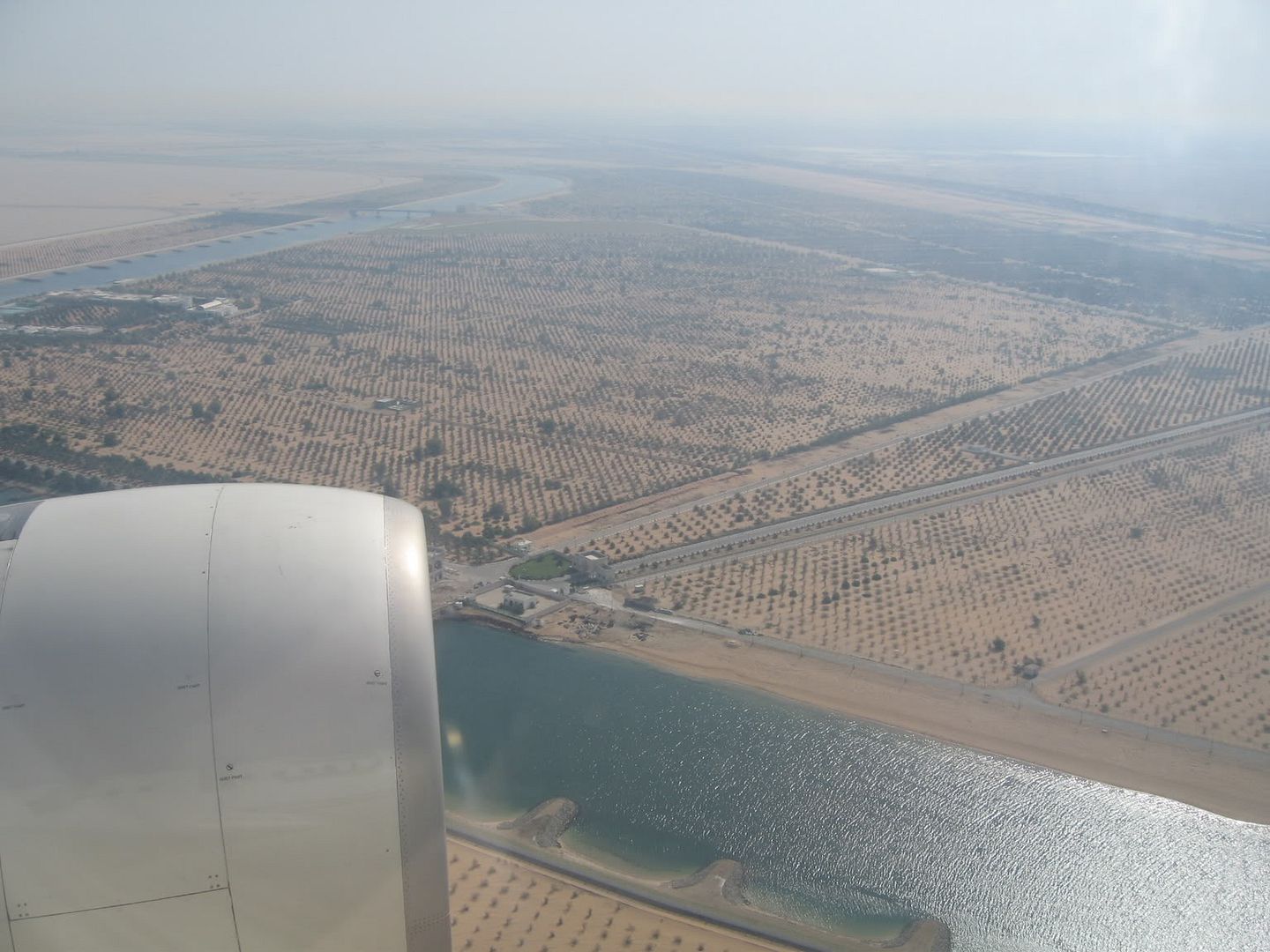 A few minutes later, we landed in AUH.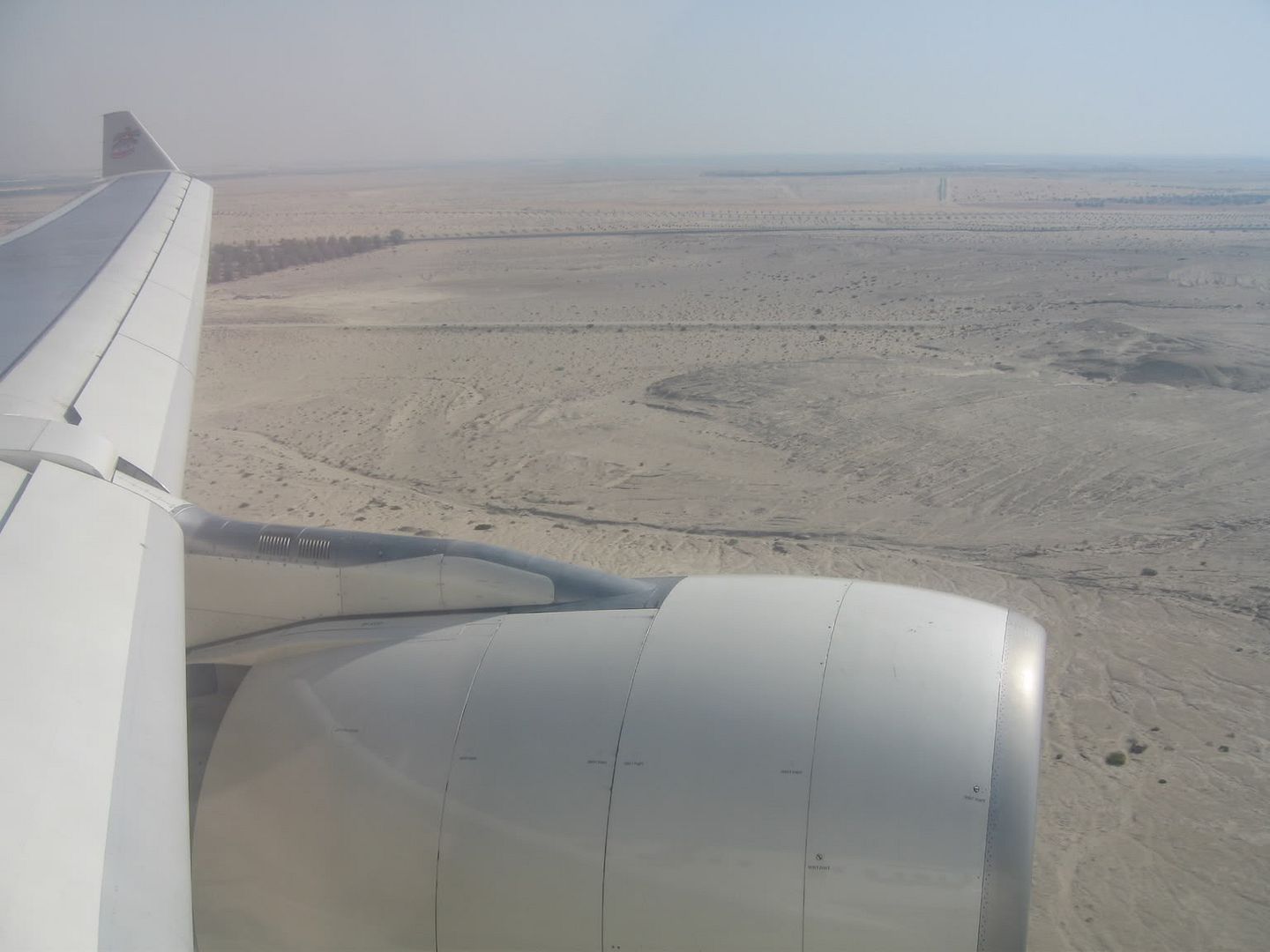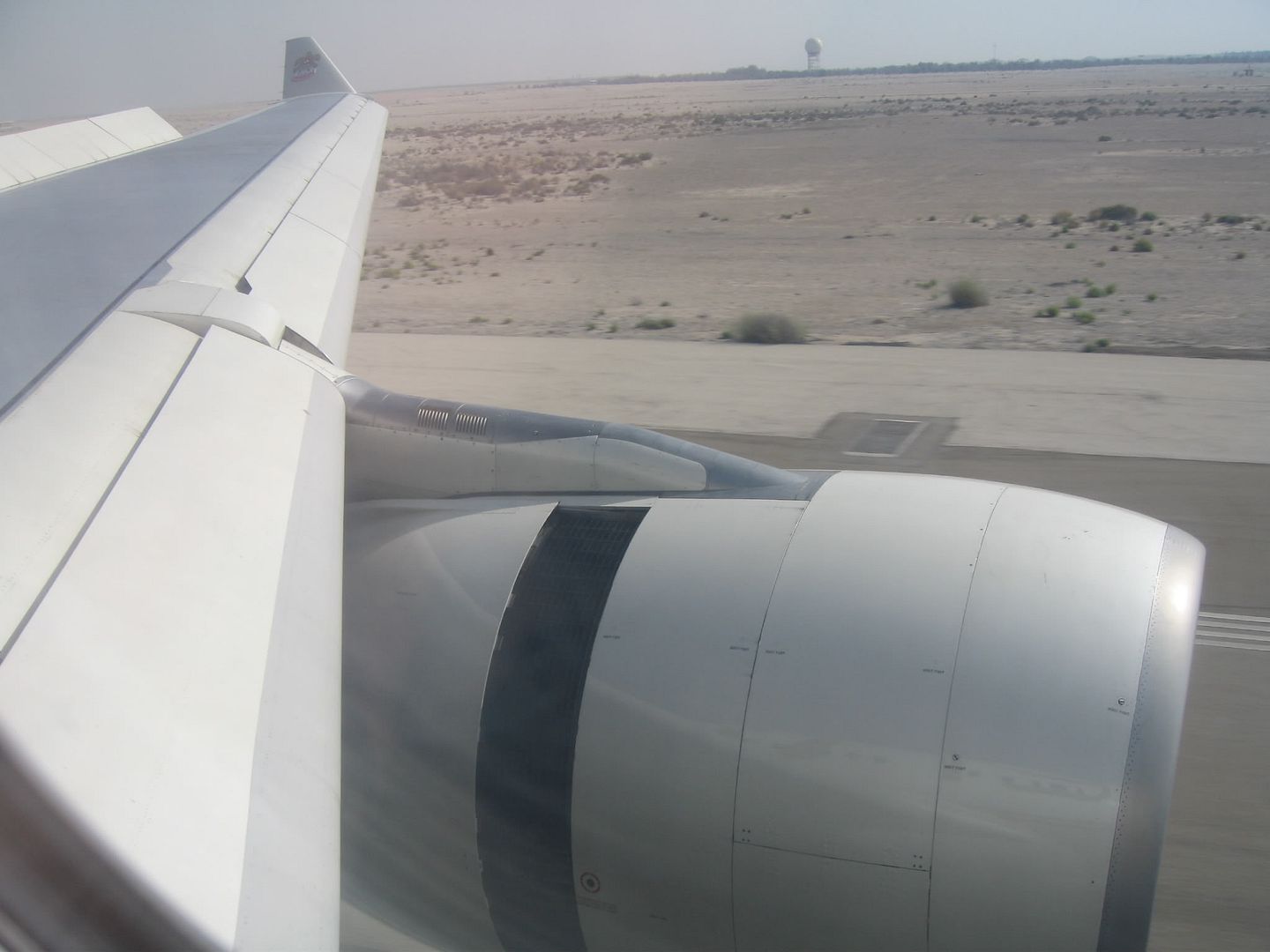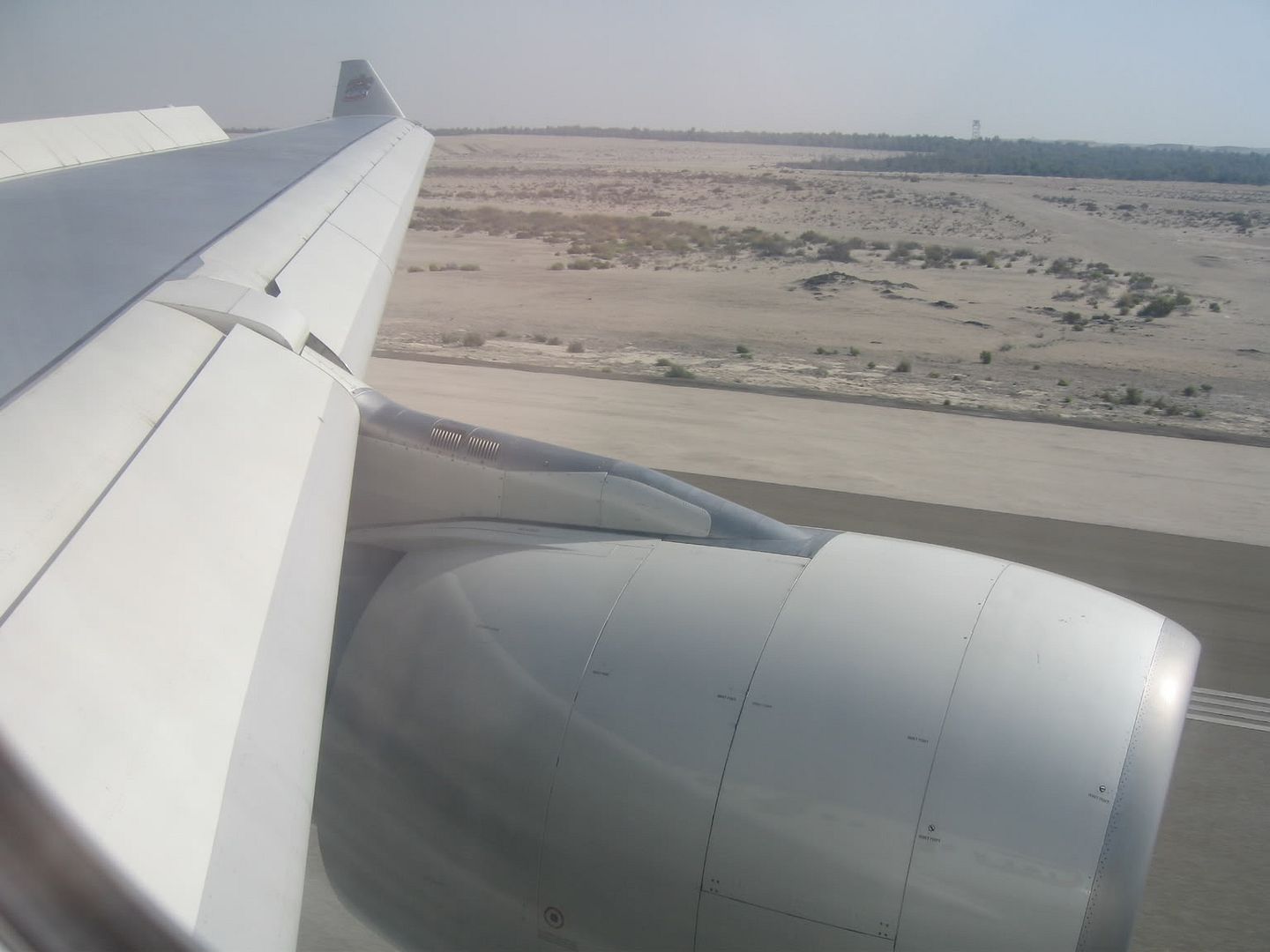 As we taxied towards the gate, a number of other aircraft were visible, including a Japan Airlines 744, China airlines 744, Etihad 332 and 763 and Gulf Air 763.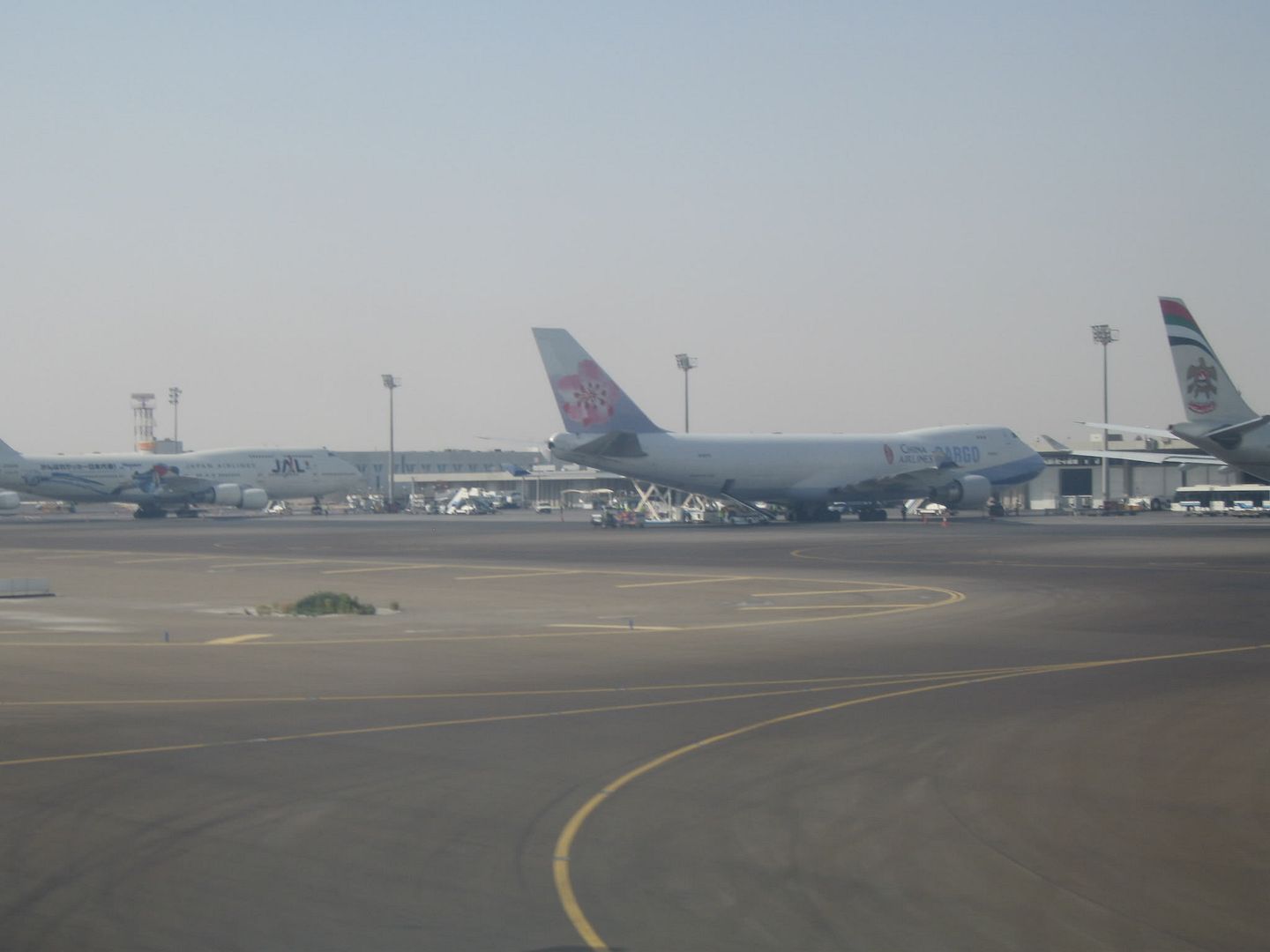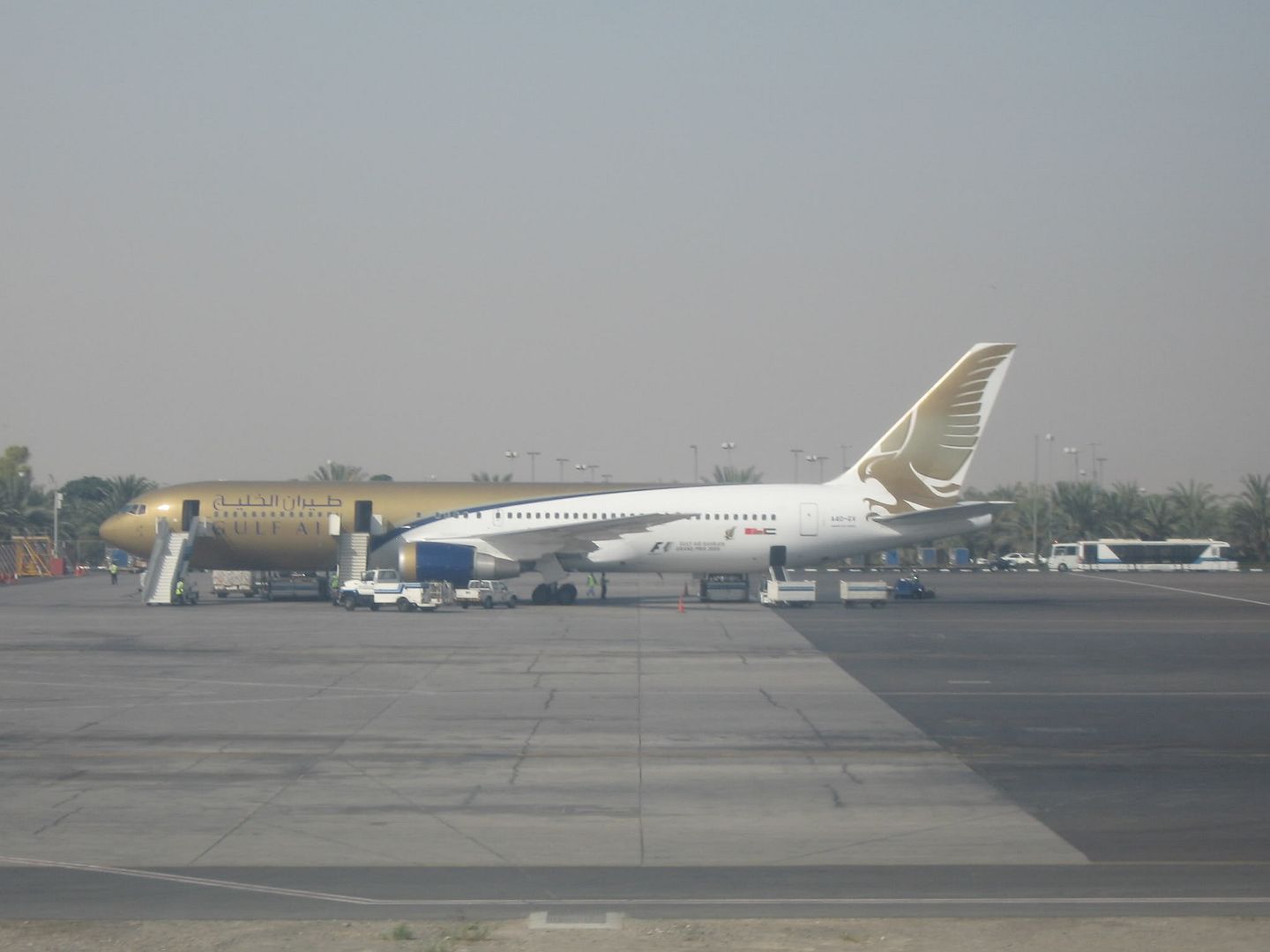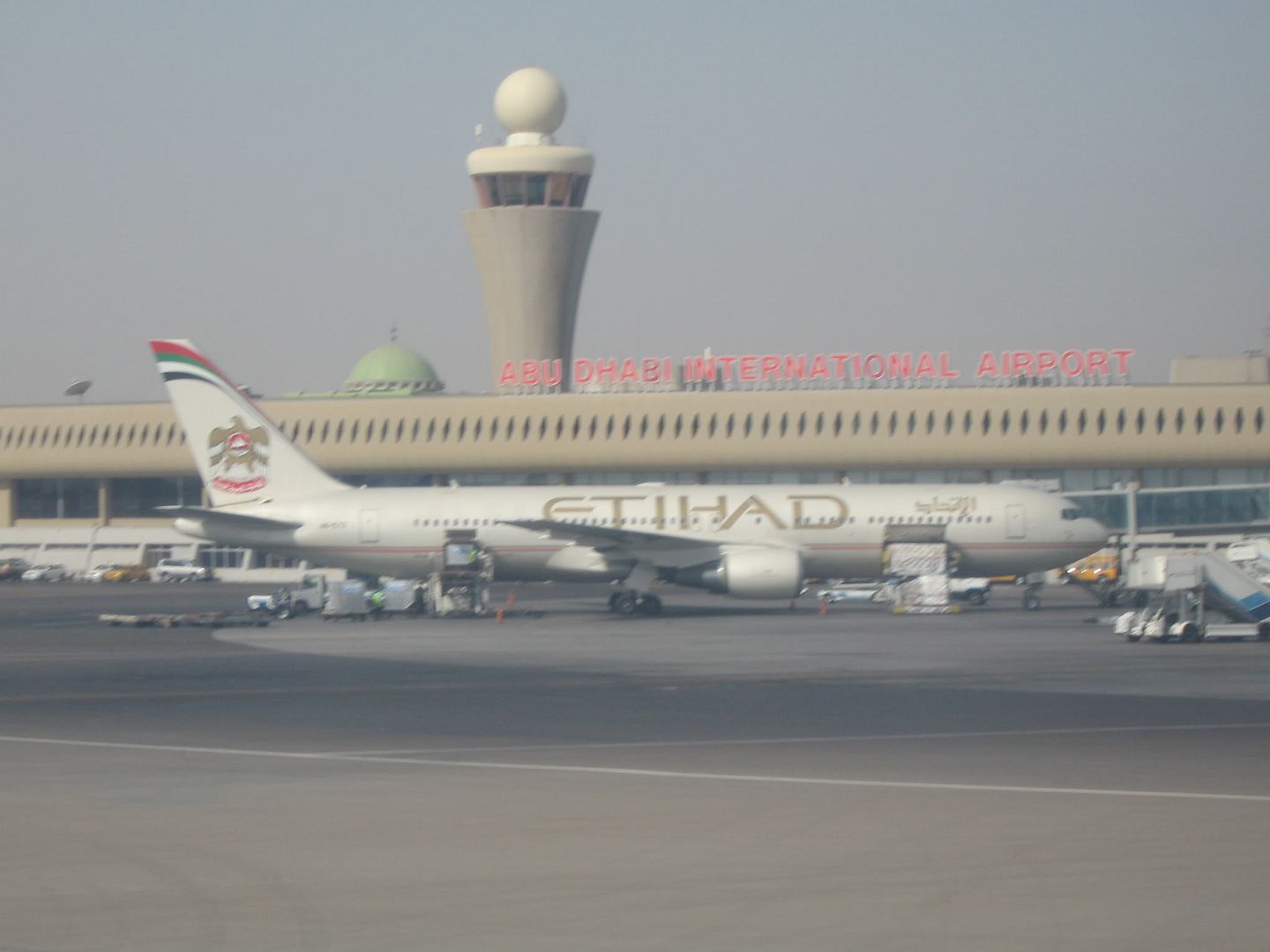 Then, it was time to head into Abu Dhabi. I slept for most of the day, and then started getting more familiar with my new surroundings.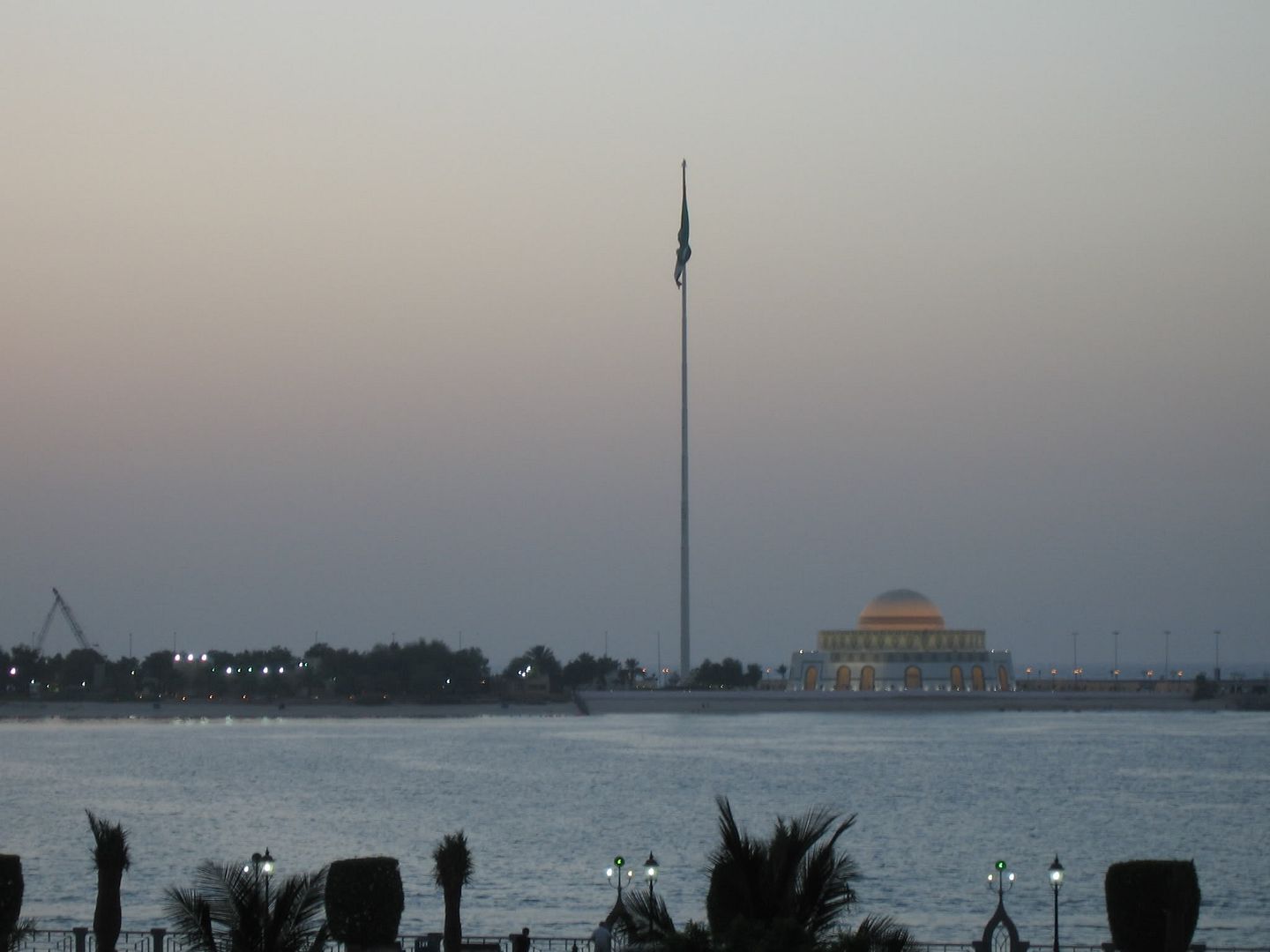 Many thanks for reading my report on Etihad Airways – I do hope you enjoyed it. All comments are most welcome.
* * *
As usual, I looked into the history of the aircraft I had flown on.
A330-223 A6-EYX was previously with TAM, as PT-MVA. It was painted up for a lease to China Airlines, but the lease was cancelled due to the SARS outbreak. It was later leased to South African, before being leased to Etihad.
View Large
View Medium


Photo © Remi Dallot
* * *
If you wish to read any of my previous reports, click on one of the links below:
http://www.airliners.net/discussions/trip_reports/read.main/59300
http://www.airliners.net/discussions/trip_reports/read.main/55809
http://www.airliners.net/discussions/trip_reports/read.main/55071
http://www.airliners.net/discussions/trip_reports/read.main/53744