I spent a few days in Japan last week, and I really wanted to try out a Japanese domestic flight, you know, those short hops operated by widebody aircraft with up to 569 Japanese pax on it. So I booked a daytrip from Tokyo's domestic airport Haneda to Osaka's domestic airport Itami. Quite expensive tickets, I paid more than 260€ for this daytrip, I know there are cheaper flights, but I wanted to fly one way on JAL and the other way on ANA, and I wanted the combination of B777-300 and B747-400D. And so I booked it.
HND-ITM
JL1509
16 June 2005
STD: 09:35 ATD: 09:35/10:00
STA: 10:50 ATA: 10:55/10:58
B777-300
JA8941
First flight 10 July 1998
This aircraft was recently repainted into JAL's new livery, here's a photo of last year showing JA8941 still in the old livery - by the way, I like the old livery much more.
View Large
View Medium


Photo © Tsutomu Yoshida
Due to my jetlag, I couldn't sleep and so I got up early and arrived at JAL's check-in counters at Haneda's old Terminal 1 at 05:30. The airport itself was already quite busy, but there was not a single person in the tunnel connecting the both terminals. During daytime, this tunnel is so busy with thousands of Japanese running for their flight, so I though I just had to take a photo of this "empty" tunnel early in the morning:
Alright, so I went to departure level. Those check-in machines are very popular in Japan, you find hundreds of them everywhere in the terminal, but always also some airline staff assisting passengers with the machines. Remarkable: These airline staff always have a megaphone with them, and they kept on shouting their messages through the terminal, it was somehow like on the fishmarket in Hamburg... No idea what they announced, because they only announced it in Japanese, but I think these were check-in calls for flights that are soon going to be closed for check-in.
HND.jpg" target=_blank>
HND.jpg" width=650 height=488 alt="http://img.photobucket.com/albums/v330/Ndebele/HND.jpg" border=0>
Anyway, I decided not to use the machines but rather take one of the few "real" check-in desks. Only a short queue, soon it was my turn for check-in. The friendly young agent was apparently a bit surprised to see a paper ticket issued in Germany, or was she surprised to see a passenger from Germany? I mean I was virtually the only non-Japanese passenger on the whole airport I think, only Japanese passengers in business outfit all around me. Anyway, I asked for a window seat and she gave me 21A.
Having still four hours until departure, I went to ANA's Terminal 2 and tried to check-in already for my return flight in the evening. No this was not possible. The ANA agent didn't speak much English, but as far as I unterstood, it's because of my paper ticket which needs to be collected at check-in in Osaka.
So I went through security in Terminal 1. Having screened my rucksack, they asked if I had a plastic bottle inside my rucksack. Yes I had, and they wanted to see the bottle. It was a Pepsi bottle but it was filled with water. They were surprised and asked me about the content of the bottle (leading me to the conclusion that they don't have Crystal Pepsi in Japan). I told them that it's just water inside, they took the bottle for inspection, and soon later I got it back.
Now I enjoyed the busy atmosphere of the gate area, thousands of Japanese walking or running for their gates, and of course *lots* of JAL aircraft arriving and leaving. At 08:35 I saw JA8941 arriving:
This aircraft is in a C62 Y410 configuration, and this flight promissed to become rather full. They made lots of announcements, but only in Japanese, so finally after one more announcement, everybody stood up for boarding, so I knew this was the boarding call. They have self-boarding machines in HND, you put your boarding pass into the machine and then pass the machine, and you get your receipt at the end. It actually worked, I was surprised, it was printed on the boarding pass which direction one has to insert it into the machine, and there was not a single passenger inserting the boarding pass the wrong way.
Two jetways, the one at door 1 for all passengers with A, B, C, D and E seats, the jetway for door 2 for F, G, H, J, K seats. I've never seen this before, and this would be quite a clever way of separating the masses, if only they had done it the other way around. This way, I with my seat 21A took door 1, walked backwards inside the aircraft only to meet the passengers queueing at door 2. Anyway, I was fascinated by the discipline of the Japanese passengers, those 400+ passengers boarded so quickly, everybody took his seat immediately, no standing in the aisle, no problems with full overhead bins because they all didn't have any carry-on.
About the cabin: Business has a 2-3-2 configuration, Economy 3-3-3. Grey fabric seats, not the kind of fabric seats used in Europe, rather a soft fabric which feels like sitting on a sofa:
Headphones on every seat(!) and an entertainment system with 12 audio channels, I didn't expect that on a 45-minutes-flight. The audio channels were mostly Japanese music and programs in Japanese language, but also one channel with western music, playing e.g. the Black-eyes Peas. Already during boarding, the cabin crew came around with blankets. One more thing I didn't expect on such a short flight. Much to my surprise, blankets seem to be quite popular and very important to japanese passengers, most passengers took one.
21A was the third row of Economy, in front of the wing which is good for photography. On the screens, they showed not only the safety demonstration, but also a program of how to behave on board.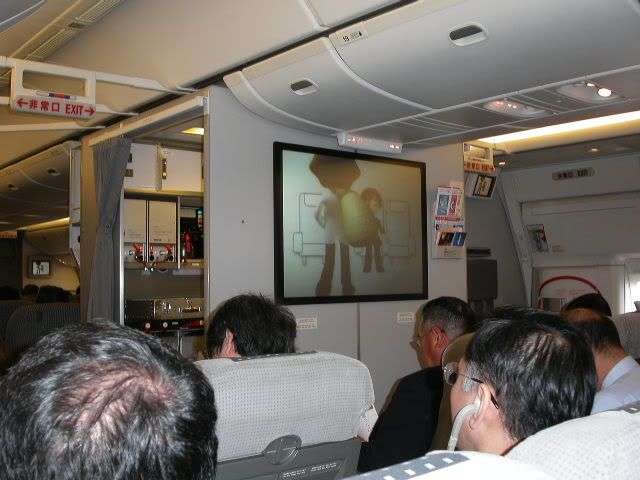 "Before you recline your seat, inform the passenger sitting behind you, because a seatback reclined too quickly might hurt him", "Don't talk too loud" and stuff like that, and also telling passengers to keep the discipline on board. This was somehow not necessary on this flight, I haven't seen such a discipline among the passengers ever before, 400 Japanese in their business outfit sitting there patiently, not saying a word. A very quiet atmosphere. Also I noted that the flight attendants, when talking to each other, just moved their lips without voice, they read each other's lips, very remarkable.
Alright so we soon pushed back, cabin crew made their welcome announcement, all announcements on board both in Japanese and English. What I also found quite funny: The small Japanese f/as had to step onto the armrests of the seats in order to close the overhead bins. Also, whenever they check something, they always point with the finger on it, so in the end we could see a f/a walking through the aisle and pointing with the fnger onto every closed overhead bin.
I was lucky to sit on the left-hand side, so I could take a photo of the traditional Japanese wave for goodbye: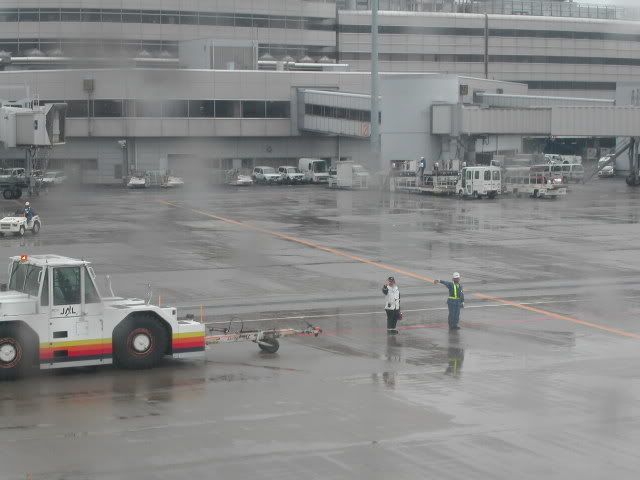 Unfortunately it was raing once again outside, in fact it's always raining in Japan during June, I think. Anyway, we taxied towards the runway next to Terminal 2, so this was not only a long distance there, but also there was a long line-up for departure, so it took us 25 minutes before we could take off. Take-off could also be seen on the screen, the B773 has a front-view camera! Entertainment on those domestic flights seems to be quite important, I've been told that the ex-JAS B777s even have PTV!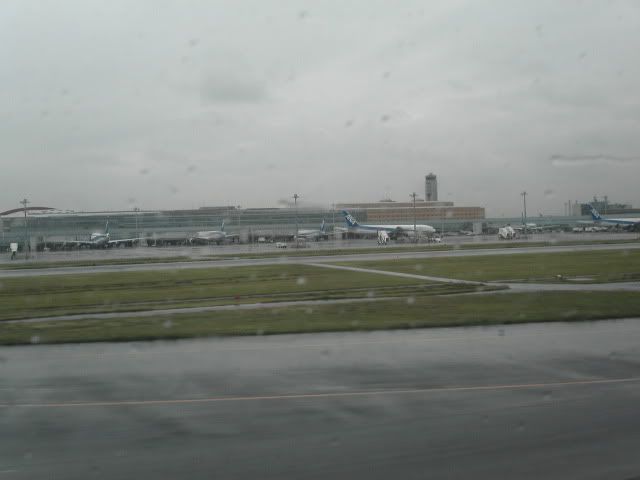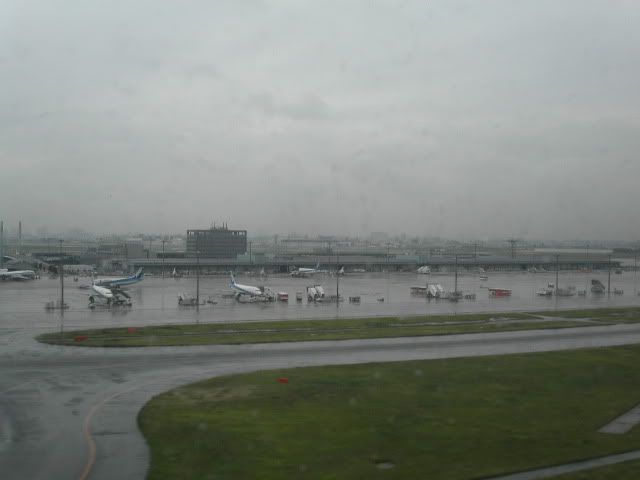 Before we disappeared in the clouds, we turned right over the bay of Tokyo. A seat on the left would have been nice, but anyway I got some nice photos: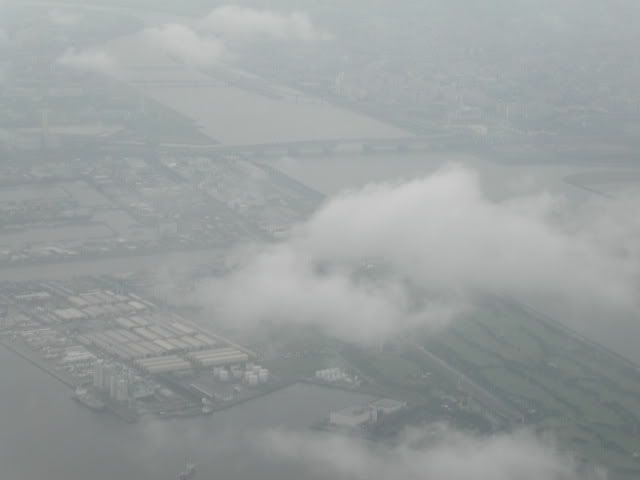 Now here comes something unbelievable! On the way to Haneda, my bus had to pass the bay of Tokyo. There is a bridge over the bay, and in the middle of the bay, this bridge turns into a tunnel! How cool is that?! I have never ever seen something like this before, very impressive!!! I managed to take a photo of the point where the bridge turns into a tunnel:
Now we were above the clouds. Cabin crew started their drink service, I had a Coke. Once again they offered blankets. We started our descend, cabin crew announced we would soon be landing at "Osaka International Airport" - I was surprised, I didn't think Itami could still be called "international", but they had also referred to Haneda as "Tokyo International Airport", so as long as we're flying to Itami and not to Kansai, everything was alright for me. By the way, the pilots didn't make a single announcement during the whole flight, not before take-off, not during flight, not after landing.
Alright so during approach, I managed to take some photos of the impressive extension of Osaka, houses whereever you look, very populated Japan: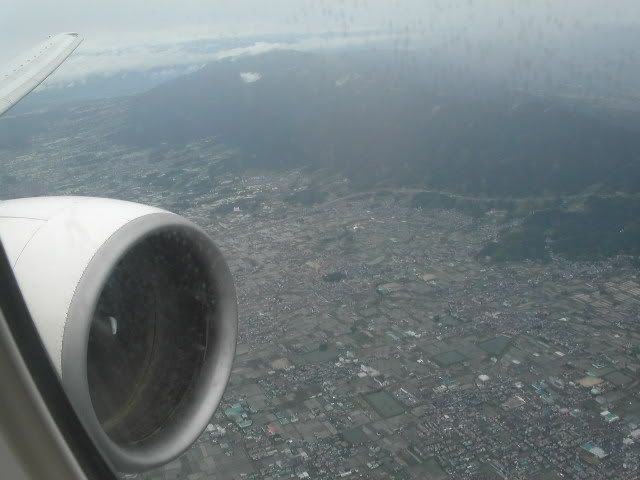 Some other Osaka airport, but I really don't think this is Kansai: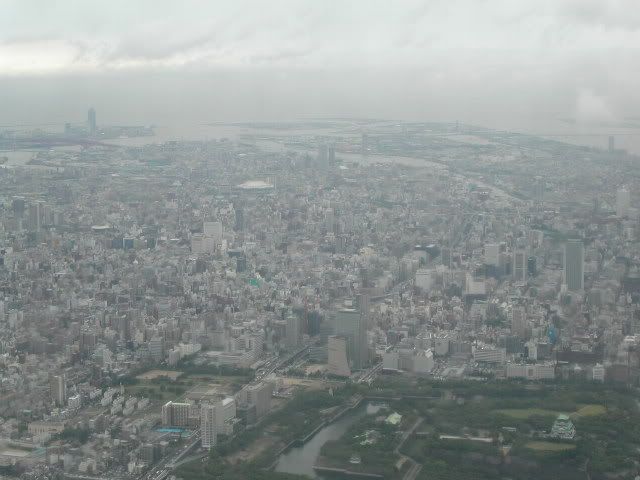 We landed on Itami's runway 32L, and as soon as we left the runway, they made the usual announcement to keep the seat until the aircraft has arrived at the gate. But no, everybody stood up, opened the bins, took his baggage out and rushed to the front door. And this was not just on the last few meters, it we had literally just exited the runway when everybody got up. I expected the f/as to interrupt this, but they didn't, probably this is normal procedure among the Japanese passengers, who normally stick to each and every rule. So I was the only one still sitting when the doors were opened, and let me tell you, it felt like in an evacuation: As soon as the doors were opened, everybody *jumped* out of the plane, de-boarding of those 400+ passengers took probably less than 2 minutes! When everybody had rushed out, I stood up, patiently took my rucksack, said "Bye-bye" and "Thank you" to the crew and was the last passenger to leave.
I stayed inside the gate area for some time, in roder to watch the special movements, like a JAL Saab 340, or the ANA Dash 8-400 which are operated by an airline which is officially called A-net Airlines. Damn I thought, I should have booked a flight on this airline. Alright, so I left the gate area, had some lunch, did some spotting from the observation deck (which is located on the terrace of a furniture discounter and difficult to find). Here's a photo I took from the deck, a JAS B777, what a nice livery, I wonder how much longer it will be around, the nose is already in JAL colours:
ITM-HND
NH034
16 June 2005
STD: 17:00 ATD: 17:07/17:20
STA: 18:15 ATA: 18:08/18:15
B747-400D
JA8963
First flight 29 July 1993
View Large
View Medium


Photo © Paul Spijkers
This aircraft used to be in Marine Jumbo livery:
View Large
View Medium


Photo © Yosuke Kinoshita
Just as in HND, also in ITM most passengers use the check-in machines. I went to one of the counters and was welcomed by a young and friendly check-in agent who spoke English perfectly. She asked me if I wanted to re-book to an earlier flight, ITM-HND is served every hour. No I didn't, because I knew the earlier flights would not be on a 747. So she checked me in for the later flight, I asked for a window seat. "I'll give you a window seat on the left, so you might be able to see Mount Fuji", now this would be great. She entered my Lufthansa Miles&More number and then gave me my boarding pass. What a friendly service, I really wonder why people prefer those check-in machines.
I went through security, once again they wanted to check the content on my plastic bottle, although I had already drunken my water by now and now I only had a Coke bottle with me, with Coke inside, nothing too suspicious. I got the bottle back soon and went to my gate:
At 16:10 I saw our aircraft arriving:
Only families and leisure travellers de-boarded, not a single business man on this flight from Haneda. Quite a contrast to the passengers I had on my flight in the morning.
There were TV screens at the gate showing Japanese televison, but I was the only one watching, although I was probebly the only one who couldn't unterstand the language. Anyway, it was this Japanese series about the team of female japanese volleyball players, in a way like Baywatch, you can easily follow the "plot" even if you don't understand the language.
Boarding started at 16:48, again with those boarding machines. There were only about 150 passengers on this flight, not so many if you keep in mind that this aircraft has 569 seats. The economy cabin has a 3-4-3 configuration, again very comfortable fabric seats. My seat was 55A, and due to the lack of bulkheads, curtains or other cabin dividers on this domestic aircraft, I could see straight to the front of the plane. Seat pitch was not as narrow as expected, comparable to European shorthauls. Obviously it's mostly the lack of large galleys, the few lavatories, the lack of crew-rest and other typical long-haul cabin equipments that enables them to install so many seats on the 747.
Again they offered blankets. When they came to my row, the f/a welcomed me in English, asked me if I want a blanket, and soon brought me an English in-flight magazine - the normal inflight magazines on domestics are in Japanese only. Again a very nice personal touch.
On the screens they showed the safety, again in Japanese and English, and also on ANA each cabin crew announcement was made in both languages. The cabin crew introduced the pilots' names, later the pilot made a welcome announcement, but this one was only in Japanese. We pushed back and taxied towards runway 32L, again we could watch it on the front-view camera. What I found very remarkable, there were houses built until next to the airport fence, which shows once again how populated Japan is.
We lined up and took off. Then we made a 270° turn to the left, so I could make some photos of ITM:
Osaka:
I had seat 55A. Only 55K, the right-hand side window seat, was taken, the rest of the row remained empty. Cabin crew came around with beverages, I had a Coke again. Once again they offered blankets.
Unfortunately it was overcast, so instead of the view of Mount Fuki, this is what I got:
It was already getting dark outside. Japan is strange, the sun comes up as early as 4:00 am, but sunset is already at 19:00. If I could offer Japan only one good tip for the future, daylight saving time would be it. So when we descended, it was already dark, and it was heavily raining. We descended into the clouds, flaps were lowered, and in complete landing configuration we flew through the clouds for several minutes, made some steep turns, then all of a sudden there was the sea only about 100 meters below us, then the runway, then we touched down. The runway was covered with water, it had been raining all day, so quite a lot of water was kicked up as we reversed. We left the runway and taxied towards our gate at ANA's Terminal 2.
Again I was one of the last passengers to leave, handed them back the English inflight magazine and thanked them for this great flight.
Conclusion:
This was a really nice trip, because there are so many small details that are completely different from European shorthaul flight. I was also happy that I have chosen both JAL and ANA, as there were also some small differences. Crews on both airlines were very friendlyl, however the ANA crews offered a bit of a personal touch. Also the passengers on both flights were very different, only business people on the JAL flight and mostly leisure travellers on ANA. Definitely a great experience and worth the money, I'm happy that I mede this trip, which was very special for me. I hope you enjoyed reading, and feel free to reply or ask any questions. Thanks, Alex.