Hi everybody!
On the 18th of June 2005 I visited Paris Air Show 2005. Here is my report of the trip to Paris from my local airport and the visit to LE BOURGET! Hope you enjoy reading it!
IB0487 OVD-MAD
Aircraft- Airbus Industries A320-211
Departure time-18:00
Boarding time- 17:25
Gate- 7
Remarks- On time
I and my family arrived at Asturias airport by ALSA (The most important coach company in Spain) from our city, Gijón around 5 p.m. The airport was practically empty although there were some flights scheduled for that time. Our baggage was checked in by a friendly staff who gave us seats 26D, 26E and 26F (26F for me!)
We had a drink at the café of the airport and then went through security.
Boarding was scheduled at 17:25 but by that time, our A320 hadn't landed yet. It arrived at 17:40 and passengers were disembarked at 17:50
Here you can see our A320 EC-IEI "Monasterio de Valldigna"
Also a CRJ of Iberia Regional Air Nostrum from Seville is taxing to the gate:
We boarded the aircraft through the finger and a F/A received us with a nice smile. The plane was completely full and nearly everybody was seated. Also two F/As standing in the aisle welcomed us on board and then we sat down.
The video display was played only in Spanish while we were pushed back, thankfully on time!
We took off smoothly and after 10 minutes climbing, we reached our cruise altitude and speed. We were given "IB Universal", the new IB's newspaper.
The purser offered us "Tu menu" with a very professionally English (The first time I hear a F/A of IB speaking excellent English!) and an image display was shown on the screens.
After 50 minutes of flight, we started the descent into MAD, and the captain deployed the spoilers during the approach. Is this usual? I do so on Flight Simulator, but I thought it had no effect in real life!
Anyway we landed on runway 33 and immediately were parked at gate E71.
Our connection flight was scheduled to board at 19:55, so we went shopping for a while because we had plenty of time left. After that we went to gate E79 which is situated at the rear of MAD's terminal 3.
IB3400 MAD-ORY
Aircraft- Airbus Industries A320-211
Departure time-20:30
Boarding time- 19:55
Gate- E79 (Plane parked at the apron)
Remarks- On time
Boarding started on time and we were bussed to the plane which was parked in a remote stand near T1. We saw nice aircrafts such us an Air Madrid A340 or a Pullmantur Air B743.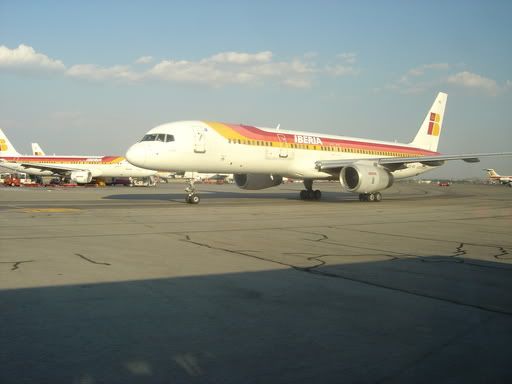 When we arrived near the A320 we had to wait for a while until the plane was cleaned.
Here is a shot of the captain.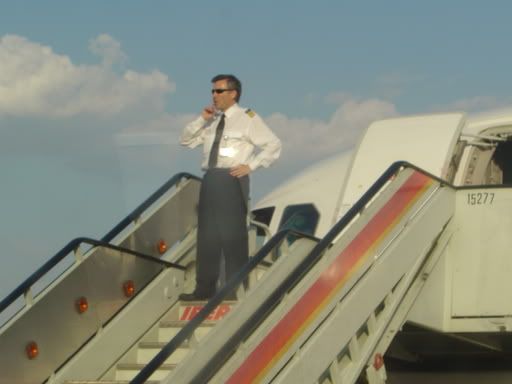 Then we boarded by the front door:
A group of two young cabin staff welcomed us and then we sat down on seats 20D, 20E and 20F (the window one for me too!)
Here is the ambient inside our A320: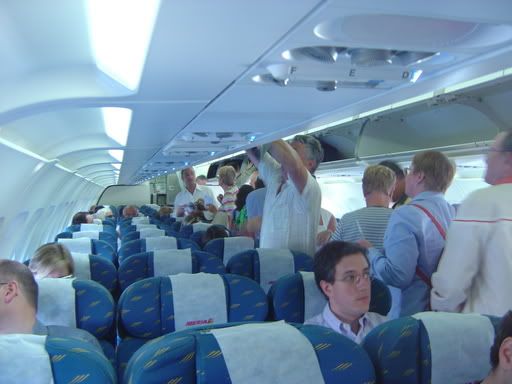 Doors were closed on time and then the safety video display was shown both in Spanish and English. In addition another record in French was played.
While taxiing I had the opportunity to spot nice planes such as the IB 744 and A346: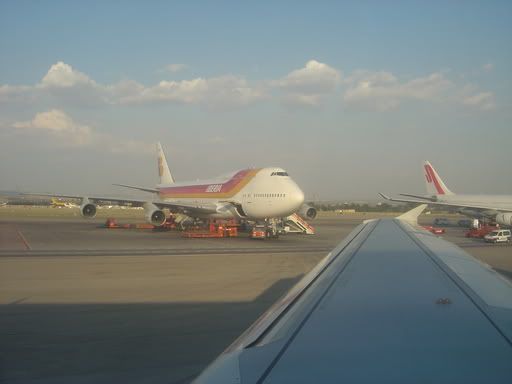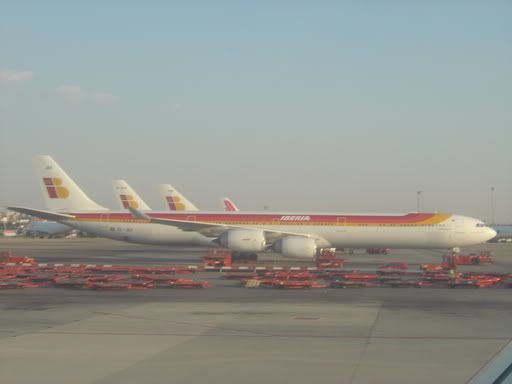 We reached runway 36L. An IB B752 and a JK MD-87 (ex-IB) were waiting in front of us. After waiting for a short time we entered the runway and took off softly.
After some time, the purser (this time a very old but experienced lady) offered Tu Menu again and also the On-Board shop. A thing I don't like of IB's service is that the messages given to the passengers are always the same, the tings F/A do are always the same… it's a little bit boring. On the other hand I understand it'd be a real chaos if every staff did what he/she liked!
Anyway, after 1h and 20min, we started the approach into ORY. The captain announced that there would be some problems during the landing due to strong wind, although we managed to land smoothly!
Traffic at ORY was fluent. Sorry but the photos I took of ORY airport are crap! Anyway there were 2 TAP A320s, an AF B735 an IB MD87 and two A320s (One from BCN and the other one was ours) in the terminal area we were parked at. In addition an Air Europa B738 was taxiing behind us and also an Air France A343.
ORY airport seemed a little bit old and dirty and so did the parking and check-in area.
We took a taxi at the airport which took us to Disneyland Resort Paris where we stayed for only two nights but it was lovely.
VISIT TO THE PARIS AIR SHOW 2005 at Le Bourget airport.
Saturday, 18th June, 2005
It was a sunny day. Sunny and hot! Anyway it seemed to be a nice day. We took the RER line from "Parc Disneyland" to Chaletet des Halles in central Paris. The platform was crowded of people from all walks of life and after a short time a train full of people arrived. It was another RER which stopped at "Le Bourget" station. We took the train and after four stations we all disembarked at "Le Bourget" which was a total chaos! Lines and lines of people waiting for the Shuttle buses and floods of people who decided to get to le Bourget airport on foot. We decided to choose the second option because you couldn't imagine how long the lines for the shuttles were!
Le Bourget town was a pretty disaster that day: People crossing wherever they liked, police cars driving past every second… amazing.
After a walk of around 40 minutes we arrived at Le Bourget airport by gate L3. Thousands of people were waiting to enter the show, but it was a SLOWLY process. Organisation was crap! No controls, no lines, no signs, no security… an absolutely chaos again! After more than 1h and 30 minutes, we "pre-entered" the show. We had to wait for the tickets to be checked. Thanks God we had bought the tickets in advance through the Internet, otherwise we'd still waiting in line to buy them!
Afterwards we visited the "Simulation hall" and I enjoyed a lot watching people managing to land with an A380 and an A320. It was a little bit expensive: 10 euros for one ride: for that money I enjoy 1.000 times flying with my FS at home!
After that we visited more halls which were very nice. Here you can see interesting stuff such as the A380 engine or the B787 landing gear: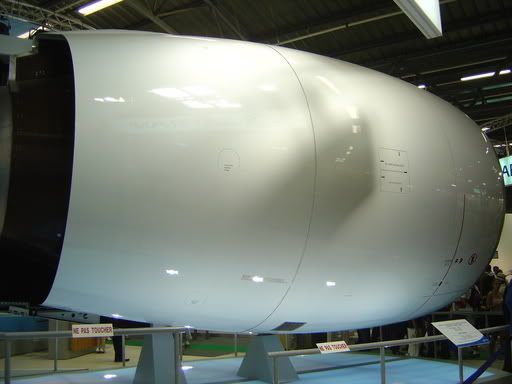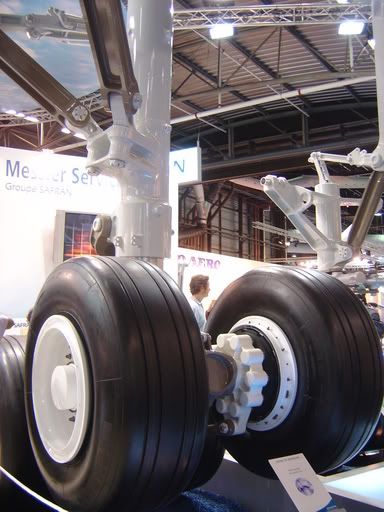 A380 cabin:
A380 seats:
A380 rear cabin: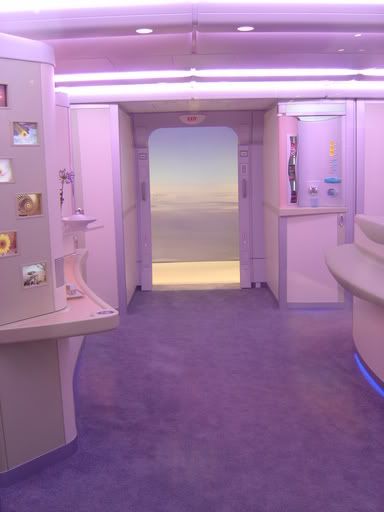 IB's "La muñoza" maintenance facilities at Spanish Pavilion in Hall 2:
View of the apron: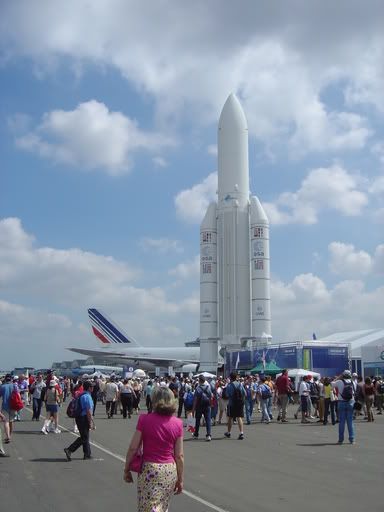 As you can see the apron was completely full and it was nearly impossible to move.
There were nice planes parked in both sides of the taxiway, here you can see the ones I liked most:
Qantas link Bombardier Q400: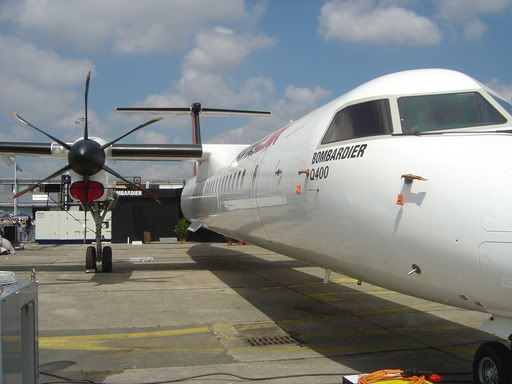 United Express CRJ (200 I suppose)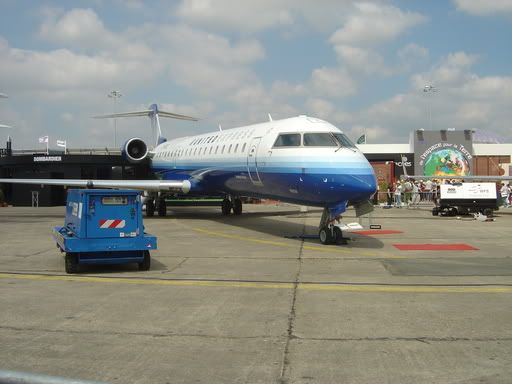 AF B741 of "Air and Space museum":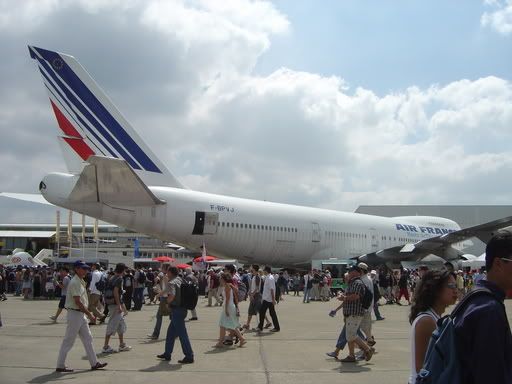 B741 engine: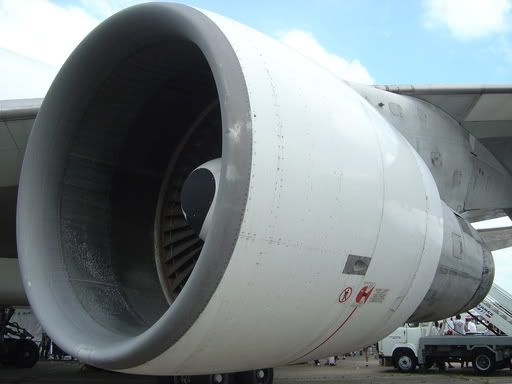 B777-200LR "Worldliner":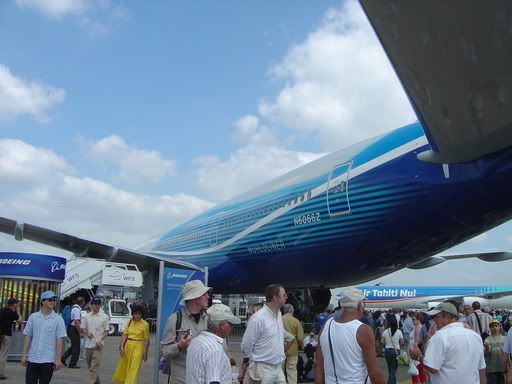 Air Tahiti Nui A343: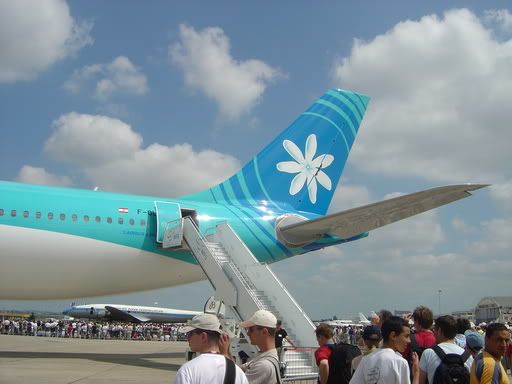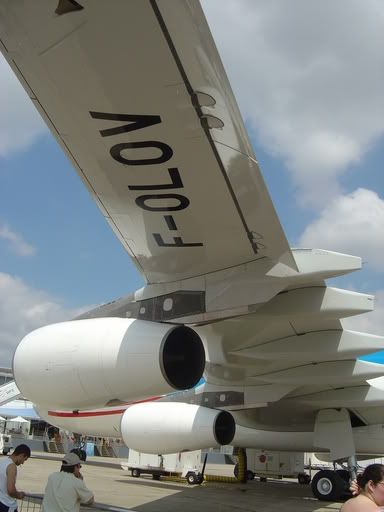 After this quick visit to the static display, we all approached the tribune to watch the marvellous flying display which was about to begin.
The magnificent and huge A380 was parked just in front of us so I had the opportunity to take a pic of it: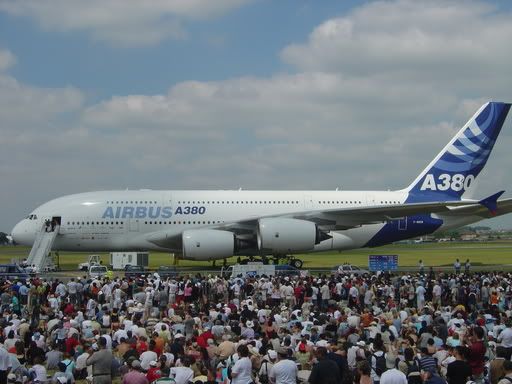 The A340-600 was also in front of us (notice the zeppelin)
After 20 minutes of the scheduled time, the parachutists appeared in the cloudy sky!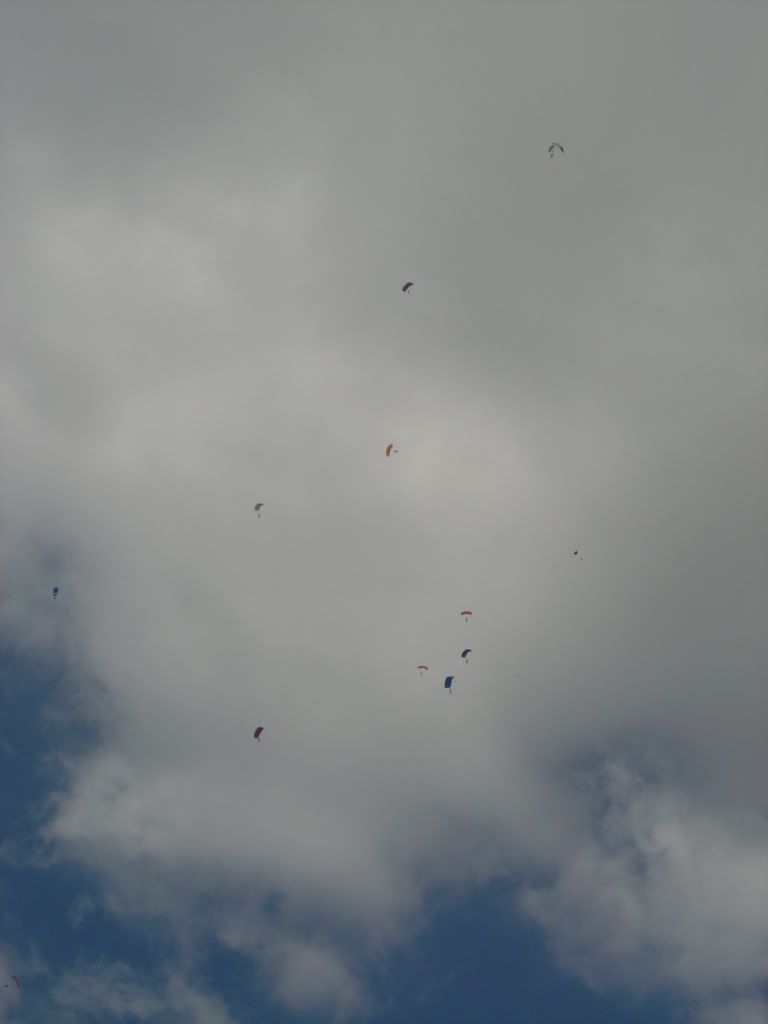 It was an impressive exhibition!
The next display was a light plane but it was difficult to spot it because it flew at a very high speed. My camera is a Sony Cybershot 5x Megapixels and 3x optical zoom, but it's not enough to catch the planes during flight properly, so with the help of a pair of binoculars I managed to catch the planes as well as I could.
And now, let's see our large friend!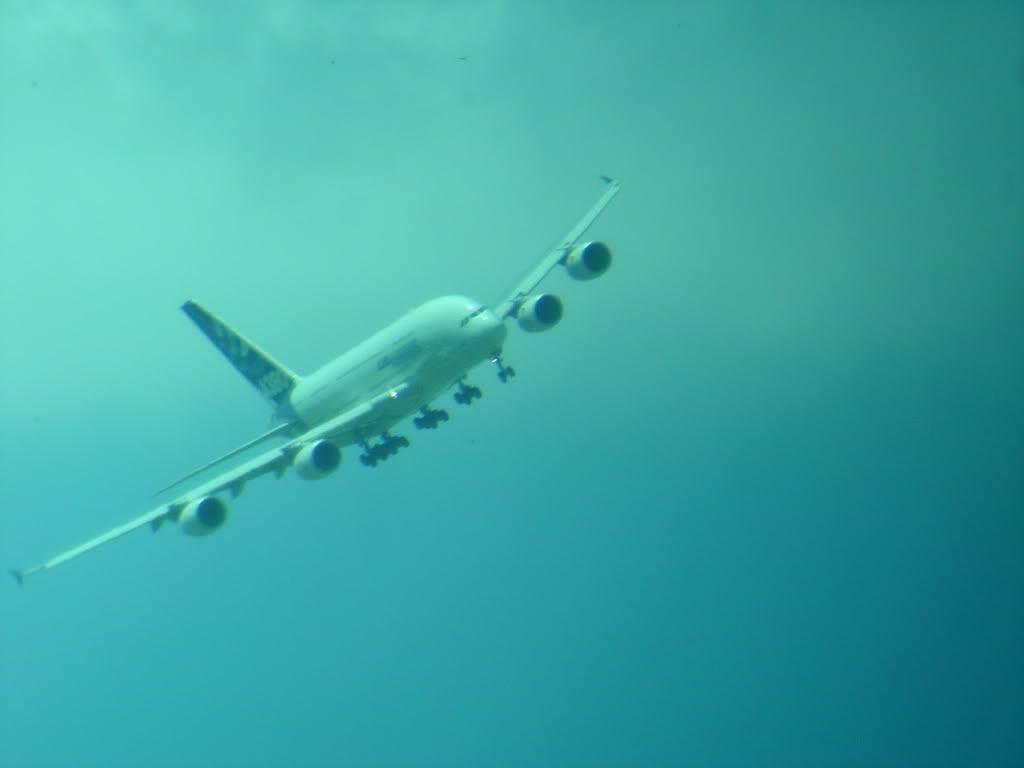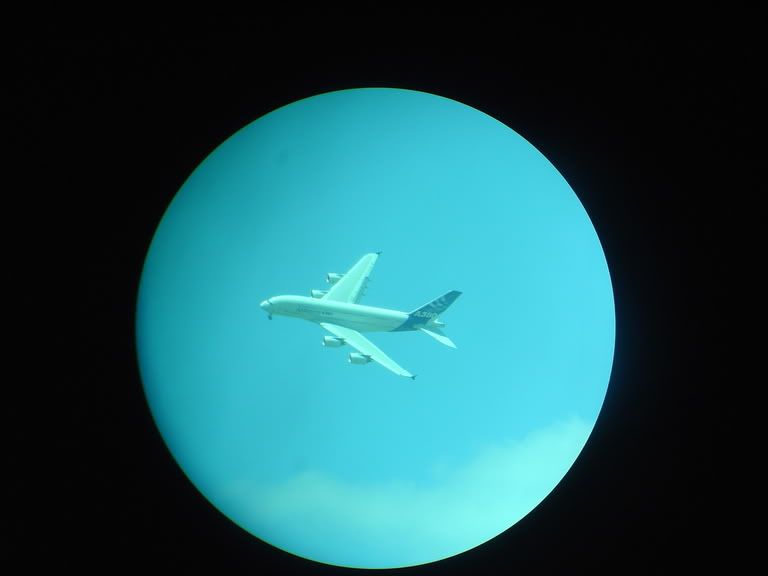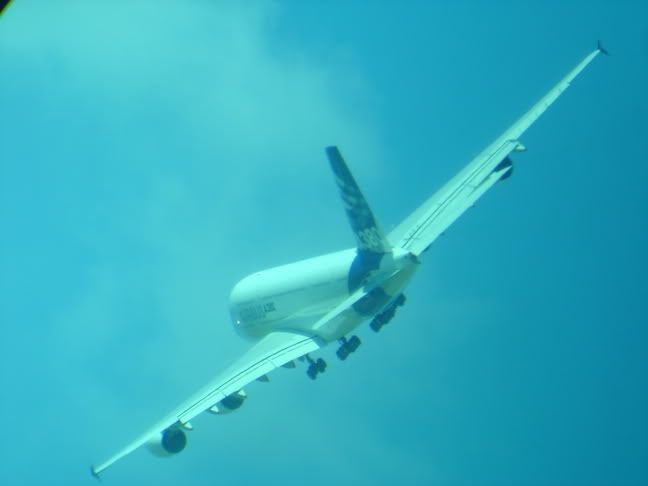 A380 and A346 parked at the apron: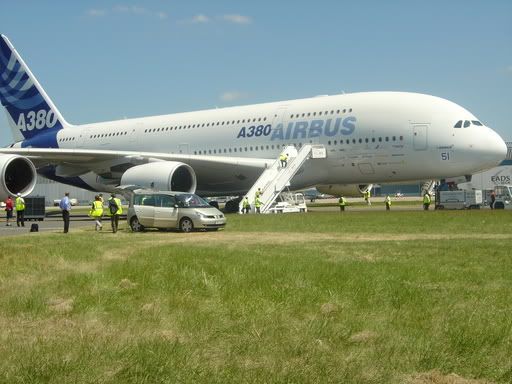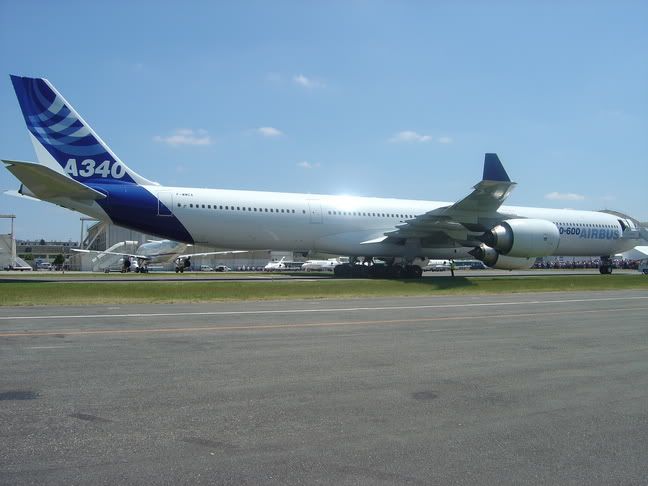 Impressive, isn't it?
OVERALL IMPRESSION OF PARIS AIR SHOW
I think that the only good thing of this event was the flying display, specially the A380 performance. On the other hand, I was a real let-down to find that the organisation of the show was practically nonexistent. There were thousands and thousands of people and nearly no signs indicating the exits and the shuttle bus stops. Even not personnel of the show knew where the bus stops were! We were told to leave the show by gate 0, where the buses were supposed to be, but the stops were not there! We had to go walking among thousands of pedestrians for more than an hour until we reached the train station, in which lots of people were waiting to take RER trains to Paris. After 1h and 45min, we arrived at Chaletet des Halles and finally took our train to Disneyland Resort Paris.
The prices of food at the show were absolutely overprized. A water bottle of 25cl cost 3.00 euros! Of course the sandwiches weren't cheap at all! Around 7.00 euros for a baguette with butter and some slides of ham. The snack bars and restaurants were old-fashioned and of course were not prepared to fulfil the needs of more than 50,000 people properly.
In addition, I was disappointed to find that the "tribune" whose seats cost 10 euros per person, was not equipped with a cover which could have prevented us from burning due to the sun rays and a temperature of more than 35ºC.
By and large, I think that the managers of the "Paris Air show" have to learn a lot about security and organisation. I've been at some events like that in Spain (Expo 92, Forum Barcelona 04) which attract as many people as PAS and there isn't by far the lack of information as the Air Show.
In addition I have to recognise that all the staff of the show were rude and treated us as cattle. No help and no amiability.
TRIP BACK TO SPAIN (IN THE FOLLOWING REPLY) sorry but it was hard to upload such a long report!