This is my first trip report so let me know what you think. I finally got off my lazy bottom and decided to do this, The reason I took this trip report was to go visit Arizona State University, and to take a stupid math test that I ended up nailing 25 out 25, even with that score I am forced to take Calculus I which is pretty much a review of my Senior Math. I paid this trip with some money that was giving to me by relatives on graduation, and it came to about $480, also use some of the money to purchase a $100 Kodak Easy Share Camera for some pics (my parents bought me the 128MB memory stick  )….we'll here it goes:
The morning before my trip I decided to take advantage of America West Online Check in and checked in for the morning flight. My biggest concern was arriving at the ASU campus by 7:30, later on the day I found out that I could have easily gotten into the test around 8:30 and still been out of it and checked into orientation by 9.
Here is a pic of my Boarding pass to PHX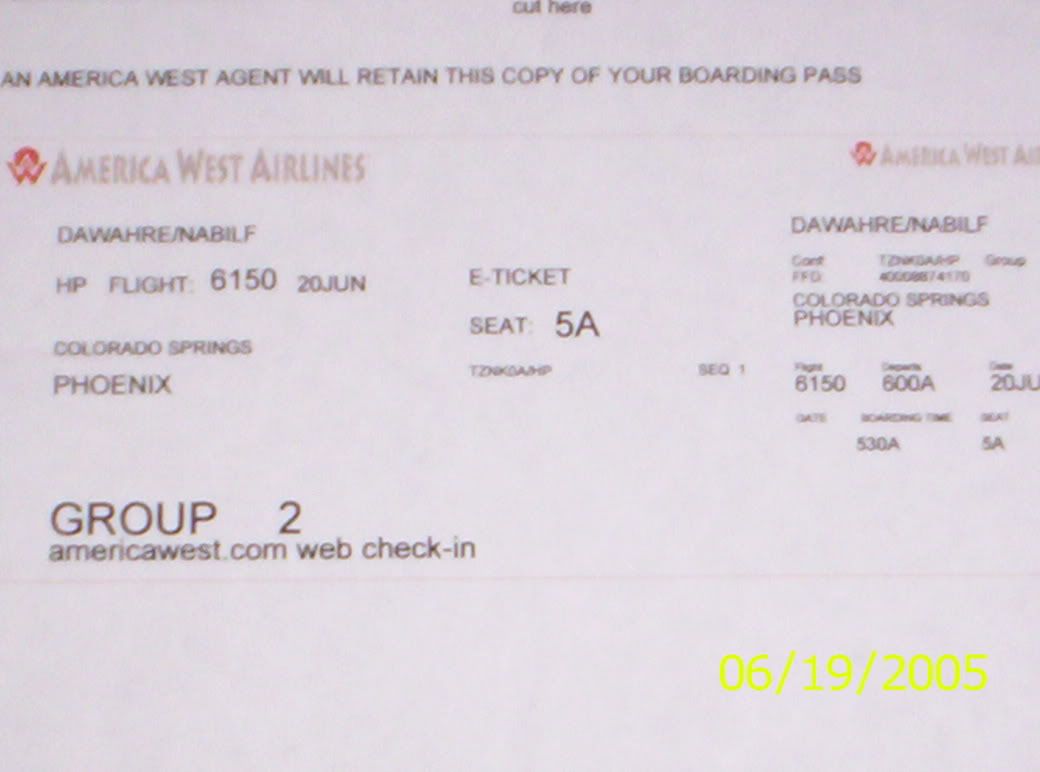 June 20th, 2005
America West Flight Operated by mesa #6150
Colorado Springs COS-Phoenix Sky Harbor PHX
Departure Gate: 3
Seat: 5A (Window)
Scheduled Departure Time: 6:00AM
Actual Departure Time: 6:00AM
Arrival Gate: B19
Scheduled Arrival Time: 6:45AM
Actual Arrival time: 6:40AM
Aircraft: CRJ
Registration #: UNKNOWN
I left my home around 4:50 AM, for those who know COS I live by the Broadmoor Hotel, so it was about 15 minute drive. Got to the airport around 5AM, and headed straight to security, surprisingly the airport looked packed…most counters were packed which brought some joy at having checked in online. The security line took about 7 minutes, all those business suited man had took hours to take all their stuff off, I am thinking of stripping down all the way into my boxers next time. Got to the gate around 5:10AM and waited to be called on time. Right across from us was a Delta flight leaving to SLC at 6AM also…..I started to get worried when they started to board and we still hadn't, after about 5 minutes we started to board. It was pretty smooth, with not really a big line.
I started looking for my seat and notice some of the stickers with the numbers where removed, and those that were there where a little bit off from where the actual seat is located. I noticed a couple had taken both seats and in the row behind them was a lady seating on the window seat. At first I thought the lady had taken my seat, so I told her:
Me--"Excuse me Ma'am I believe you are in my seat"
Lady—" No, I don't think so"
Me—"We'll isn't this row 5, I got 5A"
Her—" No this is 6A"
I know it's a normal mistake for people to do stuff like this but I felt really bad for doing it. So I looked towards the Hispanic looking couple around the age of 65, to get my window. Having said nothing, the Hispanic lady looked at me and I smiled she asked me in Spanish "Is this your seat?" to which I replied in Spanish, "Yes, I have 5A", she showed me her boarding pass as if she didn't have her reading glasses and kind asked me what it said. I pointed her to her assigned seat 7C. I kinda felt bad for splitting the old couple but I really wanted a window seat and wanted to be up front in case the flight was delayed I could get out of it as soon as possible. As we were taxing to the runway saw some CRJ/express aircraft from UA (in new colors), HP, DL, CO also a DL 737 and an AA MD-80 (I get nightmares about DFW Terminal C when I see MD-80s in AA colors). We took off on time, in front of the Delta plane that had started boarding before us. I believe we were the first commercial flight out of COS for the day.
The ride to Phoenix was pretty smooth; we hit some minor turbulence entering the AZ border, but nothing out of the ordinary. They handed out some pretzels (which I discarded) and drank some Orange Juice. I was mostly concerned on showing how the derivative of tan is derived and arriving on time. We started our descend into Phoenix around it suburbs (Surprise I believe it's called) and went all the way around town and landed on a West to East direction on one of the northern set of runways.
Here are some pics of Phoenix, which first impression was "Gigantic"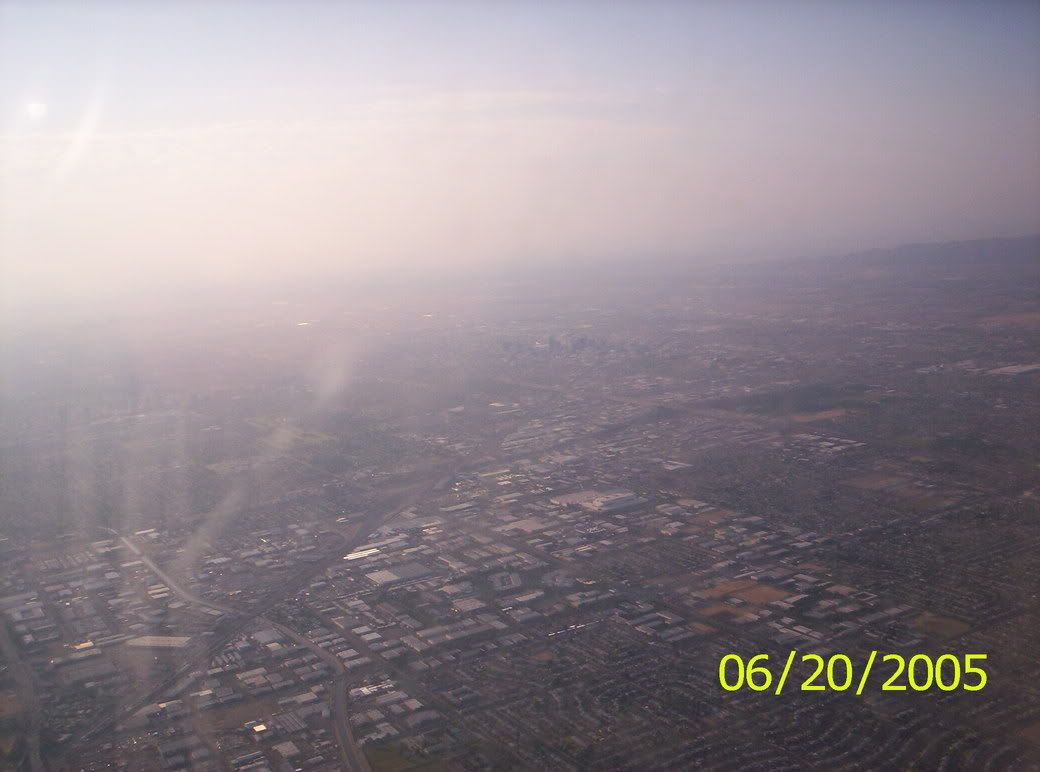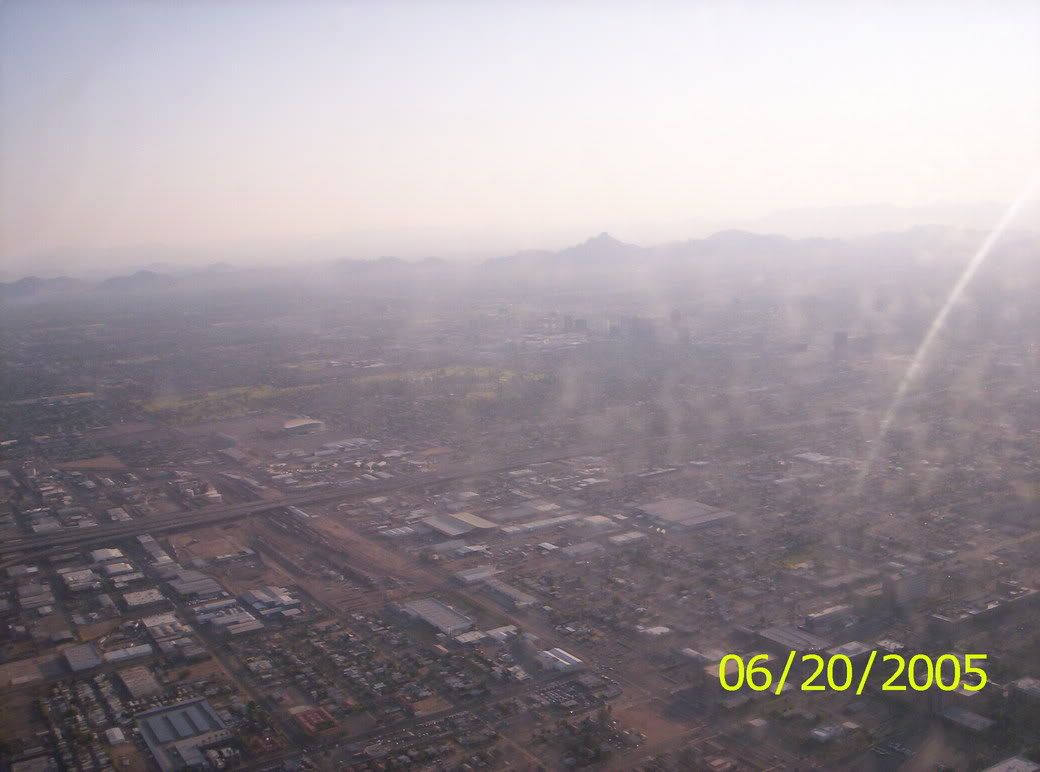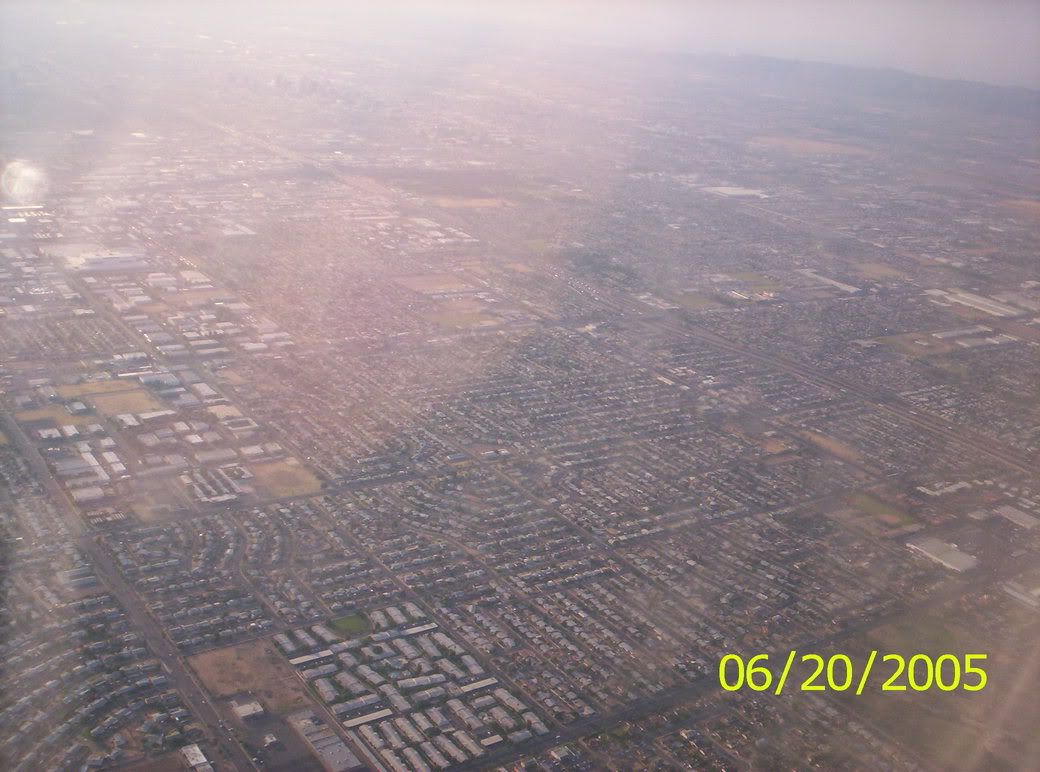 Here are some skyscrapers in Phoenix: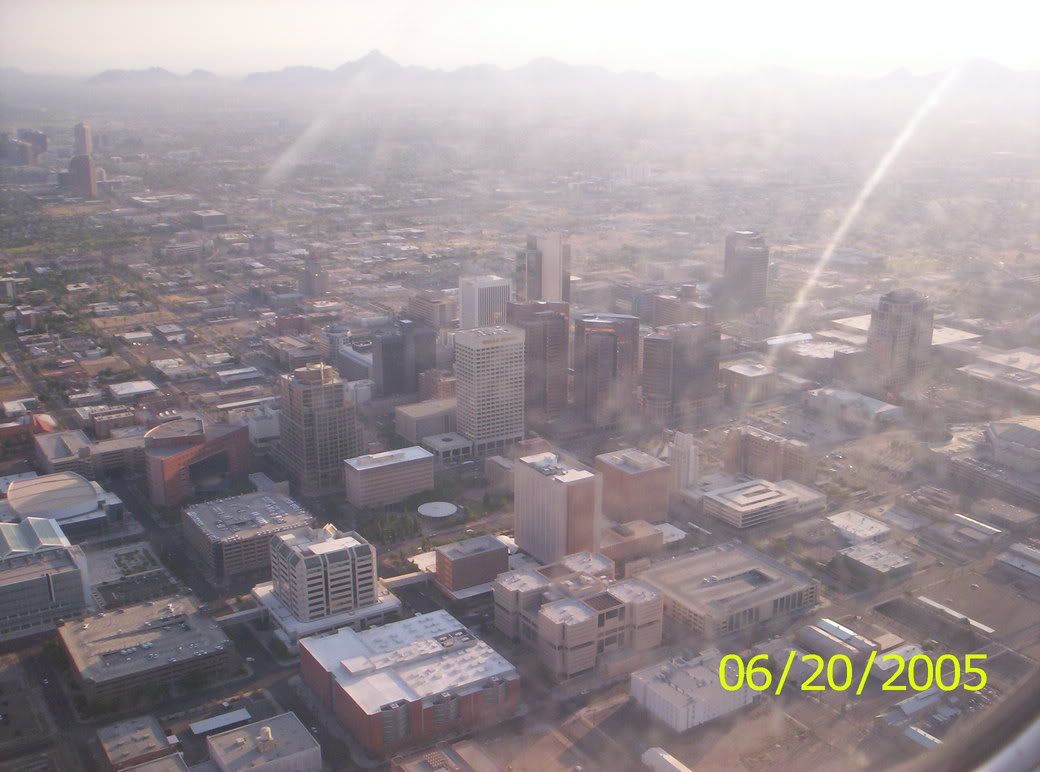 America West Arena (Home of the Suns)
Bank One Ballpark
America West Hangar:
This one was parked next to us B17 and was heading down to DFW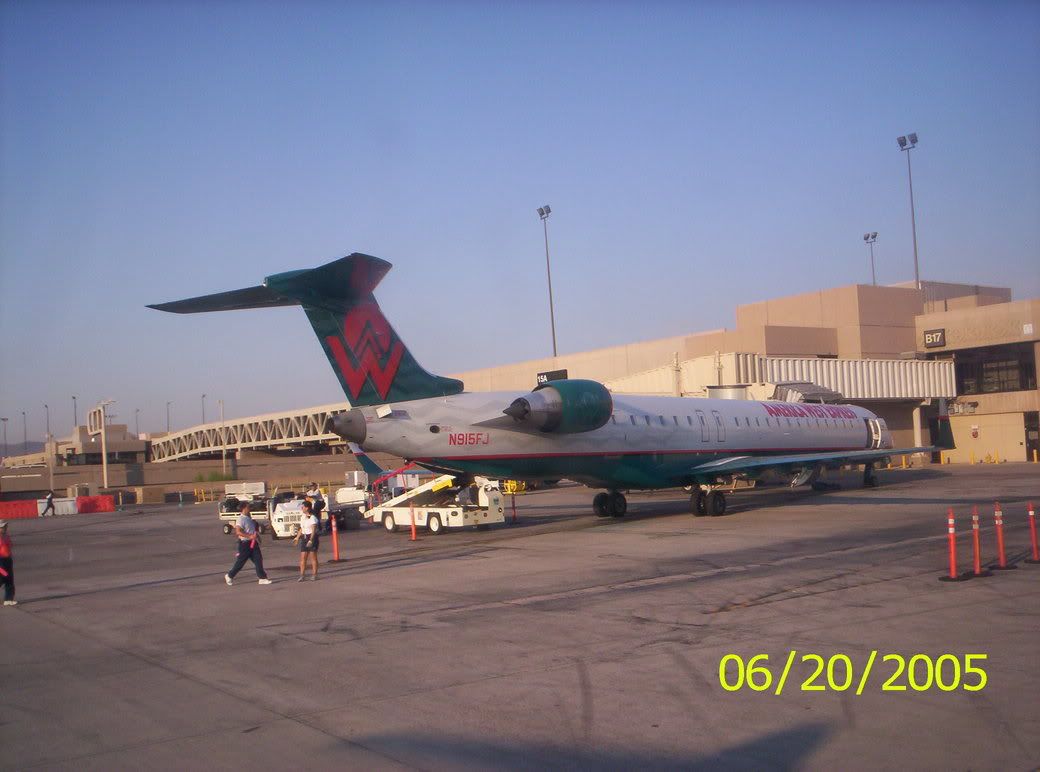 We arrived at the gate B19 and opened the door and everyone got up….wait not so fast…..the jet way started pulling back after a first attempt at locking onto the gate, then again and again and again…not sure what the problem was they just couldn't get it on. While we were waiting (About 5 minutes) This guy was telling a story of how his plane got delayed down in COS a while ago for some odd reason and when they got onto the runway they had to change the crew cause their time had expired, then their departure confirmation also expired then they had to request a new one. The this lady started talking bout a blizzard we had here in COS a while ago and how every plane was being de-iced and by the time they got to the runway they had to get back in line and get de-iced, then they closed the airport and had to sit on the tarmac for hours. Finally the jet way was connected and I was out of there, called my mom and headed directly for a taxi, but before I went for a quick leak at the restroom. The taxi driver was a very friendly German and we spoke all the way to ASU. When we got there it came out to $17.40, I handed him a $20 and waited for my change, I extended my hand in case he didn't know where to put my change, and he looked and me and said "What no tip?", perhaps too friendly of a driver. Sorry no tip for the guy, I was paying this with my own money and I don't get paid much so I am kinda cheap when it comes to my money, it's ok I am sure he made enough to feed his kids.
Here is the only pic I got while on the moving walkway: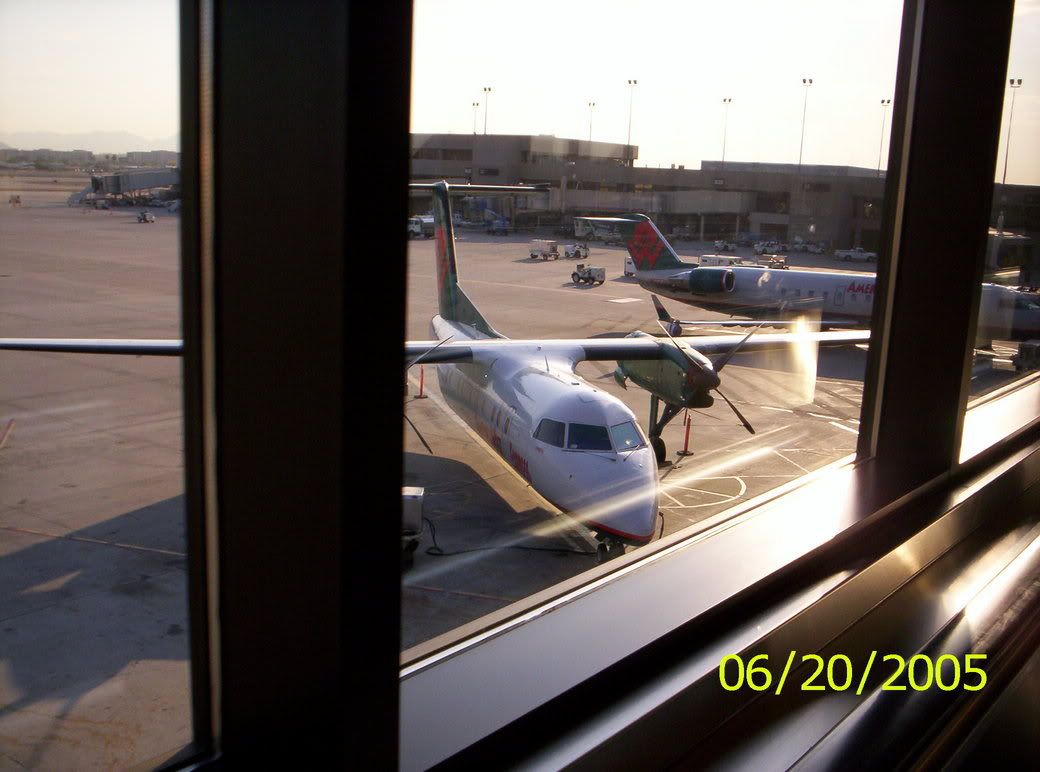 **************RETURN************
Got down with orientation, which was mostly a waste of time. But my focus was doing well on the test and I did. After walking all over campus and sweating like crazy (Sorry I don't remember ever being in this hot of weather, plus I was wearing jeans) I decided to make my way back to the airport. I had to options, call back that taxi driver from the morning or save about $18 and ride the bus. I opted for the cheaper option and walked all the way to the Corner of Mill & University to hop onto the Red Line ( saw some war protestors on the street, one of them seemed to have misspelled IraG…tells you how much he watches the news) Finally made it to the airport about 20 minute ride, for the first time I rode a bus in a major city alone…it was sketchy, but I'll get used to it eventually.
Got to the AW ticket counter around 5:30PM and it was completely empty, I thought it was closed. The self check-in were the easiest things ever (unlike AA that never worked since I have two last names), I used my reservation code and it was a breeze, I was able to get a bulkhead on the way to LAS, although I was tempted to purchase an upgrade for $50 and check out their lounge, I decided not to and don't regret it. Security was also a breeze, not a single person there. Although I had to remove pretty much everything, my watch, belt, coins…none of these stuff beeped at COS.
June 20th, 2005
America West Flight #58
Phoenix Sky Harbor PHX-LAS Vegas McCarran LAS
Departure Gate: A11
Seat: 5F (Bulkhead/Window)
Scheduled Departure Time: 8:51PM
Actual Departure Time: 8:50PM
Arrival Gate: B12
Scheduled Arrival Time: 9:59PM
Actual Arrival time: 9:46PM
Aircraft: Boeing 757
Registration #: UNKNOWN
Here is my boarding Pass: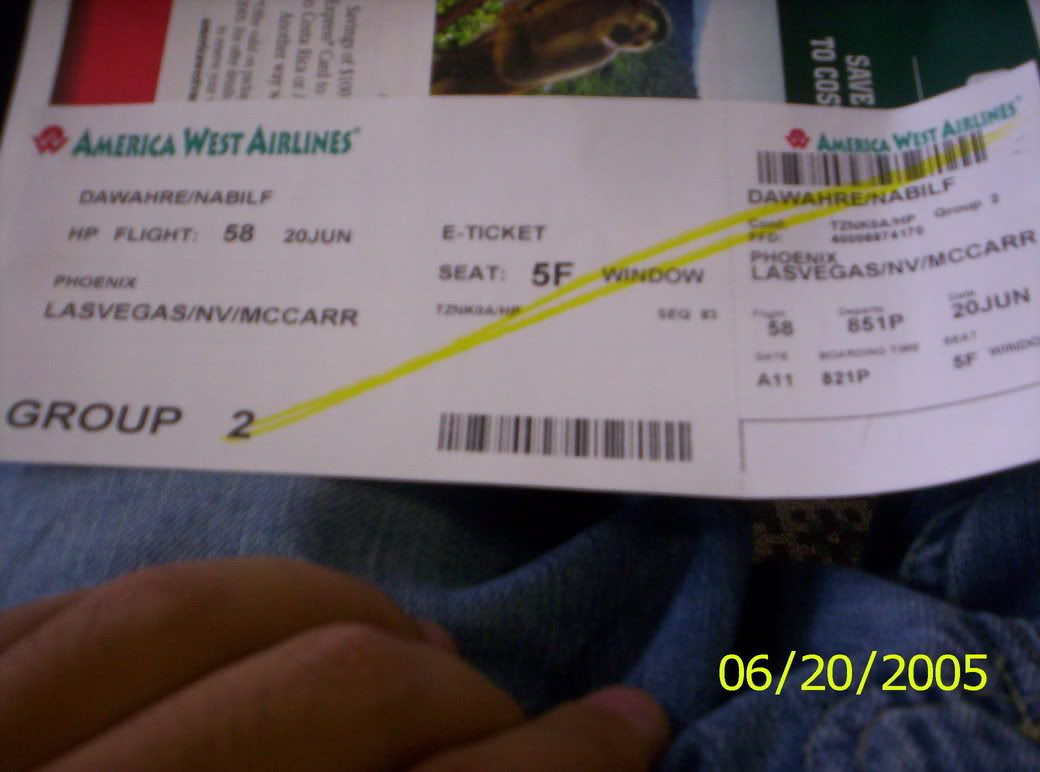 Once I stepped out of security, one thing was on my mind BA744. Looked up at the screen and the gate said something like B27. Hoped onto the moving walkway and stayed on that thing for about 10 minutes, this airport is long, when I finally got to the gate it was in a corner and mostly blocked by the jet way, also the glass was covered by either people sitting down, sorry couldn't get a pick. Here are a few of the pics I managed to get on the walkways: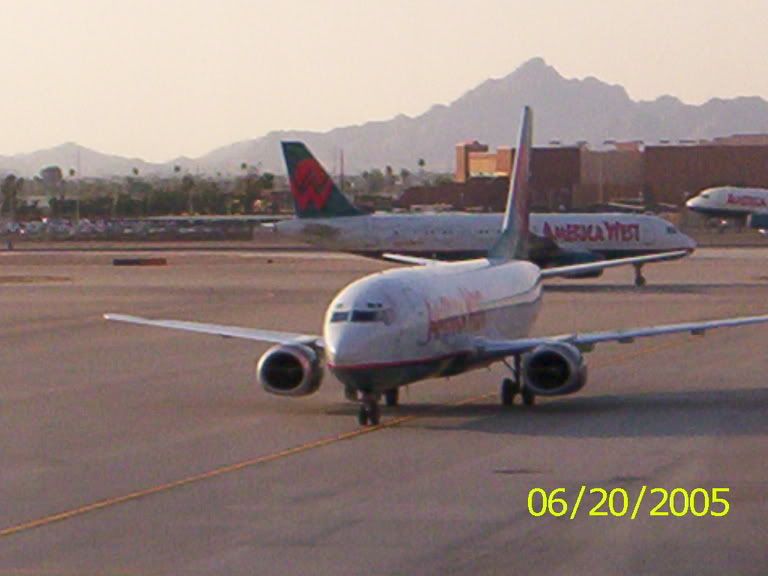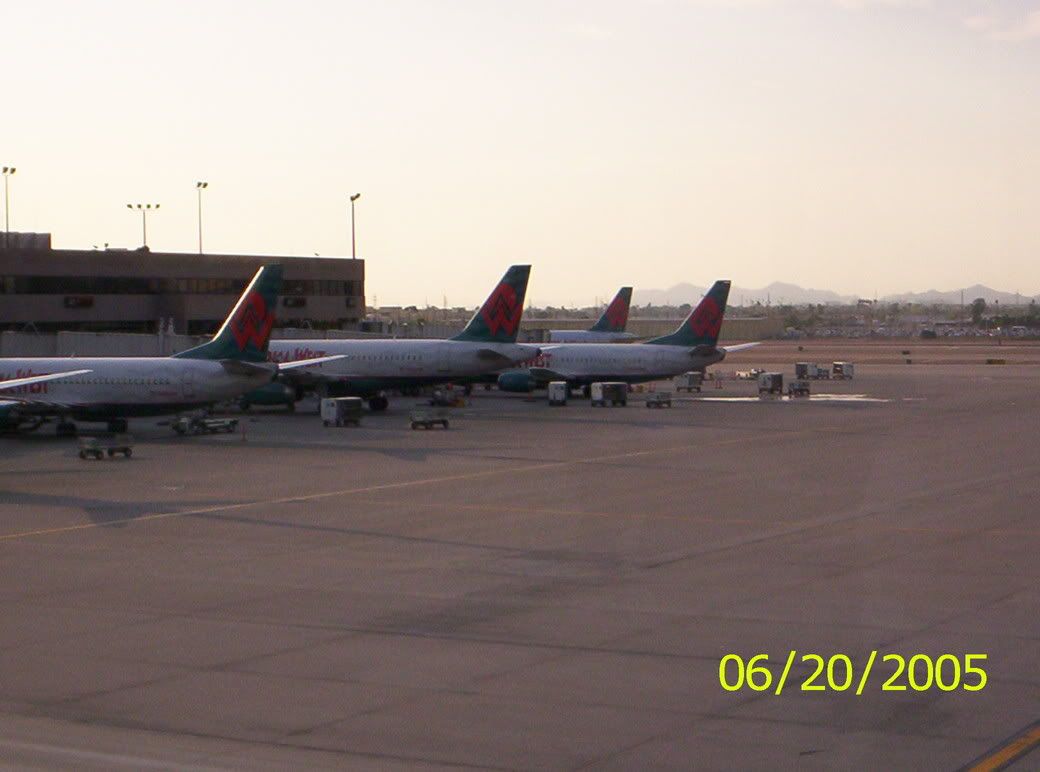 I felt the munchies for hamburger and fries (no I didn't not get the munchies because of that) so I stepped up to the bar of the Fox Sports Restaurant., placed an order and everything and about 10 minutes later another waitress approaches me and says:
Her—"have you been helped"
Me—"Yes"
Her—"How old are you"
Me—"18" (actually I'll be 18 in November)
Her—"Sorry we only serve to those 21 or older"
Me—"Ohh come on, I already placed my order…..not even an order of fries to go"
I was really disappointed by the way I was treated there, and that area of the terminal did not have any good place to eat, just a smoothie place and a hot dog place (major down points for PHX)> I lost my appetite so I went back to the gate and laid down on 4 seats and attempted to close my eyes but didn't want to fall asleep. Then I went back up and two guys were joking in Spanish, I couldn't contain my laughter so they asked me if I spoke Spanish…we ended up speaking for about 2 hours until our flights left. They were going to El Paso that night and then they were going to drive down to Chihuahua Mexico where they live. Went back and grabbed some hot dogs, because the hunger was kicking in and thought most places to eat down in LAS would be close. Also saw the BA from my gate pushback, and then like 30 minutes later it took off (must have gotten lost) finally it was time to board for me and my Mexican buddies; we had a great time talking.
I boarded the plane and seating next to me on D and E were two really old people, on the other side ABC, a flight attendant sat down for the whole flight (not sure if he was going to serve the LAS-JFK continuation of flight 58 or was just traveling to LAS). I noticed no curtains dividing first and Coach also the HP agent was very gentle with the old man. He asked for a glass of water to take his pill while we were making out way to the runway, also his cane was stowed up since nothing can be on the floor for landing and take-off on bulkhead seats (I was able to hide my Minidisk and camera on my side). The ride on the B757 was very smooth and really short.
Here is a pic of the leg room in the bulkhead seat:
Our descent was pretty cool down to LAS since I was seated on the side where I was able to see the famous strip and all those cool hotels, parked down at gate B12. When the gate was opened it seems as though the first person out did not watch his step and completely ate it on the way out. Didn't really see what happened just heard a falling noise, all the FA gather around, even the guy seating on seats 5A-C tried to make his way to the door which was located about 2 rows behind , then I heard someone asked for the first aid kit.
June 20th, 2005
America West Flight Operated by mesa #6406
Las Vegas McCarran LAS-Colorado Springs COS
Departure Gate: A12
Seat: 5F (Window)
Scheduled Departure Time: 12:10AM
Actual Departure Time: 11:51PM
Arrival Gate: 3
Scheduled Arrival Time: 2:41AM
Actual Arrival time: 3:10AM
Aircraft: CRJ
Registration #: UNKNOWN
Overall pretty disappointed with LAS airport. When I stepped out the place looked really crowded, walked past a couple of smoking areas and felt like my lungs would shut down. Also the walk from B to A was a pain, there is a lot of construction going on so the moving walkways don't work and the place was really crowded. I bought my mom a mug that says Las Vegas, since she is a collector, just sat down at the gate waiting for the time to board. Didn't not even want to close my eyes, since the place did not look safe at all.
Las Vegas (can't you tell)
My boarding pass back home and my Minidisk
About 40 minutes before departure I noticed that our gate was serving two flights both leaving at the same time, seemed to be standard for every gate in that concourse. Then the lady came over the PA and said "We have two flights from the same gate, yet neither crew has showed up….we'll start boarding on the crew who shows up first". The agents had to tag most carry on bags since they wouldn't fit on the aircraft. The Eugene flight crew showed up and they boarded, then it was our turn.
Pushback was a couple of minutes late and while the FA was doing the safety demonstration, you heard someone arguing with her regarding her luggage. All of the sudden the aircraft stopped and the pilot said "Sorry we have to return to the gate, there is a problem with one of our passengers and his luggage". At which I thought, great someone had to be a smart-a$$ and mention the word bomb so now we all have to sit here. It turned out it was nothing big, there was some back and forth going, then the luggage was taken off the plane, and the passenger made her way back to her seat, we were back on our way 30 minutes late. Our way to the runway took forever; we seriously taxied to the farthest possible place ever. Finally we were off home, I slept most of the way there although my neck was hurting like the dickens when I got up about 20 minutes from COS, we hit some bumpy across the Rocky Mtns. Got to the gate and outside was my mom waiting outside.
Overall America West was a new experience and although I wasn't disappointed with their service I was very happy overall. If anyone can get me the registration numbers on those aircraft so I can add them to my log, please do so. And any critique is more than welcome