This is the first half of a report from my recent trip to Caracas, Venezuela; a friend of mine from college took a law internship there for the summer. Despite lots of admonitions from friends, family and coworkers to stay away from Venezuela – "it's practically communist, they hate Americans, you'll get kidnapped and taken to Colombia" – I'm not one to pass up a free place to crash in an exotic locale. With the political and economic situation in Venezuela getting progressively worse, and my country's relationship with Caracas heading south, I didn't know if I'd ever have a chance to visit again.
I started off just checking AA.com for fun, to see what airfares would look like. For the dates I picked, the roundtrip fare was a surprising $510 – much lower than I expected (of course, AA.com doesn't show the extra $120 in taxes and surcharges, but that's beside the point.) I had no reason not to go at that point, so I went ahead and booked an ORD-MIA-CCS-DFW-ORD itinerary.
***************************************************
Thursday, June 23, 2005
Chicago O'Hare International Airport
I left work around lunchtime and fought traffic on Interstate 294 down to ORD. When I arrived at Terminal 3, the place was a mess, as it seems to be more often than not these days. Construction is chugging right along on the FACE renovation program, but the endless shifting of ticket counters and security checkpoints means a lot of people are walking around confused. Several of the curbside check-in belts have been removed due to the construction, so skycaps now wheel everyone's baggage through the terminal on giant carts, adding to the congestion.
With most of American's European flights leaving in the next few hours, the international check-in counters were packed with people. I headed for the AAdvantage Gold/Platinum/Exec. Platinum check-in area, where the lines were shorter. About ten minutes later, I turned my bag over to the skycaps and headed for Gate H8, where my flight to Miami would be departing.
Some of American's fleet on the ramp between Concourses H and K: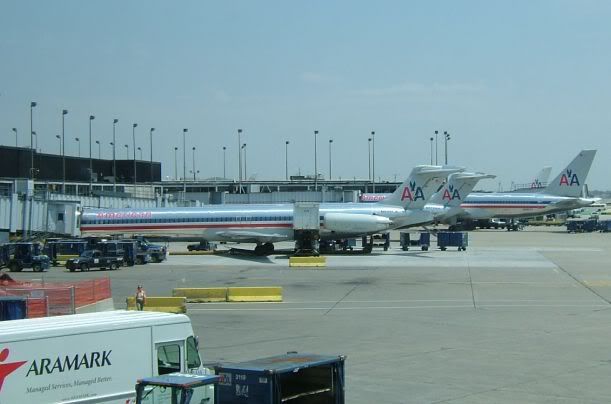 My 757 to Miami, freshly arrived from Orange County: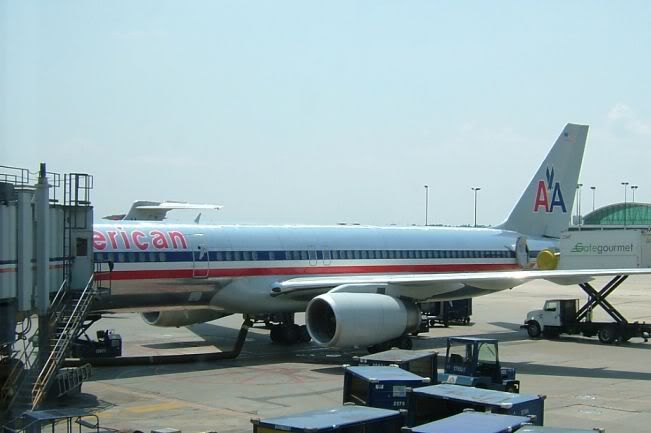 *****************************************************
American Airlines Flight 2072
Chicago O'Hare (ORD) – Miami International (MIA)
Departs ORD 2:05pm, arrives MIA 6:23pm
Boeing 757-200, seat 10F
Flying time: 3 hours, 15 minutes
I had checked AA.com earlier that day and moved myself into the forward-most exit row seat in the 757's coach cabin, 10F. Unlike row 9, which has only the little porthole window on the exit door, I had a full window, and unlimited room to stretch out my legs (there's no seat 9F, just 9D and 9E.) The two seats next to me were occupied, but to use the lavatory I only had to unbuckle my belt and walk forward to get out. A great seat if you can get it!
At the gate preparing to depart: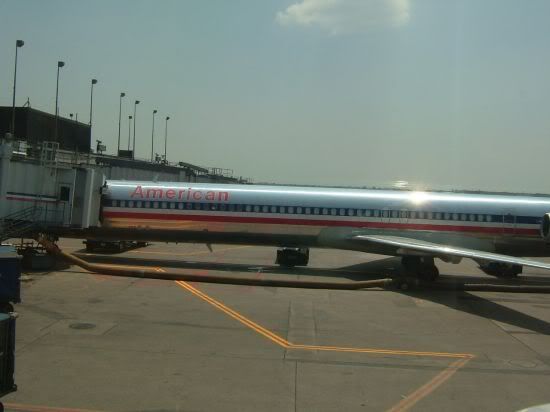 The flight was 100 percent full – packed to the gills. Spanish seemed to be the predominant language spoken on board today's flight (most cruise-ship passengers and a lot of tourists seem to be using FLL these days.) Either way, it was a nice way to start my trip to South America, since I'd be hearing a lot of Spanish over the coming days.
Engines were started and we headed out toward the airfield. It was a clear, beautiful day in Chicago – I had been afraid I'd get snarled up in summer thunderstorms, which often move into Chicago after lunchtime. Operations at ORD were moving right along today, however, and we were on our way without a hitch. Here are some of American's regional jets resting at Concourse G: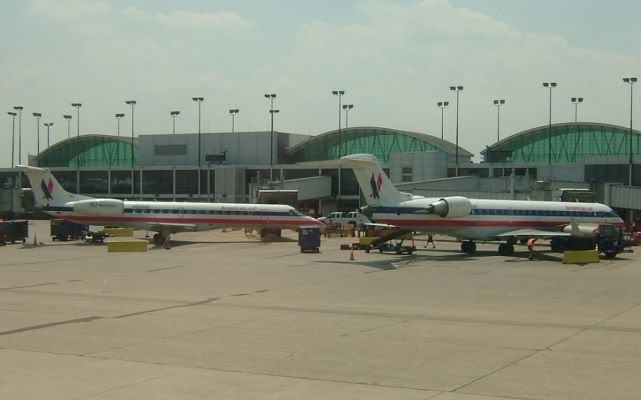 Passing by a new-colors Northwest DC9 parked at Concourse E: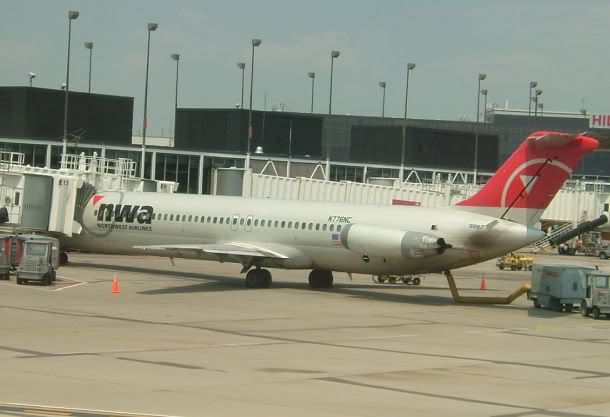 Big and little United birds parked at Concourse C. The E-170 is a really snappy looking aircraft: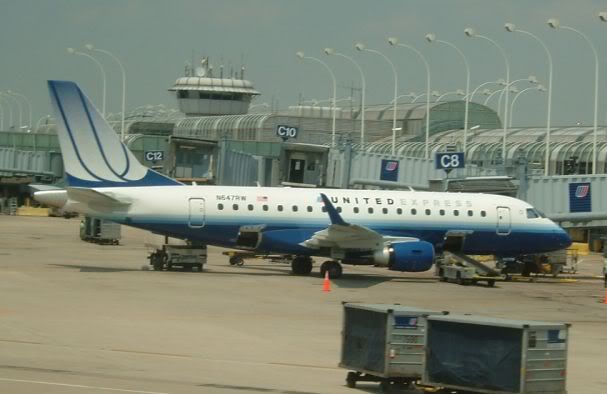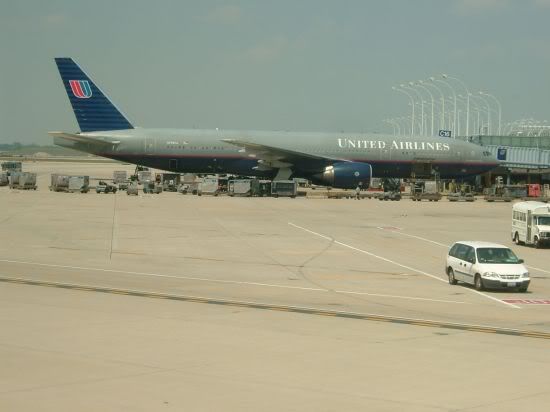 Today ORD was running departures off of runways 22L, 32L and 27L, with landings on 22R, 27R and 27L. We headed for 32L and joined the line of aircraft snaking its way toward the threshold. We actually taxied past the runway, then doubled back and, ten minutes later, turned onto the 32L for departure.
VIDEO: DEPARTING CHICAGO O'HARE
A clean getaway from 32L, taking off past ORD's giant maintenance area on the north side of the field. Standard departures on 32L make a sharp turn off the runway heading shortly after takeoff, to avoid noise-sensitive areas in Arlington Heights and Rolling Meadows – you can see we followed the same procedure.
http://www.flightlevel350.com/viewer.php?id=3652
Climbout was on a southerly heading over Chicago's western suburbs, then southeast toward the Indiana state line. It was pretty hot and hazy outside, but I was able to get a few pictures as we headed up to our cruising altitude: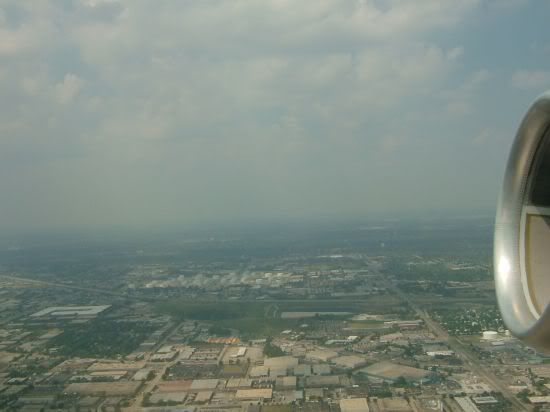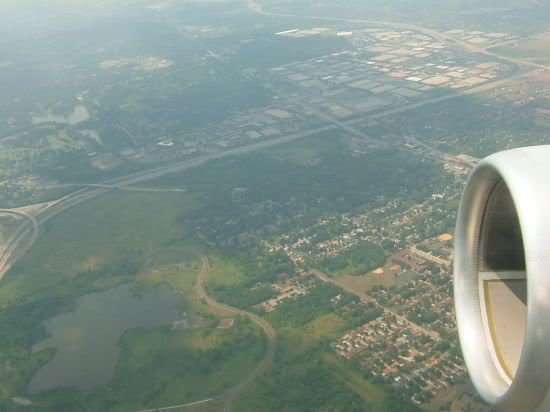 Once we were established at cruising altitude, the cabin crew came down the aisle with drinks and American's new buy-on-board snack boxes. They didn't look too appetizing – greasy snack chips, Oreo cookies, candy bars, etc. With other carriers offering name-brand BOB programs (good food from national restaurants), I'm surprised American opted for such a cheap alternative. From what I could tell, most passengers passed up the snack boxes anyhow.
After the beverage service, CBS Eye on American programming was started. Although our flight was more than three hours long, we didn't get a movie – just lots of "Two and a Half Men" episodes, plus some "60 Minutes" thrown in as well.
Our route took us south across Indiana, where we crossed the Ohio River just east of Evansville. Here's a grainy shot of EVV: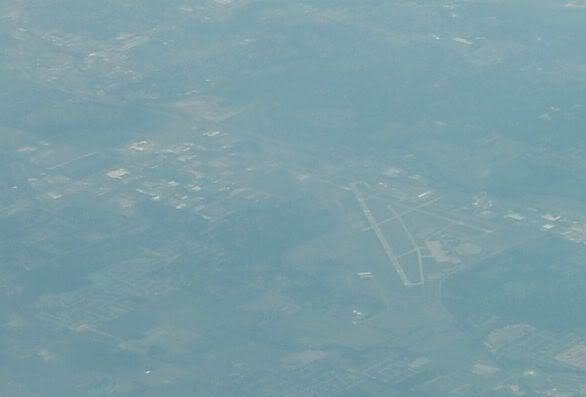 From there we headed right across the middle of Kentucky and Tennessee, where I was able to get a fairly clear shot of BNA: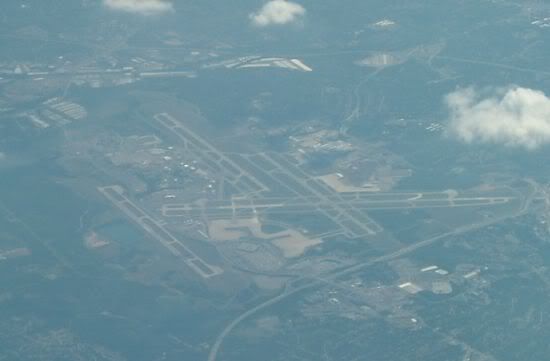 After we passed Nashville, it began to get hazier and cloudier, and I couldn't really see the ground until we were back over the Gulf of Mexico. Here we out over the water, where you can see conditions had cleared up significantly: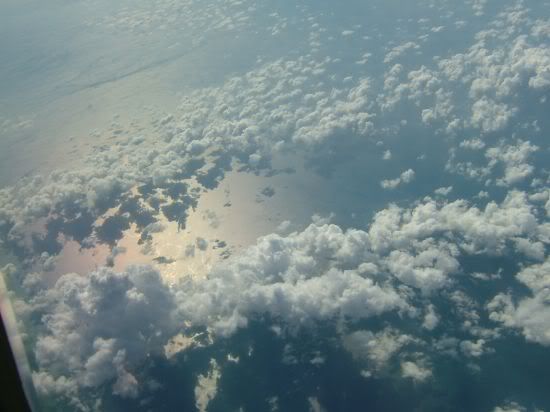 We cut across the corner of the Gulf and the captain came overhead to announce the start of our initial descent. There were, however, severe thunderstorms over much of south Florida, and as a result we'd be taking a pretty unconventional route into Miami, as ATC vectored us around the worst of the weather. True to form, we almost immediately swung due west, heading
away
from Miami, and made a long circuitous detour around some pretty nasty-looking cloud buildups.
As the spoilers came up and we rumbled down toward the cloud layer, the purser read connecting gate information over the PA. I've flown into Chicago many times, and the connections are usually for dull-sounding places like South Bend, Dubuque, Grand Rapids and Omaha. The Miami connections were a whole different story – flights departing for Lima, Tegucigalpa, Port of Spain, Quito, Madrid, Managua and Mexico City, just to name a few.
Our 757 sank down into the clouds and I could see raindrops blowing horizontally past the inside of the engine cowling out my window. I could also see flashes of lightning through the mist, and at one point we even heard the rumble of thunder over the whine of the engines.
When we dropped out of the clouds we were skirting the southern edge of Marco Island, with high-rise hotels and condos along the beach visible down below. We then followed the Tamiami Trail over the Everglades, ducking in and out of rain showers as we descended lower: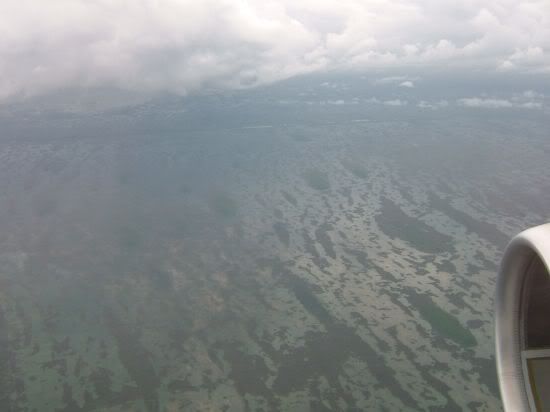 Finally the far western fringes of Miami appeared, and we swung into a sharp right-hand turn, making a complete circle over some kind of abandoned factory. I'm guessing we were holding briefly to allow traffic ahead of us: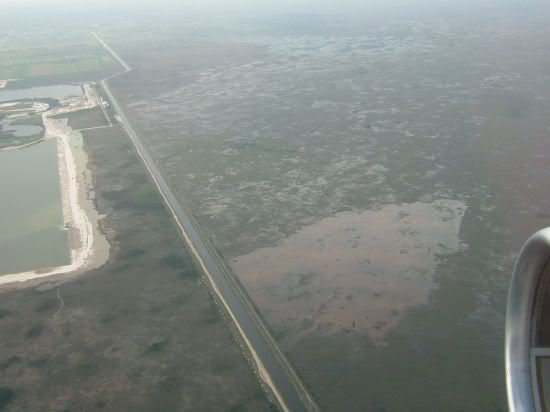 VIDEO: LANDING AT MIAMI
The video begins over the eastern fringe of the Everglades. From there we fly a straight-in approach to MIA's runway 9, coming down over lots of condo developments and paralleling the Dolphin Expressway. Landing was pretty rough; watch the camera shake when we touch down. It had been raining just before we landed – the streets were still wet – and you can see traffic on the highways looks pretty fierce.
http://www.flightlevel350.com/viewer.php?id=3655
We turned off the runway right in front of the terminal area, and I was able to get one photo in before the mid-cabin flight attendant, who was sitting in the jumpseat next to lavatory, spotted my camera. "You can't take pictures of the planes," she said. I guess that was the price I paid for having no seat in front of me – the FA had a clear line of sight toward me and my camera. Anyhow, here's the one I shot I got of the terminal area: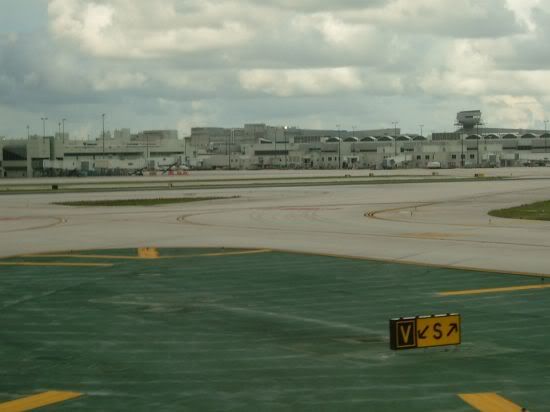 Not willing to risk a fight with her, I was forced to sit there while we taxied past lots of tantalizing subjects – a Varig MD11, Air Jamaica A320, Virgin Atlantic 747-400, Iberia A340 and tons of American 757s, 737s and A300s. We held briefly at midfield while we waited for our gate to open, then taxied around the corner of American's new terminal toward Concourse C.
Pulling into our gate on Concourse C with a company 757 at the next gate: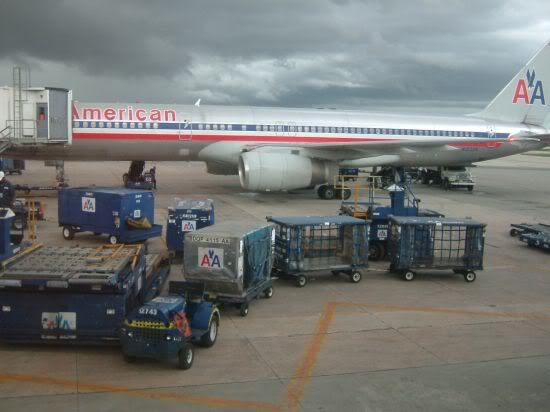 ******************************************************
Miami International Airport
With all the construction and beautiful new terminals going up at MIA, I was disappointed that we arrived into Concourse C, which is currently the oldest and most run-down facility at the airport. It's scheduled for closure and demolition later this year, when American opens more gates in its new terminal. There are basically only four gates left on the concourse (the rest have been blocked by AA's massive baggage-sorting shed on the west side of the pier) and they all handle domestic flights, since the concourse doesn't offer separation of incoming and outgoing passengers. It's not an especially nice place: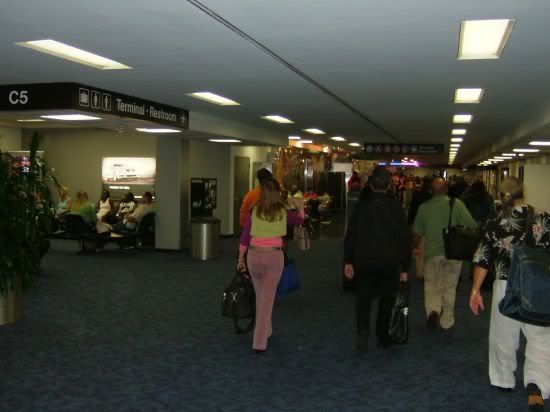 My flight to Caracas was leaving from Gate A8, a pretty hefty walk from Concourse C. Work on the North Terminal project is well underway, so most of my walk was taken through long, brightly lit "temporary corridors" that snake through the ongoing construction: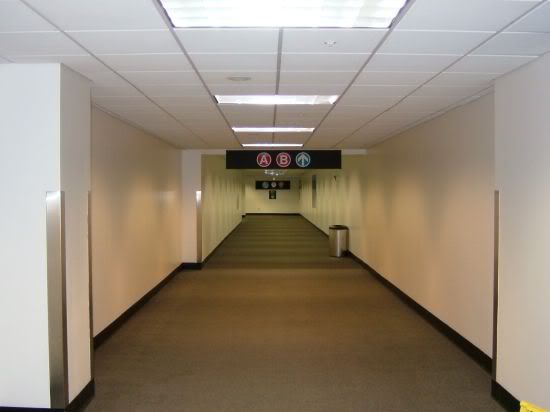 I finally arrived at Concourse A, which at ten years old is one of the newer concourses at MIA. Nonetheless, it was already starting to show its age, with dripping roofs, water splotches on the carpet and ceilings, and noisy air conditioning. American only began Concourse A about a year ago – before that it was used by a smattering of international carriers.
There didn't seem to be any rhyme or reason to American's gate assignments on Concourse A tonight – domestic and international flights were going out one next to the other, even though all of the A gates have international capability. AA had flights to Caracas, Quito and Panama City, as well as Denver and Philadelphia. Curiously, there was another Caracas flight – this one an A300 – scheduled to depart just ten minutes before mine. A British Airways 747-400 (bound for Heathrow) and TAM A330 (heading to Sao Paulo-Guarulhos) were parked at the end of the pier.
It had been threatening rain since we had landed, and now the skies opened up into a huge South Florida thunderstorm – massive lightning, thunder and very heavy rain pounding on the roof of the terminal. My Caracas flight, originally scheduled to depart at 7:39, was pushed to 8:15, then to 8:50. Due to the lightning, MIA had imposed a complete ground stop on all movements, including baggage tugs (more on this important subject later.)
********************************************************
American Airlines Flight 2133
Miami International (MIA) – Caracas Maiquetia/Simon Bolivar (CCS)
Departs MIA 7:39pm (9:05pm actual), arrives CCS 10:52pm (12:40am actual)
Boeing 737-800, seat 26F
Flying time: 2 hours, 50 minutes
When I checked AA.com that morning, there were still several empty rows in the rear of the aircraft, so I took 26F. I was worried that last-minute passengers might snap up the two vacant seats next to mine, but they stayed open. I've always marveled at how the back of the plane can stay so empty while the forward 10-15 rows of coach are always jammed full. For me, getting off the plane first isn't nearly as important as having some room to stretch out.
I'd guess the aircraft was about 60 percent full, and almost all of the passengers appeared to be Venezuelan or of Venezuelan descent. The cabin crew – two in front, two in back – were all fluent in Spanish, which was handy although most passengers were bilingual.
It was still raining lightly outside, but the captain came overhead and assured us the airport had reopened and we'd be pushing back immediately. They weren't kidding – no sooner had everyone taken their seats than the aircraft rocketed backward from the gate. There were still a lot of lightning flashes in the sky (presumably far away from the airport) and I guessed that Miami ATC was trying to get as many of us off the ground as possible before the rain began again.
The safety demo played in both English and Spanish on the TV screens as we wheeled around and joined the long queue of aircraft heading for runway 8R. I was seated on the runway side of the aircraft and watched as one plane after another – mostly American 737s and 757s – departed. Arrivals were coming in on 8L, Miami's newest runway, which opened last year.
(I shot a takeoff video, but it was dark and got rejected by flightlevel350.com.)
We made a right turn off the runway heading and crossed the inner portion of Miami, flying out over Biscayne Bay just south of the downtown area. The lights of Miami were pretty impressive looking, especially when backlit by the huge thunderstorms and flashes of lightning. Our climbout was VERY turbulent – there were a few moments were the plane seemed to drop suddenly, and everyone on board got very quiet. Eventually we stabilized at our cruising altitude and things improved considerably.
Because international flights have competing carriers who offer some semblance of friendly inflight service, American is forced to offer a hot meal on the MIA-CCS route. The choices tonight were chicken or beef – I chose the chicken, which was in a sort of generic brown sauce and accompanied by vegetables, a roll, small salad and brownie for dessert. Pretty standard economy-class fare on American. It wasn't bad at all, however: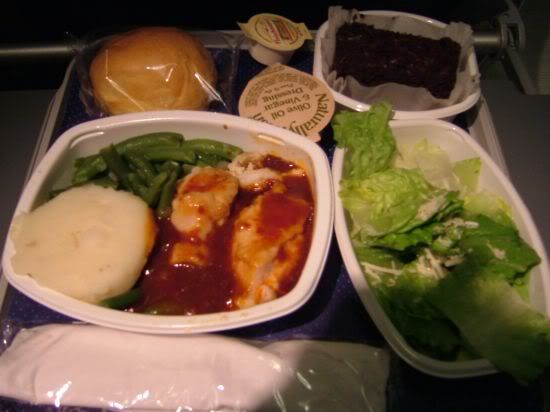 Once dinner was cleared away the crew dimmed the lights, and the cabin got much quieter. Our delay meant it was now approaching many peoples' bedtimes – I saw only a handful of people watching "In Good Company" (our inflight movie) when it was screened. The cabin crew came down the aisle with a second round of drinks, and even offered American's new Tostitos tortilla chips.
For most of the flight it was cloudy outside, but just before we started our descent I spotted some dim lights from what I'm guessing were the Netherlands Antilles. The captain checked in with a Caracas weather report – cloudy skies, light rain and a ground temperature of about 78 degrees (although it was much warmer and steamier in Caracas, on the other side of the mountains.)
The engines eased back and we angled downward into the clouds. When we dropped below the cloudbase I could see lights shining along the Venezuelan coastline, in strange patterns climbing the mountains along the shore. If anyone here has ever flown into Honolulu at night, it reminded me of the view you get approaching from the east.
I shot a lengthy video of our landing which I thought turned out surprisingly well for a night video, but it was still rejected by flightlevel350, so you'll have to settle for a description instead. Our 737 made a long left-hand turn to line up with runway 8. Prevailing winds in Caracas call for easterly landings, and I had purposely chosen a seat on the starboard side of the aircraft so I could see land while we arrived (the port-side view is nothing but ocean, pretty much all the way down).
We winged lower and lower, pacing cars and trucks moving along the highway that hugs the shoreline, then crossed onto land and flew low over lots and lots of gas storage tanks and some high-rise apartment blocks. Finally the 737 touched down smoothly on Maiquetia's runway 8 and rolled out with plenty of reverse thrust, kicking up spray from the wet runway. We taxied slowly back to the deserted international terminal and pulled into the gate at just about a quarter to one in the morning.
Caracas Maiquetia/Simon Bolivar International Airport
Upon deplaning, we were ushered up an escalator into Caracas' brand-new international arrivals facility, which had opened just a few weeks beforehand. The terminal now has a new second level that completely segregates arriving from departing passengers (similar to the setup at most European airports).
In the center of the terminal, where the open-air observation deck used to be (such is the price of progress!) they've built a massive new arrivals hall with six baggage carousels. The entire facility was so new there was still plastic wrap covering many of the columns, and the floors hadn't been scuffed up by baggage trolleys. I had never been to Caracas before, but I imagine it's a huge improvement over the old Customs hall on the main level (which is now closed for remodeling into more ticket counters).
I cleared immigration with no trouble at all – so much for Venezuelans being rough on Americans – and headed for baggage claim. My luggage failed to show up, even though I waited in the arrivals hall for the second Miami flight (the A300) to see if somehow it had been loaded on there. No luck. The ground stop in Miami had lasted so long that my bags hadn't made it to In broken Spanish, I filed a claim at the luggage office, and headed through Customs into the meeter/greeter hall.
***************************************************
Getting into Caracas
I don't normally write about my trip, but this trip was so amazing that I wanted to write down a little bit about my experiences in Venezuela. If you're only interested in the flight portion of this report, you can stop reading now.
Thanks to our two-hour delay, the man who was supposed to pick me up (the official driver for my friend's law firm) had given up and gone home. The currency exchange had closed, and I had a wallet full of American cash that I'd planned to convert at the airport. Basically, I had just arrived into a VERY foreign-feeling country with no money, no luggage, no ride into the city and no way to contact my friend.
Despite the dire warnings on the US State Department website about not taking taxis from the airport, I found myself with little choice. After declining offers from several less-than-savory-looking characters, I came across an older man who seemed friendly and was willing to take American money. We agreed upon the fare ahead of time – $20 USD – and he led me out into the parking lot (another place the State Department said I shouldn't go) to his car. It wasn't anything that even remotely resembled a taxi – it was a 1970s-vintage Buick Century with a cracked windshield. I balked when I saw the car, but the driver assured me he was safe and even produced an official (well, official-looking) taxi license as proof.
The drive into Caracas – with my newfound friend Ramon, the "taxi" driver – was an experience in itself. I was nervous as hell for the first few minutes, wondering if I'd just gotten in a car with someone who was going to rob me at gunpoint, but eventually I loosened up.
Maiquetia Airport is situated on the Caribbean coastline, while the city of Caracas lies on the other side of the very steep and imposing El Avila mountain range. Connecting the two is the Autopista Caracas-La Guaira, a long, narrow American-style freeway that snakes through the mountains and passes through several very long tunnels. The highway is in pretty bad shape (although apparently it's much better now than it was a few years ago) - uneven pavement, poor drainage (it was raining lightly, but the road was covered in about a half-inch of water) and lots of modern overhead streetlights that don't work. There were long stretches where we drove in complete darkness.
As we neared Caracas I could see hundreds of lights covering the hills above us – these were the lights of the
ranchitos
, the ramshackle barrios that climb up the slopes of the hills surrounding Caracas. There were huge, multi-story advertisements for Toyota, Telefonica, Nescafe and Polar Ice beer, as well as giant propaganda posters for the tax-collecting agency SENIAT and Hugo Chavez' MVR political party. "Paga tus tributos" (pay your taxes) seemed to be the message of most of the posters. I could also see "Viva Chavez", "Viva Fidel" and "Fuera Bush" scrawled on walls and bridges overhead. I don't think we're in Kansas anymore…
Finally we went tearing through a very long tunnel and came out in the heart of western Caracas, a poorer part of the city that's home to many of Hugo Chavez' most ardent supporters. To my American eyes it was like a scene from a science-fiction movie – thousands of tiny lights blinking from hundreds of buildings, many of them high-rises that looked like they'd never really been finished. Iron bars covered most of the windows – even on the highest floors of the highest buildings. Huge masses of
ranchitos
covered the hillsides. In the dark, it looked amazing and more than a little intimidating – I found myself silently hoping my taxi driver didn't exit the
autopista
any time soon.
We drove on into the center of the city, passing the twin towers of the Parque Central, the tallest buildings in Latin America. One of the towers was gutted by fire last year, and now it towers empty and abandoned over the city. The
autopista
skirted the city's botanic gardens and the country's main university, then wound into the much more affluent Las Mercedes and Chacao districts (which include the Altamira neighborhood where I'd be staying).
At last – more than twelve hours after I left Chicago – we pulled into the forecourt of my friend's hotel.
********************************************************
Photos of Caracas
I've included some pictures from my trip, so you can see what Caracas looks like. The first is an overview of the city from my friend's office in the Centro San Ignacio complex: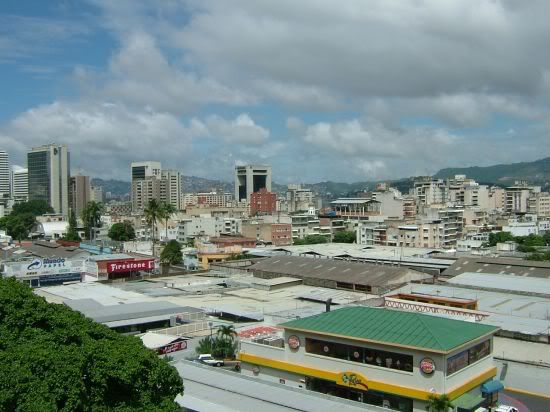 Here's the amazing Centro Sambil, one of the largest shopping centers in South America. It was bigger than any mall I've ever seen in the United States, and it was PACKED with people spending buckets of money on designer clothes and gadgets: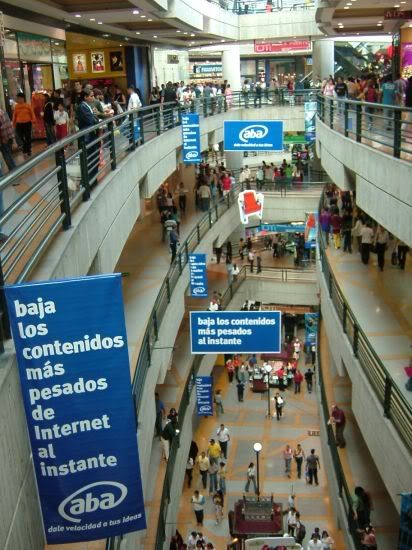 No matter where you go in the world, there's no escaping the marketing savvy of Paris Hilton: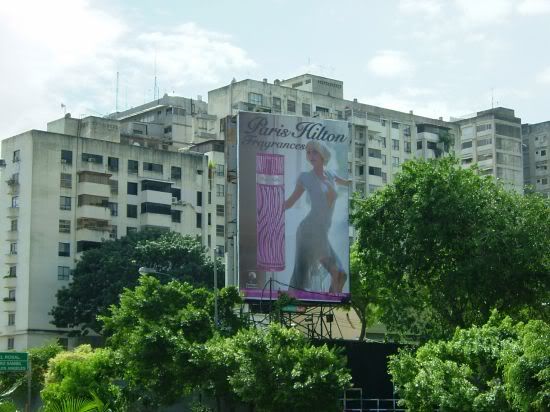 The Caracas metro is surprisingly modern and very fast and clean. Even though we were warned not to use it because it's 'dangerous', we found it to be one of the nicest features of the city: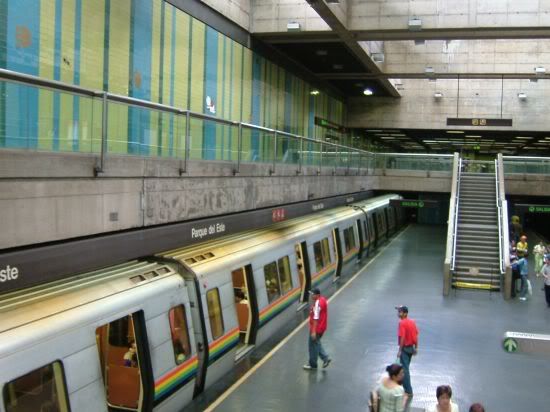 On my last day in Caracas we took the
teleferico
(cable car) to the summit of the Avila mountain, which has an incredible view over the city. While we were up there we hiked down to Galipan, a small village with a nice view down to the Caribbean coastline on the other side of the mountain, near the airport. Here's a view over Caracas on our way back down. Keep in mind that this is only about ten percent of the city!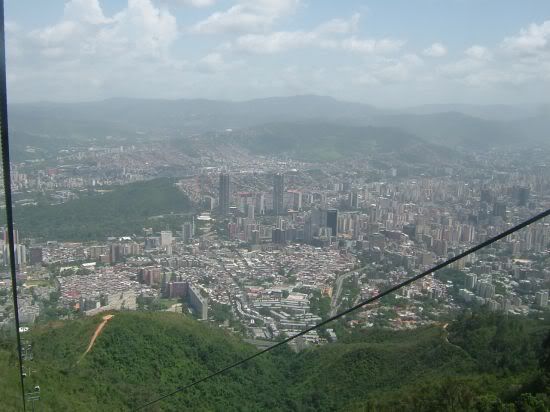 That's it for the time being – my time in Caracas was incredible and it's definitely a city I would visit again. So much of what I'd heard about it wasn't true. Yes, it's somewhat dangerous, but as long as you're smart about where you go (and who you go with), you're perfectly safe. The people were very friendly and the food is great. If you get a chance to visit – you should.
Stay tuned for the second half of the report – the return flight home via Dallas/Fort Worth. I'm still working on writing it, so it may take a few more days. Let me know your thoughts/comments in the meantime!