This is my first Easyjet trip report, so bare with me...
STN-NCL
EZY285
29 June 2005
STD: 11:15 ATD: 11:48/12:02
STA: 12:20 ATA: 12:45/12:52
B737-700
G-EZKE
"Daniel Swaddle"
Delivered March 2004
View Large
View Medium


Photo © Josep Manchado
After my arrival on Germanwings from STR (
http://www.airliners.net/discussions/trip_reports/read.main/60133/
) I spent some time spotting before check-in for my connecting flight to NCL began. Two hours before departure, I checked the departure boards to see which check-in to go to for my flight to Newcastle. The screens showed B29 as my counter, so I went there. Only two passengers in front of me, and at check-in B29 it said "Edinburgh". So for the next two minutes I looked at the board which said "Edinburgh", and when it was my turn for check-in and the friendly Swissport agent asked me where I want to fly to, I replied "Edinborrow, please". She couldn't find my name on her passenger list, so she asked me for my booking code, but she still couldn't find my booking, so she asked me when I booked this flight, and if I have any printed confirmation with me. I didn't print the confirmation eMail, but I had booked four weeks before, so that shouldn't be the problem. "Are you sure you are booked on flight 235 to Edinburgh?" - "No, actually it's flight number 285." - "But flight number 285 is going to Newcastle..." Damn, I had really looked too long at the screen at the counter saying Edinburgh, of course I was flying to Newcastle, so I said: "Oh, I'm so sorry, I always mix up these Scottish towns...". It was only two days later back at home while I had a look at a map of the UK, when I found out that Newcastle is not in Scotland, errm. Anyway, after having asked for the number of passengers booked (a total of 109 passengers were expected), I got my orange boarding pass with sequence number 021, still in boarding group A, which is for sequence numbers 1-30. So I went through security to my gate 88 and waited for boarding of my flight to what I still thought would be Scotland.
At 10:55 an announcement was made that they expect a 20 minutes delay for the flight to Newcastle, because of the late arrival of the inbound aircraft. As I later found out, this was a NCL-based aircraft, flying NCL-STN-NCL. It was 11:30 when boarding began, first the pre-boarders and then boarding group A. Walking towards the aircraft, I saw that this aircraft is named after David Swaddle. I had never heard that name before, but I googled the name later at home: David Swaddle was one of the youngest ever applicant for becoming pilot at Easyjet, but died aged 17(?) before he could start his carrer with Easyjet. - Just as always when it's free seating, I took the rear door: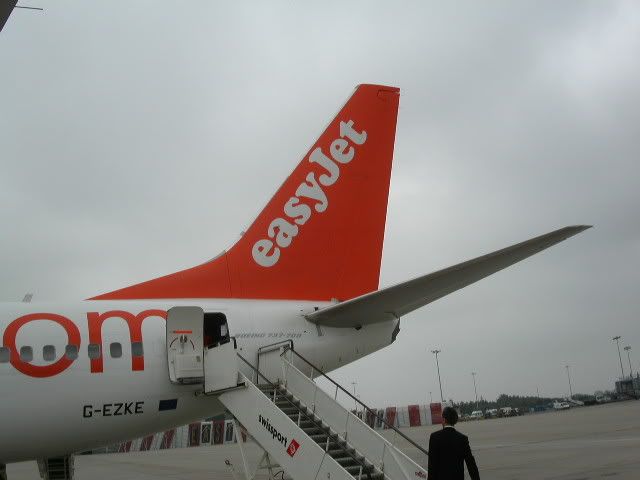 ...and took seat 22F. With 109 passengers booked, I expected the middle seats at least in the rear of the plane to remain vacant, but as the rear door was more popular than usual, seats in the rear were quite popular as well, so a girl on her way to the open day of Newcastle University was sitting next to me on 22E. At 11:40 doors were closed, we were pushed back and taxied towards runway 23 and took off. My first flight on a B737-700, and also my first flight on Easyjet by the way.
An all-white B747F: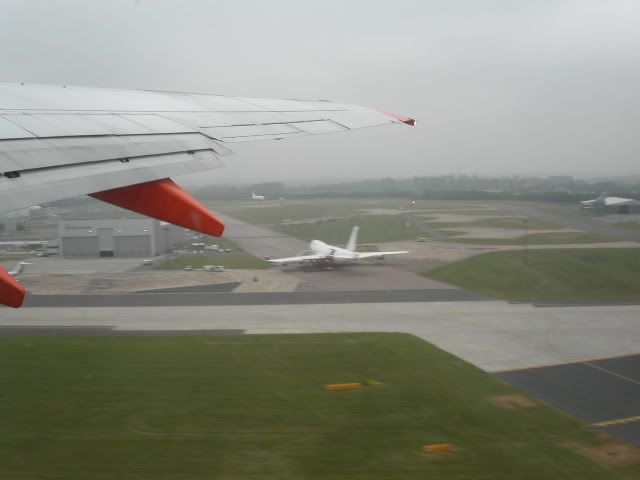 A Lufthansa Régional BAe146 (probably being prepared for delivery to Eurowings) and in the background another all-white B747: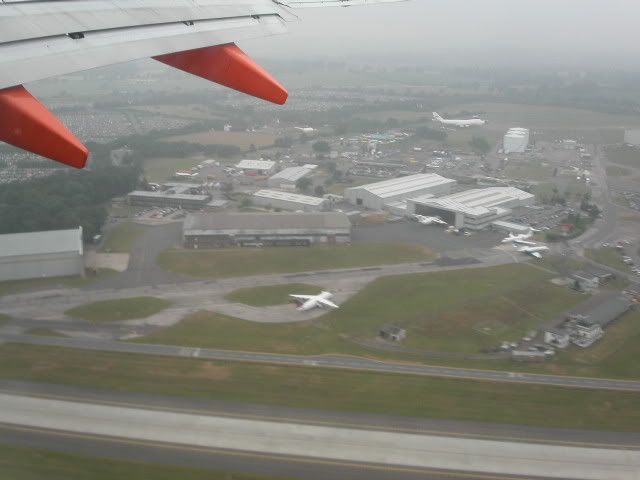 It was overcast all over England, so we soon disappeared in the clouds.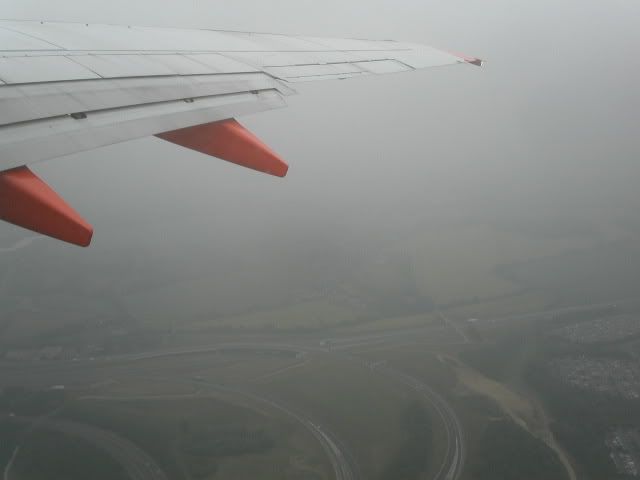 Inflight magazines were distributed. Although I didn't want to buy anything, I took one, just to have a look inside, and to check the prices of the drinks and snacks, and let me tell you that Ryanair is definitely NOT "50% cheaper than Easyjet", in fact I think prices for snacks are more or less the same on both airlines. Anyway, the "experienced" female purser was responsible for the front of the cabin, while the two young f/as (one male and one female) were doing the rear part. Well, the trolley stopped at the second-last row, the male f/a walked to the middle of the aircraft, took the orders and the money, walked back to the trolley, put the money into a box and took the drinks and snacks to bring them to the passengers in the middle of the aircraft, and so on. It seemed like the only job of the female f/a was to write down what the male f/a sold.
Nothing else to report about this flight, well, here's a Easyjet 73G cabin shot:
View Large
View Medium


Photo © TZ Aviation
This aircraft was only one year old and is one of the newest B737-700s in Easyjet's fleet. The cabin was in good condition and looked very modern, only the net of the seat pocket in front of me was torn, so my stuff (i.e. my digicam) kept on falling out.
We started our descend and landed on NCL's runway 07: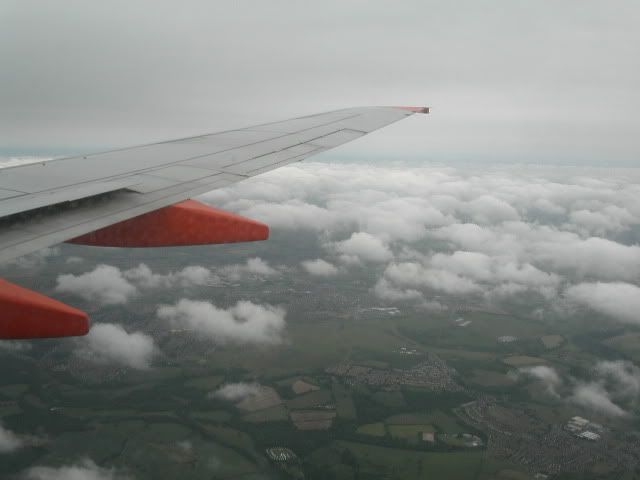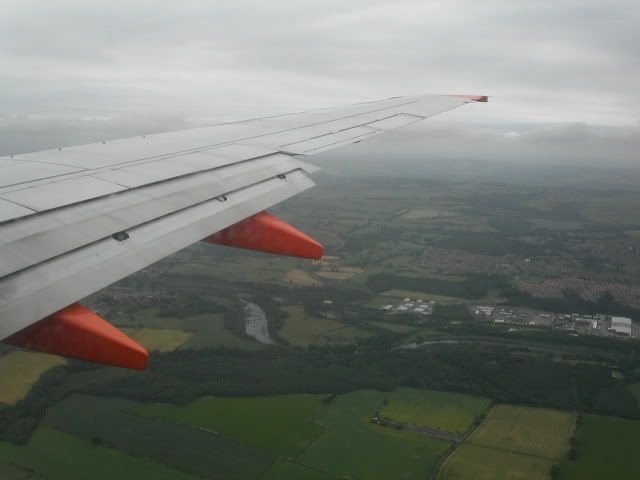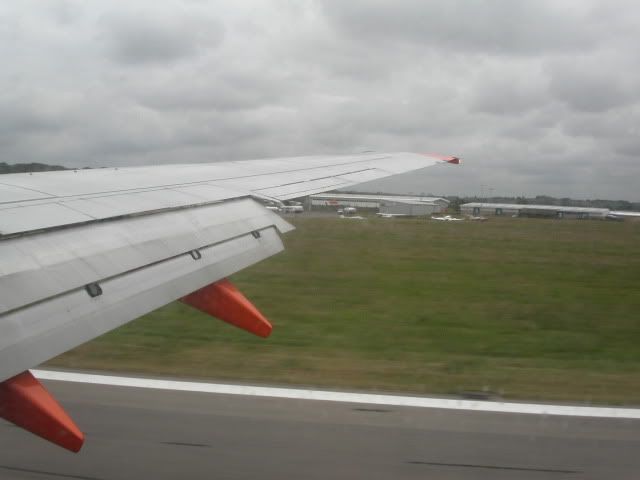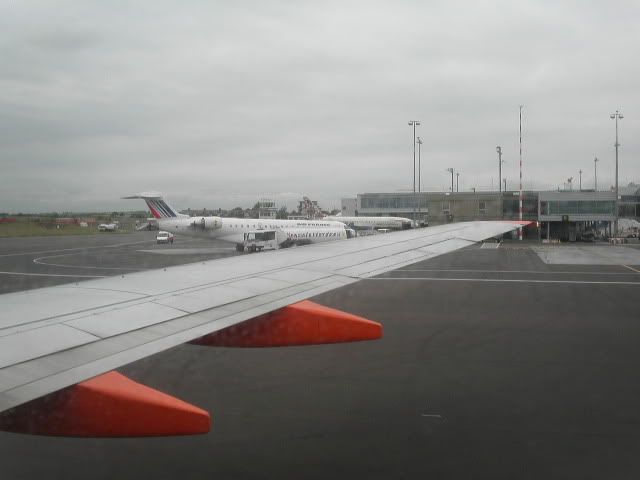 I left the aircraft through the back door again, and took a photo of the BA 737 parked next to us - always nice to still see a World Tail: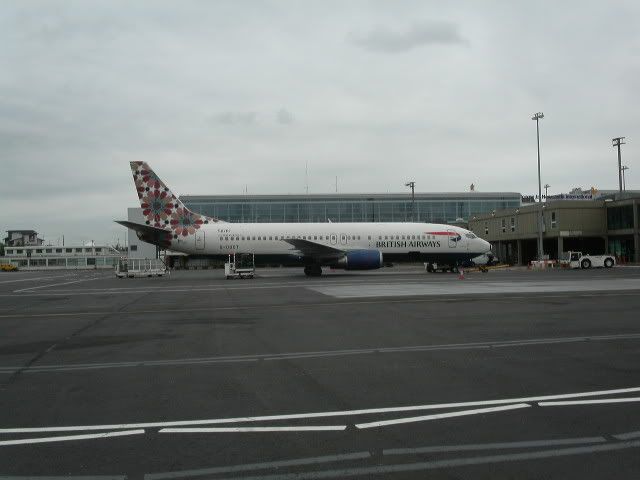 Our aircraft, notice the Servisair stairs: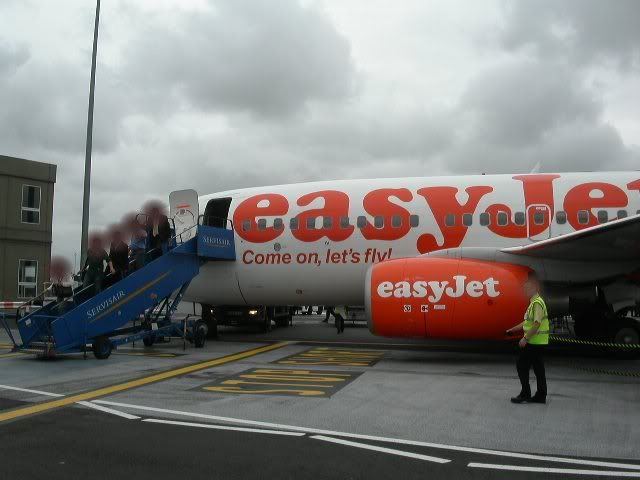 Crew change here at NCL, our crew left and a new crew was already waiting in front of the delayed aircraft.
On our way to the exit, we had to walk through what must be the whole terminal of Newcastle, a rather long way for a small airport like NCL. But with the nice windows, this already gave me a first overview of this airport which I hadn't been to yet - well I had passed close to the airport on the motorway a few years back, if that counts.
My short stay at NCL
The first thing I did was to check in for my flight back to STN. Got my boarding pass with sequence number 002, it was nearly four hours before departure so I really wondered who had 001, somebody must have been to the airport really early.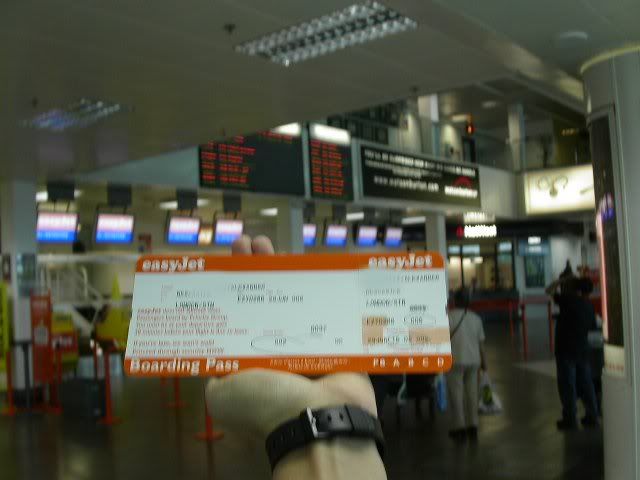 The charter terminal, not so busy: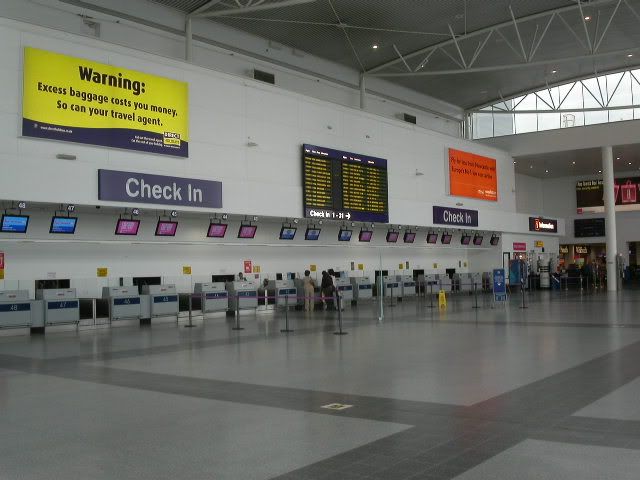 From the outside: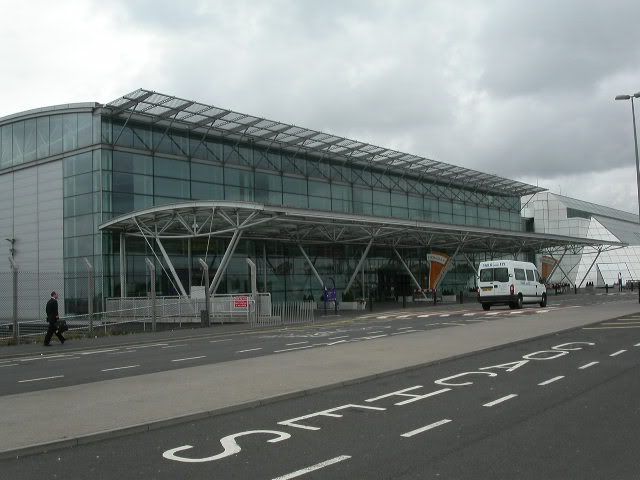 And an air-to-ground impression:
I walked around a bit, it was looking like it would be starting to rain every second, but it didn't. During landing, I saw a myterious B737-200 parked at the other side of the airport, and as I had lots of time before flying to STN, I decided to walk around the whole airport to solve the mystery, something like 2km each way, I guess. On my way, I passed a street "Prestwick Terrace", a kind of partnership between the two Scottish airports, I thought...
Finally I arrived at the B737-200, an ex-Westjet aircraft now being owned by the University of Newcastle, at least the titles say "Kingston University" and "Newcastle Aviation Academy". Here's a photo, sorry about the fence and the other stuff in the foreground, I simply couldn't get any closer.
As I was about to walk back to the terminal, I realized that the road I had taken was not a public road, and a sign said no pedestrians, no trespassing, but I didn't know any other way back to the terminal so I didn't mind, and nobody else minded either. Back at the airport, I took a photo of the other (older?) terminal building: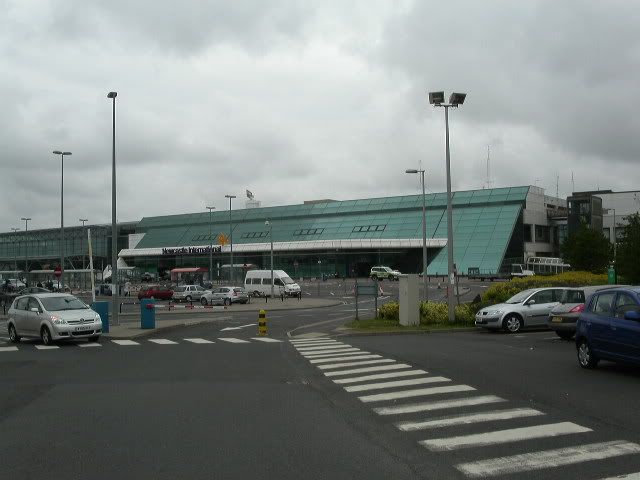 NCL-STN
EZY286
29 June 2005
STD: 16:35 ATD: 16:38/17:15
STA: 17:45 ATA: 18:08/18:16
B737-700
G-EZJZ
Delivered July 2003
View Large
View Medium


Photo © Guy Daems - Brussels Aviation Photography
Passed through security and had a meal, an English Breakfast Sandwich (at 15:30 o'clock). Debbie, the girl at the cash point was busy flirting with a ramp agent, finally she found some time, I paid, then bought some Onion Rings at BK and had a seat at the window, watched the movements and waited for the gate to be announced, the monitors still said "wait in lounge". Am I the only one who hates the British system of announcing the gate numbers just a few minutes before boarding? Everybody stares at the monitor and waits for his gate number, and then when the gate is announced, 120 people rush to the gate.
At the gate, everybody was already queueing at the gate door. No separate queuing lines for each boarding group as in Stansted, still alright for me as they still did boarding by groups. Pre-boarding for elderly passengers, passengers with small children and Easyjet staff. There was once a discussion about priority boarding for airline staff. I'm sure Easyjet staff works hard every day at work, and it's only fair if they get the small benefit of discounted tickets and priority boarding. But they could have done it a bit more discreetly, making their way to the front, showing everybody their company batch, and then boarding even before the families with children, a bit annoying. But hey I didn't want to sit in the exit row anyway, there's nothing less important to me than seat pitch, and I also hate sitting above the wing anyway. So when it was time for boarding group A, I took the back door again and took seat 21F of G-EZJZ, an aircraft that was parked at NCL the whole afternoon, because all Belfast flights that afternoon were cancelled (both Belfast city and international, on all airlines). So I think it was also the first flight of the crew that day. Notice this time the Newcastle airport stairs: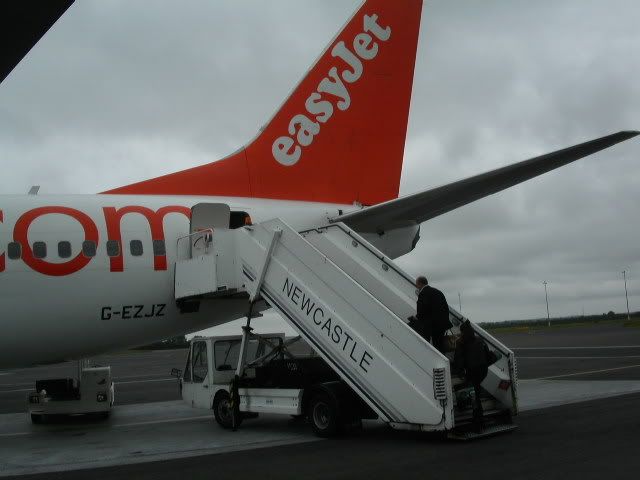 Boarding was completed soon, doors were closed, but the captain came to the phone and told us about an ATC restriction because of bad weather in the London area. Still we pushed back, engines were started, we taxied to a remote part of the ramp, and with two running engines we waited for more than half an hour for our slot to begin. Finally we taxied to runway 07, took off...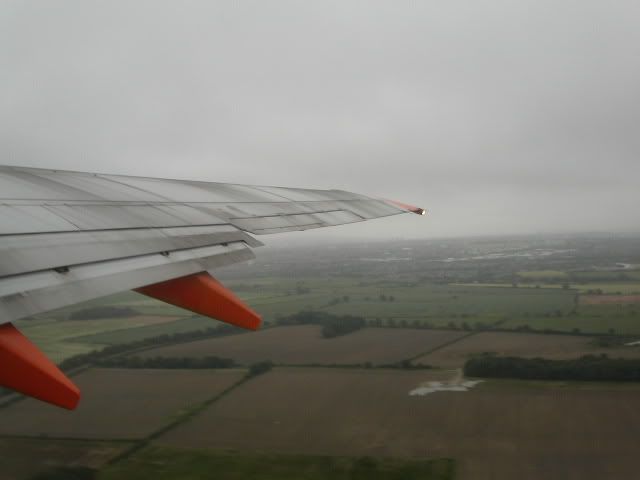 ...and once again disappeared in the clouds quickly.
Nothing more to report about this flight, the normal pay-for-snacks-and-drinks service, nothing to see outside, well but it became interesting when we approached STN: First we passed the airport in a rather low level: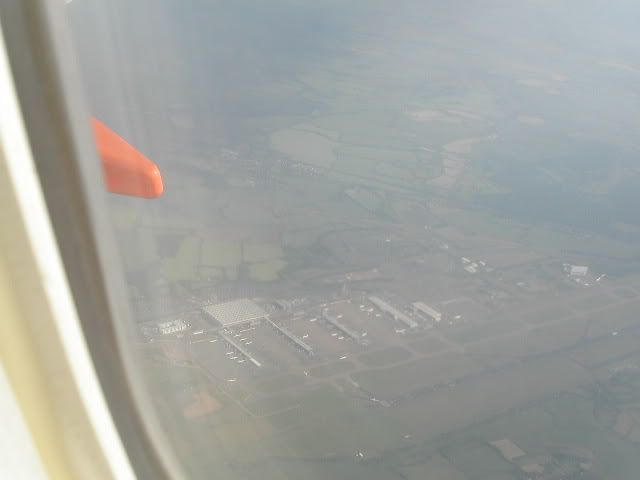 Please, notice the typical English landscape around the airport: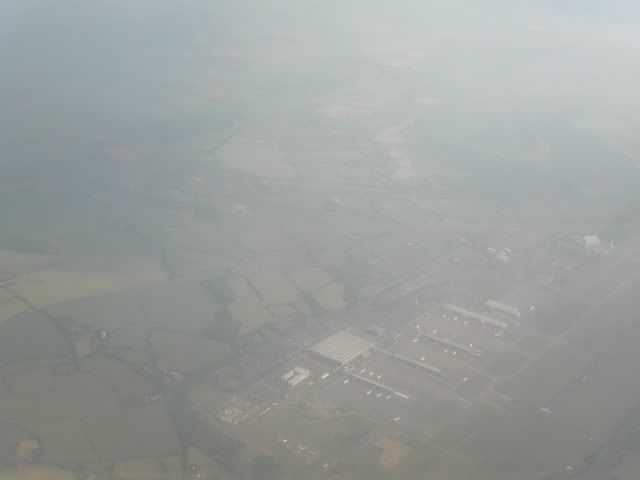 Then we made a 270° turn to the left, through some thunderstorm clouds, a turbulent approach, and then we landed on runway 23: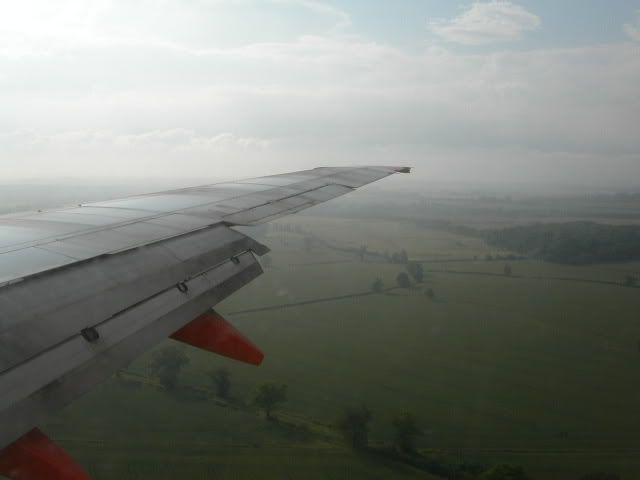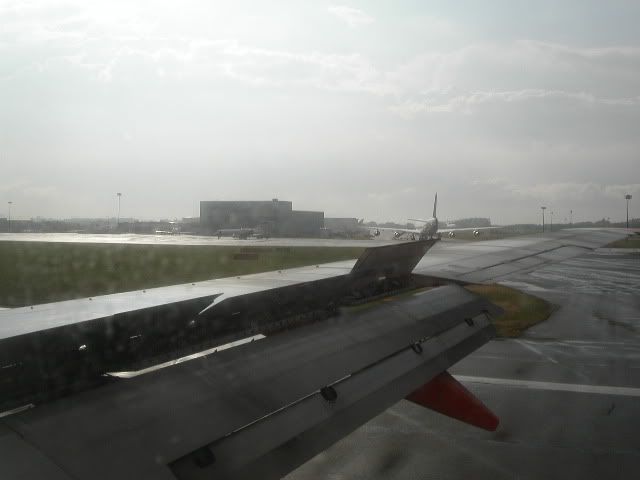 We passed G-EZYI, a stored ex-Easyjet B737-300 with its titles removed, but overpainted so cheaply that one could easily tell it's an ex Easyjet aircraft. This is what the owner of Easyjet's aircraft then calls all-white, I remember a few weeks ago when I was standing in front of another airline's B737, I had to laugh because I could still read the old "The web's favourite airline" titles shining through.
Anyway, back to my flight, we taxied to our gate, cabin crew apologized for the delay, and we walked to the terminal door, it was just between two rain showers, which later in the evening it should become a real thunderstorm: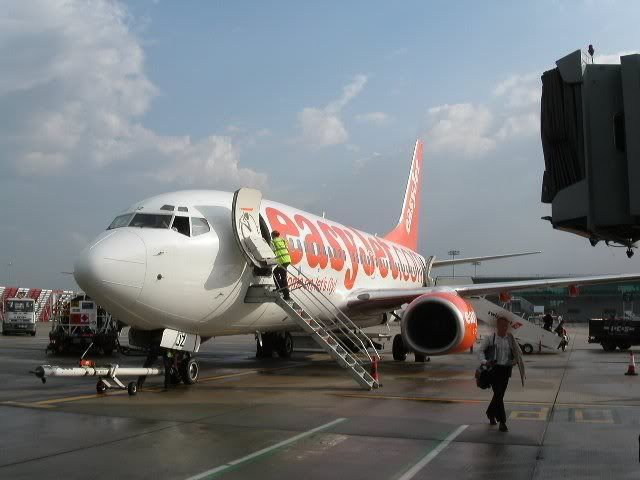 Made my way to the check-in for my Germanwings flight back home. So far that's my Easyjet report, I hope you enjoyed it, and if you did, feel free to leave a reply. Thanks for reading, and thanks to ContactAir for letting me use his photobucket account. Regards, Alex.