I thought it was time for an other short visit to London, my favourite city in Europe, as my last London trip had been two years ago now. So I searched the web and found a very good deal on LH for a return flight to Heathrow for EUR 46,00 + EUR 68,17 tax + EUR 10,00 Ticket Service Charge, leading to a total price of EUR 124,17 all in all. This fare was cheaper than BA and even a bit cheaper than a Germanwings flight to STN on the same date. I really don't understand why many people only look at the web-sites of the low-cost carriers and book their flights there without even considering that the offers of the "traditional" airlines might be even better; especially if you keep in mind that LH and BA fly you into the centrally located LHR while Germanwings (and other LCC's) serve STN which is quite far away from the City of London and public transport is very expensive. By the way: about a week after I had made my booking, LH introduced a London summer special for only EUR 99,00 return incl. taxes, so my trip could actually have been even cheaper…
Saturday, 02 July 2005
Stuttgart (STR) – London Heathrow (LHR)
Airline: Lufthansa, operated by Lufthansa CityLine
Flight number: LH 4784
Scheduled departure time: 06:45
Scheduled arrival time: 07:30 (local time; time difference -1 hour, so flight time was 01:45)
Type of aircraft: CRJ 700
Registration: D-ACPR
This aircraft was built and delivered to Lufthansa CityLine in 2003.
As my flight was to depart very early in the morning, I decided to use LH's late night check-in which is offered at STR from 18:00 till 20:00. It was Friday evening and the mass of fully booked Friday afternoon flights to various German and European destinations had already left, so the LH check-in area in Terminal 1 was quite empty. As I knew that space in the cabin of the CRJ is limited, I decided to check in my small trolley, so it got scanned by security staff before I could make my way to one of the counters. It was exactly 18:00. The friendly male LH agent had a critical look to his watch, made a short phone call to one of his colleagues ("Is late night check-in already open?"), then he checked me in. He wanted to offer me the exit row, but I asked him for a seat further in the back of the aircraft as I wanted to take some pictures without being disturbed by the wing, so I got my boarding pass with seat number 19F, sequence number 001: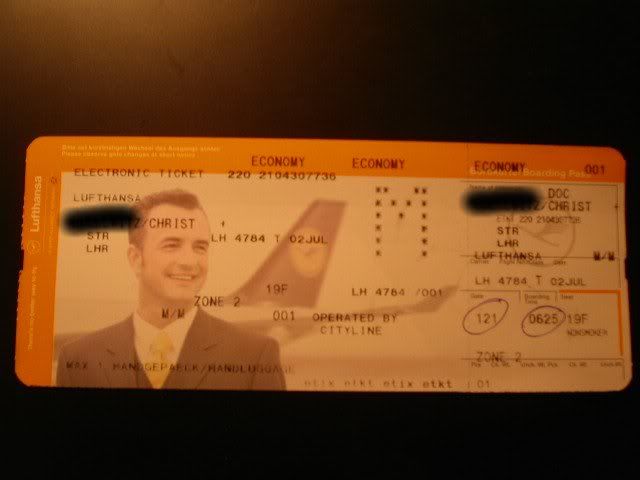 The next morning I arrived at Stuttgart Airport at about 6:00 by commuter train. Security check was quick and I was in the gate area in no time. I like the early morning atmosphere at airports; it's nice to watch the aircraft being prepared for their first flights of the day. The whole STR-based Germanwings fleet was present (5 A 319's including the Berlin-bus plus the Nordic Leisure MD-87 which operates for Germanwings as well), 3 HLX B 737, some German charters (Condor, Air Berlin, Hapagfly), a few LH aircraft as well as the night stops of various European carriers like Air France, KLM, Alitalia, Malev and a British Airways A 320 (G-EUUR) which was about to fly on the same route to LHR as my LH flight.
The gate for my flight was gate number 121, a bus gate on the ground floor in the international area of Terminal 1. Boarding started about 20 minutes prior to departure and a bus took all passengers to a remote stand at the far end of the apron. I counted 34 passengers on the bus, so the aircraft was about half full. The great majority were German weekend tourists of all ages; only very few British passengers.
The bus passed Terminal 1 of STR:
Then we arrived at our aircraft, D-ACPR: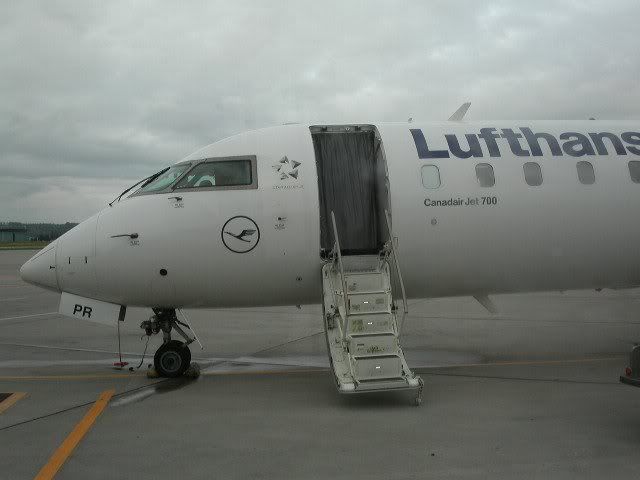 This was going to be my first flight on the CRJ 700, so I was really looking forward to it. We were welcomed by the friendly cabin crew which consisted of two flight attendants (one female, one male). Free newspapers (including British ones) were available at the door. The cabin made a good impression with grey leather seats and yellow elements (LH-style) on the walls and the overhead bins. The first two rows were reserved for business class passengers, but nobody was booked there so the curtains remained open. I took my seat in the second last row. The captain made a welcome announcement and told us that today's flight would be operated by the first officer. After the cabin crew had finished their safety demonstration, we were off-block and made our way to the runway: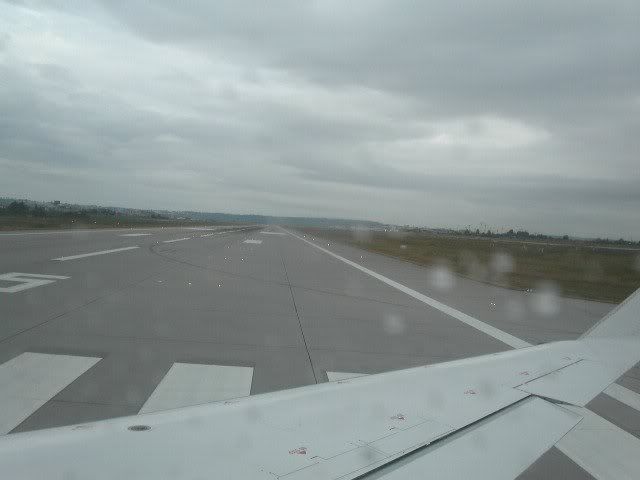 As you can see, it was rainy outside. We had a very powerful take-off in Western direction which offered a good view to Stuttgart Airport to me. Here you can see the hangars of DaimlerChrysler Aviation (left) and Lufthansa (right):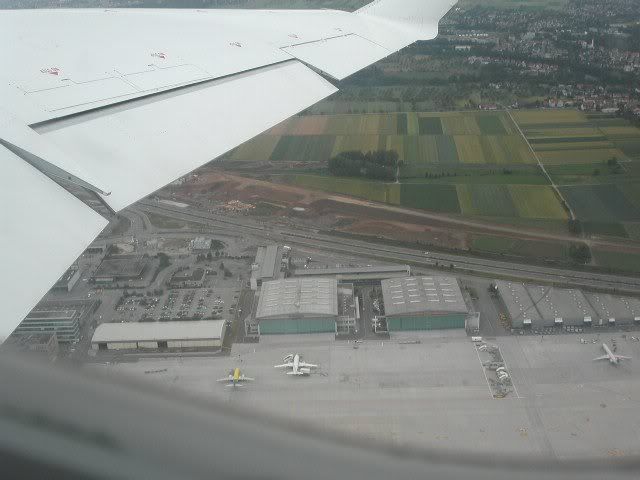 The city of Echterdingen: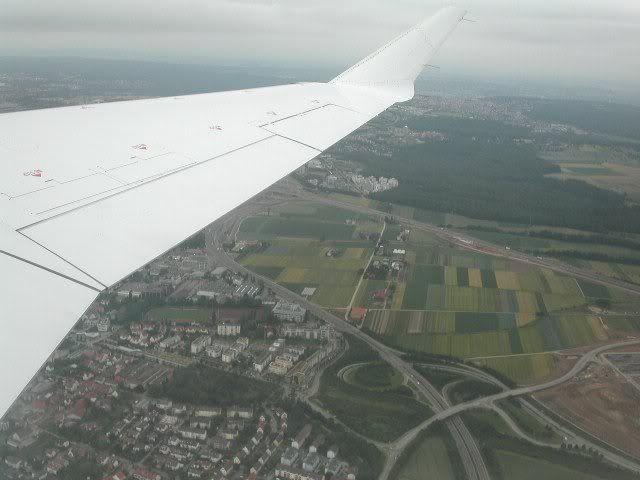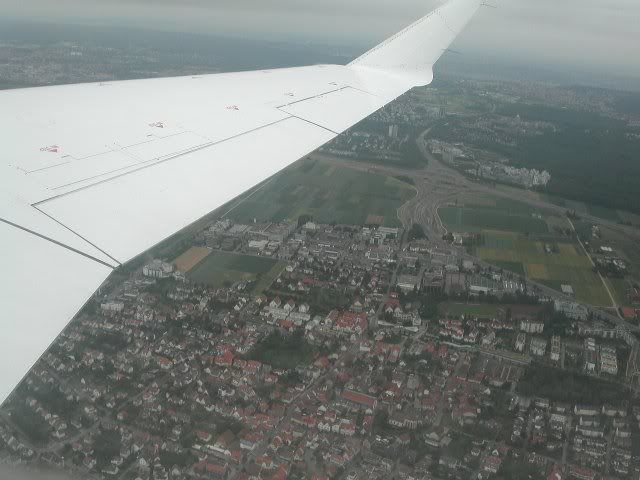 Then we were off in the clouds. The first officer informed us about our flight route which would lead us via FRA to BRU, then crossing the Channel to LHR. Unfortunately it was clouded all the time, so nothing at all to see…
Cabin crew started meal and drinks service which consisted of hot and cold drinks of your choice and two half of a very small sandwich, one with cheese, one with ham: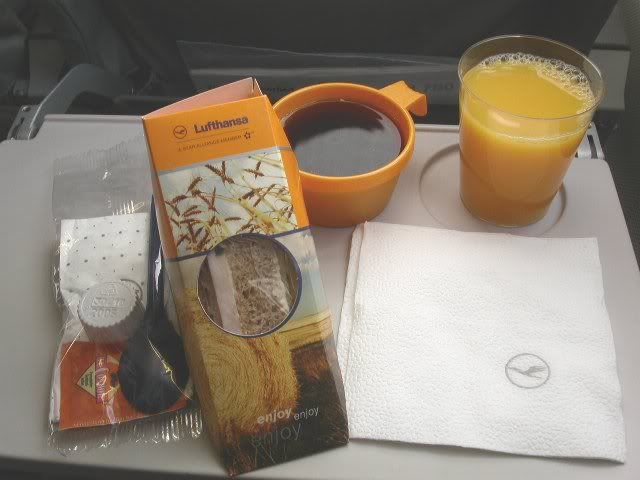 Here you can see the sandwiches unpacked, just to show how small they are: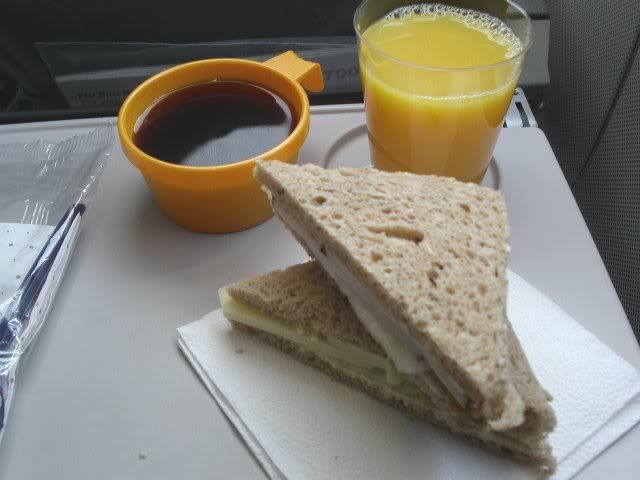 I have to say that LH's food service on European flights has really reached a new low. The sandwiches were extremely small; much smaller than the standard sized sandwiches you can buy at a sandwich bar. On the other hand, they weren't really delicious; everything was a bit dry, so after the first bite I became happy that they weren't bigger as otherwise two drinks wouldn't have been enough to wash down this dry stuff. Come on LH – it can't be
that
much more expensive to offer at least some decent sandwiches or a good roll. Two years ago, LH still offered a full tray meal on the same route…
Food service was finished quickly. As there was nothing to see outside (only clouds) I looked a bit through LH's in-flight magazine and read an article about Edinburgh (perhaps a destination for an other trip to Britain?)
I took a picture of the loooong tube of the CRJ 700: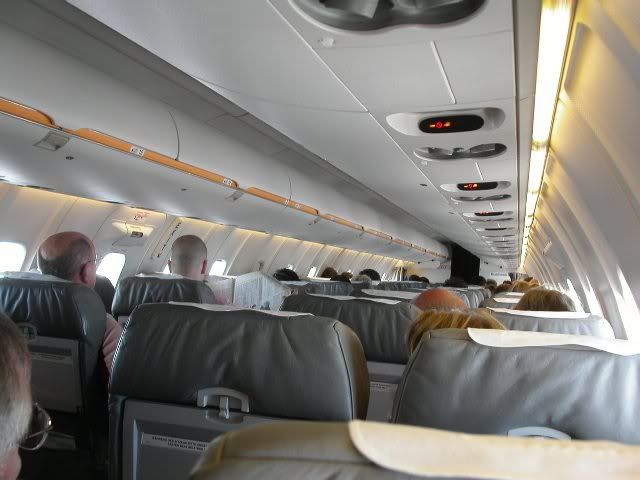 We started our approach into LHR; no holdings this time.
An industrial area near the airport: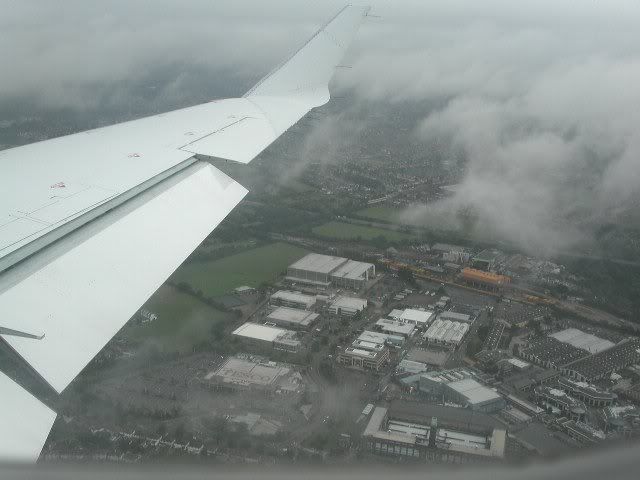 Some suburbs of London (note the humidity which leads to condensation behind the wing):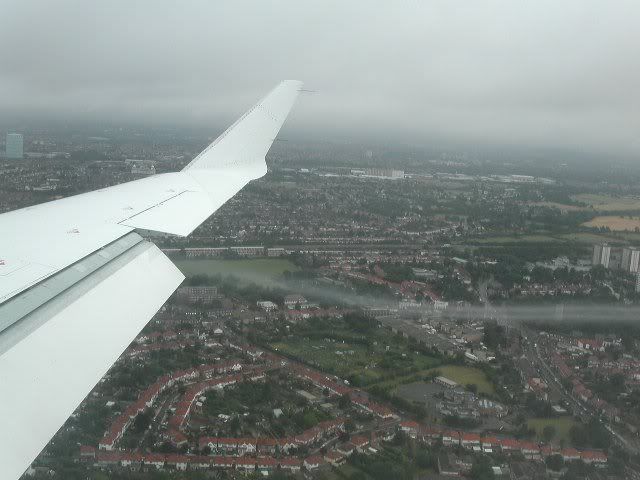 Final approach to runway 27R: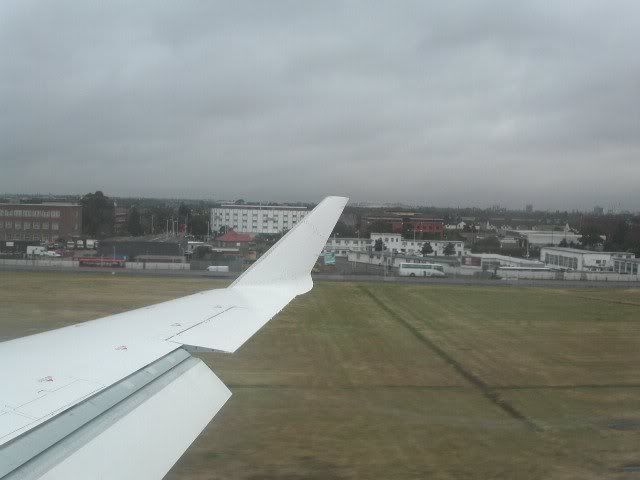 The famous Renaissance London Heathrow Hotel where I would spend the next night:
The CRJ 700 doesn't only have powerful engines, but also powerful breaks, so we came to stand in no time and immediately left the runway. We taxied by Terminal 1 where a lot of BA and BMI short-haul aircraft (as well as a few long-haul birds) were visible. Among others, I saw a BMI A 330 which is used for flights to India: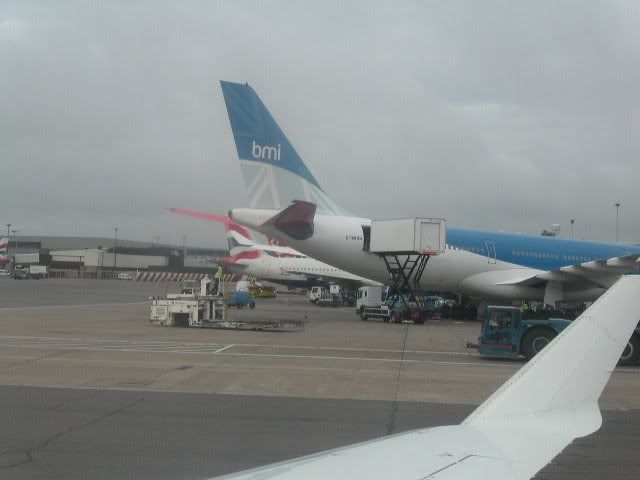 Terminal 2 which is used by non-British European airlines like LH: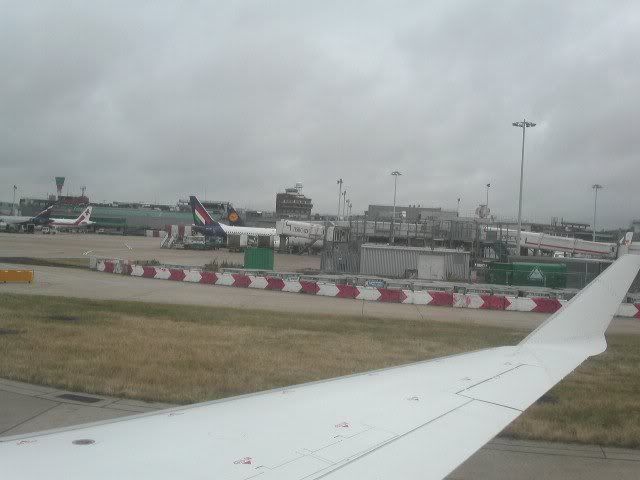 An LH A 320 is already present: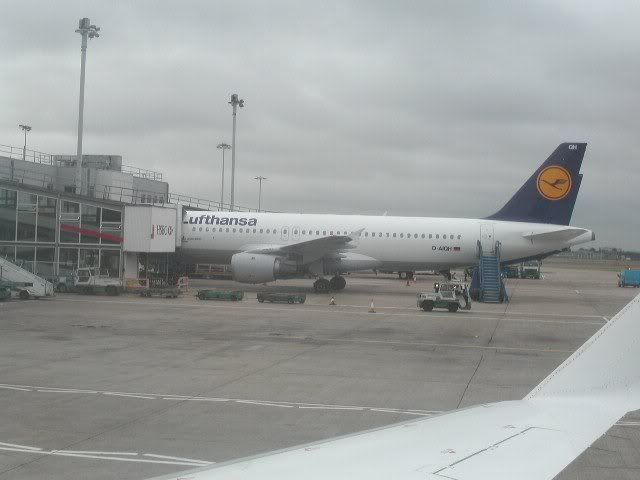 Our parking position was one of the two smaller positions next to the main building of Terminal 2 which are mainly used by regional aircraft (LH is one of the few airlines who waste an expensive Heathrow slot for a small Canadair Jet or Embraer, so there isn't too much need for parking positions suitable for regional aircraft). We were on-block at 07:15, so about 15 minutes early.
I thanked the crew (the captain was standing at the door as well) and left the aircraft: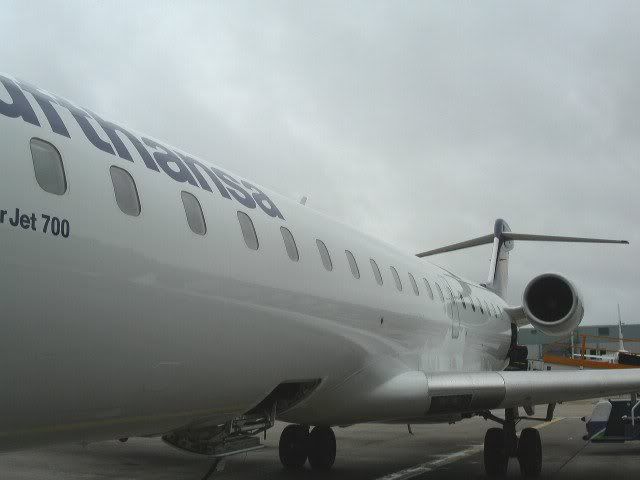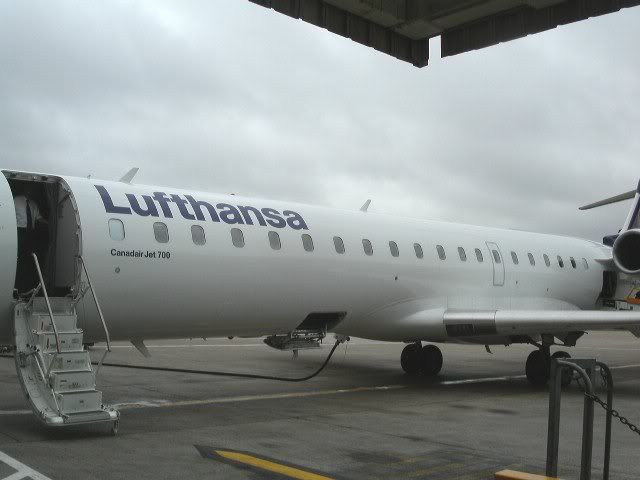 I cleared customs and made my way to baggage reclaim which was unusually quiet. But then I realized that it was only shortly after 7:00 in the morning, and there are only few flights which arrive that early.
Later I caught the Hotel Hoppa bus outside Terminal 2 which took me to my Hotel, the Renaissance London Heathrow Hotel. This is probably one of the best spotting-hotels in the world as it is located directly at one of the two main runways. As it is a 4-star hotel, prices are quite high during the week, but they offer some decent weekend fares. I paid GBP 64,63 for a room per night which is quite good for London standard. However, only about 25% of the rooms offer airport view, so if you should like to visit the hotel, it is advisable to arrange it in advance or be there early on your day of arrival. I got my room with window to the airport where I spent the next hours. LHR is a really impressive airport. Here are some photos taken from my hotel room: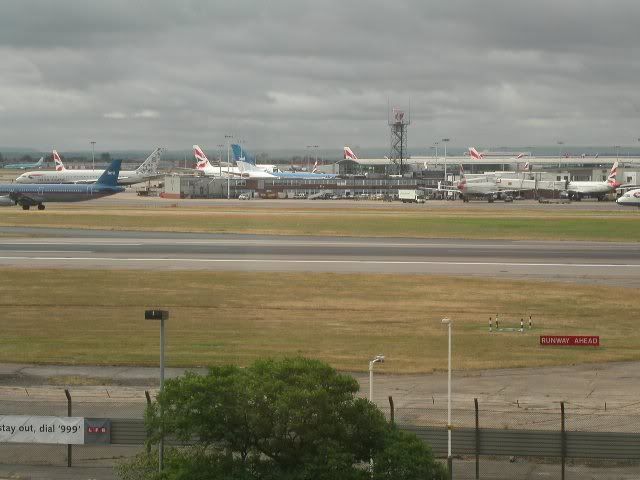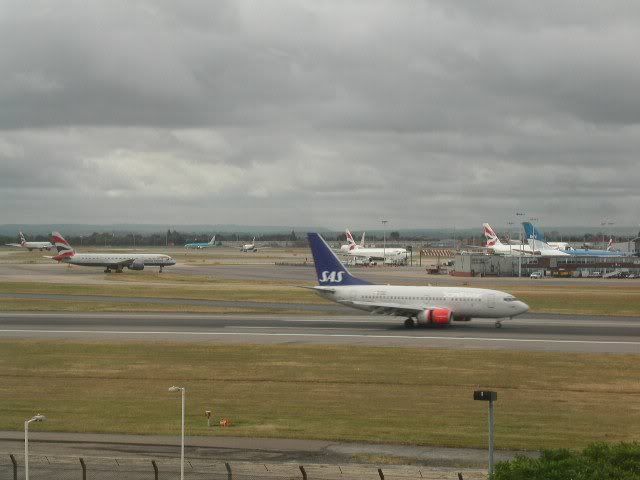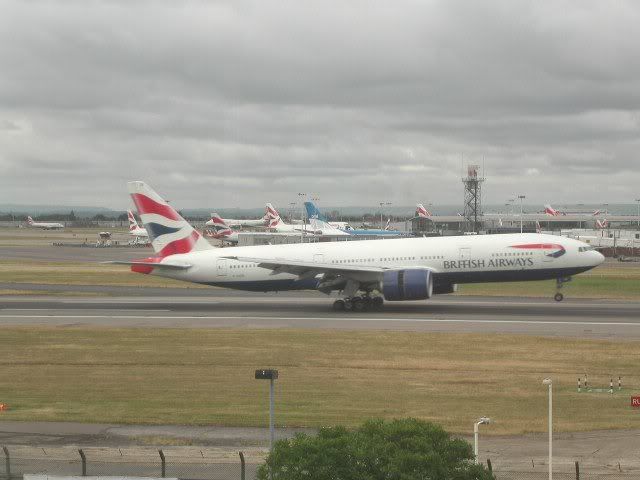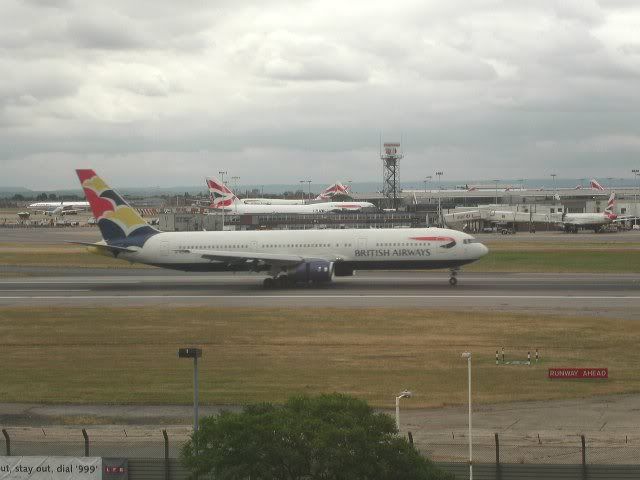 Later in the afternoon, I made a visit to downtown London. I used Heathrow Express which takes only 15 minutes from Heathrow to London Paddington Station.
Here's just a short impression from this fascinating city (typical postcard view):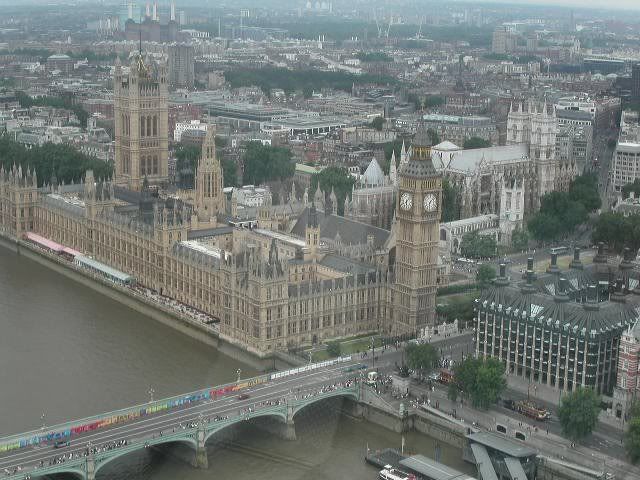 Sunday, 03 July 2005
London Heathrow (LHR) – Stuttgart (STR)
Airline: Lufthansa, operated by Lufthansa CityLine
Flight number: LH 4785
Scheduled departure time: 08:10
Scheduled arrival time: 10:45 (local time; time difference +1 hour, so flight time was 01:35)
Type of aircraft: CRJ 700
Registration: D-ACPR
The next morning I got up early. The Hotel Hoppa bus took me to Terminal 2 where LH is handled by Globe Ground. Terminal 2 at LHR has the check-in hall with the probably lowest ceiling in the world: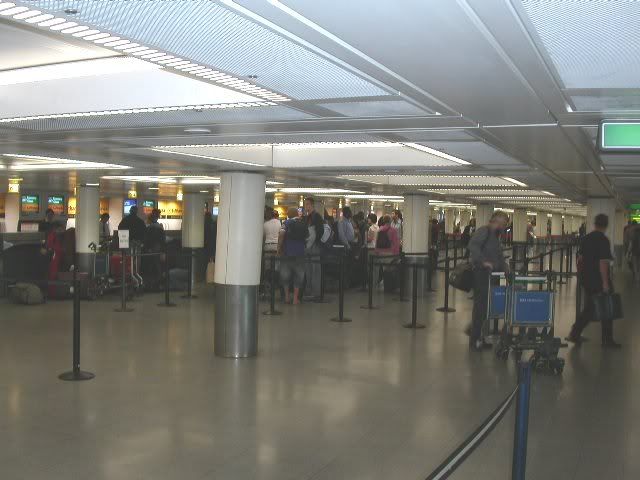 The LH check-in was quite busy, so I had to wait a bit. 6 counters were open for Economy. There were lots of passengers for the flights to FRA and MUC with connections to destinations all over the world. Quite interesting if you keep in mind that LHR is the largest airport in Europe and FRA and MUC probably don't offer many destinations which can't be reached non-stop from LHR. Obviously LH sells their seats in the UK over the price (like BA or KLM do in Germany). A supervisor walked along the waiting queue and asked if there were still passengers for the flight to FRA. Those passengers were taken out of the queue and guided to a separate check-in counter to avoid a delay of that flight. When it was my turn, I was called over to the Business Class check-in as there were no customers there. I got my boarding pass for seat number 11F.
Security was very quick. I have never seen Terminal 2 that empty; usually the place is really crowded. But Sunday morning isn't a too popular time for travelling.
Besides all kinds of shops, Terminal 2 offers some window fronts with views to the apron:
A BMI A 319 which is a frequent guest at LHR: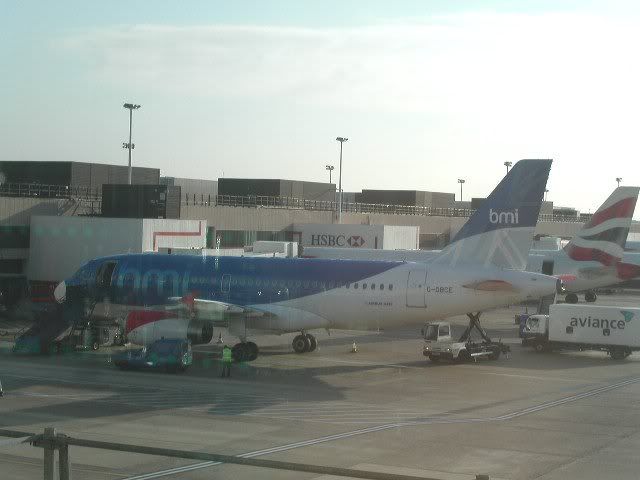 Lufthansa Regional CRJ 100, having just arrived from DUS: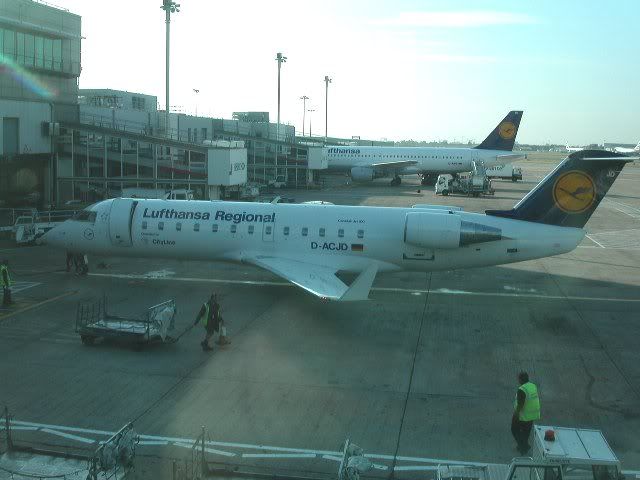 Syrianair B 747 SP: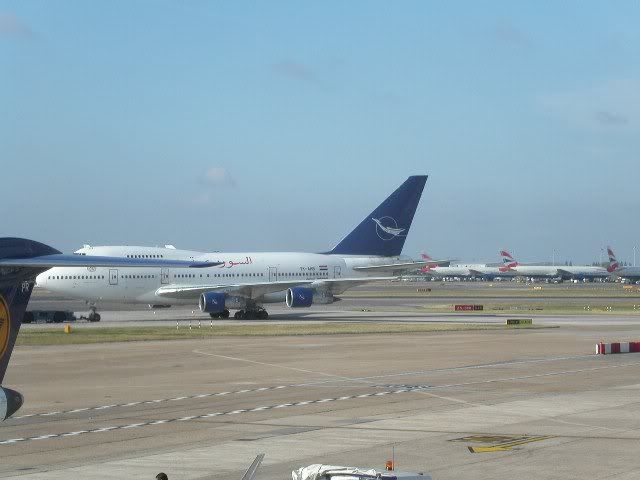 CSA B 737-400, departing for PRG: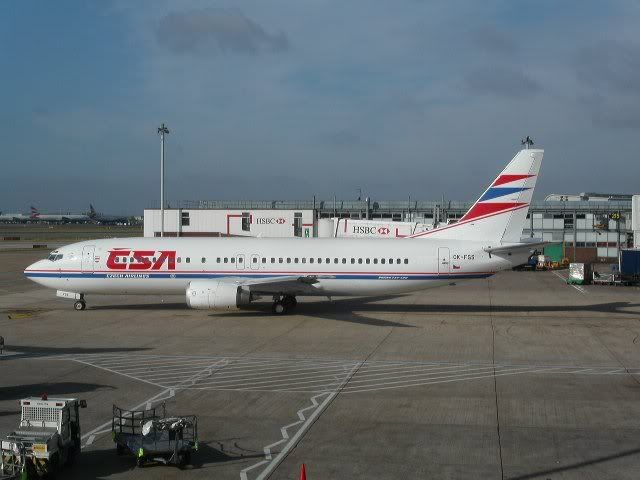 At about 07 :20, D-ACPR arrived from STR. It was the same aircraft that had brought me to London the day before. When it came to stand on the parking position, the gate for the outbound flight to STR was announced. The gate was staffed with 3 agents; quite a lot for only 33 passengers who were booked on that flight to Stuttgart. As usual at LHR, boarding cards and passports were checked when entering the gate, so boarding itself can be done very quickly. Different British and German Sunday newspapers were available in the gate area.
I took a picture of D-ACPR being off-loaded (in the background Terminal 4 with BA's long-haul planes):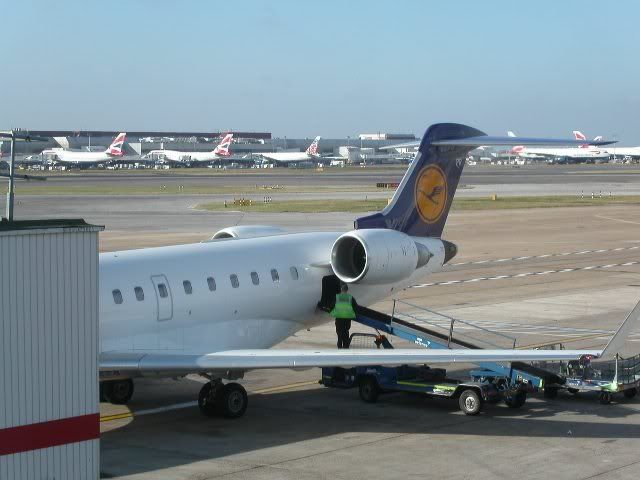 Boarding started shortly after and all passengers walked down the stairs to the apron. Cabin crew consisted of two females this time. I took my window seat in row 11, in front of the wing. I realized that the majority of the passengers was seated in the back of the aircraft and some had seats in the first rows of Economy (Business Class was empty again) while the middle section of the plane remained completely empty. Must have something to do with the trim, I guess.
The push-back truck pushed our aircraft out of the parking position and the bay of Terminal 2 into the main apron, but shortly after we were pulled into the bay again. An other try – and back again. We were pushed and pulled back and forth several times. Parking an aircraft isn't easy – the push-back truck must have been driven by a woman…
No, seriously; the reason for this was probably that there was lots of incoming traffic which taxied by this place and which shouldn't be blocked by our push-back process. Anyway, we finally got out and made our way to runway 27L.
Terminal 4: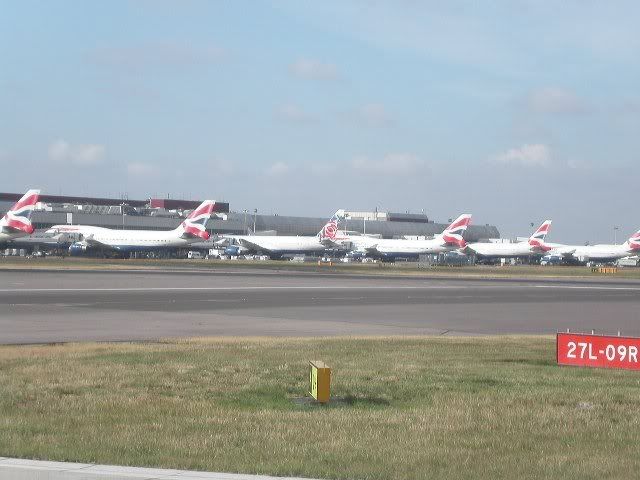 There wasn't the typical LHR take-off queue on that early Sunday morning, and we entered the runway…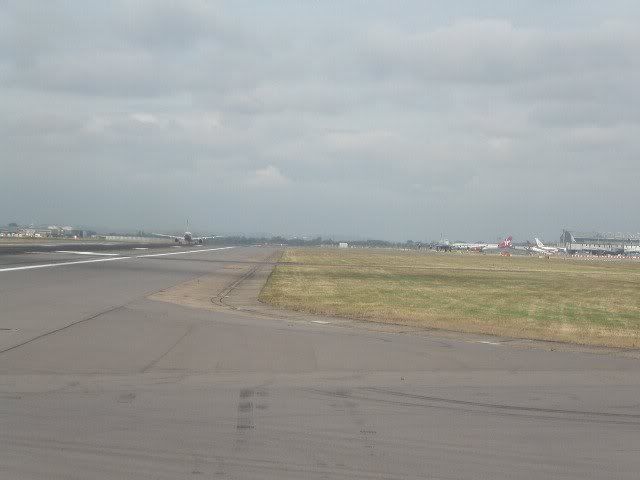 and were in the air in no time.
Terminals 1 and 2: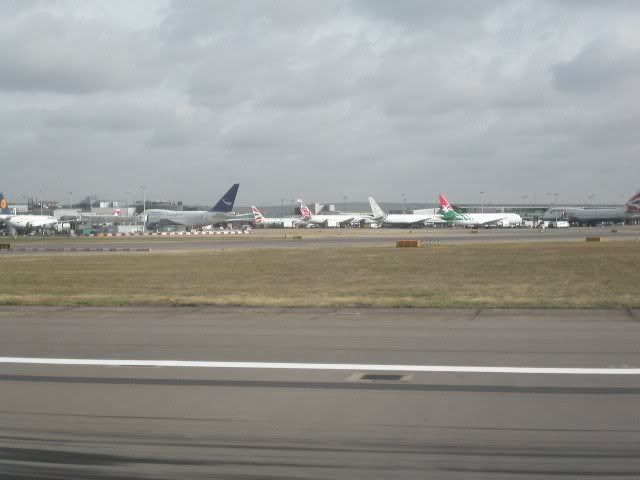 Terminal 3 extension:
Chicago O'Hare? No – LHR Terminal 3! :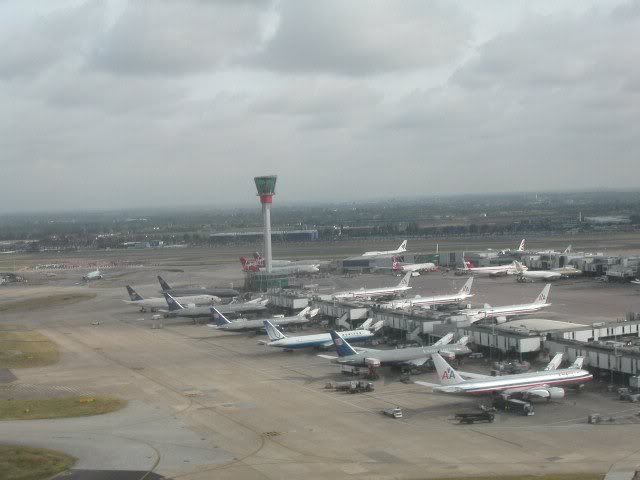 Some stored aircraft on remote stands: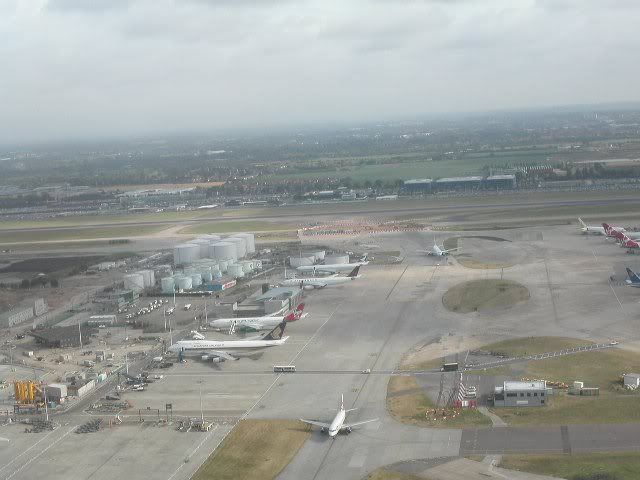 The huge construction site of the new Terminal 5: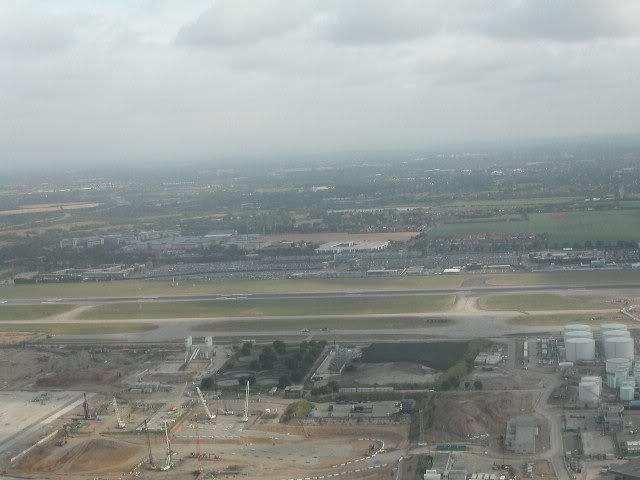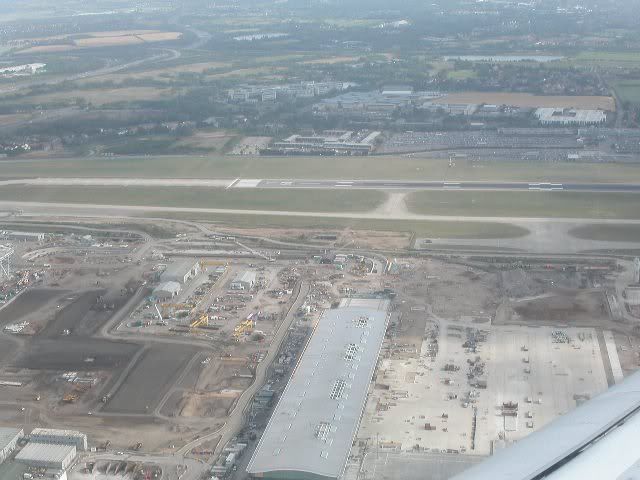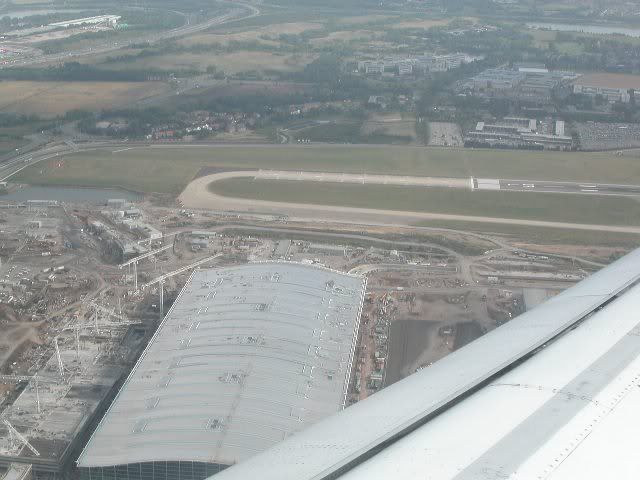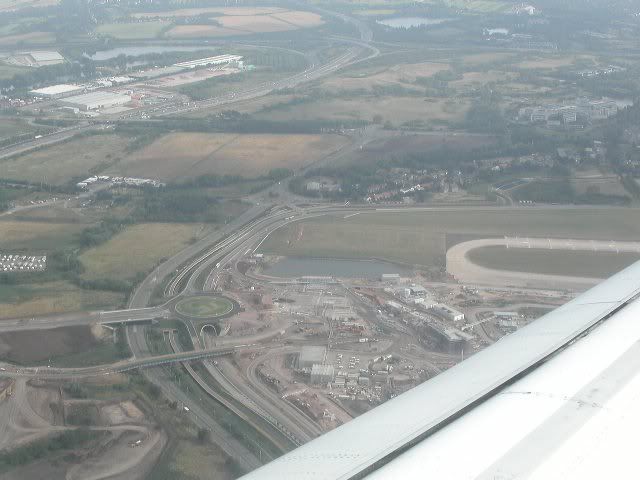 When we reached more heights, it became slightly clouded again: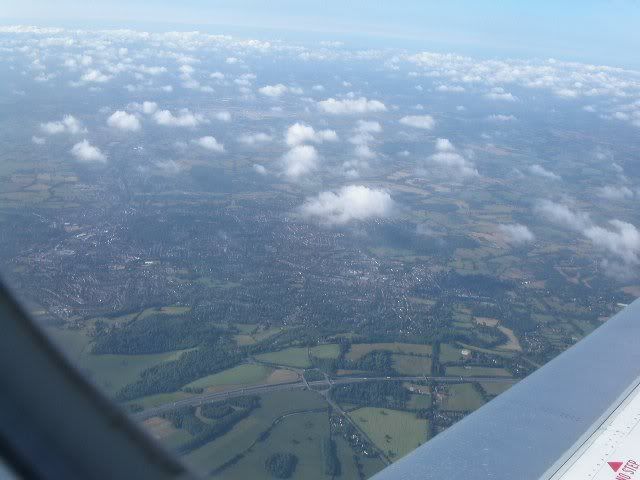 About 10 minutes after take-off, I realized that we were flying parallel to an American Airlines B 777 which was flying a bit higher than we were. It was flying on our right. It was really very close – in fact I can't remember having ever been that close to an other plane in the air. My camera doesn't have a good zoom function, so the picture isn't too good, but I will share it with you nevertheless: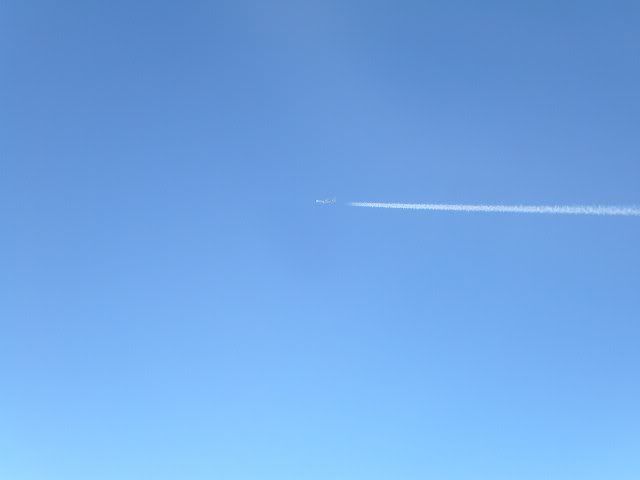 As I said, it was much more impressive in reality than it is on this picture. Later we even turned right and flew through the vapour trail (German: "Kondensstreifen") of the 777. Just amazing! Due to the high traffic in the London area, planes sometimes have to fly very close to each other.
Meal service started – similar to my outbound flight. This time only a cheese sandwich (no ham); no choice:
Service was finished quickly; crew was friendly and professional. The remaining flight was uneventful; it was clouded, so not much to see outside.
Beginning of our descent into STR: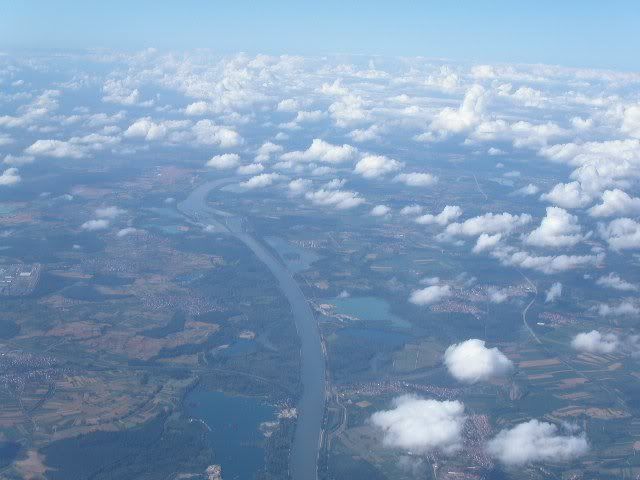 The towns Hildrizhausen and Altdorf: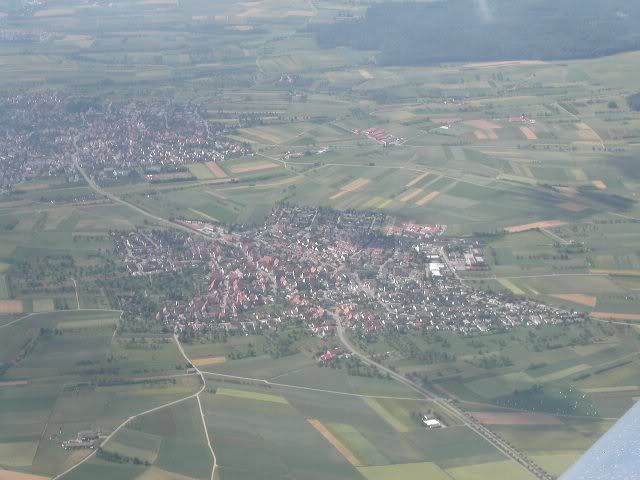 The town of Holzgerlingen with its industrial area: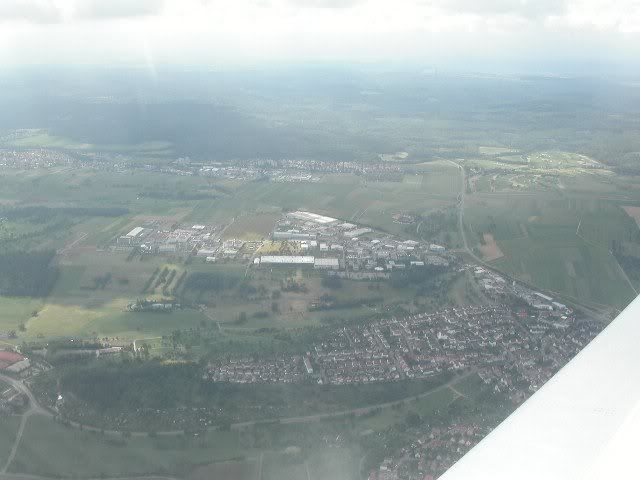 The small villages Neuweiler and Breitenstein, located nicely in the Schoenbuch forrest: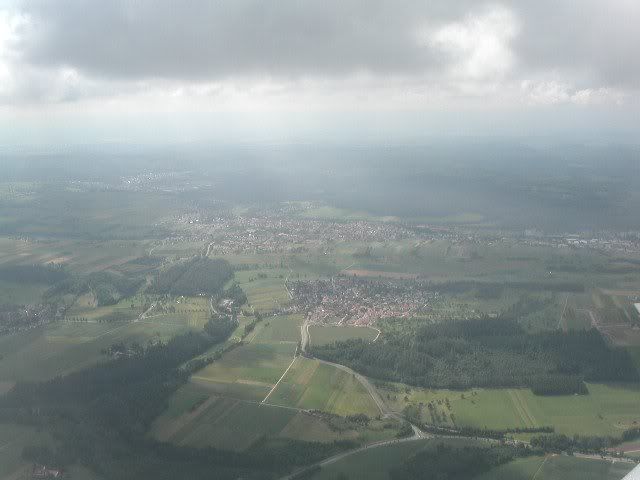 The Schoenbuch forrest: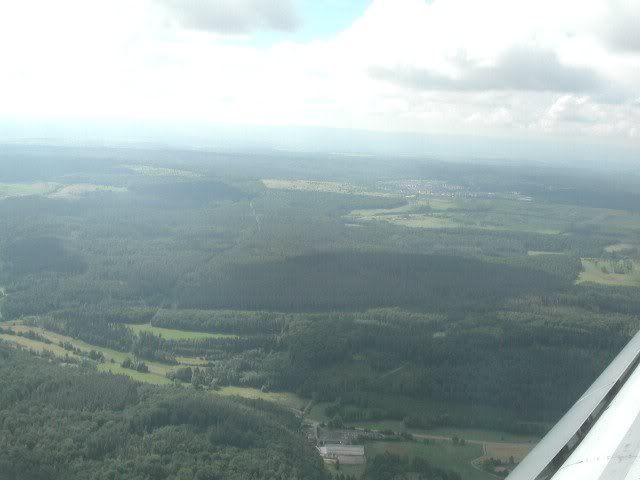 Final approach via Echterdingen: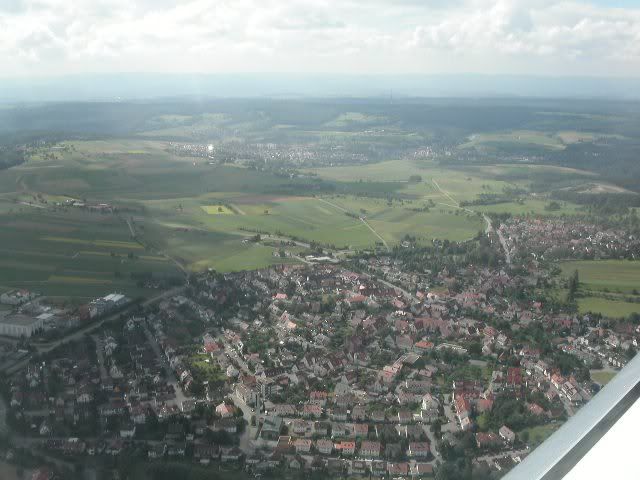 We touched down on Stuttgart's runaway and taxied to our parking position. I took a last picture of the cabin…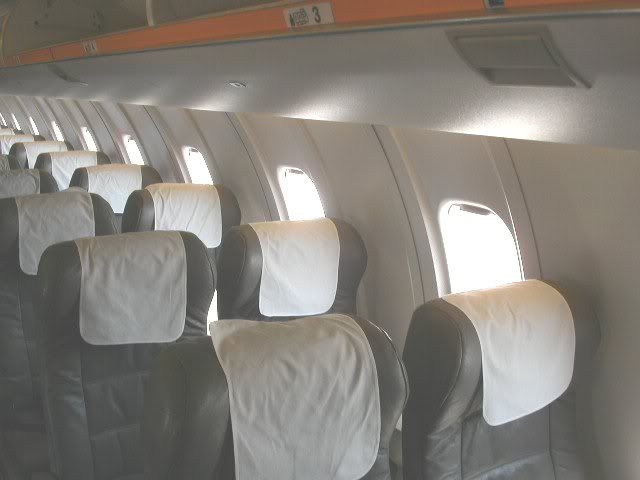 and the long fuselage: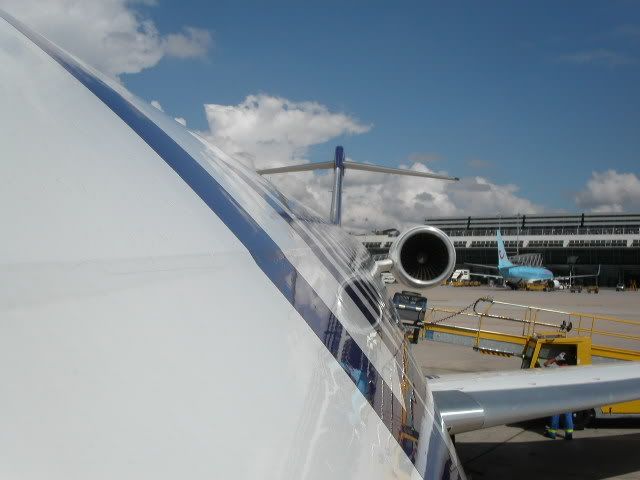 A bus took us to Terminal 1 where I cleared customs quickly and collected my luggage. Shortly after I was in the train home to Stuttgart city.
Conclusion
All in all, LH again offered a decent product. On-time flights, friendly and professional crews (in the air and on the ground), clean and modern aircraft – all for a very good price. The only disadvantage was the quality of food which has really declined on European flights. But if you keep in mind that Germanwings (and other low-cost airlines) don't offer any food at all, and that a Germanwings ticket would have cost me even more than my LH-ticket on the same weekend, LH still offers good value for money. I would (and probably will) fly LH again on European flights when the price is right. However, their service isn't worth spending any extra money when other airlines serve the same airport as LH for a lower price.
Thanks for reading my report – any comments are appreciated as always.
Regards
Christoph