PA 380 LCK-SFB
Boeing 727-200 N342PA "Clipper Guilford"
June 24, 2005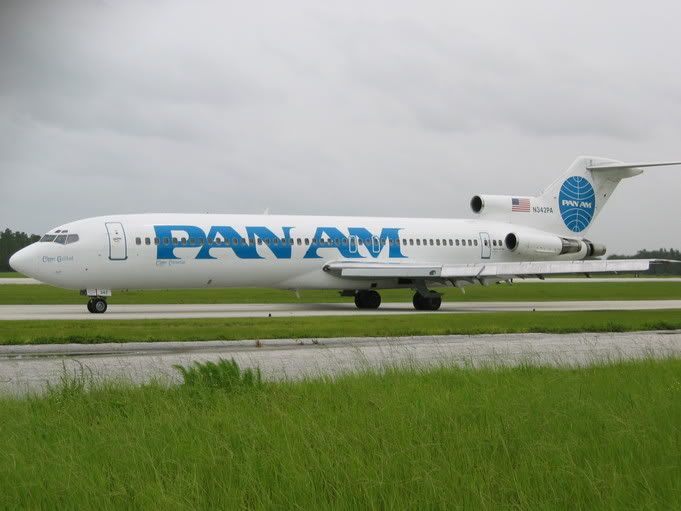 We woke up at 5:45am & grabbed the shuttle to Rickenbacker for Pan Am's Inaugural Flight LCK-SFB. I'd never been to LCK before...the area around it is pretty remote, although the airport area's pretty active, with a cargo terminal & ANG facility. The passenger terminal, however, is the smallest I've ever been to. It has one ticket counter, one baggage carousel & two gates...that's it.
There wasn't any type of restaurant there, which wasn't a surprise, although I guess Pan Am had provided a juice & bagel table by the gate. BMA's Director of Marketing, Alex Mouzas, saw my Embry-Riddle shirt & started chatting with me. I then got to meet BMA's president (whose name slips my mind) & talk to him for a few minutes. I talked about how I was going after my PPL at Delta Connection Academy in Dayton. He then stepped away, made a phone call, came back & offered me a tour of their training facility at SFB. I accepted (obviously) & he gave me a phone number to call when I got to Orlando & that person would get me in.
As it was the first flight out of LCK, there were several officials from Boston-Maine Airways (the operator of Pan Am) who spoke, as well as a couple guys from LCK. Finally, they invited the kids who were going on the flight to the gate area for a ceremonial ribbon-cutting before boarding.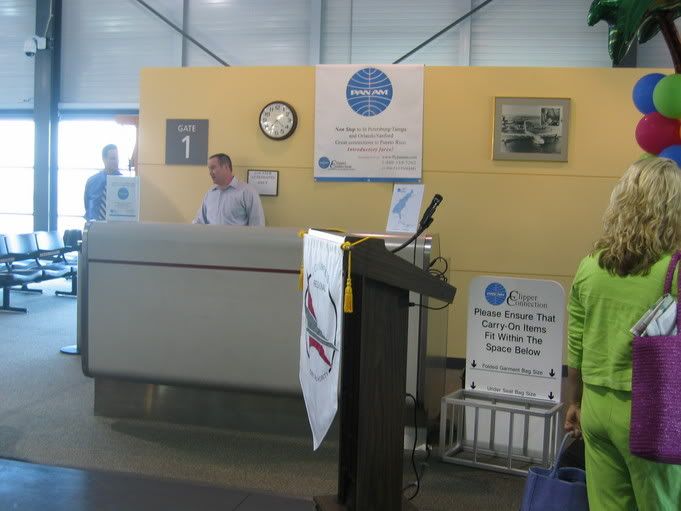 Boarding then started. Pan Am uses Passenger numbers for boarding and the flights are open seating. My mom & I were passengers 27 & 28, so we were some of the first on the flight...we both wanted windows, so I took the bulkhead seat on the left side & she was two rows back. As I looked out the window, I saw one of BMA's J-31s parked off to the side. This was to take Mr. Mouzas & other BMA officials back to Portsmouth, NH when everything was done.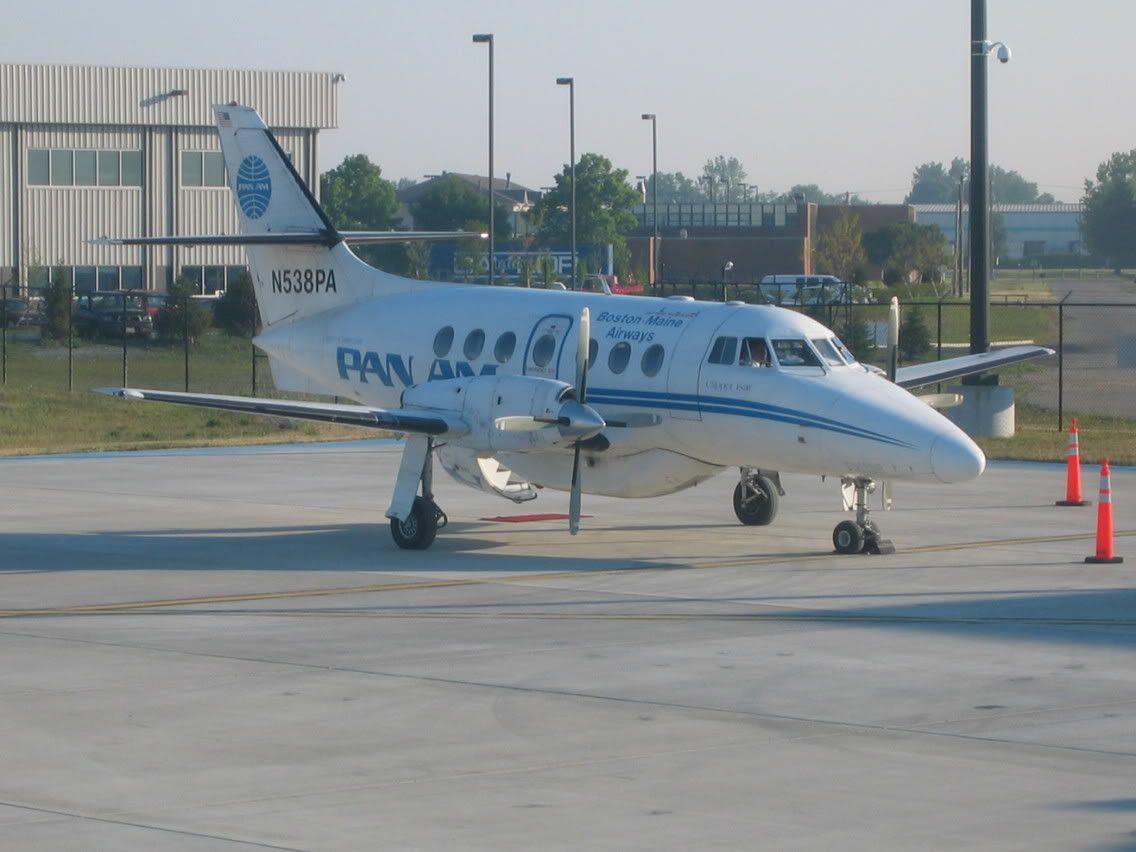 We pushed back a few minutes late, but I was still excited...didn't think I'd ever be on a 727 again. The engines cranked & the safety demo started. As we started our taxi to Runway 5L, we were sent off with a washdown!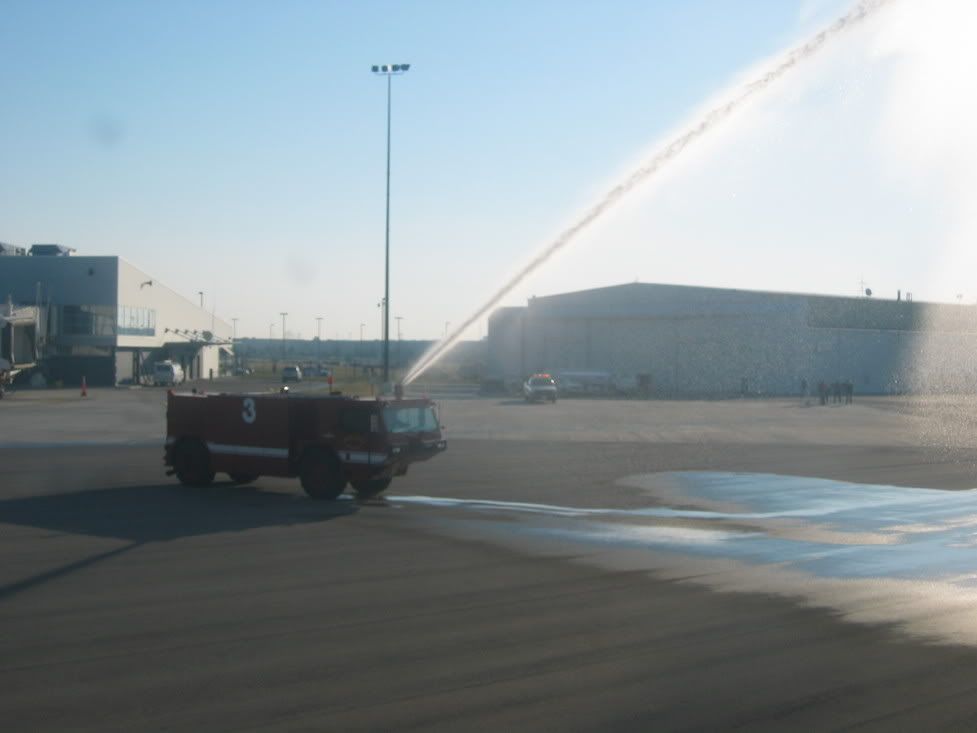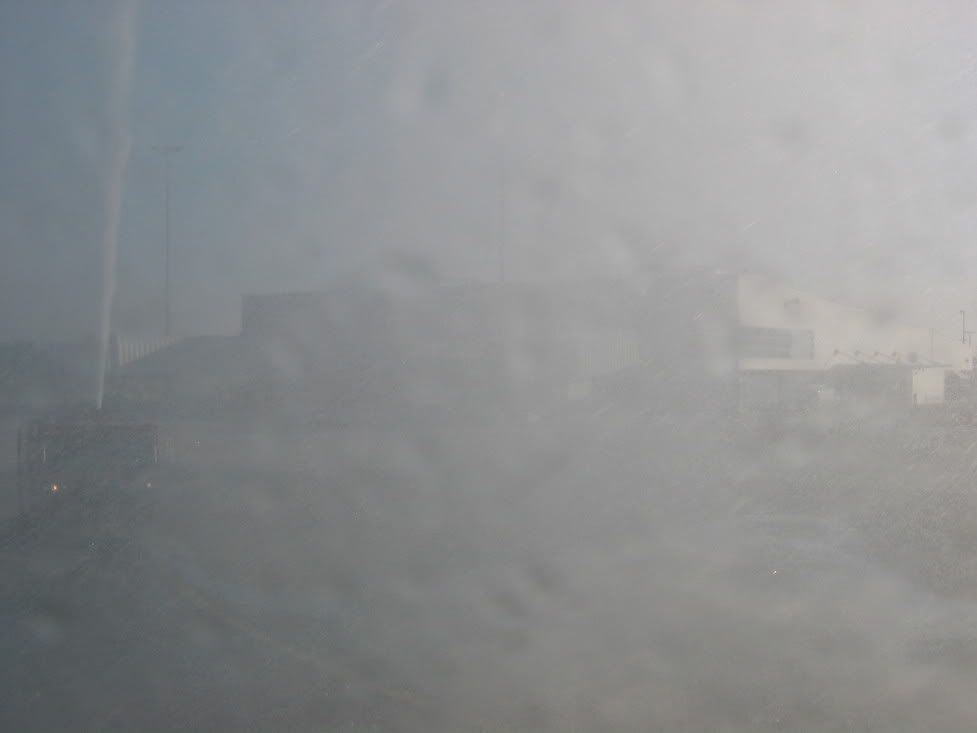 We then departed 5L & rocketed off to the South. Once we got to cruising altitude, the drink service started. They didn't have a cart; instead, the F/A came through & took each passenger's drink order & brought the drinks back on a tray to hand them out, which was unique. We also got a bag of Cheez-Its. From there, the flight was uneventful. I went to the bathroom & on the way back to my seat, snapped a cabin pic. I noticed even from the start of the flight that the plane had a UA interior.
Soon after, we started our descent into SFB. The weather looked like crap...cloudy & a little rainy on approach. We then went downwind of SFB, turned on base & then made a final left turn to land on 9L. We didn't use reverse thrust, so we ended up using most of the runway to slow down. Taxi to the gate took about 5 minutes & when we got to the ramp, we were greeted with another washdown. We were told as we parked at the gate that there were certificates available at the gate personalized for each passenger with their name & details about the first Pan Am flight from Columbus. My mom & I got ours, and when we went down the escalator to baggage claim, someone from SFB was handing out a second "Thank You" certificate from the airport honoring the first flight. We were then met by the man from Pan Am & got about a 10 minute tour of their training facility, which includes two full motion simulators & several classrooms.
________
PA 381 SFB-LCK
Boeing 727-200 N348PA "Clipper Ed Ball"
July 10, 2005
Got to SFB only about 45 minutes before departure...there was no line for check-in for PA 381, so it didn't take us long to get our boarding passes (which were printed on peelable labels). We were passengers 74 & 75, so we ended up being some of the last to board this time. Boarding started at 11:45am, even though departure time was slated at noon. Despite that, we still left on time. While we were taxiing out, I saw a Travel City Direct.com 747-300 pushing back heading to Manchester, UK.
We went to 9L & took off into what seemed like endless cloud cover...lasted about 45 minutes before it finally cleared up. I pulled out my Gleim Test Prep book & my John Legend CD & studied for a while, before getting bored with the reading. Drink service was the same as on the flight down. Passed over the Bristol Motor Speedway about an hour in & started our descent a little after that. As we neared Columbus, we could see LCK in the distance (with CMH further back):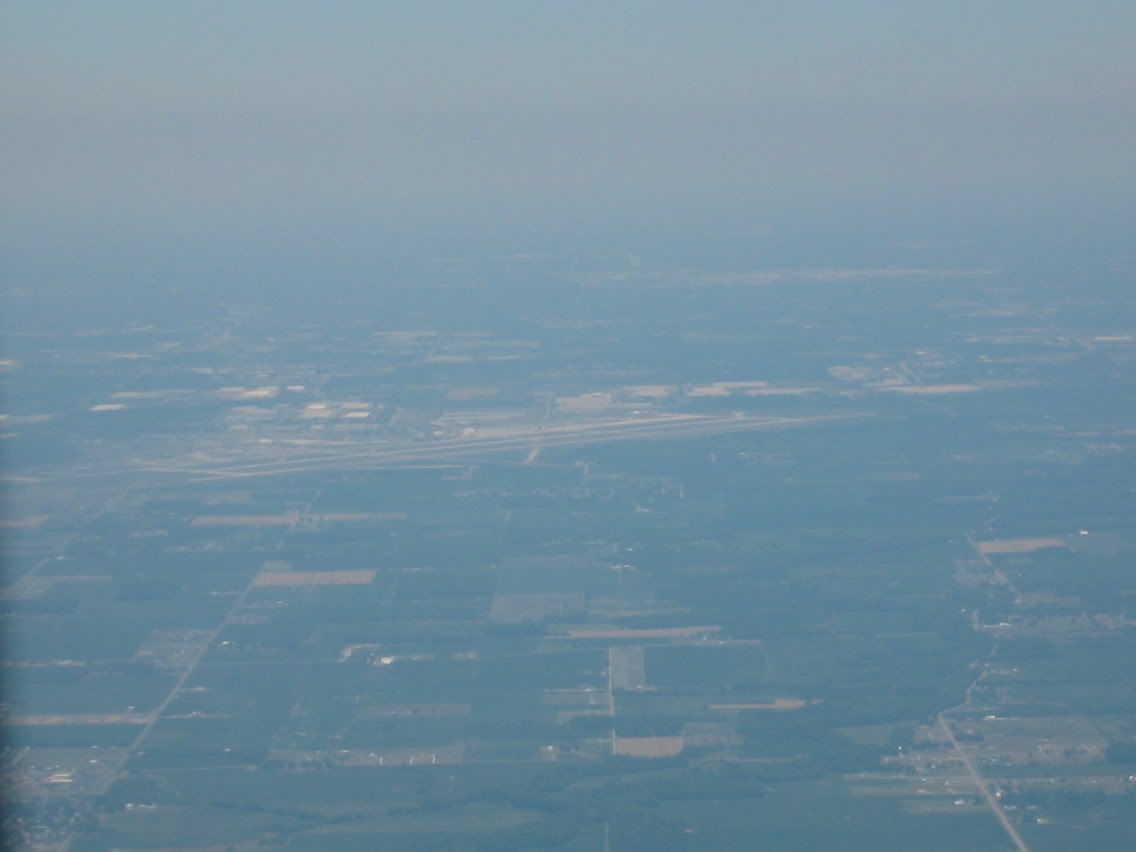 Shortly after, we landed on 5R & taxied back to the gate, passing several cargo jets, the most interesting of which was an Atlas 747-200.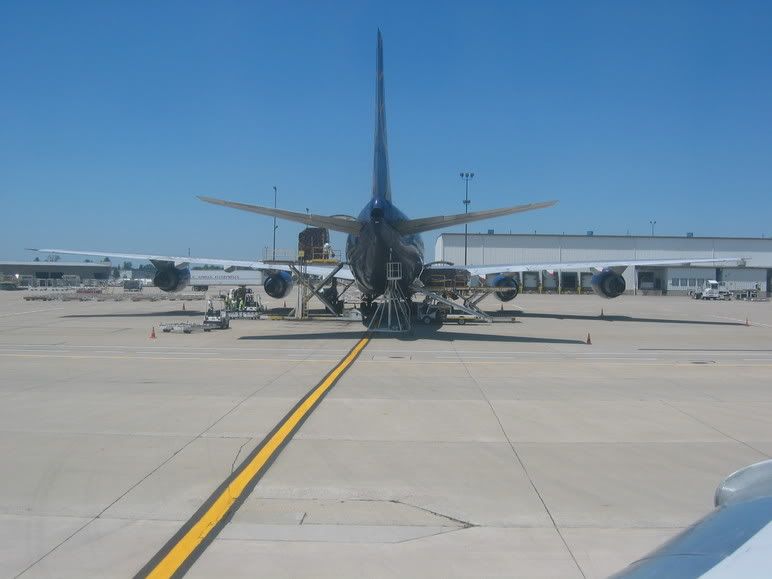 LCK's terminal: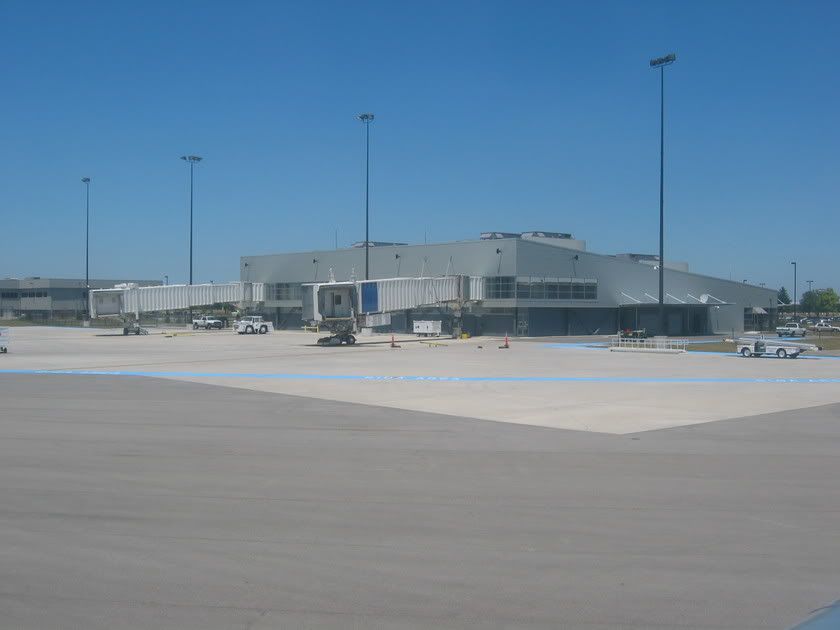 We deplaned, went to baggage claim & then I had to literally run back to the Amerihost Inn where our car was parked because it was quicker...the damn shuttle would've been a 15 minute wait. Luckily it was a close hotel.
Overall, a great trip with PA/Boston-Maine Airways...Pan Am's definitely worth the money & the chance to fly a 727. Great service, too...I plan on taking them again in the future. Thanks again to Alex Mouzas for getting me the tour at SFB.
DeltaRules