Delta
Atlanta – Minneapolis/St. Paul
May 21, 2005
MD-88
2:20
Following months of anticipation, Saturday, May 21, 2005 finally arrived. I rose early so as not to miss the unreliable MARTA train to Hartsfield from Midtown Atlanta. As I suspected, the MARTA train was late, but I still arrived at the airport with plenty of time to spare.
Since summer school holidays had just begun in Georgia, the airport was packed. I had to inch through the crowd to Delta's Business Elite counter at the other end of the South Terminal. After a swift check in, I had my boarding passes in had for my flight to MSP, and connecting flights on Northwest to NRT and, finally, PEK.
After passing through security, I went to the Starbucks in Concourse E for a latte before going back to the D Concourse for my flight to MSP.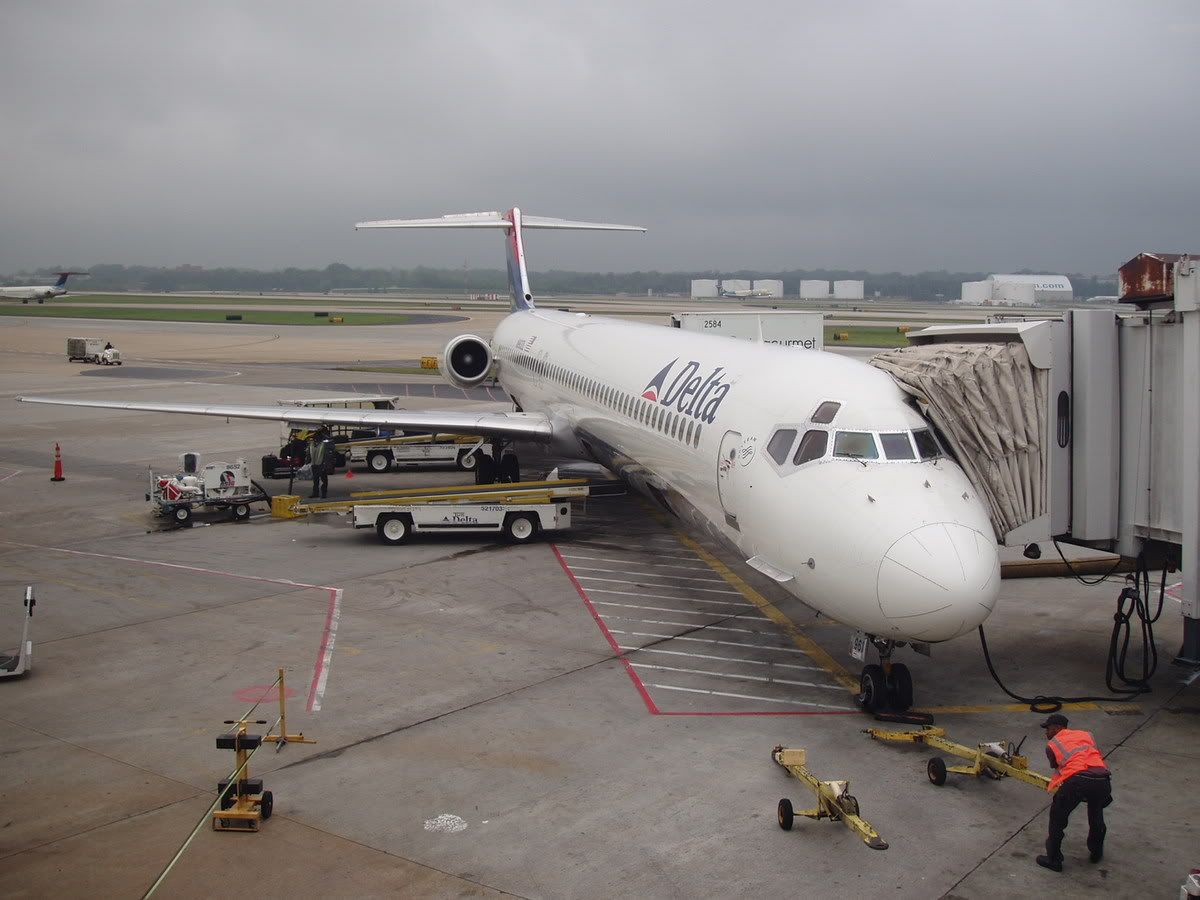 I got to the gate in time to take a photograph of the MD-88.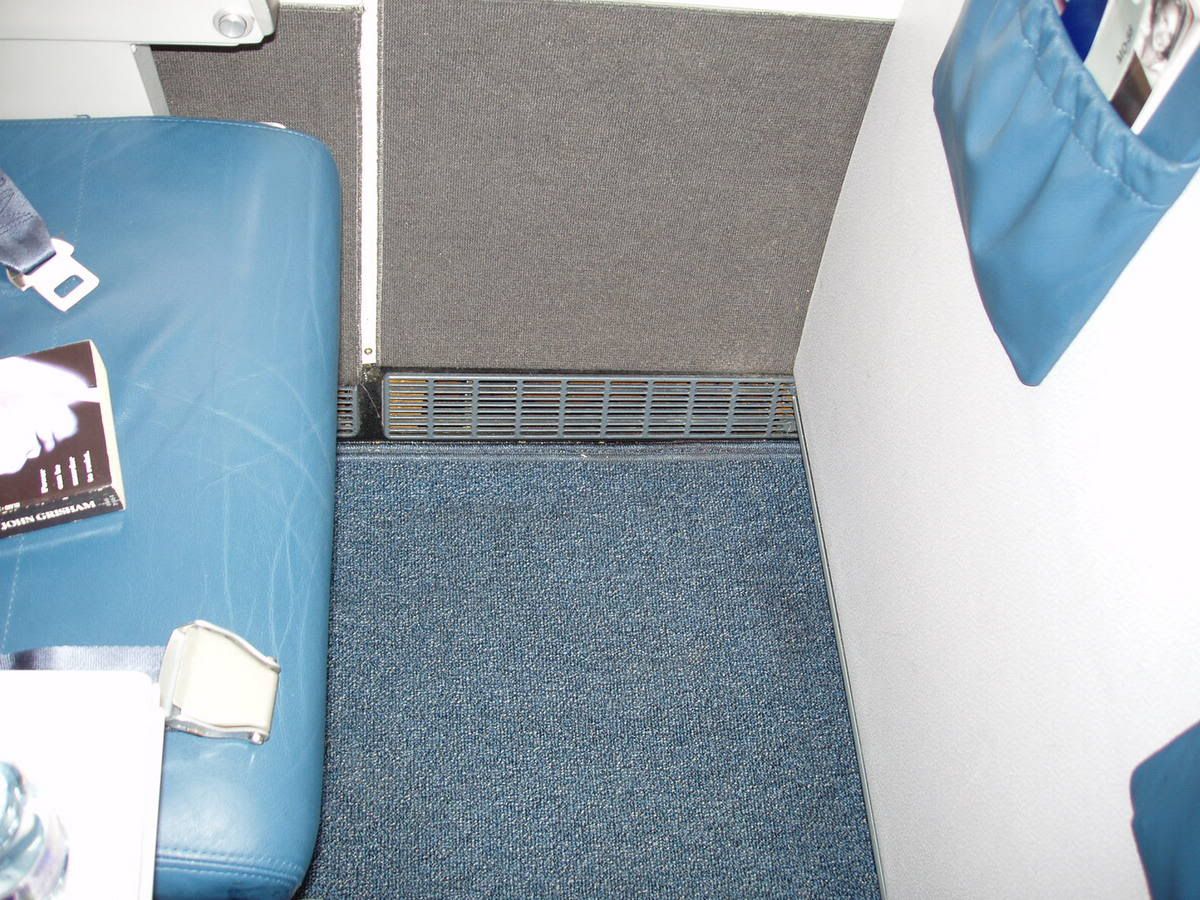 Since I was in First Class, I boarded first, and easily found 2A. The legroom was just fine for the short flight.
Randy, our flight attendant, offered drinks, and I just had a bottle of Disani water.
We pushed back promptly, taxied out, and took off to the east. We turned left and climbed out over Cobb County. It was a typical Delta domestic flight, and I just read
The Firm
for the entire 2:20 leg.
We landed in MSP on time, and I went to find my next gate for my 1455 Northwest flight to Narita. Since it was still two hours before boarding, I stopped off at the World Club, and had a few glasses of red wine.
At 1350, I left for the gate, and heard music to my ears, "Ladies and Gentlemen, Northwest flight ??? to Tokyo is in an overbooked situation, and we need volunteers." I decided that an extra day in Beijing was unnecessary since a travel voucher would easily pay for a trip to abroad later in the summer. The Scottish agent at first told me that he could not find a business class seat to Tokyo the next day, so I left disappointed. However, he called my name five minutes later, and said that he could send me though Portland the following day. I quickly said yes, and took a seat to wait to get my voucher.
After getting the voucher, I claimed my bag, and set off the Northwest's choice of hotel, the Park Inn. The hotel left much to be desired, but it was next to a Cost Plus World Market, so I consoled myself with a bottle of Proseco and Papa John's pizza courtesy of NW.
Northwest 593
MSP – Portland
May 22, 2005
A319
3:35
The following day, I awoke early to hit the gym before 24-hours of flying, and then headed off to the airport. I gave my bag back to NW, and it was checked to Beijing. I then had two hour to enjoy MSP.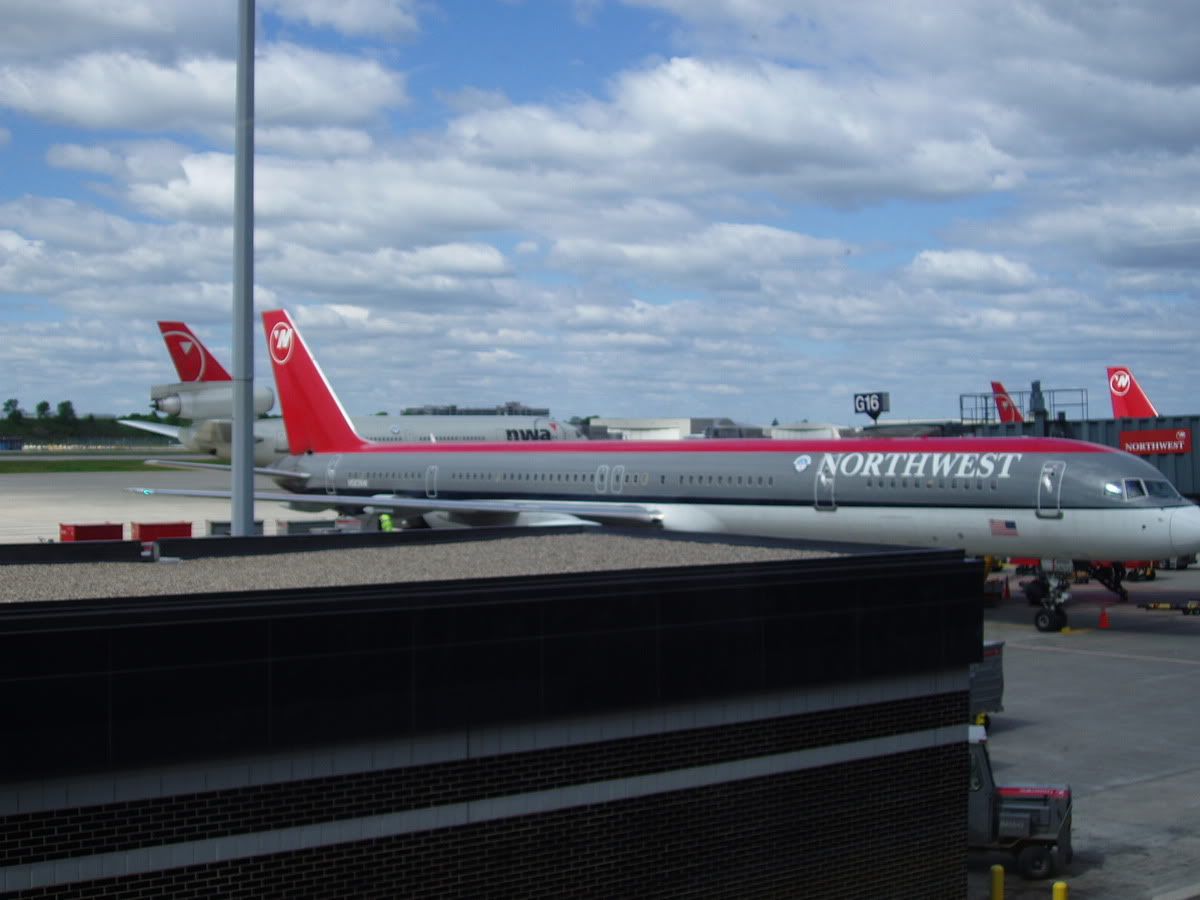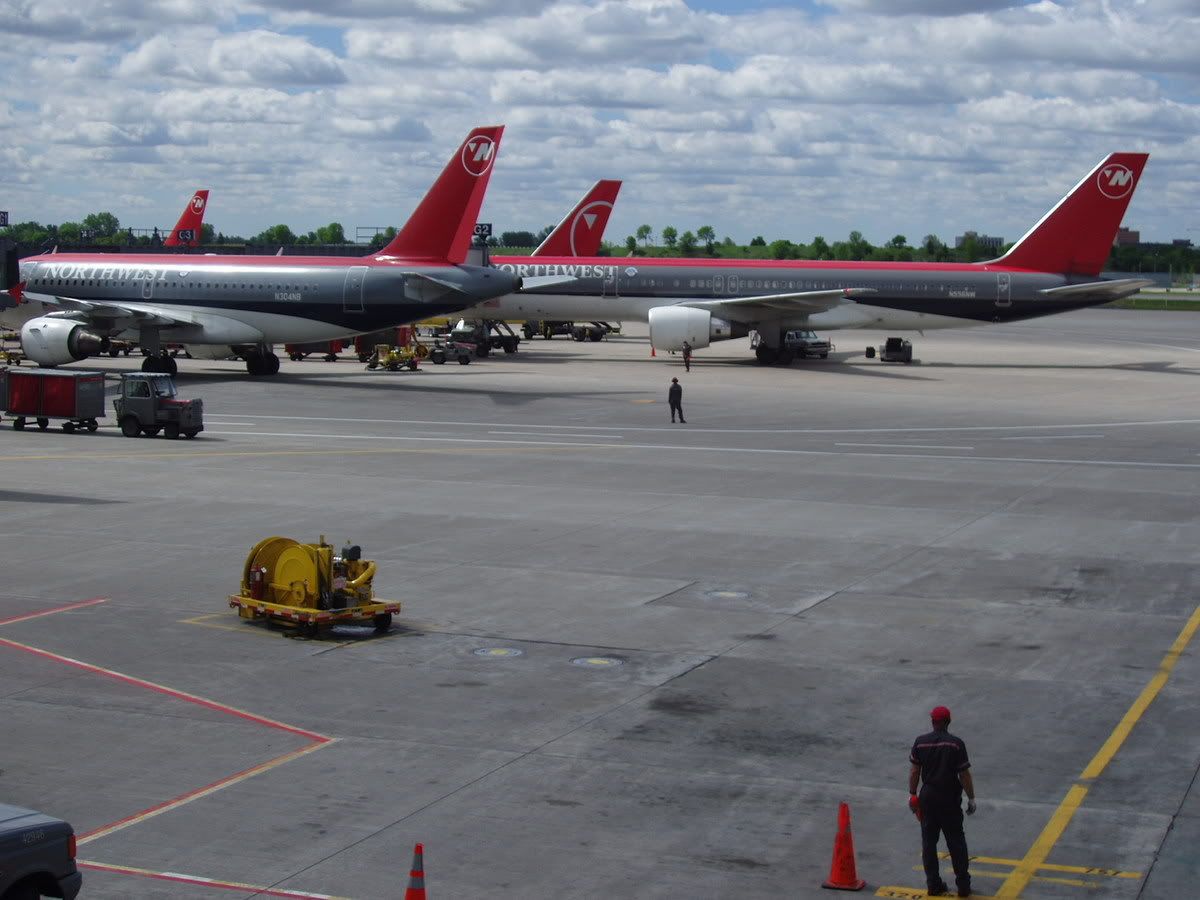 Plenty of red tails here.
About 40 minutes before leaving, I went to the gate, and got a photo of the A319 for the flight to Portland.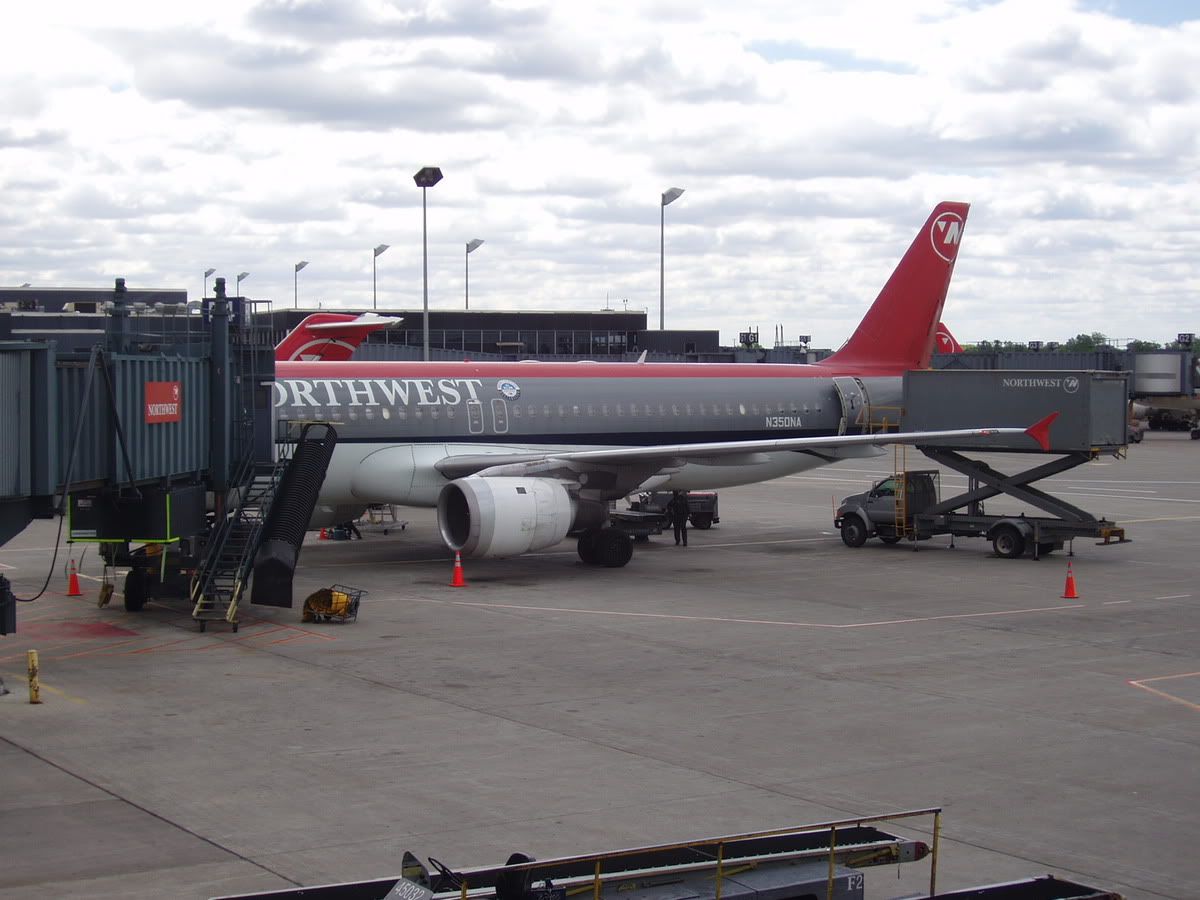 I boarded first, and I easily found 4A. I had a glass of water and continued to read my book.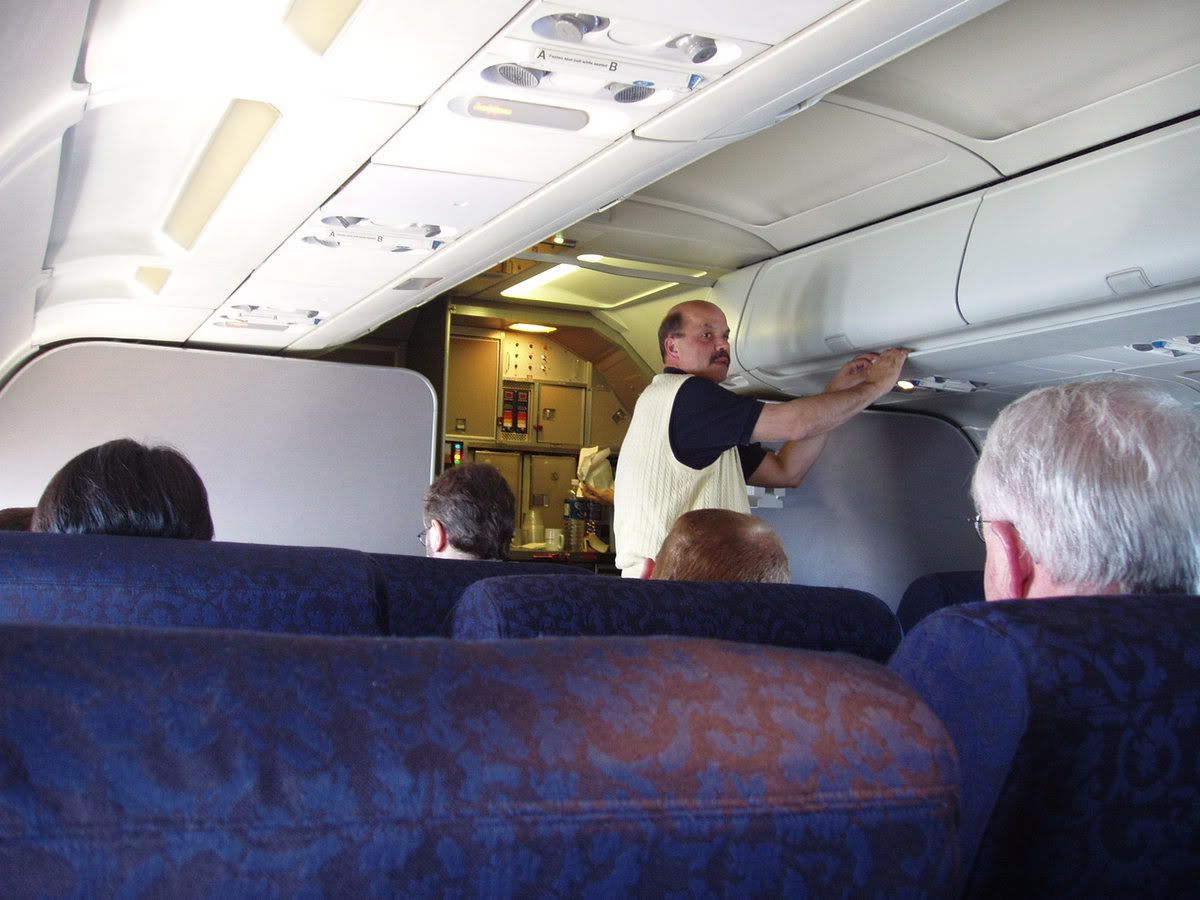 A passenger gets his bag.
We pushed back on time, and took off promptly. The crew announced that they would serve lunch in first class. I was hungry, so I was happy with the chicken and taco dish that they served. I washed it down with a nice beer.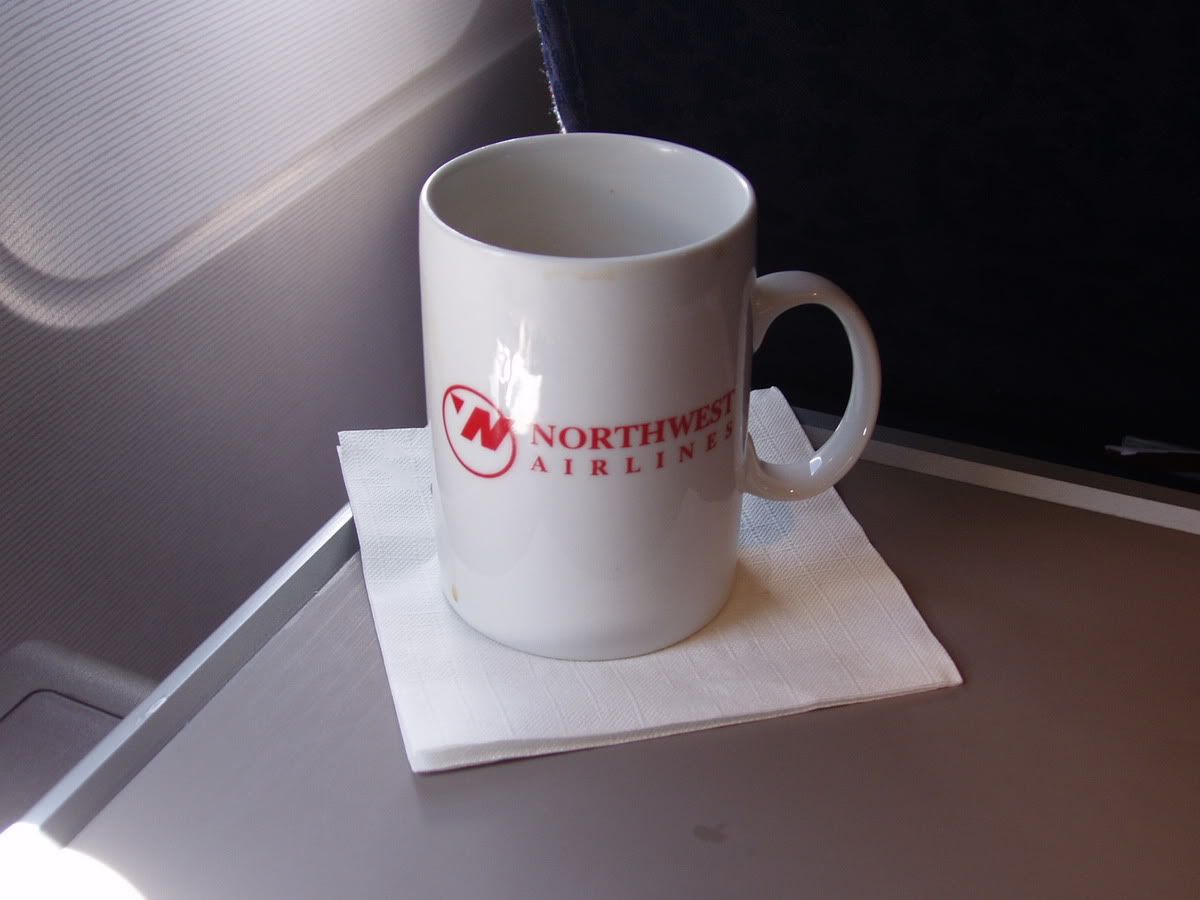 After lunch, I had a cup of coffee.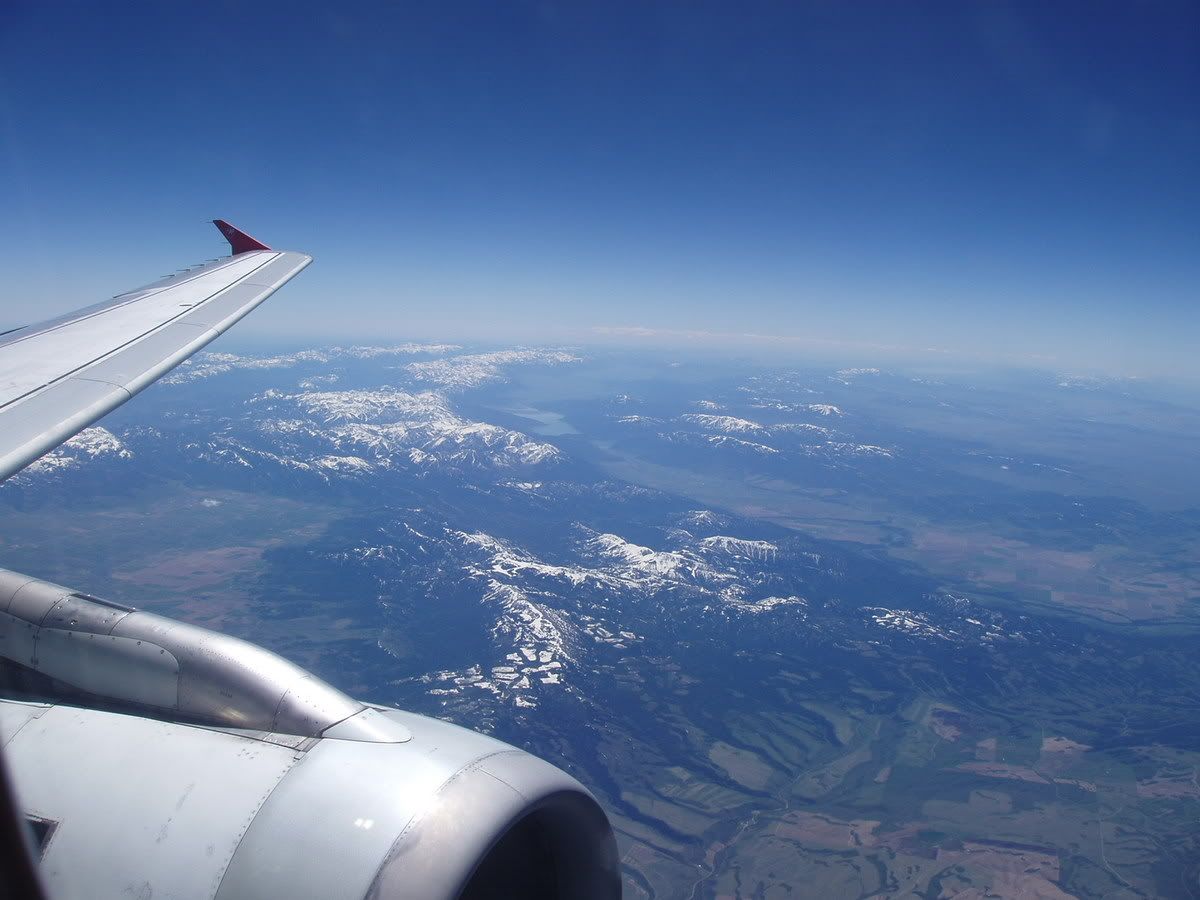 Crossing the Rocky Mountains.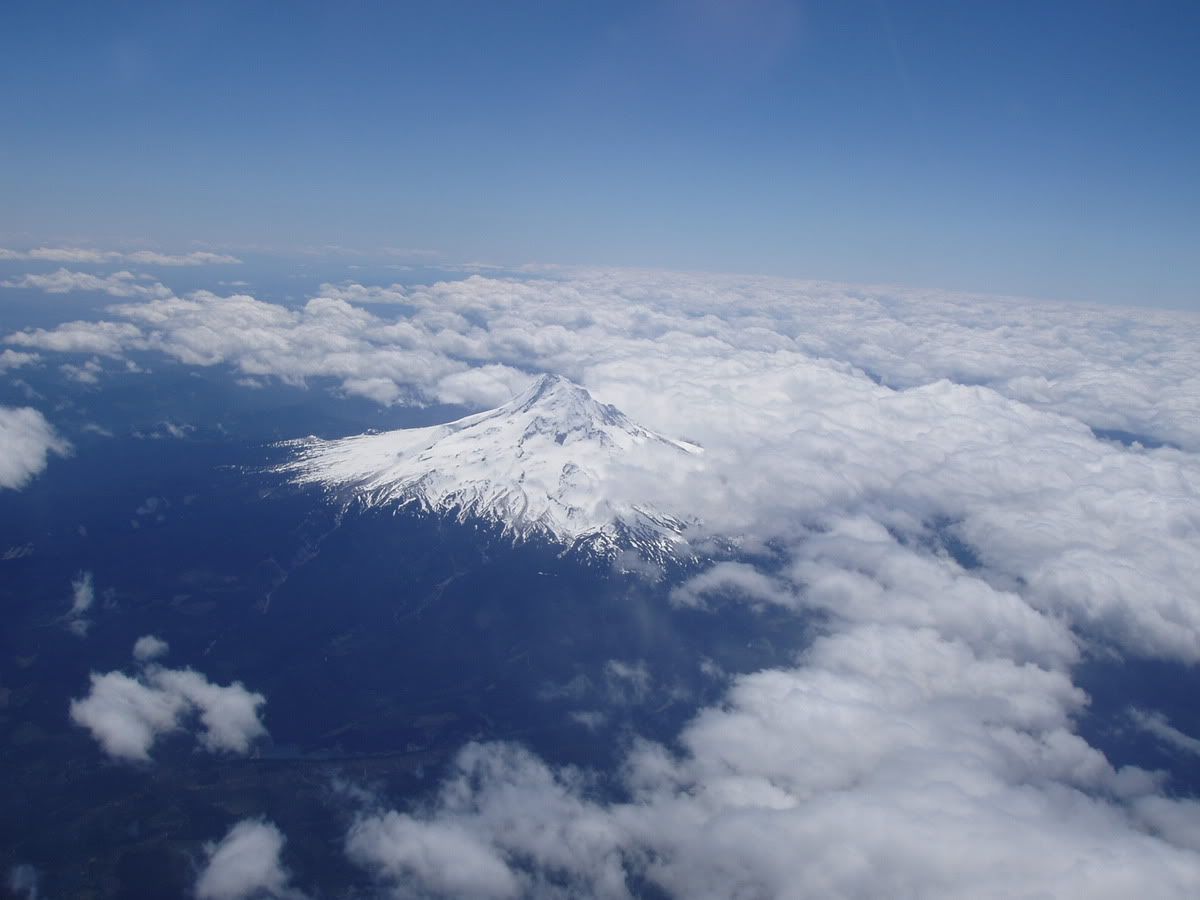 Mt. Hood, near Portland.
After three hours in flight, we began to descend into Portland.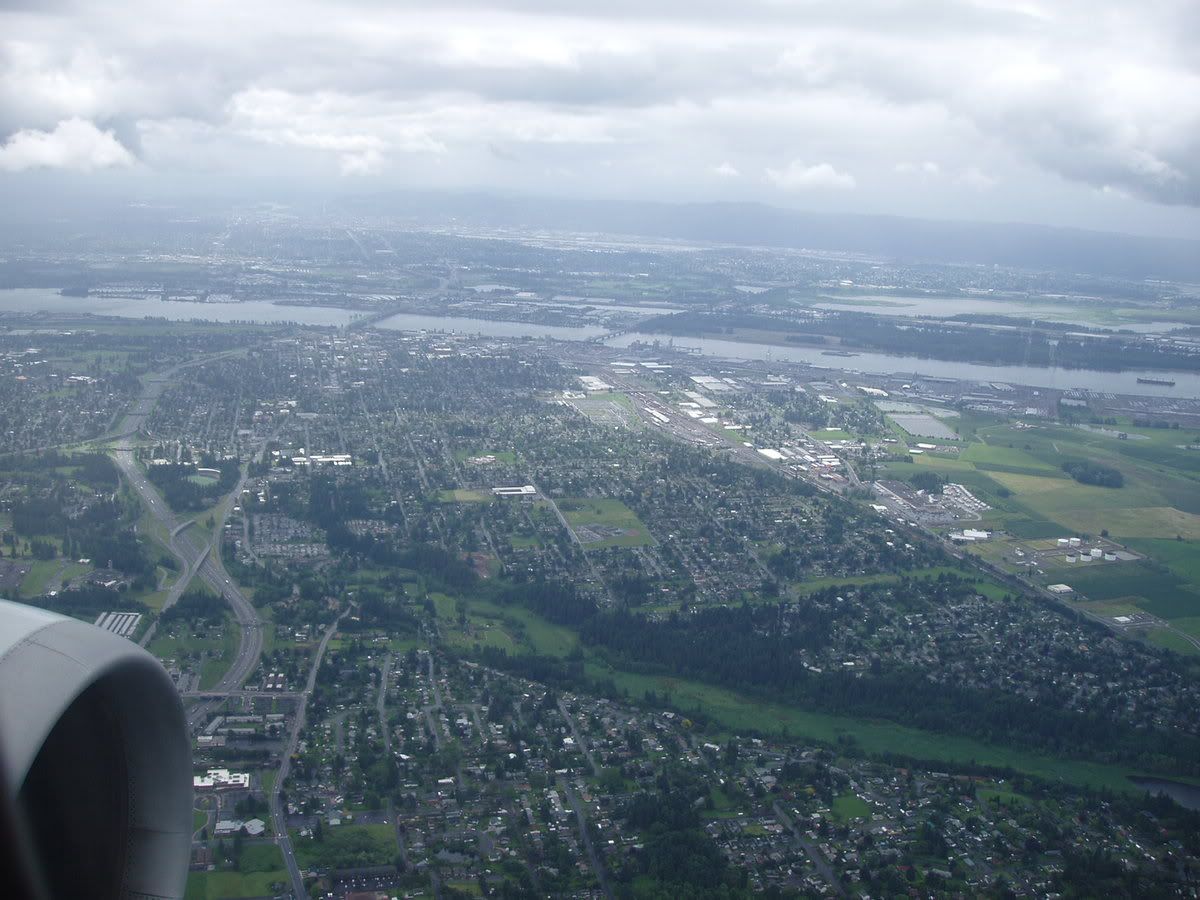 Portland suburbs.
Since Portland is not a very large airport, we parked quickly, and I got off. A Japanese agent from Northwest held a sign directing passengers to Northwest 5 to Tokyo.
Northwest 5
Portland – Tokyo
May 22, 2005
A332
9:30
After I reached the gate, the agent asked us to come to the desk to have our documents checked. He was the first agent in the trip to make sure that I had a valid visa for the PRC.
Shortly thereafter, it was time to board.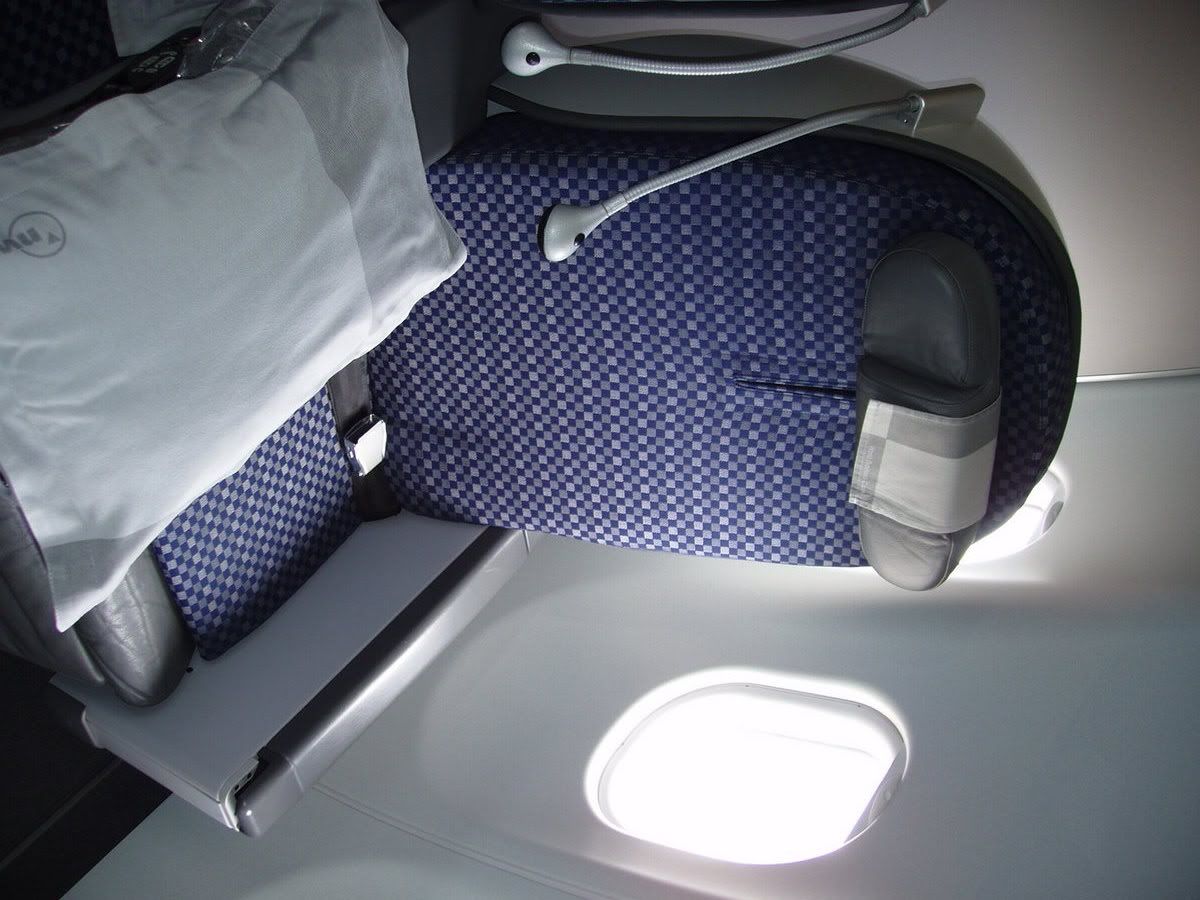 My seat, 6A.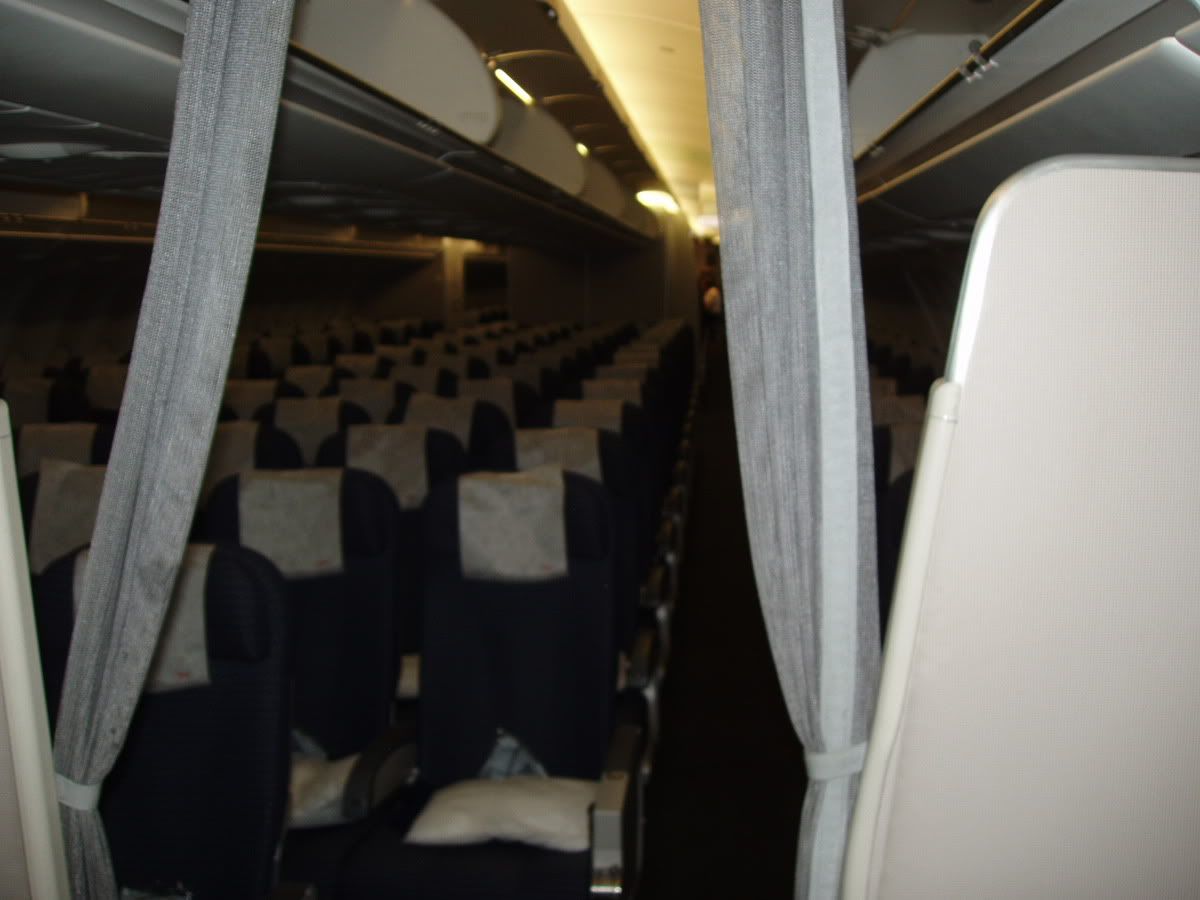 Coach class.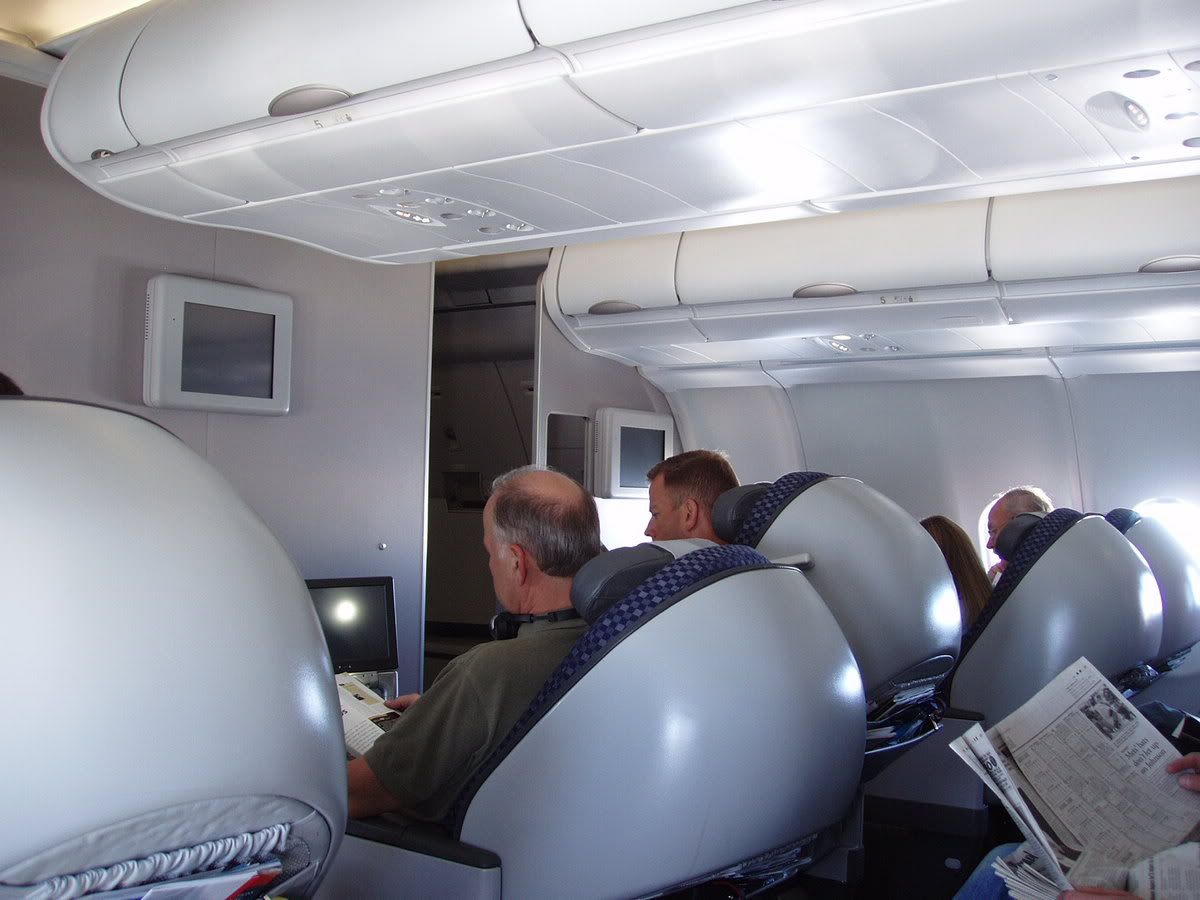 World Business Class cabin
At this point, the flight attendant for our section brought me a glass of sparkling wine, menu, dop kit and socks.
I continued to read while the other passengers boarded. Right before push back, the captain introduced himself and said that our flight would only take 9:30 to Tokyo. That meant a much earlier arrival than anticipated.
We pushed back, and followed a Southwest 733 and Alaska MD-88 to the runway. The A332 took just over 8000-feet on its takeoff roll.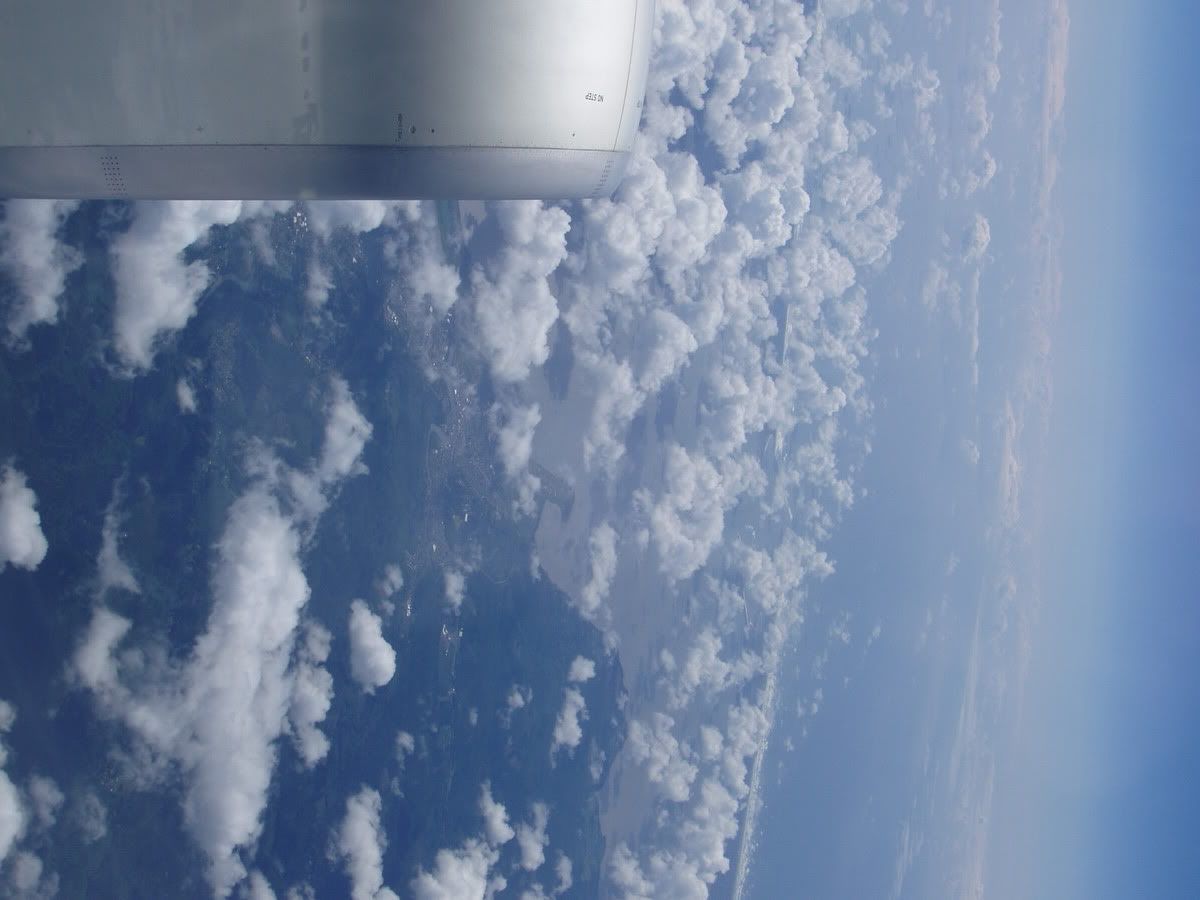 As we climbed out, I snapped this photo of the Oregon coast.
The meal service began in earnest after the distribution of the Japan Arrival/Departure Cards.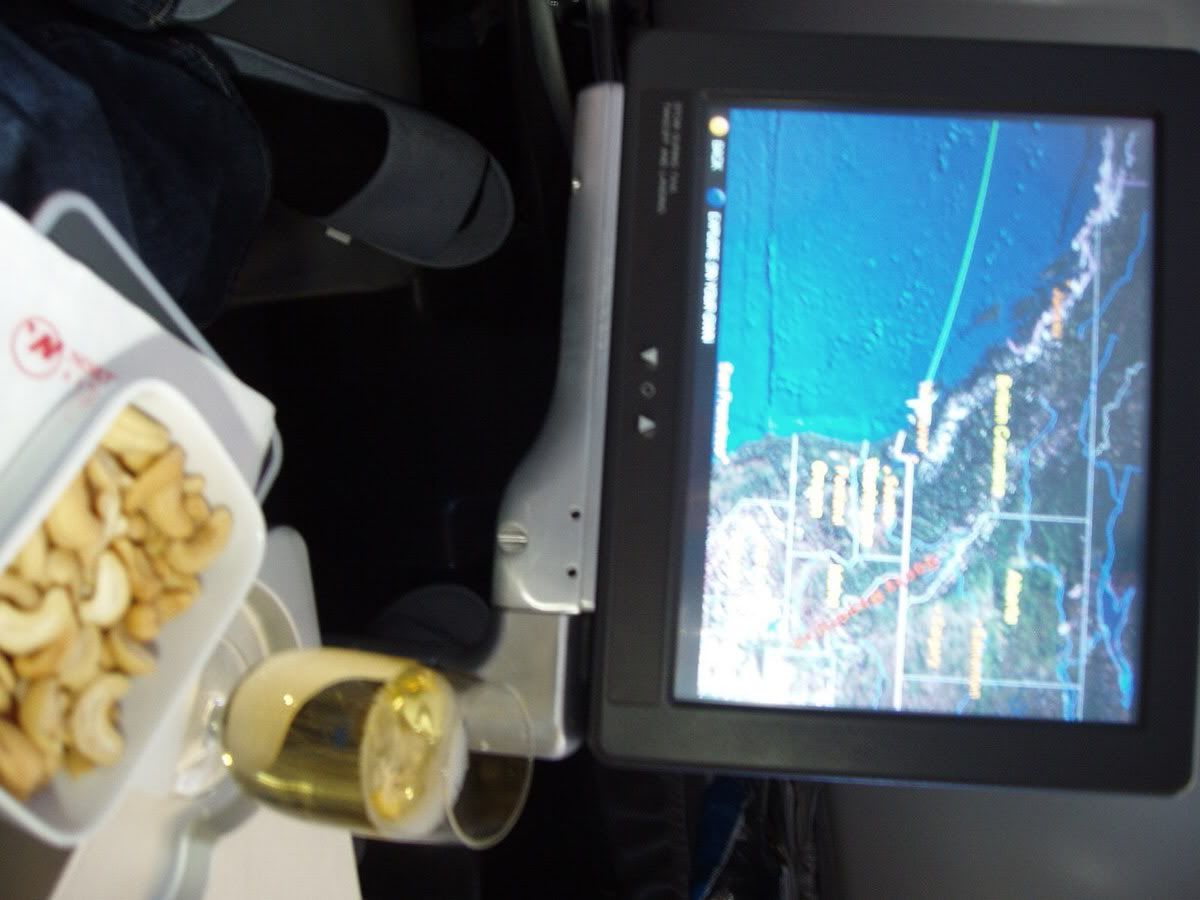 I started with cashews and a glass of Pierre Jouët champagne. I like champagne, so I continue to drink it throughout the flight.
The next course consisted of a salad, and, Gregg, the flight attendant, lightly dressed it just as I asked.
Finally, it was time for roast chicken and shrimp. The chicken was excellent….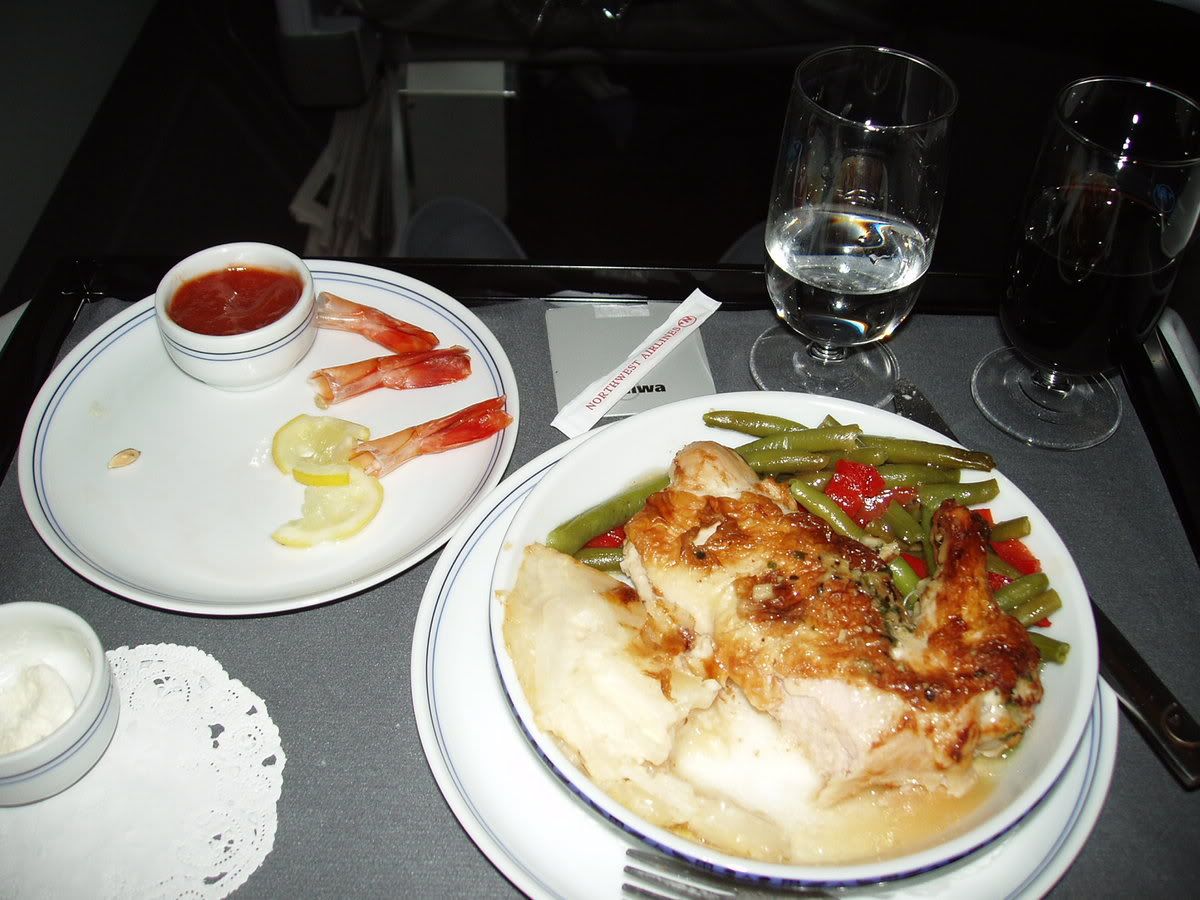 ….and the shrimp were so good that I forgot to take a photograph before I finished them.
Dessert consisted of chocolate ice cream and fruit.
After so much food (or, maybe, the seven glasses of champagne), I was ready for a nap. I slid the seat into the "optimum sleeping position," and slept for four hours.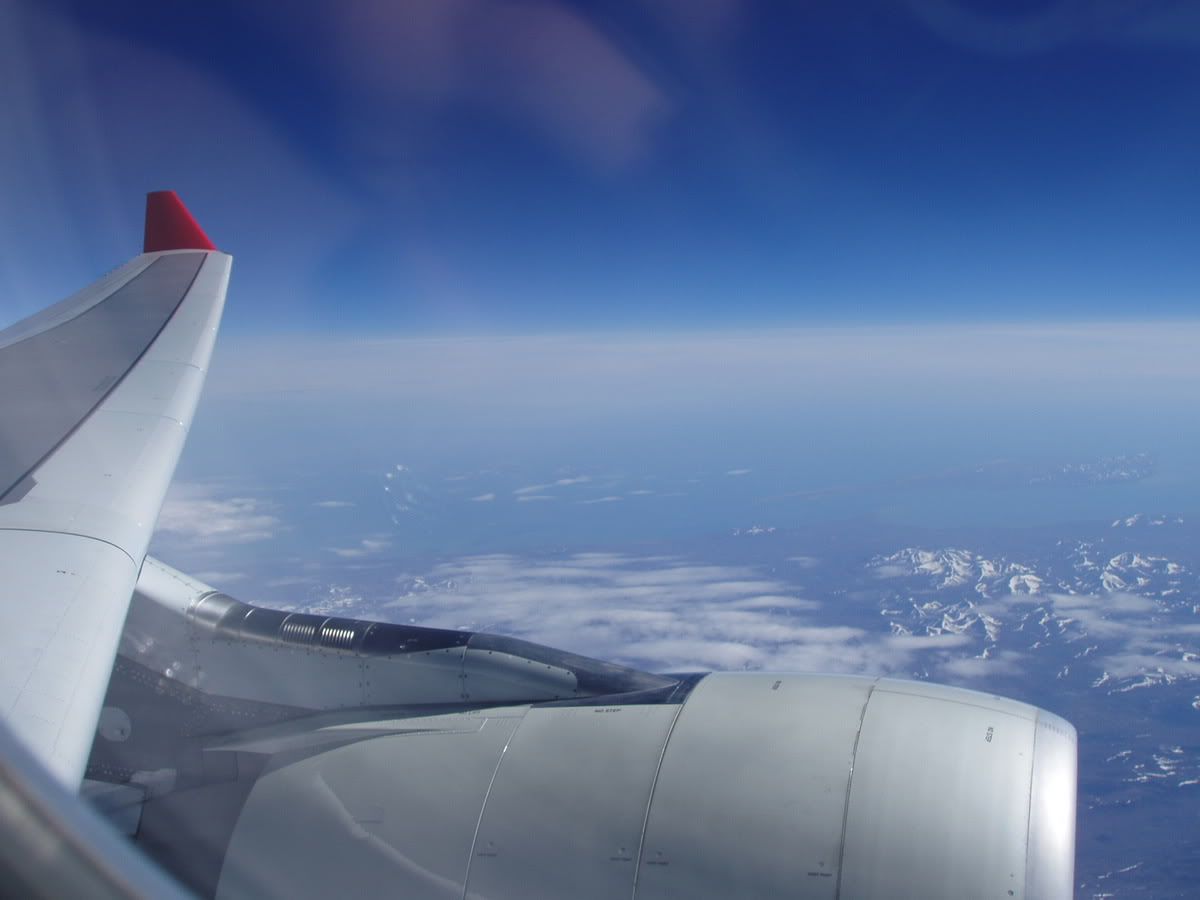 I did awake to take a photo near Cape Douglas, Alaska.
After my nap, I continue watched "Hotel Rwanda" on the PTV, and drank water to stay hydrated. I was most impressed with the Aveno Hydrating Spray in NW's bathrooms since it really did make you feel more refreshed than the sprays on competing carriers.
Soon it was time for breakfast. I don't know why NW serves breakfast at 4 PM Tokyo time or 1 AM Portland time, so I chose the Japanese breakfast since it had beef and fish.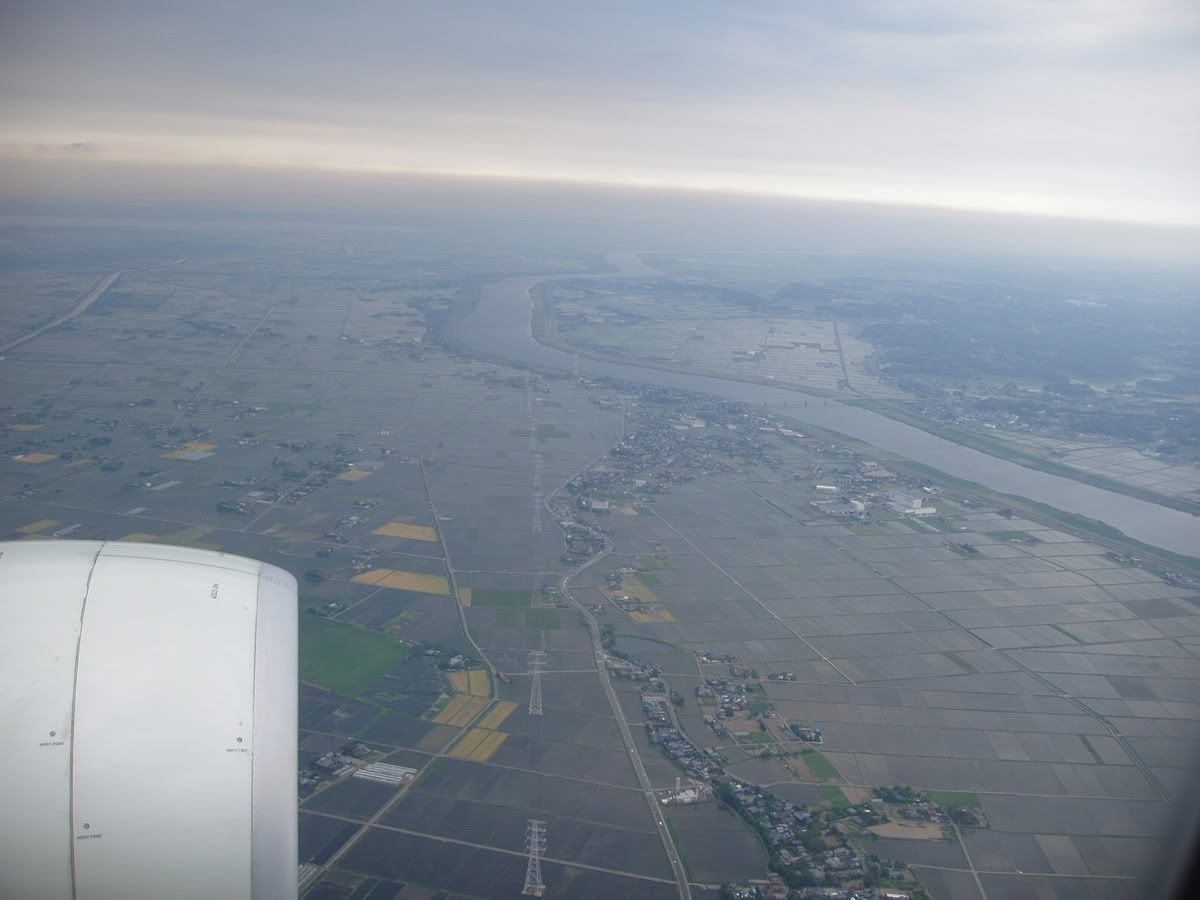 Descending into Tokyo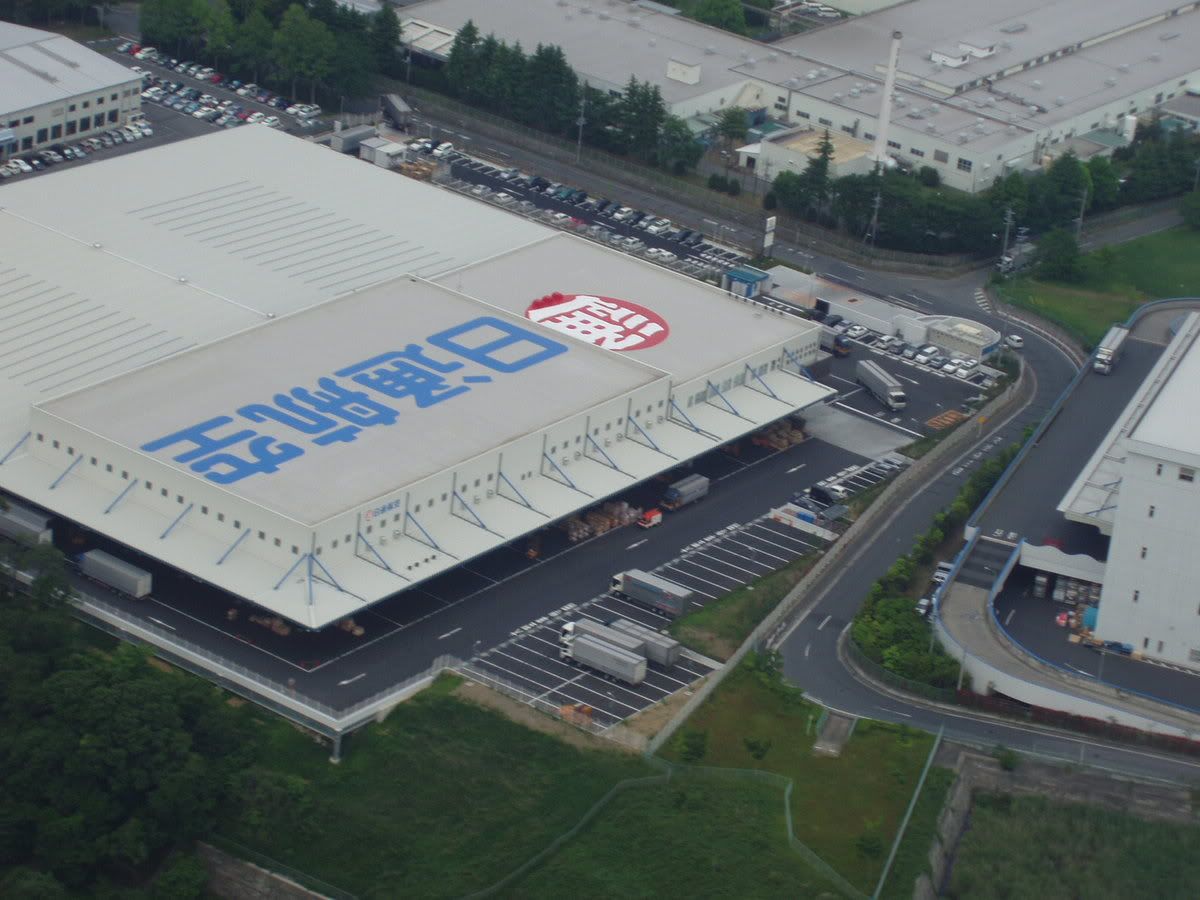 An advertisement for something near Narita
We touched down almost one hour early, and, again, I was one of the first off the airplane. I passed though security again, and then headed to wash up in the World Club.
Northwest 11
Tokyo – Beijing
May 23, 2005
A332
3:50
I spent just a few minutes in the World Club, and, I was so tired, I forgot to take any photos of the multitude of aircraft on the ramp.
I had the same seat (6 A) that I had on the previous flight, and I fell asleep after sitting down. The kind flight attendant left a menu for me to look at later and.
After takeoff, the crew distributed arrival cards, and I filled my out in case I fell asleep.
I chose the cold champagne supper for dinner, and, again, had a few glasses of Pierre Jouët. Then I feel asleep.
I awoke when we were told to raise our seats for landing in Beijing. I did so, and we landing a few minutes late in Beijing.
After passing though customs, I was happy to see that the Priority Bag tags had worked, and my bags were waiting for me.
Overall, NW is a great way to Asia, and I'll fly with them again on my next trip.