This is the second half of my trip to Venezuela (you can read the first half
here
). I had flown Chicago-Miami-Caracas on my way down, and booked my return trip via Dallas/Fort Worth.
Aside from the appeal of a more varied itinerary, the stop at DFW would allow me to see my parents, who live in Dallas and promised to come out to the airport to meet me. I was also able to upgrade on the DFW-ORD leg; I figured after five days in Venezuela and a long day flying, I'd appreciate the extra comfort.
Right before I came to Venezuela, my friend (who I'd been visiting in Caracas) decided to cut her stay short by a week and come back with me on the CCS-DFW flight. Her parents are both former TWA employees, and as such she was able to secure a standby seat in first class (she tried to phenagle on for me, but no such luck.) With our bags packed, we boarded a taxi – a real one this time – and headed toward the airport.
The daytime drive to Maiquetia airport was really picturesque, even though a good portion of it took us through some of Caracas' grittier neighborhoods. The Caracas-La Guaira highway hugs the sides of the Avila mountain, crossing steep gorges and plunging right through the mountain on its way to the Caribbean shore. It was encouraging to see construction starting on some sections of the highway – it's really in bad shape and could use the refurbishment. Finally we passed by the abandoned tollbooths at the entrance to the highway, threaded our way through a multilevel interchange and arrived on the airport property.
*********************************************
Caracas Maiquetia/Simon Bolivar Airport
Monday, June 27, 2005
Maiquetia was completely rebuilt during the glory days of Venezuela's oil boom, when the airport had regularly scheduled Concorde flights to Paris and the now-defunct flag carrier Viasa had dozens of daily departures all over the world. An all-new runway was carved out of the rugged coastal hills, and twin international and domestic terminals with jetways went up along it.
Although Viasa and the Concorde flights are long gone, the airport has kept pretty busy, and the grounds were impressively landscaped with palm trees and flowers. The international terminal is wrapping up a much-needed expansion, and longer-term plans call for reconstruction of the domestic building as well.
Both terminals are prime examples of 1970s architecture – lots of precast concrete, dark colors and low ceilings. American has a long bank of check-in counters on the west end of the check-in hall (along with Iberia, Grupo Taca, Avianca and a few others) while Delta and Continental are at the opposite end. There were police and guards are all over the place, so I decided it was best not to take any pictures on the landside.
Once through security, my friend and I cleared immigration and headed down towards our gates. I did a quick walk along the length of the terminal to get some pictures of airliners. The concourse was relatively empty; there were a few flights going out but things were generally pretty quiet: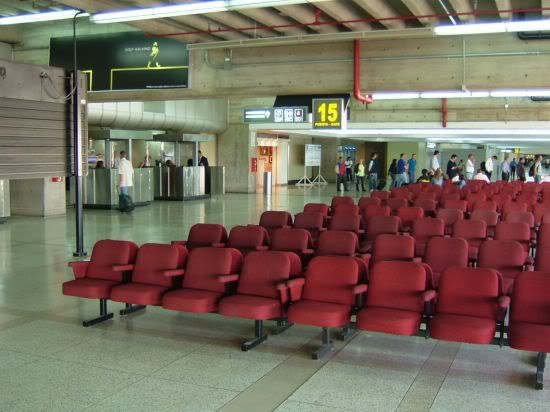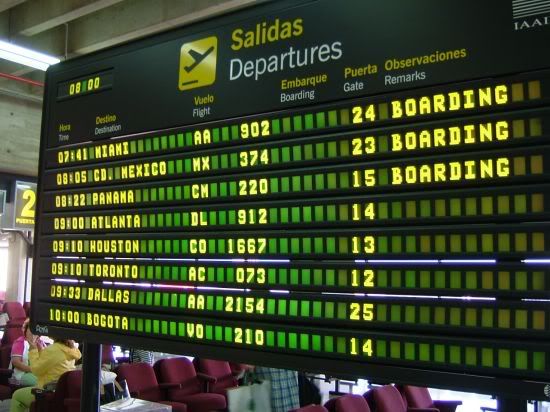 Here's American's morning A300 preparing to depart for Miami: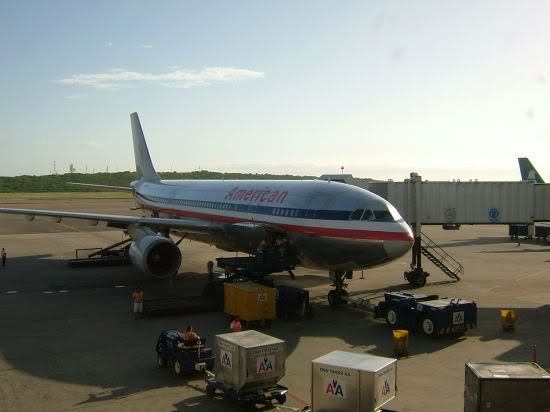 A Copa 737-800 just arrived after a relatively short hop from Panama City: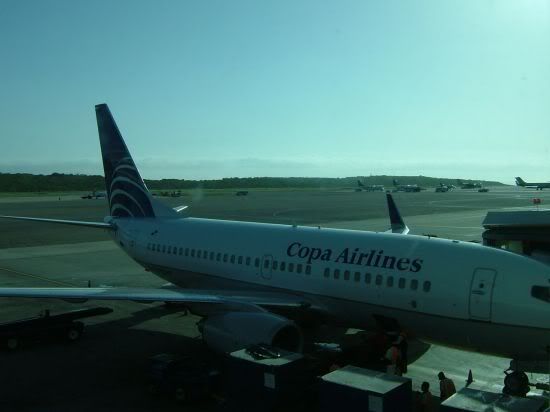 Here's a real treat: a Cubana IL-62, parked on a remote stand, with its departure to Havana still a few hours away. President Chavez has strengthened Venezuela's ties with Cuba over the last few years, and supposedly the HAV-CCS now does very well for Cubana: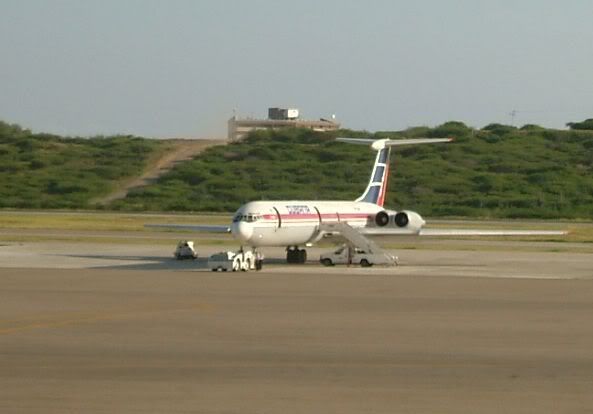 Between my friend's first-class seat and my Platinum status, we were able to get into Caracas' Admirals Club, which was a nice way to pass the time. It was very quiet inside, with a continental breakfast available and a nice view of the airfield. Most of the US carriers have aircraft RON in Caracas, so one by one they were all towed into their respective gates. Here comes a Delta 737-800, heading toward the gate to board passengers for Atlanta: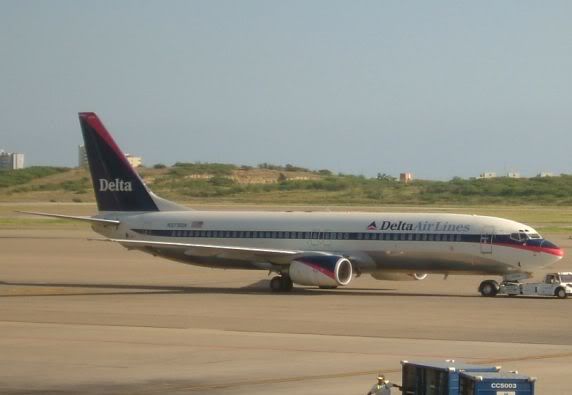 Finally, here's our 737 pulling into the gate: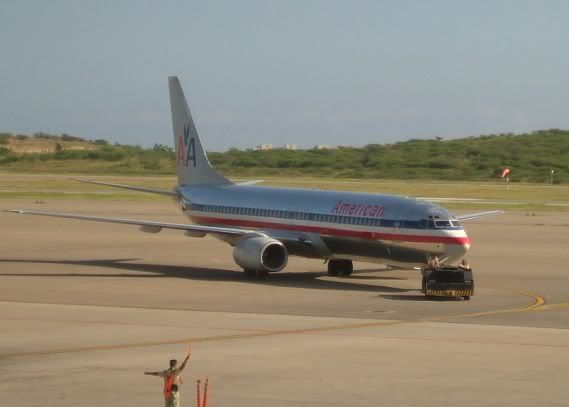 **********************************************
American Airlines Flight 2154
Caracas Maiquetia/Simon Bolivar (CCS) – Dallas/Fort Worth (DFW)
Departs CCS 9:33am, arrives DFW 2:12pm
Boeing 737-800, seat 25F
Flying time: 4 hours, 25 minutes
Like my inbound flight to Caracas, loads were on the lighter side today – probably only about 60 percent full. I had a section of three seats to myself, although a family of very boisterous (especially for early in the morning) Venezuelans was sitting across the aisle and in the seats behind me.
Parked at the gate, awaiting pushback: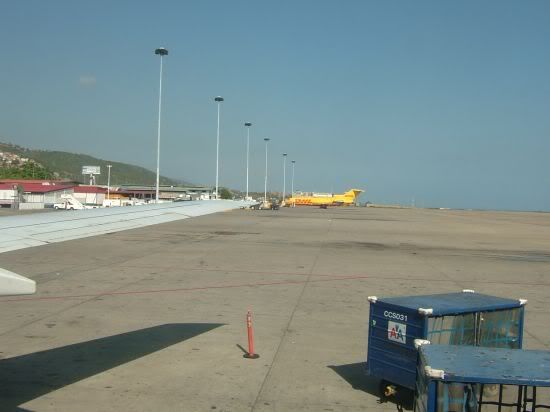 In the distance, an Air Canada A319 in the new color scheme was about to depart for Toronto: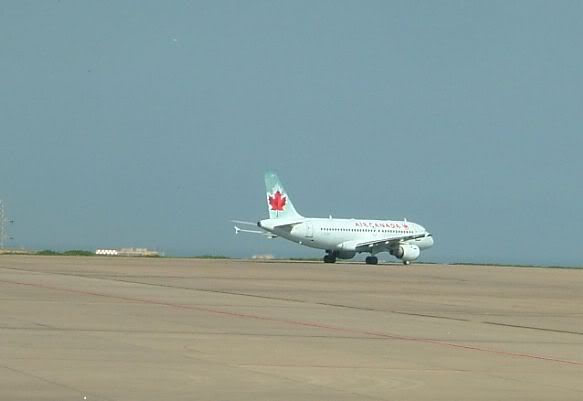 Heading out to the runway: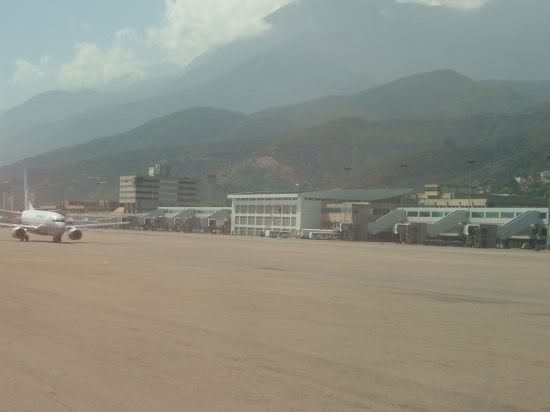 We pushed back and made the relatively short taxi to the threshold of runway 10. As we taxied the cabin crew seemed to be having difficulty with the video system; the English version of the safety briefing played without incident, but they couldn't seem to find the Spanish edition – they cycled through the French version, then back to English.
I had noticed the Delta and Continental flights – both of which had departed before us – were made to hold at the runway threshold for almost 15 minutes, even though there were no aircraft on final. Sure enough, we ground to a halt just short of the runway and sat there for about 10 minutes (although we did have some arriving traffic, in the form of a LAN 767 and Laser DC9.) While holding I got a nice view of the airport, with the huge mass of El Avila looming behind it: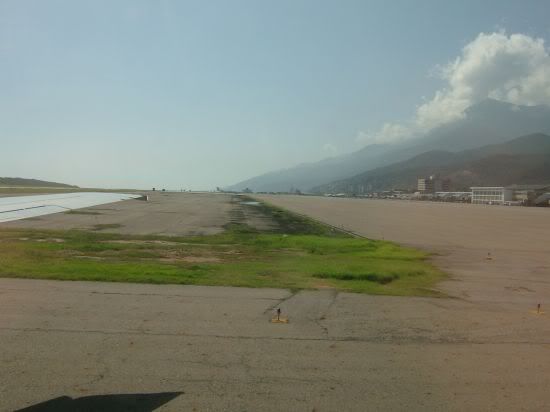 VIDEO: DEPARTING CARACAS
http://www.flightlevel350.com/viewer.php?id=3654
Takeoff on runway 10, heading east. Immediately after rotation you can see the original airport and row of hangars used by Conviasa, Laser and Aeropostal. Climbout is past the city of La Guaira, with Avila in the background.
Turning away from the coastline, back toward the northwest: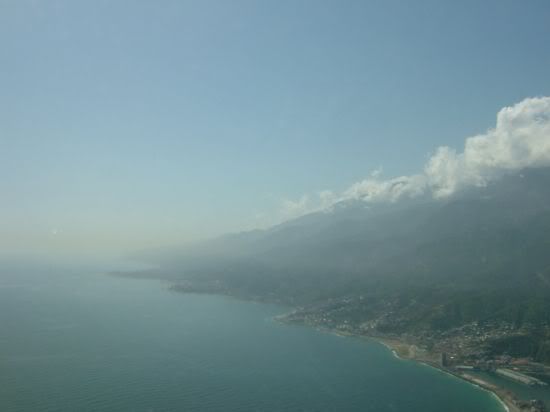 As we climbed out the crew were finally successful in playing the Spanish version of the video (lucky thing we didn't run into trouble during takeoff, since most of the plane was speaking Spanish!) We swung even harder northwest, heading up to our cruising altitude over the Caribbean: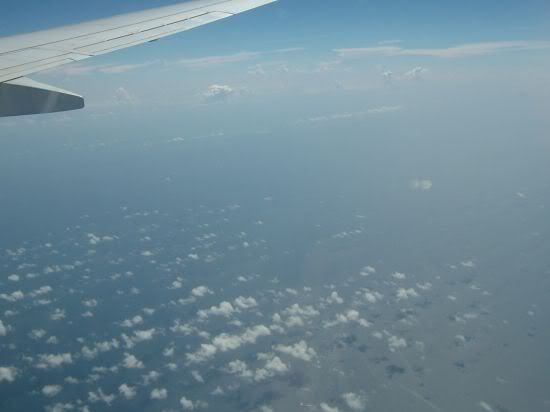 Once we hit cruising altitude the first movie was started. It was "Because of Winn-Dixie," which I wasn't particularly interested in seeing. The crew also came down the aisle with breakfast – our choices were an omelet or cold cereal. Going against my better judgment, I picked the omelet, and immediately wished I hadn't. The meal was prepared by American's Venezuelan caterer, so it didn't have the spongy quality that American's domestic omelets have. That's about the only good thing I could say about it, though. It was accompanied by a croissant, a muffin, sliced fruit, potato wedges and a small sausage:
A view of the cabin while breakfast was being served: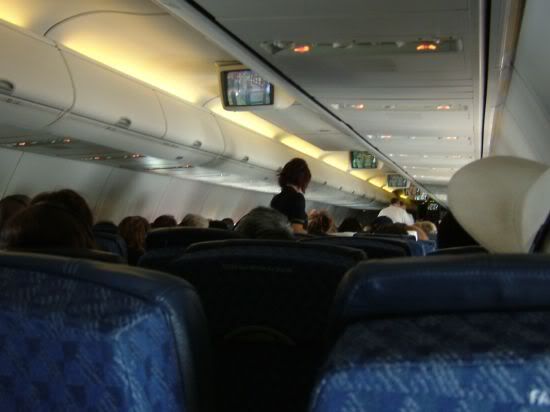 The first half of the flight was more or less a straight shot to Dallas, and we passed just to the west of the island of Curacao. It's apparently a nice place with beautiful beaches, but from the air it looked dry and pretty barren: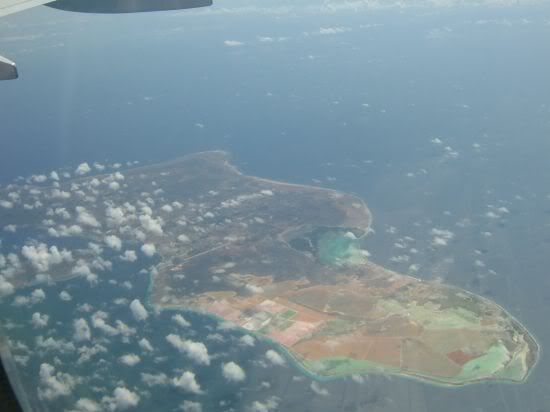 As the crow flies, the fastest route to DFW would have taken us straight across the top of Cuba, but for obvious reasons we had to make a lengthy detour over Hispaniola and then across the breadth of Florida. Here's some views of the Dominican Republic, which I'd always imagined to be green and verdant, but which was looking pretty unhospitable today: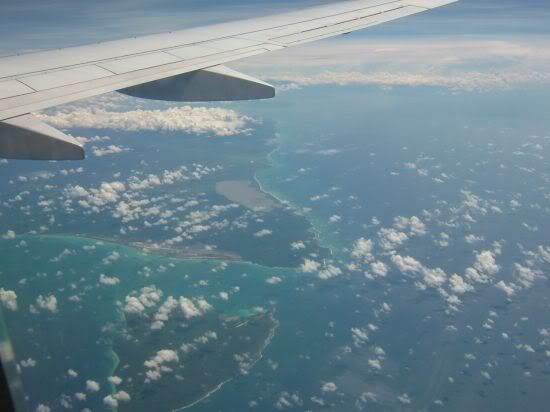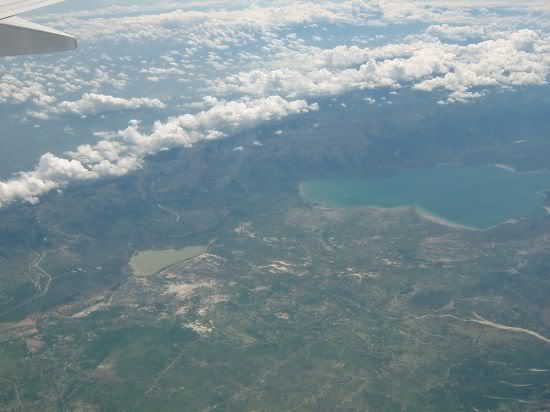 After breakfast was cleared away, my friend came back from first class and sat with me for a few hours. We filled out the crossword in the
American Way
magazine – which was more difficult than we expected – and then tackled the Mensa Quiz. There was an article in the back of the magazine about the new International Terminal D at DFW (when the magazine went to press, the terminal should have been serving passengers, but the opening was pushed back last month.)
Passing over one of the Turks and Caicos Islands: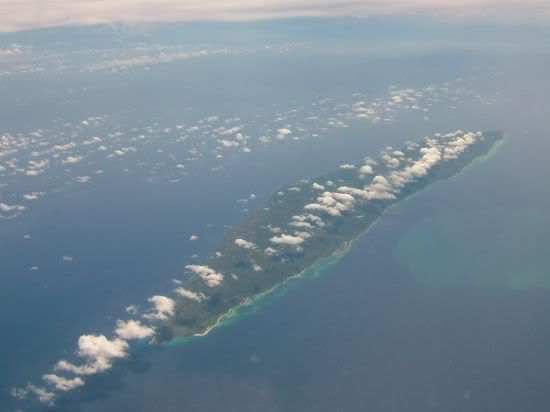 When the first movie ended, the crew screened "In Good Company," which I'd seen on my flight down to Caracas. By the time the movie ended, we had passed over the Gulf of Mexico and made landfall over the Mississippi River delta; I could see the Lake Ponchartrain causeway slicing north of New Orleans: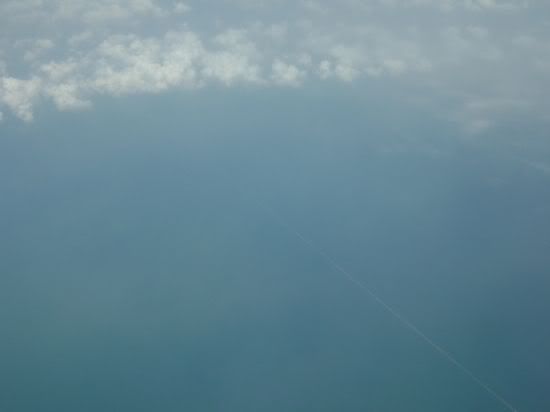 By that time we were preparing to start our descent into Dallas and the crew went down the aisle distributing US customs forms. Connecting gate information was read over the loudspeaker; we'd be arriving into Terminal A (I missed the opening of the new terminal by just a few weeks) and both my Chicago flight and my friend's Nashville connection would be leaving out of Terminal C. At the very least, it'd be a chance to try out the new SkyLink train.
Starting our descent into Dallas. It was early afternoon, and very hot outside (about 95 degrees). Cloud buildups were starting to pop up all over north Texas – pretty typical for this time of year: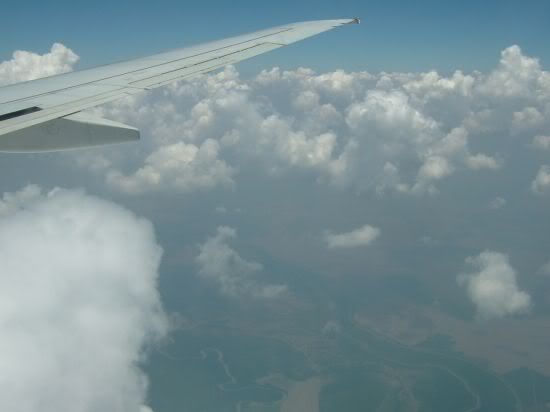 Our 737 passed into DFW airspace over the southeast "fence post" at Scurry-Rosser and descended steadily over Seagoville, Hutchins and the Oak Cliff section of Dallas. Although there was a lot of heat haze, I could see downtown Dallas somewhat faintly: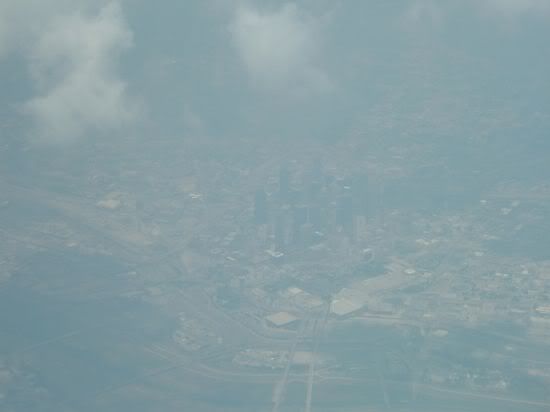 Even though I've lived in Chicago for almost six years and it's become a second home, flying into Dallas always makes me feel at home – I know every street and every landmark, and I can chart our approach path exactly. Our route today took us just to the northwest of the now-very-controversial Love Field: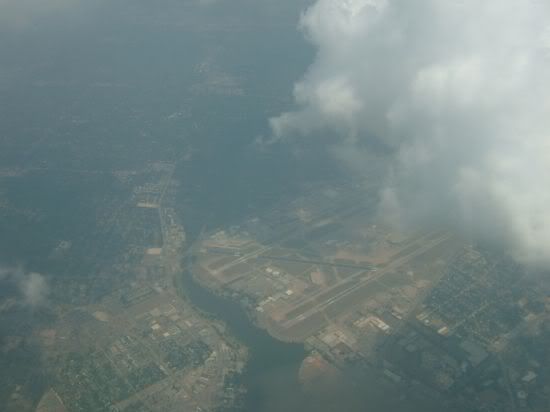 Here we are passing right over my hometown of Carrollton. In fact, in this photo the aircraft is almost directly above my parents' house (although you can't see it in the picture). Right after I took this picture, we flew into a cloud and hit a patch of VERY rough air: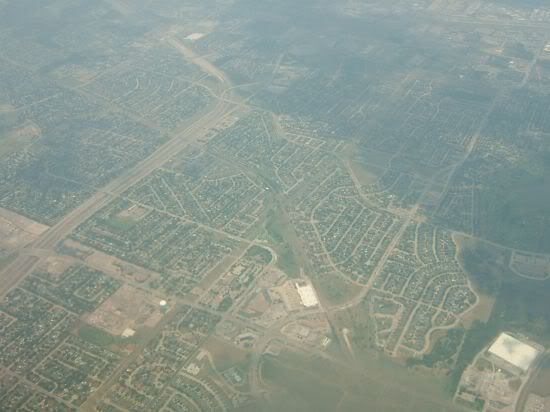 Making an almost 180-degree turn over the suburban frontier in north Carrollton and Castle Hills: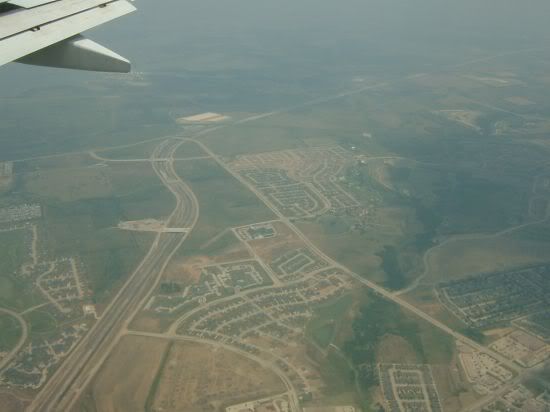 VIDEO: LANDING AT DALLAS/FORT WORTH
http://www.flightlevel350.com/viewer.php?id=3653
The video starts on long final, as we pass the Grapevine Mills shopping center just south of Lake Grapevine. It's a normal summer day in Dallas, dry as a bone – just look at how parched the fields look down below. Landing is on runway 17C.
After turning off the runway, we crossed 17R-35L immediately, which is rare… ordinarily you have to wait for three or four aircraft to depart the inner runway before you get to cross. We pulled into our gate at Terminal A right alongside American's 737 retrojet, which I had just seen at Miami a few days earlier: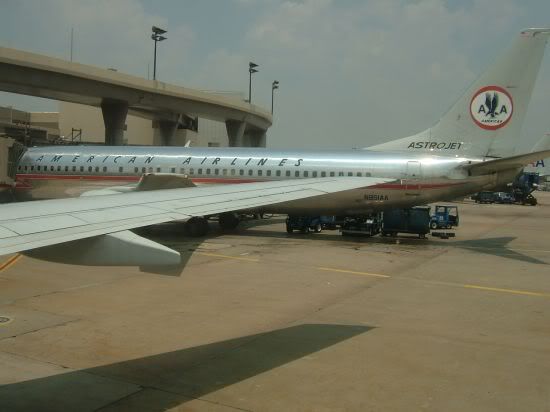 ********************************************
Dallas/Fort Worth International Airport
We deplaned and immediately went upstairs to the sterile arrival corridor, cleared immigration and then went down two levels to baggage claim and customs. American built its FIS facility at DFW about 15 years ago, but they've clearly outgrown it. Some of the five baggage carousels were handling two flights; passengers kept pouring down the escalator into the small customs hall. Besides our Caracas flight, there were arrivals from London Gatwick, San Jose (Costa Rica), Paris, Frankfurt and Mexico City.
Finally we took the escalator back up to the departure level and met my parents, who had thoughtfully brought Chick-fil-A (which, for some reason, we don't have in Chicago.) They volunteered to drive us over to Terminal C, where we said goodbye – it was strange only seeing them for about half an hour – and headed back through security.
My friend's flight to Nashville was boarding, so I left her at the gate and decided to take a spin on the new SkyLink elevated train. The nearest station was just a few gates down, and all I can say is that DFW really put some time and money into SkyLink. The stations are huge and very impressive – lots of glass and wide open spaces. I had to keep reminding myself I was at DFW – where were the low ceilings, stained carpets and throngs of people?
All convenience and modernity aside, the best part of SkyLink is the amazing view of the airfield and terminal area. The train passes literally right above dozens of aircraft parked at the gates below. It moves pretty fast, so I limited most of my photography to the short periods when we stopped at stations: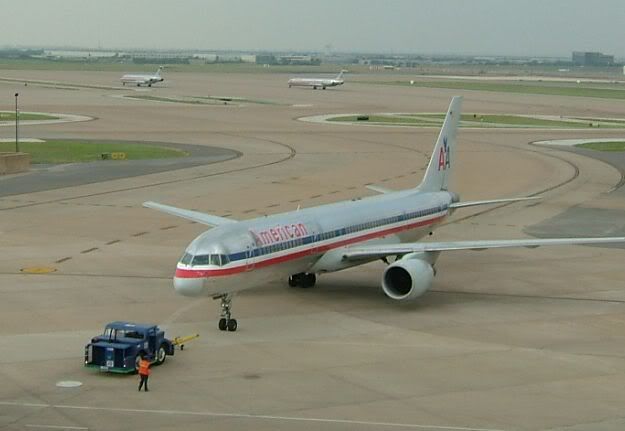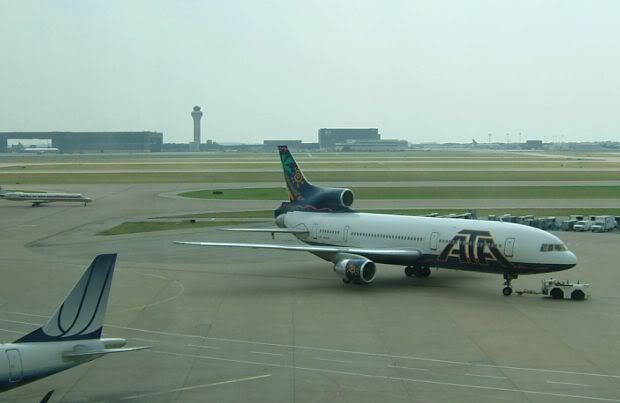 Looking toward the new international terminal, which for all practical purposes is finished and just waiting for passengers: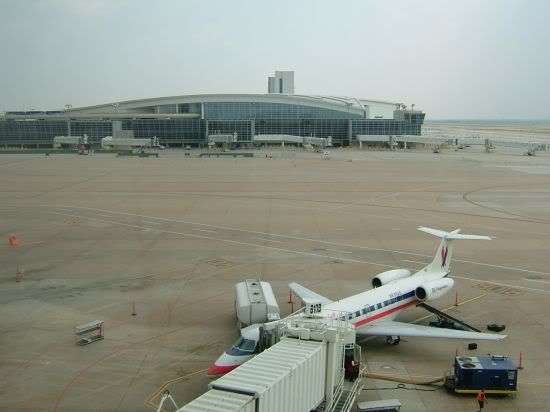 Continental 737s parked at the very lightly used Terminal E, which seemed empty without swarms of Delta Connection CRJs: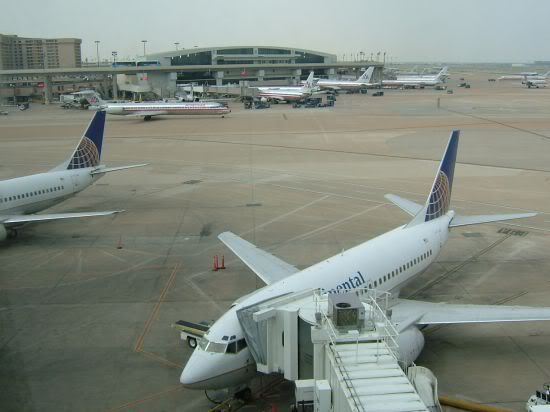 **********************************************
American Airlines Flight 2364
Dallas/Fort Worth (DFW) – Chicago O'Hare (ORD)
Departs DFW 5:00pm (6:15pm actual), arrives ORD 7:25pm (8:15pm actual)
McDonnell-Douglas MD80, seat 5A
Flying time: 1 hour, 50 minutes
As I mentioned earlier, I had managed to upgrade to a first-class seat for this comparably short flight. The first-class cabin on American's MD80s aren't too spectacular – I've always thought the seats had kind of a strange design – but the wider armrest and extra seatback pocket are great.
No sooner had everyone taken his seat than the captain came overhead to say we'd been given a one-hour flow control delay on our departure to Chicago (I wasn't entirely surprised; O'Hare tends to back up in the afternoons, especially during the summer.) The first-class flight attendant came through with pre-takeoff drinks and took our dinner orders; after that we were pretty much left on our own.
At the gate, preparing to push back. Despite the delay, we left the gate on schedule, presumably to allow the incoming flight in: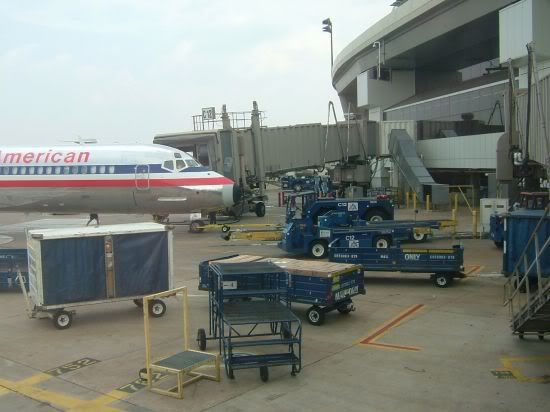 We taxied out to the large holding pad adjacent to the 17R/17C runways; runway 17C is being extended to a length of more than 13,000 feet and the construction was visible as we turned and held. As we passed by Terminal A, I could see plenty of widebodies – 767s going to Paris, Zurich and Sao Paulo, plus 777s bound for London and Frankfurt.
After about 40 minutes, the captain announced our departure had been moved up and we'd be taking off. We took off to the south on 17R: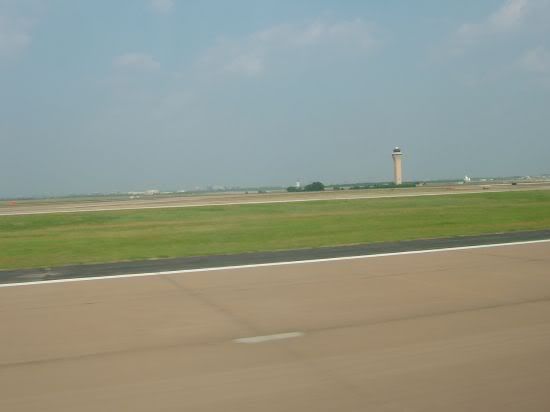 Passing by the former Delta hangar: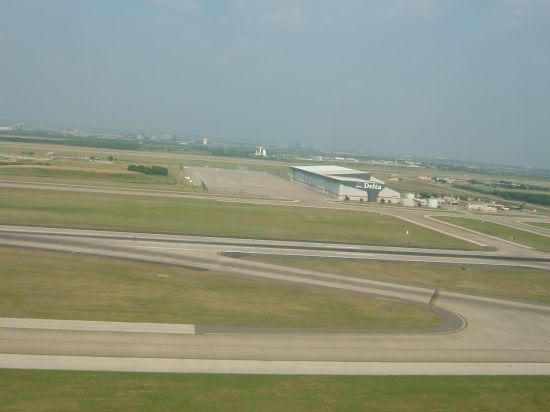 Shortly after takeoff, leaving the airport property and passing State Highway 161: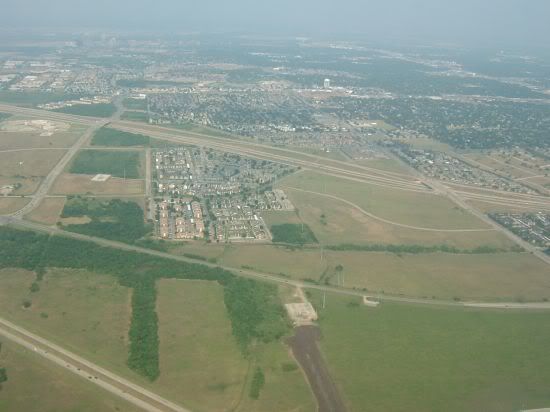 The late-afternoon heat had gotten very strong, and it was basically too hazy to take any pictures for the rest of the flight. Once we left the runway heading, we turned north over Grand Prairie and then proceeded over north Dallas, Plano and Frisco on our way back toward Chicago. From there our route was the standard strack north – across the southeast corner of Oklahoma, the northwest portion of Arkansas, then right across Missouri and into Chicago.
I was starting to get fairly tired and was on the sunny side of the plane, so I wasn't paying as much attention to detail on this flight as I did on the CCS-DFW leg. Dinner was served about 30 minutes after takeoff, starting with a ramekin of warmed mixed nuts – our entrée choices were chicken or salmon. Not being a seafood fan, I picked the chicken, which was grilled and served with barbecue sauce. Sides were pretty typical – a salad, roll, mixed vegetables and cup of chocolate mousse.
My seatmate on this flight was an older businessman type who worked on his laptop for most of the trip. Shortly after takeoff, the man in front of him reclined his seat, which (for a first-class seat) cut down on his work space pretty significantly. He spent a lot of time sighing and rearranging his computer. I couldn't blame him; I almost never recline my seat and don't really understand why it's necessary on a two-hour flight.
About an hour after leaving Dallas we started our descent into Chicago; by now the haze had grown so thick I couldn't even see the ground. After about twenty minutes' descent, I could faintly make out the southwestern suburbs of Chicago and the Enrico Fermi particle accelerator in Lisle.
Our downwind leg took us wayyyyyy out to the northwest of O'Hare, almost out to the town of McHenry (more than 30 miles from the runway). We made a long, sweeping 180-degree turn onto final, and as we leveled off I could see the glare from two other aircraft in line ahead of us. The letdown onto runway 14R was the usual affair over Crystal Lake, Barrington, Palatine and finally Rolling Meadows, then low over the Northwest Tollway and Centex Industrial Park.
The best part of landing on 14R is the relatively short taxi to Terminal 3, and less than five minutes after touchdown we were pulling into our gate on Concourse H.
*********************************************
That wraps up the trip to Caracas. As I said in the first report, it was a phenomenal trip, and one I wouldn't mind taking again. Although American lost my bag on the outbound trip, the inflight service was just fine, and my flights to and from Caracas were empty enough that I was able to really stretch out and enjoy myself. Throw in plenty of AAdvantage miles, a decent airfare, and it was a good deal.
I currently don't have any travel planned, but it's starting to look like I'll be doing some business travel in the next month – either to Knoxville or Orlando, depending on where the meeting ends up getting held (guess which city I'm rooting for.) Stay tuned until then!