Hi to all,
This is my first post on A.net and I guess a trip report is a nice way to start.
Actually it's going to be a double report as I'll try to compare the old and new business class products on NH flights between NRT and CDG.
I fly NRT-CDG R/T several times a year and after having tried AF, JL, LH and OS, I'm definitively convinced that ANA has by far the best product. I still need to try VS and BA however.
The first one was flight NH205 NRT-CDG (B747-400) on February 1st 2005 with ANA Super Style C product, the second one was on June 21st 2005, flight NH 206 CDG-NRT with the ANA New Style C product. Sorry for the quality of the pictures but they were taken with my PDA. I hope you'll enjoy reading these lines. Let's go on boardc
February 1st 2005
Flight: NH205 NRT-CDG
Boeing 747-400 (reg JA403A)
Flight Time: Approx. 12 hours
View Large
View Medium


Photo © Digitalex Wiecka
The trip began with a ride on KEISEI SKYLINER train from Nippori Station in Tokyo to Narita Airport. This train provides really great value. 55 minutes from Tokyo for around 2000 JPY (approx. 20USD) and very wide seat pitch compared to JR's NARITA EXPRESS or the so-called LIMOUSINE Buses. If you plan to go to Tokyo I really recommend this train.
I arrived at the airport at 9:30am for a departure at 11:50. The airport was pretty busy with many Chinese people going back home for New Year. I didn't plan to fly in C that day but after processing my e-ticket the lady at the checking counter asked me if I wouldn't mind flying C today as the flight was overbooked. Well no problem at all for me lady as far as you can get me a seat on the 2nd floor, which she did. Second time in a year that I got a free upgrade. I usually upgrade on one leg of a round-trip using FF miles, and most of the time on the CDG-NRT leg as flying west is painful on a 12H trip, but I have to say that the experience is much better when leaving from NRT. I left the check-in counter thanking the lady for the good surprise and proceeded directly to security and passport control.
After a quick stop for duty free shopping, I went to the ANA lounge to grab something to eat as my breakfast was already far away. The lounge was rather crowded but I could take a seat with a nice view on the planes waiting at their gates.
Narita used to be a paradise for 747 fans like me but they tend to disappear little by little. 747 classics are almost gone from ANA and JAL's fleets and many operators switched from 744 to 772ER or 773ER recently. The triple-seven is a nice plane, but for me nothing comes close to a 744.
Anyway back to the lounge report. Food was somewhat disappointing. Lots of muffins, crackers or processed cheese but nothing exceptional. A wide range of drinks were available however, from sodas to Wine, beer or whisky. As it was only 10:30am in the morning I took a Perrier with some lemon and a bagel with cream cheese. Wireless Internet was provided in the lounge. I checked my email and killed watching planes before boarding. At 11:30 I left the lounge for the gate. Boarding was starting and I could see that the plane was indeed packed, at least in Y.
Today's plane was one of the three usual 744 going to CDG at this time (JA403A, the other ones being JA404A and JA405A). I was welcomed at the door by the FAs who showed me the direction to the stair, and then took my seat on the second floor (73K). I really like the second floor on the 744 for the quiet atmosphere and I also find the bins between the window seats and the wall to be very useful. Much better than overhead ones. At this time the flight to Paris with 744 configured with the old business class seats. Wide and comfortable but not lying flat. Welcome drink was served (OJ or Champagne, but you can ask for Green tee too), and after a long taxi to RNW 34L we took off. On take-off and landing, ANA shows on the main screens a view from a camera located on the nose of the aircraft. It is always very impressive, especially on a fully loaded 744 going for a 10000kms trip!
Shortly after take-off the IFE started and the lunch service started.
Before lunch we were offered drinks (I took an ASAHI beer) with and assortment of olives, smoke salmon, spicy salami, fried TOFU and Japanese rice crackers.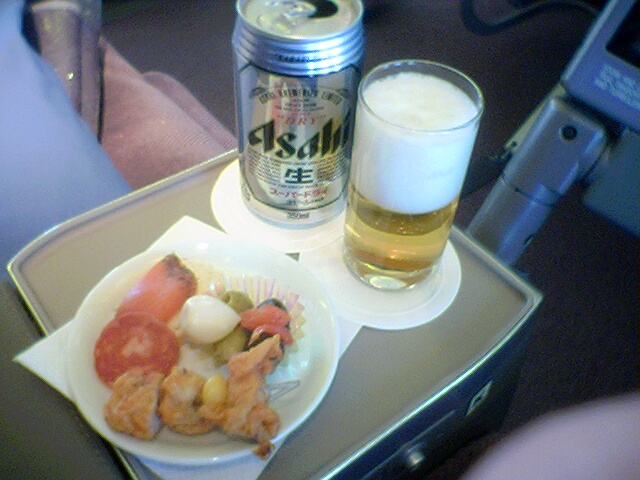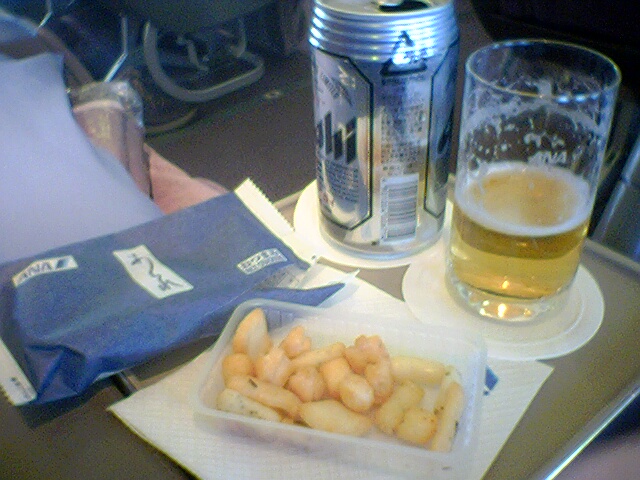 Very good to open your appetite. Then the main course was served. I choose the western course with fish as the main dish (other choices were beef or full Japanese course).
The appetizer were ANKIMO toast (ankimo is a Japanese delight made from monkfish liver, it tastes like Foie Gras with a subtle seafood taste), roast potato filled with cheese and ham (unusual but not bad), green beans wrapped in a slice of bacon, sun dried tomatoes and raisins. All of them were really good and original but I could have eaten twice the amount served without any problem.
The main dish was grilled scallops and sea-bream with chicory and saffron cream sauce, followed by a salad and cheese.
Desert consisted of fresh fruits and a choice of cake.
While I took only water with the meal I asked for a cognac to go with my coffee.
IFE is not the best you can find on the industry but is well enough. First of all, it is indeed working! No need to reboot it all the time like on many other companies. It provides AVOD with a selection of recent movies, old classics and short programs. I start watching a movie I actually don't remember as I slept almost right away. I eventually woke up 4 hours before arrival.
Something I really appreciate on ANA is the wonderful service provided by the F/A. They are very nice and efficient but without disturbing you like some F/A on other Asian carriers. In some way they can feel when you need something or when you just don't want to be disturbed. And indeed a little bit after I woke-up, a F/A came with a bottle of water and ask me if I need anything else to drink or to eat. Well I'm weak so I ordered a pizza with a coke to wake me up.
One pizza and one movie later the second lunch service started. It's a rather light meal that is just enough to fill you until your dinner after arriving in Paris. I choose sauerkraut with some German sausages. Very juicy and not too smoky like many cheap sausages. This was served along with some fresh fruits and soft white cheese.
Once the meal was over we had already started our descent to CDG airport. Landing was uneventful but still nice to watch on the video monitors. The only problem with ANA on this Paris flight, and ANA can't do that much about it, is that you arrive at the old Terminal 1. This terminal in under renovation and will be dedicated to Star Alliance partner in the future, but it's so old and dirty right now. I feel ashamed all the time when I arrive at CDG because this is the first image of France tourists have when they come for the first timec Hopefully I didn't have any checked-I luggage this time.
June 21st 2005
Flight: NH206 CDG-NRT
Boeing 747-400 (reg JA8962)
Flight Time: Approx. 11:15 hours
View Large
View Medium


Photo © Philippe Noret - AirTeamImages
This one was booked in C from the beginning using upgrade coupon. As said before NH is flying from terminal 1. The building is still under renovation and 1/3 of it is actually closed. Check-in was uneventful and I spend some time with my friends complaining about CDG before leaving for the lounge.
NH is using BMI's business lounge at CDG. It's quite comfortable but there is nothing special to report about it. One big disappointment though is that there are no windows so it's impossible to spot planes. It is still better than the waiting room at the gate (especially at CDG1). After a drink I proceeded to the gate and I noticed that today's 744 was NH's Pokemon Jet. It's not that I like this livery that much, but still it's funny to see Pikachu and co. painted on a plane.
Boarding was very smooth, I was welcomed by a charming F/A and went upstairs. It was once again a very crowded flight. Y was packed and I could only spot 2 empty seats in C. I was assigner seat 84H, on the last row of the upper deck. You can see on this picture how the upper deck looks like.
View Large
View Medium


Photo © Jean
My seat was the one on the right-bottom on the picture. New Style Business class has been introduced on the flight to CDG since the middle of May. This product was only provided to JFK, FRA and LHR before but since ANA started using their new 773ER to NYC, I guess some 744 with the new configuration were switched to CDG. The new seats are shell type sleeper seats. They can be reclined to a fully flat configuration, but not to horizontal position. They actually are very similar to LH's new business class seats.
We pushed-back a little bit late as we had to wait for connecting passengers and went to runway 27L for a quick take-off. Once again I enjoyed the view from the front camera. We turned right to the east and as the weather was nice we had a very nice view on Paris.
Service started with the welcome drink (I guess they couldn't serve it before departure as we left very quickly).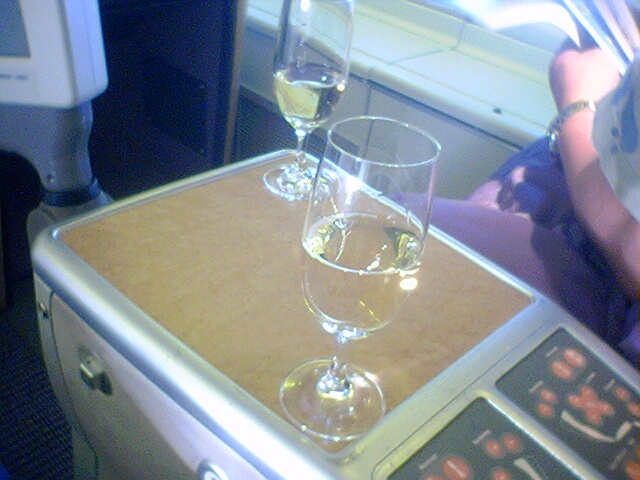 IFE started pretty soon too. IFE has not been improved that much compared to the old product. The interface is different, the screen is a bit wider than before, and some noise-reduction headsets are now provided. The choice of programs is still the same as before. I guess the difference is greater in Y. Even though PTVs were already available in Y before, they now provide a greater choice and AVOD, not bad.
I also started to play with my new seat. I had already tried shell seats on another carrier before and this one was pretty much the same. To be honest, I guess I preferred the old seats. They were more comfy and wider. The cushions of the seats were thicker and I could feel more relax. Reclining is also weird to me. As you recline the seat is sliding forward and I found them uncomfortable when you are in an intermediate position between bed and seat. It looks like there is also a massage feature but it was not working on my seat. The blankets are also different. While they provided pure wool blanket before, new ones look more like sleeping back and the nylon texture is not very attractive.
The F/As came and took our order for dinner and they started the service very efficiently.
Today's menu was:
Kaiseki course LUNCH / DINNER JAPANESE COURSE
Amuse Gueule
-----
Zensai
Crabmeat salad Stuffed lotus roots Braised chicken meatballs
Shrimp and green pea cake Unagi (freshwater eel) omelet Honeyed black bean
-----
Mushimono
Sake-steamed halibut and vegetables with rich seafood broth
-----
Shusai
Pork belly ragout in special soy sauce
Octopus simmered in light soy sauce
Assortment of simmered vegetables
-----
Kobachi
Ika-somen (calamari sashimi) with grated okra
-----
Steamed rice with crab, miso soup, assorted pickles
-----
Dessert (your choice of one of the following)
Chocolate tart with apricot coulis
Warm custard fruit in crisp filo pastry with Grand-Marnier sauce
Fresh seasonal fruit
-----
Green tea
-----
A la carte LUNCH / DINNER WESTERN COURSE
Amuse Gueule
-----
Appetizer
Roast duck breast with artichoke bavarois and gazpacho sauce
Pan-fried seafood and foie gras with orange sauce
Fresh garden salad with Japanese dressing
-----
Main course
Beef tenderloin Italian
Pan-roasted tai (sea bream) with clam jus
Vegetables bouquetiere in yellow pimiento basket with balsamic reduction
Two kinds of bread with a choice of
Isigny butter or extra-virgin olive oil
-----
Dessert (your choice of one of the following)
Chocolate tart with apricot coulis
Warm custard fruit in crisp filo pastry with Grand-Marnier sauce
Fresh seasonal fruit
-----
Selection of fine tea or gourmet coffee
First we had some drinks served with a strange canapE It wasn't bad but I couldn't identify what it was.
Olives (rather good ones) were also offered.
Then the F/A started to set-up the table for the dinner in itself. Dishes are now served separately and the china used is much better than before.
The appetizer was a rather unusual combination of Pan-fried seafood and foie gras with orange sauce. Products were good but I'm not sure they go that well together.
This was followed by a Beef tenderloin Italian style. The meat was accompanied by a kind of tomato ragout, zucchini and baby corn. Not bad but something was missing.
The cheese plate was somewhat disappointing.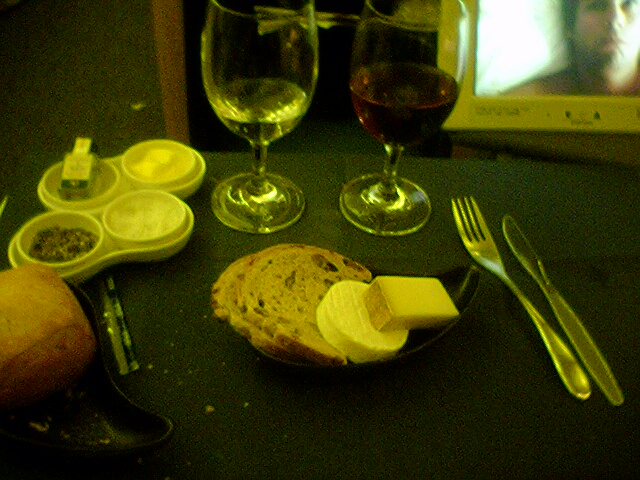 For the desert I chose the warm custard fruit in crisp filo pastry with Grand-Marnier sauce. It was some fresh berries with some custard cream in a crispy crepe. Along with a (good) coffee and a nice cognac it ended nicely my dinner.
I had a mixed impression about this dinner. The presentation is nicer than before, and it's nice to have separate plate for each dish. I also have the impression that the amount of food is more adequate than before. But the taste was somewhat disappointing.
The following of the flight was very pleasant. Some movies and a long nap later we were getting close to our destination and the second service was on its way. I didn't feel hungry at all.
Here is a copy of the menu:
Petite Japanese course LIGHT MEAL JAPANESE COURSE
Specialty menu
Deep-fried cod and assorted delicacies
Steamed rice
Fresh seasonal fruit
-----
Green tea
-----
Petite International course LIGHT MEAL WESTERN COURSE
Specialty menu
Poached eggs and ratatouille filled in vol-au-vent
Bread roll
Fresh seasonal fruit
-----
Selection of fine tea or gourmet coffee
I chose the 'Petite International Course'. It was probably good, but I just enjoyed the fruits and the bread so I won't be able to make any comments on the taste.
At the end of the service the F/A started to prepare the cabin for landing and within half an hour we were on final to land at NRT. Just before landing, one of the F/A came to thank me for flying with ANA. She even used my family name a la SQ or CX. As she didn't do that to every passengers I guess this has to be related with FF status but I'm not sure.
Landing was nice, and we soon arrived at the gate. Passport control was done very quickly and I was outside of the terminal 20 minutes after.
CONCLUSION
First of all I'd like to say that the F/As are extremely nice. The service is very thoughtful without being disturbing, very polite without being cold. They don't like mechanically like SQ Girls can be, less snobbish than on JAL and well, better than many European or American carriers. This was true on these both flights (and on the other one I took). Their English could be rather limited though.
As usual both planes were very clean, from the outside to the toilets.
As for the differences between the two products, it's mainly down to the seat and the food. Both seats are nice, but I do prefer the old ones as they feel more comfy. For the food, the service and the presentation are much better, but the taste was better before.
Then finally the cons. The biggest one: CDG1. Not really NH's fault as Star Alliance members are using this terminal, but stillc Also both lounges in NRT and CDG are somewhat disappointing. SQ's lounge in Narita is way better. I guess there is also a little something missing to match with SQ or CX business class. It's only about details, but at the end it makes all the difference.
Thanks you all for reading.