The following Trip Report recounts my recent trip to Germany on Air France and Delta in First Class. All pics are taken with either the Canon 350D or a Sony Cybershot. I apologize for the poor quality of some of the pics, as I did not want to take flash shots in the cabins.
Booking Process:
It was November 2004, and I knew that we would be traveling again to FRA, as we do every summer around July. So, with some Delta miles in the account, we decided it was time to burn some of them for a First Class award.
So, the first question was which airline? We were
VERY
flexible, so expecting some good stuff. We were hoping to get a Singapore award through JFK, but turned out unsuccessful. They told us that Air France was available, also offering flat beds in First Class. We were hesitant at first, but after a while decided to book it. We thought that it would be better than a Delta or Northwest award, and found it to be a good option. They gave us a nice routing (in my opinion at least): TPA-ATL-IAD-CDG-FRA on the way there, and FRA-CDG-CVG-TPA on the return. We (only me and my mom this time) would be staying for two weeks, as usual. I was still trying to perfect the routing, with decent layovers, and good planes. Final routing looked like this:
Segment #1
TPA-ATL
07/06/05
Delta 263
Departure Time: 11:09AM
Arrival Time: 12:38PM
Aircraft: Boeing 767-400
Seat: 3A & 3B (First Class Bulkhead)
Segment #2
ATL-IAD
07/06/05
Delta 648
Departure Time: 1:45PM
Arrival Time: 3:22PM
Aircraft: MD-80
Seat: 2A &2B (First Class Bulkhead)
Segment #3
IAD-CDG
07/06/05
Air France 39
Departure Time: 5:10PM
Arrival Time: 6:30AM
Aircraft: Boeing 777-200
Seat: 1A & 1B (First Class Bulkhead)
Segment #4
CDG-FRA
07/07/05
Air France 1618
Departure Time: 9:45AM
Arrival Time: 11:10AM
Aircraft: Airbus 320
Seat: 3A & 3C (Business Class)
Segment #1
FRA-CDG
07/20/05
Air France 1019
Departure Time: 7:25AM
Arrival Time: 8:45AM
Aircraft: Airbus 320
Seat: 3A & 3C (Business Class)
Segment #2
CDG-CVG
07/20/05
Air France 382
Departure Time: 10:20AM
Arrival Time: 1:25PM
Aircraft: Airbus 340-300
Seat: 1A & 1B (First Class Bulkhead)
Segment #3
CVG-TPA
07/20/05
Delta 890
Departure Time: 7:00PM
Arrival Time: 9:10PM
Aircraft: Boeing 737-800
Seat: 1A & 1B (First Class Bulkhead)
Now I purposely made some long connections so that we could have plenty of time to utilize the lounges. I was aware that Air France was renovating their international aircraft, and taking First Class off of some aircraft, and putting a new one in others. Unfortunately, I could not reserve a flight on any of the routes with the new First Class. I was aware that our CDG-CVG segment was on an Airbus 340, which I knew Air France was renovating, and taking the First Class out of. I did not know the timeframe though. I asked the agent, and he assured me that First Class would still be on that aircraft at our time of flight.
About a week before the actual flight I called Air France to make sure that everything was fine and that they did not need my Passport Number yet (which they previously wanted), at which point I was told that we did not have seat assignments on the CDG-CVG segment, which I did not understand. I asked him if the First Class product was still available, to which he said that it was just business and economy. After explaining my situation to him, he said "Too bad, I can't help you there". Oh well, I guess I would be experiencing the New Business Class Product of Air France. NOT a good start (not necessarily an indication of what is to come).
Day of flight:
After finishing packing, we left at 8AM for our 11:09AM flight. By the time we got to the airport it was almost 9AM due to rush hour.
At TPA:
My dad dropped off my mom and me, and we headed straight to the First Class check-in line for Delta, a place I have never been. We were first in line for the counter, but there was an unaccompanied minor checking in. Despite being first in line, it took over 10 minutes until we were called to the counter. The agent was friendly, and looked at out weird routing and laughed. When he checked our bags I noticed that he did not put any priority sticker or anything on the bags, despite flying international first class.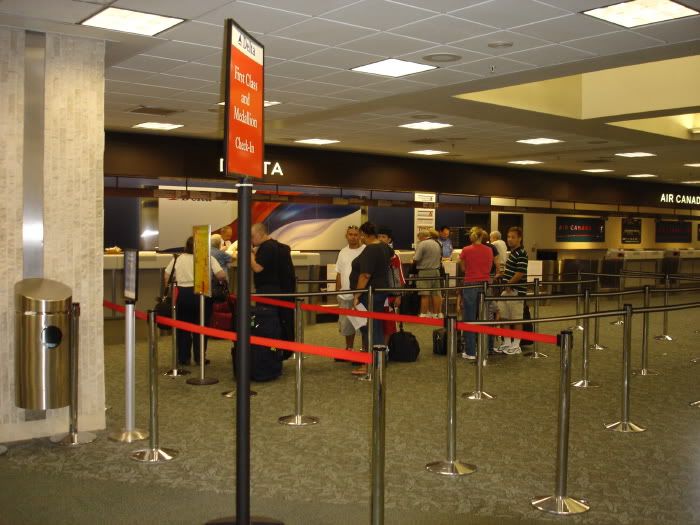 Delta check-in
After checking in, we headed straight to the Crown Room Club. It is located past security, in Concourse E. We got in the security line, and noticed that certain people were being pulled to the side for a shorter line. My mom thought it was a First Class line, but I insisted it was not. My mom asked the TSA agent, and he said it was for "Special Screening"
.Security took about 10 minutes and we were on our way.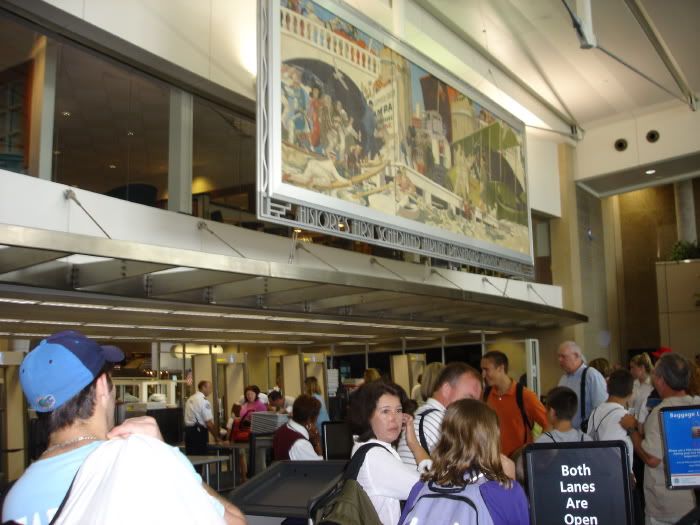 Crown Room Club visible on the upper floor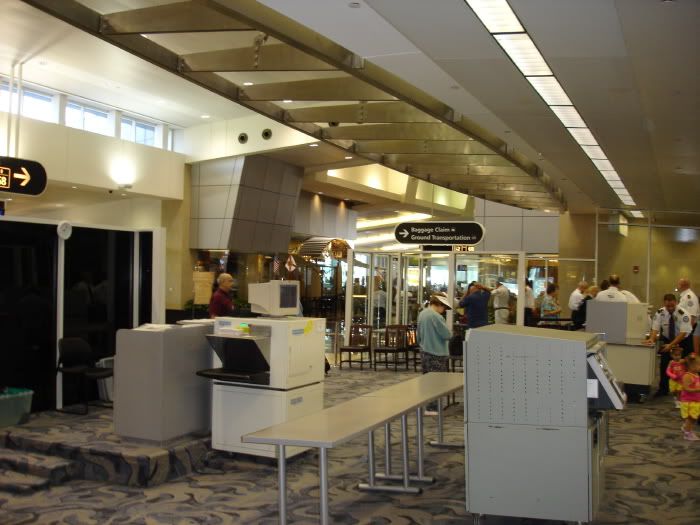 Security
We entered the Crown Room Club, where the lady was chatting on the phone. After about a minute, she got off and looked at out tickets. At first she thought we were not supposed to be in the lounge, but then changed her mind. She was nice though.
We took the elevator up to the club, and it was very nice. I had never been there before, so I always wondered what it was like. It was surprisingly big, and was fairly empty. We had about 75 minutes to burn, so we found a table and some seats in a corner. The snack selections were fairly small, consisting of the snack mix and biscoffs and some fruit. I went to the counter and got an apple juice and some biscoffs, which are very good. I sat down and made a few phone calls.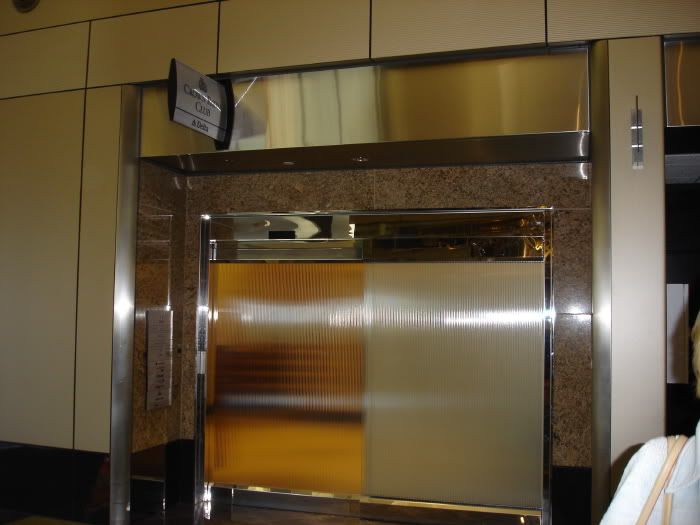 Entrance
Interior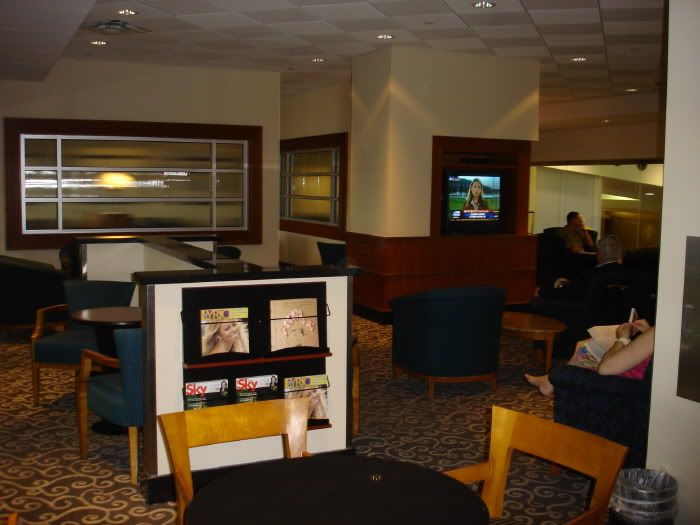 FOX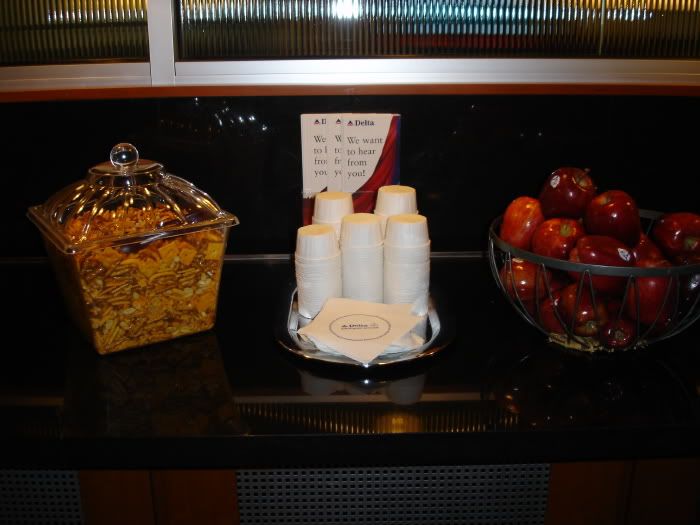 Apples and snack mix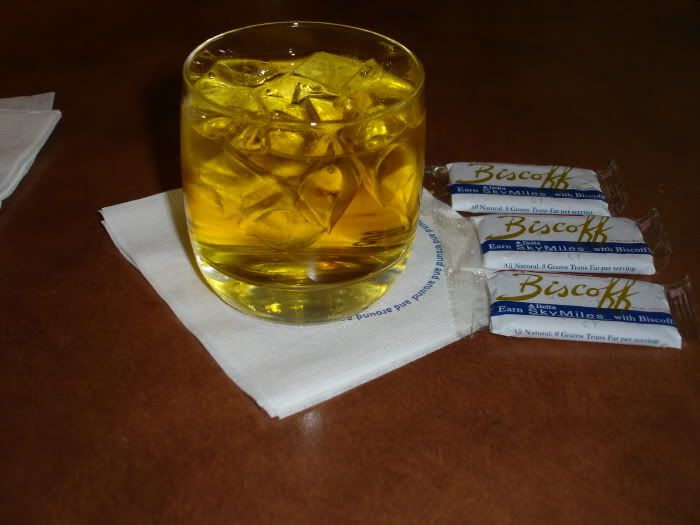 Apple juice and biscoffs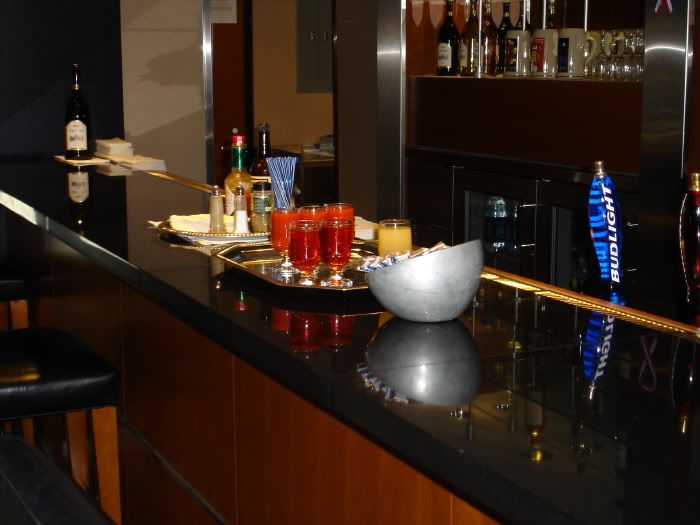 Juices on the bar
I started talking to the lady who works at the bar, who was also from Germany. We talked for a few minutes. Then I went over to watch some TV on the huge plasma. They had FOX News on
. About 30 minutes before the flight we headed to the crowded gate area of E62. Within a few minutes boarding began, starting with Zone 1. We were about the thirtieth to board, since the first class cabin is huge.