This is the second part of my trip to Thailand, the first part can be found here:
Thailand On SK And PG (w/pics) Part I
Bangkok Airways 154
Koh Samui, USM – Bangkok, BKK
Boeing 717-23S
HS-PGP (cn 55064/5037)
Scheduled dep/arr: 15:00/16:10
Push-back: 15:19
Taxi: 15:23
Take-off (RW 35): 15:28
Arrival BKK : 16:25
Flight time: 0:57
Load factor: 100%
We spent three days in Bangkok, and I have to say that it is a very special city. There are always traffic-jams, it is polluted and very, very hot and humid, but I like the city anyway. We did all the tourist things including: Grand Palace, Golden Buddha, river tour etc. We stayed at Bayoke Sky Hotel, which is the tallest building In Thailand. We got a good deal and got a room at the 49th floor for 3.000 baths per night. (€60)
The view from our room.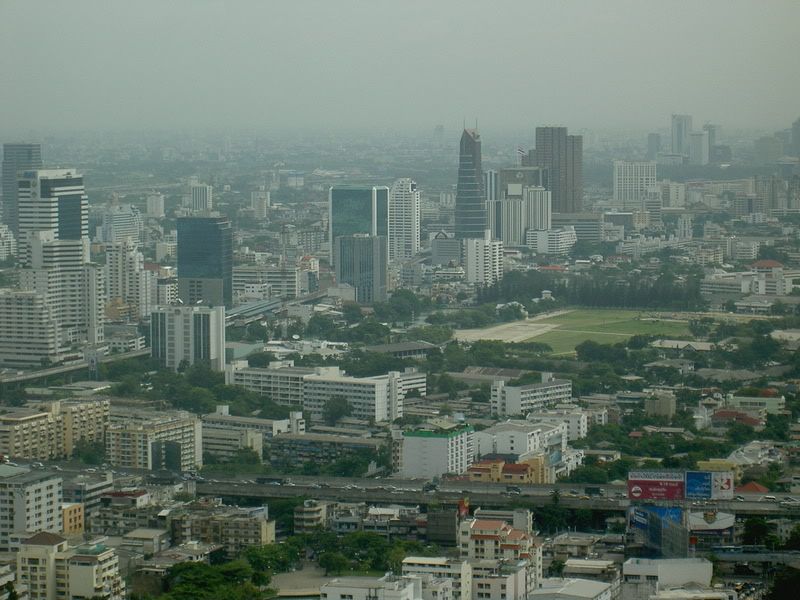 Next stop on our trip was Hua Hin about 300 kms south of Bangkok, and we went there by train. Booth of didn't think that Hua Hin was such a great place and we only stayed there for two nights before we took the night train to Surat Thani. For only 1.000 baths (€20) we got a first class sleeping cabin in the train to Surat Thani, and we arrived there at about 4 am. After a few hours waiting at a café close to the station, a bus picked us up and brought us to the harbour, where the boat to Koh Samui was waiting. The boat left at 9 and it took about three hours to Koh Samui. Now for the first time I got into trouble. Some of the passengers were going to Koh Samui and the majority were going to Koh Phangan, which is located one hour north of Samui. And when it was time to get off the boat, I couldn't find my bag in that massive pile of back-packs. Viktor found his and got off, but as I still was onboard looking for mine, the boat took-off! So, I had to go to Koh Phangan and back which took all in all three hours. We spent a week and a half at beautiful Lamai Beach, and had a great time with lots of sun, drinks and party.
But we also ran into
BIG
trouble. One morning the hotel staff asked us to follow them to the reception, and so we did. There they told us that during the night someone had stolen everything in the safety deposit-box. SHIT!!! Our passports, VISA cards, drivers licenses , a mobile phone and some cash were all gone. What to do now?? I still had my phone so we called home and stopped our VISA cards, and then we had to spend the rest of the day at the police station to get a report. We also called the Swedish embassy in Bangkok and told them about our situation, and they said that they would fix new passports once we got there. Now we went to a travel agency to re-book hour flight to Bangkok, because we had to get there two days earlier than planned. And that was no problems at all, they didn't even charge us for this. Bangkok Airways were very understanding and said that we could use the police report as ID.
We got to the airport at 11:30 and the left at 3, so we had time to any misunderstandings, but it was no problems here either. A very big THANK YOU to Bangkok Airways!
The check-in counter.
The courtesy corner in the departure hall.
Koh Samui airport is GREAT, friendly people and lovely buildings. We were told that the flight was delayed 20 minutes due to some previous problems at BKK. Some small busses took us to the aircraft that were parked approx. 500 metres from the terminal.
Two ATRs and "our" 717.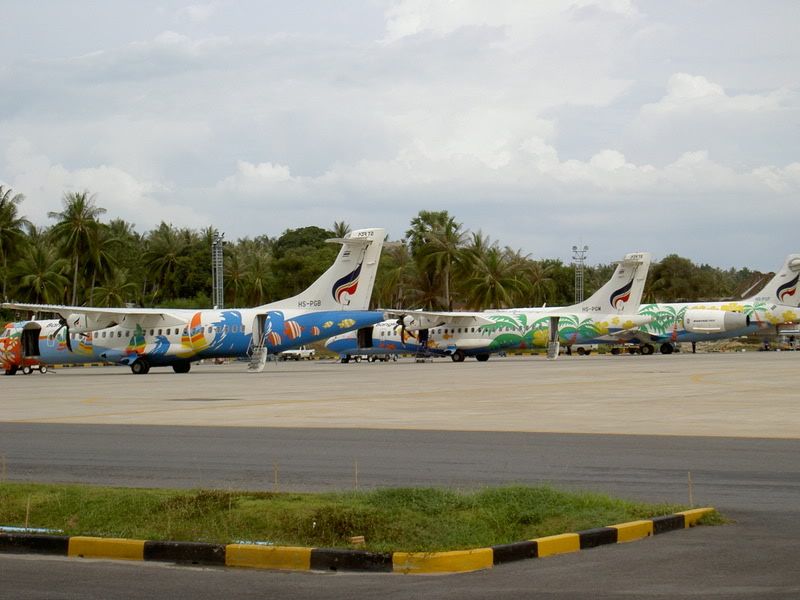 Boarding went smooth and we were given seats 9 A and B. Wow, my first time on a 717, nice. The plane was pushed-back at 15:19 and taxi started four minutes later. We taxied out on the runway heading south and made a U-turn and departed to the north. It was a really powerful take-off and the roll only lasted for 25 seconds.
The northern parts of Koh Samui as we climb.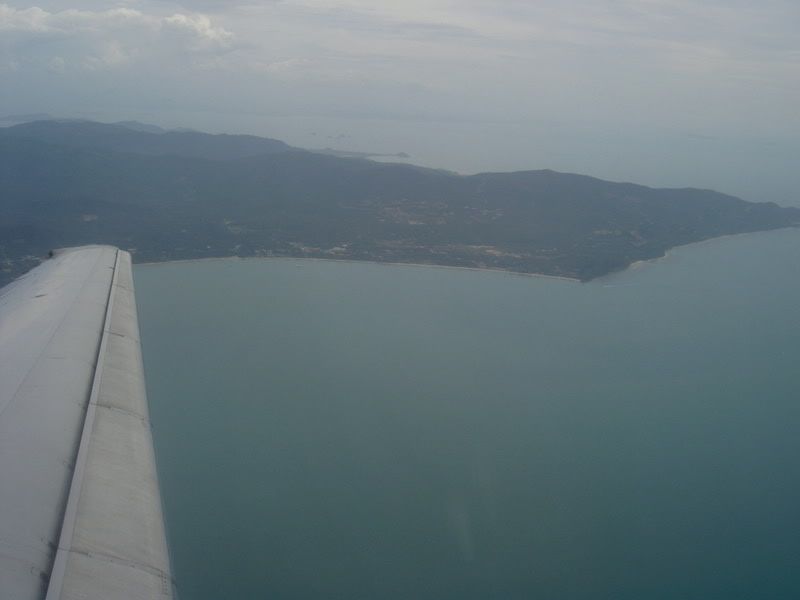 A view of the cabin.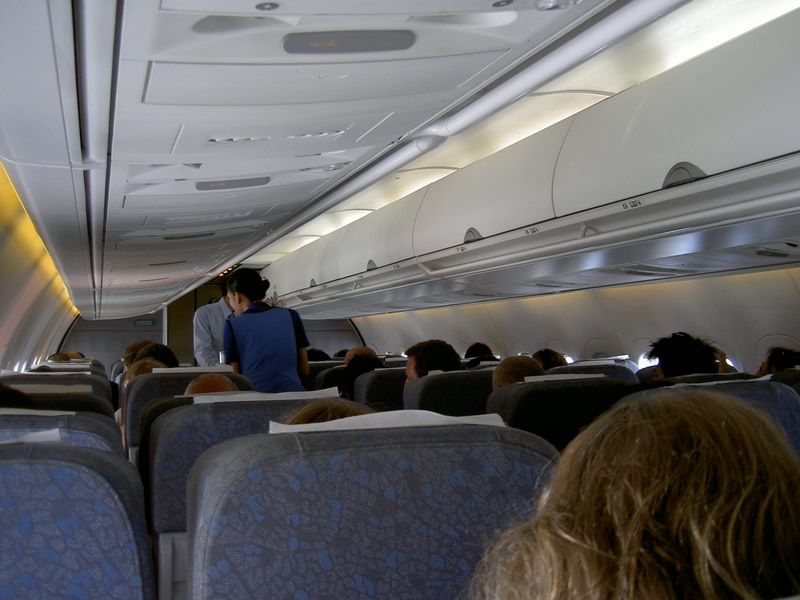 During the 57 minute flight, we got some coffee and cookies, nothing more… At 16:25 we landed at BKK runway 21R.
Seconds before touch-down, a PG A320 is entering runway 21L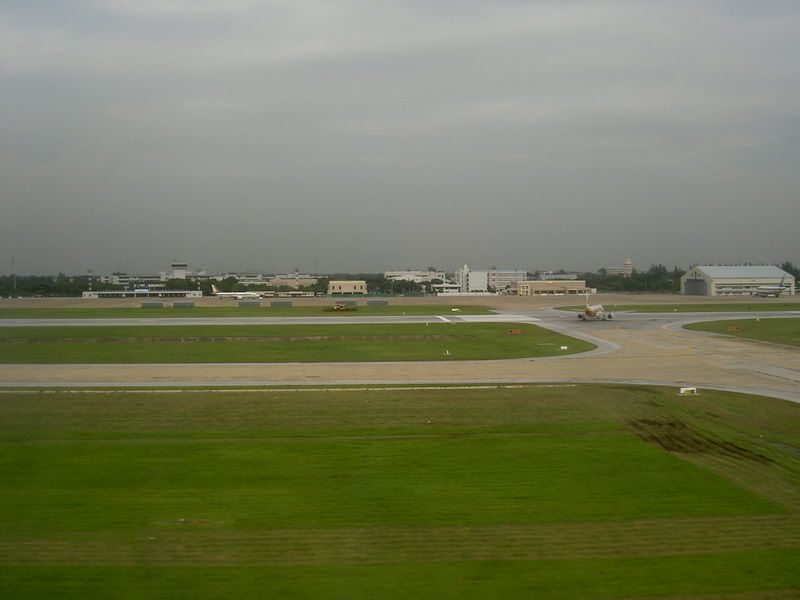 Orient Thai Airlines B747-306M (HS-UTK)
And Thai B777-3D7 (HS-TKC)
Check-in: 10/10 – They really helped us out, even though we didn't have any ID at all.
The airport: 9/10 – It's among the most beautiful airports in the world.
The aircraft: 7/10 – The B717 was very quiet and is a classic IMHO.
Service: 4/10 – Some dry cookies and coffee were all we got.
Entertainment: 2/10 – What can you really expect? The in-flight magazine was OK though.
[Edited 2005-07-25 21:46:28]
[Edited 2005-07-25 21:47:32]