I was meeting some of my family in South Florida, so when I booked, I went with an early flight, to have most of the first day with them. Nonstops on US or FL would be great, but NW had a great price. Plus I'd have a chance to fly the DC-9, which I haven't yet, before they're retired, and see the new DTW terminal, which I also have yet to see. So my original itinerary was PIT-DTW-FLL-MEM-PIT.
Despite being about 5:00 am, there was a good bit of traffic on PA Route 60 to the airport (I can't wait for Interstate 576 to be finished). The Extended Parking lot was pretty full, and I ended up parking pretty far from the terminal. Thank goodness for shuttle buses.
The NW checkin had a nice line, but it moved quickly. Upon arrival at the counter, the agent informed me my PIT-DTW leg, NW 1751, had been cancelled, and I had been rerouted through MEM. Rats. Two trips through Memphis -- an airport I hadn't heard good things about on A.net. Apparently, the flight crew never made it into PIT because of severe thunderstorms in DTW the previous night.
I checked in the old-fashioned way (before the days of kiosks) with the agent and she handed me two boarding passes. No 'SSSS'. Score.
I also noticed that the baggage screeners have been taken out of the ticketing area. Man, it's been a while since I've flown anywhere.
There was no security line on the lower level, which is surprising, with all the reports of PIT's long security lines.
19 July 2005
Northwest 5700 (operated by Pinnacle - NW Airlink)
Pittsburgh (PIT) - Memphis (MEM)
Canadair Regional Jet - N8646A (bowling shoe)
Seat: 3A
Departure Gate: D83
Arrival Gate: B20
Scheduled Departure Time: 7:25 am
Actual Depature Time: 7:29 am
Scheduled Arrival Time: 8:30 am
Actual Arrival Time: 8:28 am
View Large
View Medium


Photo © Daniel Wojdylo
This was my first time on NW, and one thing I noticed was that NW isn't the best at communicating with its passengers about changes. When I arrived at D83 for my flight to MEM, I noticed a DC-9 and a boarding lounge full of passengers sitting at D81 for NW 1751 to DTW. It wasn't until about five minutes before I boarded my flight to MEM that an agent showed up to tell D81 that the DTW flight was cancelled. Then, as expected, was the loud collective groan from those passengers.
It began raining hard right as boarding began. A very friendly female flight attendent with a thick Southern accent greeted me as I stepped onto the small jet. 'Hope this rain staups before wi leeve.' Something to that effect.
The first officer welcomed everyone onboard over the PA and we pushed back a few minutes late.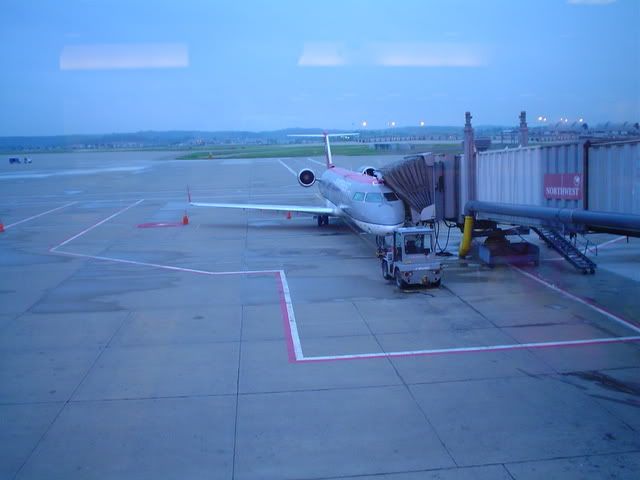 Memphis-bound CRJ at Gate D83.
We taxiied quickly to Runway 28R - #3 for departure.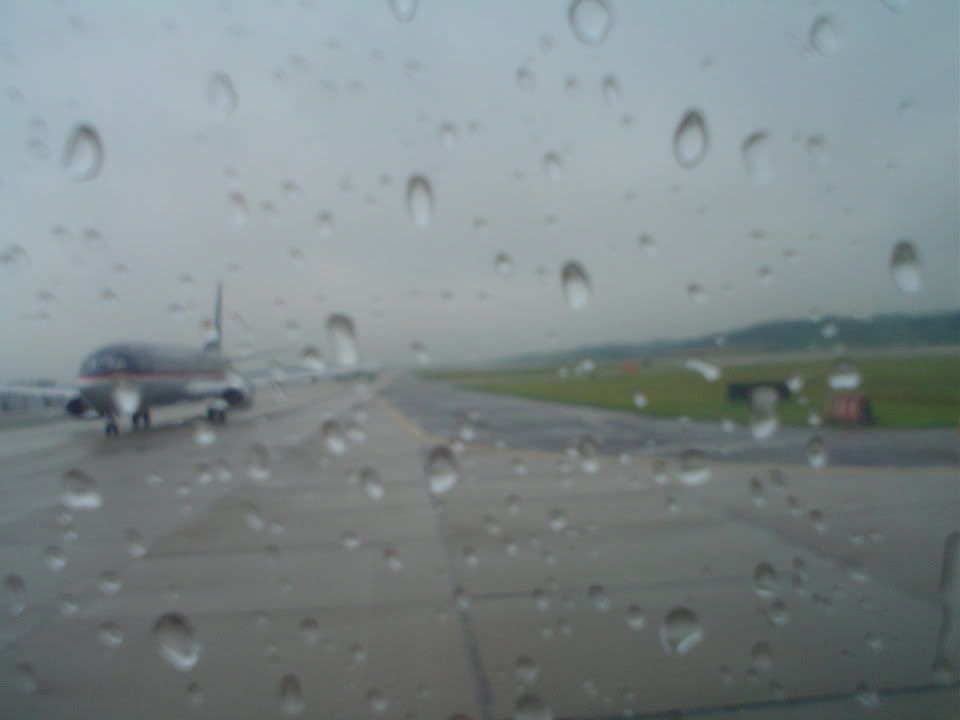 Holding short of 28R. A US Airways 737 follows. Sorry for the poor quality - the rain was pretty heavy at this point.
I've never flown the CRJ - I've always heard about the 'low windows.' Now I know what it means - taking photos was a challenge.
After a Southwest 737 landed, our CRJ turned and made a powerful roll down 28R and into the air. Climbing through the thick layer of rain clouds was a little choppy - and shortly after takeoff was the traditional 10,000 feet chime. The friendly F/A began beverage service and offered Quaker granola bars. We finally leveled off around 33,000 ft.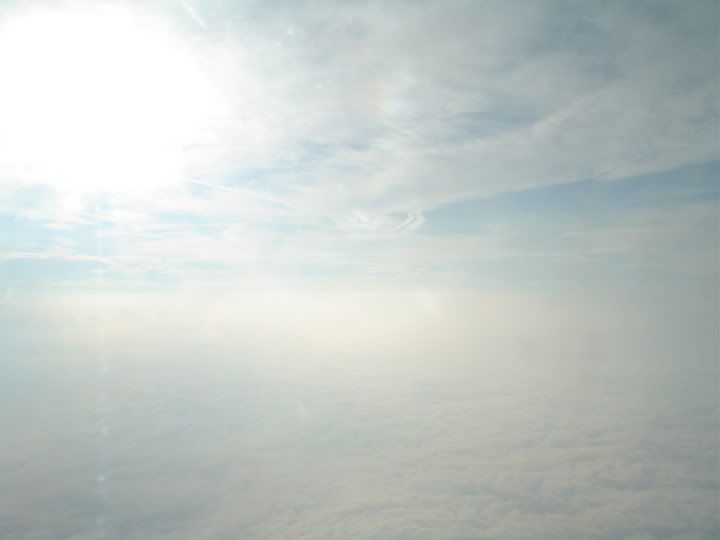 Climbing for cruising altitude, just above the layer of stratus clouds.
The ride was a little choppy in some spots, but nothing too noticeable. I was so tired at this point, I managed to sleep, even in the small confines of the regional jet. Approach into MEM began with a power-down of the engines. One thing I noticed on the CRJ during approach was its sudden changes in forward speed, or how it feels anyway. It almost feels like riding in a car at times.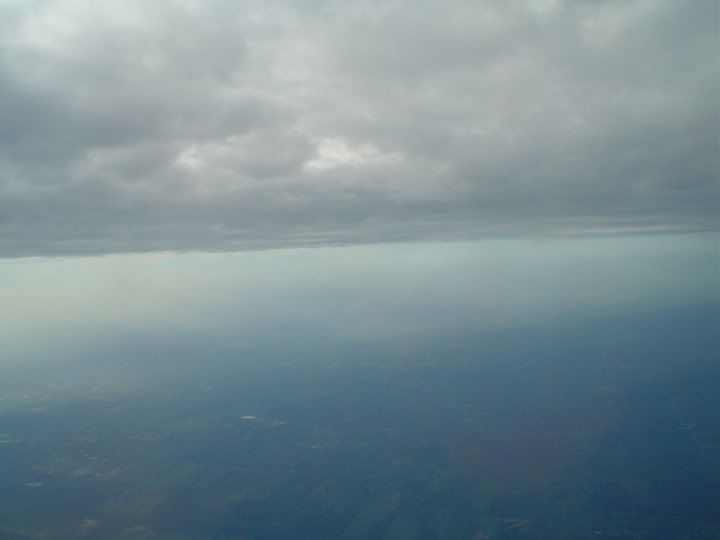 Descending through a layer of clouds on initial approach into MEM.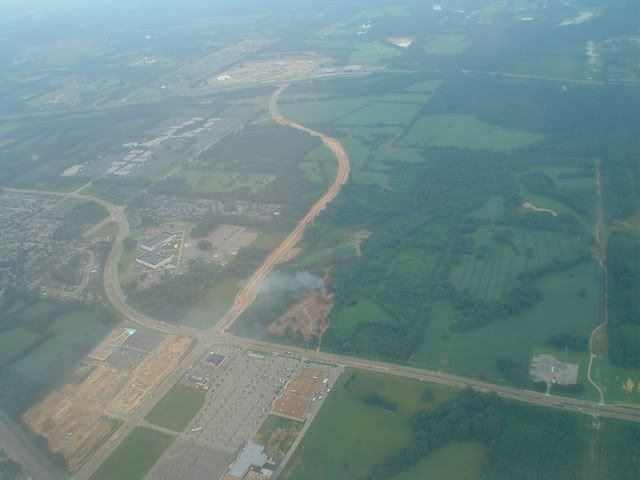 Something's on fire down there...
The CRJ seemed to gently sway as it slowly descended into western Tennessee. A gentle touchdown on 36L (I think) and we taxied to Gate B20.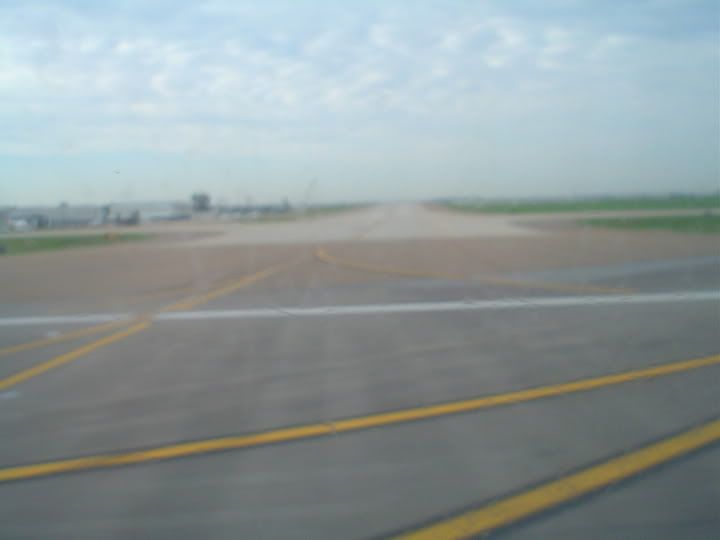 Welcome to Memphis.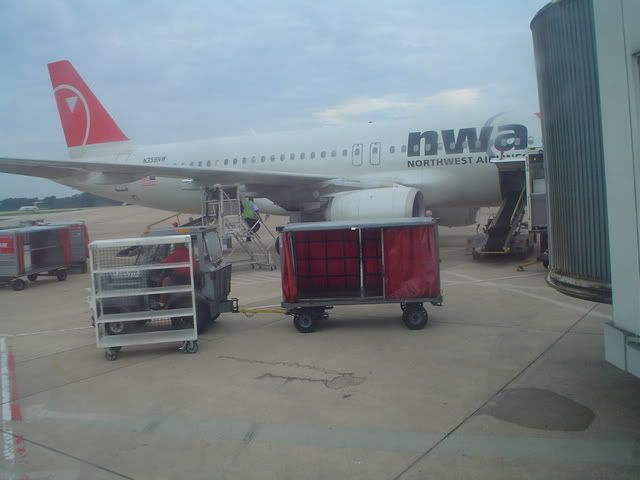 Parked next to an Airbus. We're pretty low to the ground comparatively.
The concourses of MEM were bustling. The narrow corridors of the airport were a little difficult to maneuver with so many people. I'm sure it's not like that during the off times of NW's banks. It was quite a trek down to B35 -- I noticed departures to CUN, MKE, and MBJ on the way.
Despite the narrow concourses and lack of flight info monitors, the airport wasn't as bad as I expected. If you like good BBQ, MEM is the place to be. Plenty of NW action to see and a few FedEx here and there (though I've heard most of their ops are at night).
I arrived at B35 which had a full boarding lounge. General boarding began a little behind schedule. Two female F/A's greeted everyone onboard. N354NW was a 1998 bird, and it looked clean and well-kept.
19 July 2005
Northwest 1662
Memphis (MEM) - Fort Lauderdale (FLL)
Airbus A320 - N354NW
Seat: 9A
Departure Gate: B35
Arrival Gate: C9
Scheduled Departure Time: 9:20 am
Actual Departure Time: 9:31 am
Scheduled Arrival Time: 12:33 pm
Actual Arrival Time: 12:36 pm
View Large
View Medium


Photo © Bill Bader
I took my seat at 7A. Legroom was average. About 10 minutes later, a F/A came back, looked at seat 9A, and let out a loud sigh and walked back to the front. The next time, another F/A came back with her, noticed seat 9A, and noticeably rolled her eyes. There was a carseat in seat 9A, and I guess carseats are forbidden in front of exit rows (row 10 is an exit row). The flight attendants looked like they were really bothered by the whole thing. It really wasn't a big deal. One of them (who was pretty young, btw) asked me if I would move to 9A. I agreed - at that point I just wanted to get to Fort Lauderdale.
After another minor delay, we pushed back from Concourse B and after a couple of tries, the CFM engines started.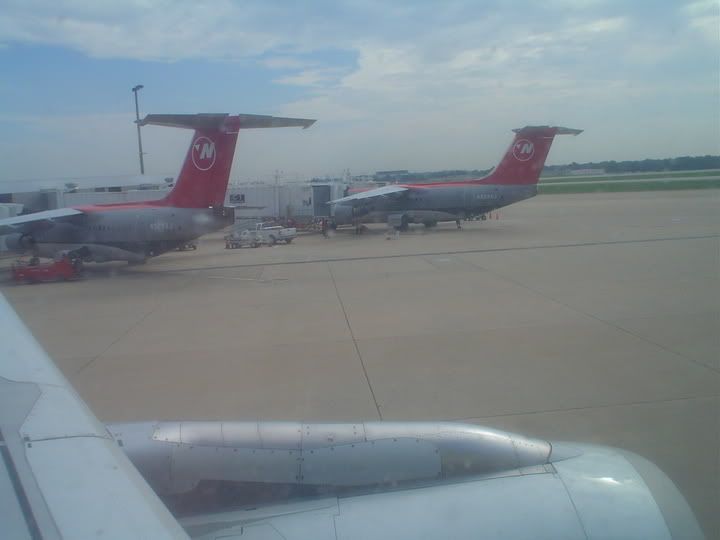 Engine startup.
We taxied out behind a Mesaba ARJ and a NW DC-9 and departed Runway 18C.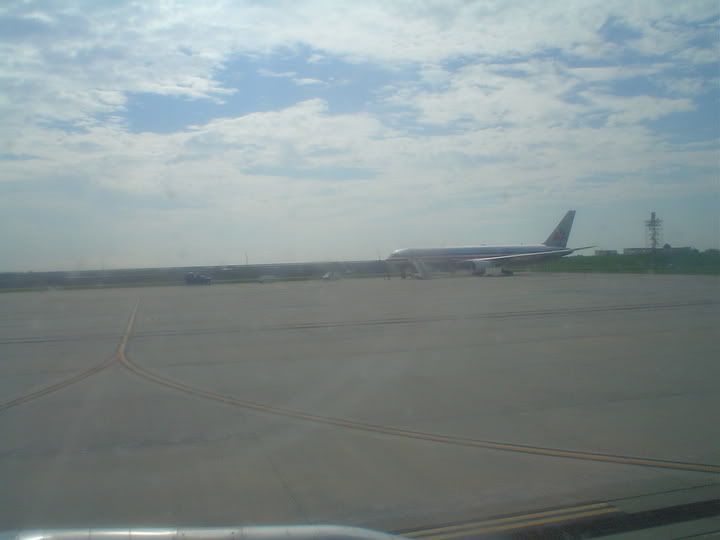 What's this AA 767 doing in MEM?
After a sharp left turn upon takeoff from MEM, the A320 made a quick climb to FL350 for the ride to FLL.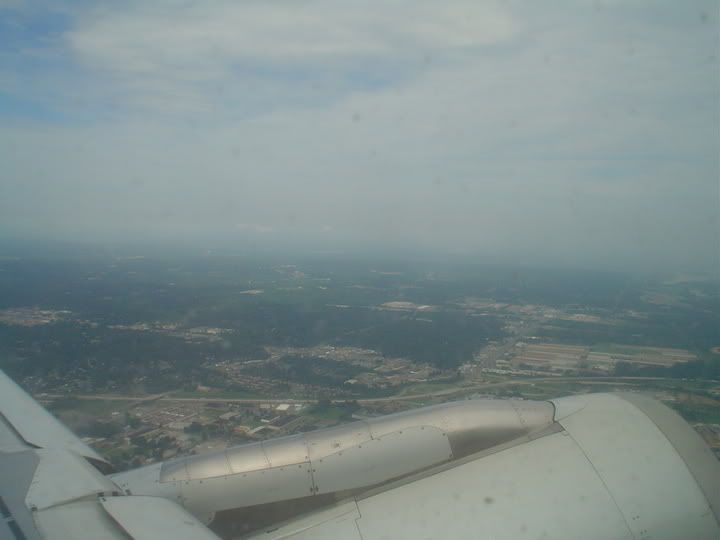 After takeoff from Memphis.
Beverage service was offered about 20 minutes after departure - I was handed a cup of ice and a full can of Pepsi.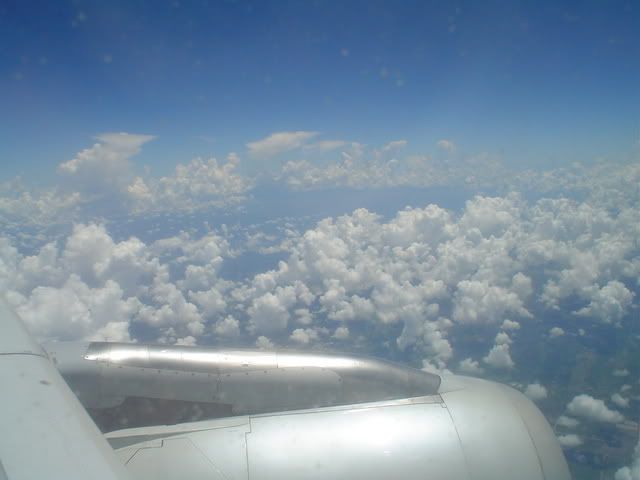 Just above a batch of cumulus clouds.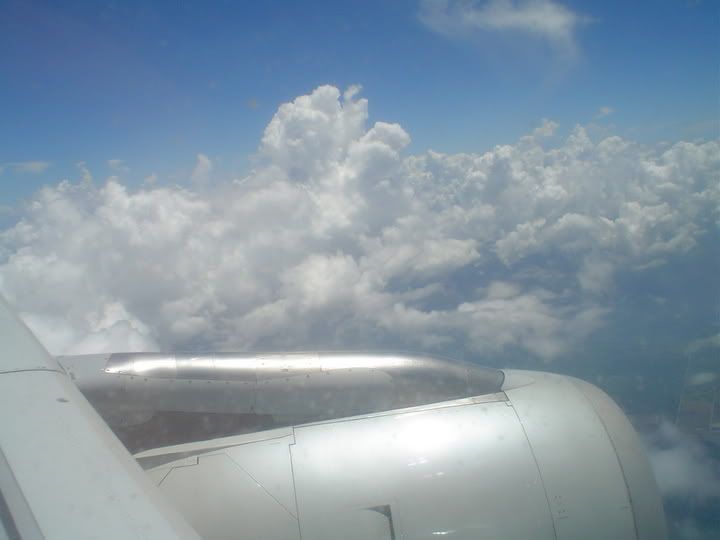 The daily thunderstorms beginning to build over Florida.
The was some minor turbulence over the Southeast, and the captain made appropriate altitude adjustments.
The routing took us to Tupelo, Mississippi, then to Birmingham, over to Tallahassee, down to Fort Myers, and across the Everglades to FLL.
Descent into South Florida began over the Florida Everglades, and we paralled Interstate 75 for much of the approach into FLL. Touchdown was on Rwy 9L.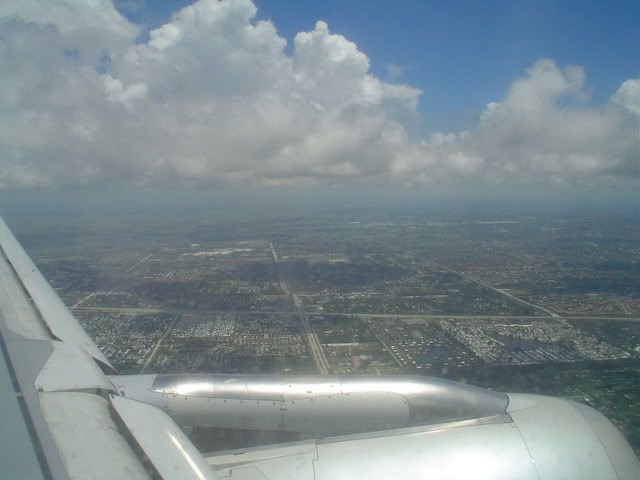 It's getting more and more urban...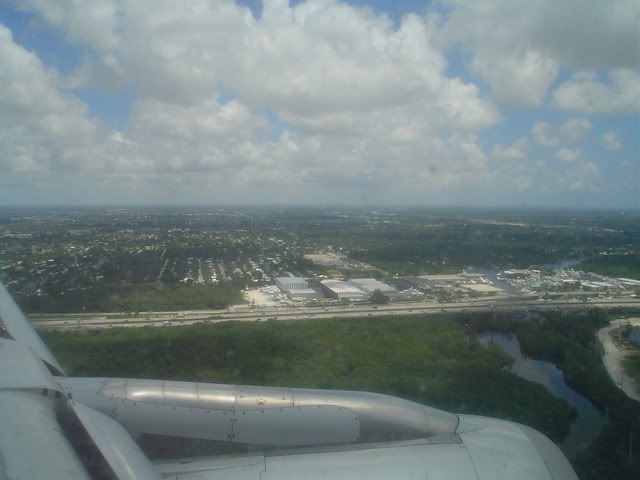 Final approach to FLL - parallel to I-595.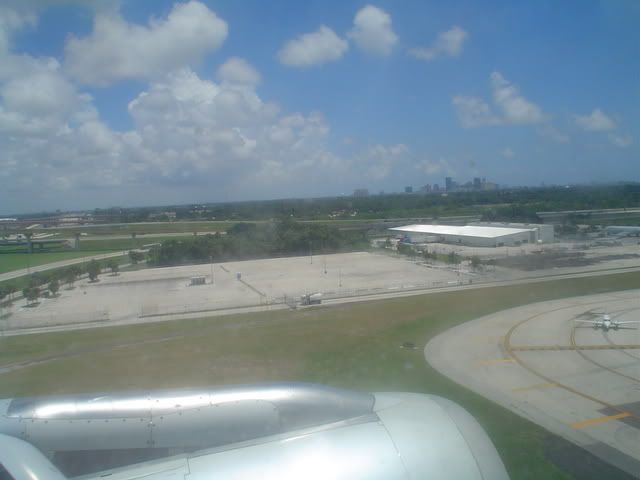 Short final. Looks like a Beech 1900 is waiting for 9L.
Our A320 parked at C9, next to a group of CO Connection Beech 1900's. I think most of them were going to the Bahamas.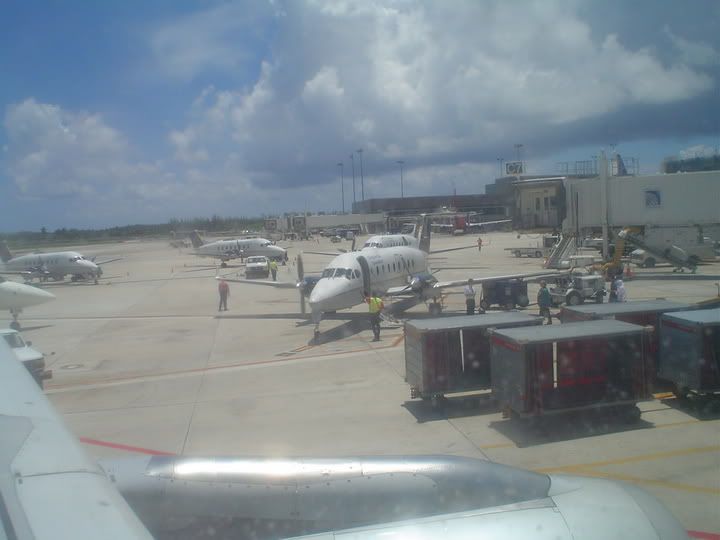 A collection of Gulfstream Beech 1900's on Concourse C.
---
25 July 2005
Northwest 961
Fort Lauderdale (FLL) - Memphis (MEM)
Airbus A320 - N328NW
Seat: 10F
Departure Gate: C9
Arrival Gate: B38
Scheduled Departure Time: 4:00 pm
Actual Departure Time: 4:44 pm
Scheduled Arrival Time: 5:26 pm
Actual Arrival Time: 5:56 pm
View Large
View Medium


Photo © Michael Mantoudis
I was dropped off at FLL around 1:00 pm (yeah, too early). Surprisingly, traffic on I-95 coming down from Deerfield Beach wasn't that bad. I checked in at the NW counter. A male agent offered to move me from some B seat somewhere to 10F, the exit row. Of course I agreed. The flight was nearly full when I reserved, so I was forced to select some awful B seat. The agent also told me my flight was delayed........9 minutes. A new departure time of 4:09.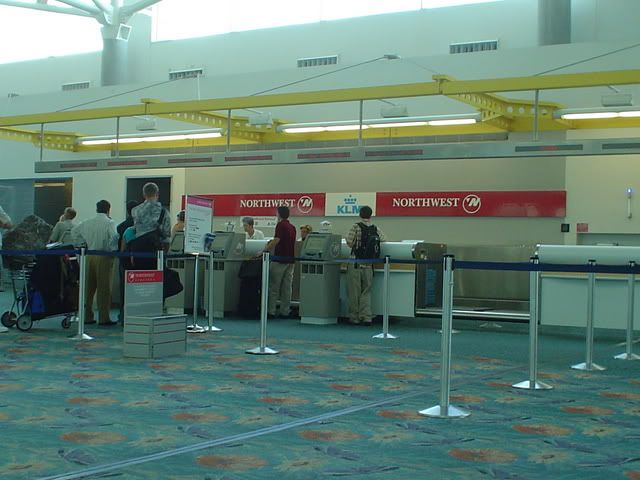 Northwest check-in.
The security screeners actually turned me away. They said they can't screen anyone until 2 hours before their departure time. "Come back at 2 o'clock." Try killing 55 minutes outside the secure area at FLL. There's nothing to do or anywhere to go. Nothing. I was finally allowed through at 2:00 pm at the Concourse C security point. I still had more time to kill than I wanted. I saw a Chili's and had a pretty good sandwich -- there was also a good coffee shop next door.
Down at C9, an agent didn't arrive until 4 pm. Right then, black clouds began to build and it began pouring, with plenty of lightning and thunder. Nonetheless, I boarded around 4:15pm, taking seat 10F. The legroom was wonderful. It's been a while since I could actually stretch out my legs.
About 20 minutes later with nothing happening, the captain (who was very good at keeping us informed, btw) informed us that the baggage handlers hadn't loaded the aircraft yet because of the lightning. While the lightning let up a bit, the bags were loaded around 4:40 and we pushed back and headed for runway 27R, behind a Delta 764, a Song 757, and a US 737.
Through the rain-soaked window, a US 737 taxies for 27R. Sorry for the poor quality - it was pouring buckets by this time.
After a WN 737 landed, our A320 powered down 27R into the cloudy South Florida sky - about 30 minutes late.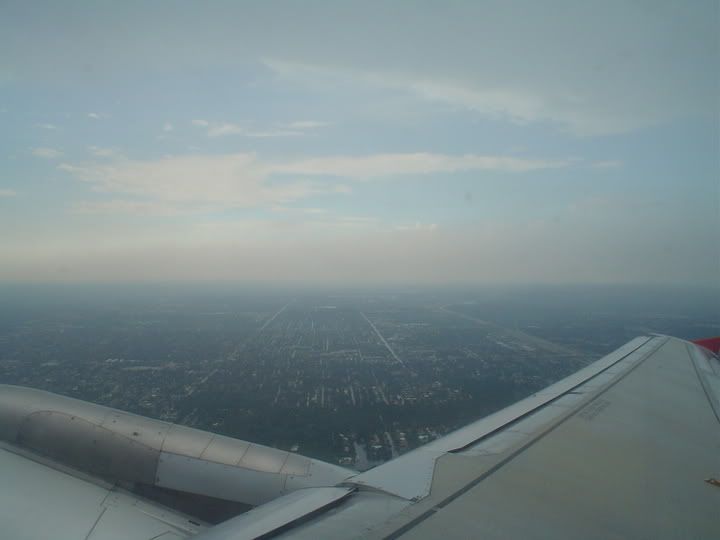 Takeoff from FLL - heading west.
Once airborne, a F/A announced on the PA something like "We realize many of you have connections in Memphis. If we arrive at 5:45, the first connection isn't until 6:15 to Minneapolis. You do the math." She then announced that 98 of the 145 passengers were connecting beyond Memphis. I thought that was a little odd.
Beverage service didn't begin until about an hour after takeoff - I don't know for what reason. I had a Sierra Mist - again the full can. The routing brought us across central Florida, southwestern Georgia, central Alabama, northern Mississippi, and into the Memphis area. After the beverage service, the flight attendent that made the earlier announcement about the connecting flights came back row-by-row and gave out flight and gate information. I asked her about the Pittsburgh flight, which she said was leaving from B24.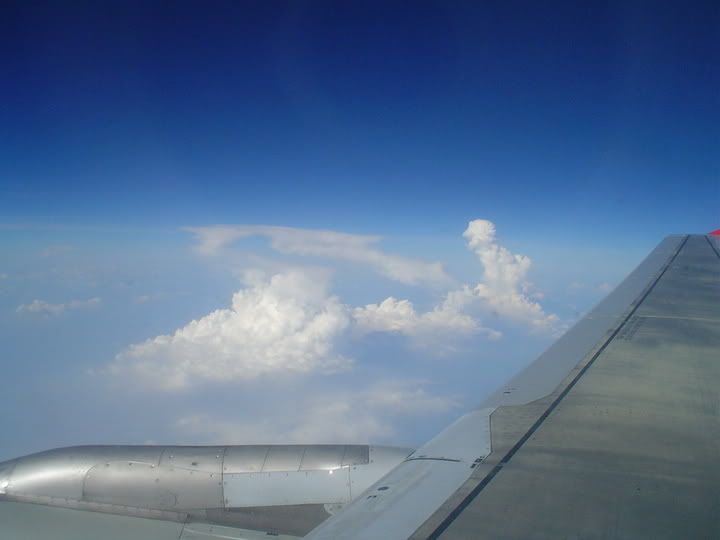 Thunderheads beginning to build over the Southeast.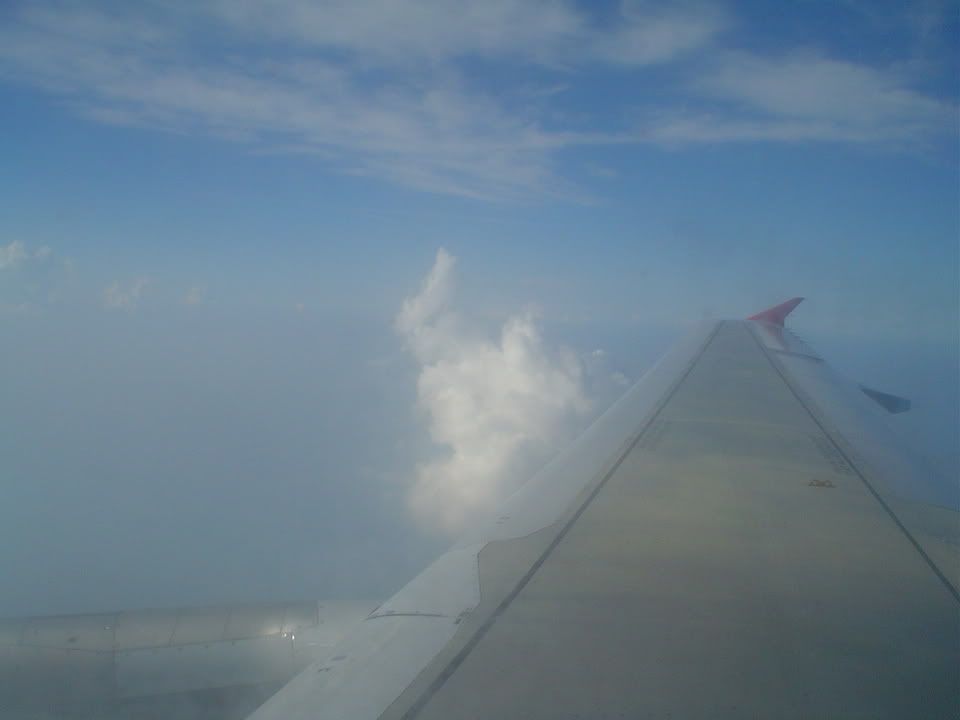 Becoming more organized...
There was some pretty good chop over Florida and again over Alabama. The captain announced the weather in Memphis - scattered clouds with a temperature of 97F/36C. I knew it was hot, but not that hot. Descent into MEM began over northwestern Alabama. During the descent into Memphis, a thick layer of condensation formed on my window. But I noticed it was only on the exit row windows. The other windows were still clear. Lucky me.
Because of the condensation, the rest of my pictures into MEM were terrible.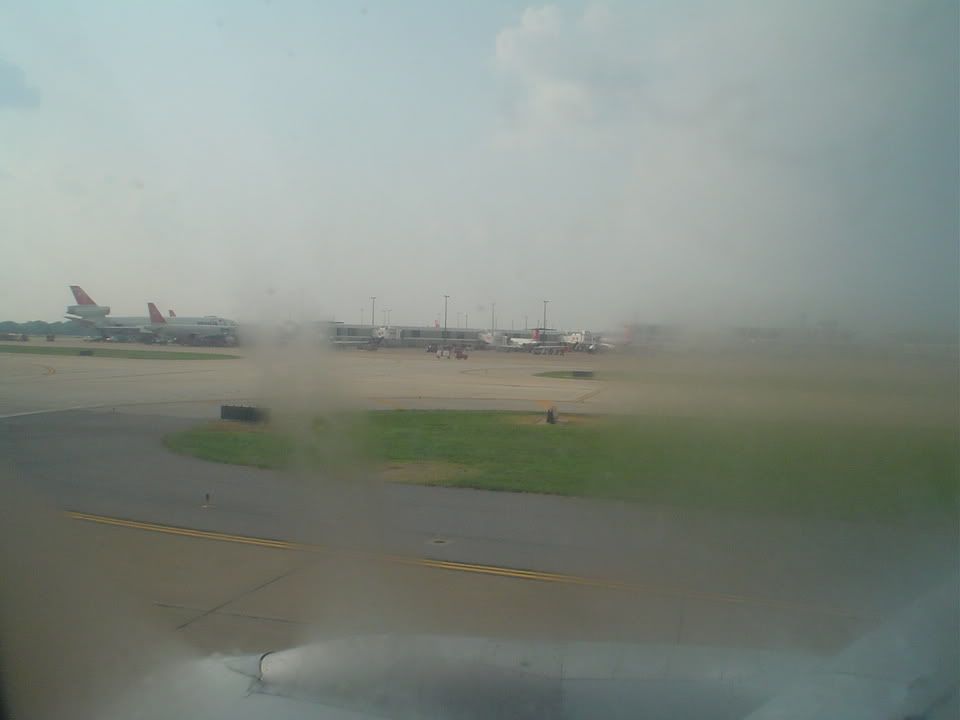 Touchdown in MEM. That condensation is finally starting to dissolve. Note the Amsterdam-bound DC-10 on the left side of the photo.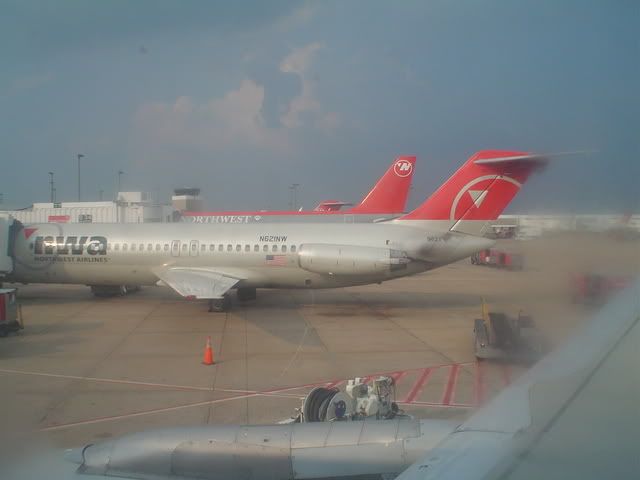 Our A320 parked at B38, next to a DC-9.
We didn't deplane until about 6:00 pm, so I was a little short on time getting to B24. On the way, I heard an announcement "Attention passengers on flight 5701 to Pittsburgh, there has been a gate change. Flight 5701 will now depart from gate B16." Great. Another gate change. The flight information monitor at B16 said "Huntsville, Alabama." The agent then said there was an aircraft swap.
Northwest 5701
Memphis (MEM) - Pittsburgh (PIT)
Canadair Regional Jet
Seat: 10A
Departure Gate: B16
Arrival Gate: D83
Scheduled Departure Time: 6:35 pm
Actual Departure Time: 6:58 pm
Scheduled Arrival Time: 9:58 pm
Actual Arrival Time: 10:02 pm
Boarding was ontime, and another friendly female F/A greeted everyone onboard. About 15 minutes later, after just sitting, the captain, speaking with a thick Southern twang, announced that the aircraft was incorrectly fueled. Our CRJ only had enough fuel to go Huntsville, not Pittsburgh. He sounded irritated, trying to get hold of the fuelers. The fuelers arrived several minutes later, and we pushed back.
Parked at the gate.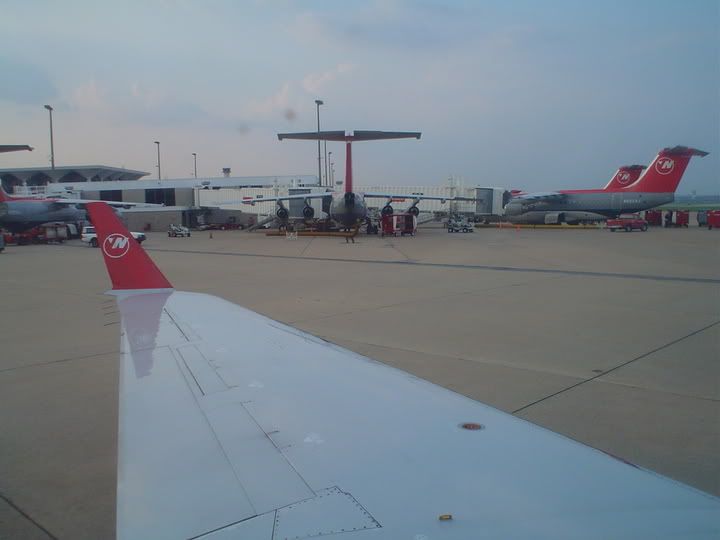 A long wait in the alley. Nice backside view of the Avro.
After pushback, the engines started, but we sat in the alley for at least 15 more minutes. The engines finally powered up and we headed for Rwy 18C, but then turned back towards the terminal. Something was clearly wrong. Shortly after, the captain (again, sounding irritated) announced that the gate agent failed to load the weight and balance information. He was trying to call the operations center to have the information loaded. The captain apologized for all the problems and we finally taxied toward Rwy 18C.
This aircraft made a lot of noises. Upon applying the brakes, there was a sound like a muffled car horn, and then a series of loud thumps at the very end of the takeoff roll.
Our CRJ made a sharp left turn after takeoff. Beverage service (with two bags of Spinzels) began shortly after, and the F/A announced that, because of the delays, the captain was buying cocktails for the entire cabin. She announced something like "Folks, because of the ground delays, the captain has been nice enough to offer free cocktails to the entire cabin. I wish I could have one myself." The flight attendent was very friendly.
After a beautiful sunset over Kentucky, we flew by some thunderstorm clouds, accompanied by a lot of lightning.
Sunset over Kentucky.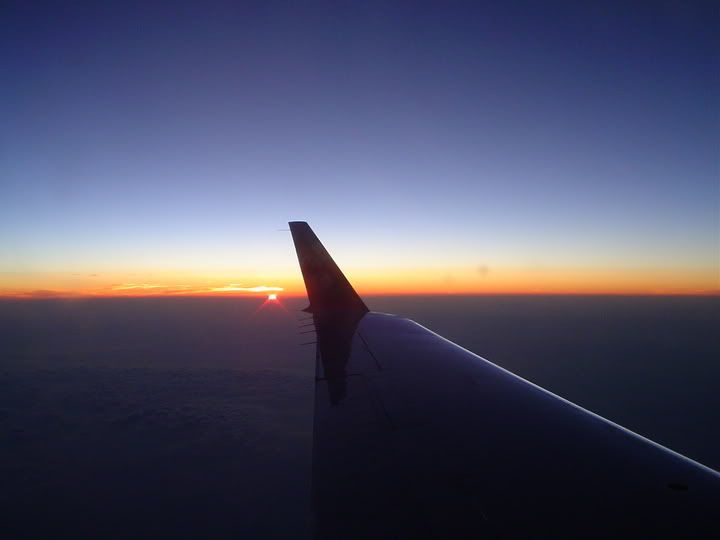 The sun is almost done for the day.
Following the Ohio River, the CRJ descended into PIT south of Wheeling, West Virginia, and we made a bank to the left, flying past the new Robinson Mall, and down to Rwy 32. We parked at D83.
---
Overall, I thought the Pinnacle crews were far better than the mainline crews, at least on my particular flights. The Pinnacle flight attendents were great.
NW was okay, but nothing spectacular. They seem to have some operational issues at their MEM hub.
I'd probably give the trip a 6/10.
Thanks a lot for reading. Comments welcome.