Ok guys here it is. The report I have been waiting to write for a hell of a lot longer than you think. I have taken the liberty of compiling this little tale of a number of flights I made while making my way to South America. And because I am lazy and do no want to write two reports I have chosen to include some of the return flight photos as well. Inclusive of this evenings festivities will be some snaps of some of the more interesting parts of the holiday, and some of the internal flights I took with LAN Peru. I hope you like it, if you don't. Tough!
Here is me in Peru standing infront of the one of the biggest trees in the Rainforest! Just if you were wondering which mug is writing this report.lol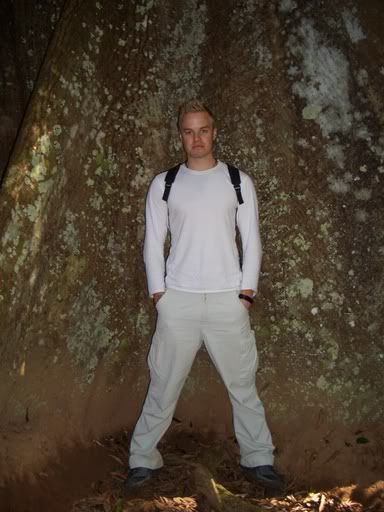 I suppose my story starts with the short yet entertaining drive from my house in Richmond to Heathrow, courtesy of my brother. God bless the bugger. Lol. I left the house at roughly 8.00 am, an hour earlier than scheduled. Thanks to those bastards that decided to bomb London the day earlier it took an hour to get to T3 due to the traffic. Hope they rot in hell!
I arrived in good time to make the midday flight out to IAD. I checked in with relative ease in the non existent C Class queue. Fortunately the nice man at the check in still had my pre assigned seat. 5C. (Thanks to all those who recommended that seat, it was fantastic.) After making my way to the Fast Track line I had an unexpected encounter with a member of a famous American Rap Group called B2K. He was travelling with his tag along's who looked like they collectively owned more jewellery than all the Tiffany stores put together. I decided although tempted, not to put on the sun glasses to cover my eyes from all the bling that was insulting my vision. Lol
After passing fast track I paid a visit to the Gucci Store to pick up their Gucci Belt. This is rather smart I feel. My next point of call was Dixon's to buy a new digi Camera, got the new Casio with the giant screen. Unfortunately, contrary to my own wishes I chose not to charge it up in the lounge, so the first load of pics are from the piece of crap my dad gave me to take photos of the airport. Cheers Pa!!!
The terminal was rammed and so I strolled over to the Air Canada, SAS lounge (cheers Davidson, good work). I found somewhere to sit down in and with a Gin and Tonic, crackers, cheese and 'Kettle Chips.' Yum! Here are a few snaps of the lounge, pardon the darkness but as I said before I was not equipped with my weapon of choice!
This is where i parked for the hour or so before the flight! Comfy eh?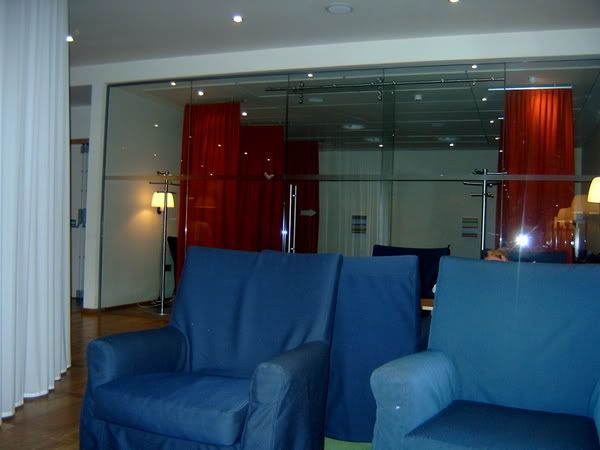 Here is the downstairs snacks area!
Another downward view. For your pleasure of course!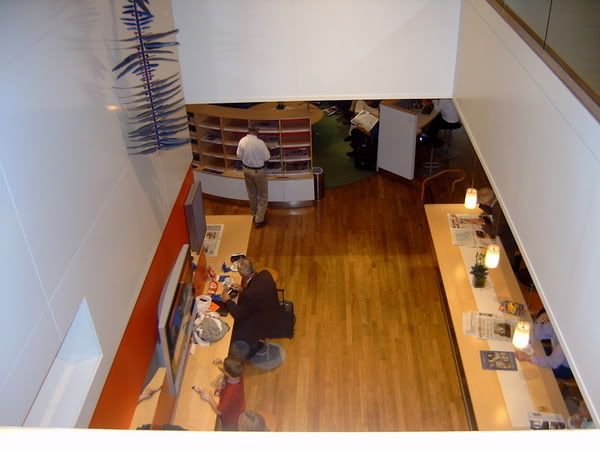 Upstairs snack area! They had to re stock after I paid a visit!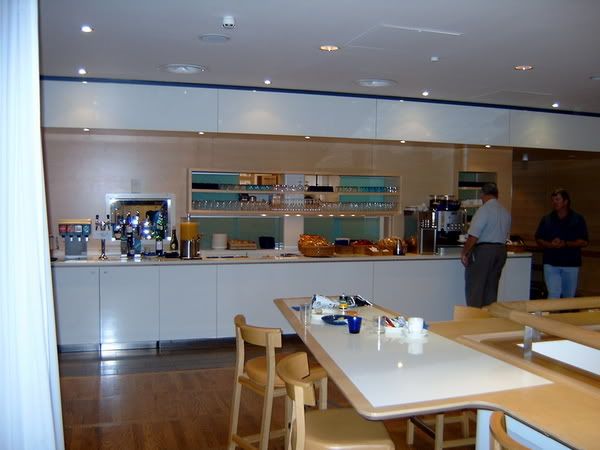 Good old SAS MD80!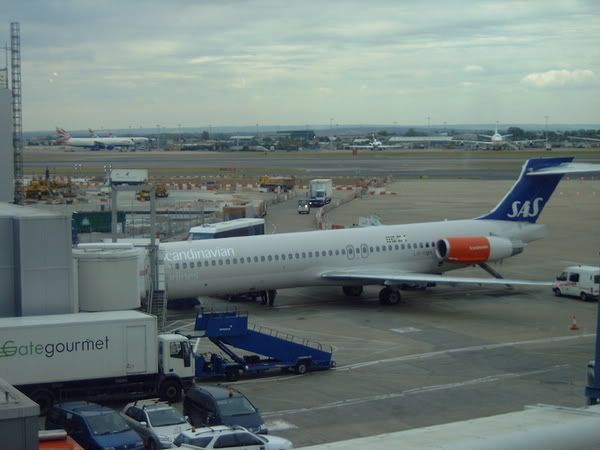 I was later star struck when Sven Goran Erickson and his lady friend strolled in (for all your buddies not from England, he is the England Soccer……, excuse me, Football Manager). The lounge is really plush, well stocked with goodies and full of entertaining things to get stuck into. I chilled out for a few drinks before making the hike to the departure gate.
To my delight saw that the 767-300 scheduled for todays travel was one of the recently painted ones. Good start! Unfortunately the air bridge was obstructing my view so I could not get a picture of it, BLOODY HELL! LOL.
I did however take some goodeis of the AA T7. Here look!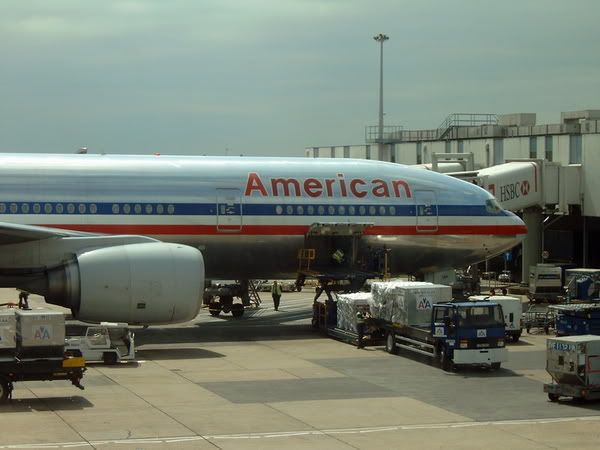 Departure Airport London Heathrow GB (LHR)
Departure Time 12:05
Arrival Airport Washington Dulles DC US (IAD)
Arrival Time 15:35
Meal Lunch, Snack
Aircraft Type 763
Duration Travel Time 8h30m
Operated By United Airlines
Boarding was quite fun and I located my seat as a queue of other passengers passed the bulk head. Business Class was completely full with only about 2 passengers in First. The overhead lockers were shite and kept rattling later in the flight. The seats although very comfortable were noticeably narrower than the 777. No worry co check out the legroom. Yeah baby. I am 6ft 3inch, (big bugger, I know), but even with my legs stretched out fully, I still could not hit the bulk head.
Here is a quick look into First.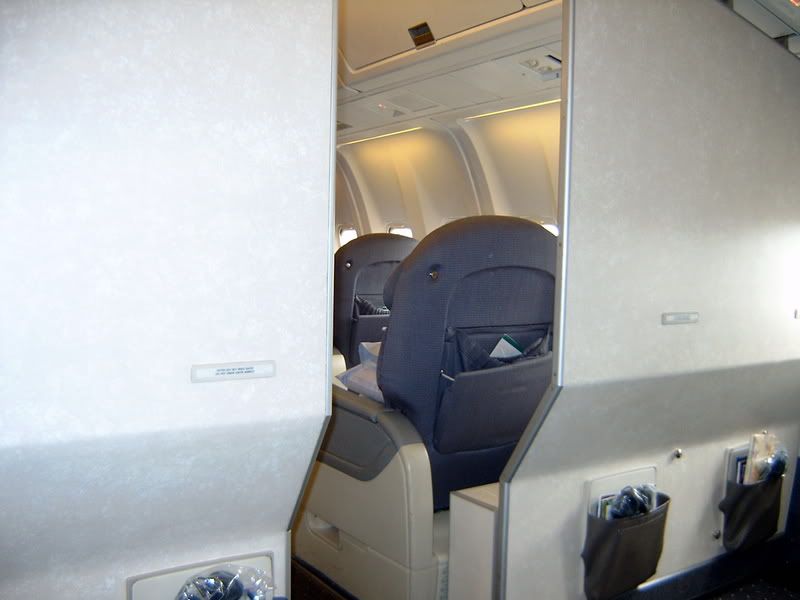 Check out the legroom I had, my legs are stretched out completely!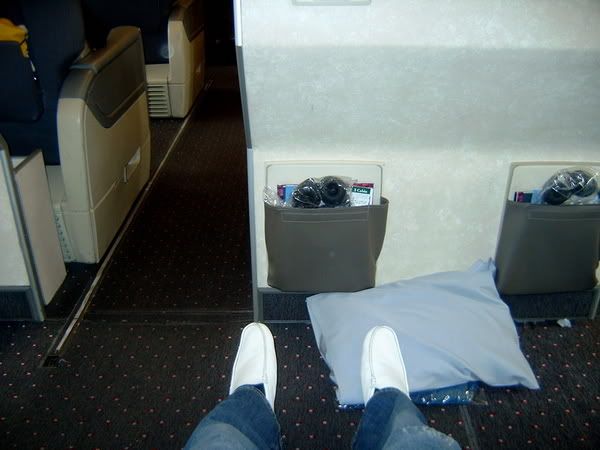 We departed on time and according to ATC we had a Malaysian 747 behind us and were blessed with BA 747 in front. Good stuff. As a result of the window seat there would be no photos of the airport. However here are some other photos of planes that were taken on my return.
As we lined up, I naturally powered up the MP3 and sat back with 'Heavy Fuel' by 'Dire Straits.'
What a tune, I think. And I hope you will agree, if not, then clearly you don't know what good music is! Lol jus kidding. But seriously think about it!
Take off was pretty smooth as the ageing beauty from Boeing climbed to 34,000 ft. As we levelled off it was lunch time. A few glasses of bubbly later I was rewarded with a tray of goodies. Here is the menu and lunch.
The Menu!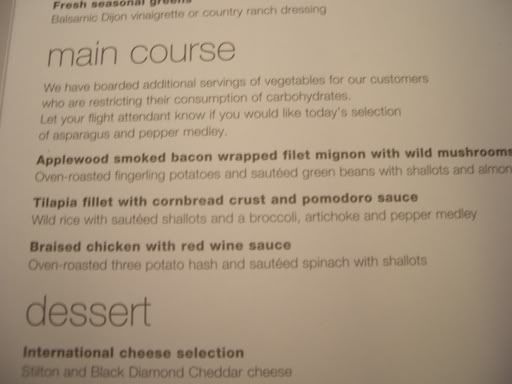 The starter was Ham, Goats Cheese and Smoked Salmon with Balsamic Vinaigrette! A ranch salad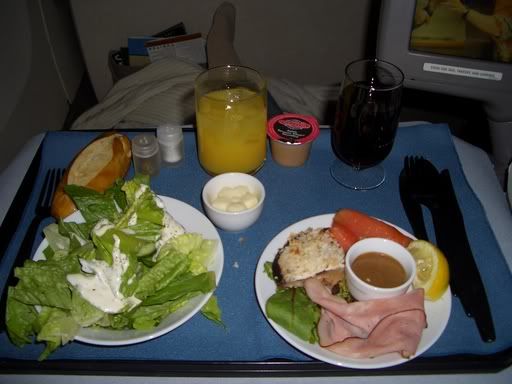 I chose the steak, which to tell you the truth, was wonderful! The steak was cooked to perfection, and I just loved those potatoes!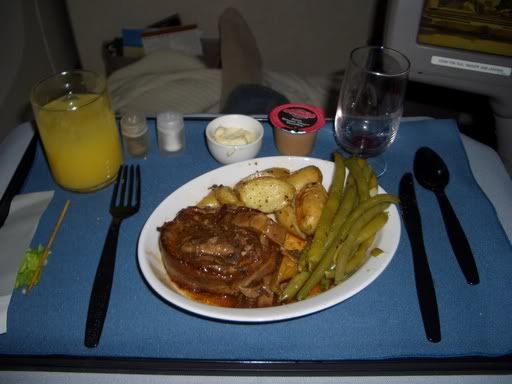 Throw these in for kicks. This was on the return flight from IAD on the T7. My seat and the view into first class! Those sleaper seats look great!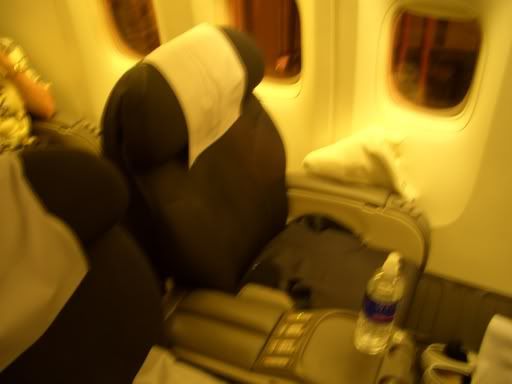 I skipped desert cos I a trying to watch the figure………… Got ya, haha!
Here is the full C Class cabin on the flight. I was right at the Bulk Head. Clearly you wont see me because I was taking he picture. Silly you!
After lunch I reclined and watched fever pitch, which was surprisingly good. Go Red Sox. The little PTV was not as blurry as I remember, the quality allowed for suitable viewing of any of the films. I chose not watch another because they all were quite boring. I decided to go and have a chat with the FA's who were all so friendly, the Purser was saying how he is making the same amount of money now, after the pay cuts, that he was earning in 1991. That's shocking! Poor guys, how the hell can they pay the bills, when inflation has doubled prices since then?!
After a quick chat I reclined the seat, which is actually does slightly more than the T7, (suppose it compensates for the narrower seat) with my book and the MP3, two hours of Dire Straits later it was time for a nap. I had a quick glass of wine and some water and then fell asleep for a few hours. I was later woken by the kind Purser who offered me a snack of Sandwiches, Scones and Tea. How civilised I thought! Not a good as the Savoy though!
We had a very smooth landing on the old 763 into Dulles. The flight was highly enjoyable and very kindly I was rewarded with a free bottle of bubbly as a got off the plane. The FA's were great, United I salute you!
After deplaning I had to clear customs which took bloody ages, I was bursting for the toilet and the air conditioning was broken, so one can imagine with every sip of water I got worse. After an hour in the queue my luggage was put onto the next flight, down to Miami. I made my way over concourse C, for my next flight. I settled into the Red carpet Club next to gate C7. Here are some snaps of the lounge and some planes I was lucky enough to see. I just love the 777-200. It's such a beast!
While chilling in the lounge I got some photos. here you go guys!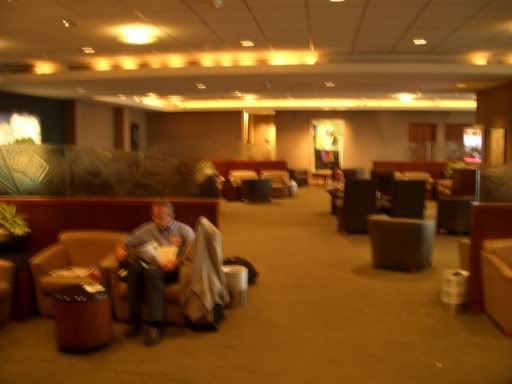 What do we have here! T7 all the way baby!
I helped myself to some cold vegetables and cookies and settled into a comfy arm chair to wait out the hour or so before my next flight. I made my way over to the gate for the flight down to Miami, it was a little delayed but that did not bother me because I had a 3 hour stop over at Miami for my flight down to Lima that evening!
Departure Airport Washington Dulles DC US (IAD)
Departure Time 17:50
Arrival Airport Miami FL US (MIA)
Arrival Time 20:48
Meal No Meals Served
Aircraft Type 733
Duration Travel Time 2h58m
Operated By United Airlines
2C would house me for the next two hours on the little 737-200. As we sat on the tarmac I noticed the cargo bins being loaded with daily or evening newspapers, fresh from the printers. There seemed to be only one poor luggage loader had to lift these giant boxes of papers onto the conveyer belt that led to the hold of the plane. Oh well that's what he is paid to do right!? We taxied to the runway in the evening sun as I put on my take off song…….. Yeah you guessed it. Dire Straits!
Hello!
Take off was great, we were so steep on take off and banked early to the South to make our way down the coast. We were warned there was a serious weather front moving in over Florida so we expected some bumps but none arrived. I ordered a Gin and Tonic to start the flight going. The lovely F/A then offered some refreshments. Dinner was served and we were offered a either a spicy Chicken Fajita or a Salmon Salad with water chestnuts and Oriental Vinaigrette. The fajita was great, shed loads of chicken, peppers, tomatoes and loads of salsa. Here are the two meals!
Yum!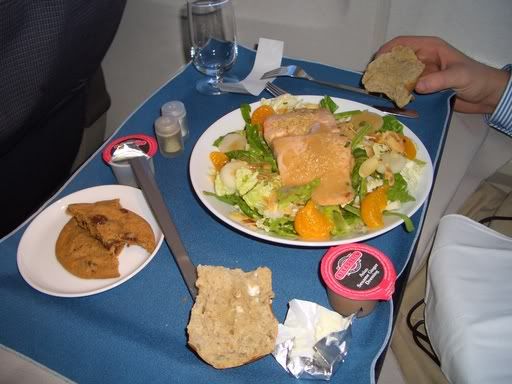 And Yum again!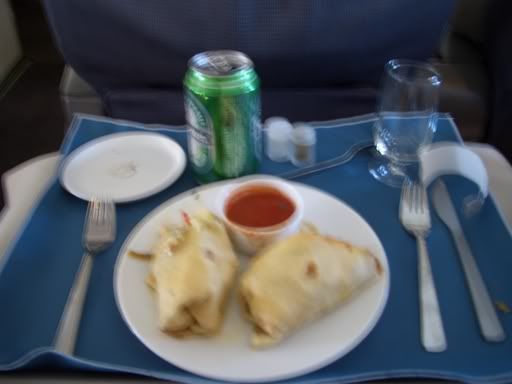 I had a few beers with my seat mate Ryan. Big shout out to you man. I know your reading this! What a lad! And we both commented on the amazing stewardess who was looking after the Economy Cabin. Unfortunately she had, as Ryan so delicately put it,
"A fat rocker on her finger"
Hahahahahaha
I love that word, Rocker, implying she had a fiancée, oh well, I bet I could have turned her to the dark side! Lol
As day turned to dusk we suddenly could see the weather front the Captain had been talking about. The clouds were fascinating; the decent into Miami went without a hitch. I took some snaps of the clouds because I have never such dense clouds in my life, we bypassed a number of storms that would later engulf the airport in torrential rain and thunder. The landing was very good considering the volatility of the air we were flying in. As we arrived the heavens opened and soaked the airport, including my bags that were making their way through the intricate series of tunnels and baggage handling stations of MIA. Whichever moron left my luggage out in the rain for three hours, I will get you back, lol.
After dinner and as Ryan was in the toilet I moved over to catch some photos! Good effort Paul, well done
That ones a beauty, dont ya think?
And another!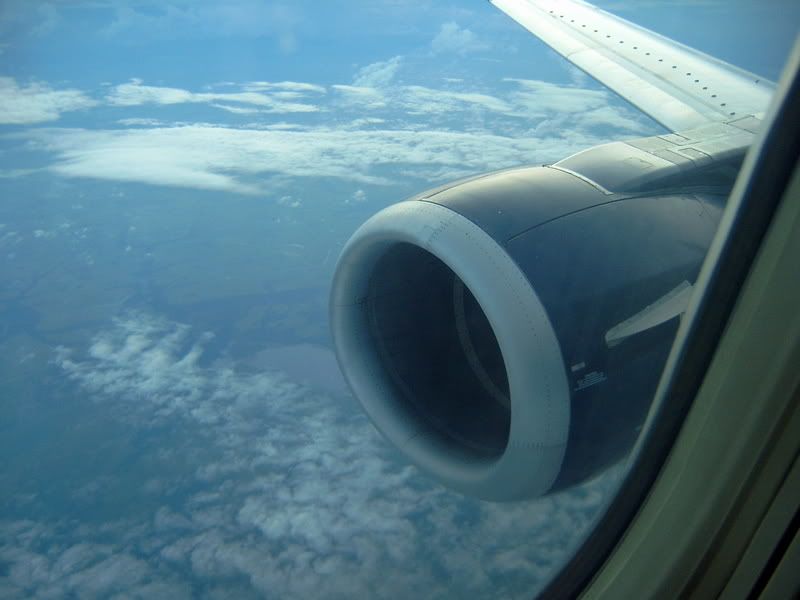 I also got some of the cabin for keep sake, you know how it is!
Very comfy Domestic First seat!
Dont they all look so tired, wheres the stamina? lol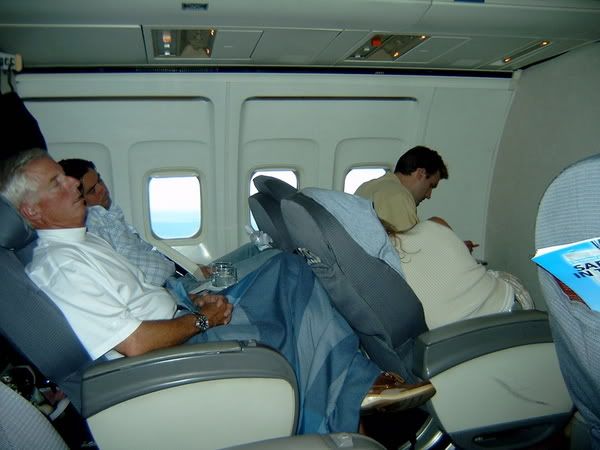 The landing was very good considering the volatility of the air we were flying in. As we arrived the heavens opened and soaked the airport, including my bags that were making their way through the intricate series of tunnels and baggage handling stations of MIA. Whichever moron left my luggage out in the rain for three hours, I will get you back, lol.
I had a great experience with United Airlines. The ground staff were fantastic especially on the return when I managed to blagg my way onto a T7 from IAD- LHR. The F/A's were wonderful, always attentive, kind, helpful and happy, (considering). Hats of to UA! 9/10. The quality of food never faisl to disappoint me, but then I am an animal and will eat anything. More or less! Lol My only complaint was the 767-300 seat width and age of the plane! Think they need to look at a newer seat when the get back on their profit making feet. But hey you cannot have everything! Here are some extra photos that I have thrown in to interest you guys for 30 seconds more. Lol
The new LAN Peru A320!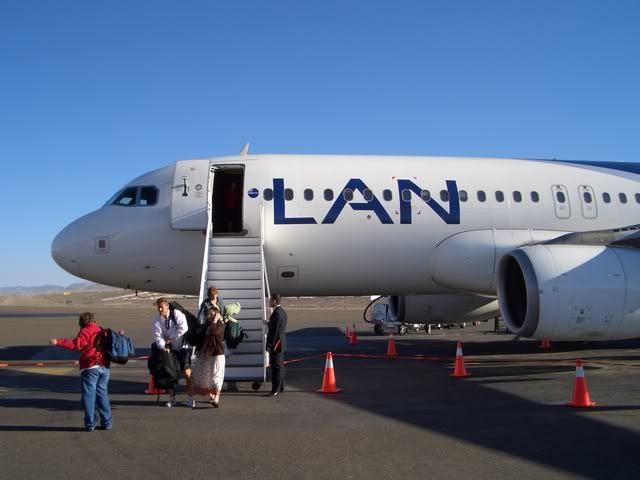 Frontal View!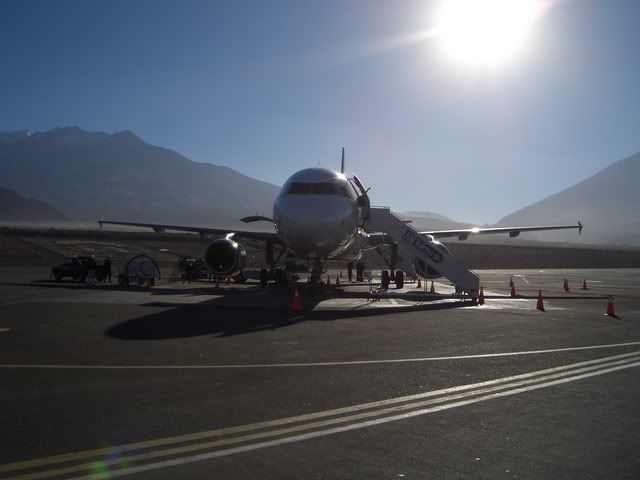 And one taking off tright infron of my eyes!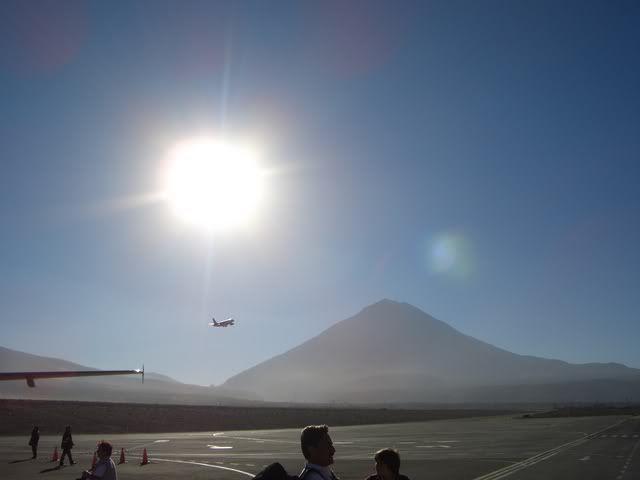 Big looking engines for this one!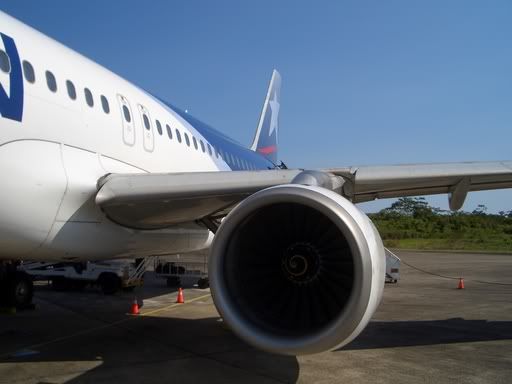 I can guarantee you that this is one of the most make shift baggage handling operations I have encountered. Oh well, it was great!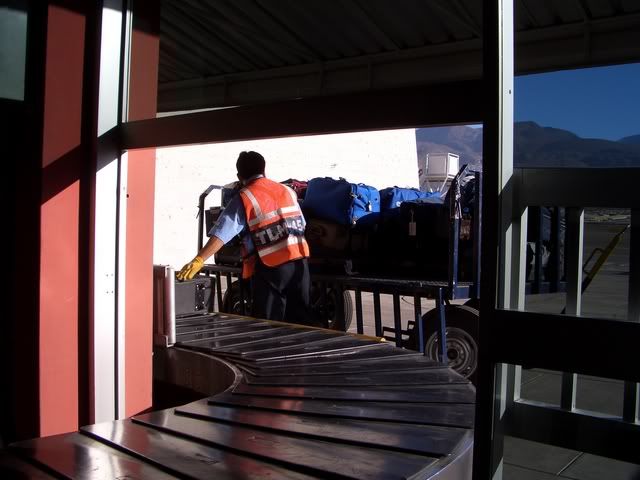 Now this next picture is the iceing on the cake. After walking the last 6 miles of the Inca trail in the buring hot sun, here is the end result. At about 5 in the afternoon, my group arrived absolutely nackered at Machu Pichu, the lost city of the Inca's. It was in one word. Breath taking!
One of the many trips I made was into the Jungle down one of the Amazon filter rivers. We stayeda t a jungle lodge and look what I found. A baby Spider Monkey, he was only three weeks old. he was so cool! check him out.
Here are some pics I took from the return flight, when I landed at LHR on the rainy friday morning. How depressing! The Virgin 747-400! Beauty!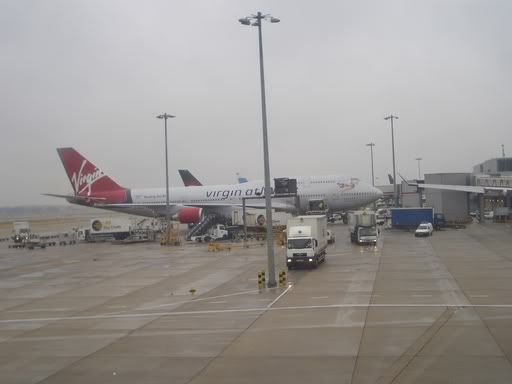 And again!
But I churped up when I saw a replica of the plane I was on. Which was the newly painted T7. I was so blessed to have gotten on two newly painted planes! Hell yeah.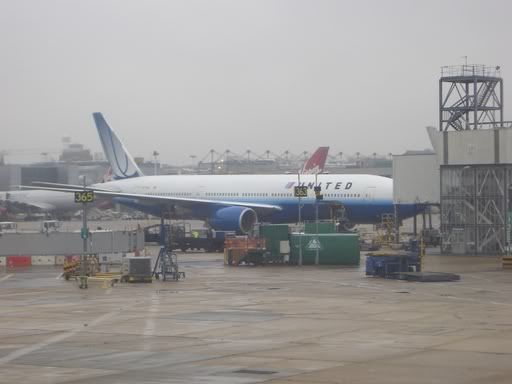 Interestingly the new Heathrow control tower can be seen from my bedroom window from home. And he she is in her newest form. Good morning!
I hope you enjoyed the report. Sorry it is a little brief but I got a shed load of stuff to do! Hope you all stay well and have fun with whatever your doing. God bless!
Paul