Way back in February I learned that my roller coaster club (ACE) would be going to the Salt Lake City area in July, and I immediately started looking at airfares from Virginia. I knew I would have a free flight on AirTran by that point and considered hopping a 717 as far as Denver and then taking Frontier or United over to SLC. What I discovered is that it would cost MORE to fly from DEN-SLC than it would to fly from ORF-ATL-SLC! Even Frontier wanted nearly $450 for the roundtrip for the last week in July booking as early as March! (Right now it lists for $152 for October booking in August.) So I checked the fares from ORF and PHF to SLC on Delta, and got $412 roundtrip. Sold.
The last time I flew Delta was in 1995. It had been a miserable experience with having to run to catch our connecting flight in Cincinnati, which promptly went mechanical and left 2 hours late anyway, surly CSA's in Greensboro, unfriendly FAs, and lost luggage. And Hartsfield was still under HEAVY construction in preparation for the 1996 Olympics. Since then, I had not even given Delta a second look, flying AirTran wherever I needed to go, and US Airways anywhere FL didn't go. But I decided that after 10 years it was time to give Delta another chance.
I'm glad I did. This was one of the most pleasant flying experiences I've ever had.
As with most of my flying experiences the past 2 years, there were a lot of "firsts" for me on this trip. But I'll get to that later...
Thursday, 28 July 2005
DL1872 ORF-ATL
MD-88 (N916DE)
Seat 22E
Sched. Departure: 0500
Sched. Arrival: 0649
Pushback: 0458 from Gate 21
Wheels Up: 0506 from RWY 5
Wheels Dn: 0620 on RWY 27R
Actual Arrival: 0626 at Gate B6
Load: about 35-40%
View Large
View Medium


Photo © Gunnar Haglund
I crawled out of bed the same time I generally get up to go to work: 2:15am. Same routine as usual, too: Head to the bathroom, make myself look presentable, grab a granola bar and a Pepsi on the way out the door 32 minutes later. I had packed and put the bags in the car the previous afternoon, so I could just revert to my half-awake-stupor automatic morning routine. I would just have to remember when I got on I-264 to keep driving through the tunnel instead of exiting in Portsmouth. No problem, I had my online boarding pass to remind me to go to Norfolk International Airport.
I parked in the long-term lot and dragged my stuff to the check-in counter. At that time of the morning, the only people I know who would have been willing to take me to the airport are the people I work with, and they were at work covering my shift. So I ended up shelling out $42 for parking when I got back. I really wish it had been cheaper to fly out of PHF, but Delta wanted $75 more for that.
Anyway, after checking one bag, I carried my other bag and my camera bag upstairs to find a few people already waiting for the A and B concourses to open. TSA is closed for business at ORF until about 4:20ish. So I got out my book and passed the time until they opened up the security line. By which point there were about 50 people waiting for concourse A (DL, AA, CO, NW) and several waiting for B (US, WN). It took about 10 minutes for me to get through the line and to Gate 21, where I had to sit for a long time because I was in Zone 8. Being less than half full, though, there was plenty of overhead bin space and due to the light load everyone was on board and seated before 4:55, including several people using canes and wheelchairs. The zone boarding seems to work pretty well, I noticed AirTran using a similar system when I flew them in June, calling out 3 rows in the back of the plane, then 3 rows in the middle, etc. It's catching on, and the passengers seem to understand it without any confusion.
We got off the ground pretty quickly and took off over Little Creek Amphibious Base, did a wide U-turn to the south and headed for Atlanta. Service started pretty quickly and was much more than just the crackers and soda I got in 1995. They had an assortment of snacks available, and I chose the chocolate chip chewy granola bar... I've always had a thing for those chewy granola bars. That and a Sprite and my iPod were all I needed for this 74-minute flight. I went with the iPod instead of my book for 2 reasons: It was completely dark on the plane, nobody had their overhead lights on except up in the front, so I was hoping to doze off (which didn't happen); and I needed to drown out my neighbors. I don't blame the woman in 23E, it wasn't her fault she had a cold and she really needed a lozenge. But the couple in 21D-E needed to get a room, or take it to the lavatory and join the mile-high club already.
We landed very early in Atlanta, where the ground crew wasn't expecting us for another 25 minutes. Stop short of the gate, pause, pause, pause, see swarm of ground vehicles arrive, pull in to gate. Our actual wait time at the gate was less than 3 minutes but it was enough for some less-patient pax to start grumbling
At this point I had nearly 2 hours to kill, so I found Charley's and had one of their veggie omelettes... A few red peppers at 0630 were just the shot in the arm I needed to wake up and realize I was actually on vacation. Whenever I take time off from work, as long as I remain at home or in the Norfolk area I don't consider myself on vacation. Once I arrive in Atlanta, that's the trigger that I've actually escaped the daily grind for a few days. And I usually celebrate with an omelette. It's a thing...
Egg fix satisfied, I wandered around for a few minutes and found my 767 parked at B25.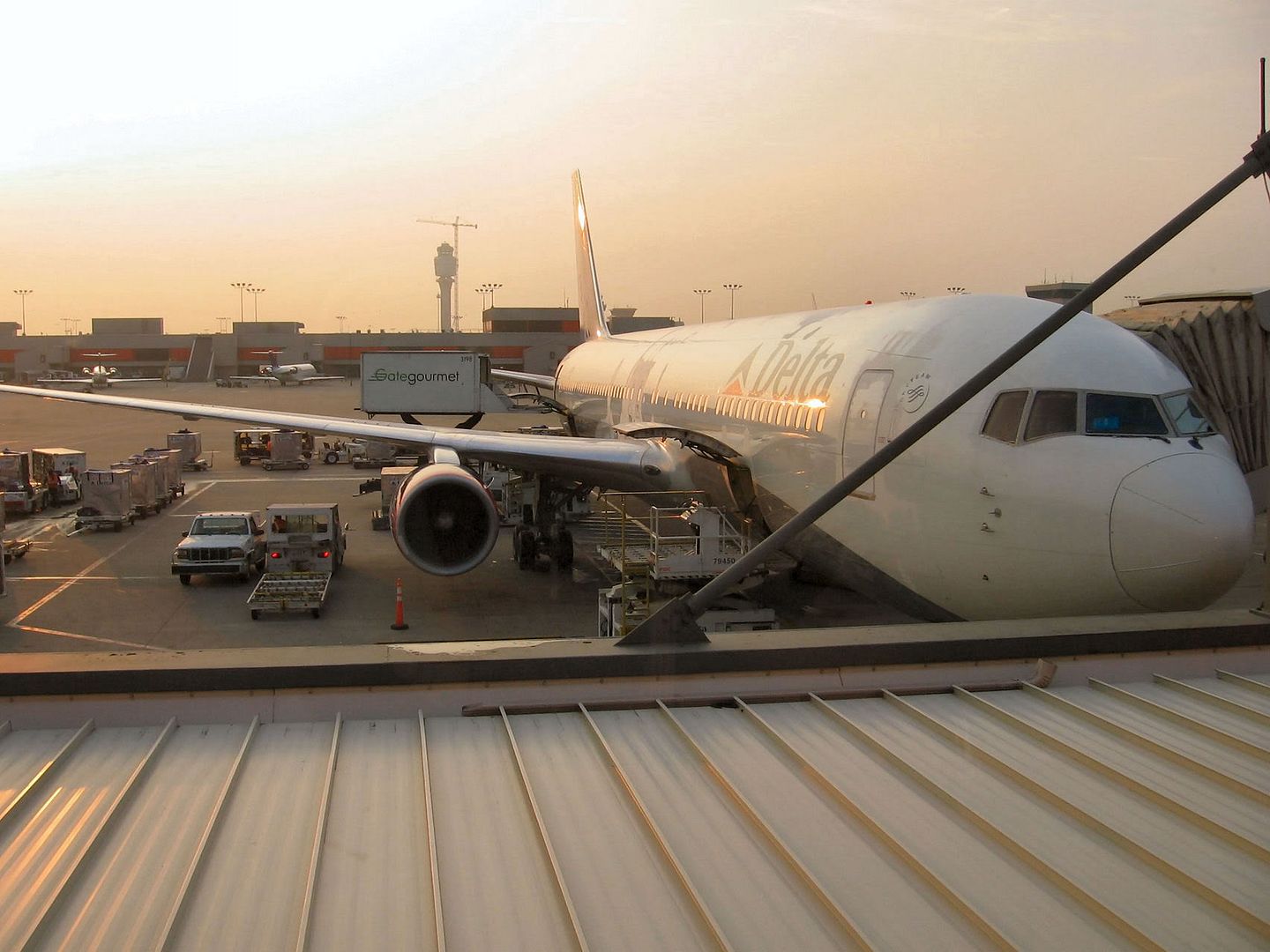 This is one of those firsts I mentioned earlier: My first 767 ride. I have been looking forward to this flight since I booked it. My only other widebody flight ever was way back in the early 1980s, that was a United DC-10 flight that I barely remember. Even though some people don't consider the 767 to be a "true" widebody, it has 2 aisles so for me that counts.
Thursday, 28 July 2005
DL423 ATL-SLC
Boeing 767-300 (N134DL)
Seat 33G
Sched. Departure: 0817 ET
Sched. Arrival: 1015 MT
Pushback: 0827 from Gate B25
Wheels Up: 0853 from RWY 26L
Wheels Dn: 1025 on RWY 16L
Actual Arrival: 1036 at Gate C6
Load: 100%, with standby pax left at the gate.
We started boarding around 7:40 and it took a while because we were completely full. A couple of minutes after I sat down, the gentleman in 33F was told he had been upgraded to First, and he got his things and left. 2 minutes later a standby passenger sat down in his place. There was another issue with someone in the exit row wanting to move, so there was a switcheroo and we pushed back 10 minutes late. This put us at the end of a long line for 26L, and it was another 26 minutes before we took off. Being directly behind the wing I got the full roar of those GE engines. Gee, you don't think I picked row 33 on purpose, do you?
33 seconds later the main gear left the runway and we were on our way to Utah. The snack service started and it was soda and Delta's prepackaged snack packs, with such things as Oreos, Club Crackers with cheese spread, raisins, etc. Not bad considering what coach service is these days. In fact I like this better than the old ham-sandwich days, with the year-old mayonnaise and odd-colored ham on strange unpronounceable breads. Besides, I had just had that omelette with red peppers, so junk food was just what I needed. The movie was
Miss Congeniality 2: Armed and Fabulous
, which I didn't bother with. I had my book and my iPod, which kept me occupied for the next 3 1/2 hours. We hit some turbulence a couple of times mid-continent but it wasn't bad, just barely enough for the Captain to turn on the seatbelt sign for about 5 minutes at a time.
Flying over storms about an hour into the flight: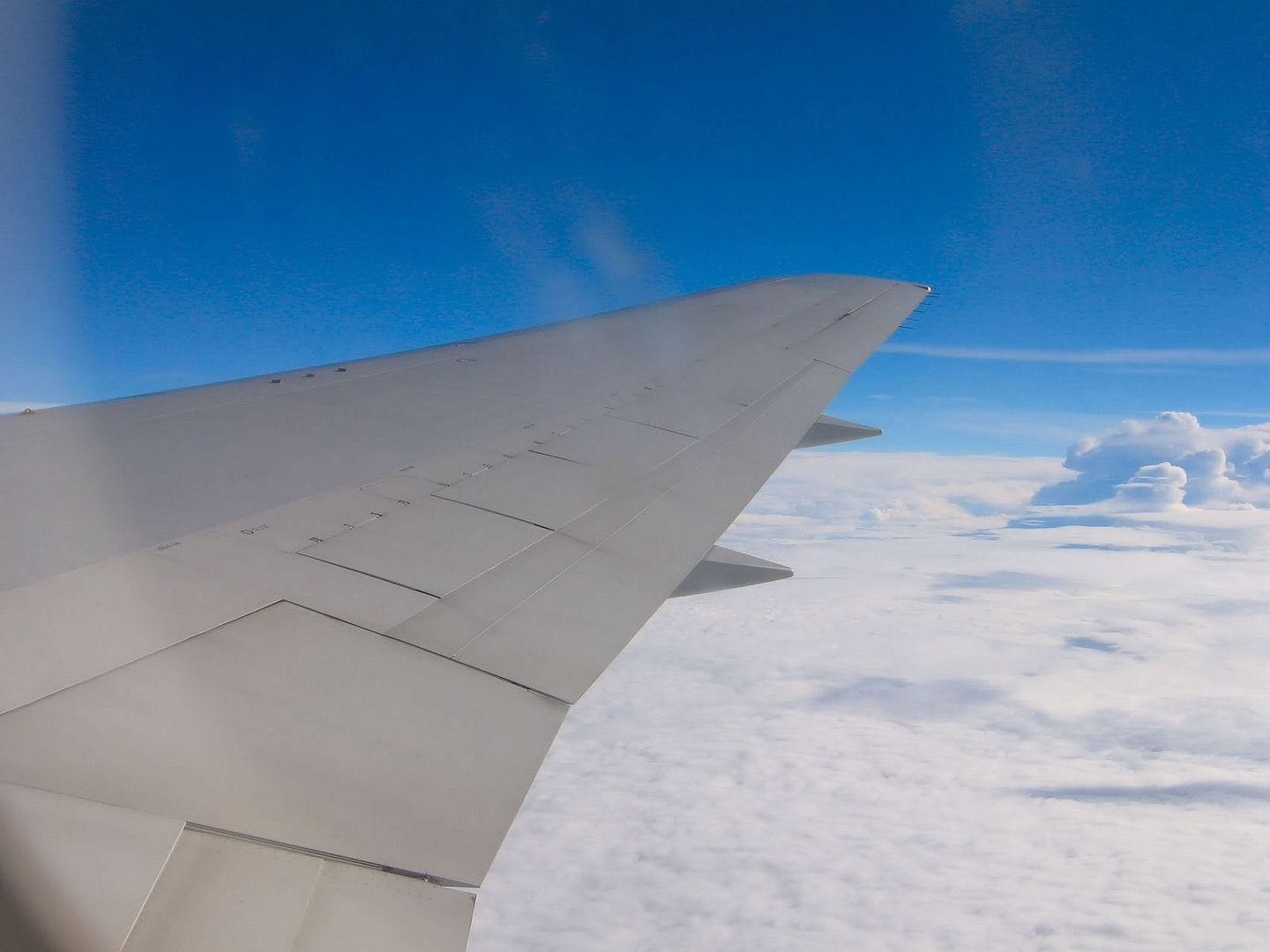 Mostly clear skies over Colorado:
Approaching Salt Lake City: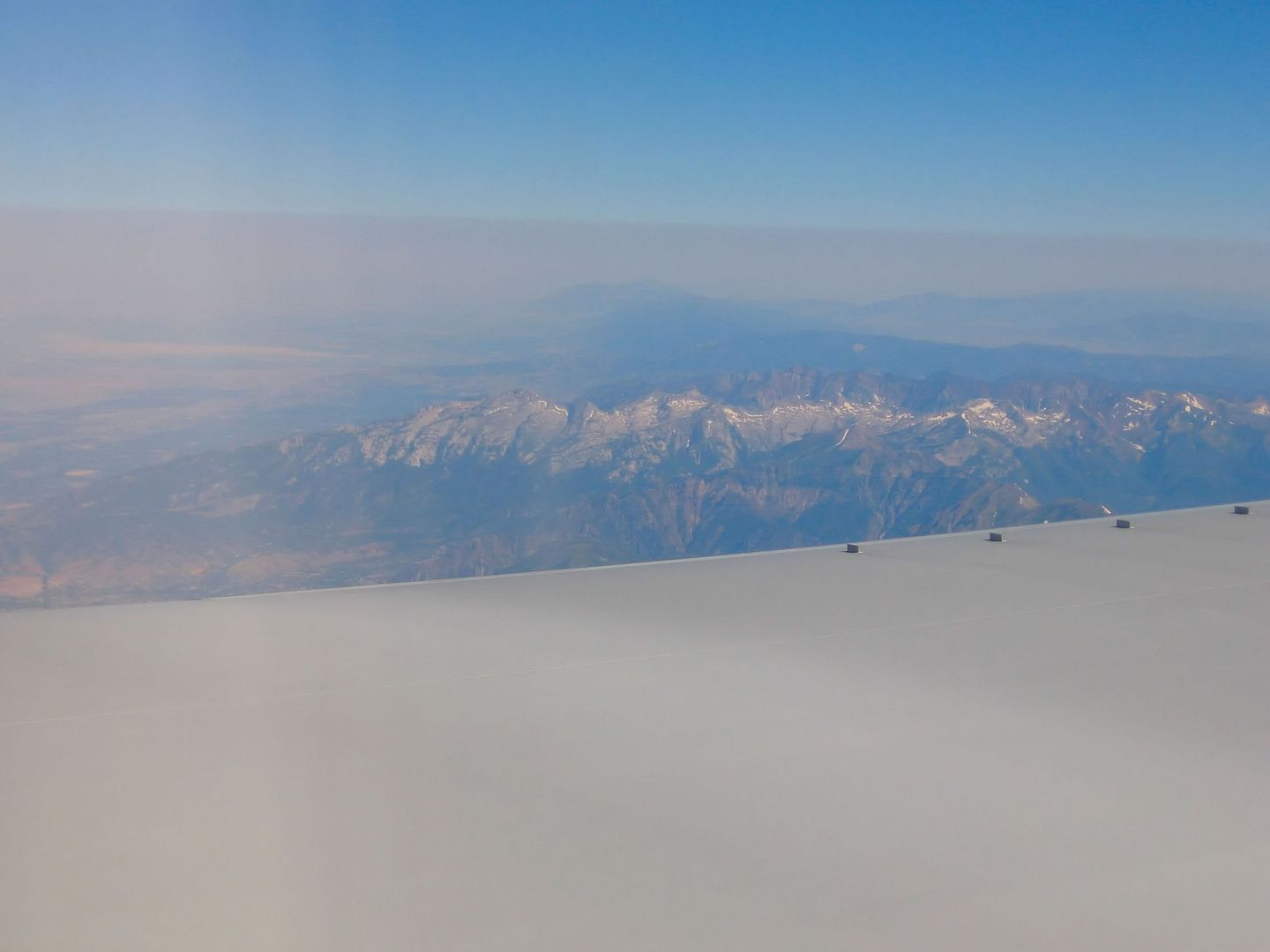 Due to some congestion, ATC slowed us down a bit and we approached from the south and flew past the city and over the Great Salt Lake. The
in 34F was talking the entire flight, and is one of those codgers that makes up stuff... such as seeing a CRJ in Atlanta from the side, seeing only the port engine, and announcing to his entire party that "that's a little plane, it only needs one engine. This here's a big plane, we gotta have 2 engines!" This same genius saw all the water below us, and said to his wife "Well, I guess that's the sewer system. Salt Lake's a pretty big city, you'd think they would need a pretty big sewer system." Uh, no, that would be the
Great Salt Lake
after which Salt Lake City is named!
We made a big, graceful arc over the lake ("You see, it's like when an 18-wheeler is turning at a stoplight and has to make a big circle..." OH JUST SHUT UP ALREADY!...) and touched down on 16L. Taxi time to the gate was about 11 minutes, we had to backtrack to the north end of the runway and taxi all the way to the other side of the terminal, then turn back into C6. It takes a while to offload all the bags from a full 767, so I waited at baggage claim for over 30 minutes before the first bag even showed up. And there weren't very many of us at baggage claim, apparently most of the plane was connecting pax.
Besides this being my first time in Salt Lake City, here comes another of those firsts: For the first time
ever
, Delta Air Lines
did not lose my luggage!
Keep this up and I might just consider this trip a success!
And the hits kept coming: I got to the rental car lot, and Budget upgraded me to a midsize for no extra charge.
Budget Rent-A-Car
2005 Dodge Stratus, Silver
887 NCJ (Utah)
Well, since Delta did such a fine job getting me to Utah, and I got more rental car than I paid for, I knew
something
had to go wrong. It did. One week after I made my hotel reservation, the owners of said hotel sold it, and the new owners cancelled all the reservations the previous owners had made, and nobody bothered to call anyone to let them know they no longer had a place to sleep. And worse, the new owners had rooms available but for quite a bit more $ per night. No, thank you, I'll go somewhere else. I ended up at the Days Inn in Ogden, for only $2 a night more than what I had originally reserved. And closer to where I needed to be Friday. So it all worked out.
I won't bore you with the details of my visit, but let me just say that if you get a chance to go to Park City, UT, you MUST visit Utah Olympic Park. The bobsled ride down the 2002 Olympic bobsled track was itself worth the $412 I paid Delta to get there. That is one seriously wild ride. And if you like nature and hiking and photography and sweeping panoramic landscape shots, Antelope Island State Park is not to be missed.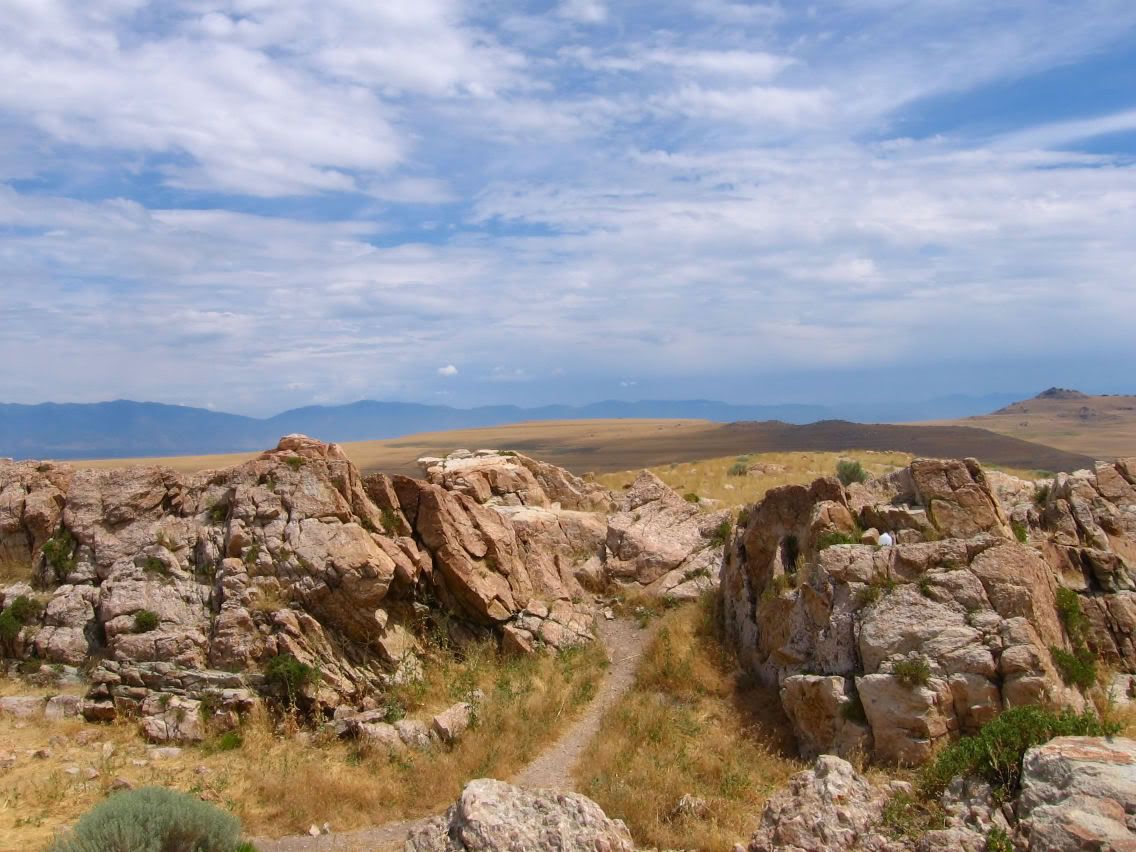 Ok, enough with my Utah travelogue. Back to the heavy metal!
Monday, 1 August 2005
DL418 SLC-ATL Redeye
Boeing 737-800 (N3733Z, Delta Shuttle, all-coach cabin)
Seat 20A
Sched. Departure: 2350 MT
Sched. Arrival: 0519 ET
Pushback: 2352 from Gate D2
Wheels Up: 0007 from RWY 16L
Wheels Dn: 0518 on RWY 9L
Actual Arrival: 0521 at Gate A10
Load: 100%, with standby pax left at the gate.
Here's two more firsts: My first 737NG flight, and my first redeye flight. And I have to say this was one of the most relaxing flights I've ever been on, even though I didn't get any sleep because I'm used to waking up in the middle of the night. The 738 is one comfortable plane.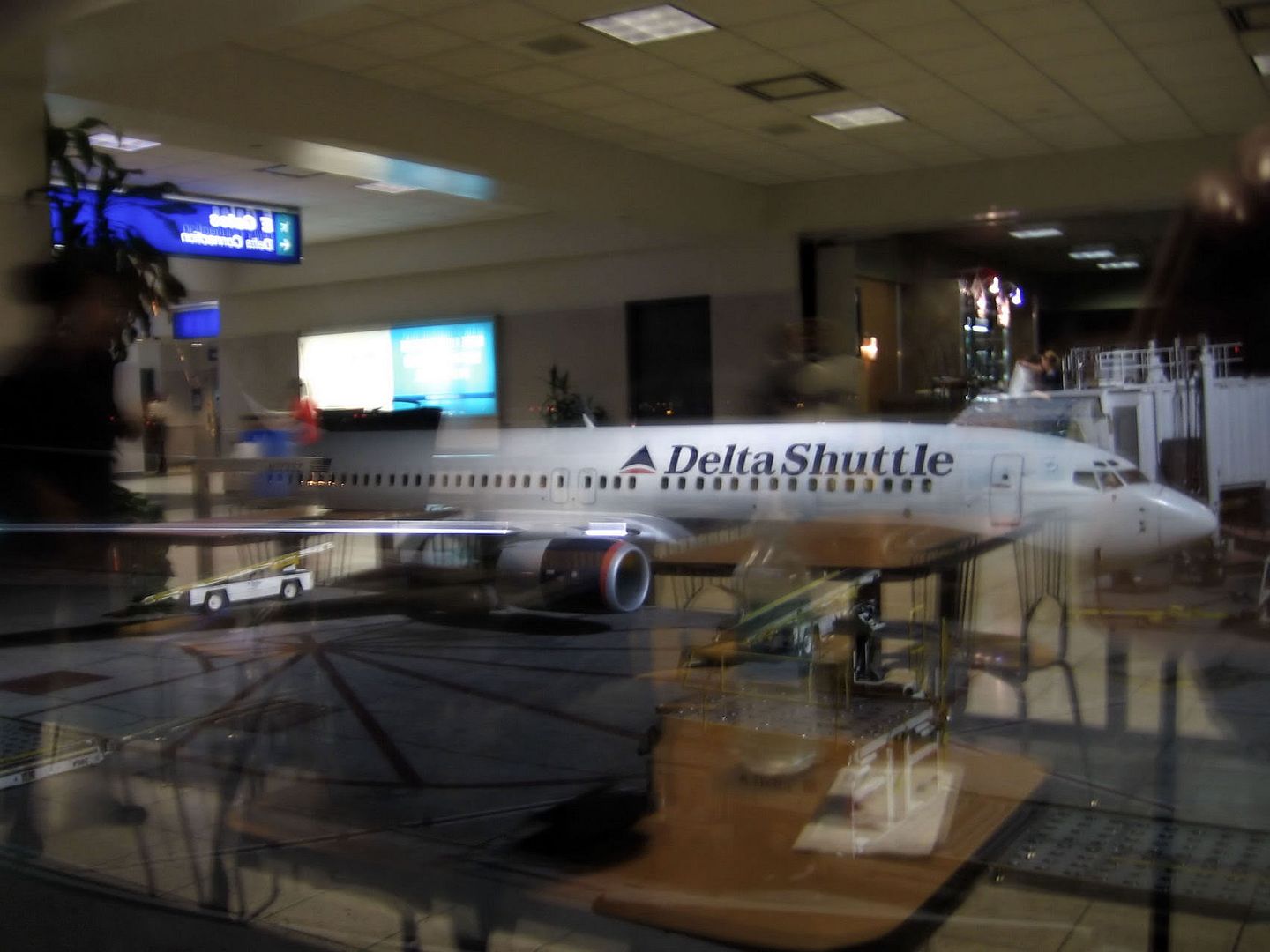 Back to Antelope Island for just a bit, they have beaches on the island with public showers. Since I had to check out of the hotel at 11am, nearly 13 hours before my flight, I was worried about having salt and sand all over me for the flight home. And after 8 hours of some of the most strenuous hiking I've ever done, in all that salt air, it's not a stretch to say I was ripe. It's amazing what just standing under hot water for 4 mintues will accomplish. I arrived at the airport looking like I had just left the hotel, rested, refreshed, and ready to start my day. And at that time of day, I usually am. So nobody on the flight had any inkling that I had been roaming the Lake since noon. I like it when life deals me a royal flush
For some reason the check-in kiosk could not retrieve my reservation. So, since there were about 5 CSA's with nothing to do, I went to the counter and talked to a human who pulled up my res with no problem. Checked my big bag, and with boarding passes in hand I dragged my carryon and camera bag to the gate.
Boarding began about 30 minutes before pushback. I boarded in zone 7, and this is when Delta really impressed me. Every seat had a blanket sitting on it when we boarded. And they were clean, packaged in plastic, and complimentary. Quite a few people used their blankets as pillows, which I ended up doing eventually. I heard several people voice their approval. Now I know a lot of you are used to First, and would probably bemoan the lack of pillows, eye covers, hot towels, etc. But this was an all-coach plane, and I'm a simple person, I fly coach exclusively, and I don't require much coddling for my coach fare. A blanket was a very pleasant surprise.
We pushed back nearly on time, taxied for a while, and waited for a Continental RJ to land on 16L before lining up behind it. For whatever reason it took a couple of minutes for the RJ to clear the runway, but soon we were airborne and I was waving goodbye to a great long weekend in Utah.
That 738 was a rocket and we soon leveled off and the service began. The same snack pack as the westbound flight, and the movie was
Madagascar
. I skipped both and shut my eyes for the entire flight. Quite a few times I forgot I was even on an airplane, it was so smooth. Once again I was seated directly behind the CFM, and its subtle roar at cruise was just the relaxing white noise I needed to get lost in thought. The 738 is a bit speedier than the 762 and less than 3 hours later we began our descent into Atlanta. The overhead LCD screens showed a commercial for Atlanta, and then alternated between a map, altitude/speed, and Delta.com and Skyteam plugs. The screens retracted into the overhead at the exact moment the landing gear dropped, and we touched down a bit far down the runway, hovering at 10 feet or so for a while before contact. (This tidbit of info would pop back into my head later that afternoon when the A340 accident in Toronto happened... and creeped me out a little bit.)
I had just under 2 hours before my flight back to Norfolk, but the terminal was crowded so I just hit Chick-Fil-A and got breakfast. OK, for me it's more like a midnight snack but in the real world it's breakfast time. Me and my screwy work hours
Tuesday, 2 August 2005
DL442 ATL-ORF
MD-88 (N921DL)
Seat 14E
Sched. Departure: 0705
Sched. Arrival: 0836
Pushback: 0706 from Gate A19
Wheels Up: 0717 from RWY 9L
Wheels Dn: 0822 on RWY 5
Actual Arrival: 0826 at Gate 23
Load: 100%, but all standby pax were accomodated
View Large
View Medium


Photo © William Jenkins
We had to wait in line for 9L for a few minutes, but soon we were off and headed for home. This being shorhaul, no more nice snack packs, it's back to the granola bar. Which is fine, I'm about to fall flat on my face asleep anyway. I did actually doze off during this flight, but I can't say it was actual sleep, it was just drifting in and out of consciousness. While the rest of the time zone is hell-bent on beginning Tuesday, my body's still on Monday afternoon, and my brain's still back in SLC.
After landing, we backtracked half the length of the runway and turned toward concourse A. We unloaded pretty quickly and as a herd made our way to baggage claim. Which took an eternity. It was a full half hour before the carousel even started up, and once it did it spit out 2 bags a minute, none of which were recognized by anyone waiting. This went on for about 20 minutes, and the belt stoped and the carousel slowed down. Everyone was shifting nervously, wondering if we were in the right place. Yep, this IS Norfolk, and this IS carousel 1, and that display DOES read Delta 442. A few minutes later the monster started up again and began belching bags at an accelerated pace, with bags falling all over each other to get out of the way of the bags behind them. Suddenly everyone saw a bag they recognized and the carousel area cleared out pretty quickly.
Based on this trip, I decided to become a Skymiles member. I know Delta's supposed to be in a world of hurt, but they have a much improved product over what I experienced a decade ago. I was genuinely pleased with the service, the staff, and the condition of the planes, something I can't say about US Airways. Delta is definitely getting my business in the future, especially if I get to fly one of those fabulous 738.