Monday June 13, 2005
United Express 6911 (Operated by SkyWest)
Wichita Mid-Continent to Chicago O'Hare
Dep. 6:00AM (On Time)
Dur. 1 hr, 50 min.
Canadair Regional Jet, N927SW
Load Factor: 98%
Seat: 10D (Economy)
I arrived at the Wichita Mid-Continent Airport at about 4:45AM after a drive through the empty streets of West Wichita at this hour. I found a group of people standing out in front of the United counter with the nobody at the counter and the lights dimmed. Many passengers tried to use the self check-in kiosks but they did not work. So we waited until somebody came to open the counter at about 5:00AM. By then, many people were waiting at the counter. I think they should open the counter earlier than just one hour before the first departure. I got to a counter and it took a little while to work with the paper tickets and the international itinerary as I would be checked in all the way to Okinawa. When I booked the tickets, they did not have good seats available for assignment on the ORD-KIX flight so I requested a new seat assignment. I was pleasantly surprised when I was assigned 25J which is in Economy Plus. I thanked the ticket agent and I went through security quickly since the flight was set to board pretty soon. There were only a few people in line for security so there wasn't much of a wait. Once I got to the gate, it was only about 10 minutes before they started boarding.
They announced our boarding zone and I proceeded past the podium and down the stairs to the tarmac. We walked past an overnighting 737 that will fly to Denver and boarded the CRJ. Upon boarding, we all received a friendly greeting from the flight attendant before we took our seats. Overhead space was full so I had to put my bag underneath the seat which really limited my legroom but I dealt with it for the fairly short flight. We began a taxi to the active for an on-time departure.
There wasn't much activity at Mid-Continent at this time so there was no wait for takeoff. As we climbed over Wichita, we quickly hit a cloud layer but I could see Newton Airport through a gap.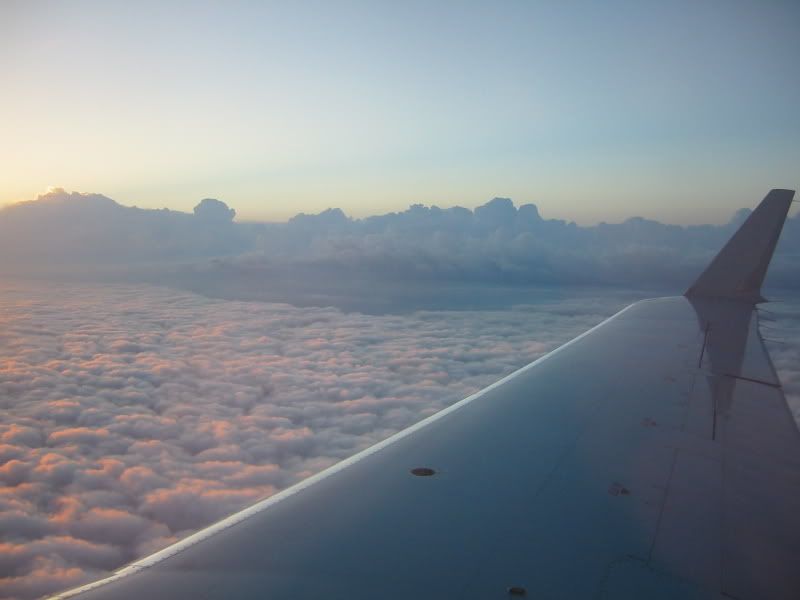 The flight was uneventful and service consisted of beverages and some Plane Cookies (what they give you on SkyWest). Throughout the flight, the FA did an excellent job. He frequently went through the cabin and offered extra snacks or drinks when he wasn't chatting with the passengers. Soon enough, we began our descent into the Chicago area and began our approach with took us past the skyline and Lake Michigan before touchdown in O'Hare.
United Airlines 877
Chicago O'Hare to Osaka/Kansai
Dep. 12:00PM (On Time)
Dur. 13 hr, 35 min.
Boeing 777-200ER N220UA
Load Factor: 90%
Seat: 25J (United Economy Plus)
We parked at Terminal One, Concourse C next to an EMB-170. The EMB-170s look like nice planes, I hope to try one out someday soon. I deplaned into Terminal One.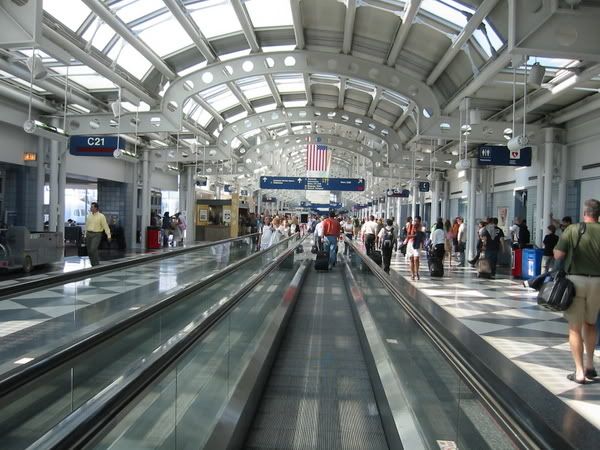 Even through it isn't brand new, it is still looking good with its timeless design. I had about four hours here and our flight information wasn't up yet. I spent some time looking around the terminal and I got some coffee and breakfast.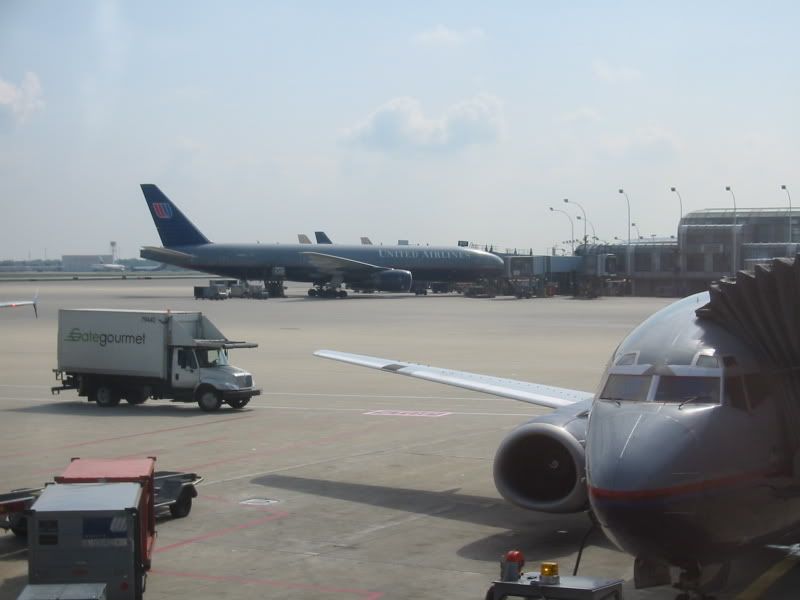 I found out we were set to depart from C29 so I made my way down there to settle down before the flight. At the gate, an A320 to Cozumel was set to depart. After that, an A320 in the new livery arrived then departed for San Diego after its turnaround. I noticed that the Cozumel flight information was still up on the EasyInfo screens and it never went away so I take it that it wasn't working that morning. Boarding began at about 11:15 and continued with the usual order. Our zone was then called and I made my way to the podium.
I took my seat at 25J and it didn't seem like much legroom at first, but I realized the extra space when the passengers in front of us reclined their seats or when I had to get up. The flight was filling up and it looked like the loads were pretty good. The purser gave us a greeting which was translated by a Japanese FA and then our captain gave us his welcome. I was happy to hear his announcement that Channel Nine would be available on today's flight to Osaka. Soon enough, we pushed back and Channel Nine was activated before pushback and I listened in on the hectic ground control after the safety demo was finished which was done manually. I take it that United does their demos manually instead of with a film. After spending some time taxiing, we turned around for a longer runway since we were too heavy for the other one. It took some time to get there, it seemed like it was clear on the other side of the airport.
We held short for about 20 minutes for arrivals to finish, then we were cleared and on our way. The 777 had a very powerful takeoff and climbout. Movie service was offered but I spent most of the flight watching the Airshow moving map and listening in on Channel Nine when it was available. About an hour after takeoff, FAs passed out some moist napkins before dinner was served. Dinner was the typical beef or chicken selection and I opted for the chicken as usual. The entrée consisted of chicken and rice and it was really good. There was also a salad, some fruits, cake, and a roll to go along with it. Our flight took us towards southern Alaska where we passed over Valdez, Alaska.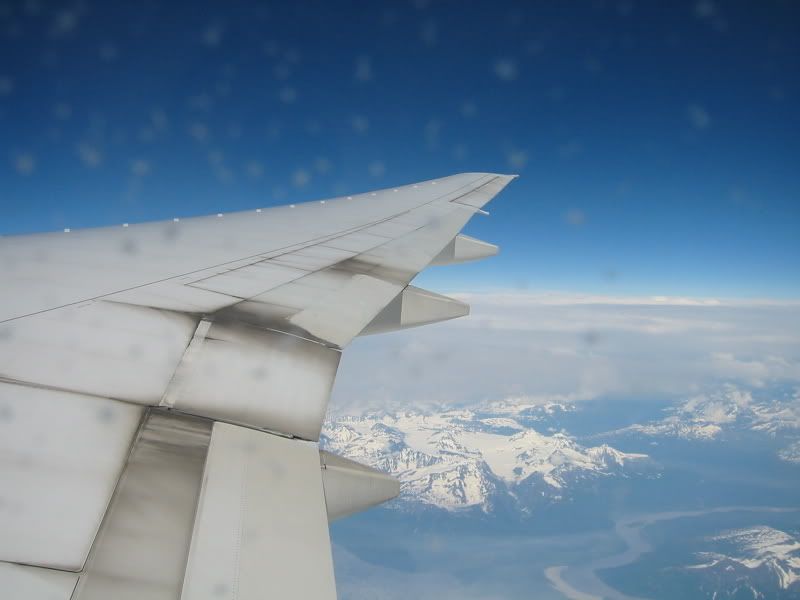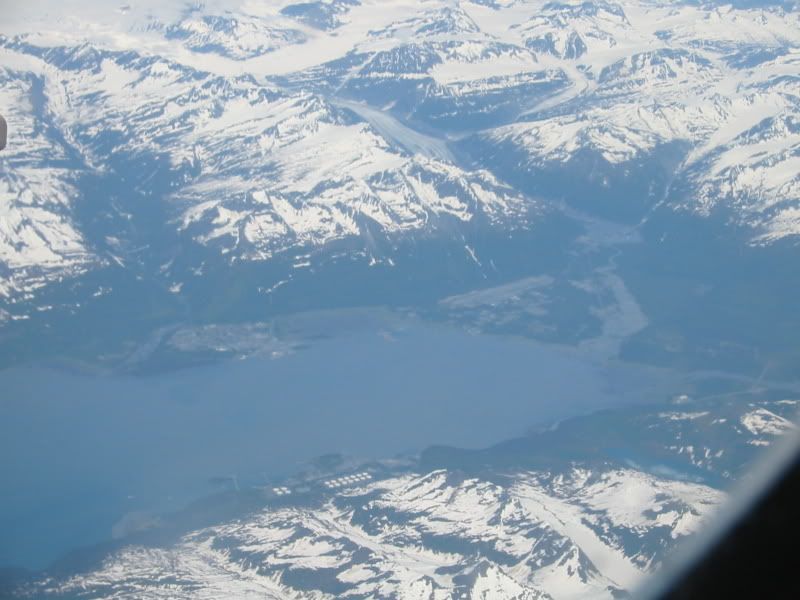 There was some nice scenery as we passed over Alaska with some mountains. Once we passed Alaska, the mid-flight snack service began and consisted of some Wheat Thins, Oreoes, raisins, pretzel sticks, and some cheese. Once we passed Alaska, there was nothing on Channel Nine so I watched some of the movies until we reached Japan when we flew near Sendai. I then listened to Channel Nine again as Tokyo ATC guided us into Kansai. Lunch began about an hour and a half out of Kansai. I had pasta and now I forgot the other offering. The pasta was OK but had a stale aftertaste. The second meals do not have as many things to go with it which makes sense because they are served soon before landing. I think we had some cookies and fruit to go with it. Once the trays were collected, we began our approach into Kansai and a short film on the Kansai Airport's international arrival procedures was shown. It seemed like the film was pretty old. We landed about an hour after lunch was finished.
Tuesday June 14, 2005
All Nippon Airways 1737
Osaka/Kansai to Okinawa/Naha
Dep. 7:20PM (Delayed 20 minutes)
Dur. 2 hr.
Boeing 767-300
Load Factor: 85%
Seat: 6G (Economy)
After deplaning, we took the Wing Shuttle train to the central terminal building to be processed through immigration and customs. As I rode on the Wing Shuttle, I noticed a Qatar Airways A330-200 at a gate. The wait for immigration was no more than a few minutes and the process was a breeze. The next step was baggage claim where I waited about 15 minutes for my luggage and it was already starting when I got there. After that, I took the luggage past the customs counter which didn't have any queue and the customs officer asked a couple of quick questions and I was done. I took the luggage to an elevator that could accommodate a luggage cart and went up to the 2nd floor for domestic check in.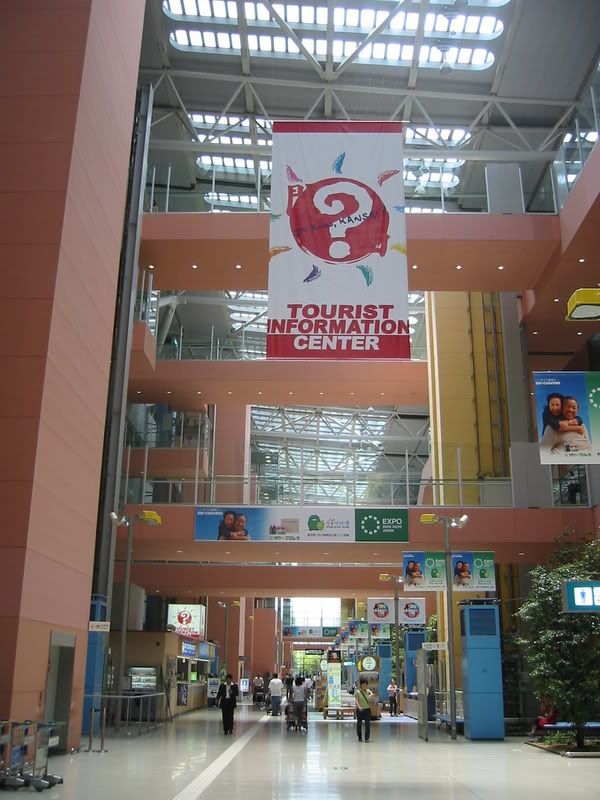 I brought the luggage past security (In Japan, your checked luggage is screened before you bring it to the checkin counter) and after only waiting a couple of minutes, we were checked in by the pleasant ANA staff and was issued the standard ANA boarding pass. I had something to eat and drink at the Café Nankai before heading for my gate. There was no wait for security and I was quickly in the domestic gate lounge. They announced that our flight would depart 20 minutes late due to a late inbound flight. I just relaxed until it was time to go. Once again, another pleasant experience through Kansai.
Boarding began and I took my seat up front in row 6. I noticed that half the passengers on this flight appeared to be Americans mostly likely with the US military in Okinawa. The flight was surprisingly full; in the past, most of my domestic Japanese flights did not have very good loads. I dozed off before pushback and woke up to see our takeoff and fell asleep after climbout. I pretty much missed out on the flight since I didn't wake up until our final approach. Since I was out the whole time, I didn't get a chance to observe the service but ANA is pretty consistent with their good service. I did notice some cups of consommé soup so I take it that was offered with beverages which is pretty typical. The approach into Naha at night (we arrived at about 9:15PM and it does get dark fairly early in Naha) seemed strange since I saw nothing until we were seconds out from touchdown when I saw some approach lights and then we landed in some heavy rain. Okinawa was experiencing a rainy season and it ended up raining everyday until I left for Miyakojima. On a lot of days, it rained all day.
After deplaning in the Naha Domestic Terminal, I took the escalator down to baggage claim and took my luggage without much of a wait and after checking my claim tags with an agent (In Japan you do this before leaving the baggage claim area) before being on my way out to Naha.
Tuesday June 21, 2005
Japan TransOcean Air 511
Okinawa/Naha to Miyakojima
Dep. 1:20PM (On Time)
Dur. 45 mins.
Boeing 737-400 JA8524
Load Factor: 99%
Seat: 2A (Economy Bulkhead)
I got to Naha Airport fairly late, so after screening my bags and checking in, I didn't have much extra time to look around even though there was pretty much no wait for check-in. I wasn't really in a rush, but I usually give myself a lot of extra time at the airport to look around. I headed for the A departure area which handles JAL and JAL Group carriers which includes Japan TransOcean Air (JTA).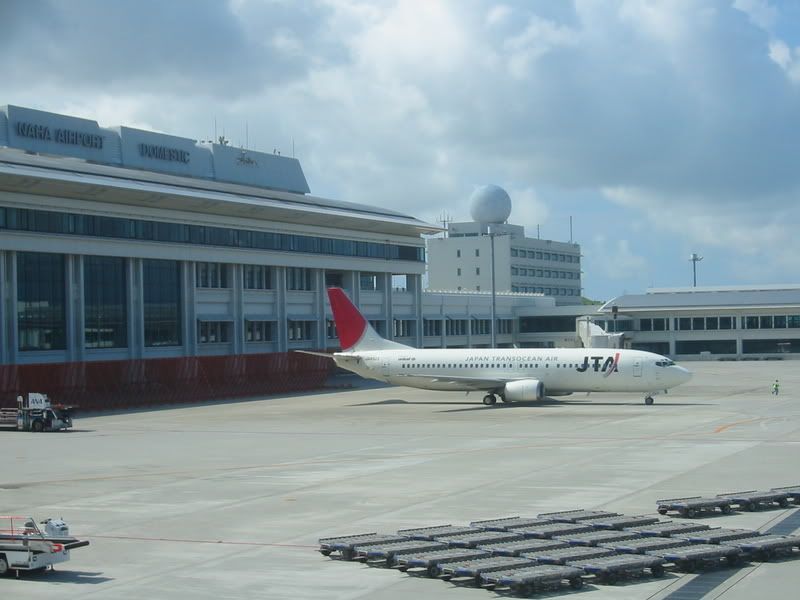 Security was a breeze and I had a seat at the original gate but they announced a gate change so I moved over there. The gate was just on the other side of the concourse. I didn't have time for lunch so I went into a snack bar (I think it was the Coralway which has some affiliation with JTA) to get something to eat. There was a lot of good looking stuff in there like Okinawa soba and sushi but I thought I was in a hurry and settled for some sandwiches which were okay. After about 15 minutes, they boarded the aircraft and we were set for an on-time depature.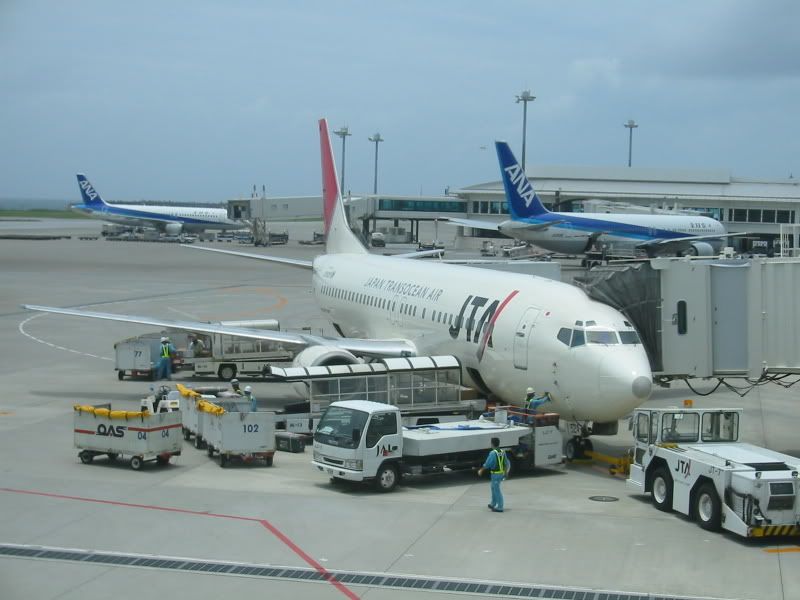 When I took my seat at 2A, I was glad to find out that I got the bulkhead seat since I guess there's no row number 1. This is the first time that I can remember being in a bulkhead. There was plenty of legroom to enjoy on the 45-minute flight. After pushback and takeoff we had a smooth and pleasant flight to Miyakojima over the calm ocean. The flight attendants handed out some candy and drinks to passengers who requested them. Most of the flights between Okinawa and Miyakojima have been empty so I was surprised to see such a full aircraft. I think there were no more than a few open seats left and there appeared to be a fairly large student tour group on board. Our descent into Miyakojima began shortly and our final approach took us low over Hirara City before oure smooth touchdown. When we slowed down on the runway in Miyakojima, we pulled a U-turn on the runway since there are no taxiways that go the entire length of the runways here.
We pulled up to the small terminal at one of its three jetways. We were the only flight there and there were plenty of people in the arrivals area waiting for passengers from this flight. After a short wait for my luggage, I showed my claim tags to the agent and I was on my way.
Saturday July 2, 2005
Japan TransOcean Air 514
Miyakojima to Okinawa/Naha
Dep. 2:55PM (On Time)
Dur. 45 mins.
Boeing 737-400 JA8254
Load Factor: 97%
Seat: 19A (Economy)
I checked in at about two hours before the flight and I spent some time looking through the shops on the second floor.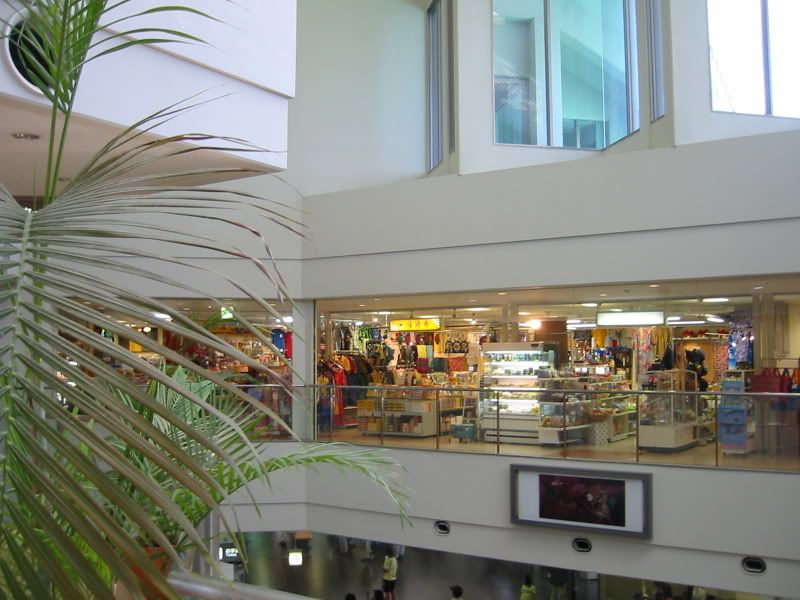 Even though the airport is fairly small, it offers a good selection of shops and restaurants. The terminal is fairly new and opened in the late 90s. The building's design resembles traditional Ryukyu architecture and inside its pretty nice. I went down to a restaurant creatively named "Restaurant" and had a bowl of Miyako soba which was delicious. I also visited the observation deck to see the previous JTA flight to Naha leave.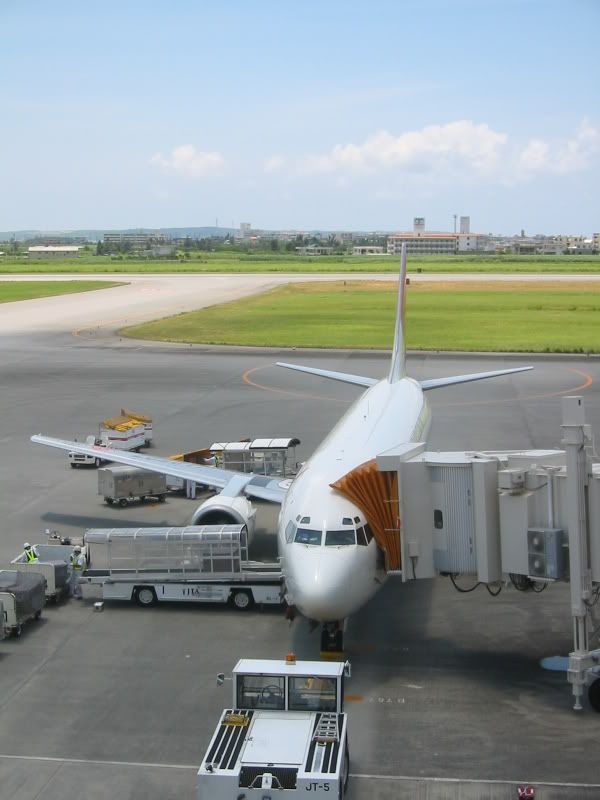 Afterwards, I went through security into the departure lounge where I waited until our flight began boarding.
I boarded JA8254, the same aircraft I took to Miyako, and noticed another full flight. The tourist season for Miyako is about to kick in and later in the month the airport will get some scheduled 767s to Okinawa and Tokyo. We pushed back, taxied down the runway, then made a U-turn at the threshold and took off. During our climb, we had a good view of Miyakojima.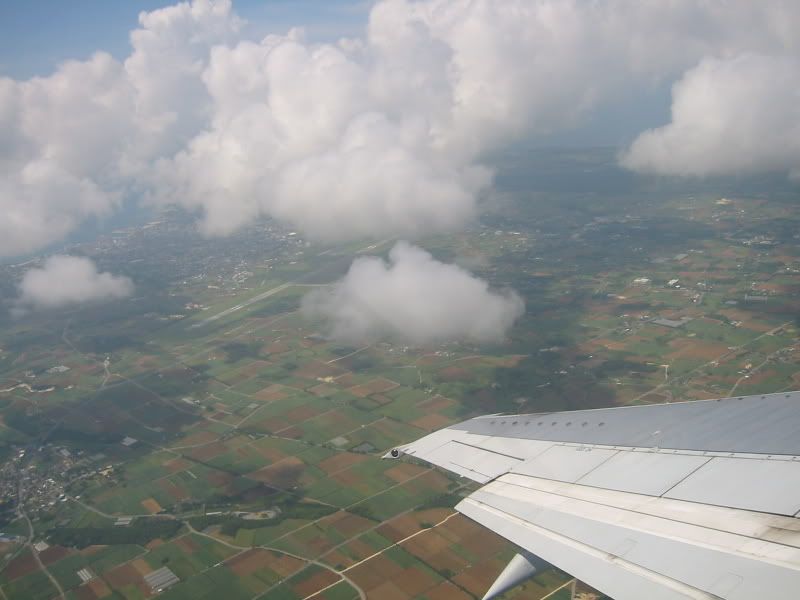 The short flight went by fairly quickly and smoothly. Once again, some candy was handed out before we began our approach. FAs were very attentive on this short flight which is the norm with JTA. Before beginning our final, we passed the Kerama Islands.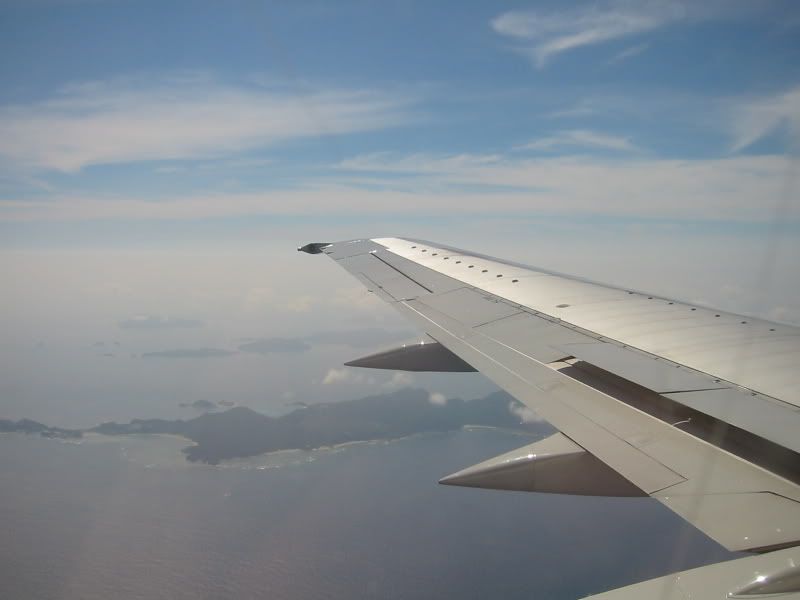 On our approach, I could see MCAS Futenma, Kadena AB, Tomari Port, and Tomari Bridge before landing.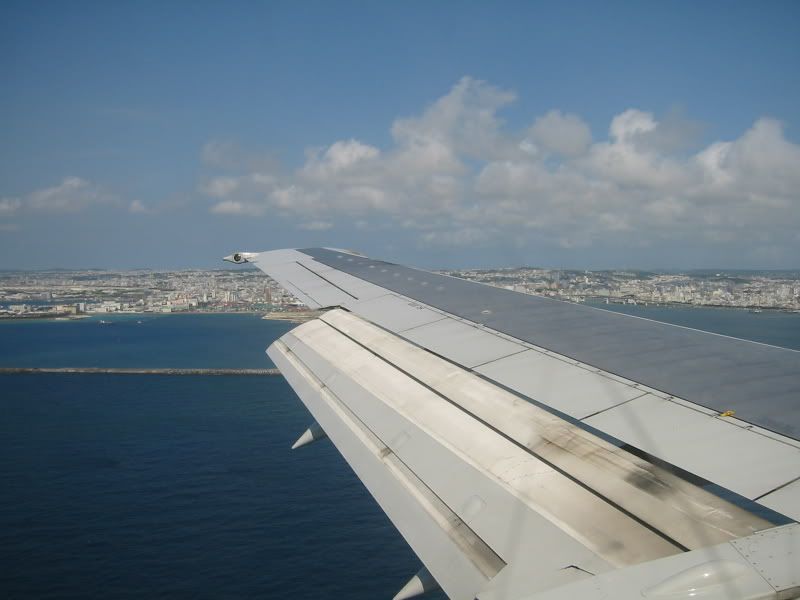 Once on the ground, we pulled into our gate amid the afternoon rush in Naha. A 777-300 and 747-400 was departing for Haneda while another 747 was ready to leave for Itami.
Once I left the plane, I headed downstairs to baggage claim, took my luggage, showed the claim tags to the agent and left for Naha.
Wednesday July 13, 2005
All Nippon Airways 1737
Okinawa/Naha to Osaka/Kansai
Dep. 10:05AM (On Time)
Dur. 1 hr, 50 mins.
Boeing 767-300
Load Factor: 35%
Seat: 23A (Economy)
After a great four weeks in Naha, it was time for me to go and I got to Naha Airport at about 7:45AM via taxi. I took my checked luggage to the screener, picked them up and brought them to the ANA counter for checkin with no wait for the counter. After a few minutes, I was checked in all the way into Wichita with all boarding passes in hand.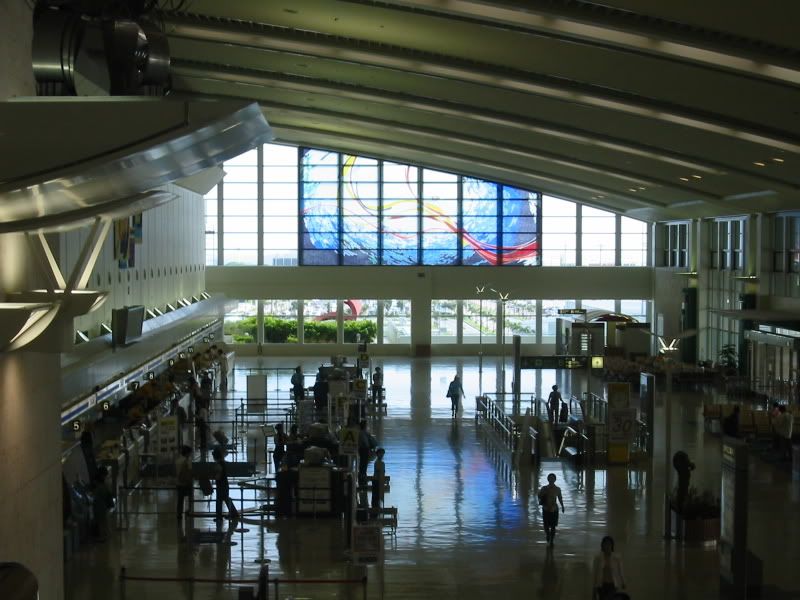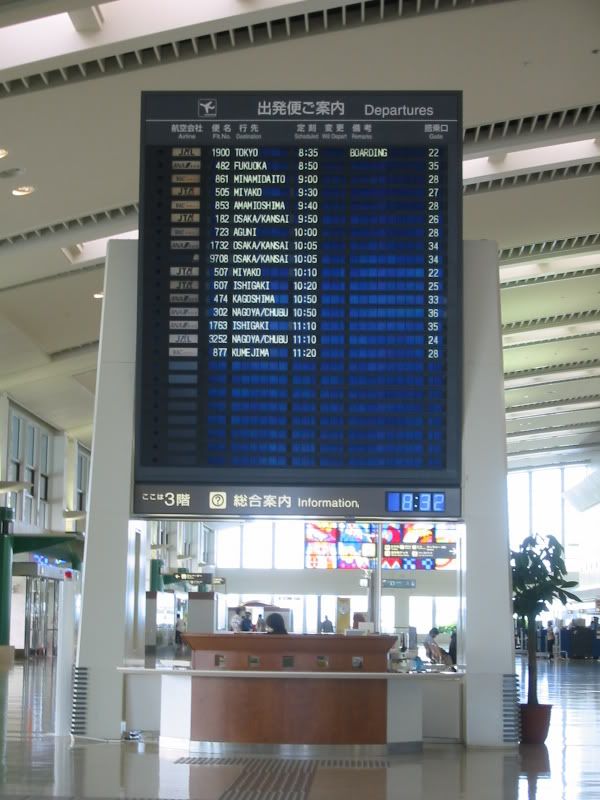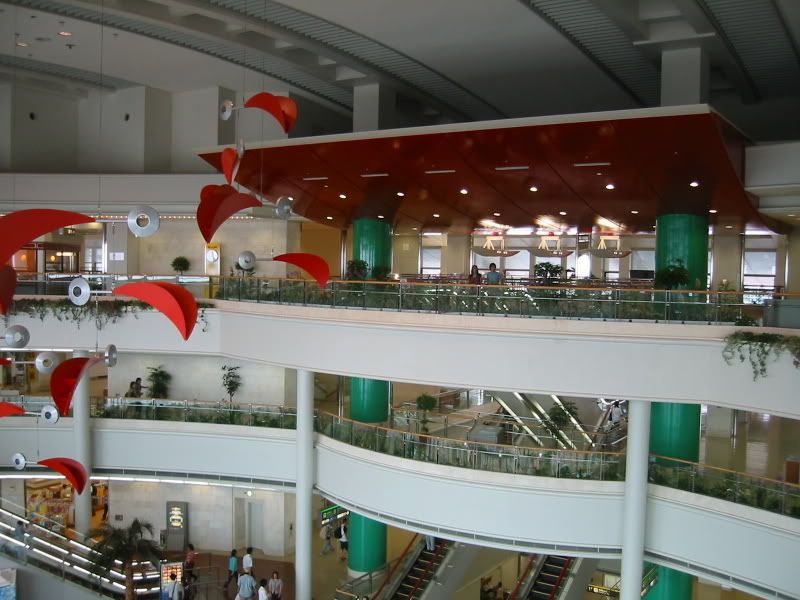 I had my usual breakfast at the Royal Café on the fourth floor which consisted of some pancakes, eggs, and sausage. It was very good although they seem to offer a lot less for breakfast than I remembered them having before. I caught the escalator down to the second floor for domestic departures, went through security and into the concourse serving ANA flights. Boarding began shortly.
I took my seat at 23A which I gladly found out was an emergency exit seat and had all the legroom I could use (the "infinite" legroom seat). With the bulkhead seat on the way to Miyako and this, I guess I've been lucky with the seating assignments given to me during checkin. 23B has a lot of legroom, too, but has a jumpseat in front of it. I made myself comfortable while the aircraft was finished boarding. I noticed that this flight was quite empty. We pushed back and made the quick taxi to the active, waited for an arrival, then took off. We flew towards the south over Itoman, and after passing Cape Kyan, turned north. We were flying off the eastern coast of Okinawa and I got great views of the island as we passed it.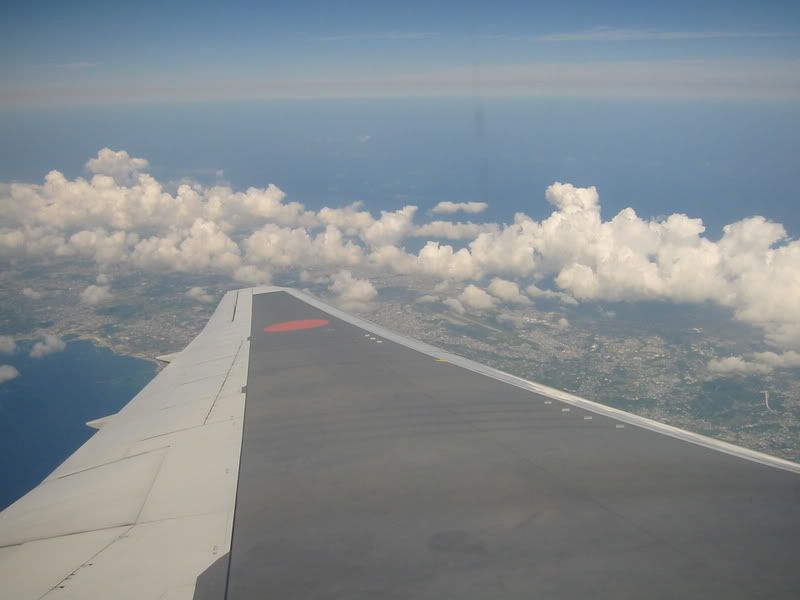 The superb FAs on this flight quickly offered drinks throughout the cabin and I took some juice. They also offered me a copy of Wingspan, ANA's magazine with some features in English, which I accepted. The flight up to Osaka was very pleasant for the two-hour duration. Some TV features were shown (although mostly ads for ANA's duty free offerings) and some music was offered with free headphones, I passed on the inflight entertainment. Some buy-on-board food was offered including noodles. It wasn't very long until we began our descent into Kansai and our landing on runway 6. I was a little disappointed with the arrivals on runway 6 since I was planning on visiting the observation deck and spotting is not very good there if runway 6 is in use. As we taxied, I noticed a United 777 parked out on a remote stand and an Emirates A340-500 parked at the South Wing.
United Airlines 878
Osaka/Kansai to Chicago O'Hare
Dep. 5:55PM (On Time)
Dur. 11 hrs, 20 min. (1 hr early-tailwind)
Boeing 777-200ER N221UA
Load Factor: 98%
Seat: 34J (United Economy)
After I got off the plane, I found a place to relax and have a cup of coffee. Then I spent some time looking around the main terminal building. I noticed that the airport has a lot of new signage with translations in Chinese and Korean.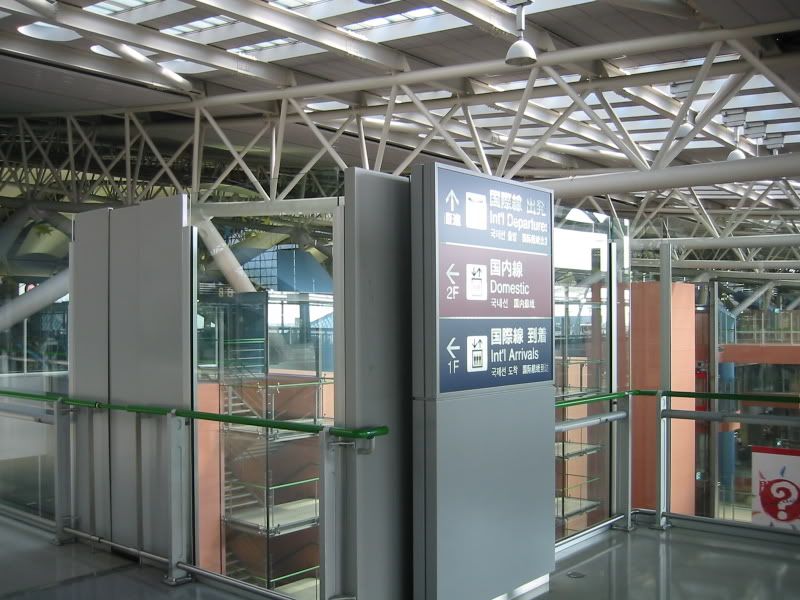 Also, there was a tourist information center on the first floor along with some new cafes and snack bars. Since I had a long six-hour layover, I decided to catch the bus for the observation deck. The "Sky Shuttle" takes people between the terminal at Kansai, the observation deck, and Rinku Town where they have an outlet mall and a new Aeon department store. Bus fare is 100 yen (around 85 cents) paid as you board regardless of where you're going so it's a pretty good deal. I spent about an hour at the observation deck. Traffic was back to using Runway 24 which is good for those using the observation deck since the threshold is in front of the observation deck. I did not get any good shots of arriving aircraft since my camera doesn't have enough zoom. I did get a decent picture of the terminal.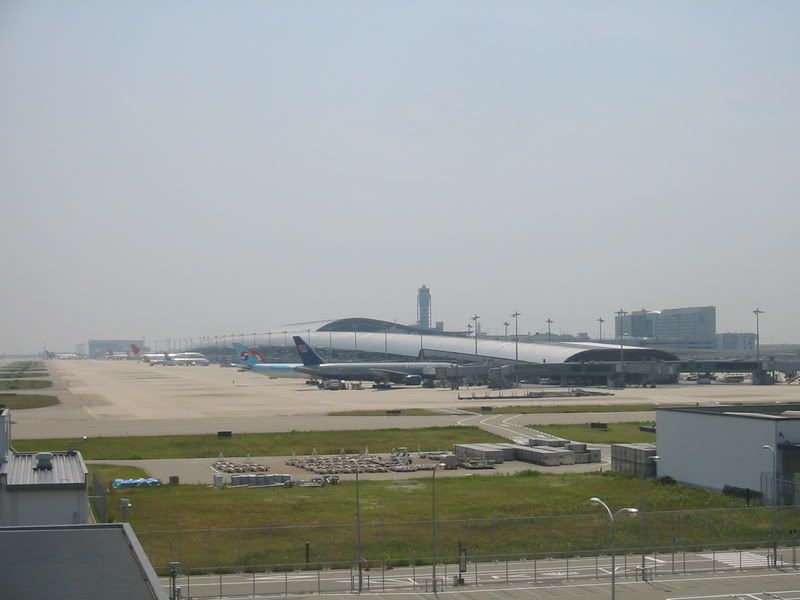 It was a fairly slow time of day. It was too late for European traffic but too early for North American traffic. It was mostly domestic flights and an occasional Asian flight. After that, I headed back for the terminal with a good four hours left. I planned on entering passport control two hours before departure so I still had two hours before that. I spent that time looking around the terminal, mostly in the 3rd floor which is all shops and restaurants. With my time up, I entered the secure area by going through 4th floor departures.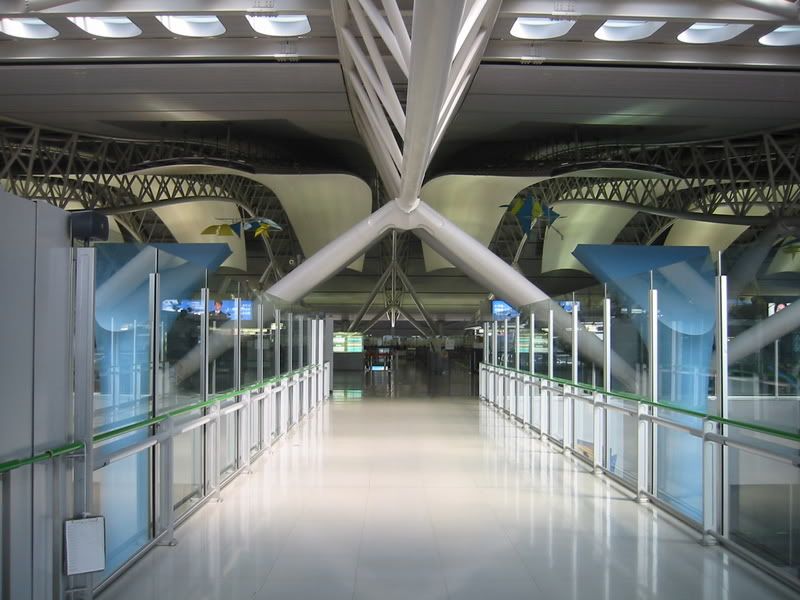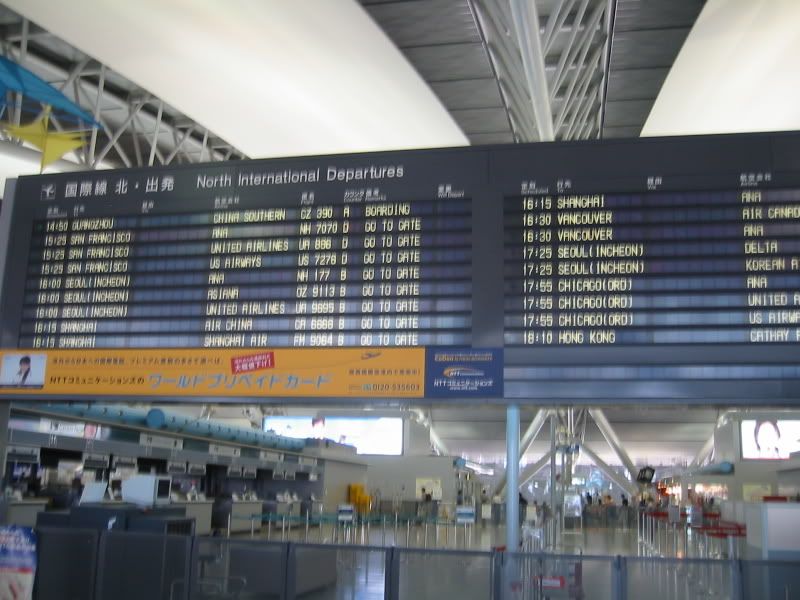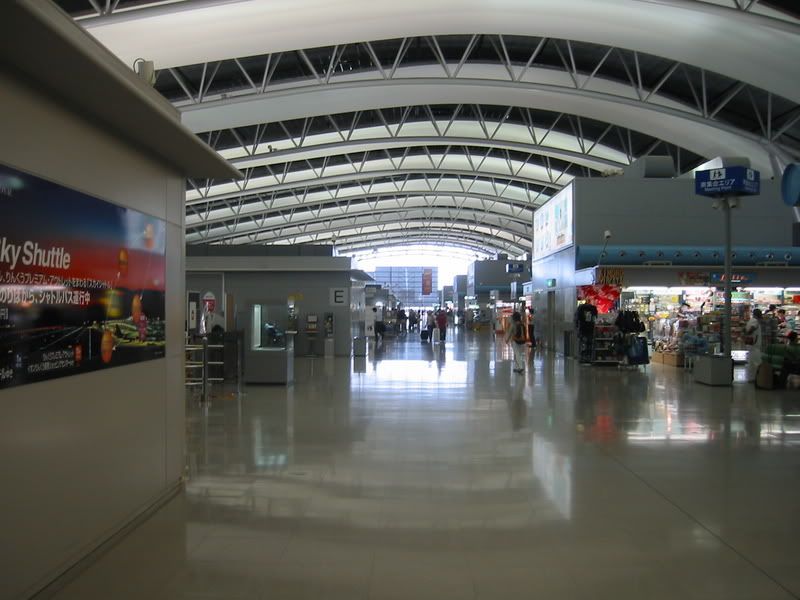 There was only a wait of a few minutes for security and there was pretty much no wait for passport control. Once in the international transit area, I looked for the food stand I usually go to for a good bowl of soba but I found out it was replaced by a Starbucks and some new duty-free stores, mostly expensive stuff.
I noticed that there is now about twice as many stores and restaurants in this area than there was a few years ago, probably a response to complaints that there is little to do in Kansai during international transit. I found out that there's some stands out by my gate so I made my way down to the wing shuttle which took me to the end of the terminal, where the United and Northwest gates are. Once I got to the United gates, there were 3 777s there: two in the old battleship livery and one in the new livery. The one in the new colors, N221UA, was at Gate 22 which would be my flight. This one is going to Honolulu: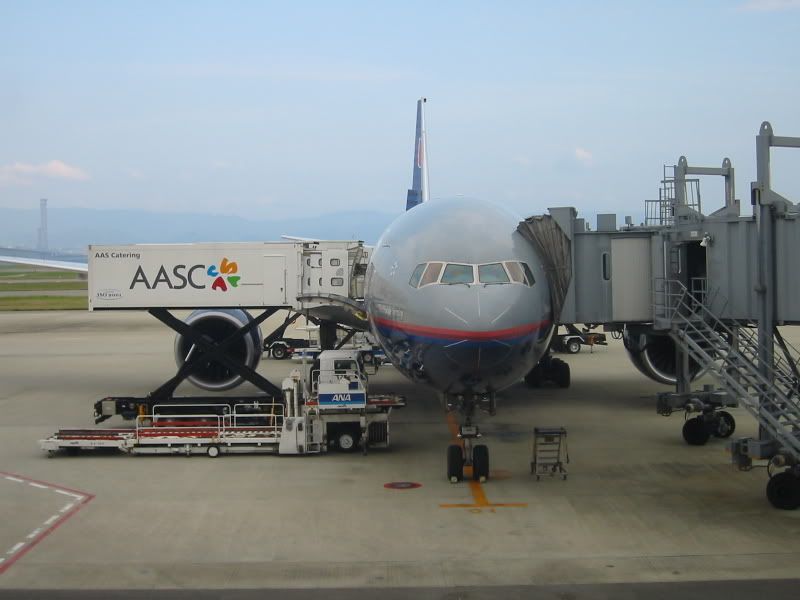 I walked back towards the tram stop where they had a couple of shops and a couple of snack stands. I got a bowl of beef udon which was delicious. I was amused at an American lady who went up to the counter and asked loudly and slowly: "Do…you…take…American…dollars?" I spent some time looking around the international gates area. There was not much activity out here besides a Korean Air A330 boarding for a departure to Incheon. I headed back for the gate 22 seating area which was roped off along with the other United gates, requiring everyone to show their boarding pass to get in. I still do not understand the point of this procedure. Boarding began about 45 minutes before departure.
My zone was finally called and I had a seat in 34J. I took my seat and the plane filled up quickly. The coach section was a few seats short of being completely full. We pushed back and made a quick taxi to runway 24 and took off immediately with no wait.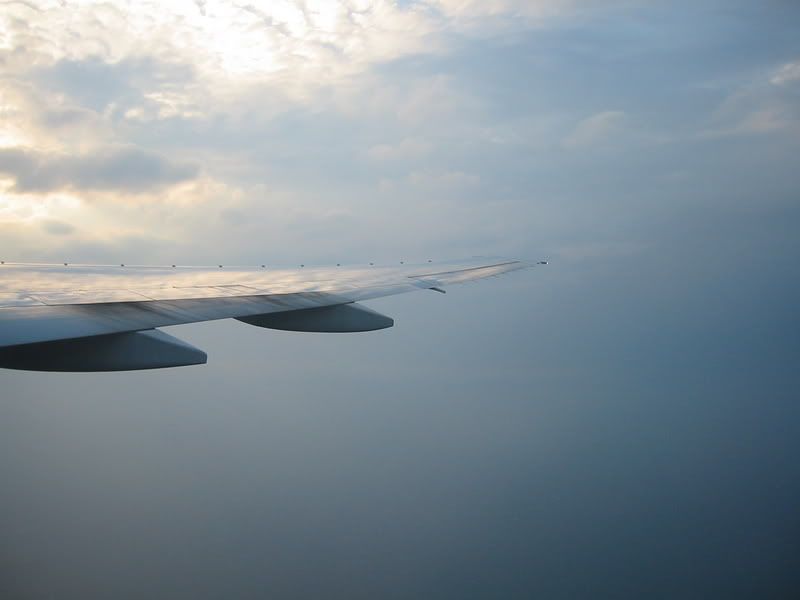 Once we passed the Japanese coast, I listened to Channel 9 but it was shut off about 30 minutes later and did not come back on again until we flew over the United States. Dinner service began shortly and once again it was beef or chicken. I took the chicken and it was something similar to what I had on the way there. It was pretty good. The sun set shortly after that and there wasn't much else to do but watch some of the movies. I watched National Treasure which was okay. Soon after that was over the sun was up again and I listened to some music. Halfway through the flight, the FAs passed out snack boxes and this time we had some ramen noodles and a cookie. They provided some hot water to prepare the noodles which were pretty good. When we were about an hour out of the coast, I tried Channel 9 again which was quiet, then I dozed off. I woke up to the sounds of Seattle Center, 35,000 feet over Puget Sound. I listened to Channel 9 pretty much for the rest of the flight. I noticed some chatter about the space shuttle since it was supposed to launch that day. We passed some nice scenery over Washington State, went over Lake Pend Oreille in Idaho, and passed over Montana. We climbed and deviated away from course to avoid some storms but returned to our path quickly. We were directed over Aberdeen, SD, then directed into the Chicago area for arrival.
United Express 6839 (Operated by SkyWest)
Chicago O'Hare to Wichita Mid-Continent
Dep. 7:50PM (On Time)
Dur. 2 hr.
Canadair Regional Jet
Load Factor: 98%
Seat: 2A (Economy)
Once on the ground, we taxied toward Terminal Five, then stopped. The captain announced that we were about an hour early. Passengers cheered. Then he announced that since we're so early, we'll have to spend 5-30 minutes waiting for a gate. Half the passengers sigh. The Japanese translator repeated that in Japanese and the other half of the passengers sighs. We end up waiting about 15 minutes before we pull into M19, which is at the end of the terminal. Once we got off the plane, it was a long walk down to the customs/immigration area, even with the moving walkways. The immigration hall was packed. After waiting in line that didn't move for 10 minutes, I joined some other people and hopped over to the next one which was moving quicker. After about 5 minutes, I cleared immigration and went to a packed baggage claim. It was a while before my bags showed up, then I joined the crowd of people waiting on customs. After that, I dropped my luggage off at the luggage recheck counter and I took the tram to the unsightly Terminal 2. I was surprised to see the line for security being fairly short at a busy place like O'Hare, only a few minutes to get through. After that, I pretty much just sat around the terminal since I was pretty tired at this point. Terminal 2 is a real mess. I found some empty seats near F11. The ceiling was leaking water onto the seat next to me. Our gate was initially F12, but they switched it to F6 so I headed over there. I take it that gate changes are the norm here, since I heard many gate change announcements and overheard many passengers mentioning that. Since they were redoing some flooring, some sections of the concourse was blocked off, narrowing the concourse. At some points, people were squeezing through and those in a hurry were pushing and shoving their way through. After a couple of hours, my flight was ready to board on time.
On the ramp at our gate, there was our flight to Wichita and a flight to Wausau/Stevens Point, WI next to it boarding at the same time resulting in some confusion with the passengers. Ramp agents directed us to our aircraft and we were greeted on board by the FA. We were waiting for a while before pushback since the gate agent counted more passengers than the FA counted on board the aircraft. After about 10 minutes, they found the passengers who apparently boarded the flight to Wausau by mistake. Shortly after that, we pushed back and we were on our way. The flight was pretty uneventful. We got some cheese crackers (shaped like little airplanes) and beverages. The FA on this flight was great. SkyWest seems to have some of the best cabin crew around. After the sunset, we began our descent into Wichita After a smooth landing, we pulled into the gate.
We made our way down the corridor leading to the baggage claim for my luggage. As usual in Wichita, luggage is slow, especially for a smaller airport.
It was good to visit Okinawa again and the trip was wonderful. This was my second trip on United and it was excellent. The transpacific service is pretty good. SkyWest also did a great job and they're one of the best regionals I've ever flown on although the dysfunctional Terminal 2 at O'Hare makes the airport experience a real pain. ANA was pleasant as always and JTA did a superb job. Thanks for reading this trip report, I'd love to hear any comments or questions.