My second post on A.net and first Trip Report!
When our friends from Germany invited us to take a trip with them to southern Spain, we just couldn't refuse an opportunity to go to europe. We booked the tickets on AA.com for FAT-LAX-JFK on AA and JFK-MAD-AGP on IB, a very long itinerary indeed!
After many long months, it finally came to pack up and leave Fresno.
July 30, 2005
FAT-LAX
AA 3014
N934AE Saab 340B
Departure: 7:05
Arrival: 8:14
The turboprops have been in Fresno for years and years, and most flights to LAX or FAT are served with UA's EMB-120's and AE's Saab 340B's. A few years ago I was fortunate enough to get on a UA CRJ to LAX, they operate just a few flights in the morning and late at night.
In my opinion, the noise from the Saabs is much greater than that of the EM2's, although neither is generally pleasant. After walking around Fresno's new terminal (whose windows have horrible glare, none of my pictures came out well), it was time to board.
View Large
View Medium


Photo © AirNikon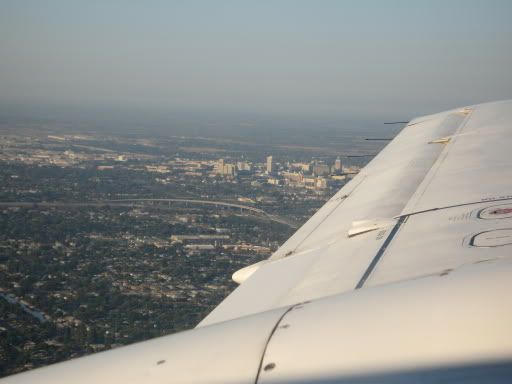 Downtown Fresno visible after takeoff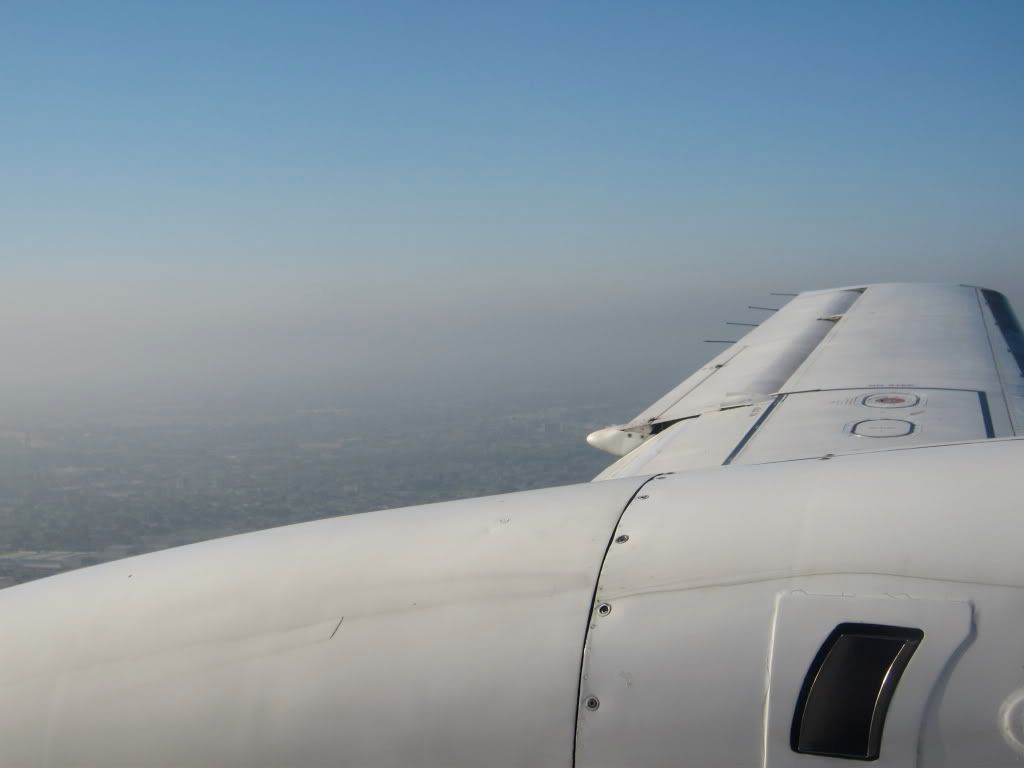 Ascending to our cruising altitude of 16,000 feet
After a short flight, during which I read a book and not very good OJ was passed out, we descended toward LAX.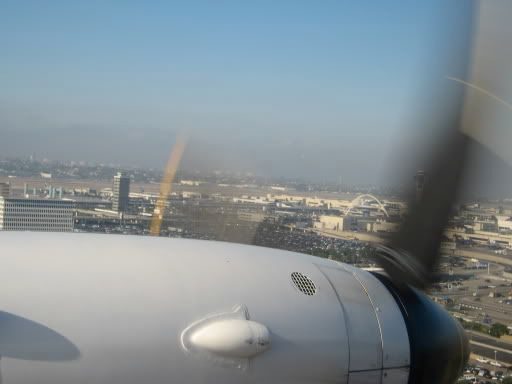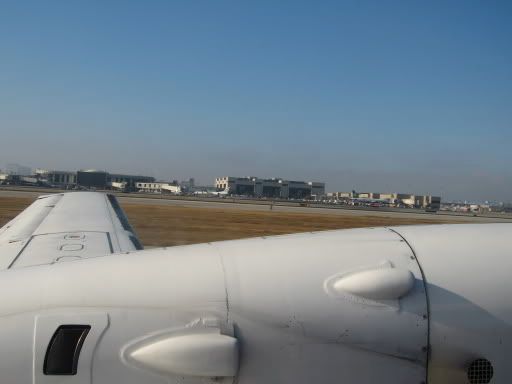 Touchdown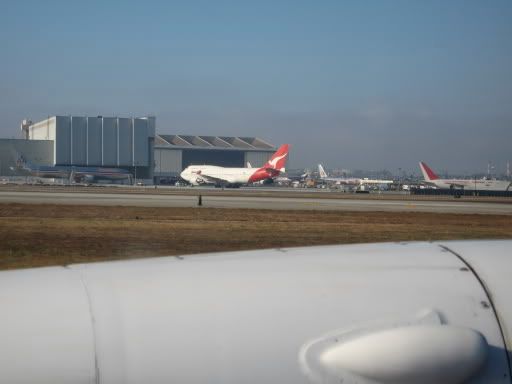 Qantas 747 Parking
A WN 737 Landing on the runway we just vacated.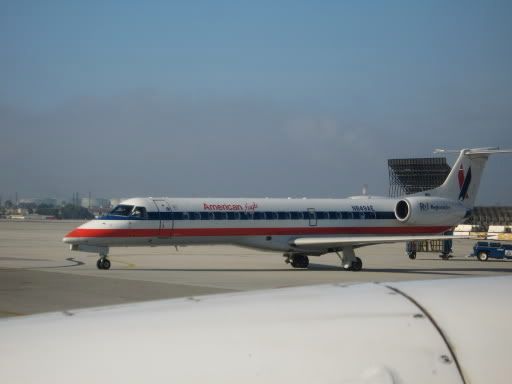 An American Eagle RJ, not sure where they fly to in California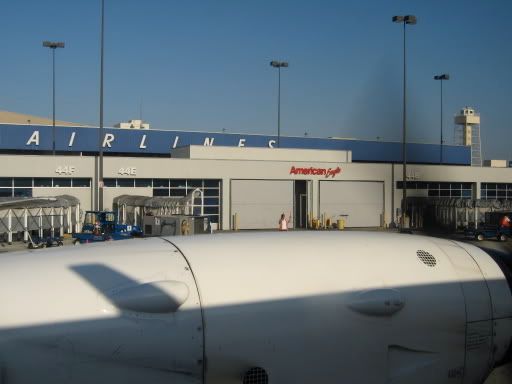 Pulling in to the AE remote terminal
The AE remote terminal is one of the nicest looking and comfortable terminals to be in. Conversely, the one for United looks like a trailer and isn't very comfortable.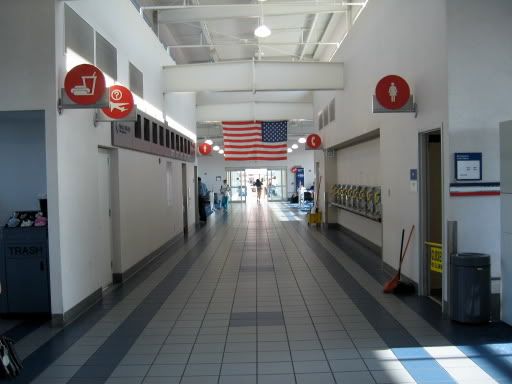 The AE bus to AA's T4 is a good place for spotting planes. Just some of the ones I saw:
CO 757 with winglets!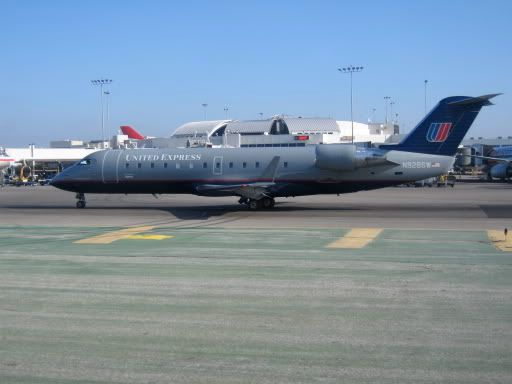 An old colors UA CRJ (I've submitted an edited version for the screeners)
AA's T4 is hands down the nicest terminal at LAX. AA really did a good job of remodeling it a few years ago. It's always a pleasure to wait in this terminal. We got out from the bus and sat down for a fairly short wait for our next flight to JFK. I walked to the Qantas gates and took some pictures.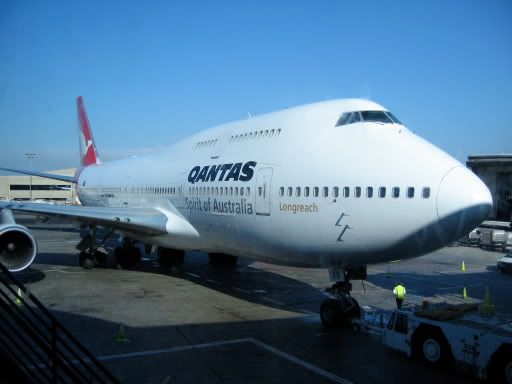 VH-OEG pushing back, presumably for JFK, then she will return at night to operate the flight to SYD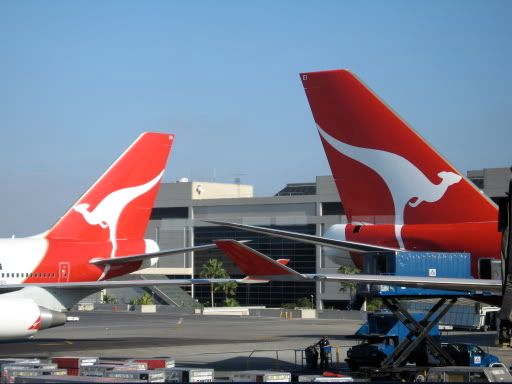 VH-OEG and sister VH-OEI at the next gate.
After a short while, It was time to board our 767 for the second morning transcon for AA.
July 30, 2005
AA 2
LAX-JFK
N329AA B767-200
Departure: 9:34 PDT
Arrival: 5:54 EST
You could tell this was a business-oriented flight as they asked everyone to turn off their pagers and Blackberry's. I knew that AA's 767-200's were some of the oldest in the AA fleet, but the interior seemed well kept for. It was showing it's age, but I'd say it was aging gracefully.
As we passed business class, I saw my first celebrity on an airplane! It was Will Arnett, from the TV show Arrested Development. He had the same look that his character does, and was buried in a newspaper, so I let him have his privacy. Now I believe it, that you can see the more famous people on transcons.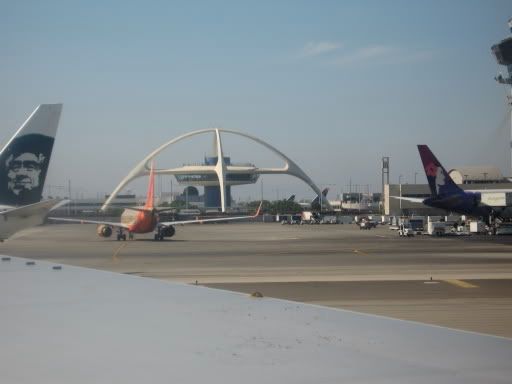 Passing the LAX trademark on our way for takeoff. LAX is truly a one of a kind airport.
There was no drink service on this flight, but with a book, it went by very fast. The 767 is much more spacious and a perfect fit for transcons. I think AA should keep them on, even as they age, because you can really feel the difference between the 767 and the cramped 757.
After a fast 4hr46min flight, we landed in JFK and taxied to T9.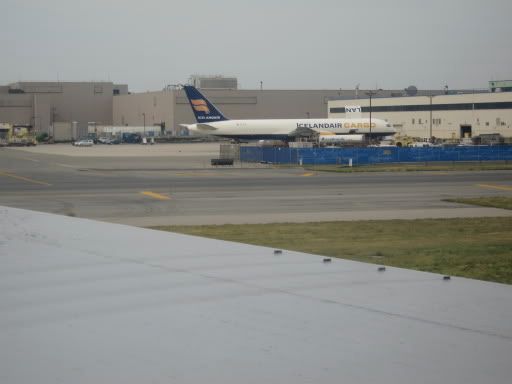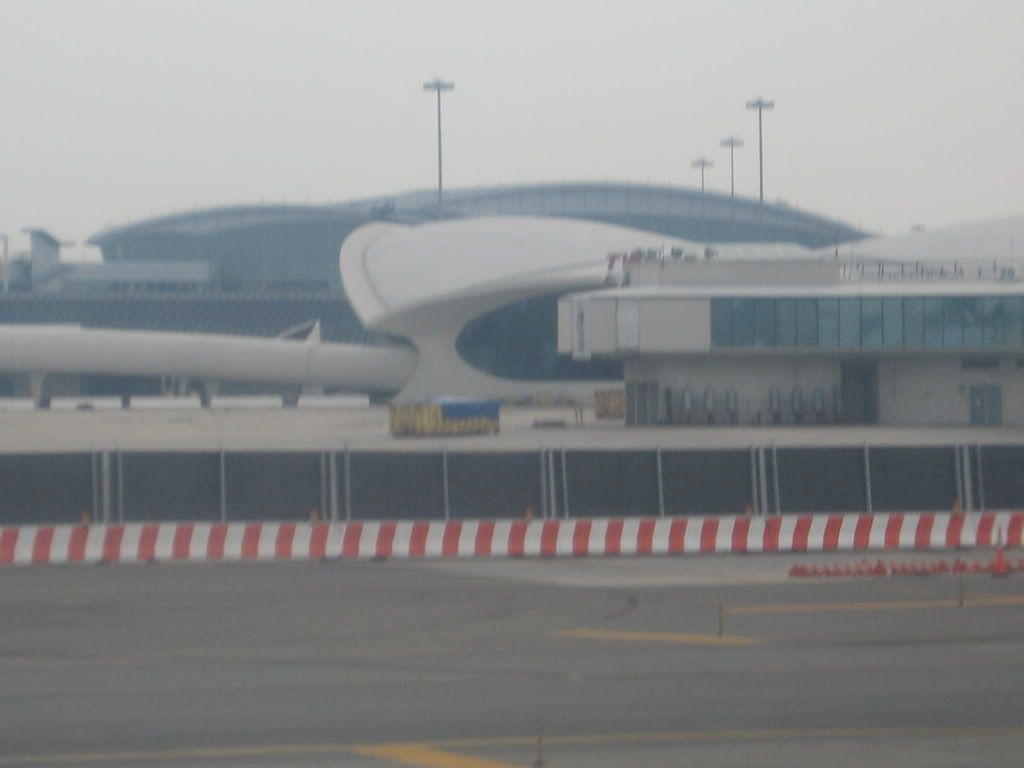 The old TWA terminal, soon to be jetBlue's?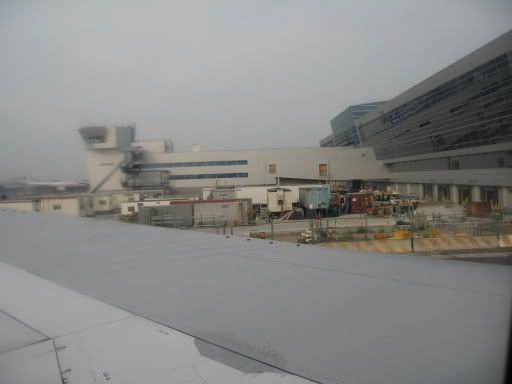 Parking right next to the new AA terminal, which should be open in a few weeks.
After disembarking into a fairly cramped T9, we made the walk down to security, where an AE gate agent showed us how to get to the Iberia terminal using the AirTrain. My dad said Iberia's terminal was very small and unpleasant, so we stayed in T9 and had dinner at TGI Fridays. After dinner, we stepped outside and loaded our luggage on the AirTrain for the short ride to T7.
JFK didn't impress me all that much with all the construction around the AA terminals, but the AirTrain is a great way to get from one terminal to the other. A good alternative to all the LAX shuttle buses! It was easy and effortless. Since we already had our boarding passes for the IB flight, we went right through security at T7 and into the gate area. Turns out my dad was wrong, this terminal wasn't the one they passed through when they flew with Iberia last year, and much more spacious and comfortable. Oh well. We had a seat and the gate agent called us up to make sure we had made it from FAT! Then he printed us new tickets on IB stock instead of AA.
We started boarding, and had to wait a long while on the hot jetbridge to board. Our ride to Madrid this evening was A343 "Rosa Chacel"
July 30, 2005
IB 6252
JFK-MAD
A340-300 EC-GJT "Rosa Chacel"
Departure: 9:14 EST
Arrival: Unknown
No pictures for this flight as it was at night. One thing that caught me right away was how big the A343 wing was. Also, the wing flex on the A340 is much more than I've seen in any other aircraft, even the 747! Most of the people on this flight were either tourists like ourselves, about 25%, and the rest were Spaniards heading home, about 75%. Our pushback was so fast, people were still loading their luggage while we were moving! A short line and we took off into the night of JFK, behind a UA 757 new colors and a jetBlue 320. This was my first experience with the A343's sloooow climb. It wasn't much of a nuisance, but because we climbed up to our cruising altitude very slowly it was about an hour before we were served any drinks!
A few hours later they served a dinner of beef or chicken. I had the beef, and it came with noodles that were spongy, however the sauce covered it nicely. The service was very good, the FA's came through the cabin very often with more bread, coffee, or tea. IFE was virtually nonexistent, there are only 4 LCD's for about 30 rows of seats. One thing about long flights is that I can't sleep a wink. Even sleeping pills didn't help. I got throught the night by listening to Bill Clinton's "My Life" on my iPod, read by the author. A very good read, or a good listen.
Morning dawned, and we were served a small omlette for breakfast. The strawberry dessert that was on the breakfast tray was especially good. Our descent into Madrid Barajas was very fast, and we touched down at a now forgotten time. The landing was very smooth, and everyone clapped, a European thing. We taxiied slowly around Barajas, where I saw the two new terminals. Anyone know when they will be open?
We pulled into Terminal 1 and I took a picture of "Rosa".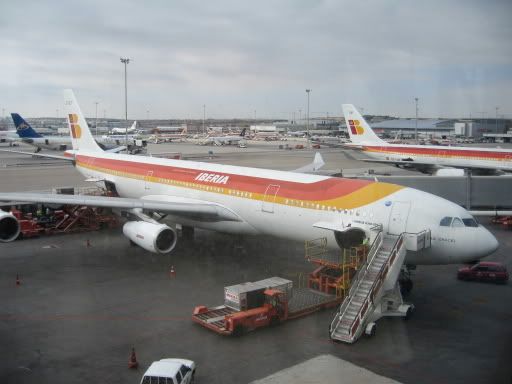 Extremely groggy and tired, we passed through the passport control, and headed down to the transfer buses. Madrid is truly a scattered mess, with very few gates and very many airplanes. There are dozens of transfer buses to every terminal and remote stand. Organized chaos, if you will. Our bus arrived at the "D" gates for our next flight to Malaga, and had to go through a long line for one security checkpoint. We had about a 2 hr wait, a TAP A319 was at our gate. After it left, we went downstairs to another bus ready to take us to our waiting A320.
July 31, 2005
IB 220
MAD-AGP
EC-ICR A320 "Isla de la Cartuja"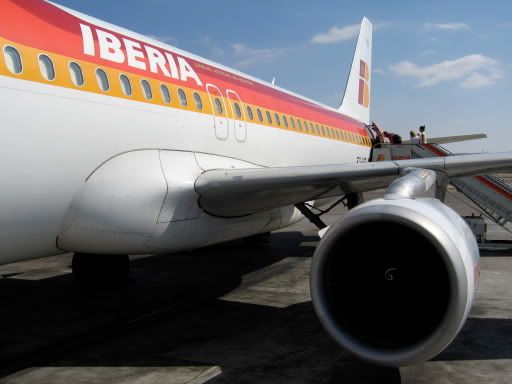 We waited about 20 mins on the transfer bus for our plane to be ready. Once it was, we boarded and promptly fell asleep. One hour later, I woke up just as we made a rough landing and short stop in Malaga and taxiied to the gate. We went to the baggage claim, and waited about 20 mins when we learned that baggage from non-EU countries was in a different area. We headed over there, picked up our bags, and met our friends from Germany outside, who had taken an Air Berlin flight from HAJ the day before. Our vacation was about to begin.
Overall, the trip was exhausting but worth it. Many people have complained about IB's recent service, but apparently we got the good end of the deal, as drinks (alcohol) was free and FA's came around constantly. JFK-MAD was very well served, food was normal, and service was fairly attentive. My complaints about IB are in another department, which I'll write about in Part 2. The return via SVQ is much more exciting, so stay tuned for that. Comments are greatly appreciated! Thanks for reading.