Vacation in Peru: AV and LP.
Trip background:
We wanted to do a short and cheap trip somewhere near as my dad is about to start his campaign for the Senate in the period of 2006-2010. So after looking at options such as Atlanta, Costa Rica, Curazao and Aruba, we looked in deskubra.net (AV´s tour operator) and found a package to Peru for only $1.099 per person. it included air tickets for BOG-LIM-BOG and LIM-CUZ-LIM, hotels, visit to Macchu Picchu and city tours in both Lima and Cusco.
So after lots of hassle with the inefficient Deskubra staff (hear AV!), we got our tickets. We would fly to LIM in July the 2nd, then to CUZ in July 4th, back to LIM July 6th and back to BOG July 8th.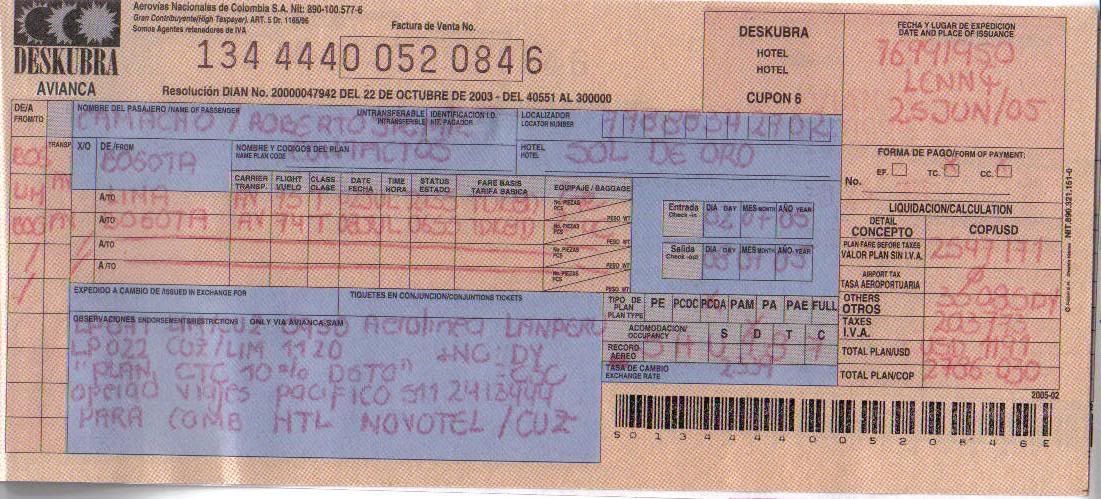 2 July 2005
AV0075
Bogotá (BOG) – Lima (LIM)
Aircraft Scheduled: 767-300ER
Aircraft used: 757-200 EI-CEY (new livery)
Gate in Bog: C5
Gate in LIM: 19
Scheduled Departure Time: 21:35PM (July 2nd)
Actual Departure Time: 00:32AM (July 3rd)
Scheduled Arrival Time: 1:30AM
Actual Arrival Time: 2:39AM
Seat: 29 something
Load: 100%
View Large
View Medium


Photo © Marcelo Fouquet De Biasi
The first of July after packing our bags, i looked into avianca.com, and the flight was changed to a 757. Hmmm, aircraft shortage, not an uncommon sight for Colombian airlines. The 2nd of July in the morning, my mom got a call from AV telling her the new departure time was 12:00am. Oh well, at least they called. Tough my parents were really pissed off.
Well, at 9:20pm we left home and took the usual route 1A Avenue (Rosales)- Circunvalar Avenue-26th street-ElDorado Avenue and we arrived to the airport 20 minutes later at 9:40. The line for LIM was long but fast, but we saw that the line for JFK was impossible, as people have to go through a security questioning and then tax paying. Anyway, we were checked in and mile-accrued in 15 minutes and went up to see in the monitors that all flights had a thirty minute delay. That meant AV JFK was now to depart at 00:25, LB to LPB/VVI was for 00:05 and we were scheduled for 00:30, my dad got so pissed off that he had to sit in El corral and have a milkshake to calm down...and he struggles to lose weight...
We went to immigration at 11:20 and passed quickly thanks to my parent´s official passports.Of course, the in-bond was completely closed and we passed to the boarding room, which was gate 4 this time, the LB flight was departing from gate 1 and the AV flight to JFK was departing from gate 3, the beautiful 85 años 767-300ER was already boarding. There was a little table with sandwiches and beverages as there were a lot of tired connecting passengers from AXM, CTG, CCS and MIA.
My sister got a little sick and the very king AV staff brought her soda and a wheelchair. At 11:45, the 757 arrived from FLL. It was quiclky cleaned and boarding started at 00:10. Biz class passengers boarded and then the 3 different groups boarded in and orderly way, and we boarded last with my sick sister and a bunch of old ladies. The hottest flight attendant I have ever seen helped us to our seats (they were all separated) but oh i dindint care a bit...util I got to mine. I was the middle seat in the left side of row 25, between a lady in her 50s and an old grumpy guy...oh my god no! I thought, so I got seated.
Soon the door was closed and we started pushback. The crew presented themselves (the 2 pilots and 6 FAs) and apologized for the delay, then wished us a nice trip to Peru "Or where your traveling needs take you" as they always say and strangely did the safety demonstration by hand.
We turned into 13L and did a powerful 50 second takeoff. The captain came on the PA and said the estimated flight time would be 2hrs05min (short!), the cruising altitude would be FL360, and thanks to a strong tailwind we would be flying at 915km/ph, and that we would be overfling Quito, then Trujillo and after we would border the Pacific ocean and land in LIM.
As soon as the announcements were made, the FA´s distributed the new style headphones (much better then the ones i got last year) and hot towels. I unwrapped the blanket and pillow and prepared to rest a little and listen to music when suddenly the old lady takes my headphones off and starts talking to me about the story of her life. I put attention to this rude lady for some 15 minutes and thankfully i smell food. Soon the cart passed and the sexy FA told me the choice for tonight:
Curry Chicken Wrap, Thai Salad and a bun with the usual in flight beverages (Postobon products, coffee or tea, tutti Frutti juices and water)
Or
Thai Rice, Mango Salad and a bun with the beverage.
And for Dessert
Manjar Blanco from Valle del Cauca, as part of the Colombia Dulce campaign which is sponsored by AV.
I went for the thai rice and the lady went for the curry wrap. Well, both were very good from her point of view and my rice was nice, and the dessert rocked as always with the Colombia Dulce sweets.
While I was eating the movie started, something called "5 children and their special friend" so i decided I would read the mag. It had an interesting article about New York, plus they had not removed the June issue from my seat and it had an article on Peru.
Just as I opened it, the lady closed it and started talking to me again, though this time about Lima so it was quite interesting. The inflight duty free catalog was passed to each passenger and I bought a box of godiva chocolates.
When I realised, we were already 1:45hrs into the flight and the captain came on the PA: "Señores pasajeros, hemos iniciado nuestro descenso al aeropuerto Jorge Chávez de la ciudad de Lima, por favor les rogamos apagar todos los aparatos electrónicos que estén prendidos, enderezar sus sillas y abrocharse el cinturón, gracias por escoger Avianca como su aerolínea para este viaje" then he said it in english, "Fellow passengers, we have started our descent into Jorge Chavez airport in the city of Lima, we cordially ask you to turn off any electronic devices, straighten your chair and fasten your seatbelts, thank you for choosing Avianca as your airline for this trip".
Then came the beep and I felt the plane´s nose go down, the lady next to me told me LIM was very beautiful b/c they had remodelled it and then the flight attendants came on the PA. "Señores pasajeros, estamos proximos a aterrizar, les rogamos doblar sus cobijas, abrir las ventanas y asegurar sus mesas de servicio, gracias" and in english "Ladies and gentlemen, we cordially ask you to wrap your blankets, open your window and lock the service table in front of you".
The the lights of El Callao appeared and the FAs quickly passed for trash and without we bumped into LIM (yes, it wasnt nice) and slowed down. The crew gave the welcome to your destination "Or where your traveling needs take you" speech and we parked in gate 19, next to a LAN A340 the was probably going to LAX. Said goodbye to the lady and disembarked. Seconds later, an Air Madrid A330 arrived (it had blue engines?) full of PAX from MAD. When we arrived to immigration, we went to the official desk and it was INEFFICIENT, they had to stamp the passports and write stuff manually, so we were there like 20 minutes. Anyway, we picked our bags in the nice baggage claim and outside the tour operator was waiting for us. They took us to Sol de Oro hotel in Miraflores and we passed the night there. The next day we did a city tour around Lima, beautiful city i must say, very a la par with Bogota, only Bogota having more entertainment options and we are more modern and progressive.
The day after, we took flight LP027 to CUZ.
LP027
LIM-CUZ
Aircraft Scheduled: Airbus A320
Aircraft used: Airbus A320 CC-COI (new livery, previously with LANexpress)
Scheduled Departure: 11:20AM
Estimated Departure: 11:27AM
GATE IN LIM: 13
GATE IN CUZ: Used the stairs
Scheduled Arrival: 12:35PM
Arrival: 12:37PM
Seat: 24K
Load: 99%
View Large
View Medium


Photo © Fabio Laranjeira - Contato Radar
The travel agency had currently put us aboard LP021, that departed aruond 7:00am, so we woke up around 4 to find out that they had left a tiny message in the door saying we were on LP027 departing at 11:20. We were pissed off but so tired that we only tried to sleep a little more. Finally, woke up at 7:30, arranged everything and went to the lobby. We had out brakefast and at 8:45 the Viajes Pacifico tour operator) bus was wainting for us. We got on and arrived to LIM almost at 10. When we got to the LP counter, the line was impossible.
We waited in the line for like 20 minutes, as there were flights to Arequipa, Juliaca and Cusco (us) departing. We were finnally called to the last counter in the right side of the area and we were checked-in by a very funny peruvian lady who kept joking.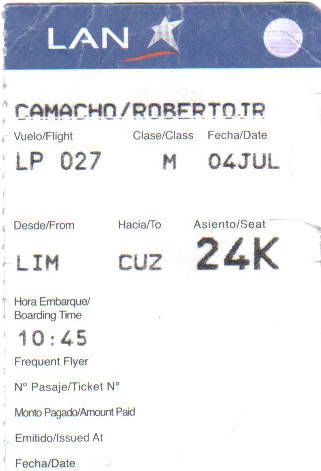 Boarding Pass.
We then proceeded to the second floor, passed security and went to gate 13, which btw is the only domestic jetway? Pls confirm...an Airbus A320 arrived from somewhere and deplaned, but i couldnt see the registration of the plane. Later they announced it was our ride to CUZ. When it was 11:00, boarding for group A and people with children and special needs was announced. As we were in the last row of the aircraft, we were group A and we boarded. There were 3 flight attendants in their late 20s and the purser who was like in her mid-40s. One of them was good looking, but nothing like the FA on the BOG-LIM flight. We took our seats which were in the very last row of the plane and then other oax started boarding, it took like 15 minutes and then the door was closed. They crew presented themselves and the safety video was shown, and when i realized, we hadn't even left the gate! Every other airline i have been on does this announcements while taxiing....but well, we pushed back and went to the runway, there was an A319 and a 767 in front of us and a Taca Peru A320 was tlanding. It was already 11:25 when it was out turn for takeoff. We waited a little in the runway and then the IAE engines started the typical takeoff sound. Even if we were full, due to LIM´s humidity and sea-level circumstances, we were off in 25 seconds. The routing we would follow was going to be LIM-Andes-CUZ on a straight line, cruising at FL330.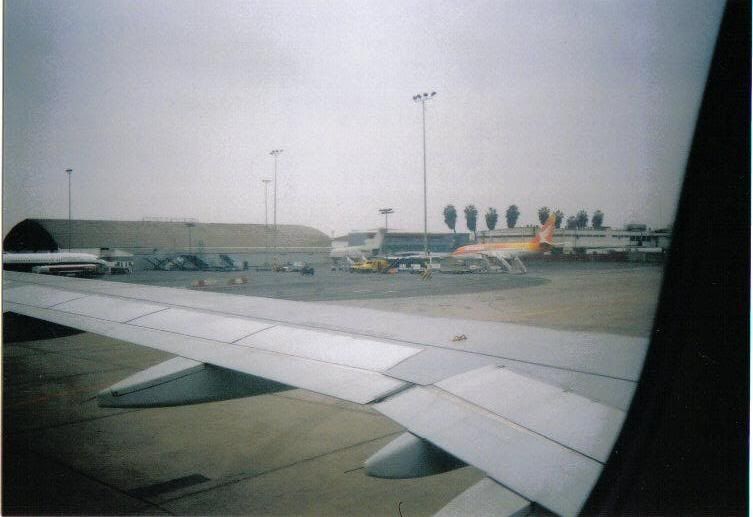 Pushback at LIM, Adamair 732 on the ground. Which airline did it belong to? Nuevo Continente i bet....
We leveled like 15 minutes before and service started. As this plane had no biz class (ex Lan Express), the 3 attendants finished the service shortly, serving us warm cheese and ham sandwiched and a plate of fruit and a drink. I must say, nice service for a 1 hr flight. After i took the IN magazine which was talking about classic cars or something but it was LAME, so i just passed the rest of the flight staring out the window.
The Peruvian andes are very imponent but very desertic, but it was a nice sight. Some time after we pointed our nose down and they announced we were going to land in CUZ. Some minutes later i saw the city and the airport. We made some big turns and passed through the side of a hill and then lined up with the runway. Touchdown was very smooth but we kept on braking for like 50 seconds. Then we stopped and in the taxiway I saw a TANS 732 with "Tan peruanos como tú" titles (read: we hate you TA and LA) and in the ramp there was a company A320 CC-COM and a Star Peru 732.
We deplaned by the stairs and entered the airport to the luggage pick-up and there was a band playing andean music while we picked our bags. Nice touch CUZ! I must say the airport is very old but well kept (reminded me of BOG somehow), clean and with nice spaces judging by the number of flights it gets. So, after that we exited and the tour operator took us to our hotel (Novotel Cusco).
In the next part I have the stay in CUZ and the return flights.