It was june, summer vacations were a few weeks away. I decided to spend a week in Miami on September. Then a couple of days after I got the tickets, I also decided to visit my cousin in Toronto first. I bought tickets roundtrip CCS-MIA-CCS on Santa Barbara, they were offering 50% off on tickets to MIA,
this offer lasted only 3 days. I headed to the Santa Barbara main ticket office in Caracas and bought the tickets for USD 250 each.
I was booked on Santa Barbara #1515 on Sept 02 but I called reservations and changed my departure date to August 22nd without any kind
of penalties. I changed the departure date to head first to Canada to visit my cousin. I realized that the cheapest way to get to Toronto was flying
into BUF, so I looked for fares from MIA/FLL/PBI to BUF. WN was the cheapest, followed by Delta and AirTran both USD 10 more expensive. I wanted
to get the Delta miles to my Skyteam account but the flight arrived way too late into BUF and I wanted to take a train from BUF to Toronto. The
only train operating the route leaves at 3PM, so I had no choice but to fly Southwest leaving from PBI at 7am on August 23rd.
Ok it is flying day. Scheduled departure was 16:15. I woke up at 9AM and checked MIA's website to see if Santa barbara's morning CCS-MIA flight had
arrived on time, since they only have 1 752 operating the route, any delay in the morning would also affect me. I saw that the flight had arrived one hour earlier
than scheduled, which puzzled me a lot. At 10AM I received a call:
-Hello may I speak with Mr. Luisde8cd?
-It is me, who's calling?
-Mr. Luisde8cd we are calling from Santa Barbara airlines to ask you if you are willing to change today's flight for tomorrow morning
-Ehh.. I don't think that is possible, I have connecting flights to take in MIA.
-We are offering anyone who takes this offer a free ticket CCS-MIA-CCS on any travel dates.
-Ehh let me think about it. (On hold during 1min)
- I dont think it is worth it, I will lose my connections and to rebook myself will be more expensive, I rather fly today.
- Ok sir good bye, if you change your mind, please call reservations to take the offer
- Ok bye!
Now everything was very very weird. The were offering me to take the next day flight and the morning flight had arrived very early. Nevertheless I wished
for the best and left my home in Caracas at 11:15 to take advantage of Caracas's light noon traffic. At an average 100km/hr (60 miles/hr) on the highway,
I made it to CCS at 12:00. I managed to find Santa Barbara's check in line and waited... Two hours later
I had only moved 10 meters of a line that was probably 50 meters long. People started speculating about our fate, but no one knew what was happening.
At around 14:10 a Santa Barbara employee came and said that the systems were too slow and that was why it was taking so long. Ok no worries then. But 10 min
later the same guy came and told us that our flight was delayed for at least 3 hours. Well my suspictions have come true, there was something wrong with
Santa Barbara´s Miami flights. At 14:30 the station manager came an announced that when the plane landed last night and the door was opened at the gate,
the emergency slide popped out, so they had to send the plane empty to Miami to get it fixed. That's why it arrived to miami so early. She told us that she had
no idea of when the plane was departing from Miami. Now bad news, she said that all seats had been taken because pax from the morning flight had been rebooked to
my flight. After she said that, everyone began a revolt. The manager said that the only thing she could do was to give the remaining seats to pax who were connecting
from other Venezuelan cities, the rest of us were to be booked on the morning flight the day after.
I couldn't accept this because I had a friend waiting for me in MIA to take me the day after to PBI at 7am to catch my WN flight to BUF. I approached the manager
and very politely informed her of my connection situation. She said: ask for a refund, maybe our staff in Miami can rebook you. Yeah right... I told her that I wouldnt
leave CCS if I didnt have proper arrangements regarding my connecting flight and train.
After that she asked one of the checking agents how many seats were left, the agent replied with her fingers: 2. And there was a couple about to check in... there were
3 of us and only 2 seats left, I began to lose my hopes. I returned to the queue line and got in line with the last pax who were on domestic connections and managed tor
reach the agent who performed the security check. I told him about my situation and that I had already spoken with the manager, he then called a guy over the radio and sent me to a counter that was checking in pax going to MAD. The guy took my ticket and passport and wrote down my name in a manifest list. He asked me to hand over my checked baggage and called another agent who was in a computer. The lady then started typing in the computer and voila, she printed a boarding pass. I managed to see that my seat was 7F. This surprised me because I was one of the last people to checkin and I wonder how I had gotten a seat in the front of the plane. Guess what? the agent then told me, well Mr. Luisde8cd the gate number will be 15, aprox departure time 7PM. Remember to board the plane when they call business class pax to board. Woah! I had been upgraded to Business class, AMAZING!!! For the first time in 4 hours, my face managed to show a smile. I happily took my boarding pass and passport and headed into the security screening.
I wondered around the gates area for a couple of hours. I spotted many widebodies since it was the European departures rush hour. AZ 763 to MXP, AF 744 to CDG, TAP A310 to LIS, Air Europa 763 to MAD, Santa Barbara DC10 to MAD, IB A343 to MAD, LH A343 to FRA and RG 763 from GRU and to AUA.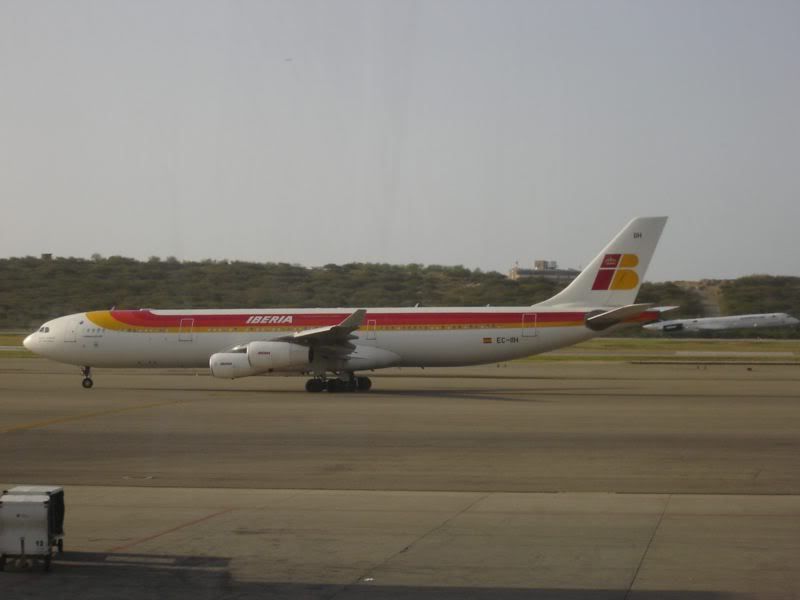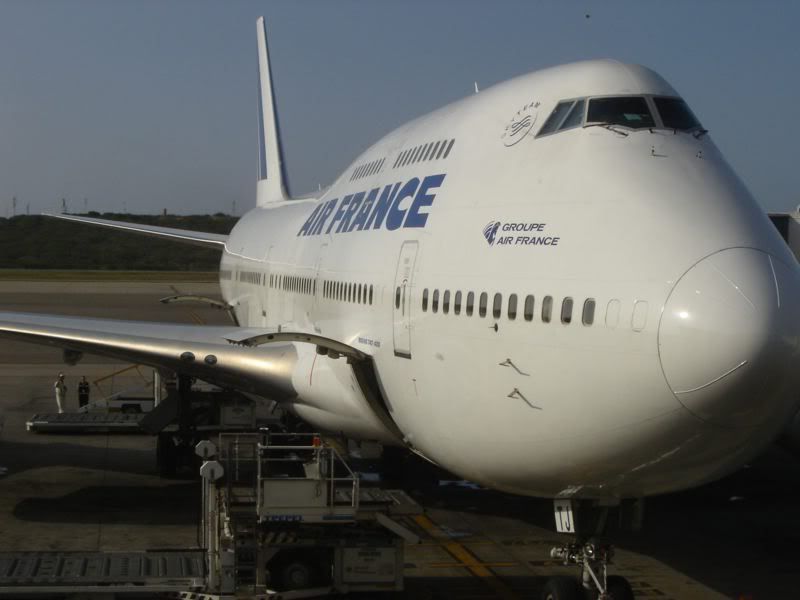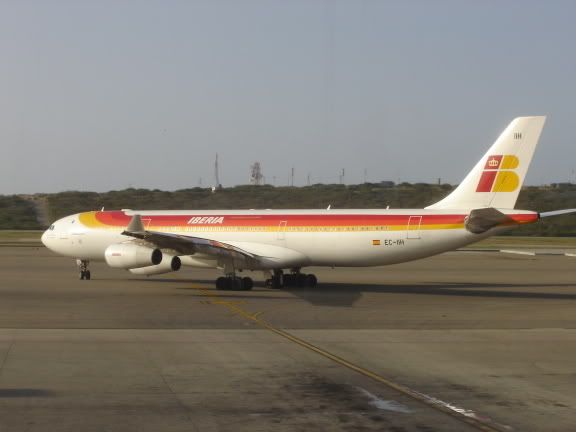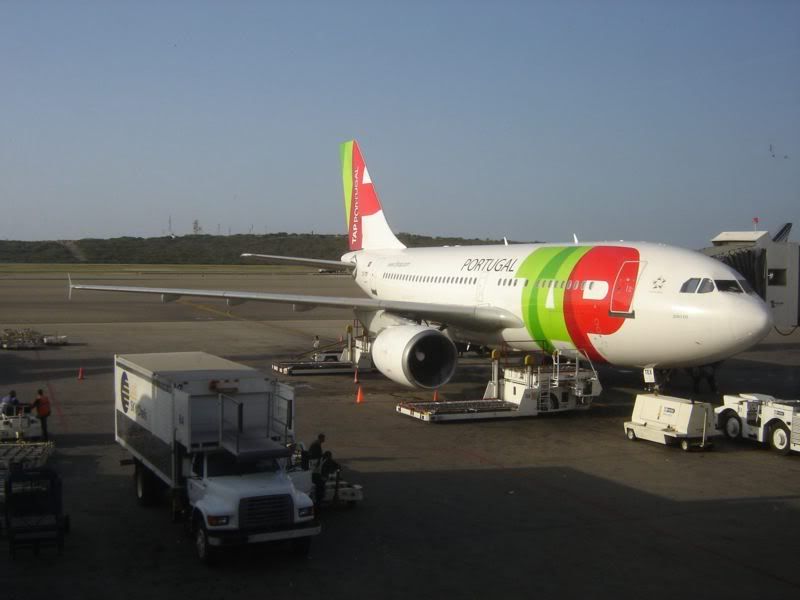 Santa Barbara Flight #1525 operated by Primaris
August 22nd 2005
Scheduled departure time: 16:15
Actual departure time: 21:00
Scheduled arrival time: 19:15
Actual arrival time: 23:55
Aircraft: Boeing 757-200
Registration: N740PA
View Large
View Medium


Photo © LP Photos
Finally at 19:15, Santa Barbara's 752 landed on runway 10. We began boarding at around 20:30. Inmediatly after finding my seat and storing my carry on, I decided to ask if I could have a chat with the pilots in the cockpit, to my surprise they agreed and I entered the cockpit. I had a chat with the Primaris pilots and asked them details about the emergency slide that popped out last nite, they told me that it was a FA mistake when opening the door. There is a handle in the door that can be set to emergency evacuation or normal mode, apparentely the handle was set to emergency evac when the FA opened it, so that is why the slide popped out. I thanked the pilots for allowing me to visit the cockpit and returned to my seat. While at the gate we were served orange juice. We pushed back at 20:55. We finally took off at 21:00 for a 3 hour flight to MIA. Shortly after take off, the FA's handed out a Santa Barbara CD Carrying case which had inside a tooth paste, ear plugs, eye shades, socks and a tooth brush.
Then we were offered a small appetizer that consisted of 2 small crackers with ham and cheese. I had a black label scotch to drink.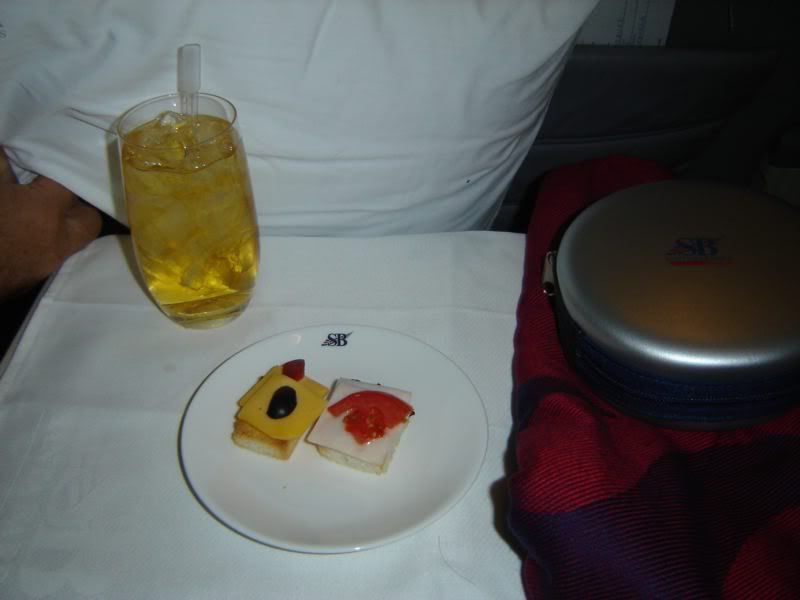 After that quick appetizer we were offered as an entry: Normal Salad or Shrimp Salad. I chose the shrimp, which was very disappointing because it only had 1 small shrimp and the rest were veggies.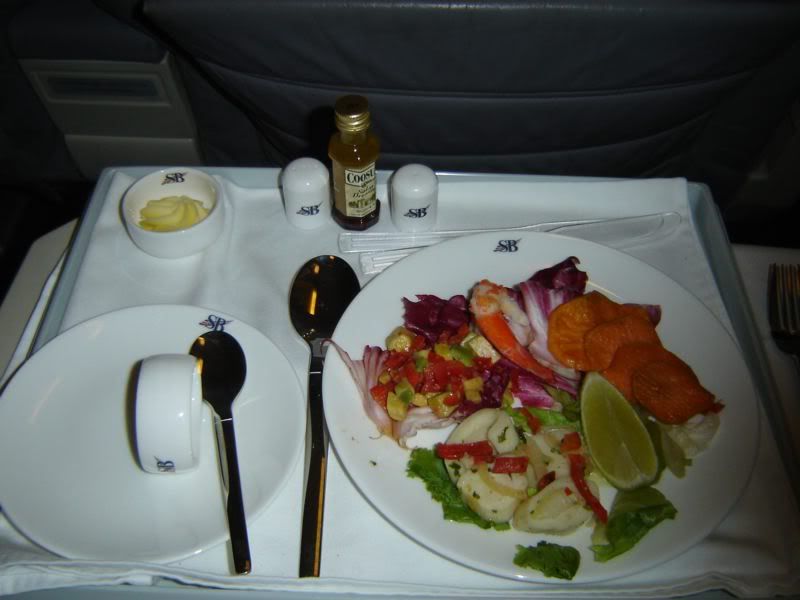 After getting done with that, they offered beef (lomito) or chicken. I chose the beef, which was the best I have ever eaten on a plane! It was so tender and juicy! Excellent.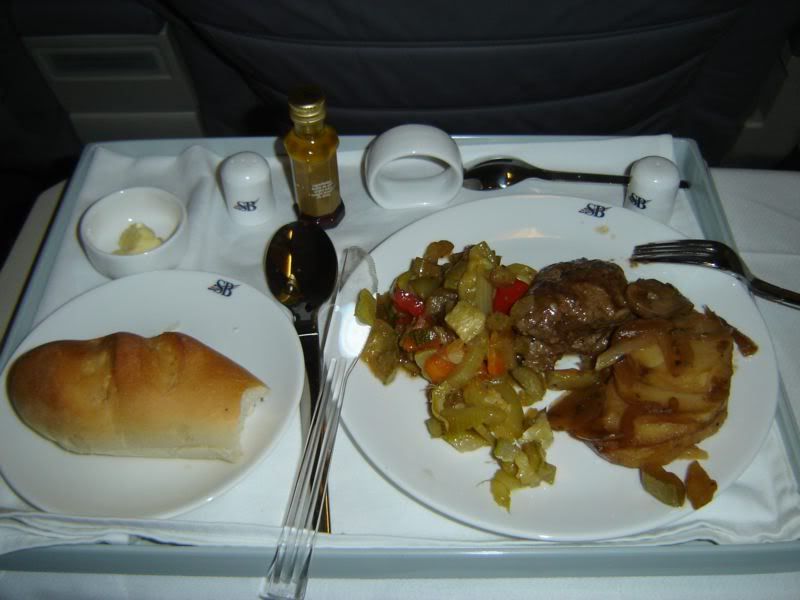 Then came the dessert which was either ice cream or vanilla cake (profiterole). I chose the cake which was good. After my 3rd scotch and the dessert I realized that we were 45minutes away from Miami. 15 mins later we began our descent into MIA and I could see some heavy thunderstorms over the South Florida area, there was a lot of lighting in those clouds. We approached MIA from the south and then made a U-turn to line up with runway 09R. We touched down at aprox 11:50 and quickly taxied to Concourse F between a Copa 73G and an Aeromexico MD87. I was among the first to disembark and I was second in line for the inmigration check. I cleared inmigration and headed downstairs to the baggage claim. I waited around 10mins for my bag to appear and cleared customs.
Finally in Miami after 9 years! I made my way to the upper level and walked to Concourse B to meet my friend who was waiting for me in the Hilton shuttle bus. He decided to spend the night there because I arrived to late, I was so ashamed!. Finally we got to the room at 1:30AM and asked the front desk to wake us up at 3:30AM. End of day 1.
Conclusions
Santa Barbara offered great on board service. Hot FAs. Their business class product is better than what AA offers on the same route. Great Venezuelan hospitality by the FAs. If it wasn't for the emergency slide mess, I would give Santa Barbara 9/10. Nevertheless I think they did the best they could considering the circumtances (having only 1 aircraft for the route). Props to Santa Barbara.
Keep tuned for my domestic PBI-BUF report on Southwest.
Saludos desde Toronto,
Luis