Apologies for the pictures as I am crap in taking pictures... Some are blurry some out of focus.
Also 1st trip report for me... so be gentle
Report Trip for LHR-LOS-ACC-LOS-LHR
VK...
LHR-LOS G-VBUS Virgin Nigeria Airways
Load
Business 1
Premium economy 0
Economy 66
Journey started in Derby. Drove to North of Birmingham to drop cats at the cattery then headed straight to London Heathrow.
Meet Kevin (KaddyUK) outside T3 departure, nice lad sorry for quick chat as was running late, picked up a lens from him and headed for the purple parking. Parked the car and back to Terminal 3.
Arrived at the check-in zone A at 18:15 to check in for my virgin Nigeria flight.
The queue was short (unusual for African flight), but slow moving. There was only 1 counter open for check in. At 18:30 a further two opens to speed up the queue.
I have never seen huge bags like today. Every person had a minimum of 2 huge suitcase + the hand luggage.
the lady at the counter was very nice and bubbly she weight my bags 1st one 31.9 Kg the 2nd one 33.9Kg she just looked and smiled and handed me my boarding passes and explained that my bags are tagged all the way to Accra. I was allocated seat 51A. I asked if there was another window seat more to the front. She replied the flight is almost empty just take any seat when boarding is complete. I headed straight to the security to be greeted by long queues.
After security there was another queue for immigration officers. I headed straight to the seating area to try my new camera lens I bought. Works excellent, thanks Kevin.
few minutes later 'go to gate 25'' was displayed on the screens. I headed straight to gate 25 and got lost. Gate 25 was hiding beind some construction works between gate 23 and 22 (not sure if I got them correct). Waiting room was, unusual, empty.
we were called to board the aircraft. I was the 1st to get on the plane, and was greeted by a virgin Nigeria crew in the Nigerian accent ''Hallo Sa''(Hello sir). I then said to myself, that's more like an African airline. I went straight to my seat, dropped my bag and rushed to take some pictures before more passengers fill the plane, only to be told that photography is not permitted...
Since when???
Premium Economy:
Economy:
Once seated a Virgin Atlantic crews asks to check my boarding pass.i then saw the PTV and they are quite tiny, well must be a first for a west African airlines to have PTV.
I had a quick peek at the pocket everything was in Virgin Atlantic (not Virgin Nigeria), the magazines, in flight shopping and even the safety card. 30min later when boarding was complete I jumped to seat 30A 1st row in the economy section. Few minutes later I was approached by another Virgin Atlantic Cabin crew and was asked why I was taking pictures and my nationality. She then asked me where I am flying too, I replied Lagos of course. When she left I got brave and took some pictures of Air India 747-400.
Last time I flew VS 340-300(LAX-LHR) it was exactly the same interior, not even a small splash of green. The cabin crew was a mixture of virgin Atlantic and virgin Nigeria(3). I noticed I was the only Caucasian male on the flight, there were 2 Orientals (Chinese I think).
'ladies and gentlemen and kids, welcome aboard this Virgin Atlan (Pause) Nigeria to London Heathrow.. (Long pause)'' everyone starts to laugh. She then apologized and changed it. A couple behind me where talking about the flight being empty again. After a small chat (Friendly girls) they fly weekly to London to buy chocolate bars and sells them in Nigeria. They been on 8 Virgin Nigeria flights and said its always empty and the fares are still high. The only reason they chose VK/VS is because they are allowed 2 suitcases not 23 Kilos. Pilot then apologized for the 60min delay but voice was low i couldn't hear the reason. A manual safety demonstration was made and we headed to Runway 27L. On the way to the runaway I spotted bellview 767 flight to Freetown, Sierra Leone. First sight for me for their 767. We departed straight after a SV 777 bound for Jeddah or Riyadh. Take off was smooth, we then took a sharp left just after the M25(Motorway) heading south. We will fly over France, Spain, Algeria, Mali, Niger, Burkina Faso, Benin then finally Nigeria no pictures taken as it was dark
. 1 hour into the flight, dinner was served.
Starter: Bread with butter and pasta salad with feta cheese. We had an option of two meals, chicken or lamb. I asked for chicken and was given Lamb Stew with banana and Spinach. Not sure if its a Nigerian meal. It looked weird but was tasty (Minus the banana). For dessert we had profiterols.
After the meal, tea water and coffee were served. We were cruising at an altitude of 35000 ft.
A Virgin Atlantic (NOT VK) amnety kit were ditributed. I went straight to catch up on some sleep. An hour before landing into Lagos, Breakfast was served (not sure what it was as I was catching up on some sleep. We then landed at Lagos at 3:10AM. I headed straight to immigration SO I can get my passport stamped (more stamps yeah). I stood in the ECOWAS queue then I a voice from behind says: ''White man, go stand at the foreign section'' I replied why should I? I'm ECOWAS (west African economic region). 1st person checks my passport and landing card if I filled it in all details, secondly another immigration Officer checks if your details are correct and finally a 3rd person stamps your passport. I headed outside to take some pictures. There were No Customs officers probably asleep. The airport was empty with the exception of people sleeping in the corners everywhere.
This is the arrival halls:
Bar at the arrival halls:
ii took some pictures then a passer by approach me and tell me why I was taking pictures of him I said I wasn't he replied I saw the flash (and started to raise his voice) I showed him the picture and replied are you happy now? He said no we are going to seize your camera or give me 100$, he then asked for my nationality when he realize I was a Ghanaian he let me go and he said: You know how we work then I took the lift (pitch black inside) to the departure area.
The virgin Atlantic check in desk at the far end:
2 virgin Nigeria crew came towards me show me their ID and asked me for my flight coupon. They handed me the departure immigration form I then filled the form. Headed for immigration about 4:50am. I was told the immigration officers are not around,they are asleep they are going to call them. 20minutes later a guy dressed in a white top with holes in it and flip flops comes of a room and asks me where I am going too. I reply Accra. He takes my passport checks it and awaits a Lady (just being woken up from the same room) to stamp my passport. I never seen such immigration officers to deal with just one person. VS flight from London has just landed. I venture around the empty airport, took some pictures.
I went to the toilets, no light working in there and a BIG spot on the floor (Reminded me of the film Black water)
Duty free consists of 2/3 African crafts shops (that also sells alcohol) and a Sony Communication shop. Also there is a Mercedes shop opening soon.
I then had a nap on the uncomfortable benches.
VK crew then boarded HZ-BHD I was watching the pilot doing his checks on the plane (still dark). I was then approached by a an airport staff asking me what I was doing. I replied watching the plane. 5min before boarding another 6 staff came back to me and ask me which flight I am on I reply Virgin Nigeria. I was then handed to VK personnel.'' madam wants to see you'', I replied who is your madam they reply airport security manager. I was then escorted to a room where a lady wearing flipflops asked ' are you ''shoeshine bomaa'' I replied no I am not a shoeshine (lol) she then said I said ''shoesidebomber'' I replied: would I say yes even if I was one. I was then asked to hand in the ''camera film'' I laughed: there is no film in this camera she then said give me the camera I asked them to give me the money for it. I was asked either to pay $200 or they would have to take me custody and erase the The pictures, I erased a few in their presence. I then contacted my parents in Accra to advise them I might miss my flight, My dad gave me a contact in Lagos who use to be the station manager of R.I.P. Ghana Airways. I called and explained the situation and handed the phone to the security personnel I then had my passport taken, and was escorted to gate 33. I was searched and boarded the plane.
What's this dead airline sign still doing at the airport?:
LOS-ACC
Dep: 6:55am
Arrival 6:55am
I was the last person to board the plane. Today's deck crew was eastern European while the cabin crew was of 3 Nigerian and one eastern European. Majority of passengers had UN passports
2 passengers were catching North American's weekly flight to JFK. The aircraft had a load of roughly 30%. The business class is quite spacious, the seat pitch was the biggest I ever seen in a narrow body aircraft. The economy was section was quite roomy and comfortable. Flight safety was done manually. I was the only person traveling from LHR (VK) to ACC via LOS.
I was assigned seat 12A The safety cards on the plane were B H Air. To the right of the plane was VK A340-300 G-VBUS and to the left was VK A320 HZ-BHB.
VK A320 HZ-BHB was heading to Abuja. An Ethiopian Airlines B767 from Addis Ababa landed. We headed towards the runaway, noticed the some BAC-1-11. Nigerian Airlines many planes including their DC10.
New domestic terminal being built
Straight after take off, Egg and mayonnaise on sugar bread was served with drinks.
flight duration was 40minutes.
Spotted my sister house (circled below)
passed above an Industrial estate
we landed at Accra's Kotoka International Aiport.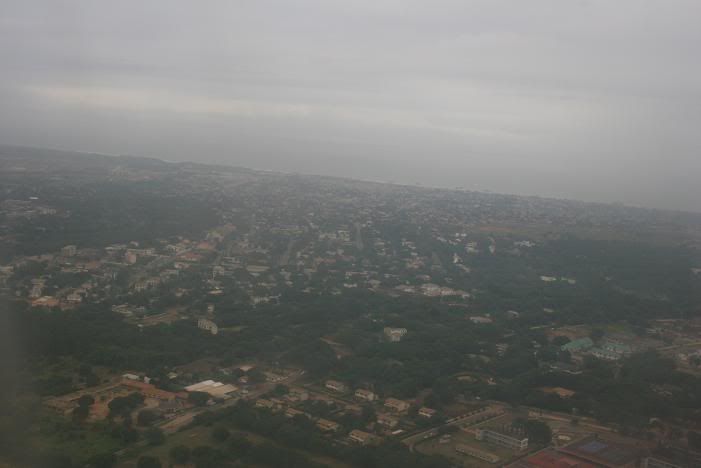 North American 767, Antrack 2x DC9 and many smaller aircrafts were on the apron. We passed near Ghana Airways DC10 and DC9 sitting near the hangar. We parked near the arrival gate, I was meet by a friend who works at the airport at the end of the staircase. I had a cobus bus all formyslef. Headed staright to immigration then home. My bags arrived an hour later where one of them was opened with what looks to be knife and some items missing in the bag
I would consider flying VK again but on a point to point basis, not transiting!!!
The return flight (More pics) is soon to be uploaded
Below are some pictures taken in Ghana