After a long stay (3 weeks) in Accra, time to head back to the U.K.
3days before my departure I visited Virgin Nigeria office in the La Palm Hotel in Accra to re-confirm my flight… yes they still do that in Africa
I was advised check in opens at 5:00am for a 7:55am flight.
I got to the airport at 5:10 and the check in desk wasn't yet opened yet.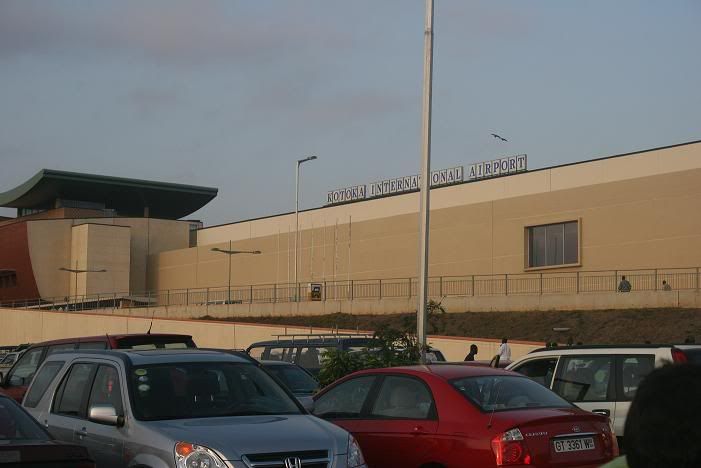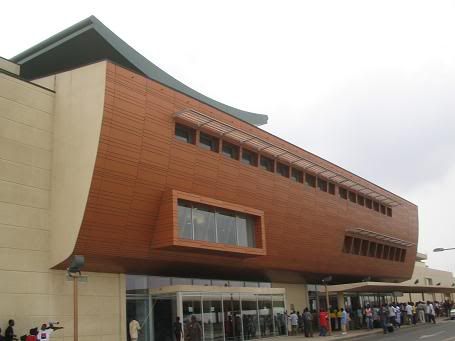 There was an Afriquyah flight to Tripoli delayed (from midnight) was boarding when I got to the airport. 60+% of its passengers are transiting to London Gatwick, Brussels, Paris and Geneva. They probably missed their onward connections.
The check in area: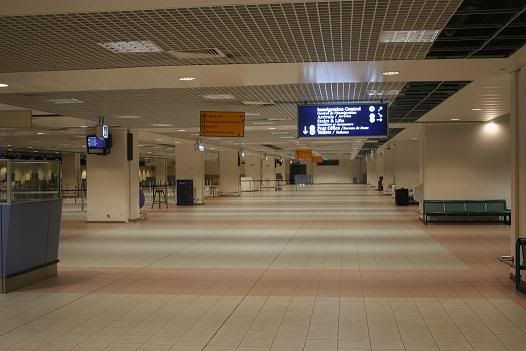 The check in area at busier periods, taken while checking in for a ACC-LHR-LAX for my brother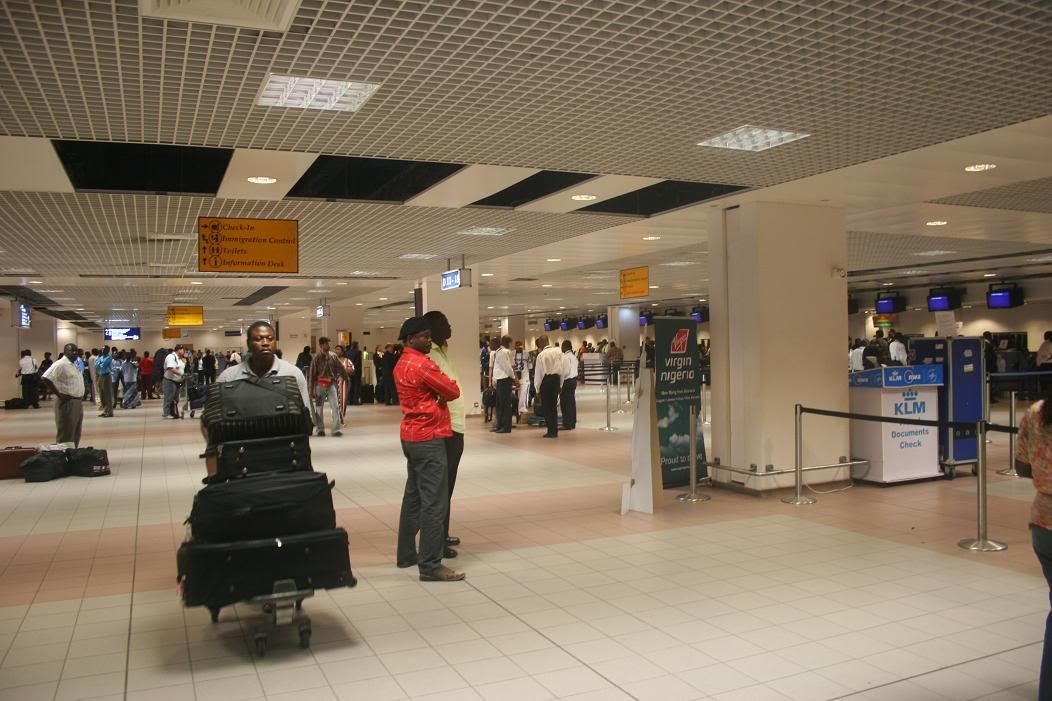 The departure TV, new in plasma: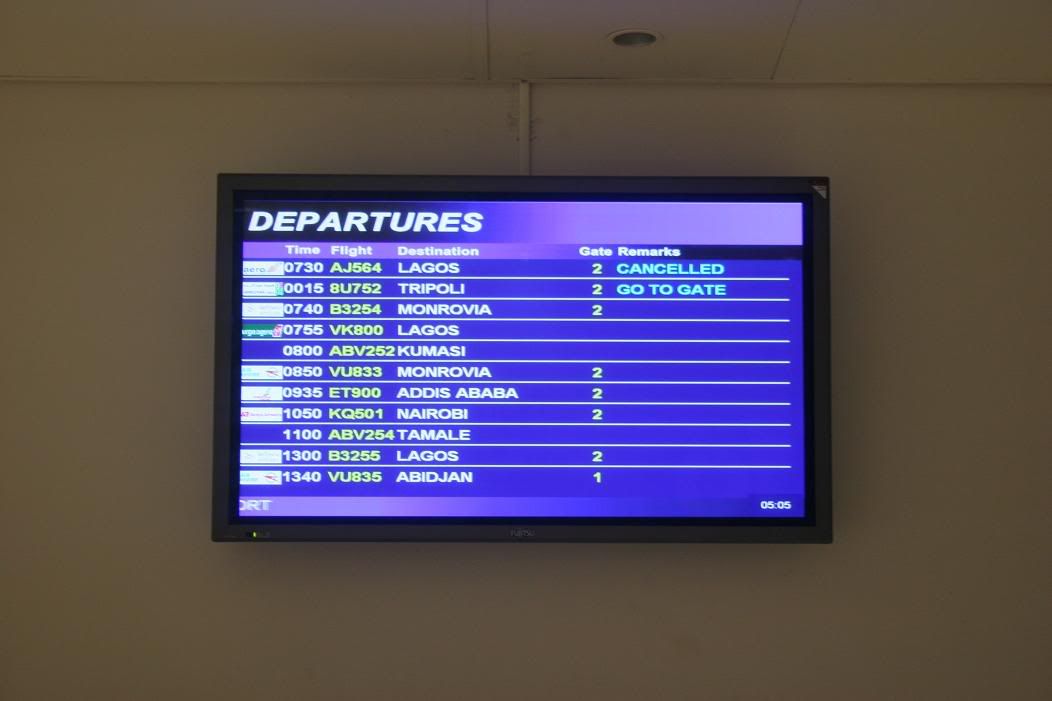 Not sure why the Aero flight (Cancelled) is before the 8U flight, they are usually classed by time. Maybe the Aero flight was from the previous day?
I then notice some Virgin Nigeria crew go to check in desk 24-25 I follow them and the first in queue.
They were quite friendly and smiling. They then told me they will be back in 15minutes they had to go for their briefing. 20min later they come back in a bad mood and chatting: ''we don't like to be treated that way''
I check in 2 suitcases 45Kilo in total.
Lady: You have excess weight
Me: No I am well below my allowance I am allowed 2 pieces 32kilos each
Lady: Afraid you are not travelling to America or Canada
Me: Afraid you didn't look at the ticket properly
I was then given seat 6A. I asked her about the boarding pass for LOS-LHR. She mentioned they are not allowed to issue them in Accra so I will have to go thru immigration in Lagos and re-check in again. That's unusual for an airline not to issue boarding pass for a connecting flight. I headed off to immigration and to the duty free shopping. At the moment, about 60-70% of the departure/duty free area is closed due to refurbishment.
I watched Bellview 737 (named fortitude landing) from Lagos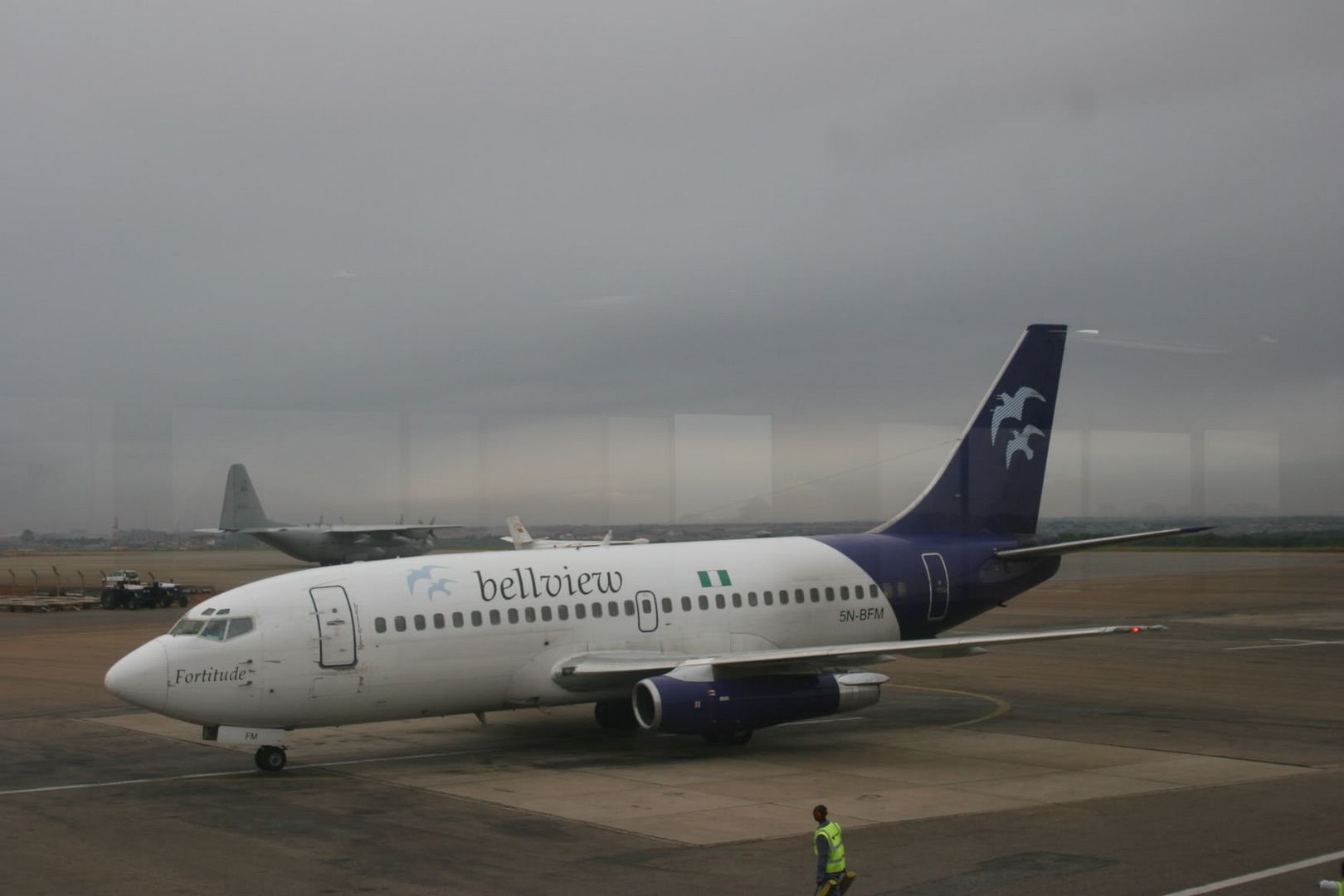 Shortly followed by Virgin Nigeria A320 LH-BZB (My Flight)
We boarded from gate 2 and transported via bus to the aircraft we just needed one bus to fit us all in 31 passengers in total.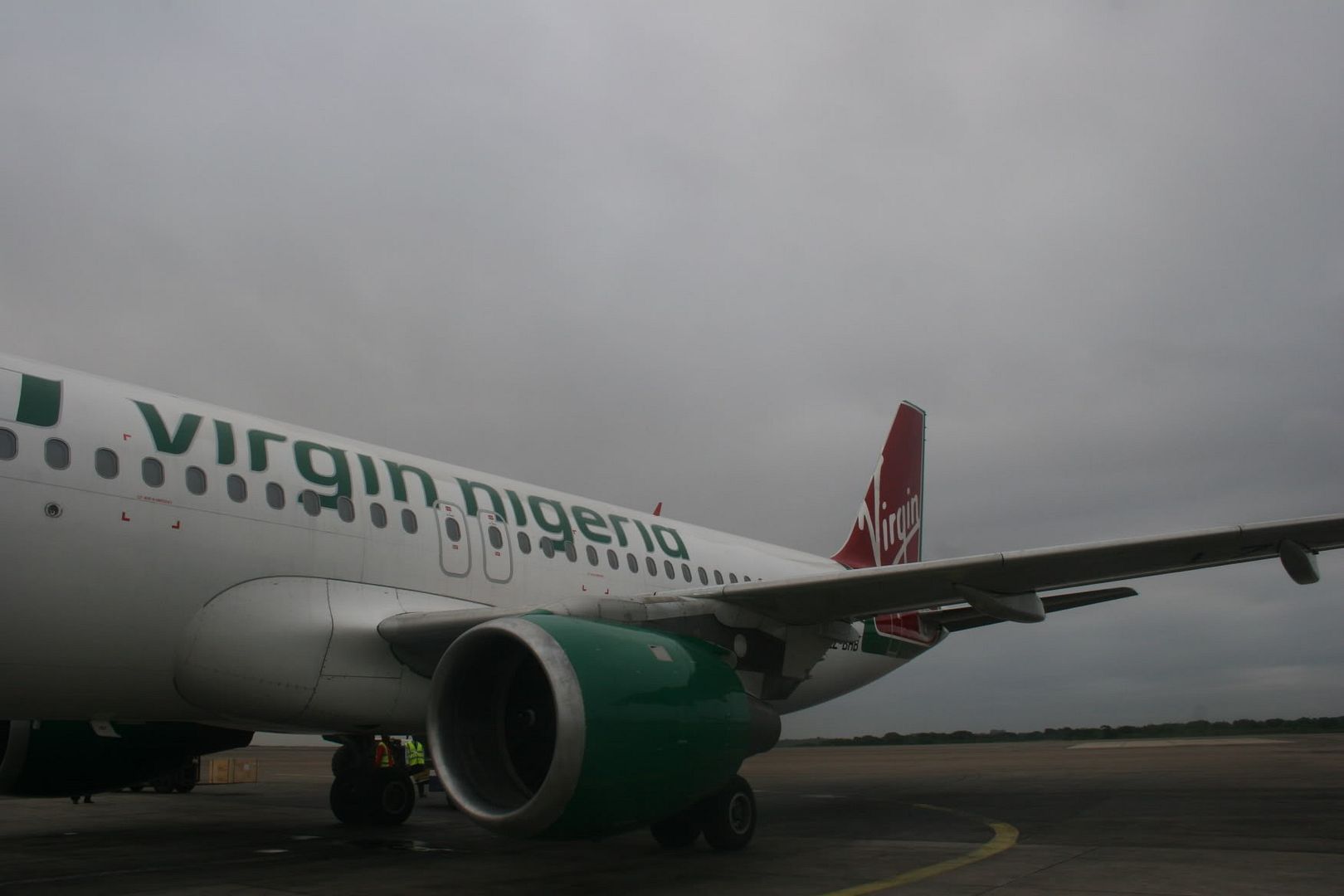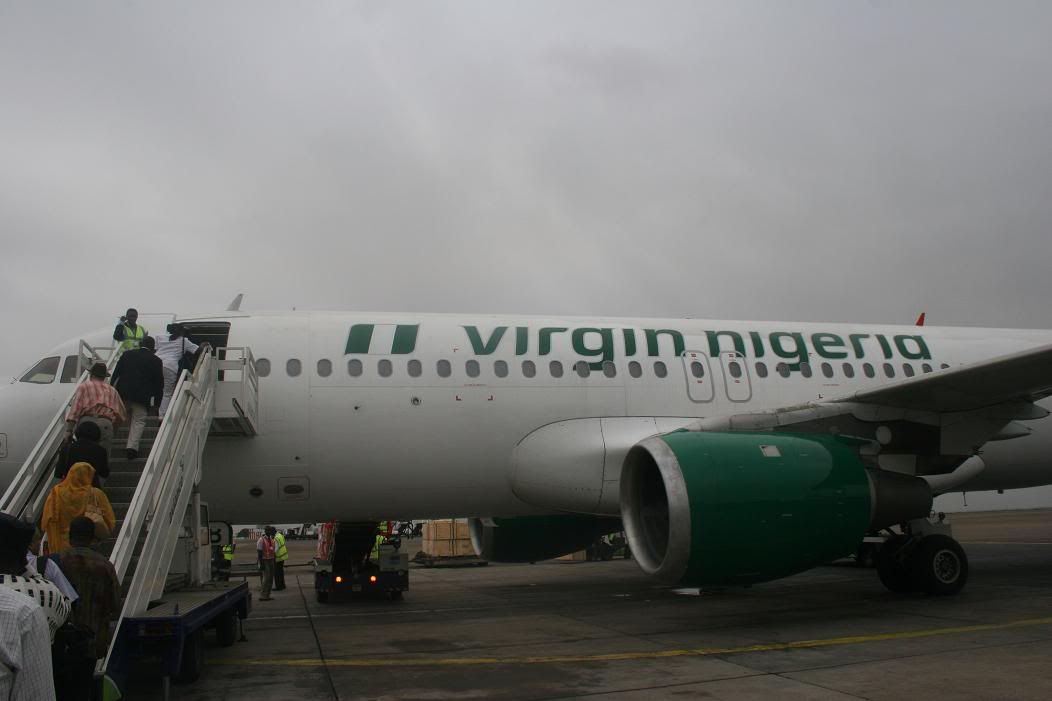 Antrak flight to Kumasi was also boarding at the same time. Antrak operates a mixture of 3 DC9 (Ex-Ghana Airways), 1 ATR42 and I believe some ex S.A.E.Europe fokkers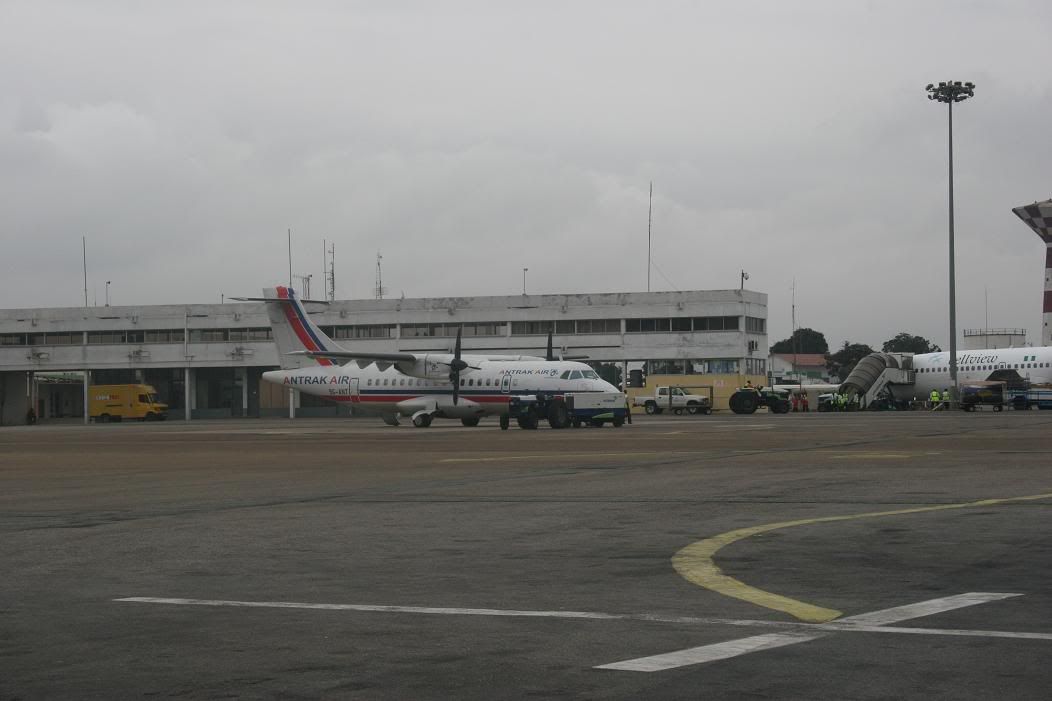 I went straight to my seat to discover my window is quite dirty so the pictures are fuzzy:-(
I then notice an All-white 767 land while we were taxiing to the runaway. Turn out to be Ethiopian Airline ET-ALL arriving from Addis Ababa via Lagos.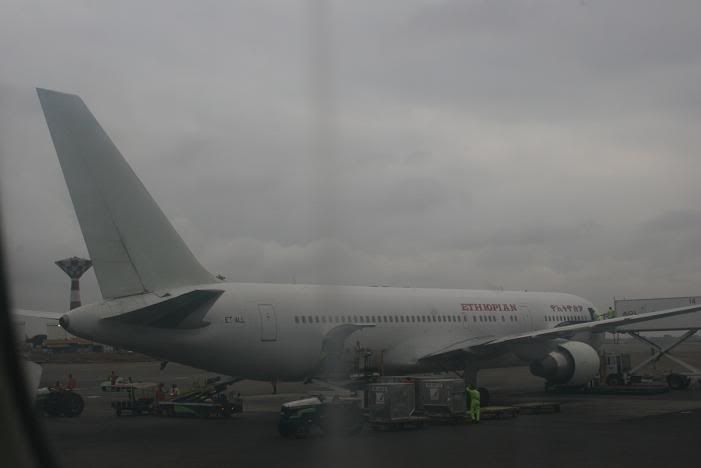 We passed near an Swedish Air Force plane (Not sure what it is doing in Accra)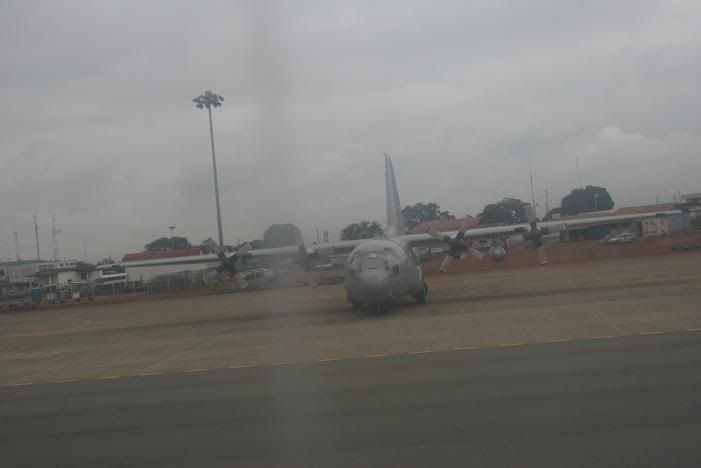 we headed for the runaway and waited for an Air Ivoire F28 from Cotonou to land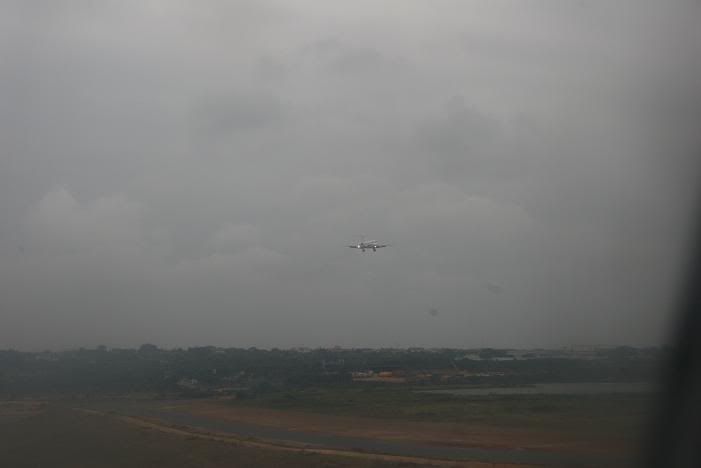 We were giving landing cards upon boarding the plane
Take off was smooth and the journey today is only 34minutes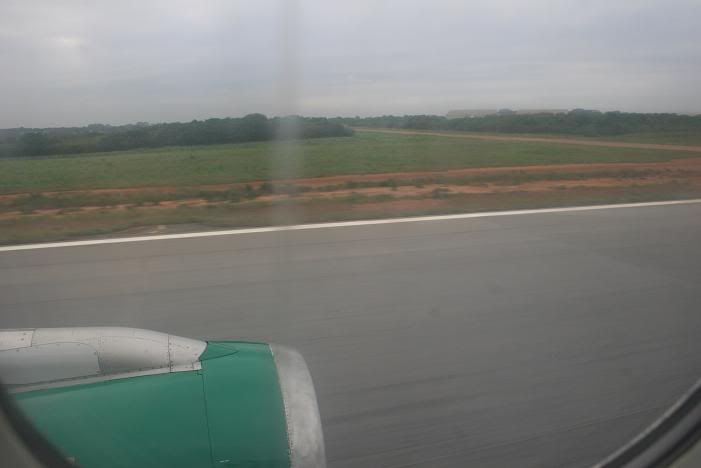 we headed south over Accra then over the gold of guinea then travelled east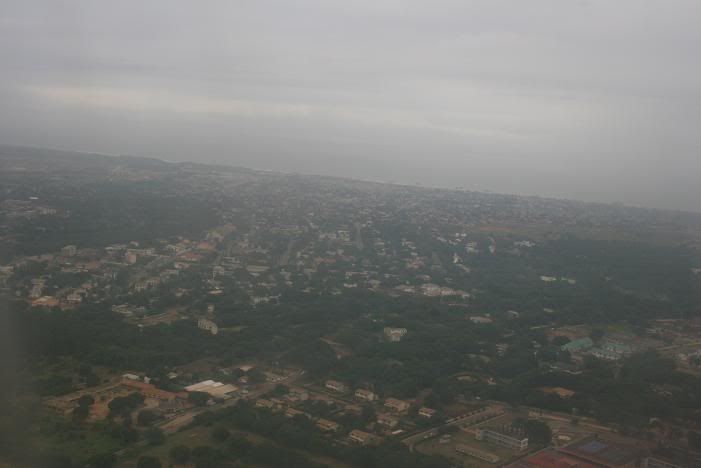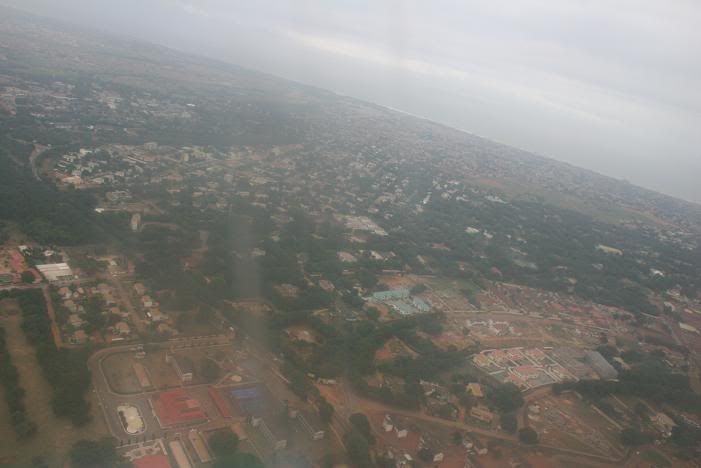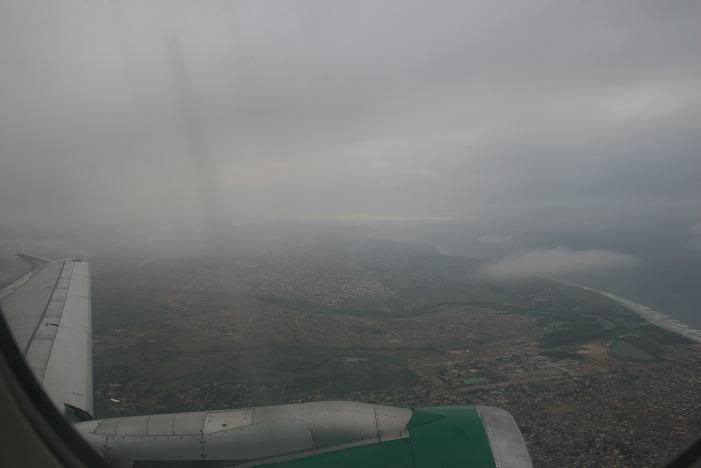 The houses with the red roof is La Palm Hotel located in the LA (not Los Angeles, its Labadi area)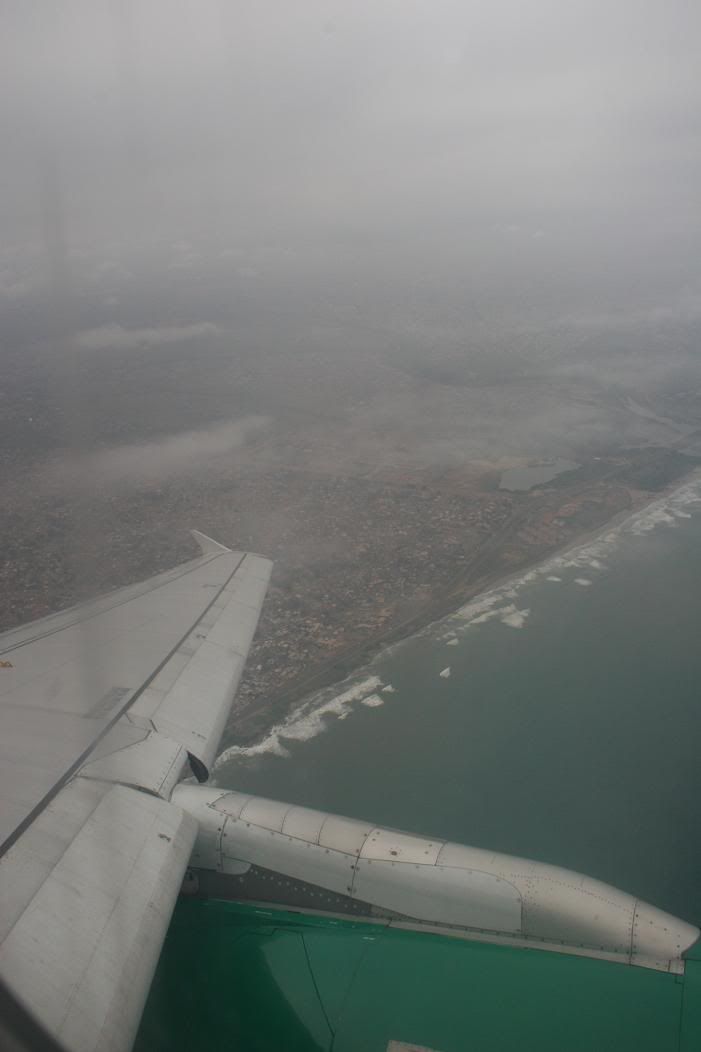 As you can see the plane is almost empty: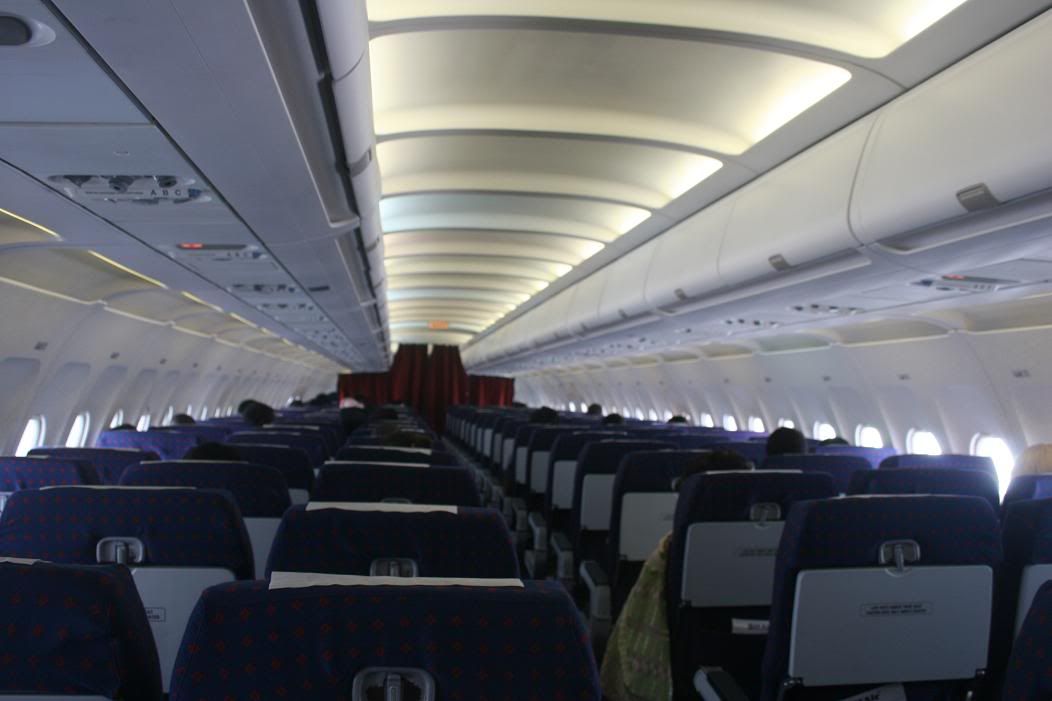 15minutes after take off breakfast was served. Same as the LOS-ACC, egg mayo on sugar bread.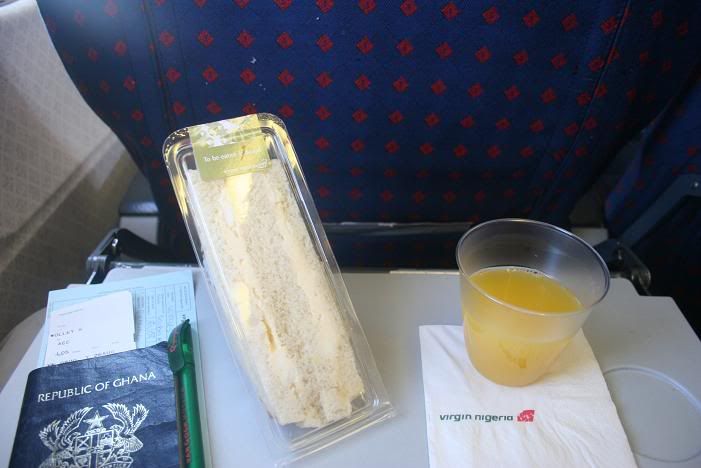 The deck crew were Bulgarians. The Cabin crew was made of 1 Bulgarian lady and 2 Nigerian ladies .
Landing in Lagos: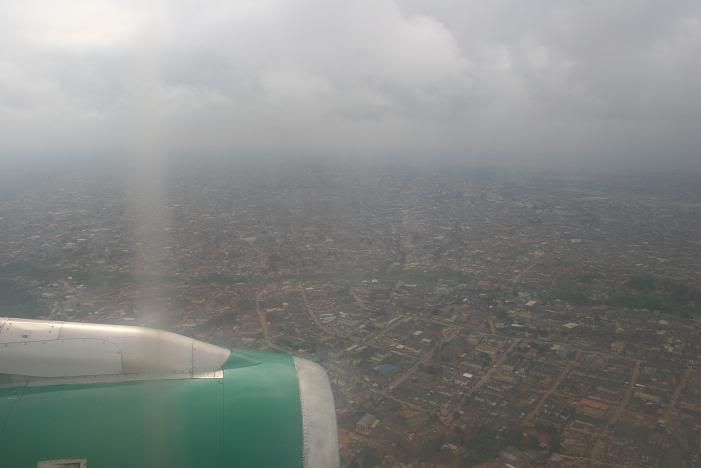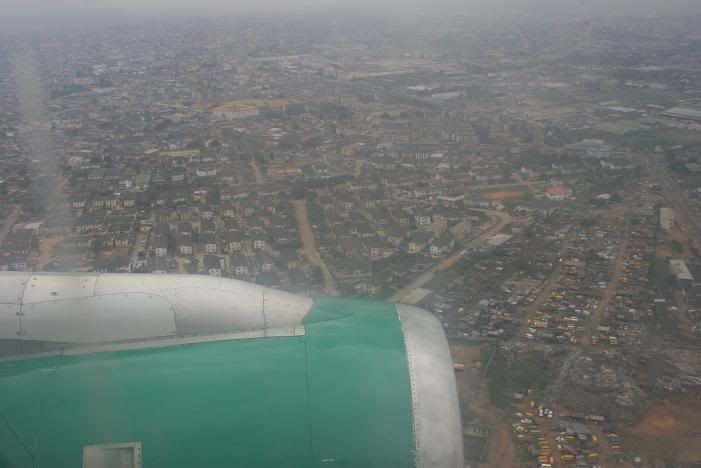 That's a good way to advertise: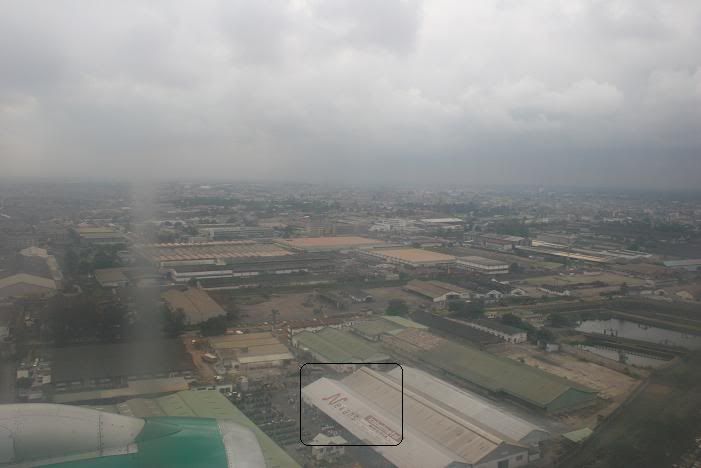 Definitely driving in Nigeria is a nightmare
Imagine landing and seeing this view: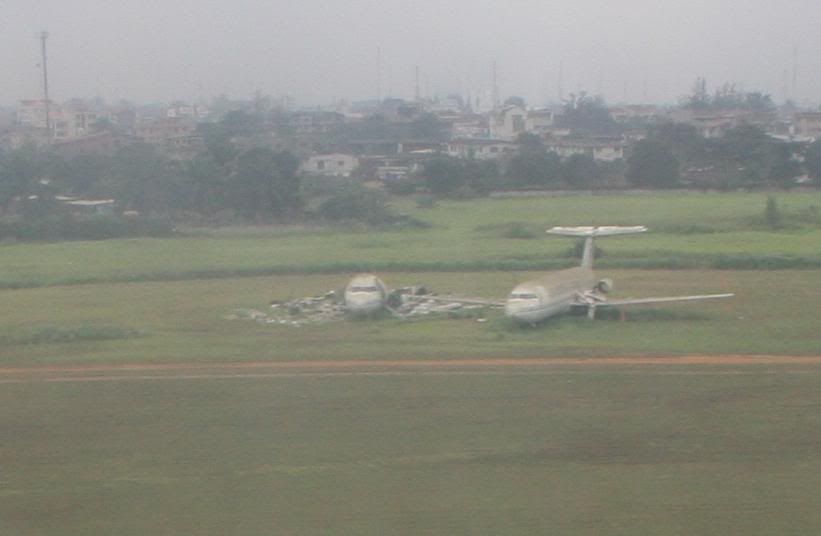 New domestic terminal in construction:
: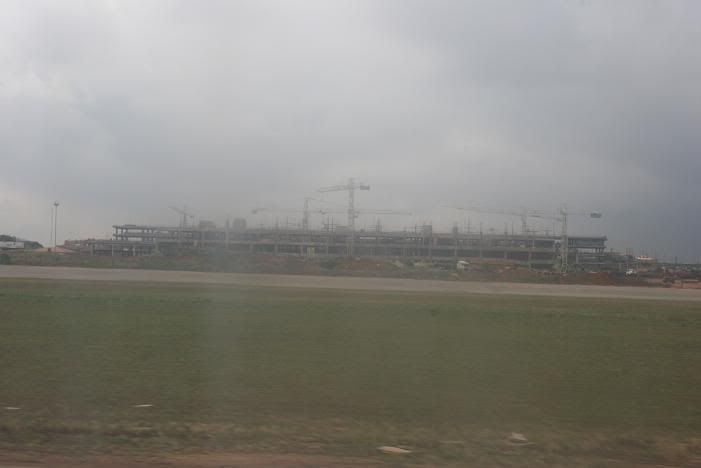 Approaching the terminal, Not sure if it's safe to work that close to the moving aircraft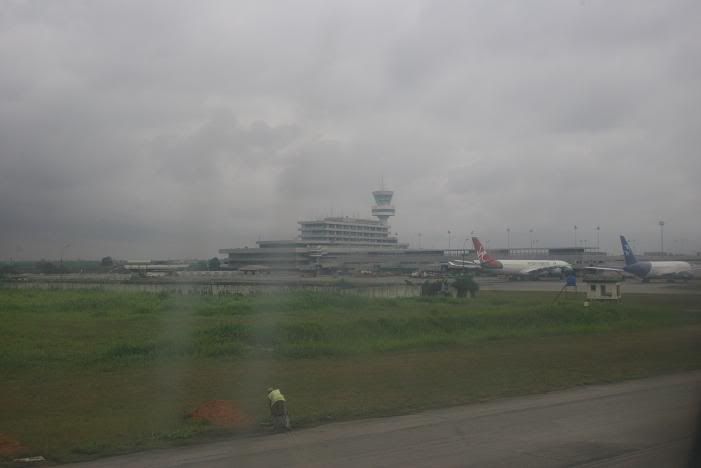 Virgin Nigeria A340-300 g-vbus AND Bellview 767 waiting its next flight to India.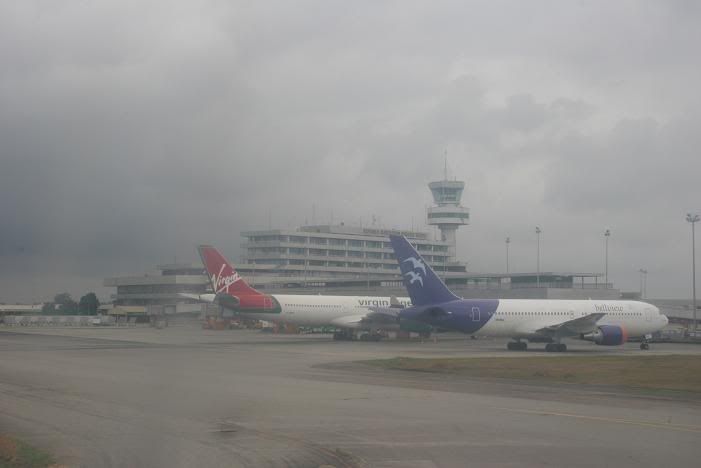 Another worker next to the taxiway with a nice trolley: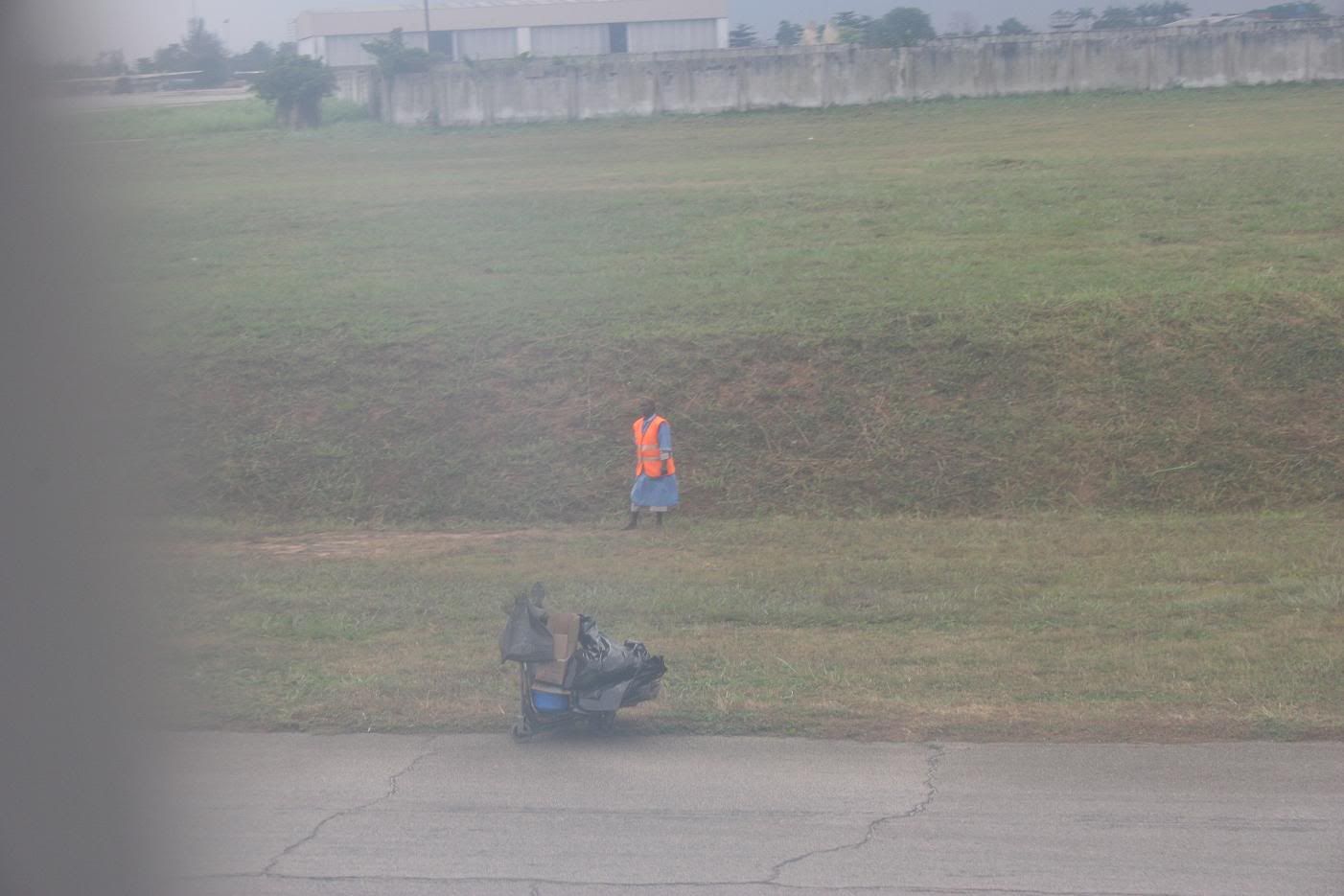 Got off the plane and headed to the immigration officer, was asked any questions including:'' How you be Ghanaian and you be white'' he mentioned he had suspicion that I am holding a fake passport and I had to show more proofs, luckily I have 3 older passports with me ( I carry them cause they have Valid Visas for numerous countries, I get a new passport almost every 2 years cause I get it filled up with stamps/visas fast). I was looking around if I can see my shoeshine friend and give her a wave (More like the finger) but no sign of her. There were a good number of VK passengers(About 15) catching VK flight to ABV, while just 3 to LHR (including me)
After immigration, the baggage hall was crowded with people still waiting for their bags from Ethiopian Airlines flight (Same flight that landed in Accra while we were on our way to the taxiway, they must have been waiting about 2:40minimum)
I then headed to straight to the check in desk. I was asked if I had any bags to check in. I said I already checked in two from Accra. I then was given a label to attach to my handbag. The EXACT same one as Virgin Atlantic but this one is green. I then headed back to the terminal and waited for my next flight. I noticed 2 passengers whom were on the flight ACC-LOS transiting to London. One of them was on her way to New York after spending a week in London. She said the only reason she chose VK was because it was a last minute ticket and was the only airline with available seats. The other passenger said her travel agent (Also her aunt) insisted she should take VK as their service is Fantastic, she mentioned she will never fly with them again as the ground staff at Lagos weren't friendly.
Flight departs at 12:35 but on the boarding pass it says boarding time is 10:05. we all waited in a small room waiting to board.
We were then told to leave the room so that our bags will be searched.
I was surprised to see a security officer seizing a woman's mini-mirror.
3 people weren't allowed on the flight as they had fake I.D
We finally boarded the plane.
The deck crew were Virgin Atlantic crew while the cabin crew was a mixture of VS and VK.
We waited about 90minutes on board the aircraft as they had problem with fuelling, something was broken (from the refuelling trucks so they had to get another truck)
EK A330 flight just landed from Dubai and on its way to Accra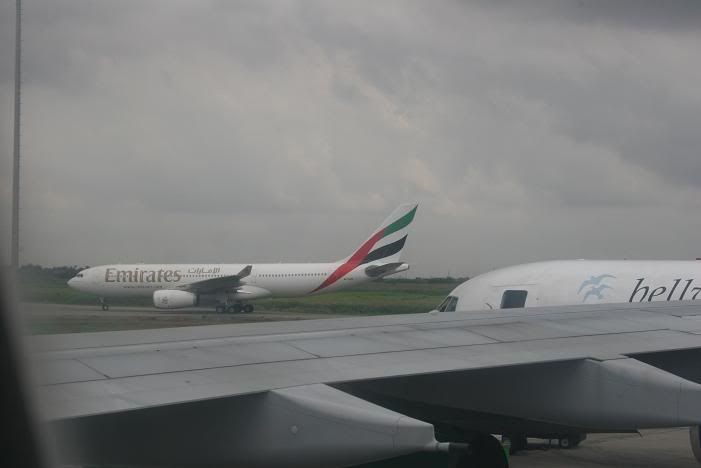 One of the passengers (From Accra) came to me and said I have to go and identify my bags. I went to the door of the plane to be told I don't have to identify any bags.
15 minutes I was approached by ground staff and ask me to identify my bags,
I got off the plane and went down to find about 10 bags, 4 of them opened and staff going thru peoples stuff.. Luckily my bags had codes to open them. I identify my bags and head back to my seat. I then notice them towing some bags (Including mine) to the back hold
The blue bag and red one are mine.
ET 757 lands from Nairobi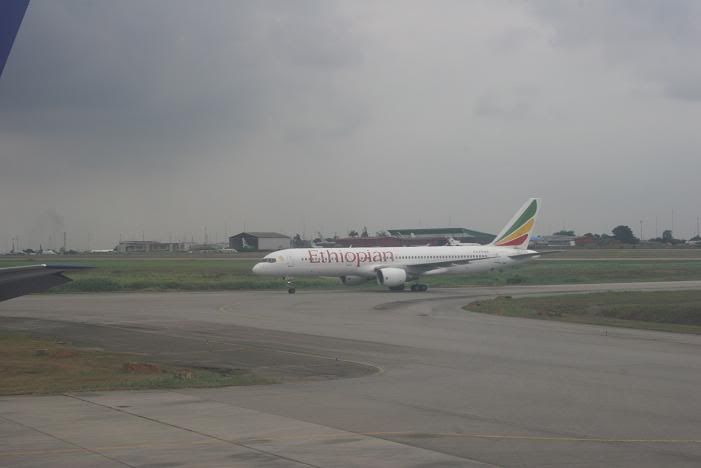 Finally the fuel problem has been resolved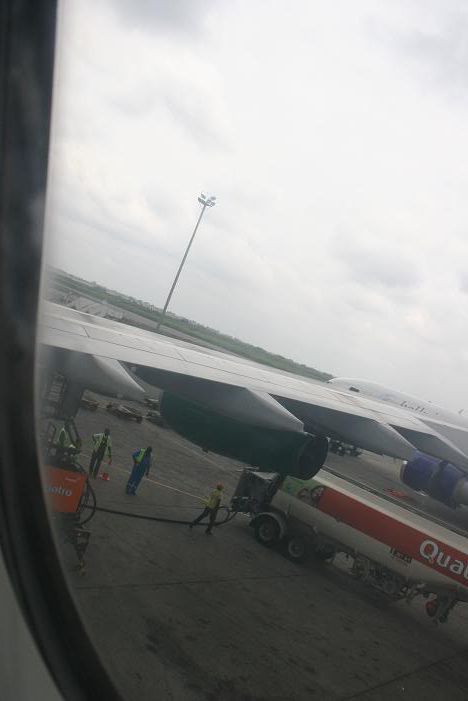 We took off at the eastern runaway
Views of the Airport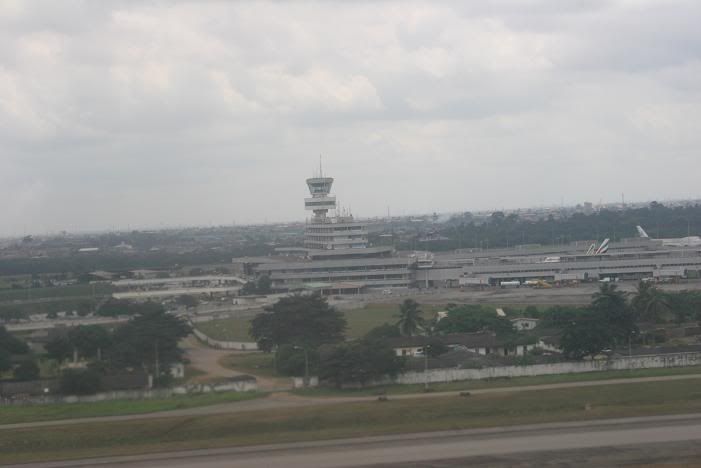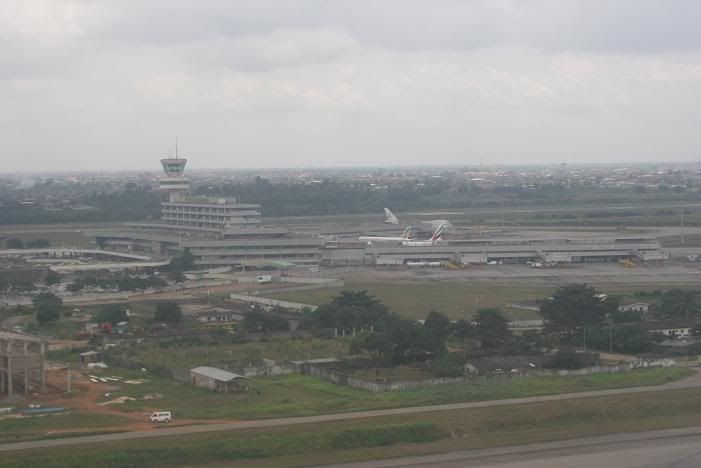 notice the ET757 on the taxiway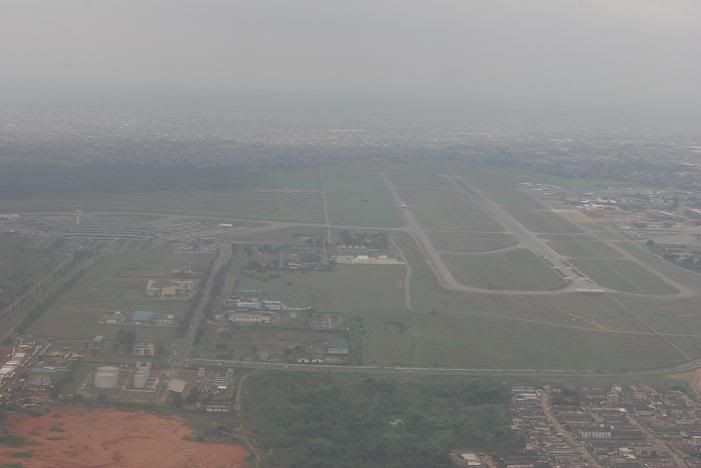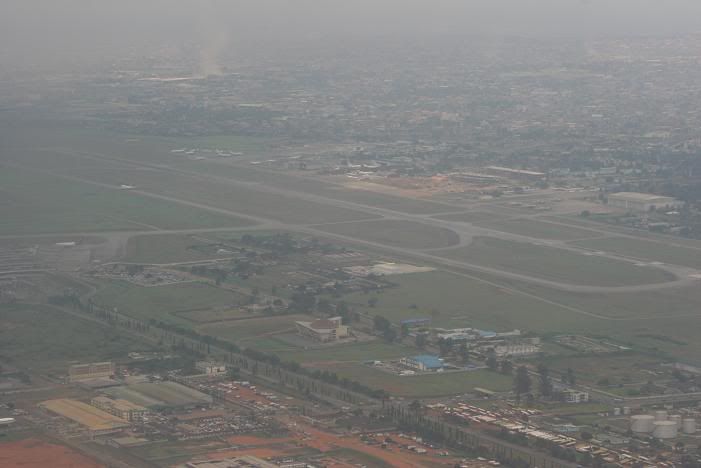 WOW Lagos looks like a HUGE city. If I am not mistaken it's the most crowded city in Africa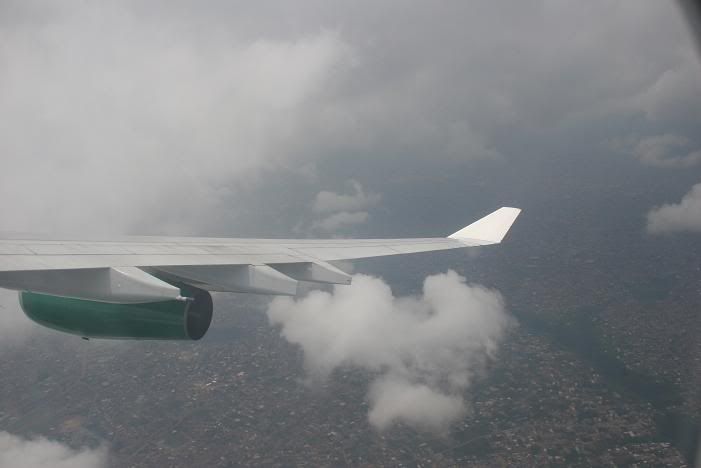 An hour after taking off lunch was served we had three choices
Chicken, fish or beef. I chose chicken and sadly again I was given beef Grrrrrr I asked for a replacement VK crew refused as I ''already opened it''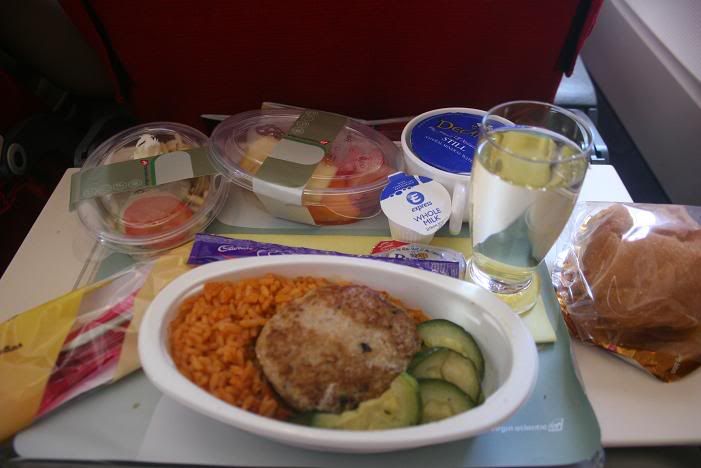 flying time was 6hours and 5 minutes
we flew over the Sahara desert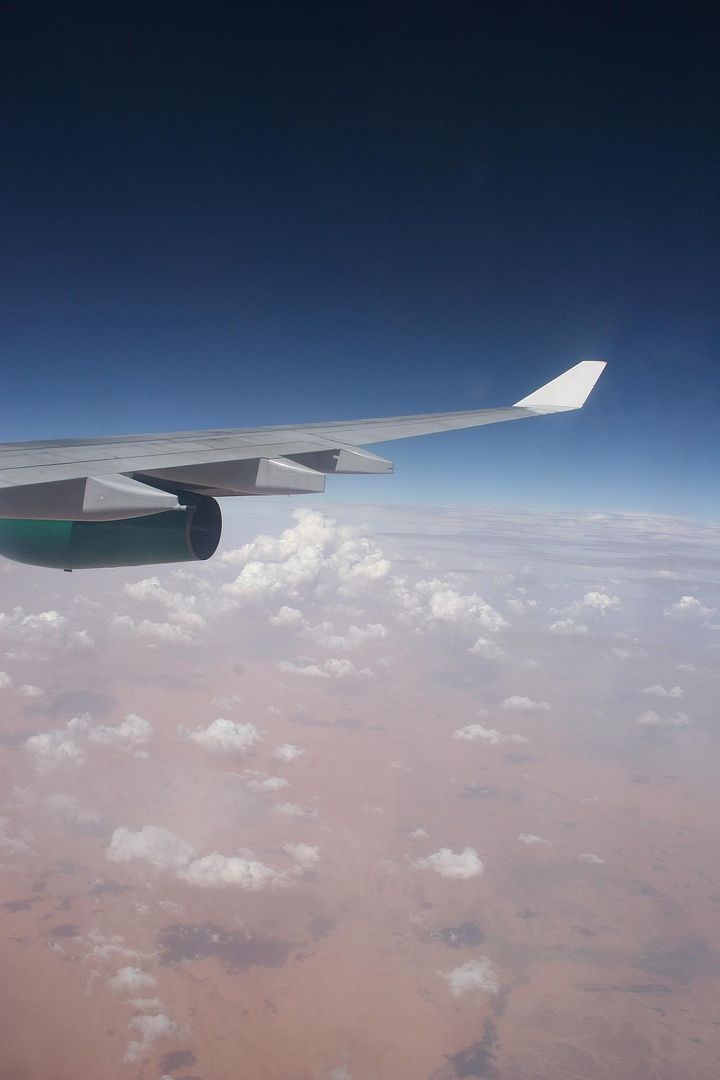 Last view of Africa before heading towards Europe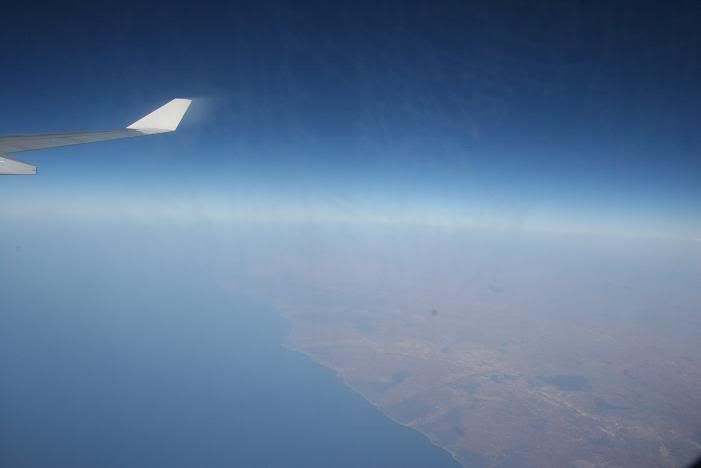 An hour before landing to London dinner was served (8:20pm)
Looks more like Brunch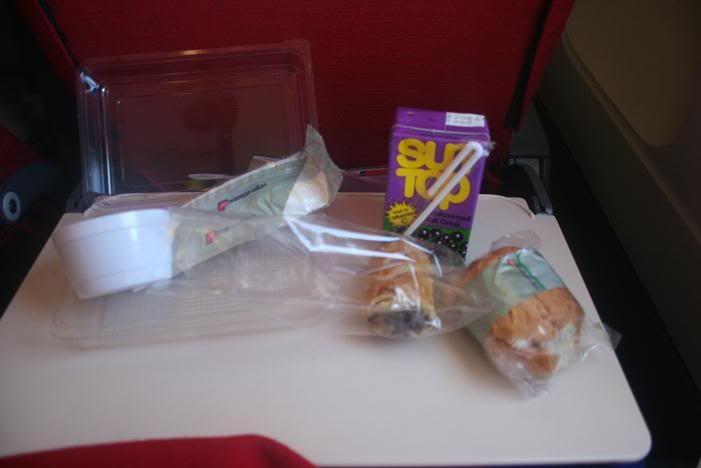 We flew over central London
The millennium dome: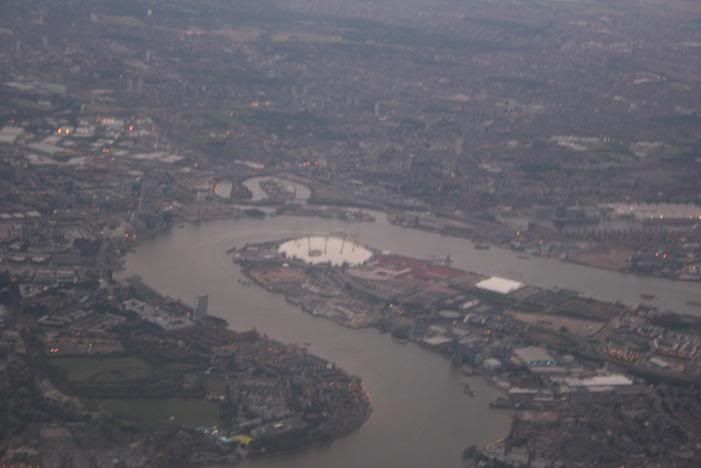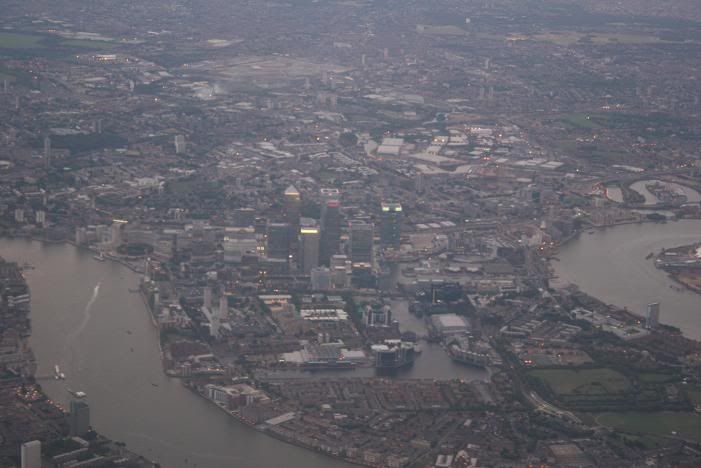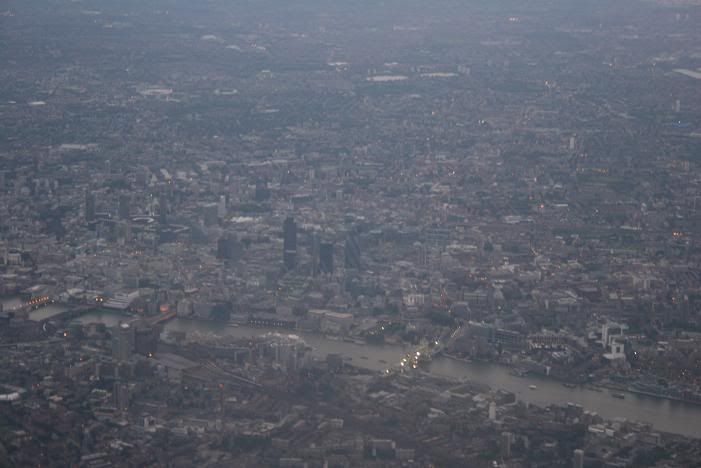 Big Ben, the London Eye and many other of London attractions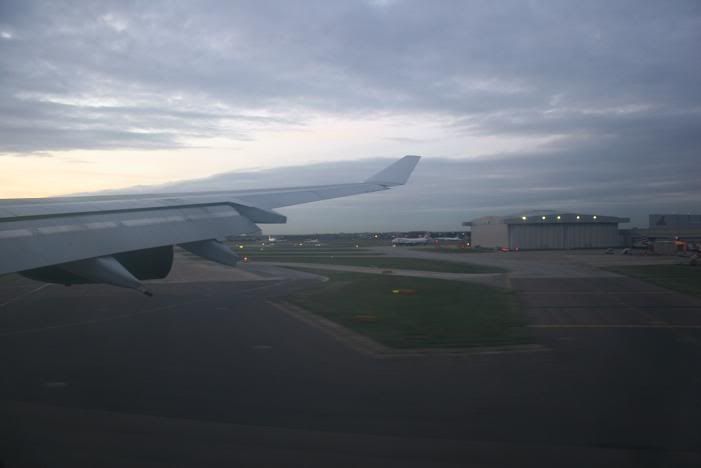 Many airlines at Heathrow (too many to name) including MEA, Iceland air, Emirates and many more.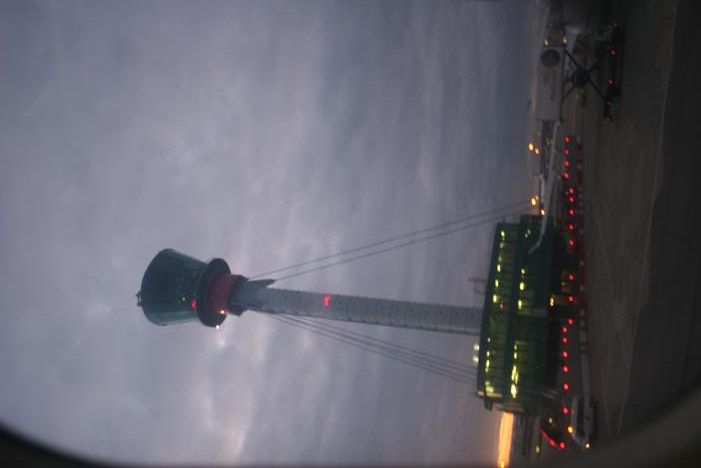 We parked near Qatar Airways.
Got off the plane and straight to terminal two to catch the purple parking bus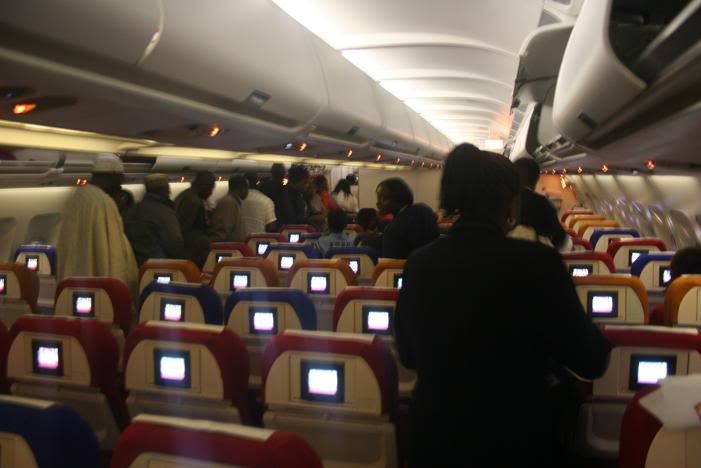 Opinion: Nothing special about Virgin Nigeria, just like any other airline. However it's the only airline that offers baggage by pieces not by weight (compared to 23kg) from London to Accra.
I would fly them again but ONLY on a point to point service.
Their transit system must be improved if they plan to have LOS as a major African hub.