Trip Report: MCI-SFO

Date:
Thursday 1 September 2005
Route:
MCI-DEN
Flight:
UA765
Equipment:
B737-322 (N398UA)
Departure Time:
12:38 (On Time)
Arrival Time:
13:23 (Actual: 13:10)
Cruising Altitude:
FL340
Seat:
2D
Labor Day weekend – the United States' last summer holiday – is a perfect time for one more getaway. Taking advantage of the flexibility my job offers, I decided to extend the weekend by a few days. Since my company has an office in San Francisco, I'm able to work from there and enjoy a few extra evenings in the City by the Bay.
Checking in online the day before, I discovered that my Region 1 confirmed upgrade had cleared, but decided to make some changes to my seat assignment. Unfortunately, both segments today were on 737s and are short – meaning that an upgrade isn't all that valuable considering that an exit row seat has more legroom – but the upgrade certificates will expire if I don't use them soon.
Since I was checked in already and traveling light with only a backpack and small 18" trolley bag, I didn't arrive at the airport until about 11:15. Just a few minutes wait at the on-airport long term parking – a steal at US$5 a day – and a bus arrived to shuttle me to terminal A. There was one other lady waiting for the bus, a grandmotherly sort. I carried her bag onto the bus for her, as it was nearly as large as she was! Fortunately, she was traveling on United also, so I was able to carry the bag off for her, too.
Arriving at the terminal, I decided to walk the length of it to see if there were any good pictures to take. MCI is composed of three separate terminals, each shaped like a large "C". When it opened in 1972, it was considered the height of convenience. The distance from the curb to the gate is only 75', ticketing counters were dispersed throughout the terminals, and it was very easy to come and go quickly.
Shortly after opening, aircraft hijackings became more common, and the FAA instituted new security procedures including the use of enclosed gate holding areas, x-ray machines and metal detectors. The free flow of people from curb to gate was curtailed as glass walls were erected, gate areas combined and secured, and ticket counters consolidated.
MCI is still a convenient airport in many ways, especially since it isn't terribly busy and has undergone a recent remodel, but a lot more walking is necessary these days.
So I walked the entire length of the terminal, spotted a few Southwest planes and snapped a few pictures. Terminal A has many empty gate areas and the ones that are occupied by tenant airlines were mostly empty this afternoon. On top of it, the sunny day had turned darker and more foreboding as thunderstorms developed around the airport. Less than ideal photography weather.
WN B737-74H (N419WN) pushing back from the gate at Terminal B
Stopping for a quick lunch at the Fountains of Seville restaurant – fancier name than food – I had an Arthur Bryant's BBQ pork sandwich and a pint of Samuel Adams Pale Ale. A Midwest B717 pulled up at the gate behind the restaurant, so I took a few pictures. The T-tail aircraft are really graceful, I think, and I miss the days of the 727s.
YX B717-2BL at the gate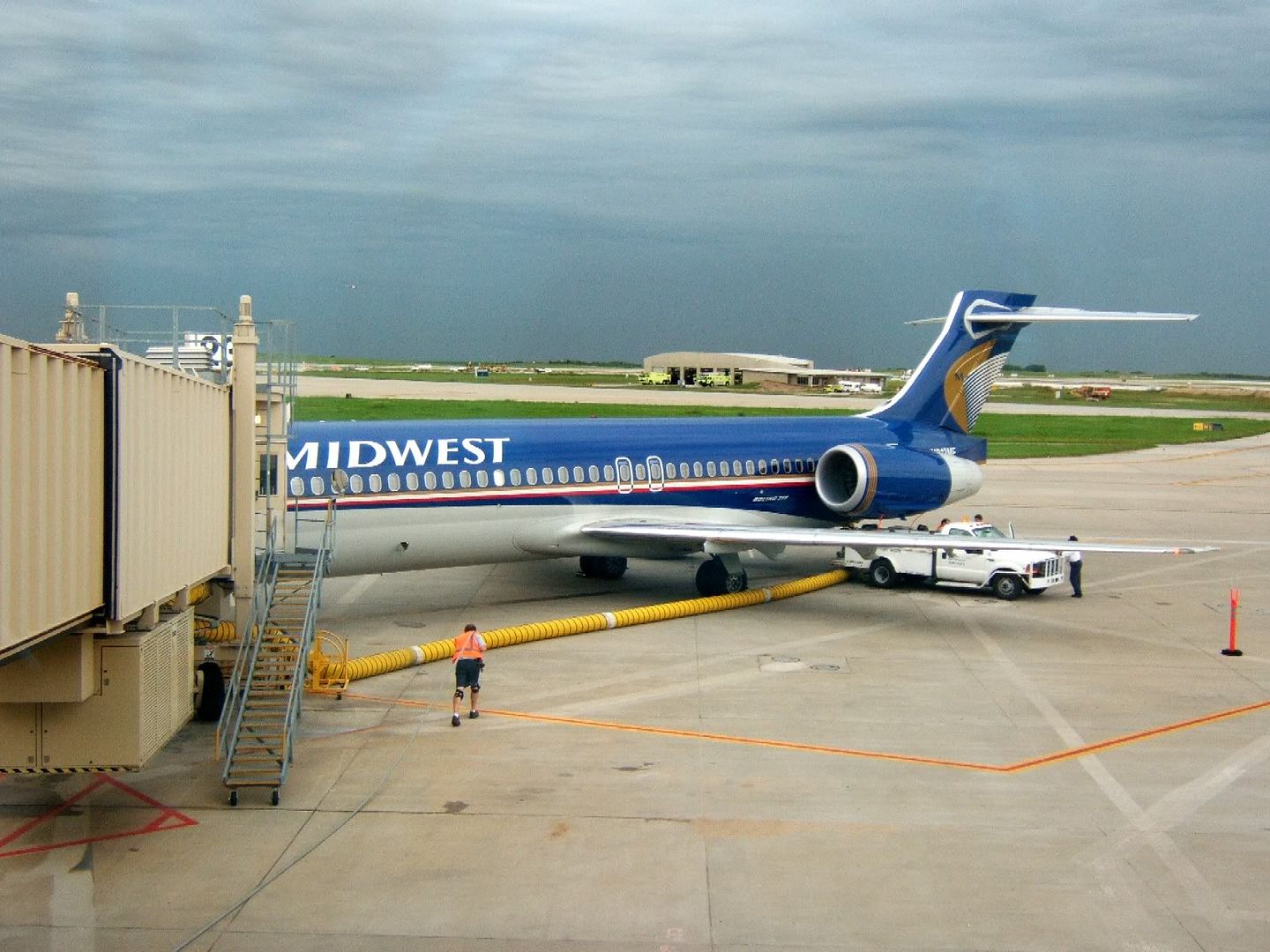 It was a leisurely walk back to the gate area and I checked that my flight was still on time. It was, so I went through security, which took only about 5 minutes. Thankfully, the people in front of me were experienced travelers, and had their act together as we approached the machine. Your fellow travelers appreciate this.
Once inside the gate area, which was pretty crowded with an IAD flight leaving shortly before mine and an ORD flight shortly afterwards, I took a few pictures of my plane, N398UA. By then it was time to board. Of course, everyone crowds around the gate even though the agent's announcement was very clear: zone 3 isn't going to be boarding yet. I had to excuse my way through several folks blocking the way in order to board with the First Class group. Normally, I wouldn't be that concerned, but overhead storage is pretty limited in the First Class cabin of B737s and I don't like to put my bag back too many rows behind me. Safer to be able to keep an eye on it.
I'm always a little amazed that with only 8 seats and passengers who usually are pretty frequent flyers, that the boarding of First Class always gets backed up onto the jetway. United gate agents also seem to board flights quite rapidly, which makes the backup worse. I've noticed that Delta tends to be pretty good, breaking seating groups into smaller chunks and allowing a little bit of time between groups. It goes much smoother that way.
UA B737-322 (N398UA) at gate 12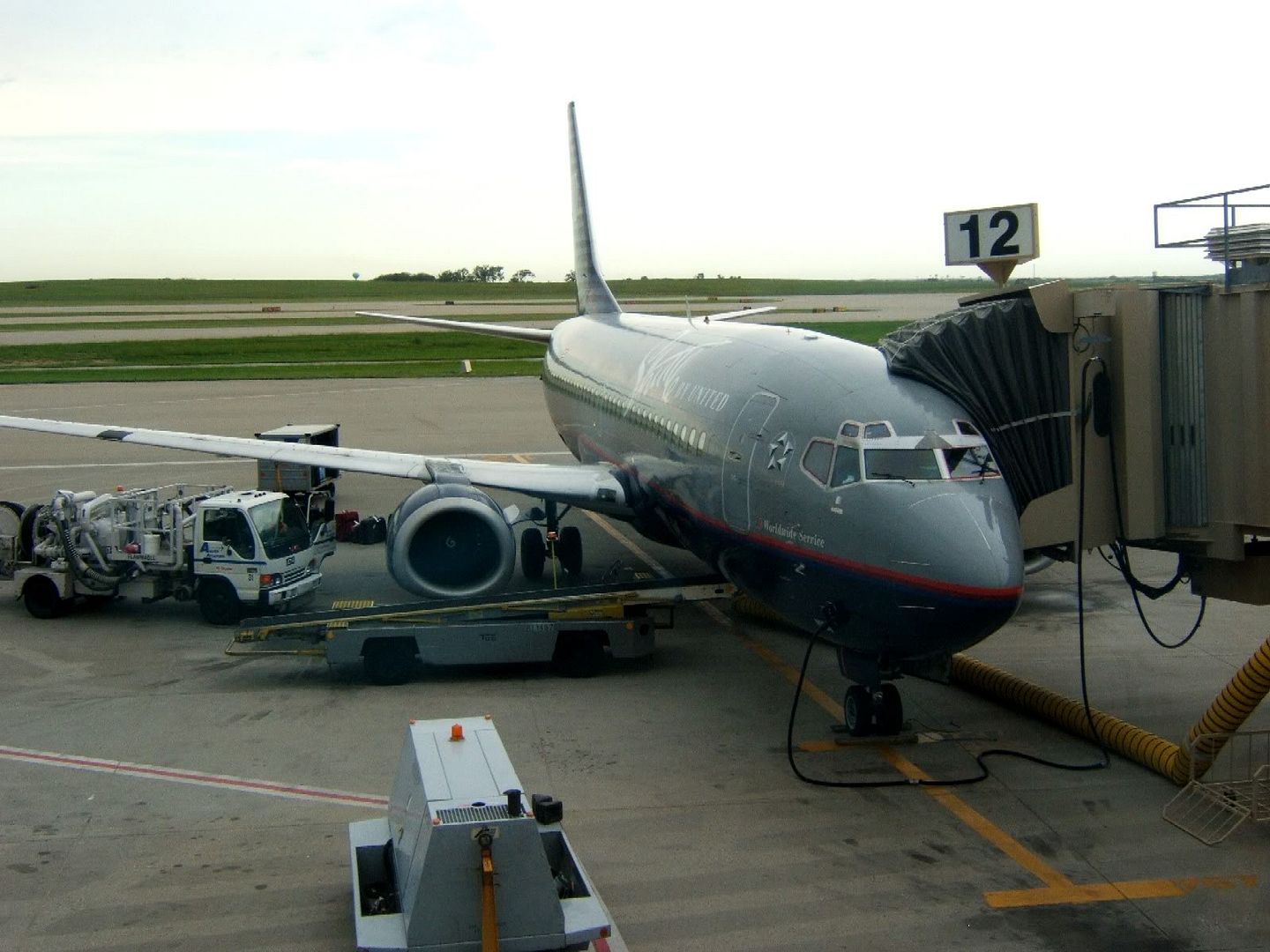 Getting settled in 2D, a window seat, my seatmate greeted me – rather friendly, I thought. I pulled out my camera, headphones, and a notepad and pen so I could document the trip. Shot some pictures of the baggage loading, read the Hemispheres magazine – neat little article about small river cruises in Asia include one of the Chao Praya river in Thailand that carries only 8 people on a 3-day trip aboard a 100 year old barge. Sounds nice.
View from window seat 2D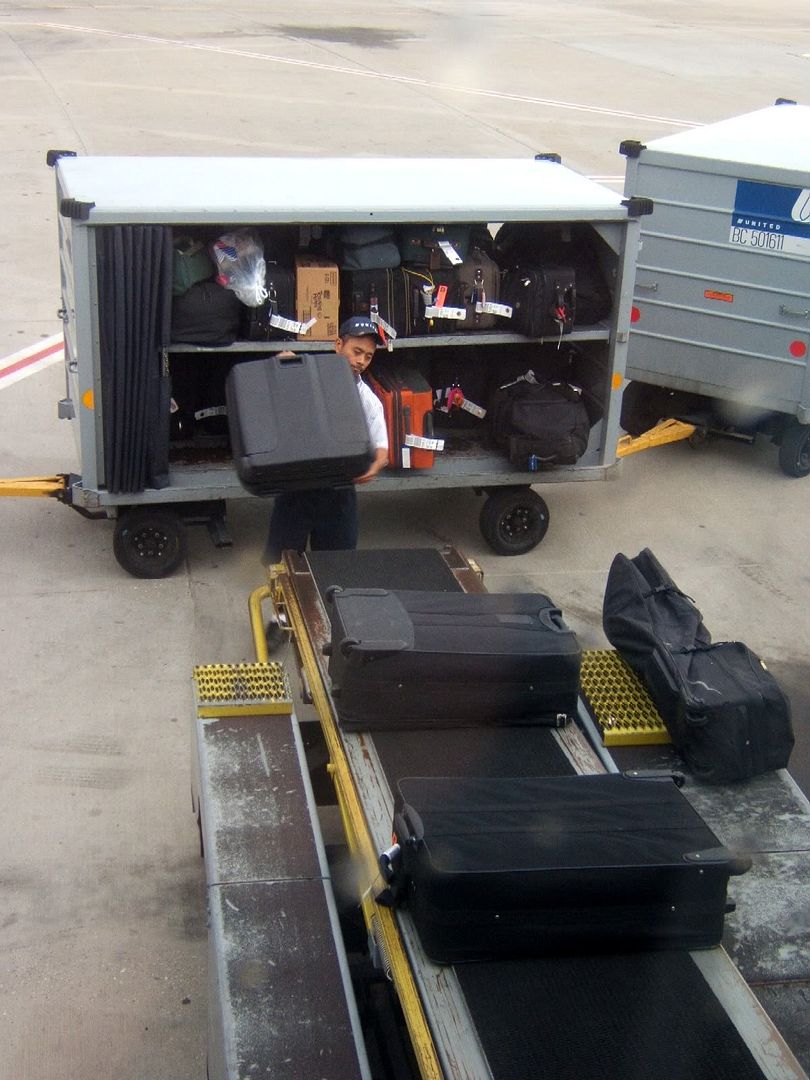 Pre-departure drinks were the usual OJ or water but were offered without napkins. I had a water so as to hydrate myself a bit after the ale with lunch. In fairly short order boarding was complete and we were ready to push back. Inexplicably, the purser turned off the cabin lights after the door was closed. So the safety demo was performed in the relative dark – not the way to attract everyone's attention.
First Class was full as usual. United flights seem to usually be full up front as they process every upgrade they can. In my jeans and polo, I was six degrees more casual than my fellow pax. But they were nice jeans, blue, without any wear and tear, not baggy, etc.
Our purser, Dawn, a friendly enough 40-ish blond woman, was chewing gum throughout boarding and the demo. She was friendly and well groomed, and doesn't seem to realize that chomping on gum really looks unprofessional. She was joined by Sara and Martin. The flight was under the command of Captain Marcus.
We pushed back on time and once the engines were running we were cleared to taxi to runway 19R with an initial altitude of 6000'. There was no traffic so once we reached the end of the runway we were immediately told to taxi into position and a minute later were cleared for takeoff. A short roll, less than 25 seconds, was all it took for the main gear to leave the ground. Within seconds we were instructed to turn to heading 270, bringing the airport back into sight behind our right wing.
Position and hold, runway 19R
As we turn right, the airport comes into view over the wing
Within just a few minutes we were cleared to 10,000' and then flight level 270. As we came up alongside interstate 70 our original cruising altitude of FL360 was amended to FL340.
No sooner had we passed through 10,000 then Marin was on the PA explaining that there had been "a mishap" in the one rear lavatory – this is an ex-Shuttle configuration with only two lavatories total – and proceeded to carefully explain that everyone will have to use the lavatory at the front of the plane. But, he explained, because of United's security policies only one person at a time is… long pause as he figures out what he's trying to say… allowed at the front of the plane.
Whew… I thought he was going to tell us that only one person is allowed in the lav at a time!
As we reached our cruising altitude, Dawn began beverage service. Giving credit where it is due, she had spit out her gum by now and was being attentive. I had La Croix sparking water with a slice of lime. It is served in a glass along with the rest of the can. Wouldn't want Dawn to have to pour me more, right? On top of that, the can was kind of sticky, like soda had spilled on it. Yuck!
Sorry, I'm being critical. As soon as she finished with the F cabin, Dawn went back and helped the other two FAs complete beverage service in Economny. The ex-Shuttle 737s don't have beverage carts. Instead, drink orders are taken and then brought out on trays. Makes for a lot of extra walking in the aisles.
Afterwards, Dawn and Sara sat down on the front jump seat and chatted. Dawn ate an apple. Crunch, crunch…
very
professional.
We cruised across central Kansas – one of the flattest states in the Union. It looks like a huge patchwork quilt with hundreds of squares criss-crossing the brown and green landscape. This is because when the land was homesteaded it was divided into 1 mile squares. Small roads demark most of these miles, making it easy to measure our progress West.
Arrival time was scheduled for 13:23 MDT. This means 1:55 block to block. This has to be schedule padding. Over the thirty-five years I've flown between Denver and Kansas City, it has gone from being essentially a one-hour flight, to 1:25, to 1:40. Now it is scheduled for nearly two hours. No wonder UA's on-time performance has improved!
About forty minutes later, we began our descent. As we passed through FL220, we contacted Denver Approach and were told to expect 16R. The overcast and clouds had cleared and it was bring and sunny – much better picture taking weather.
About 15 miles from the runway we crossed over a small airfield that is connected by taxiways to a number of homes around it. I'm intrigued at the idea of being able to taxi your plane from your garage (instead of a hangar) to the runway.
A pilot housing development?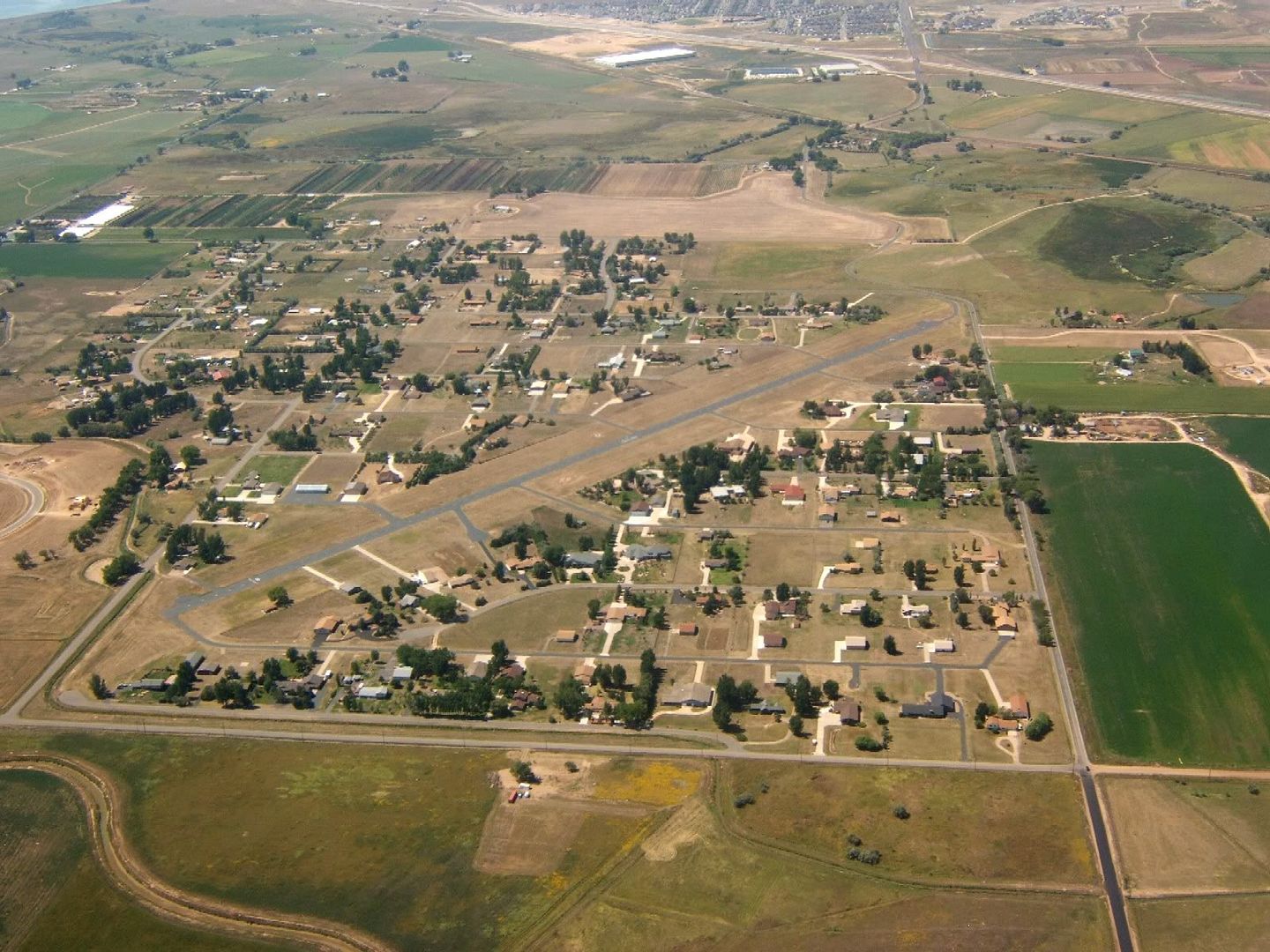 Our approach continued and we were reassigned to 16L. As we came in for landing, a Great Lakes Embraer EMB-120 paralleled us on 16R. Because of the separation between the runways, the picture isn't that great, but it was a lot of fun to watch. Like being in a chase plane.
Moments before touchdown, the ZK EMB-120 is neck-and-neck with us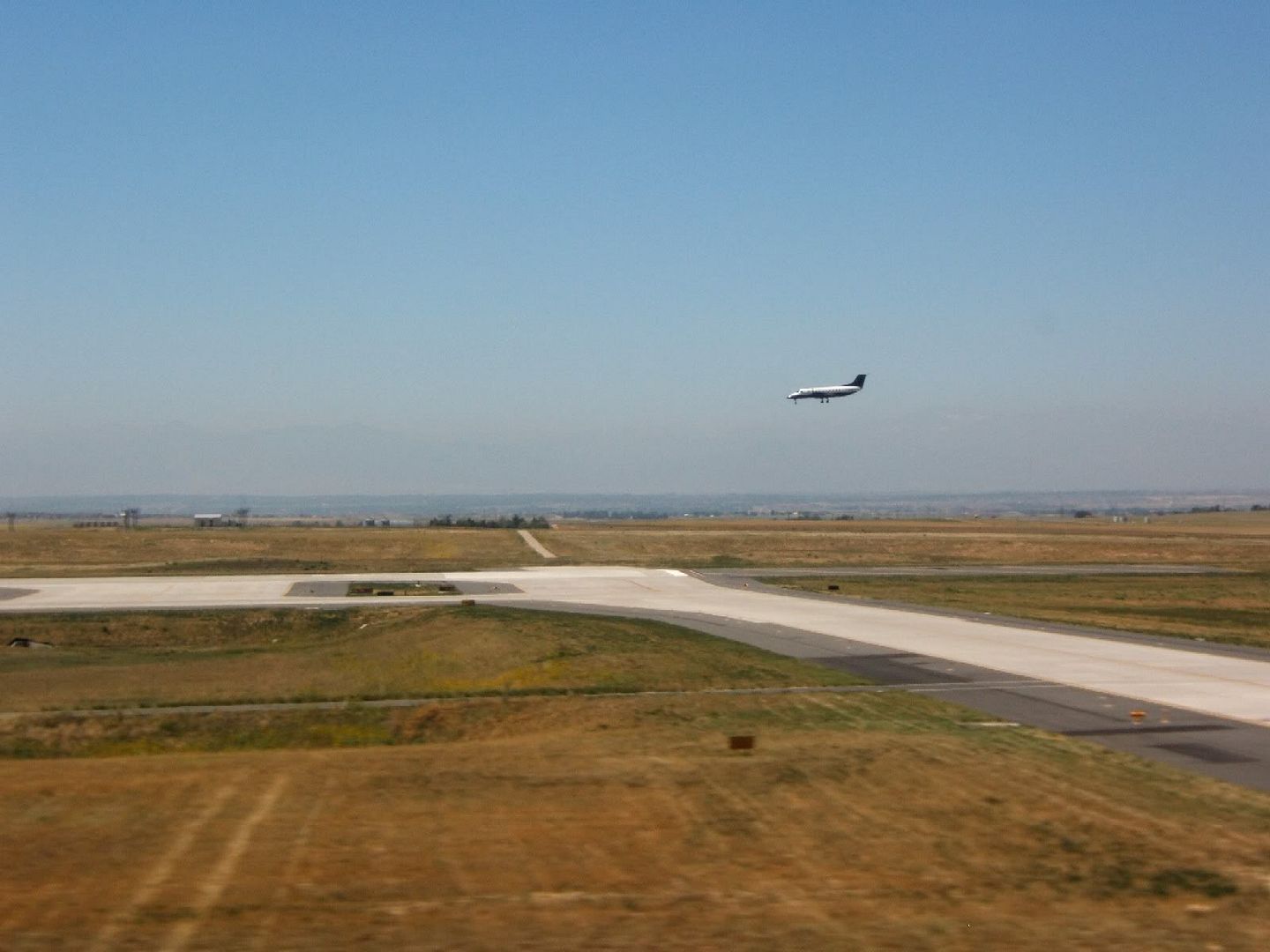 A smooth flight and a smooth touchdown. We taxied directly into gate B17 in a largely deserted Terminal B. At gate B15 an A320 (N429UA) was pushed back. It was in mainline colors but both of its engine cowlings were painted in the brighter Ted blue. Must have been a last minute maintenance change. Photos of it in the database show it with the normal color.
Mixed genetics – it gets its cowlings from Ted's side of the family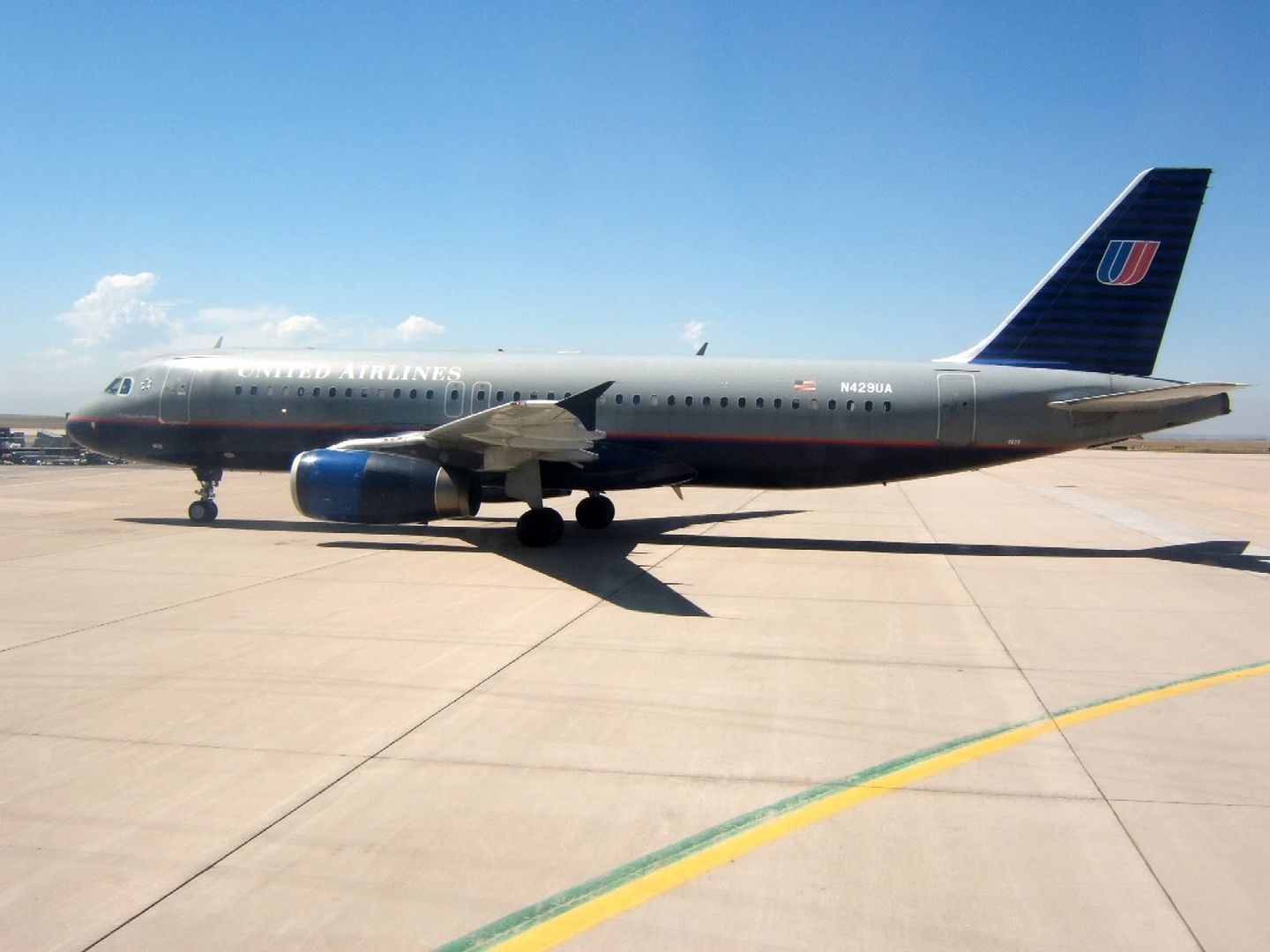 A smooth first leg, nothing too exciting but nothing unusual or unexpected, too. Thanks, Dawn!
Date:
Thursday 1 September 2005
Route:
DEN-SFO
Flight:
UA1209
Equipment:
B737-322 (N349UA)
Departure Time:
15:37 (On Time)
Arrival Time:
17:10 (Actual: 17:0)
Cruising Altitude:
FL320
Seat:
1D
With two hours to spend at DEN, I went to the west Red Carpet Club. My company pays for membership in one airline club if you take at least 25 trips a year. Up until this year I made many more trips than that. However, thanks to a reorganization and subsequent budget cuts, I haven't taken any business-related trips since February. I'm not sure if my company will pay for a membership for the coming fiscal year, but it doesn't matter as I'm moving to Bangkok anyhow. As a very frequent traveler who traveled domestically and to Canada for business, club membership came in handy time and time again.
However, as I move internationally and nearly all my flights will be international flights, I think I'll let my membership expire. As a Star Alliance Gold member, I'll have lounge access on the day of my international flights, regardless of what class I'm flying in.
This afternoon, though, there were no worries. While the edges of chairs are a bit worn, I love hanging out in airline clubs. What an awful admission, but if I was to design my own house I'd probably decorate the living room in the same fashion as an airline club. It has a generally "masculine" décor, with large armchairs and leather, but they also have a fairly clean, streamlined, modern look to them. It's a perfect combination. My partner may not agree.
Anyhow, I did a quick log-on to my company network thanks to the wireless internet access. No significant emails. The value of traveling two days before a holiday weekend. I've heard that another significant structural announcement will be made today and that some affected people are already being told. No problem as I've already been brought into the loop on this.
After working on the internet, I eat a few crackers and cheese, drink a glass of shiraz, and browse through the NY Times and USA Today. The devastation of the floods in New Orleans and the surrounding area seem to be worse and worse. Is it because people didn't take it seriously and evacuate when they were told to? I don't know, but my thoughts and prayers are with all of them.
From the lounge I could see two men driving in a deicing truck (it is September 1st, mind you) pulling up near a 757 that had just arrived at B34. One of them had a camera and was taking pictures. They appeared to be dressed in ramp uniforms, although I'm not sure. They pulled up quite close, close enough to deice the plane, and continued to take pictures. Perhaps they were mechanics and were documenting something?
What's going on here – it looks like one of the men is shooting photographs of a UA B757-222 (N580UA)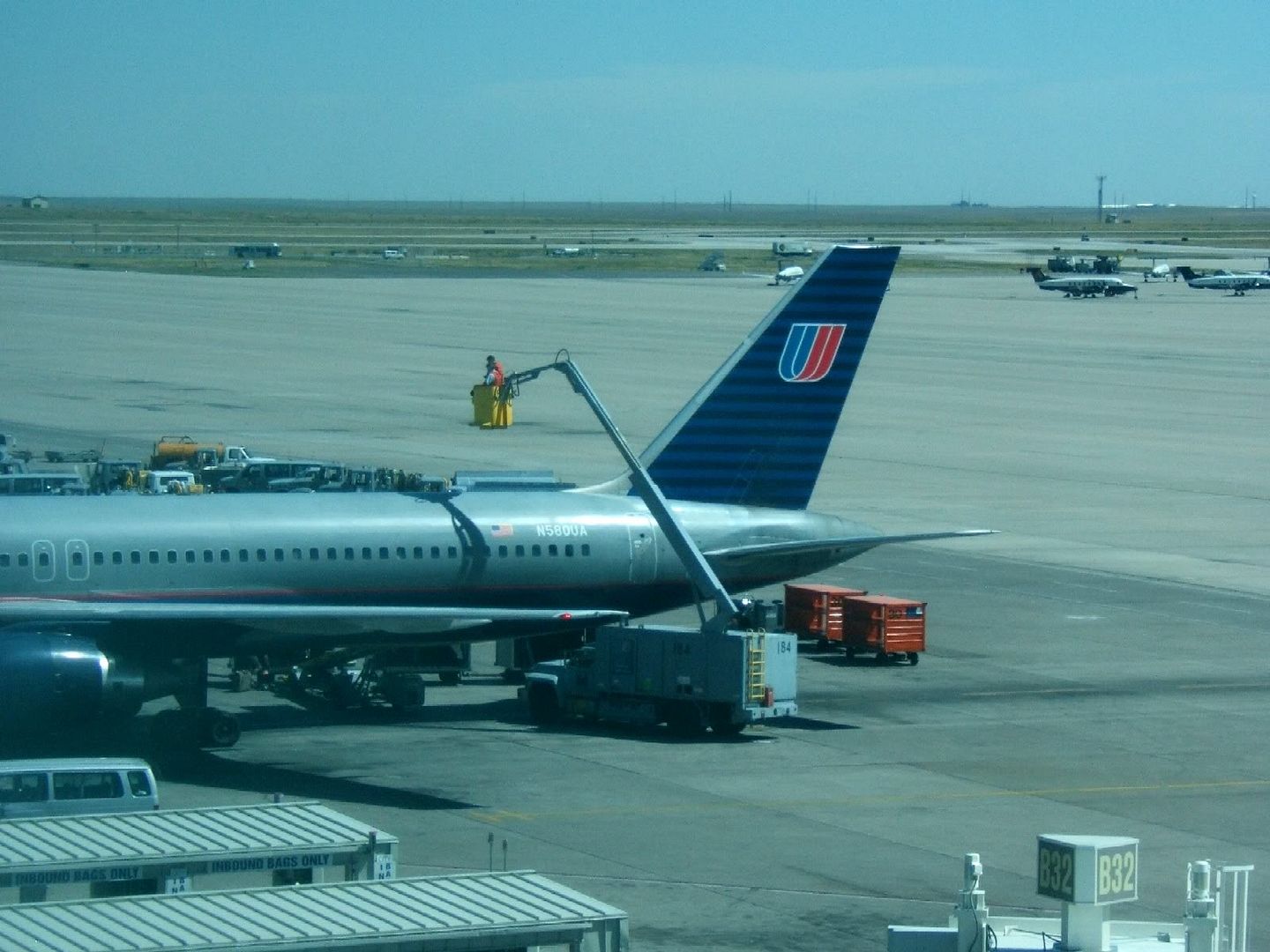 UA B737 having some maintenance done on an engine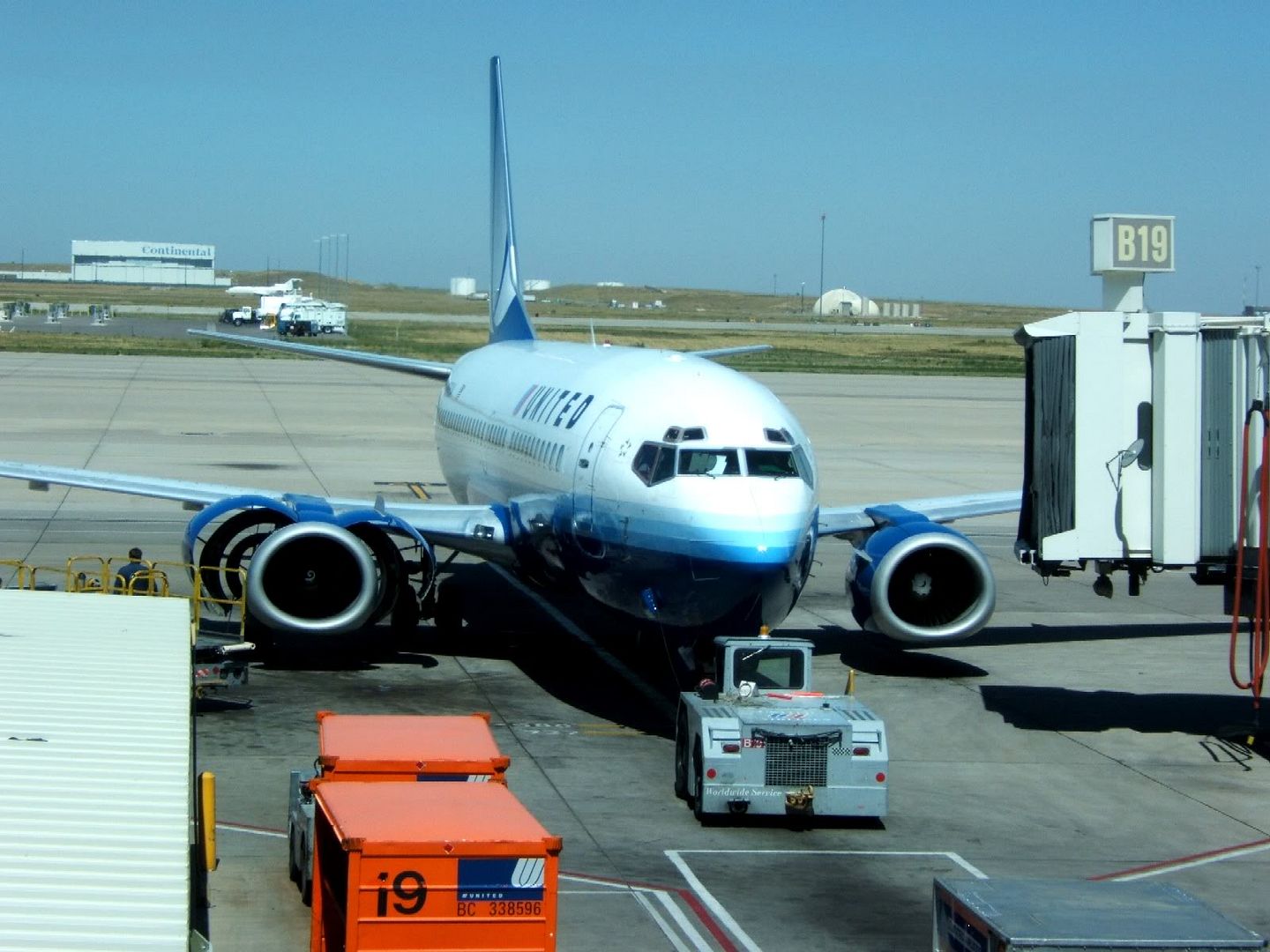 UA Airbus A319 (N847UA)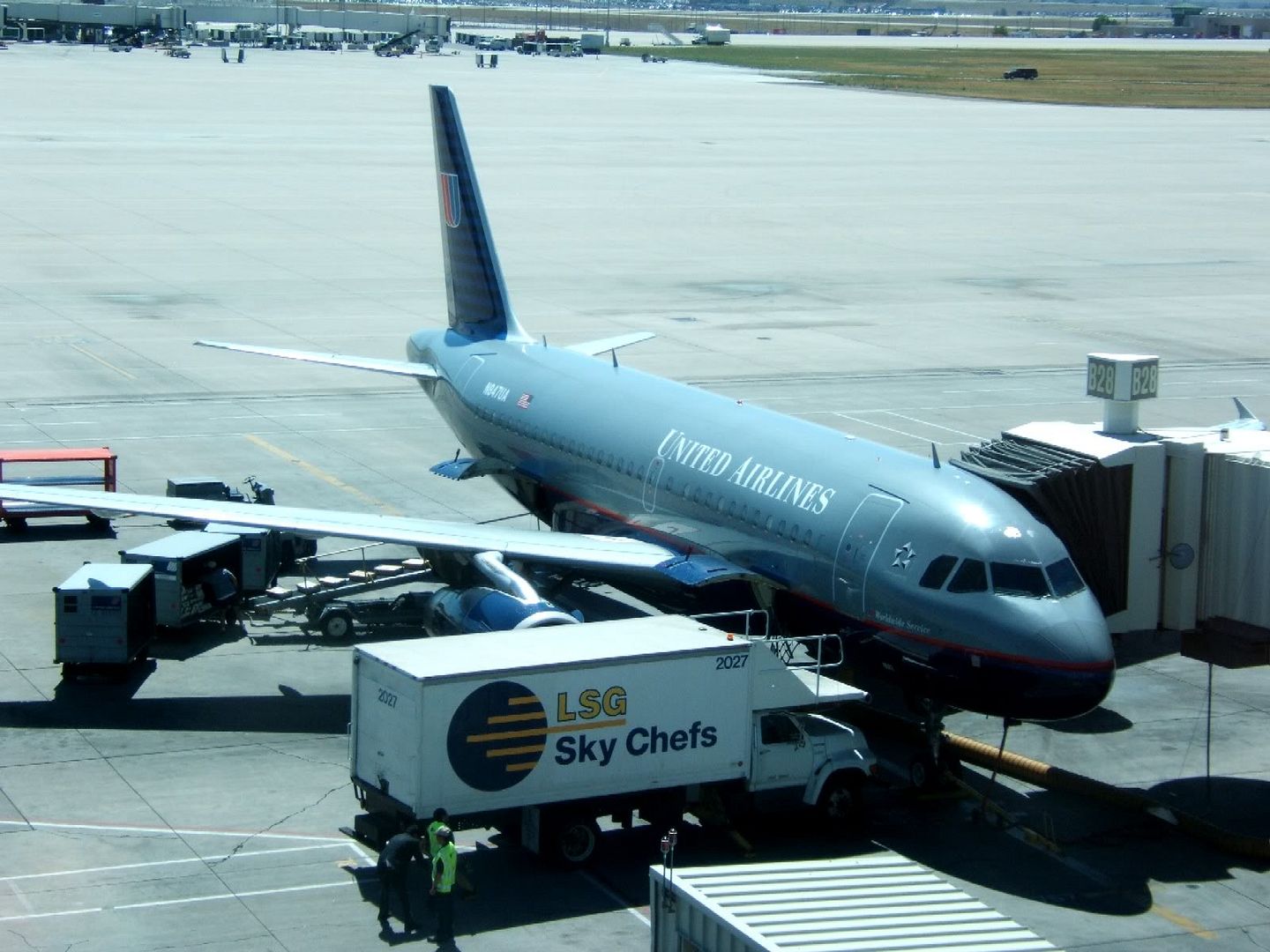 UA Airbus A320 (N414UA)
After about an hour I headed downstairs to get my shoes shined. DEN has the best shoe shiners of any airport I've been to – operated by "Executive Shoeshine". The westernmost of the two shoeshine banks in Terminal B is my favorite place to stop. There is a group of people there who have been shining my shoes for years and it is nice to be recognized. Cliff is an older gentleman, a funny but common sense sort of guy. I think he likes to play the role of a grouch, but isn't really. Shirley is a really nice lady, short hair with a gold cap on one of her teeth. There's also Rose, who isn't quite as outgoing but is pleasant enough. All of them do a really good job, especially Shirley and Rose. Another guy, A.J., is fun to talk with but he doesn't really do that good of a job shining shoes.
Unless they're really busy, a shoeshine usually lasts about 10 minutes. Until lighters were banned recently, they used small butane torches (the kind that you'd do small soldering with) to melt the second layer of polish. Shines that I get here last months with only minor touch-ups and are worth every bit of the $5 price. Especially if you consider that some places change that much for a 90-second spin of an electric-powered shoe brush. I always tip 100% - because they do such a good job and I really get my money's worth. Sometimes, if I'm planning carefully and am passing through DEN twice in just a few days, I'll bring an extra pair of shoes in a bag and drop them off for polishing.
Sitting in the chairs, I'll occasionally see others I know. A year back, I saw my friend Nomer. He's a former colleague from a previous employer, and now is a flight attendant for UA out of SFO. The rest of the time, it is just great people watching. And listening to Rose and Cliff give each other grief while Shirley rolls her eyes.
Rotunda of DEN Terminal B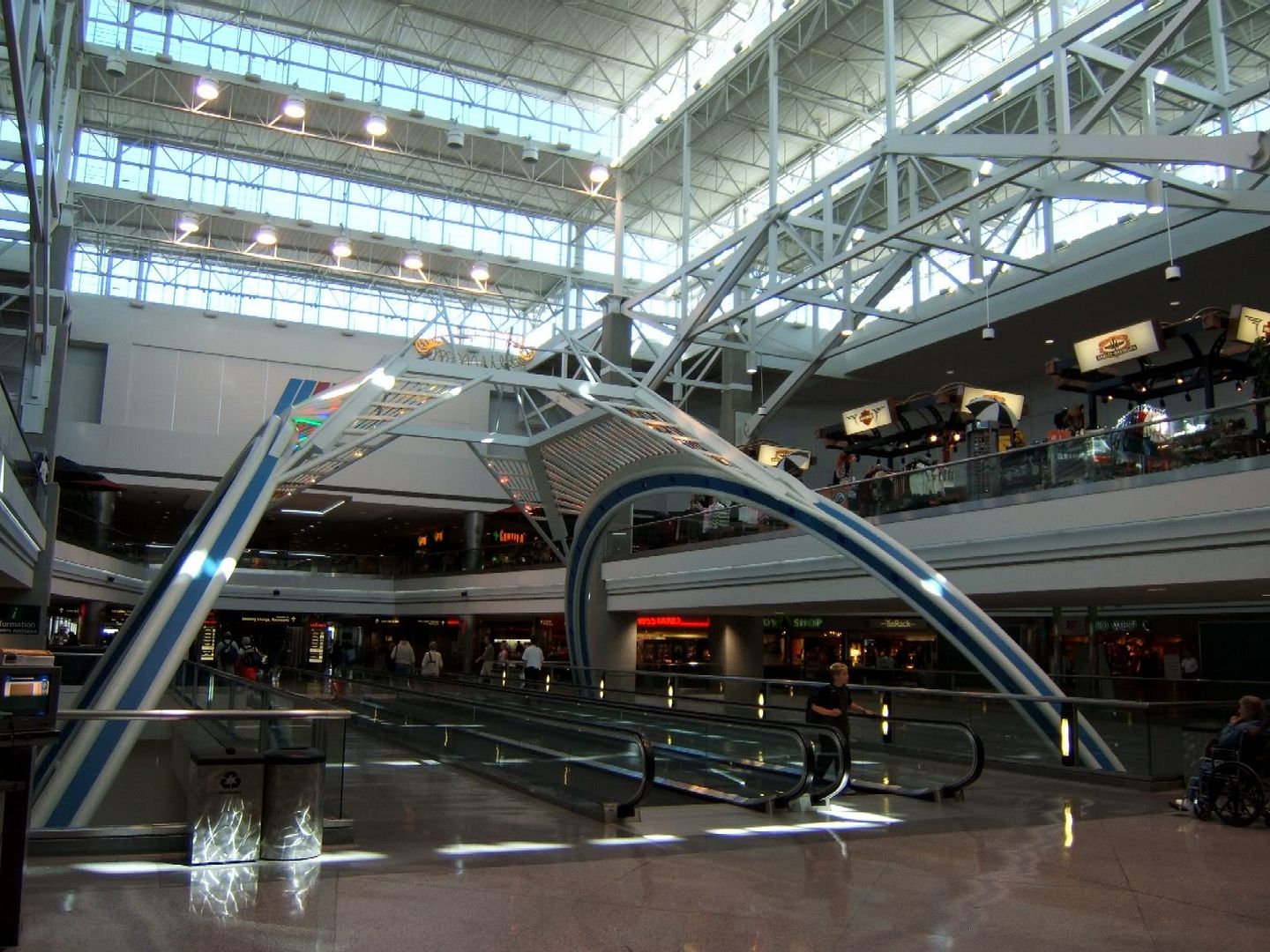 My next flight, a UA B737-322 (N349UA)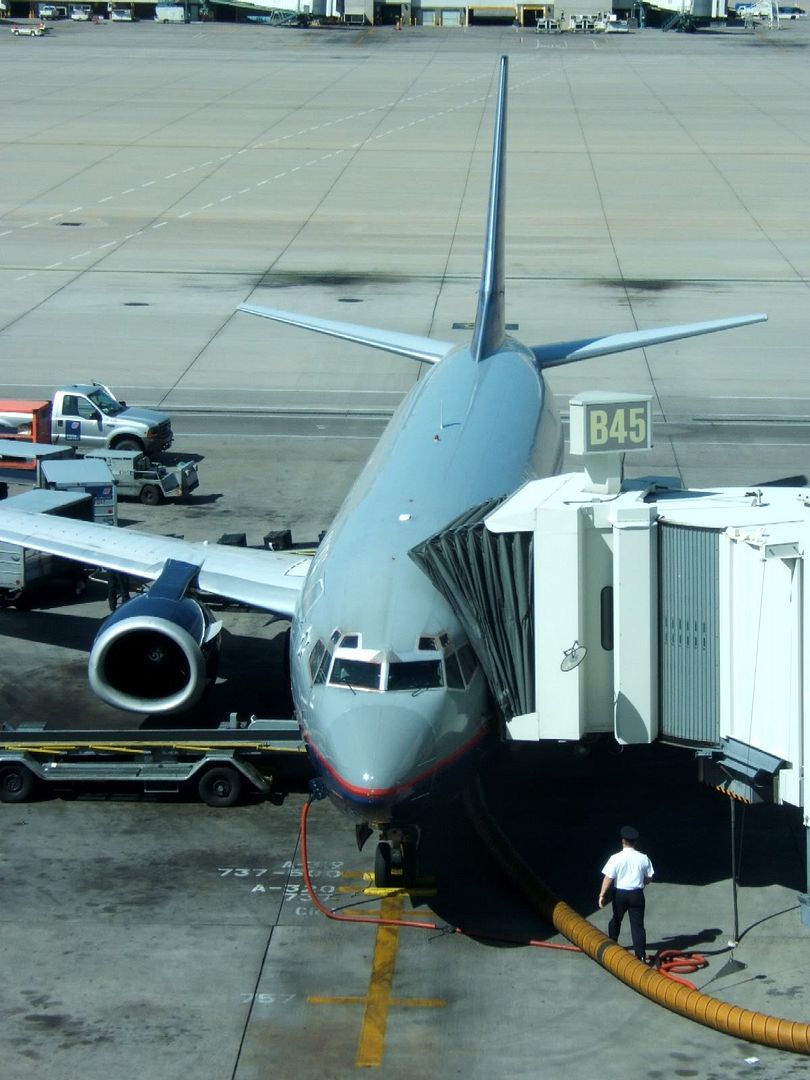 By the time I got to the gate it was 15:10 – boarding was scheduled at 15:07 – and the gate area was almost empty. Either they started boarding really early or they just rushed everyone on. Once I got through the gate reader and rounded the corner into the jetway, I found the answer. There was a long line.
So I was one of the last people to board and had to hunt for a place to place my trolley bag and my backpack since I was in a bulkhead seat. Fortunately I was able to squirrel them away just a few rows back. Being an experienced flyer as well as a little bit OCD, I can look at an overhead bin and always figure out a more efficient arrangement of the bags in it. For starters: wheels first, people!
The F cabin was full but the main cabin was about 70% - a good number of middle seats open. UA does a good job of leaving the middle seats open whenever possible, especially in the Economy Plus section.
DEN's Hummer emergency rescue vehicle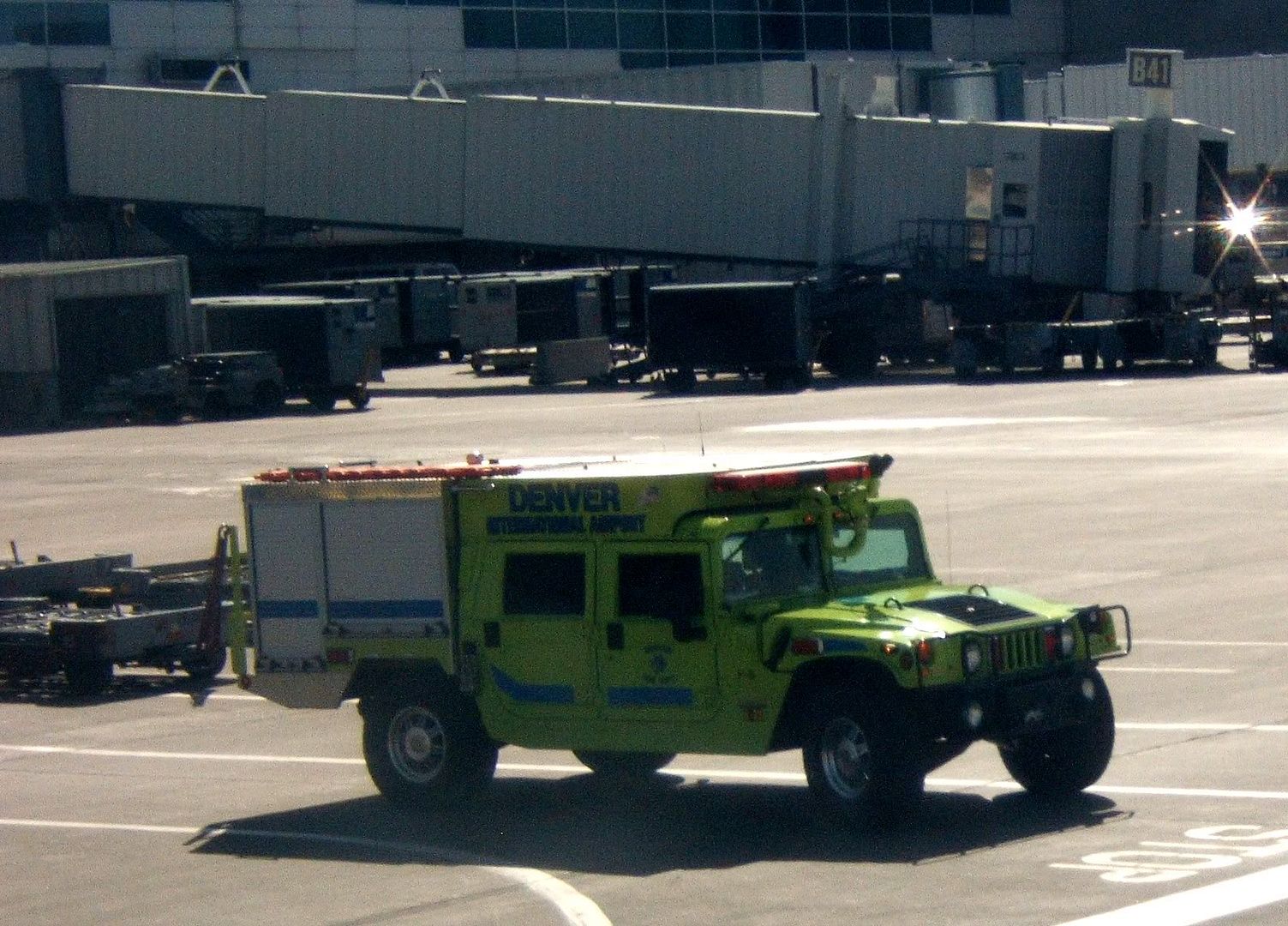 Delta MD-88 (N940DL) taxiing from the gate toward the runway
Renée was our purser, aided by Wendy and Linda. Renée is a little older – maybe pushing 60 – and is a good example of how flight attendants for US-based airlines really are lacking in charm and polish. During our taxi out, I was taking some pictures and she came over and said, "The camera needs to be turned off." No "please". No "Sir, would you mind turning that off until we're at cruising altitude?" Just a blunt command.
Mind you, I don't doubt that I should have had the camera off. It is an electronic device. Although I have never, on any flight, been asked to turn off my camera. My problem is with her approach. Of course, when it came time for inflight service, Renée was all charm.
We pushed back very quickly after the door was closed. Safety demo was done promptly and the lights were left on so we could see the demo. As on the previous flight, channel 9 was available so I could follow the ATC chatter. We taxied out the west end of ramp 3 and were very quickly at runway 34R – same runway the previous flight landed on, but the opposite direction. The United Express Dash 8 ahead of us had barely left the ground when we were cleared for takeoff followed by an immediate turn to heading 270.
As with most flights out of DEN, our take off roll was a long one. The heat and elevation, combined with a fairly full load, required a lot of energy and speed to get us airborne.
Our climb out was choppy. We quickly adjusted to heading 250 as we hit the front range of the Rocky Mountains. There was light to moderate chop up to about FL230. The captain came on once we hit FL270 and extinguished the seatbelt sign. He announced flight time, weather in SFO, and that we'd be cruising at FL320.
Renée came around. "Hello, Mr. Schultz, what may I get you to drink?" Such charm; where was it earlier? As with most flights between DEN and SFO, F and C passengers are offered a light snack. In the mornings it is a breakfast burrito or similar. Later in the day it is a cheese and fruit plate. The evenings, I think, have a deli plate or something like that. In either case, it is pretty reasonably sized. I appreciate that they make the effort to serve something, especially as almost all the time it is either the second leg, or the first of two legs, for most UA passengers – given the high number of connections out through DEN.
The cheeses were some type of bleu and a Muenster. The bleu was fantastic: creamy and rich flavor. Wish there had been some walnuts and dried apricots to go with it. I opted for sparkling water to drink, but a glass of port would have been heavenly.
Fruit and cheese plate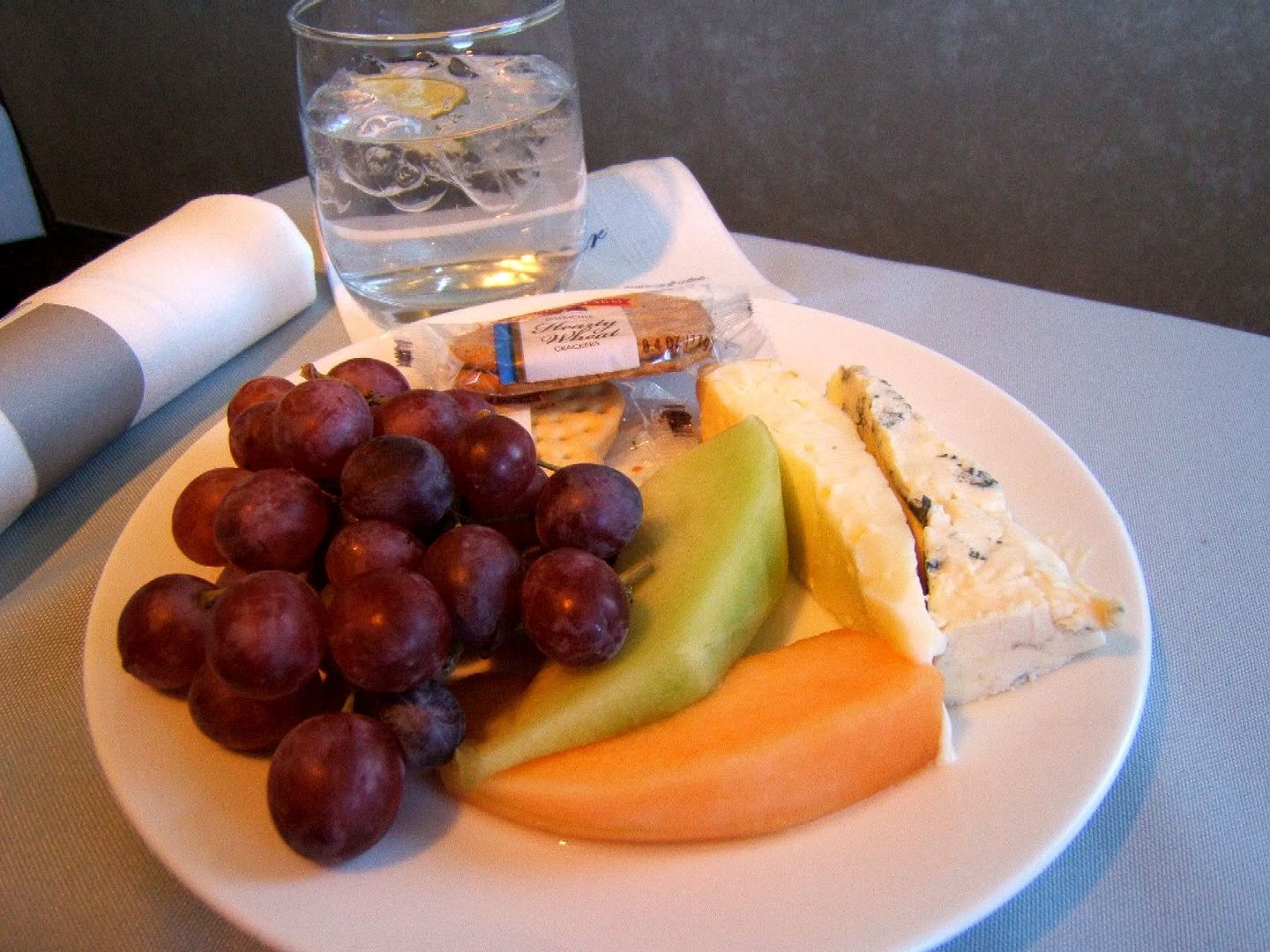 It was a beautiful day for flying as the West was dotted with cotton ball clouds and visibility must have exceeded 80 miles. I really enjoy flying over the Western United States: there is such beautiful topography, with the mountains, deserts, canyons, and plateaus. You can see where rivers have eroded the land around them for millions of years. I took out my illicit camera and took several pictures. It was at cruising altitude, so I suspect it was okay.
The beautiful geography of the West
After the snack I asked for a cup of coffee. Renée brought it and asked me to try and if it wasn't fresh to let her know and she'd brew another pot. Well, like most airline coffee, it wasn't that great but not worth brewing another pot. A few sugars and a half-and-half later and it was bearable. But –
alors!
– there was a plastic spoon served with it. I get the plastic knife thing – well, not really, but I'll pretend – but the plastic spoon is outrageously tacky.
Coffee with a tacky plastic spoon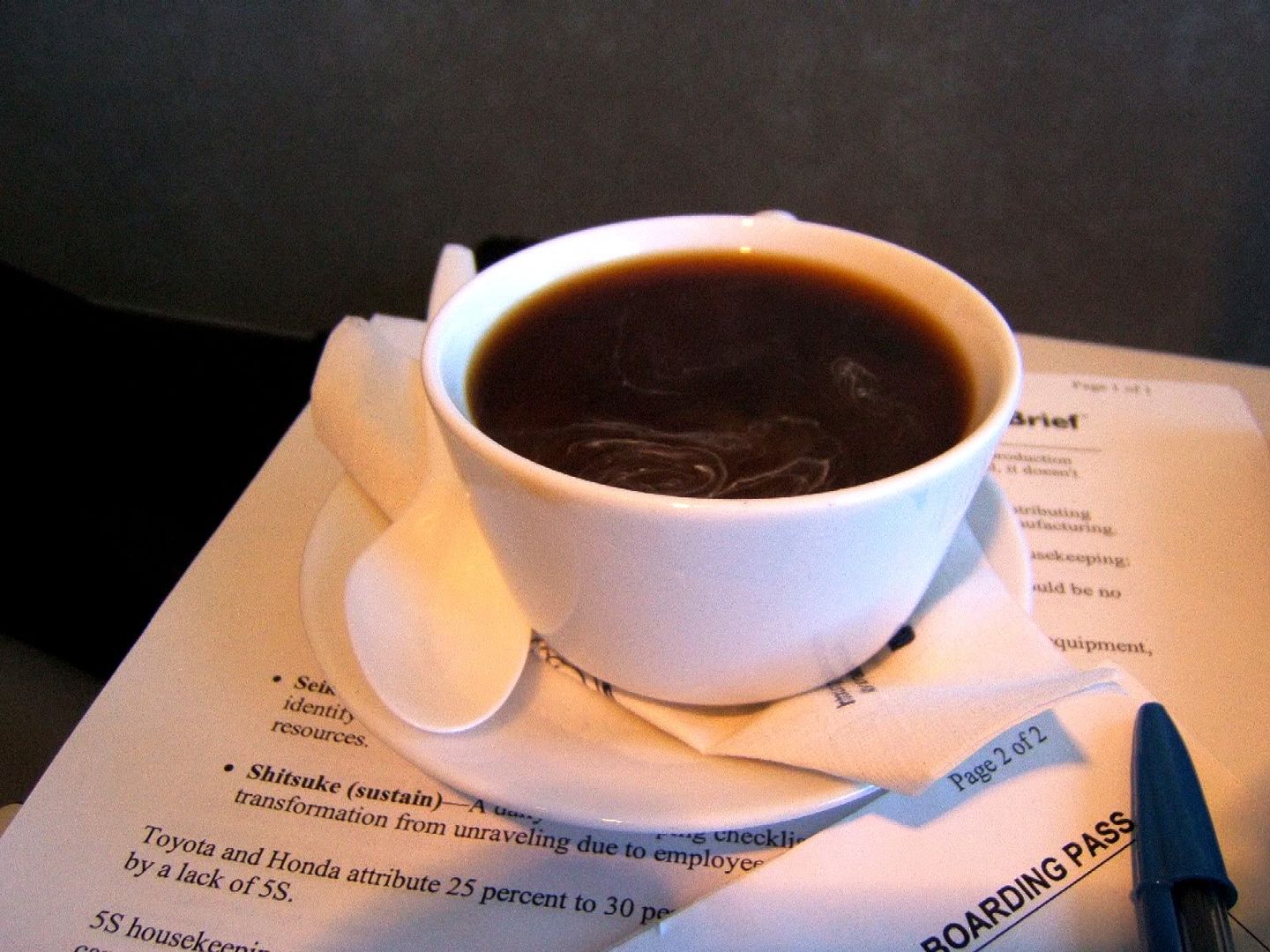 About 40 minutes before landing we had to make a pretty good diversion. Not sure but I think I understood that it was because of active military airspace. We took heading 340 for about seven or eight minutes before turning West again. Ten minutes later, we began a gentle descent. After the captain came on and gave us the "ten minute warning" I put my things back in the overhead bin, went to the lavatory, and snapped a few cabin shots. While at the back of the plane, I chatted briefly with the Wendy and Linda. Turns out that wasn't such a good idea.
View from the back of the cabin – the shot that got me in trouble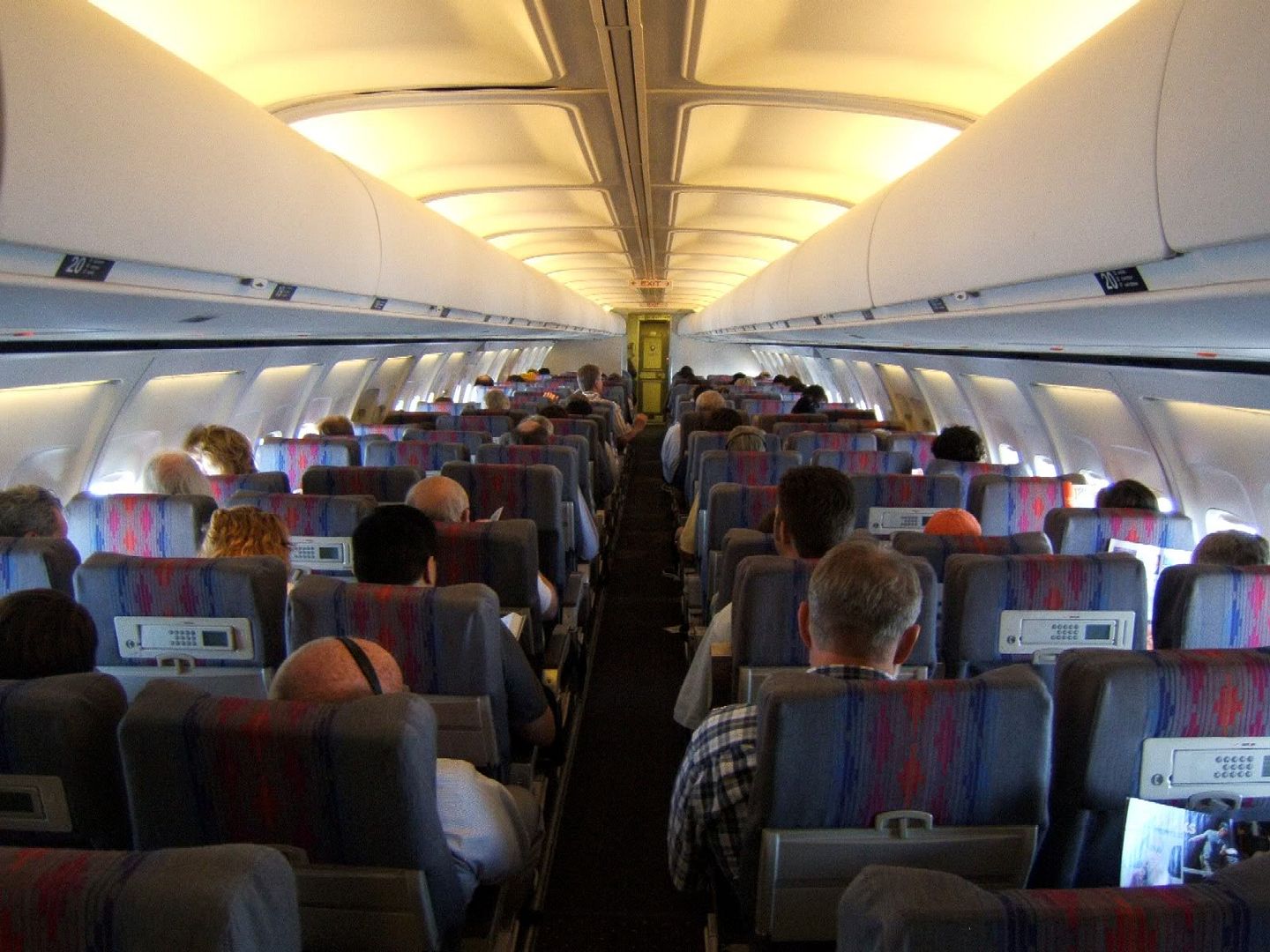 Shortly after getting back to my seat, Renée came up and asked if she could speak with me for a minute – she "needs my help with something." So I stepped into the galley and she told me that "the girls" saw me taking pictures and were a bit worried. She asked if there was anything she should be worried about. So I explained why I take pictures and notes, assured her that there was nothing to fear – my father worked for UA for 35 years, I used to work for UA, many of my friends work for UA, etc. So she said okay, but warned me that "these days" many people can be uncomfortable with that type of behavior and I should be careful. She said that most people wouldn't even ask me, they would just have the authorities meet me at the gate.
Let me say that I
totally understand
the concern. At the same time, if we're going to become paranoid about a Mileage Plus 1K passenger who is taking pictures, then the terrorists have won, plain and simple. And explain to me what good the authorities could do once we were at the gate. If I was a threat, it would be
before
we reached the gate, right? Jeezh.
Well, the rest of the flight was pretty uneventful. No more accusations, at least. I tracked a FedEx DC-10 that was descending below us over the Sierra foothills into the Sacramento area. Took a few more pictures as we crossed into the Bay Area, and then turned my camera off.
The city of Fremont, running into the East Bay hills, near SFO
We were cleared for a visual approach to Runway 28L with a Coast Guard King Air just ahead of us for the parallel runway. I kept my camera off until the last second as we approached the threshold of the runways – it was just too good a shot to pass it by.
Runway 28R's threshold
Upon arriving at gate 68, Renée said thanks and goodbye and I headed to the RCC to finish up my trip report and to take a few more pictures.
My plane, N349UA at the gate in SFO
JAL Cargo B747-200 climbing out of SFO – looks like it must be a light load today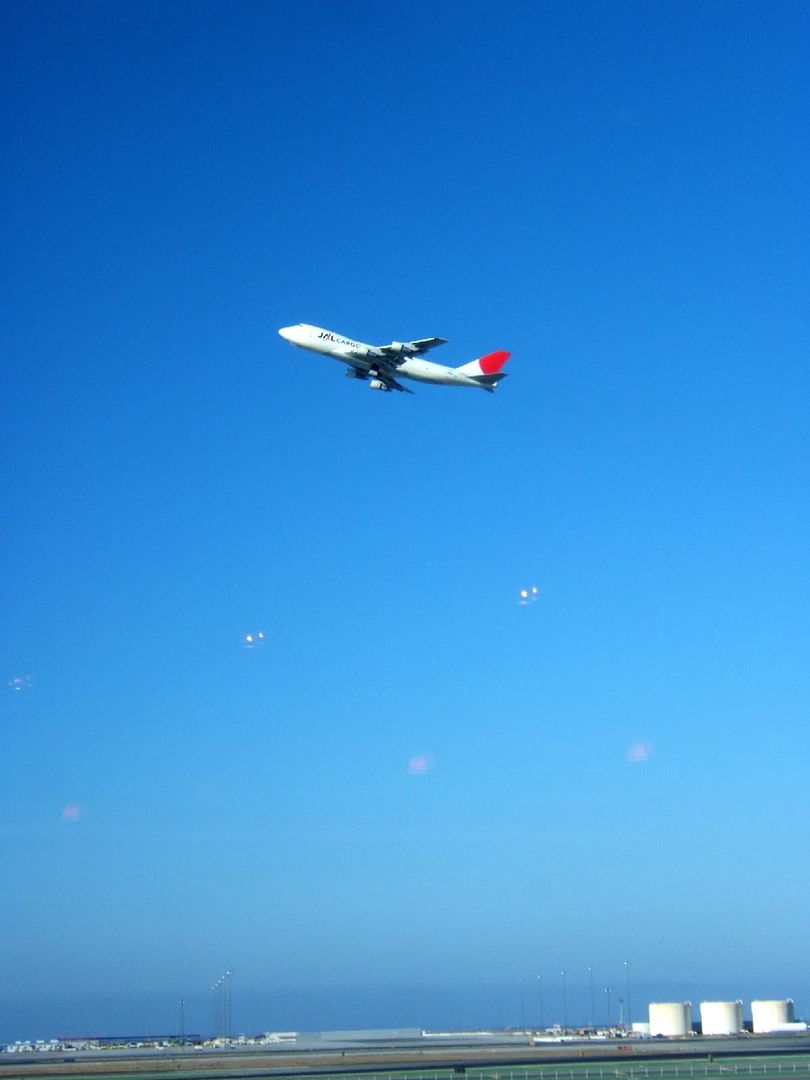 Stay tuned – four more flights this week including my first trip on PS service to JFK.
Feedback and comments always appreciated!