Friday night came around and I started packing for my quick weekend trip to Portland for my cousins wedding. I went to bed at about 10 for my early 7:29a.m. departure. I woke up around 5:30 ate a quick breakfast and drove to the airport. The one benefit of getting up early, the beautiful sunrise.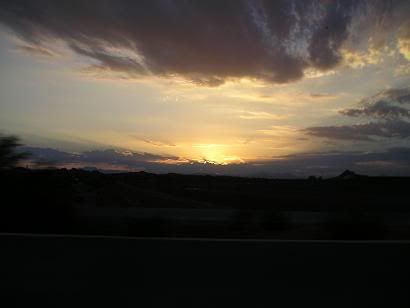 When we got there all of the long term parking was full so we had to drive way out to the other side of the airport and they had people parking in the employee lots. We dropped my dad off to get our tickets so this 30 minute plus delay didn't matter. There was no line at security and we got to gate B6 about 30 minutes before departure. If you don't know, phx terminal 4 is undergoing a huge renovation project and of what is open so far, it looks really nice. (sorry no pics)
HP flight 786
Sept 3 2005
PHX-PDX
Dep time: 7:29 actual 7:31
Arr time: 10:20 actual 9:59
Aircraft N813AW
We boarded the plane and pushed back on time. We taxied out to runway 7L and didn't have to wait for any planes but when we turned there was already a line behind us. You can see the new tower being built on the left part of the picture.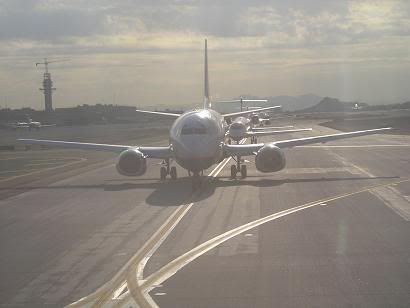 After take off we flew way out east before we turned west which is unusual. After our turn we flew over Scottsdale (SDL) and Deer Valley (DVT) Airports. Our route took us to the west of Vegas and right over Reno. I could see beautiful Lake Tahoe and the city of Reno. Other than that the flight was pretty uneventful. It was extremely clear on our smooth descent into PDX and the pilot made a very smooth landing into PDX.
MyAviation.net photo:

Photo © Brian Anderson

MyAviation.net photo:

Photo © Brian Anderson
MyAviation.net photo:


Photo © Brian Anderson
The pilot was very friendly and during the flight made a lot of updates and gave a lot of information. He also let me take a few pictures in the cockpit.
MyAviation.net photo:

Photo © Brian Anderson

MyAviation.net photo:

Photo © Brian Anderson
The return flight was even earlier then the last. After a late night at the wedding and reception, I got up at 3:45 a.m. and we drove to the airport. We checked in no problem and went to our gate.
IMG]http://i17.photobucket.com/albums/b51/phxplane/pdx/report6.jpg[/IMG]
The new Hallway that connects the terminals without having to go through security is done.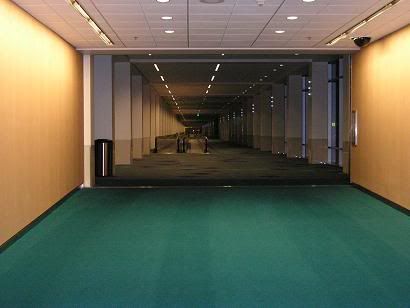 We fly standby so when are name was called to get our tickets the gate agent said she had us in first class until she saw we weren't dressed up. I hate that rule! Any way me and my dad were in an exit row and there was a family with small children next to us. The flight attendant came by and said that they would have to move but the mom said this was the only way they could sit together. The flight attendant explained the policy but I think the mom was ready to take on the F.A.A. Anyway the flight attendant handled the situation very good and got other people to switch seats with them.
HP flight 820
Sept 5 2005
PDX-PHX
Dep time: 5:35 actual 5:33
Arr time: 8:06 actual 8:00
Aircraft: N805AW
We took off in the dark which was weird since it was morning. Sadly I sat on the wrong side to see the sun come up but I still got a pretty good pic.
MyAviation.net photo:


Photo © Brian Anderson
I tried to sleep but didn't get much. Before landing they played the merger video.
MyAviation.net photo:


Photo © Brian Anderson
Another smooth landing in PHX and a quick taxi to our gate.
Another great flight from HP with great service. Next week will probably be my last HP flight before the merger as I am going to Dallas and then to Shepherd Air Force Base in Wichita Falls, Texas for a red carpet day so look for that trip report.
[Edited 2005-09-07 04:57:10]