Hello,
I don't really like to spread the review over two threads, but in this case, I looks like the best way to do it.
If you would like to read my Short Outbound review, please visit this link:
Thomsonfly - East Midlands > Ibiza - Boeing 757
(by
AIHTOURS
Sep 3 2005 in Trip Reports)
-----
Route: Ibiza to Nottingham East Midlands Airport
Flight Number: BY276B
Aircraft: G-BYAR
Date: 31/08/05
-----
-----
We arrived at our apartments quite early on in the day. They was nice, decent facility's etc... Cala Llonga was the resort where we stayed. I stayed there in 1999, and it has changed a little bit. I visited Ibiza in 2001 with Airtours. We stayed at the resort of Es Canar.
I was ill for a few days during the holiday early on, these days were mostly overcast. When I felt a bit better, the weather improved. We visited a number of places during the holiday.
Here are a few places we visited:
San Antoni De Portmany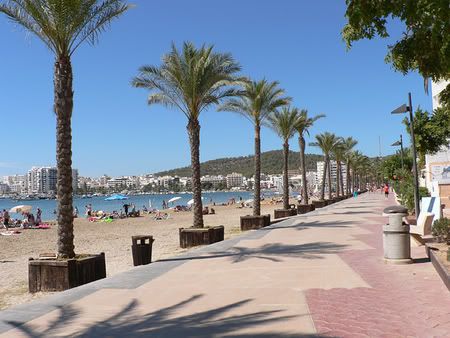 Very nice Place, excellent bay, and I would really like to visit here again.
Portimanx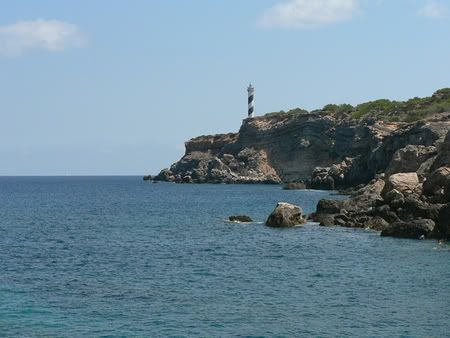 Nice scenery when you arrive and throughout the journey. Though, I would choose not to stay there as the resort is quite out the way of other places.
Playa d'en Bossa
Lots of Aircraft to see on Approach to Ibiza Airport. Though that was one of the only reasons we went
Cala San Miquel
Fantastic! Excellent beach, nice shops and great scenery. Again, like Portimanx, this location in out the way of other resorts.
Ibiza Town


Busy, Lots to see here. Make sure you visit the Old Town if you go. Some excellent performers at the port who stay perfectly still and dance if you give money to them.

Formentera

You have to get a boat to visit this Island. It was 1 Hour and 10 Minutes from Cala Llonga to get there. The crossing wasn't exactly steady, but boats from Ibiza town take around 30 minutes according to the AA guides. Thankfully I had a nice pair of Sealegs that day, and felt fine going out and on return. It was my first time on a boat like that for almost 10 years, so not too bad. It isn't as interesting as flying though.

The Island itself is very beautiful. Unspoilt beaches, clean and a nice place to visit.

Though there isn't that much there. We went on the "Regular Bus" to see what's about. (It's a tour more or less).

Some nice views from the tour: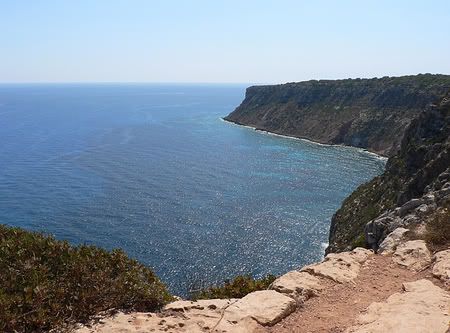 Then it was time to return back to Cala Llonga on the Catermeran, called "Capita Jack"

Visit Santa Eularia if you can, it is a very nice Place. (Here is me in Santa Eularia)




I like Ibiza Island, and would be happy to visit again. Soon though it was time to go home.

Transfer Coach picked us up and we drove away to the Airport. Once arrived at the Airport, the Thomson Rep told us our Numbers for the Check-In.
Ibiza departure lounge was bearable, we managed to get to the front of the queue quickly just by noticing that there was a queue which was short. We was not Split up like on the Outbound flights, we all got seats together on row 23. 23A, 23B, 23C. I was to later find out these were Extra Legroom Seats. Result!
I was very pleased with that. My Dad got 12A on the outbound flight, which is one of the best seats on the 757 in Britannia's Configuration.

Security Point. The queue was the length of the hall. Though we got through security pretty quickly in 15 Minutes or so. The departure lounge is nice, with a good selection of shop's, a big cafe/restaurant, and a pretty rubbish Bar Area. Comfortable seats are in there, so it isn't that bad.

I saw a ThomasCook 757 G-JMCG, (First time I've ever seen one in my life - you can see I'm from the East Midlands Airport area
), Iberia, Spanair and various other Aircraft. There was a Futura 737 there, I still enjoy seeing them after there appearances at EMA seem to be getting more rare.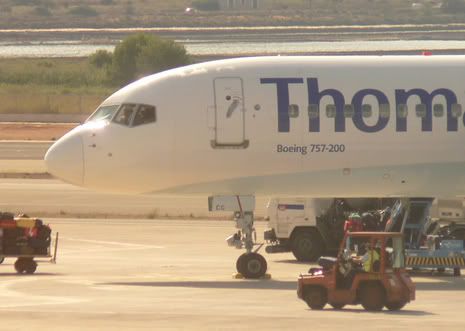 Soon it was time for Boarding, and we boarded after the First Choice to Manchester.

We boarded the Plane from the rear as requested. Then I noticed we had the Extra seats! Fantastic that was! The Cabin on G-BYAR was very clean and tidy. She looked really new outside and inside, but didn't have the new inhanced interior lockers neither did G-BYAP on the Outbound flight. Still, a lovely Cabin though! The Same audio was being played as the outbound flight with the TV's. The Flight Deck told us about our flight, and seemed very friendly.

Here are some Photos from inside the Plane:




First Choice G-OOOX: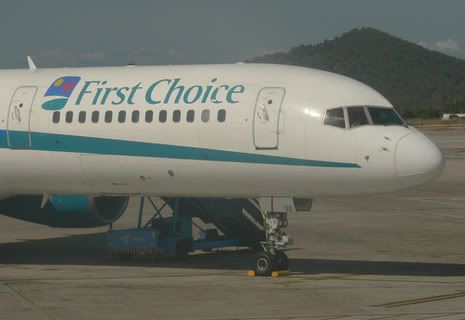 We started moving as soon as everyone was ready. Safety TV and Manual instructions were shown, they were the right length I felt, and the Video was just good. We moved past some Props and Business Jets. Then we turned, faced Playa D'en Bossa and then lined up with the Runway. The engines fired up, and I was flung back into the seat. A very powerful Take-off and a sharp bank after lift-off followed.

The in-flight service then began. The Crew told us about the Services on-board the flight amongst other things. The flight-deck spoke to us again, telling us about our flight today and how the flight will be 2 Hours and 1 Minute long. I got comfortable and looked out the window mostly until meals were served.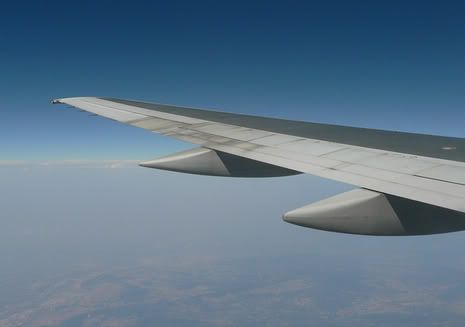 And fantastic meals they were!

Farmhouse Chicken Pie, Bread, Crackers and Cheese, Summer Trifle, Chocolates and the Tea or Coffee.




The Crew were fantastic on this flight. They enjoyed what they were doing, and each one of them was in a good, helpful mood. The uniform they ware does now match the Cabin, and looks very smart.

Entertainment was Spongebob Squarepants and My Family, and some other things I guess (I didn't watch it).

I had a great view of the Coast on England, and soon after we started our decent. I saw many Airfield on approach to East Midlands, including one which looked like it is the home on an Ex- MyTravel Aircraft:




Can you identify the Airfield or Aircraft? About 25 Minutes from East Midlands Airport on the plane.

I think I saw Lasham aswell, where some MyTravel Aircraft are. (I will post the Photo later)

The landing and Approach was fantastic, we passed over the East Midlands to give a fantastic view of the area. We flew over the M1, which made me think we was going to do a rare 09 landing over Donington Park. We descended over Donington Park, and the bikes were doing circuits.




We arrived 15 minutes ahead of schedule, and Thomsonfly G-OBYF landed after us. I didn't ask for a Flight Deck visit as I felt my Parents wanted to just get off the Plane. Well, the amount of time we waited for out cases, (At a not very busy EMA) I may has well had done this, and they felt the same!




After we got our cases it was a case of getting home. And that's where my story finishes.

I do have a Video of our Landing and some more Photos from out the window in the Queue for the Airliners.net database, and will post the video and Photos when they are ready.

This flight was amazing, perfect, professional. We all couldn't have asked for more. I have full respect for every aspect of the TUI Group and look forward to my flights in October with Thomsonfly.

Well Done Thomson. I give a 9 out of 10 for both flights. Exceptional!