Hi,
I had posted this report before, but the website where I had hosted my pictures went over the bandwidth limit. Because of that, I am now posting it again with the pics on a different site.
Comments, questions, and critiques as always welcome and appreciated!
Enjoy!
Sebastian
*****************************************************
As with any summer, also this one had to come to a close. I would be spending this next year on an exchange program at a university in southern California, so the obvious choice was to fly into LAX. After much debating, I ended up with flight LX 1015 DUS-ZRH and flight LX 040 ZRH-LAX, all in C.
I was very much looking forward to these flights, as it would be:
1) My first long-haul flight in a few years,
2) My first time flying Swiss, and
3) My first time flying short-haul business.
For my 9:40 am flight, I got up at 6:45. I had packed most of my things the morning before, but as always when I fly, I like to go through my room and closet, to make sure I did not leave anything of importance behind. No problems at all with the 20 minute drive to DUS airport. I have always loved this airport and its new terminal. It is gorgeous from the outside, and it is one of the cleanest inside I have ever seen. The shiny stone floor still looks as though it was just put in.
There were a few people at the economy check-in, but the line at the C counter was empty. I had the following bags: 1 hard case suitcase, one soft sportsbag, and one golf bag to check-in. About a year ago, when I traveled with BMI from EDI, I was told that there is a fixed rate which you pay to take a golf bag with shoes, which was 10 pounds, so I assumed this would be the same case with my current flight. The lady behind the counter was very kind, but she told me that I would be paying the golf bag as an extra suitcase. When I asked her about the fixed rate, she said she would need to make a phone call.
In the meantime, I put my first (and heavier of the two) bag onto the scale, which read out as 35kg. The lady told me that I would have to move 3 kg from my hard bag into my soft one. That was not very nice, since both bags were already packed quite full, and I did not know where to put the extra things in my soft one! I told this to the lady, but she said that it was not possible to take the bag like this. Way to treat your premium passengers I thought!
She told me I could go to one of the benches in the middle of the airport terminal, and do the rearranging, while she clears up the golf bag issue.
I had a look through the flyertalk forums as well as Swiss' website, to try and find the best seat for the ZRH-LAX leg. I learned, that Swiss' 340s are configured in the following way. Rows 1-3 are first class. Then there is a bulkhead divider between 3 and 4. The C class galley is actually already between rows 5 and 6, right where the door is that everyone boarded through. In other words, rows 4 and 5 are basically a small, quite private cabin in itself. Because of this, I made sure to ask for a window seat in one of those two rows, and was assigned 5A.
Oh well, it was no fun doing the moving around. Fortunately my mom and brother were with me, and they helped me to close everything after it was moved. I walked back over, and put the suitcase onto the scale again: 31,0 kg.
She said she spoke to her supervisor, and was told that I would have to pay for the golf bag as an extra piece, or around 40€. I guess that is still ok, considering I would be traveling so far. She attached the priority Business tags to my bags, and sent them off. My boarding passes for both flights were handed to me, and she told me I could use the British Airways Terraces lounge in Terminal B. In all fairness, the lady doing the check-in was very kind, and not once did I feel she was doing this because she was having a bad day or so.
I went over to the bulky baggage counter to drop off my golf bag while my mom went to the swissport counter to pay for it. I said my goodbyes to my brother and mom, and I went through security. There was a Fast-track line for Business passengers, which I used. Unfortunately, here again it took a while. One of my carry-on bags was my camera bag with my equipment. After I went through the metal detector (which fortunately didn't beep), I went to get my other bags. One of the officers asked me whether the camera bag was mine. I said yes, and he asked me to open it. He asked me to take out my rather large 75-300mm lens, and wiped it with one of the pads for the explosive residue detection machine. Why in particular he thought my lens would have some, I have no idea, but he asked me to wait a second, and disappeared for a few min. In the meantime, I was asked whether I had a CD player in my backpack. I said yes, and they asked me to take it out. They then put it through the metal detector again on its own. Finally, I was cleared to continue into the terminal. It did surprise me a little that I was chosen for the explosive test, but whatever. I guess it's a small inconvenience for such an important job if they happen to catch someone.
I proceeded to go up to the BA lounge, even though I only had about 15 min before my flight was to board. The lounge was surprisingly empty, but I had a very good impression of it. There were very nice lounge chairs which overlooked the tarmac area between terminal A and B, and comfy couches and chairs all over the place.
The selection of alcoholic and non-alcoholic drinks was quite large, but there were no real things to eat. Apart from a few snacks, there was not much more. It didn't bother me too much, as I normally don't eat much in the mornings, and was going to be getting enough food on the flights anyhow. I just ended up having a ginger ale, and watching the action on the ramp from one of those nice lounge chairs.
Shortly before my boarding time, I headed back down, to gate B26 for boarding. There was no priority boarding, as this was a bus gate, and our aircraft was out on the ramp. Boarding went smoothly, and soon enough, the bus was full, and we headed out to our aircraft.
DUS-ZRH
Seat: 2A, C class
Departure (planned): 9:40
Departure (actual): 10:06
Arrival (planned): 10:55
Arrival (actual): 11:08
Aircraft: HB-IXH Avro RJ85
Note, that the cabin shot is not of the exact aircraft, but the interior is the same!
We had to wait a few min in the bus, as the cleaners were just finishing up, and then an older lady who was driven to the aircraft separately boarded. Finally, we were let in. I stored my laptop in the overhead bin, and placed my backpack under the seat in front of me. I was pleasantly surprised how much space I had. I am roughly 1.83 meters, and I could stretch my legs almost horizontally before hitting the other seat.
I am not familiar with the seat pitch in Economy on this aircraft, so I cannot really tell if there was more in C. It looked like the Y/C divider was a moveable one, so I guess not. Once boarding was completed, I was happy to be assured that the seat next to me would remain empty. I am not familiar with LX's policy about C seats, whether they always keep a seat next to the passenger empty, such as LH. Even though it can be nice to have a seat neighbor, I mostly prefer it to have the extra space at my disposal. I took a quick photo of the BA ERJ standing next to us:
Pre departure drinks came very soon after boarding was completed. It was a tray with either orange juice or water if I recall correctly. I had the orange juice. Of course, they were in the actual glass glasses, as opposed to the plastic ones in Y. It is a small difference, but one I actually enjoy quite a bit.
Soon enough engines were started, and our taxi to runway 23L began. One of the FA's came onto the PA, and announced that our estimated flight time would be 50 min. The captain also came on, giving the standard info on our flight, as well as mentioning that we would be taking off from 23L. I knew this from seeing the other aircraft from the lounge before, but I have not had it happen very often that the captain also mentions that. What I thought was a nice gesture was that the captain came on again just before we lined up, giving the FA's a heads-up on 1 min before takeoff, and then wished them a nice flight.
Shortly after takeoff, an overview of DUS. One of the 2 daily Privatair flights from DUS can be seen pushing back.
Another overview of terminals B and C, with the usual BA, DBA, AF, etc planes visible.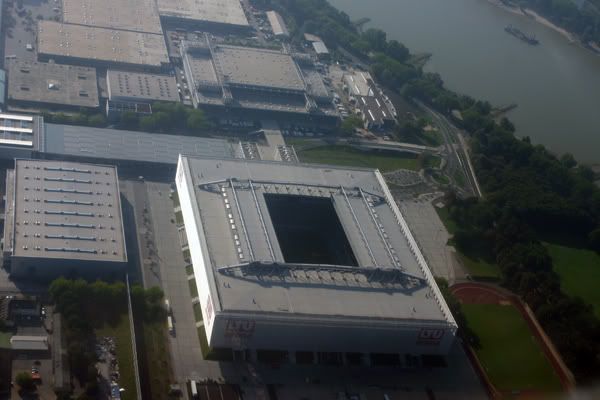 During the few turns after takeoff, we flew right over the relatively new LTU arena right next to the Rhein.
During climbout, some beautiful scenery.
Soon after we reached 10,000 feet, the FAs came around with breakfast and drinks. The standard breakfast consisted of some fresh yoghurt with little pieces of fruit (peach I think), some strawberry müsli, camembert cheese, and butter. They came around with a basket of fresh warm rolls, as well as little jars of jam. As drinks, I chose some more OJ, and some coffee.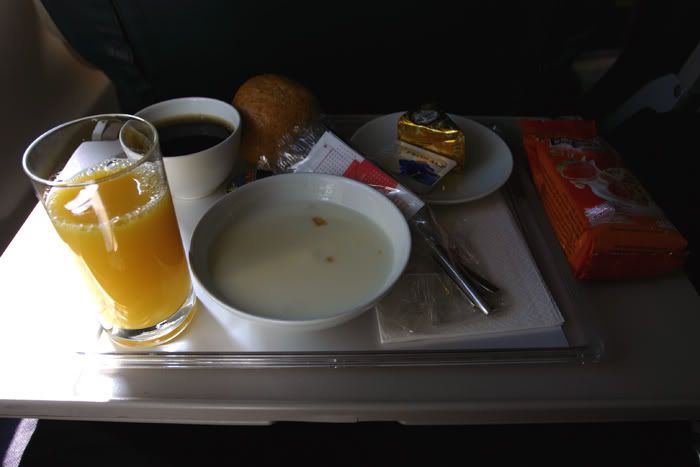 The remaining flight was not very eventful. They came around with drink refills again, and I had some more coffee. Service was very good all the way through, very attentive! I went to the restroom to check it out after breakfast. That is cramped! I cannot stand up straight in the bathroom without hitting the roof a little. I realize this is not an airline-specific thing, but that was a little annoying. In the bathroom though, they had lotions and refreshing towels out for you to take. I used one of the towels to refresh my face, very nice.
I returned to my seat, and soon enough, we started descending towards ZRH. The captain came on the PA and told us due to traffic approaching ZRH, we would be holding for about 10 min to the north of the airport. Soon enough however, we began our descent and landing.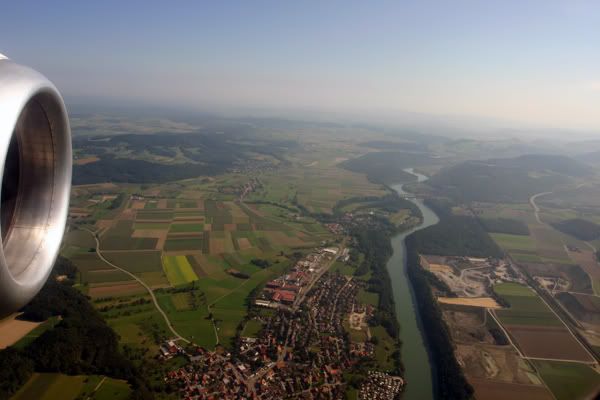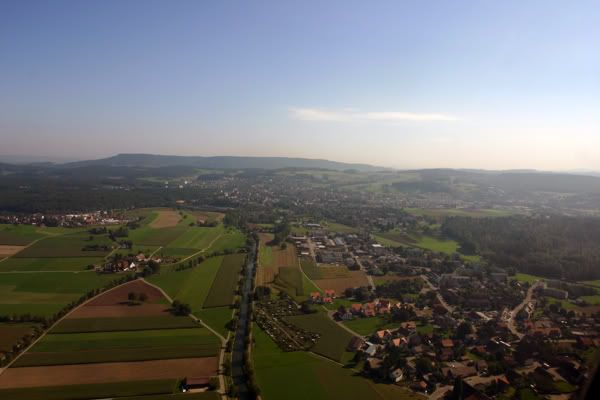 The strange syngenta advertisement cut into one of the fields on approach.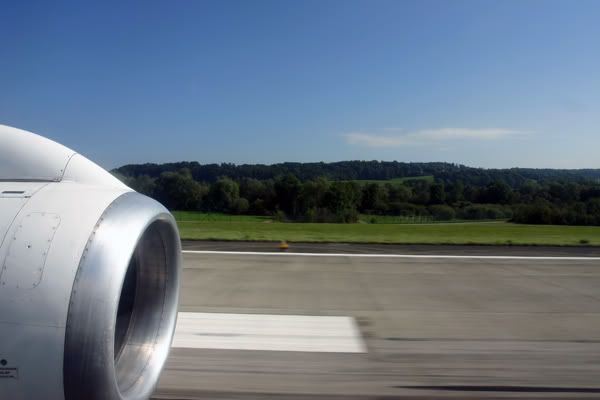 Touchdown! I would appreciate if a ZRH local can tell me which runway we landed on!
Taxiing to the stand infront of an OS Fokker.
During taxi, one of the FAs came onto the PA, and told us that intercontinental flights would be leaving from terminal E. It was nice to have this information beforehand. Once we parked, I got up to take my bags out of the overhead bin. Only then I realized that while I was in the restroom, a FA had placed a chocolate onto my seat…needless to say there was not much of it left when I realized!
Bus ride to the terminal was quick, and soon enough, I was in the main terminal. I wanted to visit the lounge, and I had read in previous reports about there being no lounge in terminal E. Just to make sure, I went to the transfer desk to ask. Indeed, the lady confirmed that there was no lounge, so if I wanted to use one, I would use the one in the current terminal (sorry, not sure which one that is!). Additionally, I asked about the time it would take from the lounge to the terminal, and the lady said about 25-30 min mainly due to the extra security layer you have to go through. That only gave me about 25 mins in the lounge, so I hurried up.
When I arrived at the lounge, the staff at the front desk checked my boarding pass. In the meantime, I heard them talk to another passenger that it takes only 15-20 mins to get to terminal E, so I asked again, and they confirmed that. I didn't really know who to believe, so I decided I would leave at approximately 11:45 for my 12:10 scheduled boarding. The lounge at ZRH is quite nice. It is very spacious and many chairs with a huge bar area. I did not really look in detail to all the food and drinks offerings they had, but it did seem like a lot. Unfortunately, the lounge was very crowded, so the 6 or 8 internet terminals they had were occupied. I grabbed a glass of orange juice and played some solitaire on my PDA. Soon enough, it was 11:45, so I headed back out of the lounge. Just as I exited, I took this quick photo of the area just outside the lounge entrance: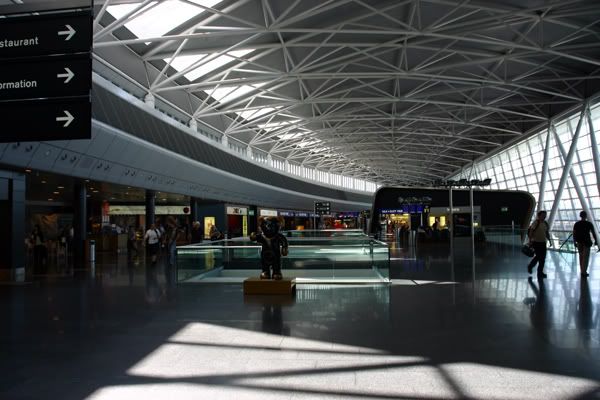 I found the ZRH terminal building to be very spacious and clean. There are also huge windows everywhere that let large amounts of natural light in.
From here, I began my trek to terminal E. I followed the signs down to the "Skymetro", which is a little train that takes you there in 2 mins. One was leaving just as I had arrived, but fortunately they come very regularly (next one came in 3 mins). Once we had arrived, I climbed the escalator, and was infront of that huge security line that was supposed to take me the half an hour. Well, in fact there were maybe 20 people in the line, and it took approximately 5 mins to be attended… There was unfortunately no line for Business and First customers, but since the line was relatively short anyhow, I didn't mind.
I was lucky, and got through the security with no problems whatsoever
!
Terminal E is basically one long building, with gates on either side:
View Large
View Medium


Photo © Dario Crusafon - Iberian Spotters
Again, as with the other terminal, it is made of mainly glass, allowing a lot of natural light to go in.
ZRH-LAX
Seat: 5A, C class
Departure (planned): 12:50
Departure (actual): 1:40
Arrival (planned): 16:15 (local)
Arrival (actual): 16:30
Aircraft: HB-JMF Airbus 340-313X
I soon found my gate E27 to be one of the first gates on my left hand side when I entered the terminal. There was already a huge crowd of people in the departure lounge around the gate, and unfortunately I saw that according to the screens, the boarding had been moved to 12:25 (as opposed to the planned 12:10), so I decided to take some pictures of the aircraft and gate area: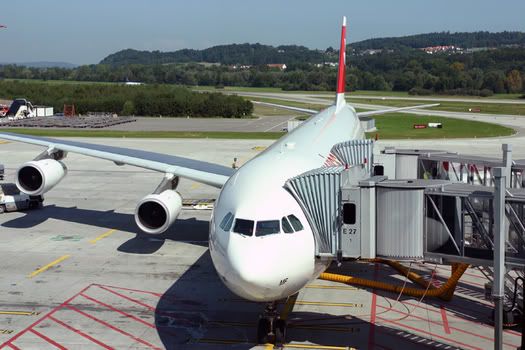 The desk infront of the gate was rather large as can be seen in the picture. I found out, that the right hand side was for Economy passengers, and the left for Business and First. That was nice to know, at least I wouldn't have to wait even longer at the end of the line! While waiting, one of the people at the desk, announced that all passports needed to be checked again at a separate desk in the terminal. Fortunately, these desks were basically infront of our gate, so I headed over. There were 3 desks, 2 for Business and First, and one for Economy. The economy line started growing very quickly, so I was happy there were only 2 people infront of me in the C line. It seems they just check that you have a visa to enter the US, or are eligible for the visa exemption. They asked me the usual questions, such as what I was doing in the US, and soon enough stamped my ticket, and let me go.
I headed back to the gate, and soon after that (earlier than expected), they began boarding. I was one of the first to board in the premium cabin, and pretty quickly, I was inside my home for the next 12 hours. I quickly found my window seat 5A: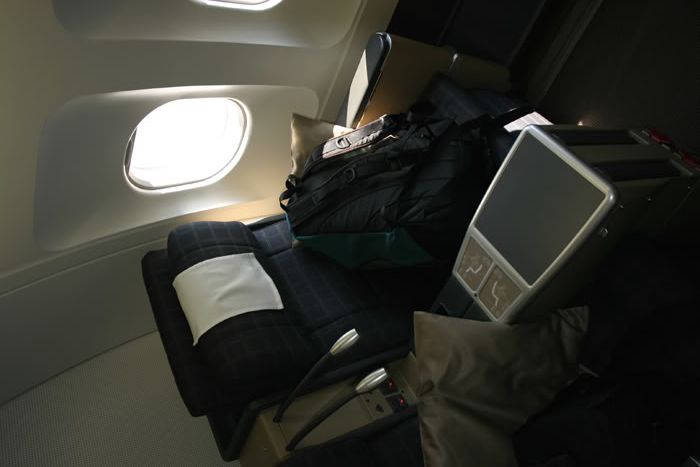 I was very impressed. As you can see, you have your own personal reading light (in addition to the usual one above your head), a personal power adapter, and the biggest inseat tv I have ever seen!
Leg room was ample, and so was storage space. With my 1.83, I could easily stretch my legs. Visible is also the seatback pocket (which contained the In flight magazine, headphones, duty free magazine, a coat hangar, and safety card), as well as the various other storage cubbies. These contained the amenity kits for both passengers, and some of those refresher towels. These seats are the "angled lie-flat" seats. The amenity kits were very nice I thought. Inside it are a toothbrush/toothpaste, socks, eye shades, earplugs, and some mints. Also, there is a small note that says that "the follwing items are available on request in addition to those in your Travel Comfort Kit: shaving kit, nail file, comb, shoehorn, sewing kit, as well as SWISS skin care product [sic] like, moisturizing cream and lip balm." I found this to be very adequate, even though I didn't use anything out of the kit.
The nice privacy of this "mini-cabin" can be seen here. With only 12 people in the cabin, it is nice and quiet.
Soon enough, also the premium cabins started filling up. The seat next to me was staying empty for quite a long time, and when the announcement came, that boarding was completed, I was very happy! I once again had an empty seat next to me
.
Pre departure drinks were soon served, and I opted for some delicious champagne!
We ended up having to wait quite a bit for pushback "due to heavy traffic in the airways above France". Now why exactly this would affect us so much I do not understand, since we didn't fly over France at all! Either way, a comfortable seat and good drinks made the wait bearable
.
View from out my window looking back
What I really liked in this aircraft, was the fact that it had two external cameras. One facing forward:
and another facing downwards. For taxi, takeoff, and landing the screens at the front of the cabin were tuned into the forward facing camera, which was very entertaining! During our wait, the menus were also distributed:

LUNCH
~~~~~~~~~~First Course~~~~~~~~~~
Beef and chanterelle mushroom terrine with parsnip salad
or
Fresh seasonal salad with a balsamic and olive oil dressing

~~~~~~~~~~Main Course~~~~~~~~~~
Venison ragoût served with yellow carrots, Brussels sprouts and potato purée
or
Chicken suprême with a rosemary jus accompanied by creamy cabbage and sweetcorn, tomato and black salsify
or
Sautéed pike perch escalope in a carrot and vanilla sauce, served with carrots, broccoli and wild rice
or
Pumpkin gnocchi in a Roquefort cheese sauce with roasted pumpkin seeds

~~~~~~~~~~Cheeses/Desserts~~~~~~~~~~
Selection of Swiss cheeses

Dark chocolate Toblerone mousse on a raspberry coulis

Fruit salad

Swiss chocolates
Coffee and a selection of teas

DINE AND RECLINE

~~~~~~~~~~The quicker option~~~~~~~~~~
A cold composition of starter, cheese and dessert to be enjoyed promptly after takeoff, allowing you more time to sleep, work or simply relay and enjoy your flight.

GALLEY SNACK

A selection of snacks and soups is available throughout the flight from the Galley.

LIGHT MEAL

Fresh seasonal salad – with lambs lettuce, sweetcorn, tomato and chicken served with French dressing
or
Pasta shells with diced tomato sauce and topped with pine nuts

Blackberry and vanilla slice with vanilla sauce and whipped cream

The wine list was also in the back:

~~~~~~~~~~Champagne~~~~~~~~~~
Nicolas Feuillatte Réserve Particulière, Brut
France
40% Pinot Noir, 40% Pinot Meunier, 20% Chardonnay
A classic well-refined and aromatic champagne with delicate bubbles and a long finish.

~~~~~~~~~~White Wine~~~~~~~~~~
Winzergold Müller-Thurgau 2004
Spätlese
Rutishauser, Canton Thurgau, Switzerland
100% Müller-Thurgau
Bright, light yellow with an aroma of blossom and hints of apple. Fresh and lively on the palate, mild and balanced with a pleasant finish.

Viognier Finca La Linda 2005
Luigi Bosca
Mendoza, Argentina
100% Viognier
Pale yellow with delicate citrus aroma and hints of ripe quince. Mild palate, full-bodied and elegant – this is a well balanced wine with lasting fruitiness and a lingering finish.

~~~~~~~~~~Red Wine~~~~~~~~~~
Winzerin Belgacher Pinot Noir 2003
E Nüesch
Canton St Gallen, Switzerland
100% Pinot Noir
Ruby red with a mature berry bouquet. Full on the palate, very concentrated with a full body and a long and warming finish.

Equinoxe 2002
Domaine Schlaepfer
Les Beaux de Provence, France
60% Grenache, 20% Syrah, 20% Carignan
Bright pomegranate red with a spicy bouquet of plum, tobacco and wood notes. Matured for 18 months in Barrique oak barrels, this wine has a powerful body, juicy berry aromas and a good length.

Pablo Neruda Carmenère Reserva 2001
Viña Sutil S A
Colchagua Valley, Chile
100% Carmenère
Dark red with concentrated berry aroma. Spicy and powerful with a broad initial taste. Full-bodied, smooth on the palate with a long and warming finish.

~~~~~~~~~~Port~~~~~~~~~~
Porto Niepoort Junior Tawny
Portugal
Touriga Nacional, Touriga Francesa, Tinto Cao, Tinta Roriz, Tinta Barroca and others
Delicious plum bouquet with ripe fruits. Full-bodied and concentrated on the palate with built-in sweetness and a long-lasting finish.

Finally we were pushed back, and engines were started. During the taxi, the usual safety demonstration was done, and we were told that due to good winds, our expected flight time was 11h55. Additionally, we were warned that as we would be going through several different jet stream layers, it could get a little bumpy in places. As we approached the runway, it was clear that there were a few planes ahead of us, which the pilot later confirmed that we were number 5. After a while of waiting without any takeoffs, the captain came on the PA. He said that a plane that took off before us reported a bird strike, and now the airport staff was checking the runway to make sure no bits and pieces of the bird were left scattered on the runway. Fortunately not too long after that, takeoffs resumed. After an AA 767, we lined up, and waited a short bit before commencing our takeoff roll.
Here shortly after rotation, you can see the previously departed AA767 in the upper-right corner.
Shortly after takeoff, we turned left, giving me a great overview of the airport: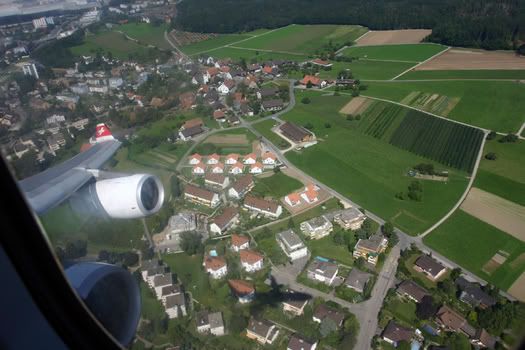 Our shadow clearly visible at the bottom.
During climb, the airshow continued to run.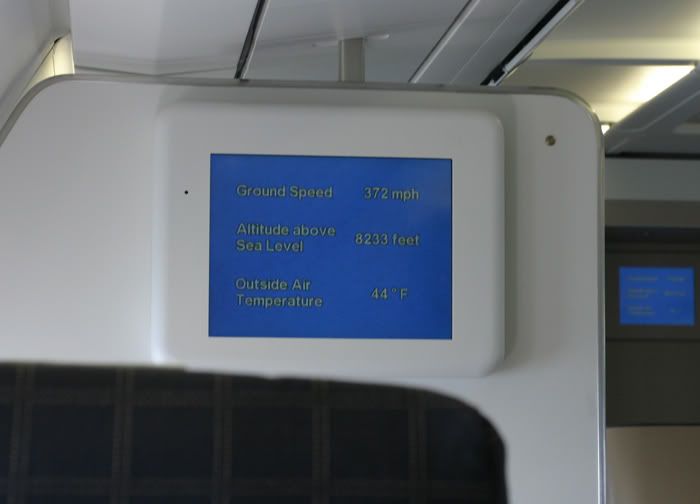 First time I have seen adverts in the airshow!
Soon enough, I adjusted my seat to a slight recline with the footrest up, and we were brought drinks and a bag with pretzel mix: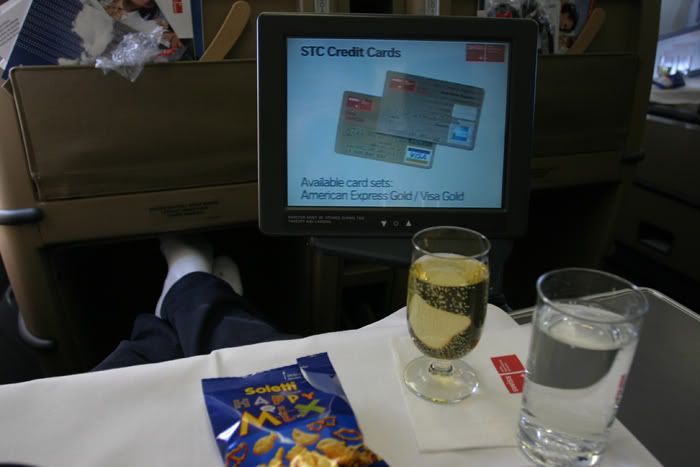 I again opted for more of that delicious champagne as well as some sparkling water. The mix tasted good, but I guess not much can go wrong there! The huge size of the monitors is again visible here! Additionally, our lunch choice was taken down, and I opted for the venison.
The AVOD had not been started, so I flipped through the two external cameras a little: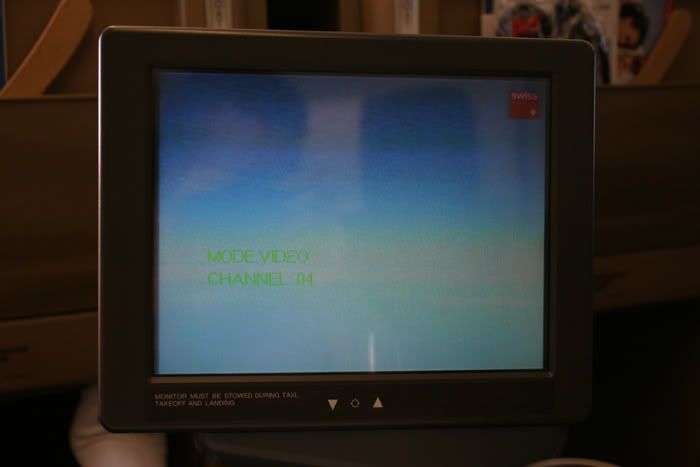 Soon after that, dinner was served. A tablecloth was brought, along with a napkin, cutlery, butter, and a fresh roll. The appetizer came, and oddly enough they didn't ask me which I wanted. I was about to choose the salad, but they brought me the beef, which was probably the better choice, as it was delicious!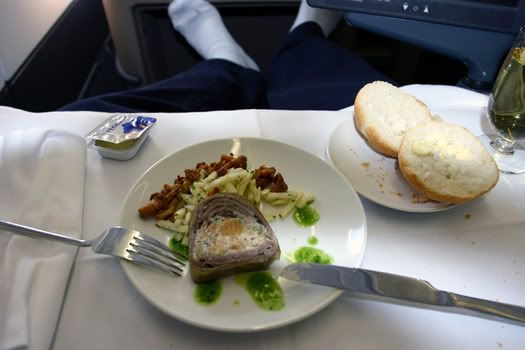 The main course came soon after, and I had opted for the venison: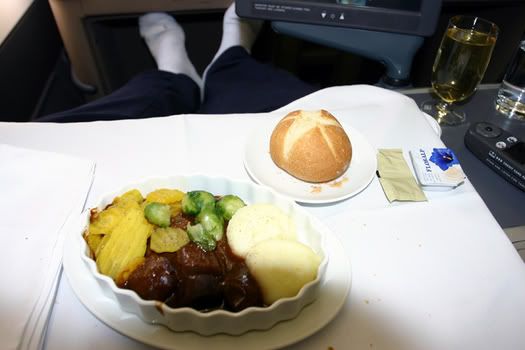 Again, it was absolutely delicious, but I found this portion to be rather small, but whatever. With the 3 courses, I was happily full at the end anyways. Drinks were constantly being refilled, and I chose to stick with the champagne all the way through. In case you haven't noticed, I love that stuff
.
After the main course was cleared, the desert cart came around. I asked if I could have both the mousse and the fruit, and the FA said he would see if there was any left over once he got to the end. I got the mousse first, along with some of that lovely port:
Even while eating my desert, they came around with a second serving of drinks, and so I opted for a refill of my port glass. Was a great combination with the chocolate mousse and fruit coulis. When I was finished, the FA from before brought me a bowl of the fruit salad which I thought was very nice. It tasted great, and was clearly not the usual fruit salad from a can.
Once lunch was cleared, we were brought bottles of water. As can be seen here, I was watching the movie "The Interpreter" with Nicole Kidman all the way through lunch:
Once the movie finished, I wanted to stretch my legs a little, so I decided to take a stroll down to the back to Y, and take a picture: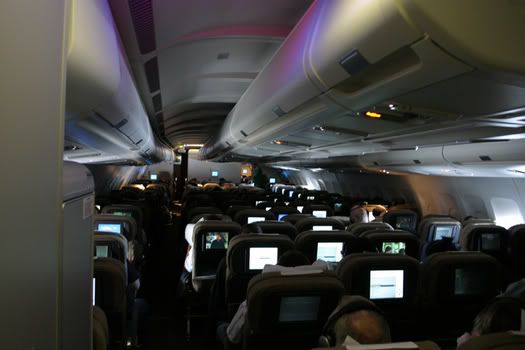 I headed back to my seat, and played around with the IFE for a while. There are like 10 games you can play (including trivia, who wants to be a millionaire, mini golf, pong, etc), tons of music to listen to, and several movies to watch, along with a few short videos (Friends, Scrubs, some documentaries, etc). I decided to watch "Hostage" with Bruce Willis, and sometime during the movie, the FA came by with an ice cream trolley! I had never seen this before, where they serve you fresh Mövenpick ice cream in a cone. I had one, and it was a very delicious orange flavor.
Soon enough we were somewhere over Canada with some nice views out the window: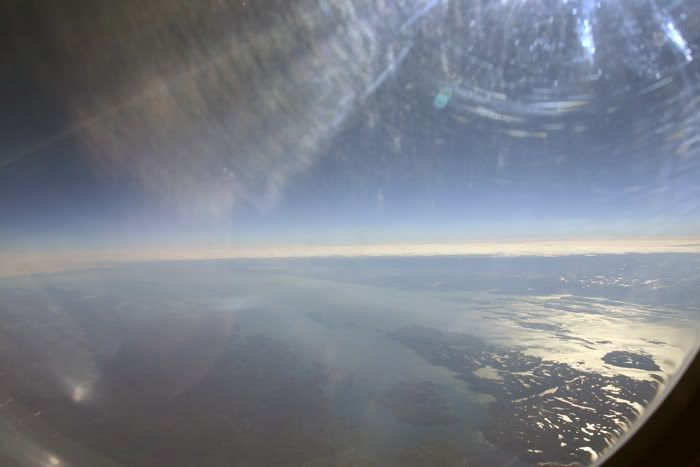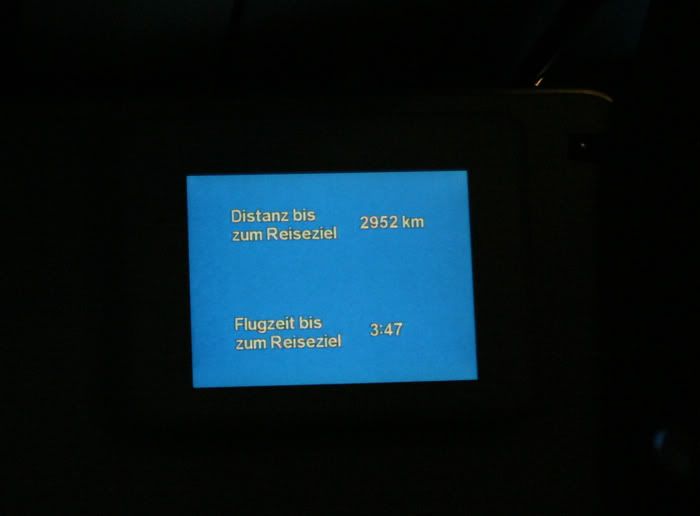 Showing a remaining distance of 2952km, and a remaining flight time of 3h47.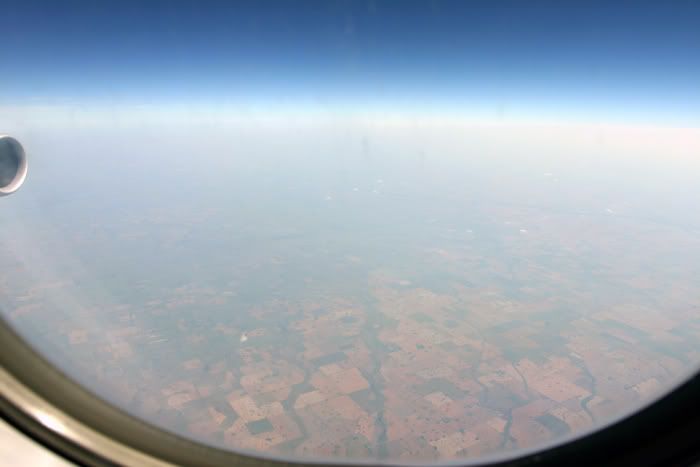 Visible is the checkered farmland over Kansas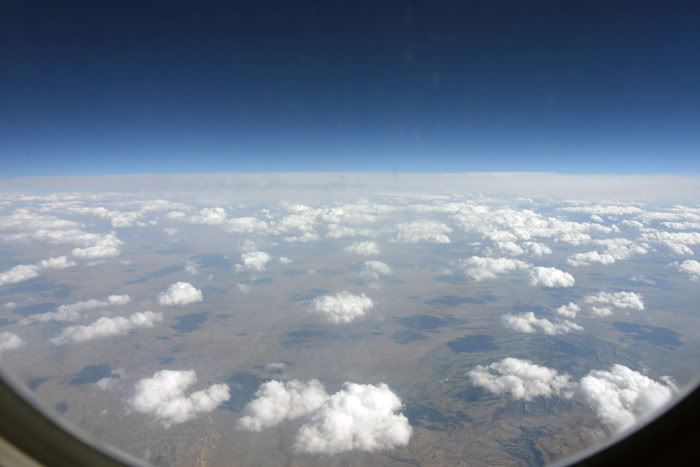 Some more nice views over the desert.
During the whole time, the kitchen was filled with soups and snacks you could help yourself to. Snacks included snickers, cookies, and various other little bits to nibble on. The bathrooms were very clean, and thankfully larger than the one on the Avro earlier! There were several amenities you could take, including mouthwash, lip balm, lotion, etc. At some point in time, the FAs came around with a choice of cheese or turkey sandwich. I went for the turkey sandwhich, which was surprisingly good! A very enjoyable snack for in between.
I began watching my third movie of the trip, "The Deal" with Christian Slater and Selma Blair. I thought it was ok, but nothing I would go see again.
During this, the light meal was served, where I opted for the pasta, since I was in the mood for a warm dish, although the salad also sounded very tempting. This was again served with a nice warm roll:
Both the pasta and the cake tasted very good. As usual, I had some more champagne. All through the flight, the cruising altitude increased little by little. It went from 32000 feet, to 34000, 35000, 36000, and finally to 38000 feet.
There were just some lovely views out the window all through the trip, so I took some more pictures: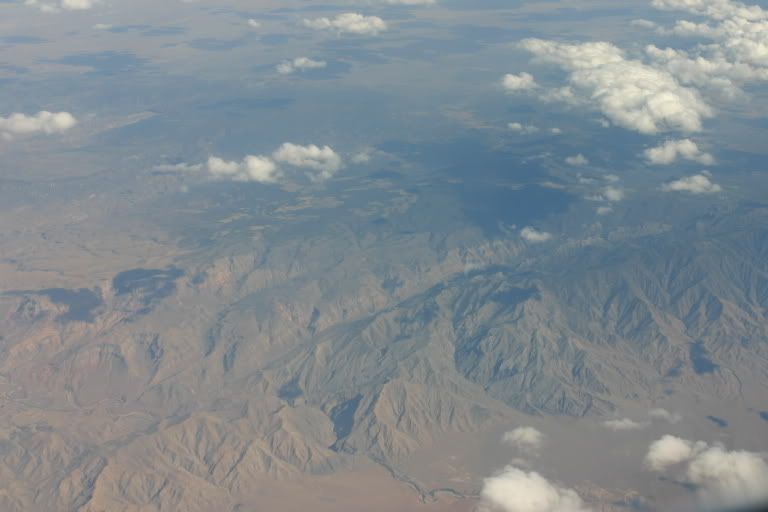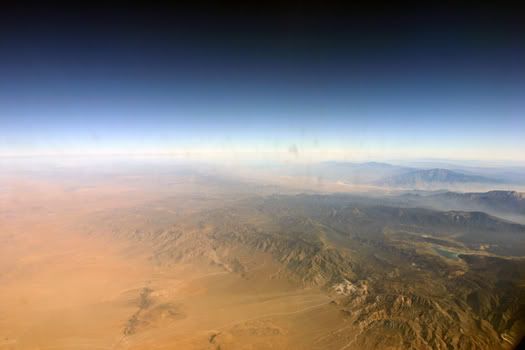 Descent began about 20 mins before arrival, and a video about Tom Bradley International Terminal was shown, with information on how to proceed once we landed:
During the remainder of the flight, I just took some pictures: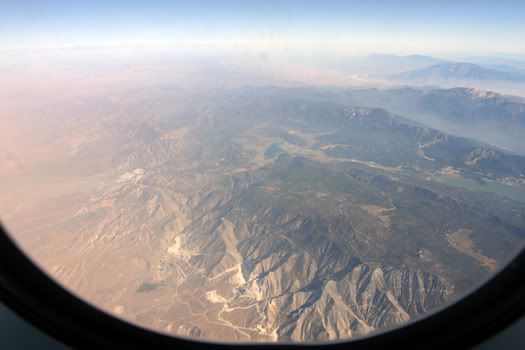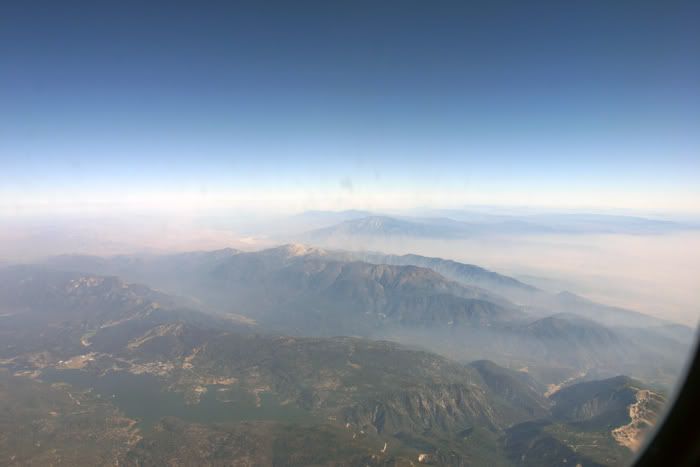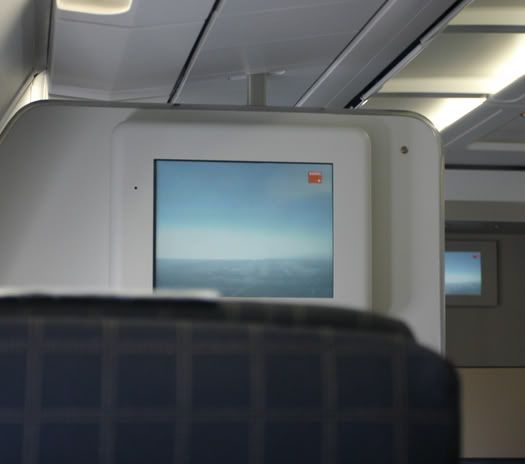 The forward camera just before touchdown.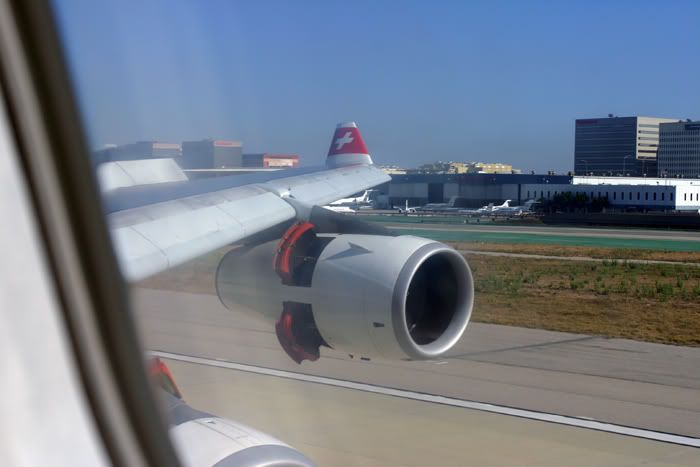 Touchdown!
After exiting the runway, we had to wait forever, since our gate was not ready yet. Additionally the captain informed us that we would be towed into the gate, so we should stay seated, even after he stops infront of the gate! I wonder why the towing is needed…
Finally, after an endless wait, and a relatively short taxi, we arrive:
Deplaning was very smooth, and the Y passengers were held back until passengers from F and C were out, which I thought was very nice. That allowed for a shorter line at immigration and customs, which I appreciated. When I reached the baggage carrousel, my bags came pretty quickly, and after clearing customs, I was finally in LA after about 24 hours of total travel time.
I hope you enjoyed reading this report as much as I enjoyed flying and writing it! Comments, critiques, and questions welcome as always!
Sebastian