This is the first of four small trip reports. The other three will entail TPE-BKK on EVA's B773ER, to include new seating pics, and the trek in reverse. Please allow a few days as I'm busy with work.
16 August 2005
Los Angeles International (LAX) – Taipei International (TPE)
EVA Air Flight 15 (BR 15)
Boeing 744 Combi
B-16461
Scheduled Departure – 0120, Actual – 0350, Airborne – 0424
Scheduled Arrival – 0610, Actual – 0749, Gate – 0755
Super First Class, Seat 1K (Window)
LAX - Gate 102, TPE – Gate C7
OK, the first thing you probably notice is the late departure. Suffice to say, it wasn't EVA's fault. Honestly! We were ready to push back on time but, believe it or not, a Cathay Pacific aircraft had its brakes lock-up right behind us. It couldn't move! Unfortunately, with the way the TBIT is set-up, we were stuck like chuck. Maintenance fixed the CX bird and we were pushed back ASAP. During the wait, we had a few rounds of drinks and a snack.
Back To the Beginning
I live about an hour drive time from LAX under "normal" SoCal driving conditions. This trip took 90 minutes to make it to Lot C from home. Lot C was packed but I managed to snag an open spot very close to the depot. I was lucky because I was toting 3 bags – suitcase, golf clubs, and a carry-on. There were 2 buses waiting and I was the only person on the first. A few more folks showed up and we were off. It was 2200L and the vehicle traffic was totally out of control. For those of you familiar with LAX, it took 15 minutes to get from Lot C to the TBIT. I entered the terminal to chaos. Four years after 9/11 and LAX still doesn't have the explosives screening under control. What a joke! For those not familiar with the TBIT, there were lines all over the terminal just to have bags screened for explosives.
Forty minutes after arriving at the TBIT, my bags had been screened and I was at the EVA Super First check-in counter. There wasn't a line and no waiting. Check-in complete, boarding passes in hand, I was off to be screened. Let's see, laptop out, check; belt and shoes off, check; cell phone, watch and wallet in the carry-on, check. Through the line in less than 5 minutes. Straight ahead to the elevator for EVA's First/Business/Diamond Card Lounge on the 5th floor. For note, EVA's FF Lounge is on the 4th floor.
The lounge was quite cozy. There were approximately 30 seats, with 10 cordoned off at the rear of the room for First and Diamond passengers. There were ample snacks and drinks available on a "help yourself" basis. I'd venture to say there were only 10-12 people who used the lounge tonight. After partaking in a few drinks, it was time to head to the gate.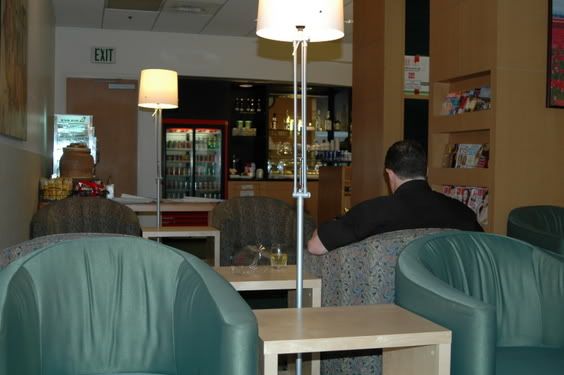 I arrive at the gate to find the usual madhouse. China Airlines was starting to board for TPE from Gate 101. Additionally, EVA was oversold in Evergreen Deluxe and was requesting volunteers for bumping. They were offering $400 cash, a hotel for the night, and a guaranteed seat and upgrade on their 1730 flight later that day. We started boarding about 10 minutes late due to a large number of passengers with children or wheelchairs. Soon after, it was First/Business/Diamond members for boarding. Tonight's flight was on a B744 Combi, tail number B-16461. This is the same aircraft I had on my last trip to TPE from LAX. First and Business are upstairs on the Combi (8 and 16 seats, respectively), while Evergreen Deluxe and Economy are on the main deck.
Here is my Evergreen Deluxe trip report on the same aircraft from October 2004 (no pics):
EVA Air Evergreen Deluxe LAX-BKK-LAX
(by
Echster
Nov 27 2004 in Trip Reports)
Pre-departure beverages, water and OJ, were offered. About the time we were to pushback, someone came into the cockpit to speak to the flight crew. Soon after, the captain made the announcement concerning the broken aircraft behind us. I knew we weren't going anywhere and managed to look out the window to see a Mexicana 757 stuck in the alley, as well. A Korean Air B744 had boarded at Gate 104 and was stuck with us. I took this time to eat a snack and then nap. After a two-and-a-half hour delay, the jetway was finally pulled away and we were pushed back. With the safety announcements out of the way and another apology from the captain, we were on our way.
We taxied via Taxiway Bravo for a Runway 25R departure. With no other traffic waiting for departure, the flight crew kicked up the power on the four-engine B744, taking 10k of the 12k available feet for departure, and we were soon on our way. Tonight's flight would take us on the Perch 9 departure (PRC9), up the coast of California, then northwest towards the islands of southwest Alaska, before finally turning back southwest-bound over northern Japan and Tokyo, before continuing west of Naha for a straight-in approach to Runway 24 at TPE. Total flight time was 12:25.
Upon reaching our initial cruise altitude of FL300, the cabin crew sprung into action and they were delivering dinner. They took dinner orders while we were stuck at the gate. I placed my order over the internet at EVA's homepage for the extra 500 miles per segment, so only had to order the soup and drinks.
BR15 LAX-TPE
Dinner
Hors D'oeurve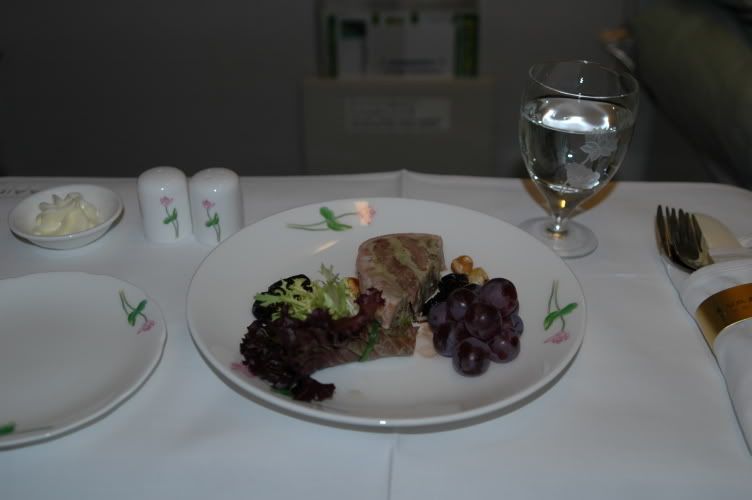 Foie Gras Terrine with Dried Fig and Grape
Soup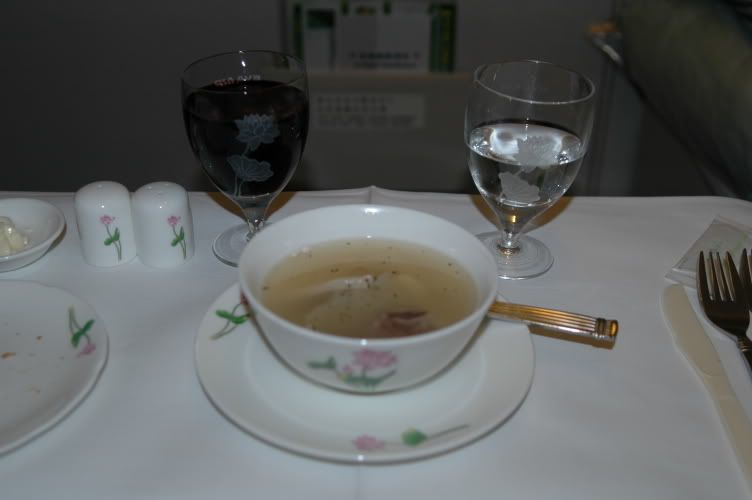 Pork Spareribs and Chinese Herb Soup
Or
Clam Chowder Soup
Main Courses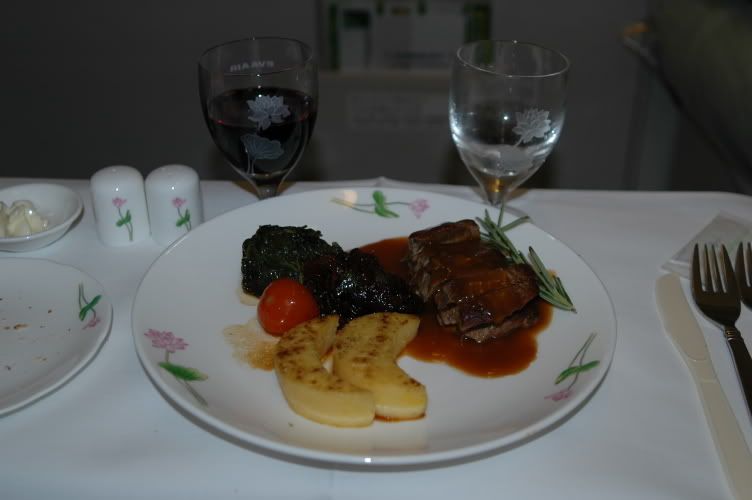 Pan Fried Cod with Black Bean Sauce
- Pak Choy and Carrot
- Fried Noodle
Seared Lamb Loin with Mint Demiglace Sauce
- Sautéed Spinach and Tomato
- Polenta
Stir Fried Abalone and Chicken with Hot Bean Sauce
- Kailan and Vegetable Bundle
- Steamed Rice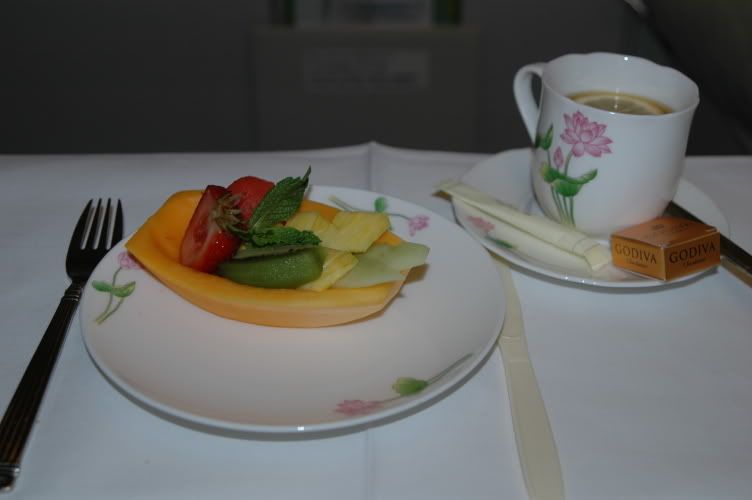 Fresh Fruit

Coffee or Tea served with Godiva Chocolate
Snack
Taiwanese Noodle and Slice Pork Belly with Meat Sauce
Pita Pocket with Roast Beef
Cup Noodles
Hot Chocolate and Cookies
Breakfast
Hot Beverages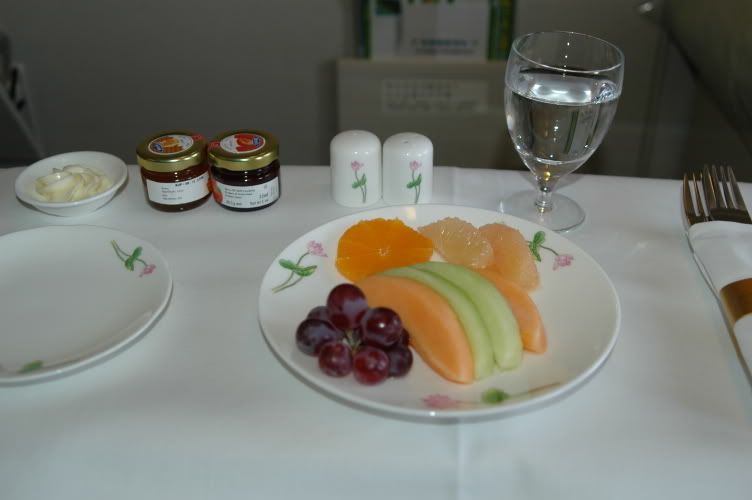 Fresh Fruit
Choice of Bread
Cereal and Yogurt
Main Courses
Beef Tendon and Brisket Noodle with Noodle
Eggs Benedict with Spinach
- Bacon and Pork Sausage
- Pancakes
Taiwanese Styled Congee
- Soya Egg
- Japanese Seaweed
- Dried Pork Julienne
- Stuffed Beancurd
- Steamed Minced Pork with Pickled Cucumber
I've often seen folks dismissing EVA's First and Business classes. Personally, they're not up to par with SQ, CX, or MH, but it happens to suit me. This is clearly a case of different strokes for different folks. I found the F seats to be very comfortable. While not a flat bed, I found the recline – about 170 degrees - to be great, as well. The pitch is plenty to get up and move about without waking the person sleeping next to you.
Where EVA's B744s seriously lack is in the AVOD area. The entertainment - actually lack thereof - is quite depressing. I won't bore you with these details. MP3 players are definitely handy!
The only hitch, minus 30 minutes of continued turbulence near the international dateline, was our late arrival. My connecting flight is soon to begin boarding, but I'm told I can make it along with my luggage. I was hoping to make it because I had booked a Premium Laurel seat on EVA's new B773ER.