Anyone who has seen any of my posts will quite soon realise that I am a huge fan of Swiss International Air Lines. As I travel a lot in Europe for both work and pleasure, I prefer to take Swiss wherever I can due to their good service, relatively cheap business class fares and ease of connecting in Zurich (used to be the same in Geneva, but they have cut back on destinations and frequencies from GVA).
Another big plus for me is that I can call Swiss and get through to someone 24 hours a day without having to press lots of buttons and wait forever on hold. It is so easy to simply call up and request a preferred seat, whereas doing this with BA is very difficult.
As I live in the West End of London, being able to fly in and out of City airport is another incentive, as I actively try to avoid Heathrow whenever I can manage it. I also booked to travel out on the Bank Holiday Monday, hoping to avoid the crowds.
I had to go to Athens for a few days. Swiss had good connections from LCY via ZRH to ATH, or at least they were good from my point of view with a 2 hour stopover each way, giving me some time for spotting and shopping in ZRH, with time left over for a few beers in the superb bar that Swiss have inside their lounge.
I booked my ticket via their website and got a good deal- £475.00 including taxes.
Swiss always have good business class prices for travel within Europe on their website, and the booking process is very simple, especially if you are a Travel Club member.
Monday, August 29th
LX459 London City- Zurich
Dep LCY: 15.10 Arr ZRH: 17.55
Swiss Business Class

BAe RJ-100
Seat Allocation 3A
I took a taxi from my home in the centre of London eastwards along the Thames, through the City and Docklands to City airport. It took around half an hour in light Bank Holiday traffic. Although Swiss advertise check in as late as 14.55 for a 15.10 departure, I arrived at the airport just after 2pm. There were no queues at the business class check in, and the agent advised me that, with a load of 40 passengers, it would not be a busy flight today.
I checked my bags through to Athens. The agent stuck priority tags onto my bags. Swiss seem to be very meticulous about this. I once had a row with a BA check in agent who refused to tag my back as Priority when I was flying in First- she told me that it made no difference anyway(!) but that's another story...
As there is no lounge at LCY, business class passengers are given a £4.00 voucher to spend on refreshments whilst waiting for the flight to leave.
I took the escalator up to Security, passed through very quickly and found a seat by the window where there are excellent views of the apron. As you can see from the photos, it was a beautiful day to fly.
Euromanx RJ-70, due to depart to IOM.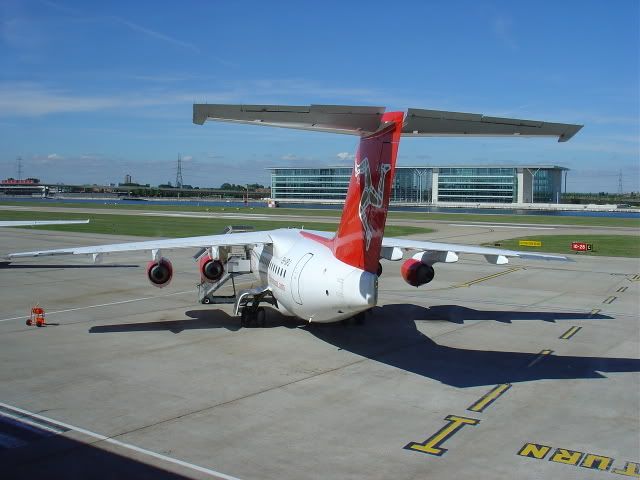 It was a relatively quiet day at LCY- there were a few VLM departures to Antwerp, Manchester and Liverpool, as well as the EuroManx to Douglas. There was also an LX Saab in Crossair colours waiting to depart to BSL.
The incoming aircraft from ZRH arrived on time at 14.40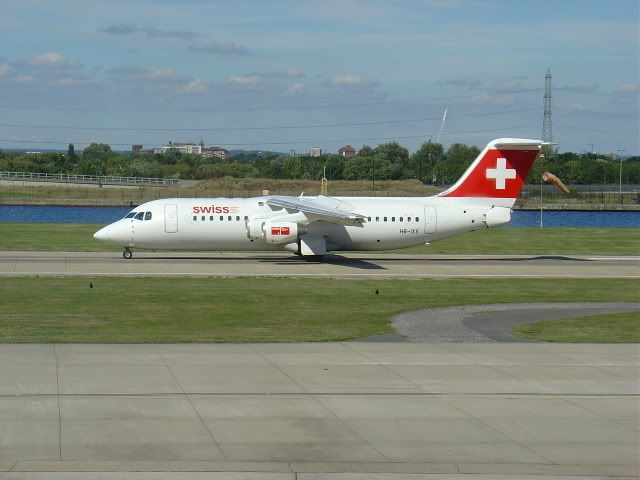 HB-IXV taxiing to Gate 9 at LCY
After spending my £4 voucher on coffee and chocolates, the flight was called, departing from Gate 9. Although LCY is wonderfully small, it does feel like something of a trek to Gate 9!
As the flight was only 40% full, boarding was quickly done through both the front and rear stairs. As this was my first flight on an RJ-100, I was excited to say the least! I was expecting the cabin to be feel cramped and small, but I was pleasantly surprised. The cabin was showing some signs of wear, however.
Pre-flight drinks were served, and the crew busied themselves, handing out towels, hanging jackets and generally settling passengers in for the 1.15 flight to Zurich.
The Maitre de Cabine asked if I would prefer to move to Row 1 on the right-hand side, as there were lots of free seats, so I did. After clearing glasses and performing the safety demo, we were soon taxiing down the runway to do a 180 degree turn before taking off in towards Canary Wharf. I was looking forward to experiencing the STOL capabilities of the RJ-100 and, probably helped by the light load, I was not disappointed!
On take off we turned sharply to the right over Stratford and headed eastwards down the Thames. There were some wonderful views of the Thames estuary during the initial part of the flight, and I noticed how manoeuvrable the RJ100 seemed compared to other aircraft such as the ATR that I have taken from LCY.
The attendant serving the business class cabin came around to take orders for aperitifs. Of course, it had to be the superb Nicolas Feuillatte champagne that Swiss offer. Of course, Swiss crew are impeccably trained, and always pour the champagne very correctly, displaying the label and holding the glass by the base.
Lunch was served as we overflew Brussels, and the Captain made an announcement that our routing would be Brussels- Luxembourg- Basel- Zurich, and that we would be arriving 10 minutes early. This was not a problem for me as I would have just over 2 hours in Zurich anyway.
Lunch: Salad with Hot Chicken and Potato Rosti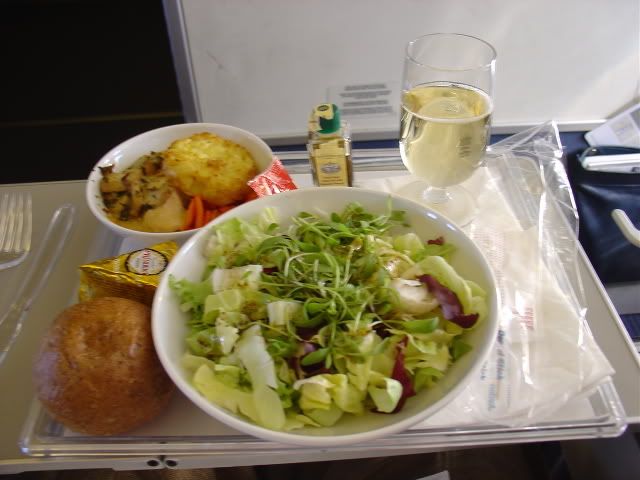 I was surprised to get a hot meal on this flight, as whenever I flew to ZRH from LHR, we always had a cold meal. I am wondering if both sectors to and from City are catered from Switzerland?
Although the salad looks quite overwhelming in the photo, it was very tasty and the hot chicken was a good accompaniment. More bread and cheese was repeatedly offered.
This was followed by Movenpick icecream in a choice of flavours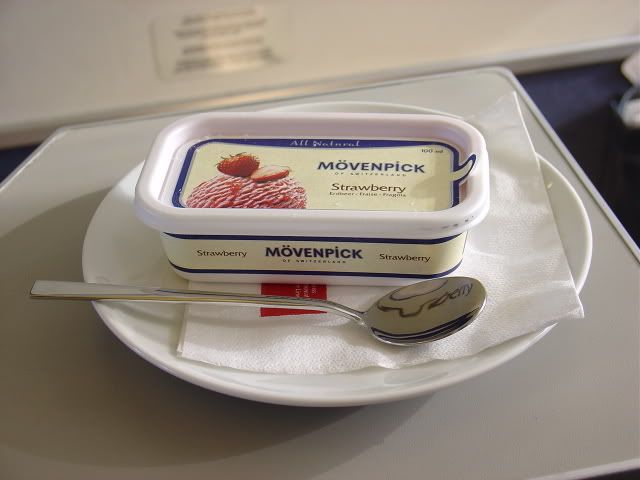 Next it was time for coffee, and the delicious chocolates that they hand out on Swiss.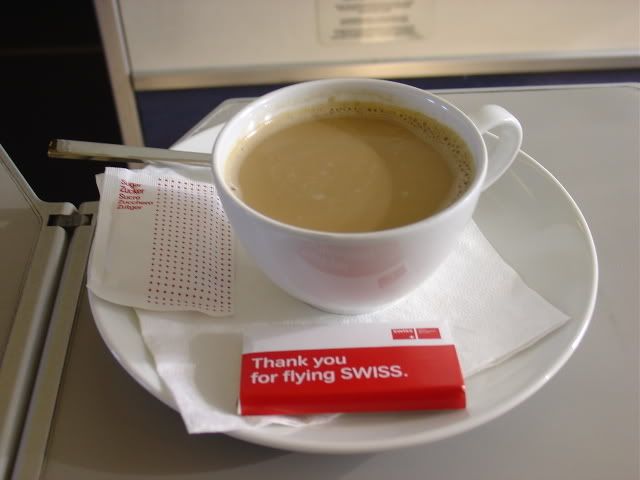 Although the flight was relatively short, it amazes me that the service feels so unhurried and relaxed. The light load helped, but this is also the case on busier flights that I have taken with Swiss. Whereas other airlines almost throw the food at you and disappear, on this flight I was constantly being offered refills of champagne and coffee. Swiss crew are consistent in making passengers feel welcome on board, and it makes the flight go very quickly.
I just had time to buy a travel adaptor from the duty free trolley and we began our descent into Zurich over pristine towns and villages and the beautiful Swiss countryside.
Swiss have rationalised the allocation of gates at ZRH to make connecting easier, and it was only a short walk to the Swiss lounge. We arrived shortly before 18.00, and I was interested to note that the gate for my onward flight at 20.25 was already displayed. Why is it that at Heathrow the gate often appears seemingly at the last minute?!
Zurich airport provides very easy connections, and the Airside Center is a breathtaking piece of architecture.
The Airside Center at Zurich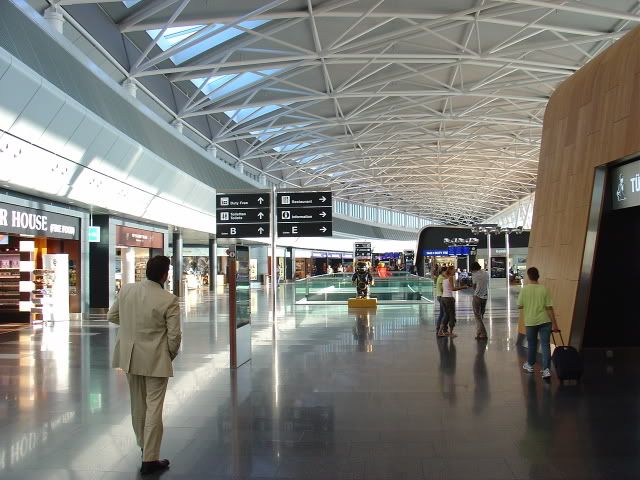 Late afternoon at ZRH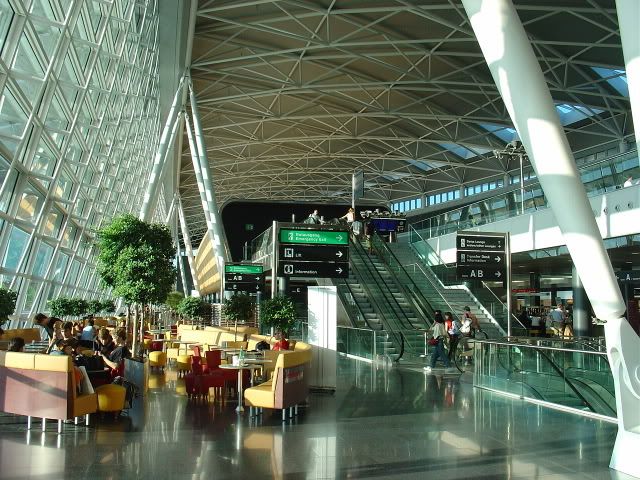 Edelweiss A-330 (apologies for reflection in photo!)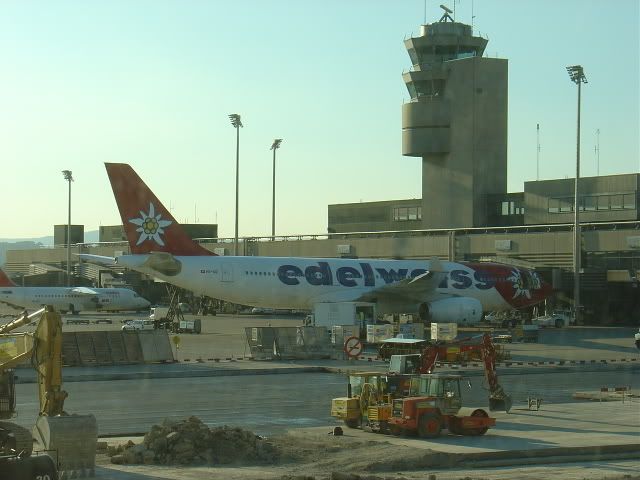 After a wander around and a look in the shops, I headed for the Swiss Lounge. Since my last visit, in addition to the model of the Swiss A340 that welcomes you at the entrance, there is now also a Lufthansa A340- signs of the increasing closeness of the 2 carriers.
As a regular user of the Swiss Lounge, I prefer the bar rather than the main lounge area, purely because it tends to be quieter. Swiss makes a big deal of the bar at Zurich being the longest bar in the aviation world. I have even seen magazine ads about this, and there is a sign in the lounge to this effect.
Having said that, it is certainly impressive!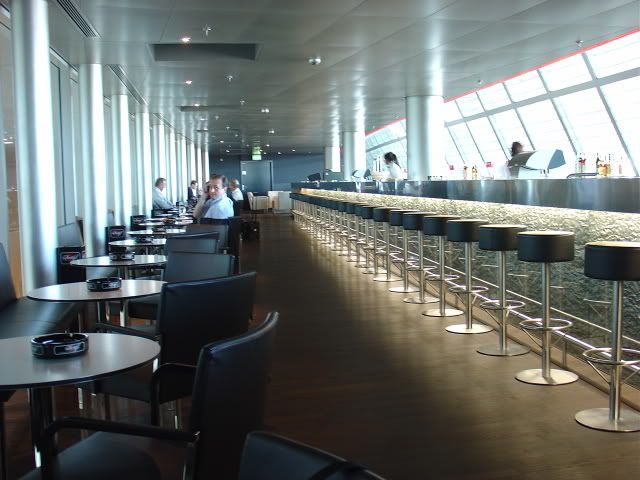 My only criticism is that there is only 1 departure screen at the very far end of the bar. Most people tend to congregate near the entrance, so this means that passengers have to walk the length of the bar to see flight information. Perhaps this is Swiss's way of subliminally imprinting on our minds that this is indeed the longest bar in the aviation world...
Entrance to the bar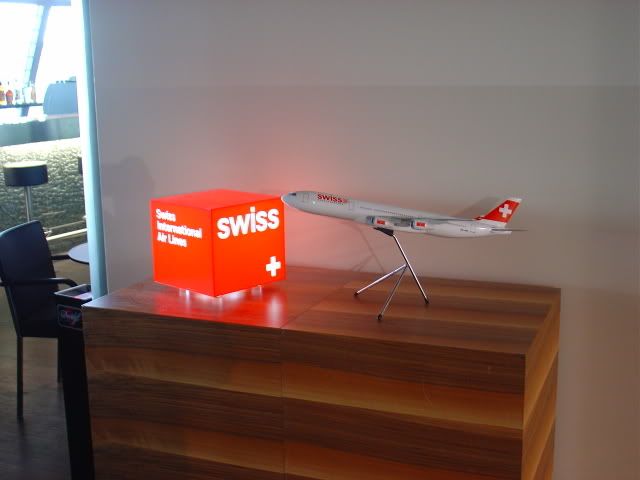 I really like the lamps, which are available for purchase on the Swiss website.
I think that you would have to be a total fan of Swiss to buy one, although I have bought a polo shirt, mouse pad, model plane and note bloc from the site, so the lamp is probably just a matter of time!
Time passed quickly and it was soon time to board my onward flight. It was departing from Gate A62- immediately adjacent to the lounge after security, so there was no need to hurry at all.
Monday, August 29th
LX1842 Zurich- Athens
Dep ZRH: 20.25 Arr ATH: 23.55
Swiss Business Class

Airbus A321
Seat Allocation 4A
When I arrived at the gate there was no queue to board, and upon taking my seat I noted that the loads for the flight were about 50% in Business and 80% in Economy. The Swiss A321 fleet has not been refurbished along the lines of the A320's and are littled changed since the time of Swissair. I didn't get the reg, unfortunately.
Cabin View from my seat- Note the timetables available to take away- how many airlines still do this, I wonder?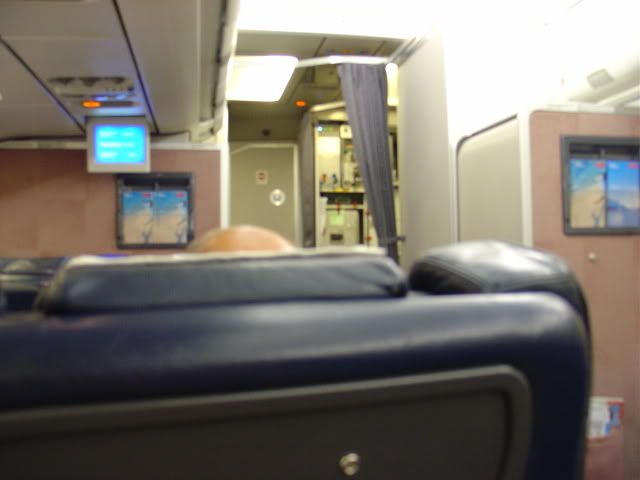 It was time for more towels and pre-flight champagne. We were then informed of a slight delay of 15 mins due to heavy departure traffic at Zurich, but this would not impact on our on time arrival in Athens. After the safety demo on the drop down LCD screens, the safety announcement was played in German, English and Greek. There was also a selection of Greek newspapers and magazines such as The Economist, Newsweek, Vogue etc.
We took off just after the sun went down and immediately headed south over the city of Zurich. Our routing would take us east over Austria, then over Slovenia, Bosnia-Herzegovina, Serbia and Macedonia entering Greece north of Thessaloniki. As it got dark very quickly, there were no views of the Alps to be had.
During the flight promotional videos about Swiss and events in Switzerland are played. I noticed that LH is now figuring very prominently in these.
The aperitif service began with pretzels and a choice of drinks- yet more champagne. On this flight orders were taken individually for both drinks and food, with two crew members working the business class cabin.
This made for very unhurried, personalised and pleasant service on a flight of 2h 20 mins. In fact, the meal was also served course by course, the first course being a lovely, and very refreshing gazpacho.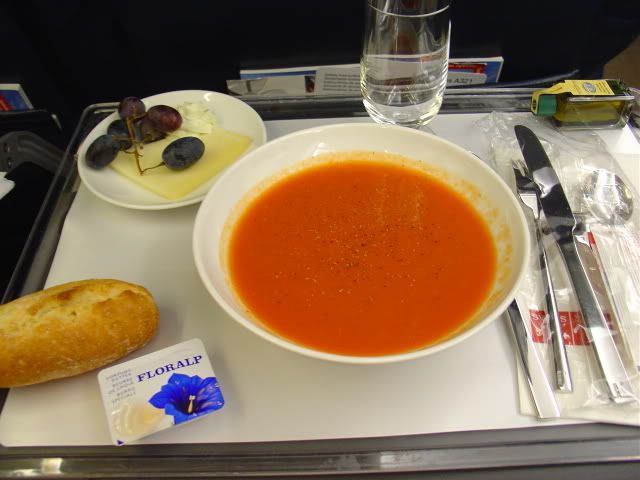 And of course, the giant-sized pepper mill was reguarly brandished by the crew at every opportunity. I think that it is a really nice touch.
The main course was a choice of beef or curried tofu. I think that everyone opted for the beef.
Main Course: Beef Stroganoff with Spatsle and Green Beans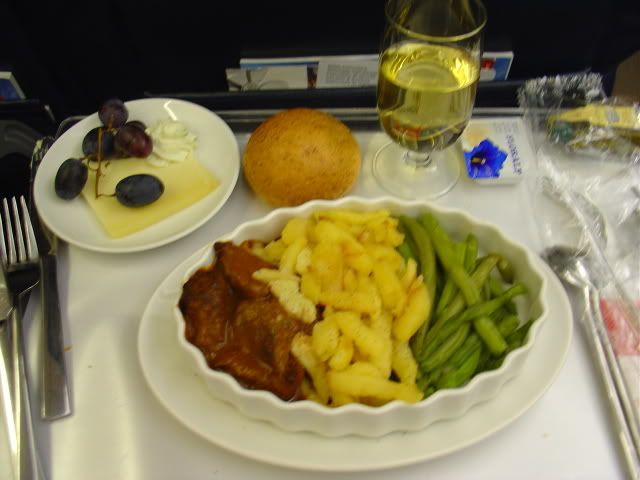 It was very tasty, washed down with white wine from Switzerland.
Next came more Movenpick ice cream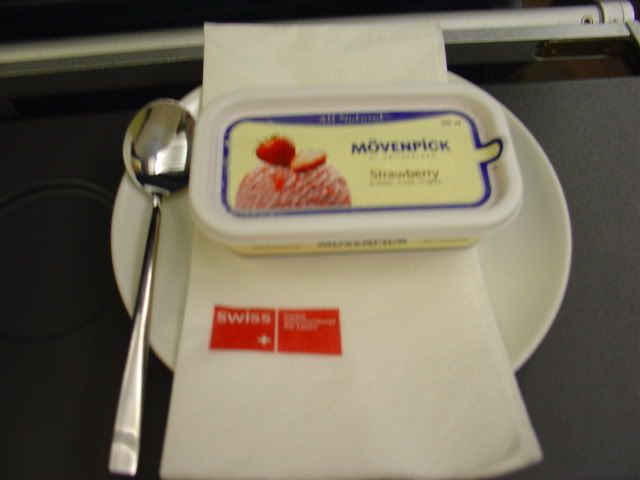 Followed by coffee and chocolate- lots of it!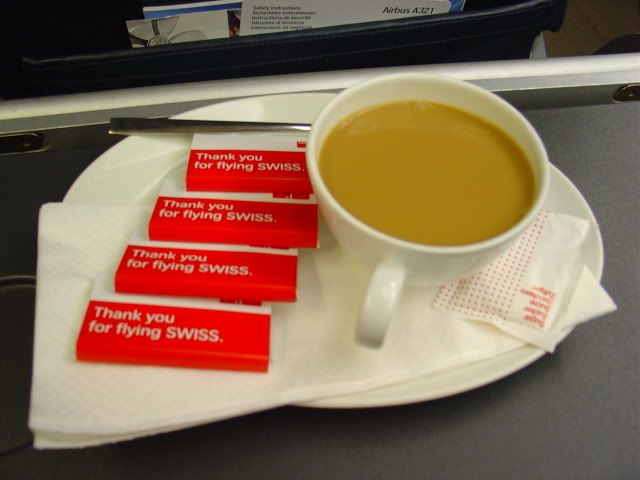 The service and quality of the food and presentation was very high, especially for an intra-European flight. By now I was feeling a bit tired, but the unhurried service made the flight pass quickly, and soon we were making our descent over the island of Evvia and Attica. I always feel excited to arrive in Athens at night, and the infrastucture relating to the new airport gives a very modern image of Greece in the 21st century.
We were bumped around quite a bit on final approach due to a fairly strong crosswind, but made a smooth touchdown on schedule.
The airport was fairly quiet in terms of arrivals at that late hour. An El Al flight from TLV and the AF flight from Paris were recent arrivals.
As I have witnessed on some Swiss flights in the past, the Captain came out of the cockpit to bid farewell to the passengers. It is a nice touch.
Whilst not approaching the architectural heights of Zurich, Athens airport is very modern, clean and user friendly. My only gripe is the €1 charge for a trolley at baggage reclaim. Passport control was very fast with no queues, and the bags took about 15 minutes to appear on the belt, with business class bags emerging first.
I then cleared customs and took a cab to my hotel.
After a few days in the beautiful Athens sunshine, it was time to head home.
Friday, September 2nd
LX1831 Athens- Zurich
Dep ATH: 14.20 Arr ZRH: 16.05
Swiss Business Class

Airbus A321
Seat Allocation 4A
Although the Syntagma metro station was outside my hotel and the metro is very good for getting to the airport, I decided to take a cab again. There is also a very good express bus service from Syntagma Square.
The taxi driver asked me which airline I was flying, and dropped me at the correct entrance for Swiss check in. There was only 1 person ahead of me checking in, but this being a Friday afternoon, the flight would be full.
I checked my bags through to LCY and also collected my boarding card for the onward flight from Zurich. One thing surprised me- I gave the check in agent my passport, and she retrieved my booking without even needed my itinerary or booking reference, so I am assuming that she retrieved my booking using my surname?
I was given an invitation to the Swissport lounge also.
At Athens airport, the shops are better in the Schengen area, and passengers can go into the Schengen area of the terminal, shop, and then go back to the non-Schengen area. However, this means that you can buy something in Duty Free and then re-enter the terminal, and in theory, hand over your purchases to someone else.
I had a quick browse around the Schengen shops (can't wait until Switzerland joins in 2007....) and then went back to the non-Schengen boarding pass control. There are always queues here as this part of the terminal handles intercontinental flights. Today, there were lots of people taking the SQ flight to Singapore, and an LY742 to TLV. In some ways, the design of the terminal at ATH is very good in that there are mutiple security checkpoints, depending upon the gate that your flight is leaving from.
I made my way to the Swissport lounge at the far end of the terminal. This occupies a corner position with views over both runways and the satellite terminal- one of the best spotting locations at Athens.
The lounge is used by a host of other airlines- notably EK, QR, RJ and many others that I can't recall. Another bonus is that each airline offers its own magazine, so you can come away with lots of reading matter!
There is quite a good selection of food and drinks on offer also, and it feels quite spacious. It has a very modern feel. In fact, the furniture is from Habitat.
Boarding time approached and we were duly called for the flight. Security was quite fast, despite getting caught up with the El Al passengers.
HB-IOK- waiting to take me back to Zurich.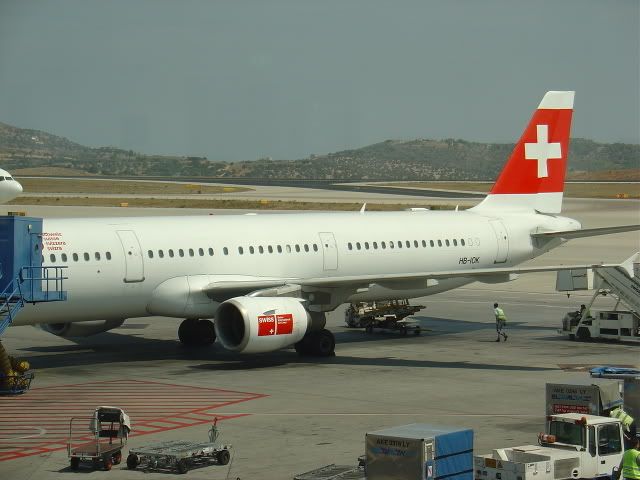 Although the flight was full, boarding was quick and easy, and I found myself once again in a Swissair identi-kit A321. By now I knew the drill- towels and pre-flight champagne.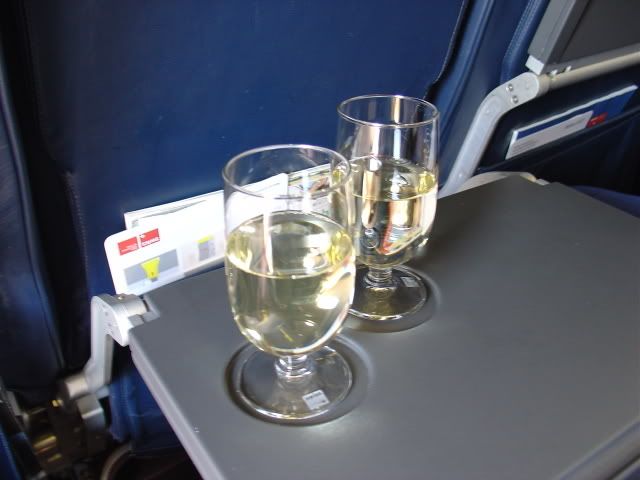 I was glad to see that service standards were consistent despite the full load.
We were parked next to the LY742. Looking closely at the nose section, I noticed that the nose section could be opened for cargo.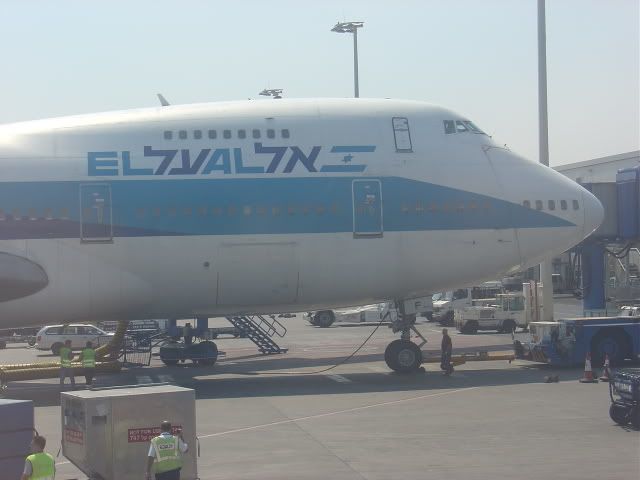 Pushing back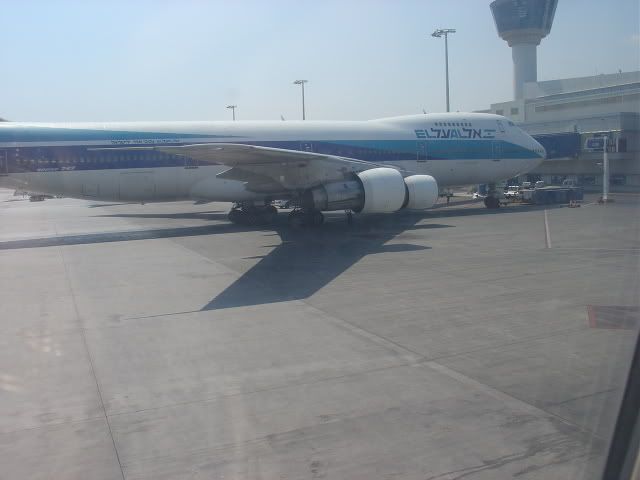 This time, safety announcements were in German, English, French and Greek.
Glasses were quickly cleared away as we pushed back for the relatively short taxi to the holding point. I took some photos from my seat as we began the takeoff roll- not very good quality...
The satellite terminal at ATH- mainly used for charter flights, I think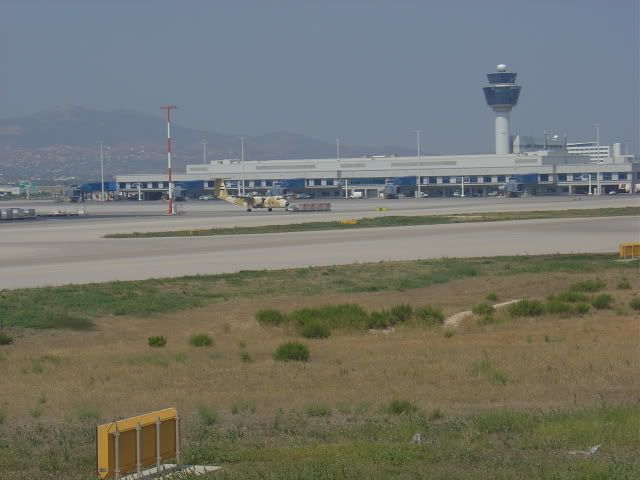 In this photo there is a Jet Airways A340 parked- I didn't know that they flew to Athens. Also OS, EK and SK aircraft, together with the LY 742 being towed out.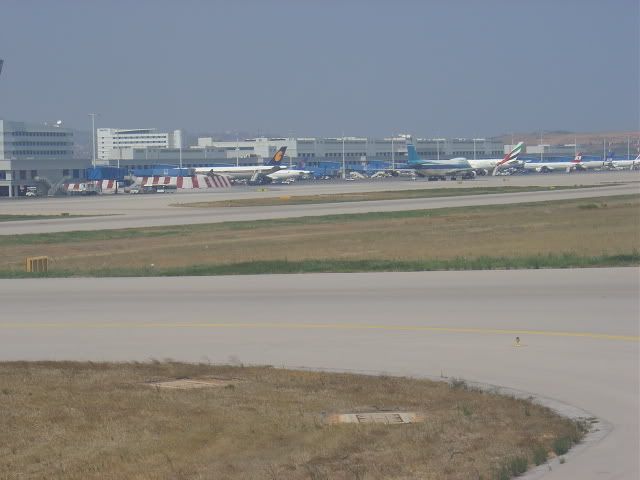 The control tower at ATH
We headed north east from the airport and then turned north west on a routing that would take us over the Corinth Canal, Gulf of Corinth and Corfu, before following the heel of Italy and tracking the east coast and Adriatic Sea, Milan, Lake Maggiore and Lake Constanz on approach into Zurich.
Overflying the heel of Italy.
One of the reasons why I like Swiss so much is that they are consistently good, with friendly crew who are welcoming and at least give the appearance that they enjoy their jobs. I have to say that on this flight, the female Maitre de Cabine was quite severe, almost to the point of being almost scary! It is not that she was rude, but she was definitely on the brusque side of efficient, and quite forbidding. I think that this was noticed by my fellow passengers, many of who made faces or remarked to each other. But her colleague was very jolly and friendly, and mitigated the shortcomings of her co-worker somewhat.
This photo seems to encapsulate the service ethos of LX...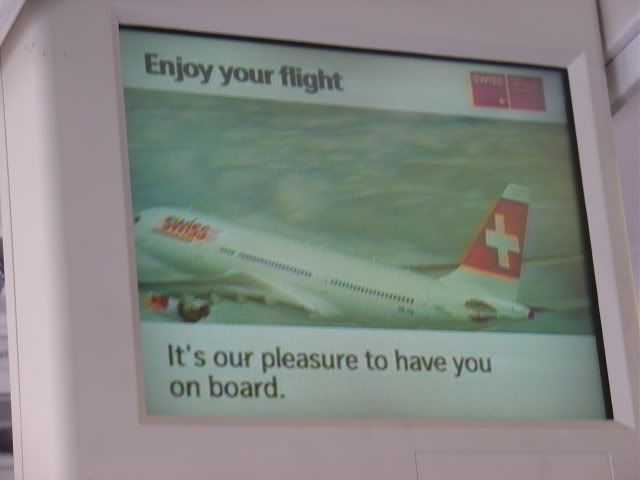 Aperitifs were served with pretzels- same selection as on other flights.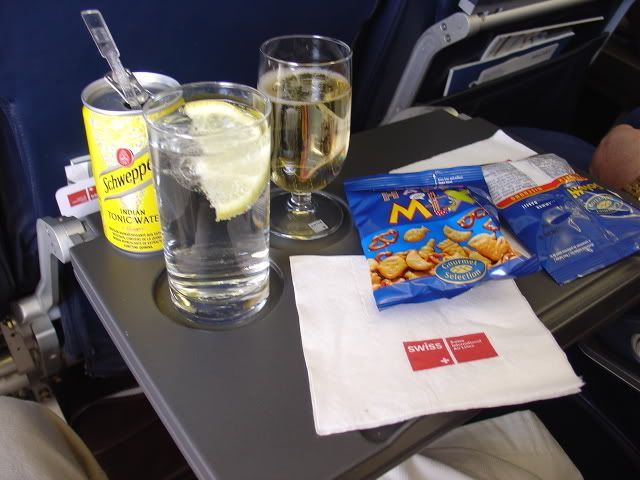 This time I decided to go for a refreshing gin and tonic. Again each course was served individually.
I had a "Groundhog Day" moment when the gazpacho made another appearance.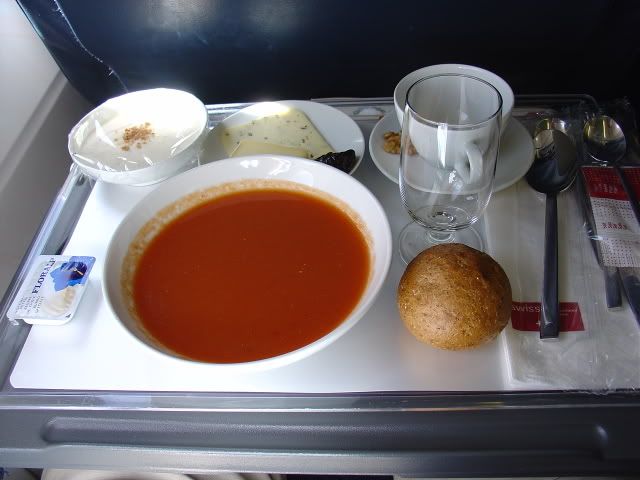 Main Course served separately- Beef with Mashed Potato and Red Cabbage, washed down with Swiss wine- and very nice too!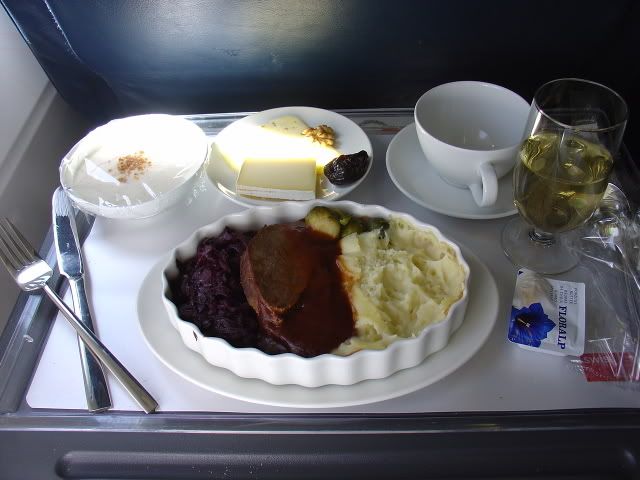 On this flight, instead of ice cream, dessert was an amaretto mousse- very tasty. The inflight information did mention the availabilty of ice cream on long haul flights.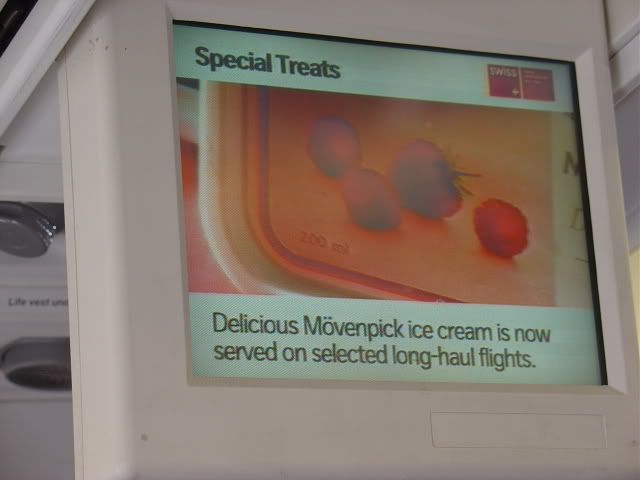 After the meal was cleared away, coffee was served, with more "Thank You For Flying Swiss" chocolates. This was followed by glasses of iced water and hot linen towels instead of the usual plastic wrapped wipes.
We had some good views of the Alps, but cloud cover increased as we crossed the mountains, causing some mild turbulence.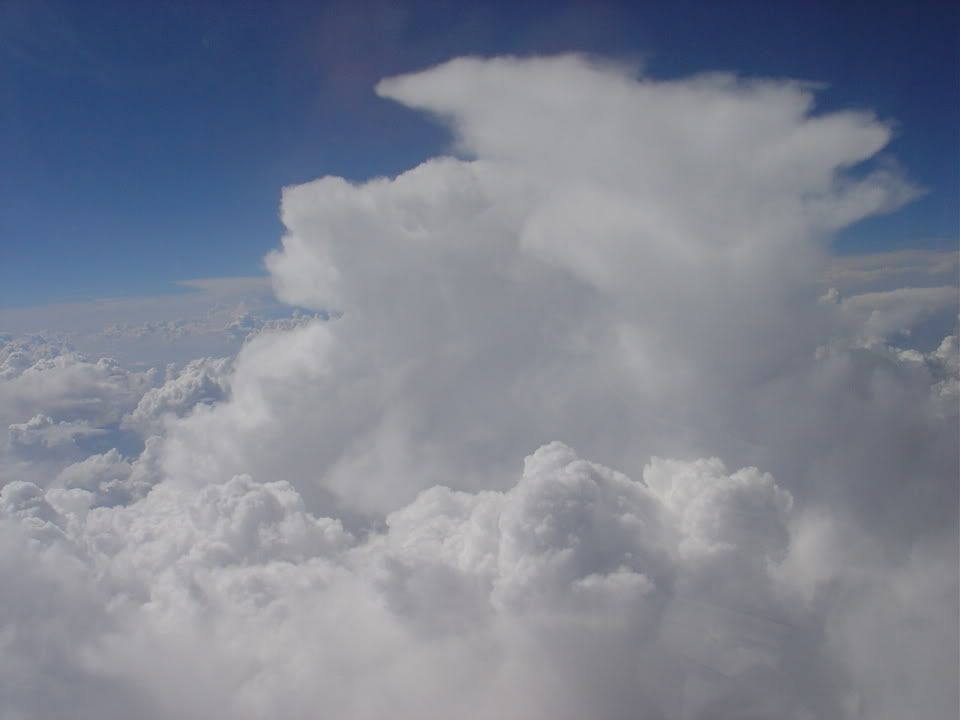 As we neared Zurich, flight connection information was displayed for the many connecting passengers. There was also information about our arrival gate and which belt would be used for luggage- indicative of the super-organised Swiss!
We would be arriving at Gate A63- again, almost adjacent to the Swiss lounge, so no long walks, even though I would have 2 hours to kill.
Soon we were over Lake Constanz and then the familiar Swiss landscape came into view on our final approach into Zurich.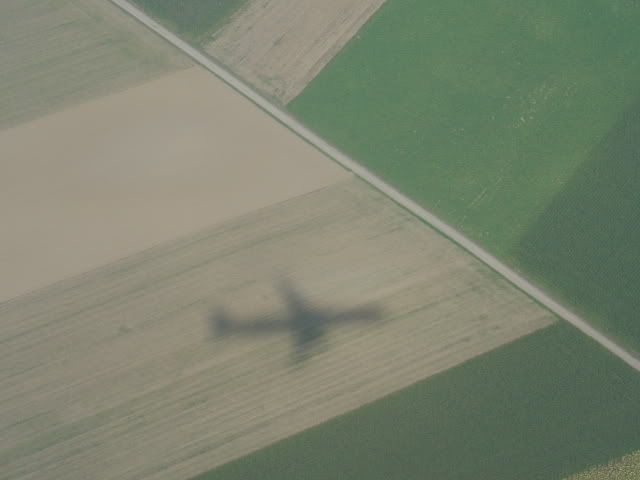 I was in no hurry to disembark, and I made my way back to the Airside Center. Before going to the Swiss Lounge, I decided to have a ride on the Skymetro to the E Gates. The station is directly underneath the Airside Center, and trains are fast and regular. Needless to add, everything is well laid out and spotlessly clean.
Skymetro staion at Terminal E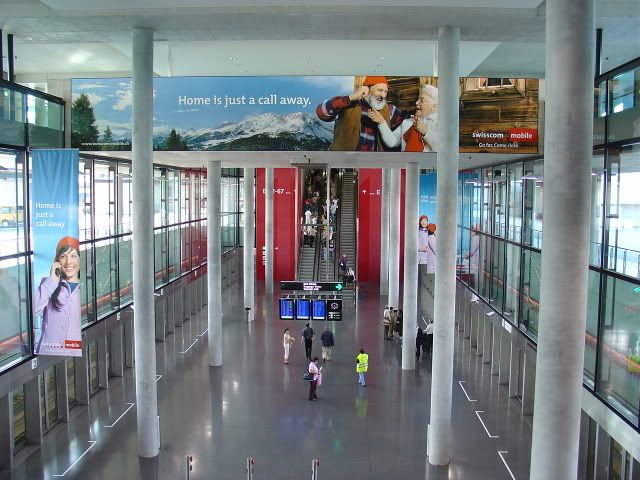 This photo gives some idea, but does not entirely convey the enormous and impressive scale of this building.
View of the A Gates and control tower from Terminal E.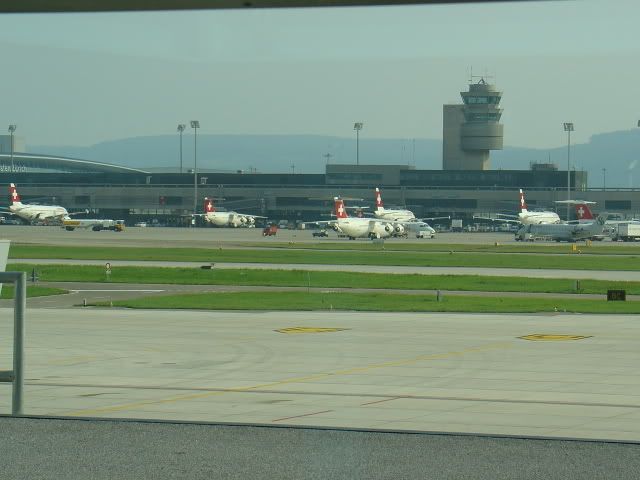 Then I took the train back to the Airside Center and bought some Navyboot shoes.
Then I took some shots of my favourite tails (apologies for the quality- the windows need cleaning badly at ZRH!)
Heaven for Swiss nerds like me....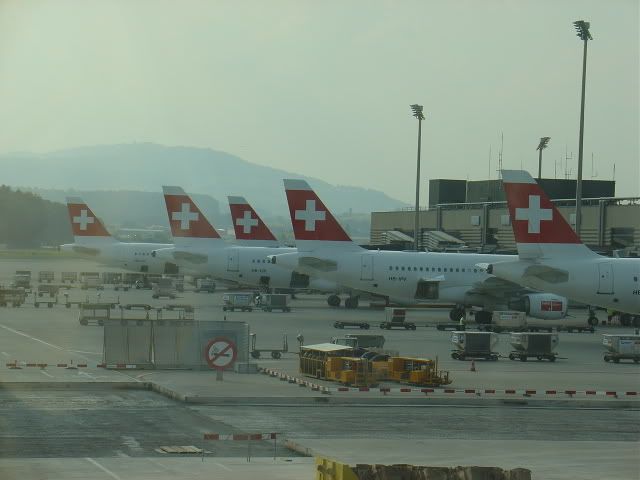 Friday afternoon scene at ZRH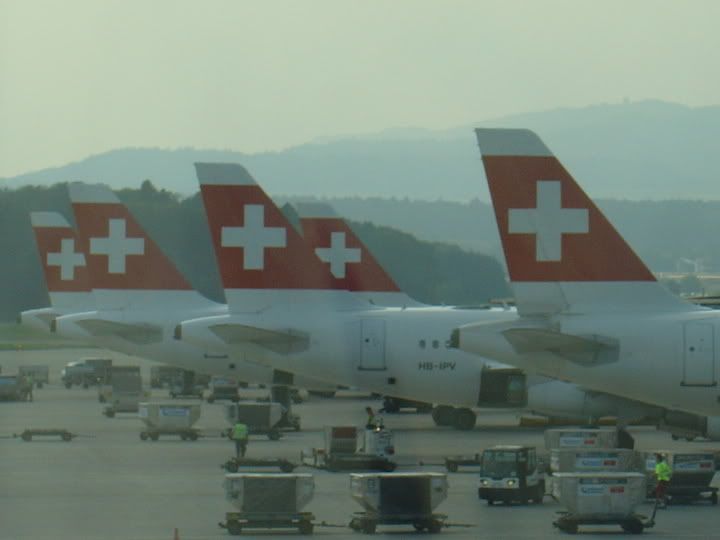 I headed back to the bar in the Swiss Lounge to wait for my flight. It was a lot busier than on the outward journey, and quite smoky this time.
After a couple of beers, I made the very short trip back to the gate where the RJ100 was waiting to take me on the final leg of my trip.
As it was a Friday night commuter service, this time there was a long queue for boarding. I also spoke to a few people who had been re-routed by BA from a BA flight to Manchester which was delayed. They were thus re-routed on Swiss to LCY, and onwards by VLM to MAN.
As a result, the flight was 100% full. I didn't take any photos on this flight, but the service was very similar to the other flights on this trip. As usual for a Friday night, there would be an ATC-related delay- but only of 20 minutes or so. The captain emerged from the cockpit, picked up the intercom and stood in the aisle to inform us of the delay. In case an earlier slot came available, no pre-flight drinks were served, and the airbridge was retracted in preparation for departure.
Another powerful RJ-100 takeoff, and we were heading home towards London.
This time the meal was served from a trolley- hot chicken salad with rosti- identical to the outward trip, or spinach gnocchi. I opted for the latter, which was very good, followed by more Movenpick ice cream and coffee. This flight was unremarkable except for the behaviour of a fellow passenger that was frankly odd. This guy did not stop pestering the crew for the duration of the flight, even trying to interrupt the safety demo. He was incredibly demanding throughout the flight, spilt wine over his neighbour and had to be barred from using the toilet on approach into LCY.
My poor impression of this guy was confirmed at baggage reclaim where he tried to proposition 2 different women!
The approach into LCY was made over the City, and the views were spectacular as always. For the first time I had the impression that the approach into LCY really is very steep!
The ramp was busy as usual for that time of day on a Friday evening, and the return to Gate 9 marked the full circle of my trip. Passport control was quick and efficient, and my bags were amongst the first to emerge on the carousel.
I then took a cab home, glad to avoid the usual Friday night scrum at Heathrow.
All in all I was very happy with the Swiss experience on this trip. All flights were punctual and the Swiss crew (with one exception) really gave me the impression that my custom was valued.
The training of Swiss crew is evident in the way that they interact with and serve passengers, and it leaves most other airlines, and BA in particular (one of my few points of comparison on this route) in the shade. For most people, connecting to go from London to Athens is a pain, but for airline nerds like us, and Swiss aficionados in particular, it is a pleasure.
On top of this, the attractive fare, Swiss Travel Club miles, and the excellent service from start to finish, makes Swiss the only way to travel in Europe!
I hope that you enjoyed the report. Hope that it wasn't too long!
Any questions and comments are welcome.
Thanks for reading it.