Sunday, September 4th, 2005
Continental 267 IAH-SEA 2:30p C19 (IIRC)
737-800 (winglets) seat 12E (emergency exit row
Traffic at IAH was light as most Labor Day travellers were at their destinations; with that said I still opted to check in for my flight to SEA at Terminal B like I normally do for CO mainline to avoid Terminal C congestion. I hopped on the TerminaLink over to C and walked down to C19; it was sad to see a red 'cancelled' designation on the flight board to all flights to Gulfport/Biloxi and New Orleans. I spotted the new Russia Jet Direct Service operated by Ryan International 757 pushing back from Terminal D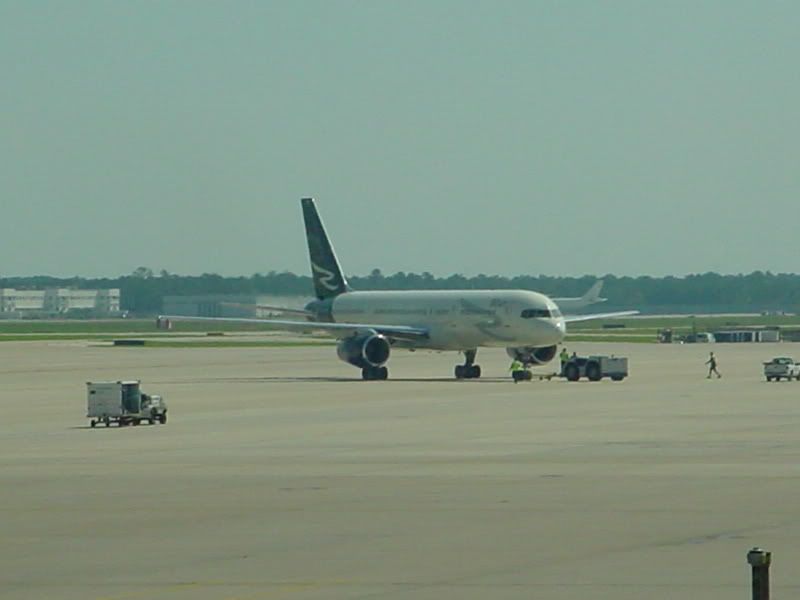 We pushed back and taxied out to 15R for a quick and on time departure.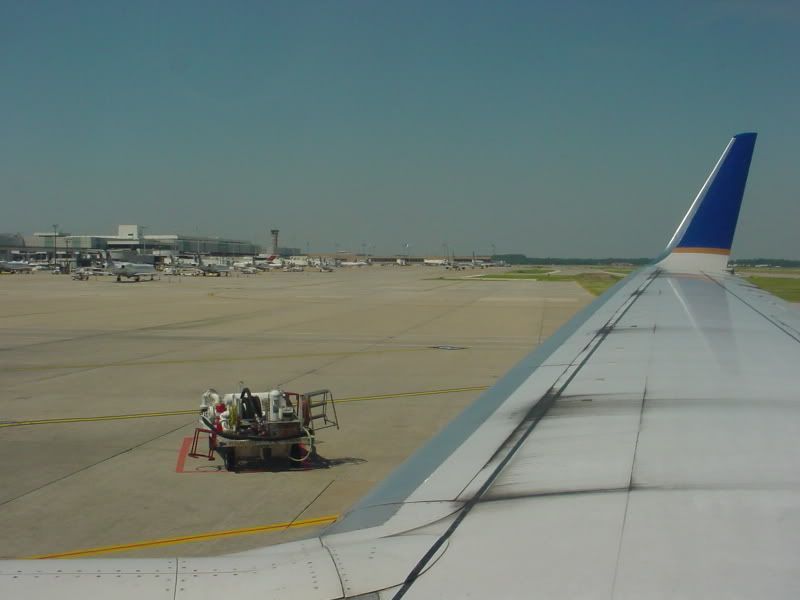 The flight was uneventful--meal was a tasty hot Bar BQ sandwich and carrots (IIRC), 2 drink services, and a short subject sitcom following "The Interpreter". A little over 4 hours later we came into Sea-Tac over downtown to land on 16R. Arrival gate was B11. Spotted the EVA Air 74E from Taipei--preparing for its continuation to EWR. Since my girlfriend commandeered the window seat for this leg--not a whole lot of outbound pics. We deplaned and picked up the rental (a Mazda 6) and checked into the Westin Seattle downtown.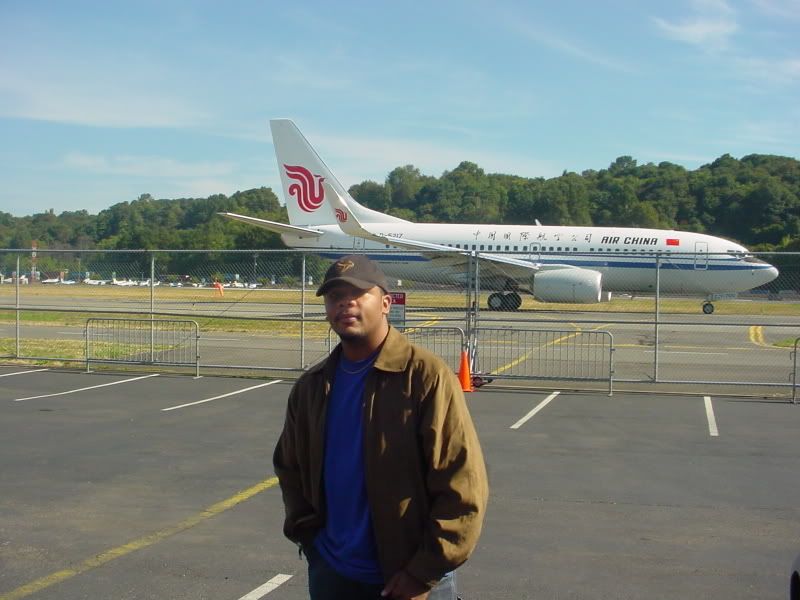 Here is a pic of me and an Air China 73G at BFI--this plane took off--not sure if it came back or if it was on a delivery flight.
Wednesday, September 7th, 2005
Continental 166 8:30am SEA-IAH B11
757-200 Seat 32F
For our last night in Seattle we stayed at the Doubletree Sea-Tac (for the views of the airside)--we awoke early and I snapped a few morning shots before heading over to SeaTac for the 8:30a departure. I caught FedEx MD11 landing on 34L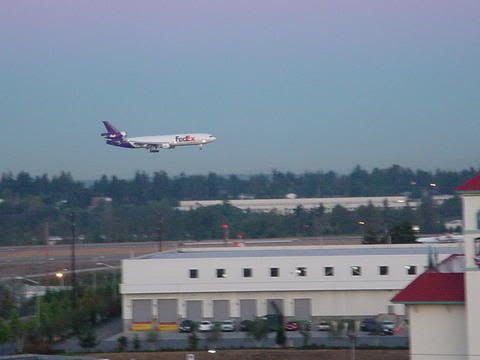 and the early morning CO 757-300 to IAH leave on 34R.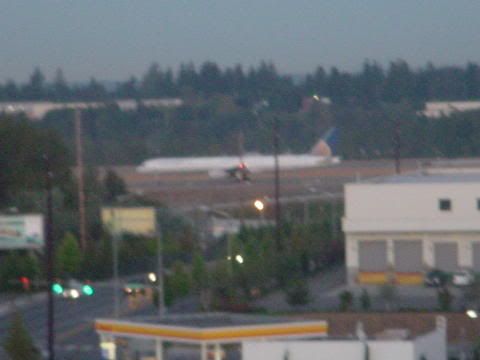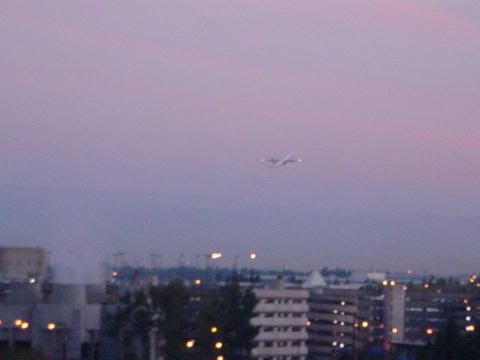 The Doubletree affords good views of the A, B, and S aprons.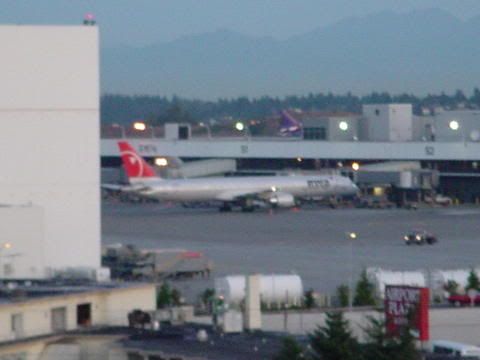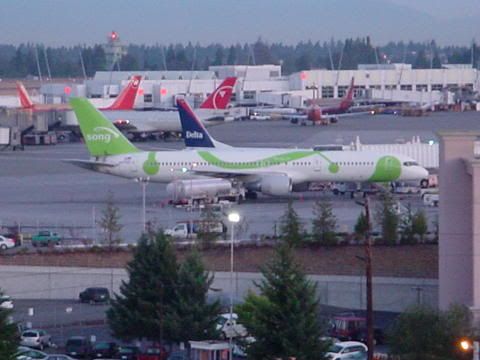 We arrived at Sea Tac with about 1 1/2hr to spare--the checkin for Continental was rediculous--the line wrapped around the place back past the security checkpoint. We went outside and used this asshole skycap--he got a real nasty attitude with this lady that was trying to checkin for a NW flight (Continental codeshare).
We made it through security in very little time--this time I was at the window so I was able to get alot of pics. We departed on-time on 34R; the route took us over BFI and back south past Mt. Rainier and Mout St. Helens--out over Boise, ID, with decent coming shortly after flying over the metroplex. After "Kicking and Screaming", a short subject, cereal with a stank banana (I HATE BANANAS), and 3hrs and 45min of flight time; we arrived on 8L, parallel to an ExpressJet ERJ145 landing on 8R. We arrived at 2:25p; so all the euro heavies could be seen at Terminal D. Wedged in between the KLM 744 and a BA 777 was a Transmeridian 757--inbound from CUN for Funjet no doubt. OUr arrival gate was C16.