On 12th of September, two airlines started new routes from STR - Dauair with Metroliner to PAD, and HLX with B737-500 to HAJ. As this day was a day off for me, I decided to do a just-for-fun daytrip on one of these new routes. Flying the Metroliner would certainly have been much more stylish, but HLX was simply cheaper, so I booked HLX to HAJ on their website - didn't get the 19EUR tickets once again, so I paid a total of 61.63EUR all-inclusive for both flights.
STR-HAJ
HLX4151
12 Sep 2005
STD: 08:35 ATD: 12:17/12:35
STA: 09:45 ATA: 13:09/13:15
B737-700
D-AGEU
Delivered to Germania 11 April 1998
View Large
View Medium


Photo © Alexander Gaida
This aircraft used to fly charter for Germania
View Large
View Medium


Photo © Fred Seggie - WorldAirImages
While flying for Germania, it was also promoting the Siemens mobile phones - those were the days, Siemens has just recently sold their mobile phone branch to South Korea...
My train arrived at the airport at 07:00 and I went straight to the HLX check-in counters in Terminal 3, counters 300 - 302:
View Large
View Medium


Photo © Markus Moßhammer
This would be HLX' first STR-HAJ flight. When DBA introduced their new route to NCE a few years ago, they offered free snacks at the check-in, so I was curious if HLX would do something similar. When I arrived at the ckeck-in, I saw that the passengers in front of me got some meal vouchers, I was surprised, is this the way they celebrate the new route? No, while checking me in, the friendly check-in agent told me that the flight would be delayed by at least 3 hours for technical reasons. So I got my boarding pass with sequence number 017 and a 4,50 Euro meal voucher: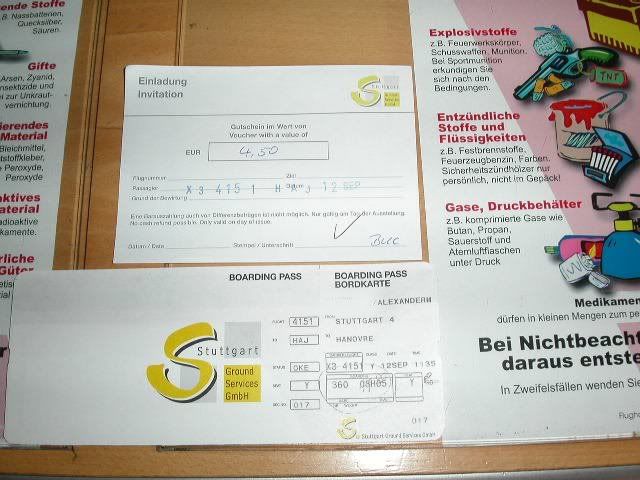 Note that the destination says "Hanovre", I guess that's French for Hanover.
Alright, boarding time would be by 11 o'clock, so what to do during the next four hours? I decided to buy something I always wanted to try, so I bought a box of Sushi at the shop in Terminal 3, went upstairs to the visitor terrace (haven't been there for years) where I had my unusual breakfast: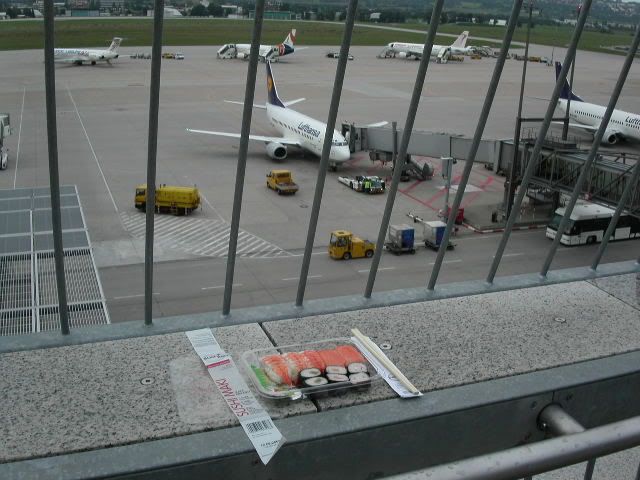 Bad idea to buy packed sushi on a monday morning - this sushi tasted so last-week... Anayway, I watched the first Dauair flight arrive, with some marketing people and possibly also a.net photographers taking pics of the Metroliner. By 10:30, I decided to go to my gate 360. The gate was rather empty, out of the 93 passengers originally booked, some had obviously decided to either cancel their trip completely or maybe also bought new tickets on LH. The 60 remaining passengers (plus 3 infants) were mostly leisure travellers. At 11:00 (boarding time), the gate was staffed and an announcement was made that the inbound aircraft would be arriving by 11:25, so boarding would start by 11:40.
Exactly at 11:40 boarding started, the friendly agent once again apologized for the delay, and we were bussed to our aircraft, D-AGEU. Originally, D-AHLI was planned for this flight, the B737-500 in Hanover Airport livery. Now it was D-AGEU, a B737-700. I boarded via the rear stairway and took my seat on something like 22F (not sure). People took their seats quickly, but again it took about ten more minutes. Boarding music was played, "Se a vida e" and "Dangerous", however not the original versions by the Pet Shop Boys and Roxette, probably to save GEMA fees. Also the quality of the tape was low, sounded just like they have played this tape 1000 times already, a bit like the cassettes in my car... Then one of the flight attendants made an announcement, asking if passenger *** would be on board. Nobody raised his hand, so I guess this was just one more passenger who decided not to take this flight and stay at home. Finally doors were closed and we taxied towards runway 25. Cabin crew apologized for the delay, and announced that the flight time to Hanover would be 1 hour and 45 minutes. What? In the english version, they announced a flight time of 45 minutes, which would probably be more realistic.
Although the B737-700 have flatscreens above every third seatrow, the safety demonstration was done manually. During the demonstration, the f/as were giggling like crazy, the demonstration was interrupted twice because the f/a couldn't read her text because of giggling so much. I wonder what was so funny, I have experienced this on earlier HLX flights already, I mean if you do the safety demonstration several times a day you should be able to do it without falling off the chair because of giggling. This seemed stupid and very unprofessional.
A Condor B757-300 taking off in front of us: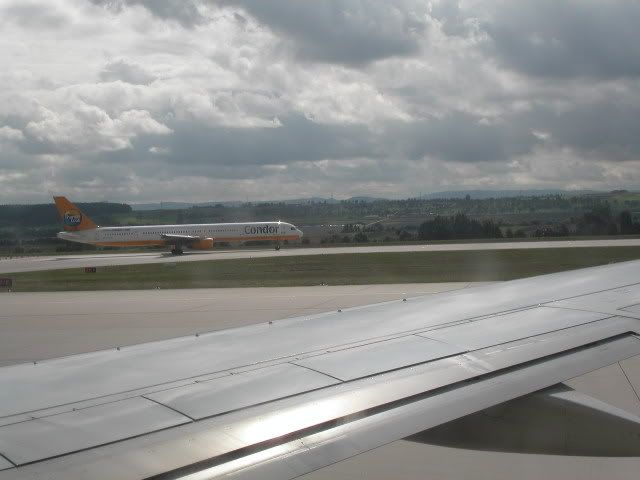 A HLX B737-700 waiting to take off behind us: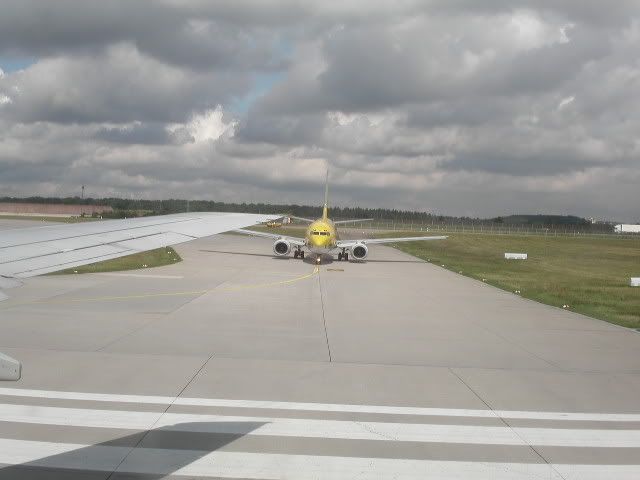 Take-off power was set, and with a delay of nearly four hours, we were pressed into our seats and accelerated.
The fire brigade: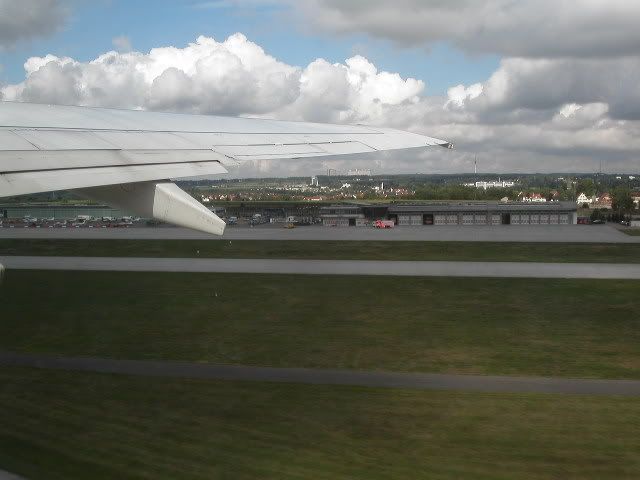 The rather empty general aviation ramp: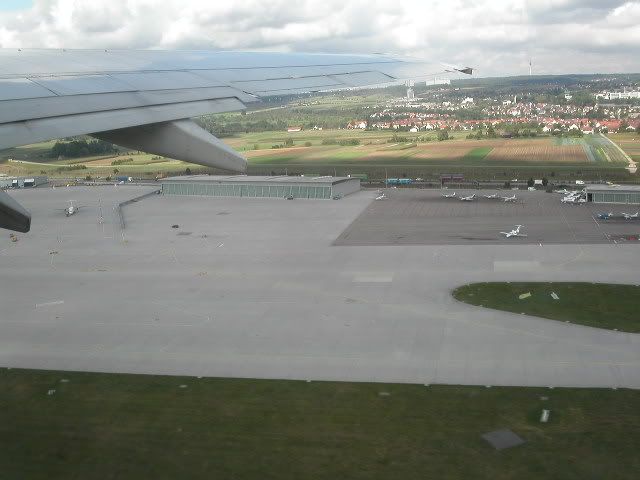 The also rather empty remote parking positions: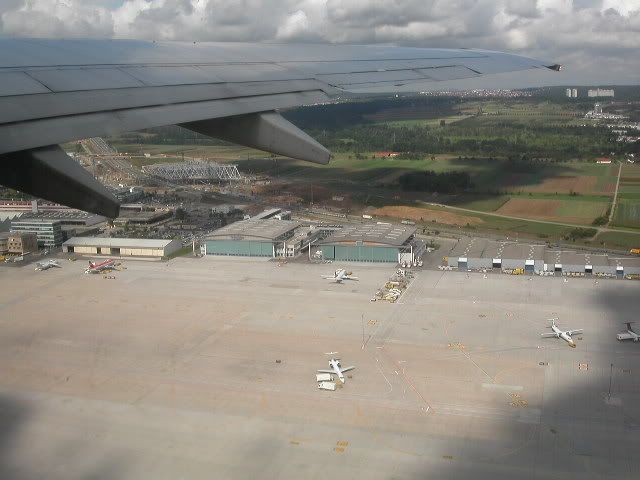 Terminal 3 with an Air France A32S and a Hapagfly A310 at the jetways: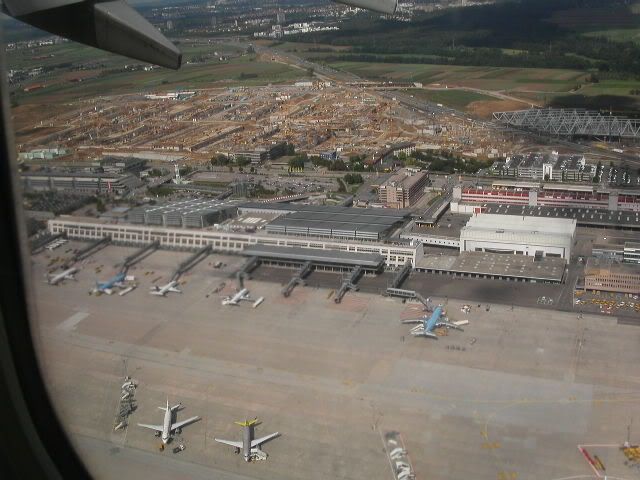 Terminal 1 with two Hapagfly B737-800s, a Lufthansa B737 and an Air Berlin B737-800: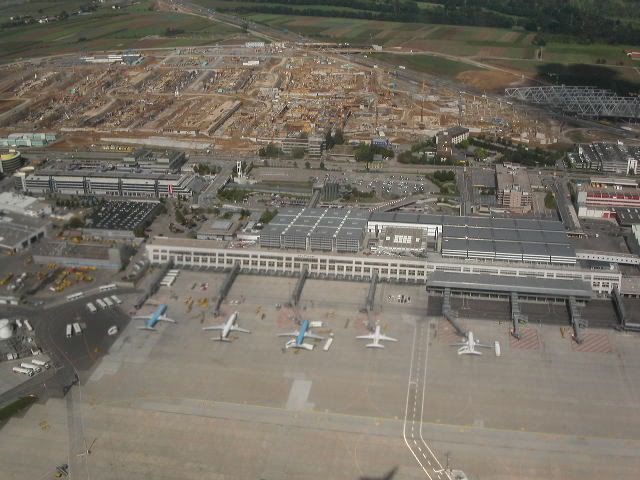 The construction site for the Fildermesse ("What a mess!", I thought):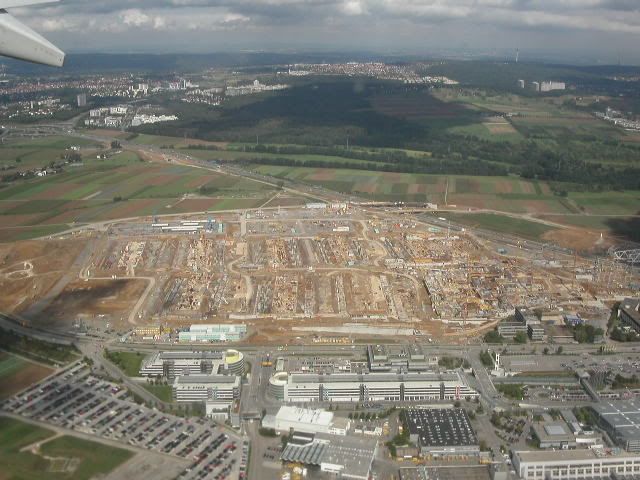 Echterdingen: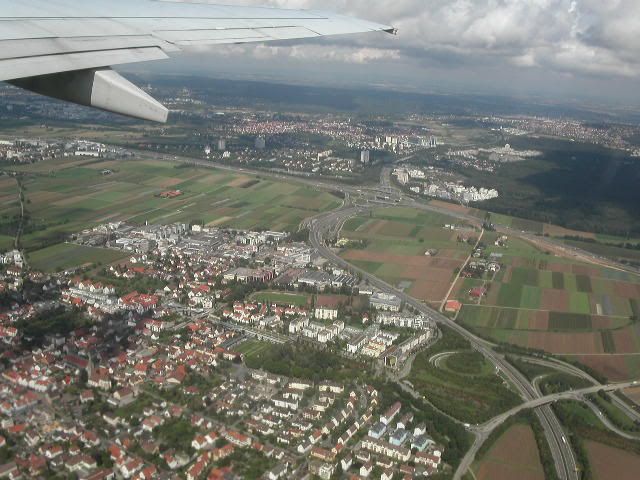 The "Echterdinger Ei":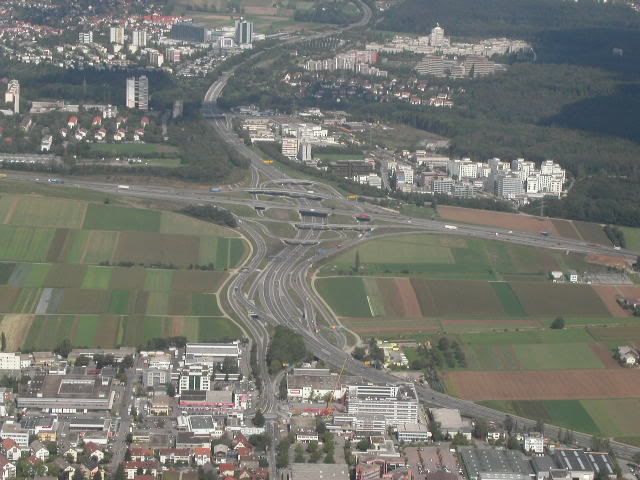 Then we were inside and later above the clouds, nothing more to see: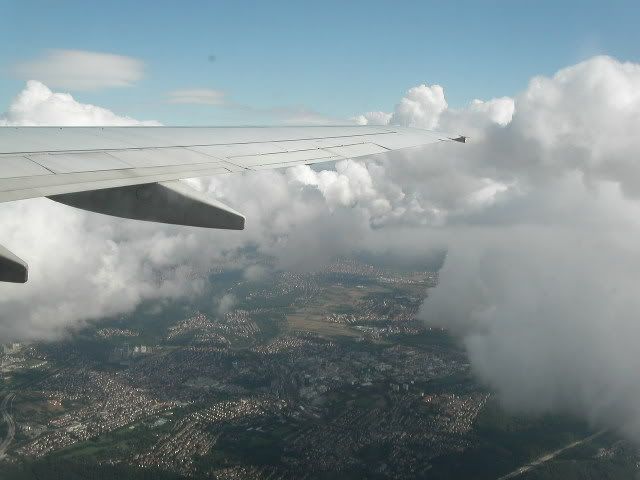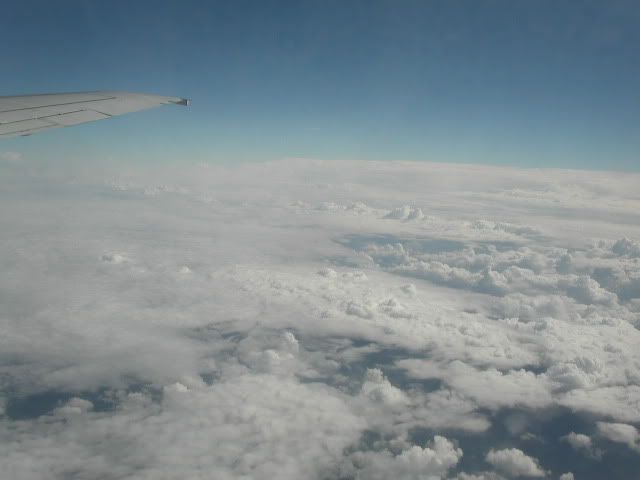 The captain made his rather detailed announcement, again apologizing for the delay, and explaing it a bit more detailed: The aircraft which was originally planned for this flight had technical problems with the de-icing system. He explained the need of a de-icing system quite detailed, and then also told us that there were no spare parts available neither at Hapag-Lloyd Technik nor by Lufthansa, so the spare part had to be flown in from Bergamo. As safety is HLX' top priority, they grounded the aircraft until the problem would be fixed, and so we were now sitting in a 100% operational aircraft. Good to know, I thought, but how about having some spare parts available (HAJ is Hapag-Lloyd's headquarter), or maybe having a back-up aircraft somewhere? Now, this is low-cost, and I regularly see HLX aircraft having hours of delay, so I guess this is the price of flying lowcost. Anyway, you can't blame the crew for that, and the detailed announcement of the captain at least explained the delay.
About the cabin: This aircraft had grey leather seats, quite comfortable. The cabin was clean and looked modern, there were audio plugs installed inside the armrests, and also ashtrays, both probably from the old times when this aircraft flew charter. As already mentioned, flatscreens above every third seatrow, showing the airshow program (a distance of 420km from STR to HAJ) and some HLX ads. With only 60 remaining passengers, this flight was quite empty, so the two seats next to me remained free. This cabin would have been quite a comfortable place, if it only hadn't been for the loud and annoying noise from the rear galley, no idea what it was, the oven? Why would they have the oven running on this flight? No idea what it was. Anyway, here's a cabin shot: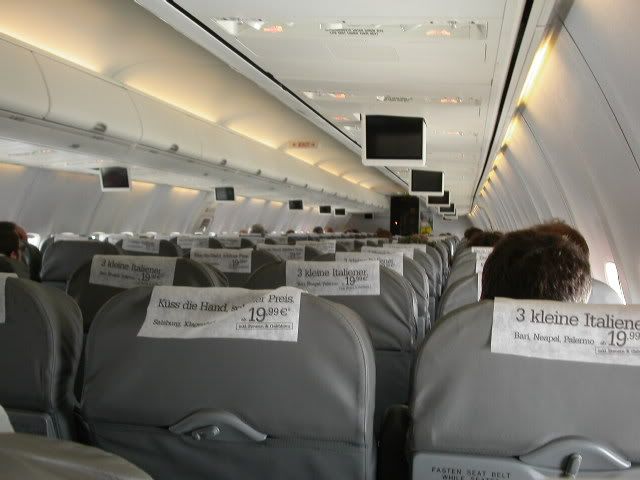 Three different sickbags on this flight:
Cabin service began, and probably because of the delay (and the meal vouchers being distributed four hours ago), people were thirsty so they sold quite a lot of drinks and also some sandwiches. By the way, drinks were served from a Lufthansa trolley, with just a sticker over the Lufthansa logo...
Routing on this flight was Stuttgart - Ludwigsburg - Heilbronn - east of Frankfurt - Kassel - Hanover.
Approaching a rainy Hanover airport: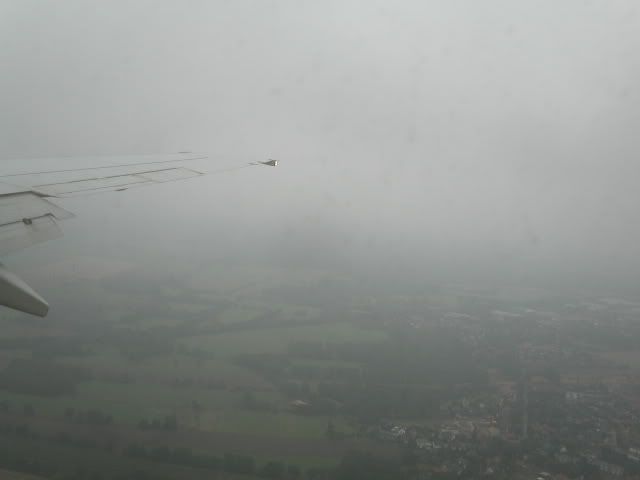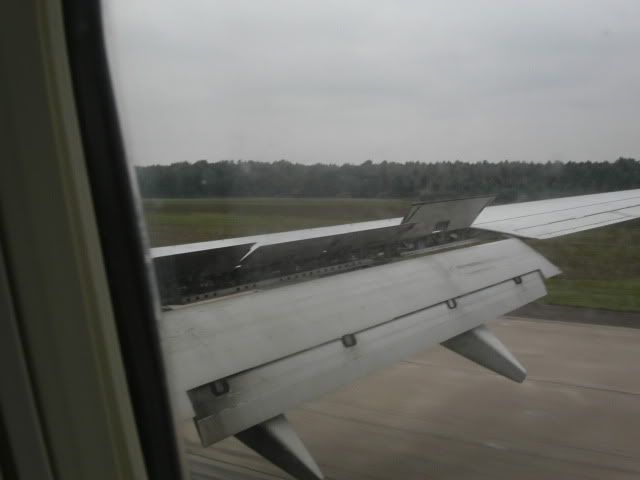 We taxied to our parking position. I couldn't help but notice that this airport is so much oversized. Alright once a year during Cebit (a computer fair) they need a huge airport, with 2 1/2 runways and lots of parking positions. During the rest of the year, the airport appears much too big, so even our lowcost flight got a jetway. During deboarding, they offered some HLX candy. A little bit like flying on DBA, but just a little bit, all in all (not only because of the delay) I found HLX a bit unprofessional on this flight.
Our aircraft continued to Olbia. Now, not much left of my stay in Hanover, so I decided not to leave the airport, have some meal, visit the viewing terrace, watching this quiet airport with at least some special aircraft, like an UM Air A320 flying to BEY. Also the weather was improving a bit, so I enjoyed sitting in the warm late-summer sun, possibly for the last time this year. Oh yes, and I walked to the Hapagfly hangar, where I saw our originally planned aircraft D-AHLI waiting to be repaired: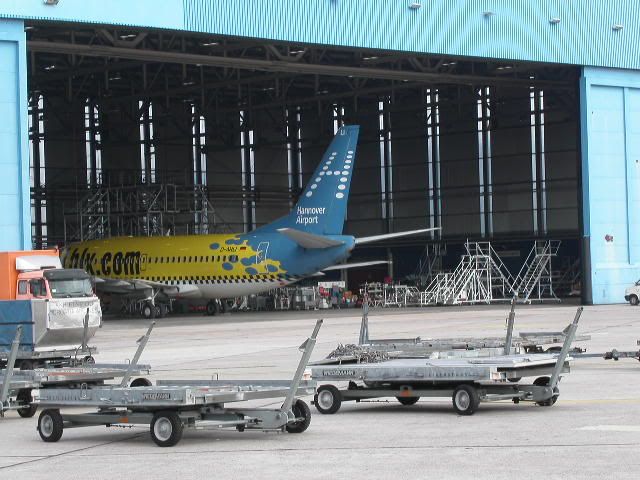 HAJ-STR
HLX 4152
12 September 2005
STD: 17:50 ATD: 17:53/18:00
STA: 19:00 ATA: 18:45/18:50
B737-500
D-AHLF
View Large
View Medium


Photo © Tomas Mellies
This aircraft was delivered to Hapag-Lloyd on 18 December 1990:
View Large
View Medium


Photo © Alastair T. Gardiner - WorldAirImages
It was leased by Airzena Georgian Airlines in December 1999:
View Large
View Medium


Photo © Marlo Plate - Iberian Spotters
it's flying for HLX since spring 2005.
Two hours before departure I went to the HLX check-in at Terminal C. A school class (with "Erdkunde-LK" and the name of their school written on their t-shirts) were waiting for check-in to Italy - "The times, they are changing!", I thought, because my school excursion to Italy seven years ago was by bus. Alright, two hours before departure of the STR-flight, three agents appeared, but the two younger ones left immediatlly again, so I checked in at what was probably the supervisor. Got sequence number 002.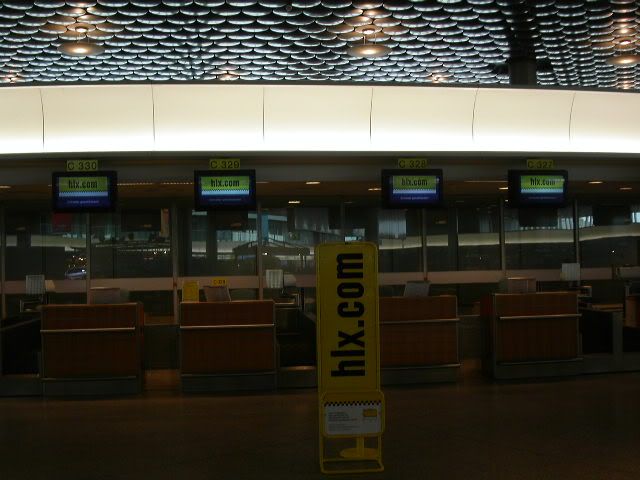 Passed through security early and without any problems. Behind security, I was asked for my baggage receipt. I told them that I have only carry-on, which they couldn't believe. "Are you sure you don't have such a receipt?", pointing on a baggage stub. No I didn't, they were very surprised, probably because at this time there were only Condor, Air Berlin and Hapagfly departures to holiday destinations. I watched them scanning the barcodes on the baggage receipts of other passengers, so I guess this is a sort of security procedure, only to load baggage of passengers who have passed security.
At the gate, I watched some more delayed World-of-Tui flights: E.g. the HLX flight to Bilbao with 2 1/2 hours delay, operated by a Hapagfly B737-800. The 30 minutes delayed HF flight to PMI, operated by an A310, with the announcement of free seating because of a last-minute aircraft change to a bigger aircraft. I guess they had to make several aircraft changes this day in order to replace the defect HLX aircraft.
Waiting for boarding to begin: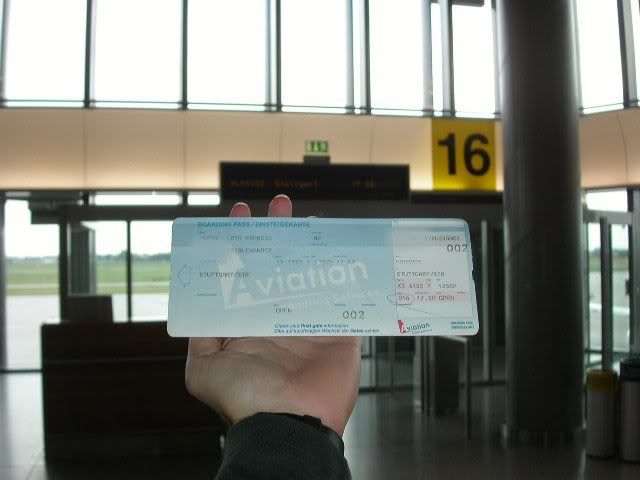 Finding a toilet in Hanover can be difficult: One toilet was out of order, another one was locked away in the non-schengen part of the terminal. I seriously thought of urinating against any wall, or even better: where's the turkish pavillon when you need it, urinating agains the turkish pavillon is a nice tradition here in Hanover, it's German culture, even Prince Ernst-August has done it. But as there was no turkish pavillon, I finally found a toilet.
At 17:20 I saw our aircraft arrive: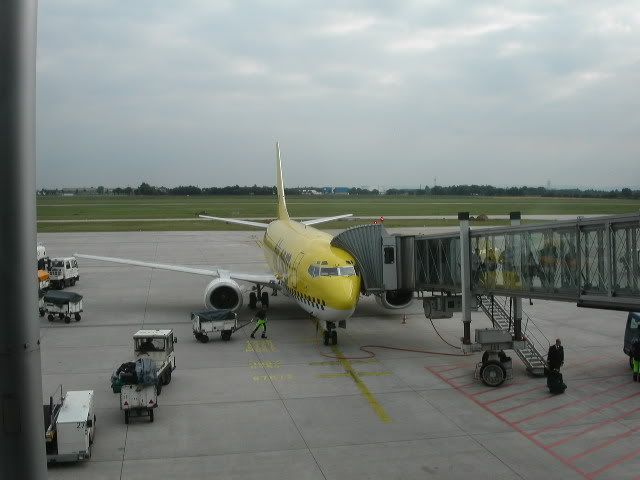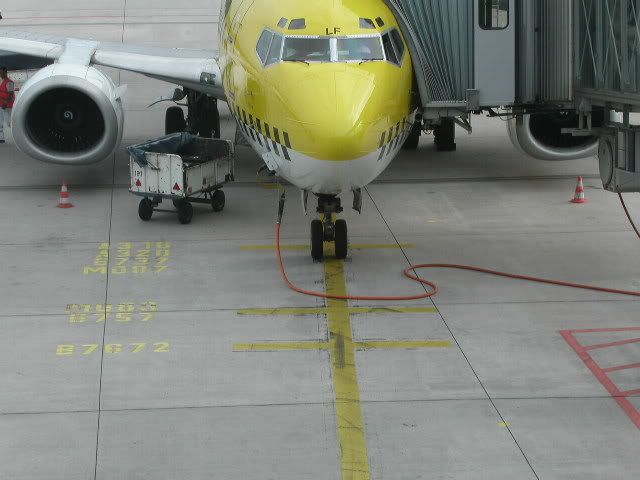 58 passengers plus 1 Infant on this flight. People started queueing at the boarding door, and at 17:45 boarding was started, families with children first, then sequence number 1 - 40. I walked down the jetway and was welcomed by the crew in their yellow shirts. Walked back to have seat 20F, the rear of the aircraft was not very popular, so I got the whole row for myself. Boarding was completed at 17:50 already so we were pushed back on-time and taxied towards the runway.
Again the airport was rather empty, only aircraft were one Condor A320 and these two Air Berlin B737-800s: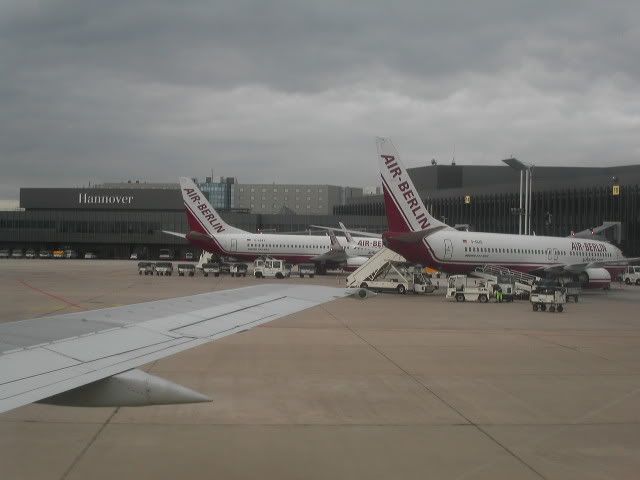 The cabin of this aircraft was also in top condition, also grey leather seats, headphone plugs, the notorious ashtrays, but no flatscreens but instead four monitors above the aisle:
This pic after take-off shows how low populated the Hanover-region is: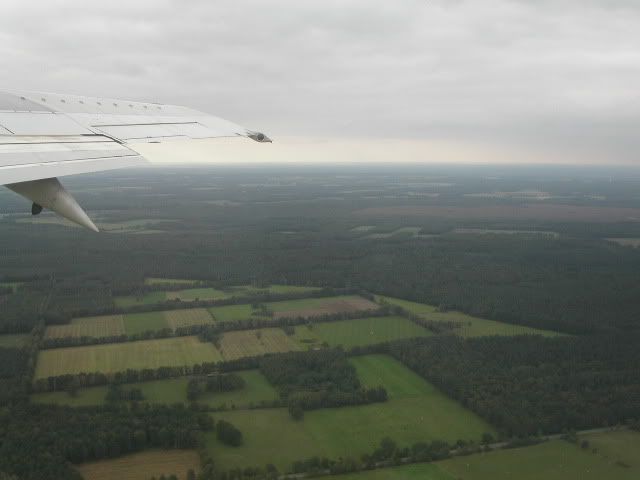 Again we disappeared in the clouds soon after take-off, so not much more to see. At least I enjoyed the evening sun shining through the window. Routing was more or less the same as in the morning, only that we made some steep turns during the flight, meaning it was more like a "Zickzack" routing this time.
Inflight sale: First the drinks, they sold a few drinks. Then the snacks like Twix and others, they sold two or three. Then the duty free, with parfumes, cigarettes etc., they didn't sell anything at all.
We approached STR from the east. Esslingen: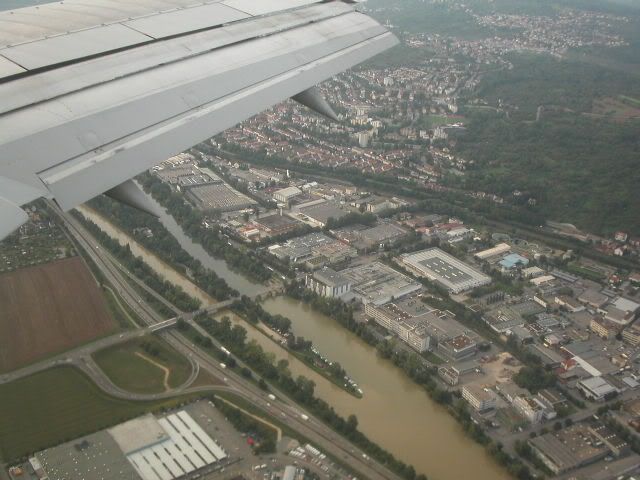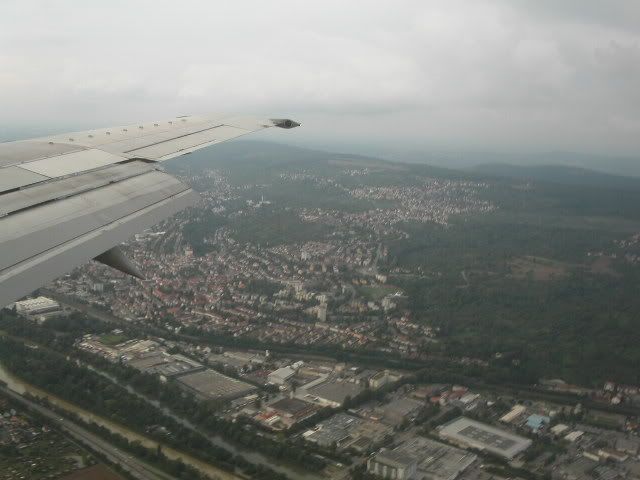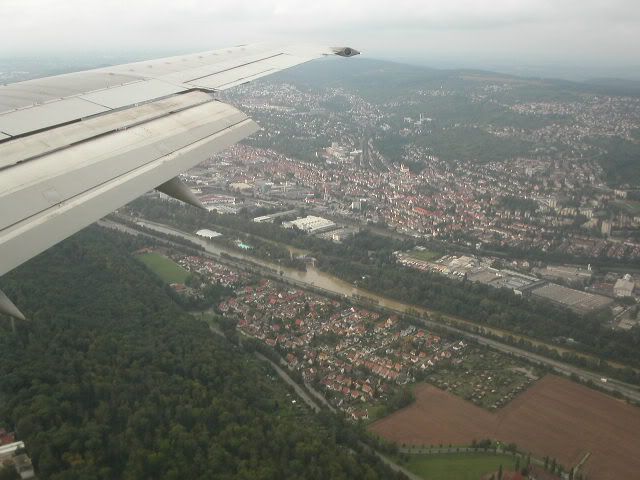 Landing on runway 25: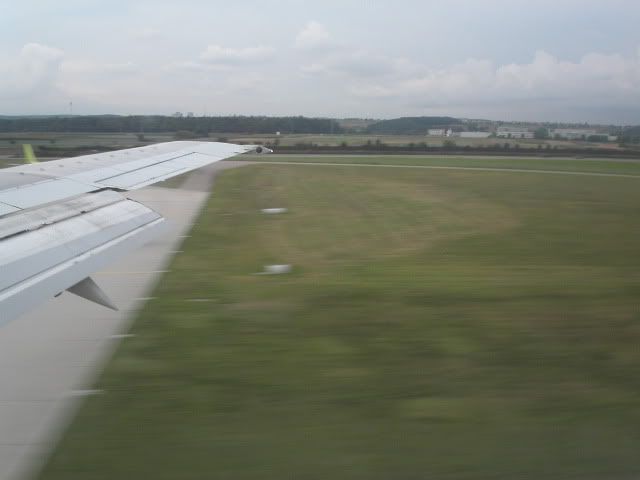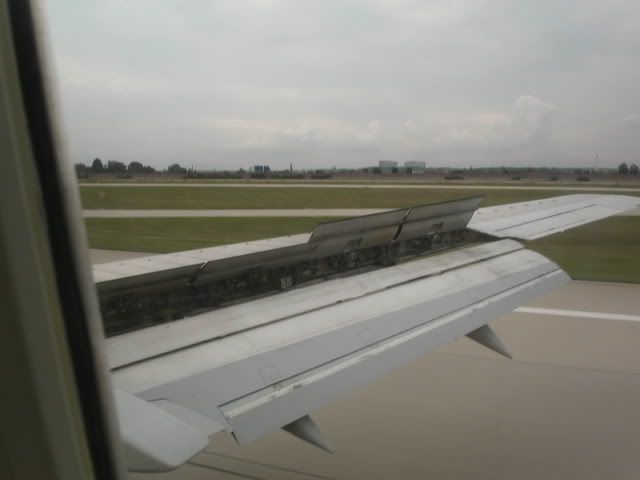 We taxied to our parking position, deboarded via stairs, and as everybody was sitting in the front part of the cabin, only about ten passengers were in the bus waiting at the rear stair. We were bussed to terminal 3, and I took the train back home.
Conclusion about this trip: A four-hour delay is always annoying, especially when you're on a daytrip. But it can happen to any airline, however, I've seen it happening on HLX more often than on most other airlines. Also the information given to the passengers that they didn't have the spare parts available not even at their technical base at HAJ, well. I don't want to complain because the flights were still quite cheap, still it's annoying, and at least on the STR-HAJ flight there were several small things which made the whole operation appear a bit unprofessional (like the LH baggage trolleys). The return flight however was better, not only was it on-time, but also the crews acted more professional, announcements were more fluently etc. Still I was not too impressed with HLX, they brought me from A to B and back, but that's it, nothing special at all, and I wouldn't directly recommend them, only if you get a cheap ticket, the overall impression was only average or possibly even a bit below average (though I really liked their cabins!). Hope you liked my report, and if you did, feel free to reply. Thanks in advance, Alex.