Thursday 22 September 2005
Segment 1: MCI-DEN
Flight:
UA 523
Equipment:
B737-322 N305UA
Seat:
1A (United First)
Departure:
12:55 Scheduled, 13:53 Actual (Due to weather in ORD)
Arrival:
13:40 Scheduled, 14:30 Actual
Load Factor:
100%
My move to Bangkok is just six weeks away and I still need an apartment. In order to make those living arrangements, I booked a two-week trip to Bangkok. Two weeks just six weeks before moving may seem excessive, but I also have nearly two weeks of vacation that needs to be used up before the end of the Fiscal Year.
The first day of autumn still wore a summer suit: temperatures in the low 80s, sunny skies with haze and the humidity of recent rains had not abated. Two nights of restless packing and repacking left me with three bags to check and two carry-ons. Weight had been distributed and redistributed as I tried to determine what should go on this trip and what could wait until the next trip.
As a concession either to organization or obsession, I had created a schedule for moving my possessions to Bangkok. While most had been sold on Craigslist or shipped by slow boat to Siam when my partner had moved back last September, I was still left with more things than I realized. And many of them are heavy. So the plan was that some items would go on this trip, others when I move at the end of October, and the rest in December when I return for the holidays. Regardless of my plan, my bags were still full. And heavy.
Please bear in mind that I didn't over-pack them: they closed easily. But they were heavy. The two larger suitcases weighed 56 and 54 pounds respectively. The smaller suitcase, a 22" TravelPro roll-aboard, was more reasonable at 25 pounds. Seeking shelter in my Mileage Plus 1K status, I was relived that I am allowed to exceed the normal weight limit of 50 pounds. In fact, I am allowed as much as 70 pounds in my bags, a weight that most ramp rats will tell you is quite inconsiderate to their backs. Believe me, I feel bad. But the items inside, while heavy, need to be moved.
Having checked in online the previous afternoon, I wasn't in much of a rush to arrive at the airport early. My morning was better spent conducting a few hours of productive conference calls at the office. Before I knew it, 10:00 had come and past so I shut down my laptop and headed back home.
Deciding not to leave the house a mess, since I have a week-long business trip the day after I return so won't really be home for the next three weeks, I spent a few minutes tidying up: cleaning the toilet, putting the towels and sheets in the wash, straightening up papers, storing an unused suitcase, etc. When I return home I'll appreciate the extra effort. My parents would be proud with this display of adult responsibility. It is uncharacteristic, so you needn't give rise to false hopes by telling them.
Before I get in the car, I put the sheets and towels in the drier. They'll be wrinkled when I return, but that's okay.
Thanks to light traffic on I-635 I arrived at my uncle's house in less than 30 minutes. A retired NWA and former Braniff employee (the first Braniff, not the reincarnation), my uncle lives about 10 minutes from MCI so it is easy to just park at his place instead of at the airport. The walk is a bit long, though, so I asked him to give me a lift to the terminal, a request that he obliged.
United's ticketing counter at MCI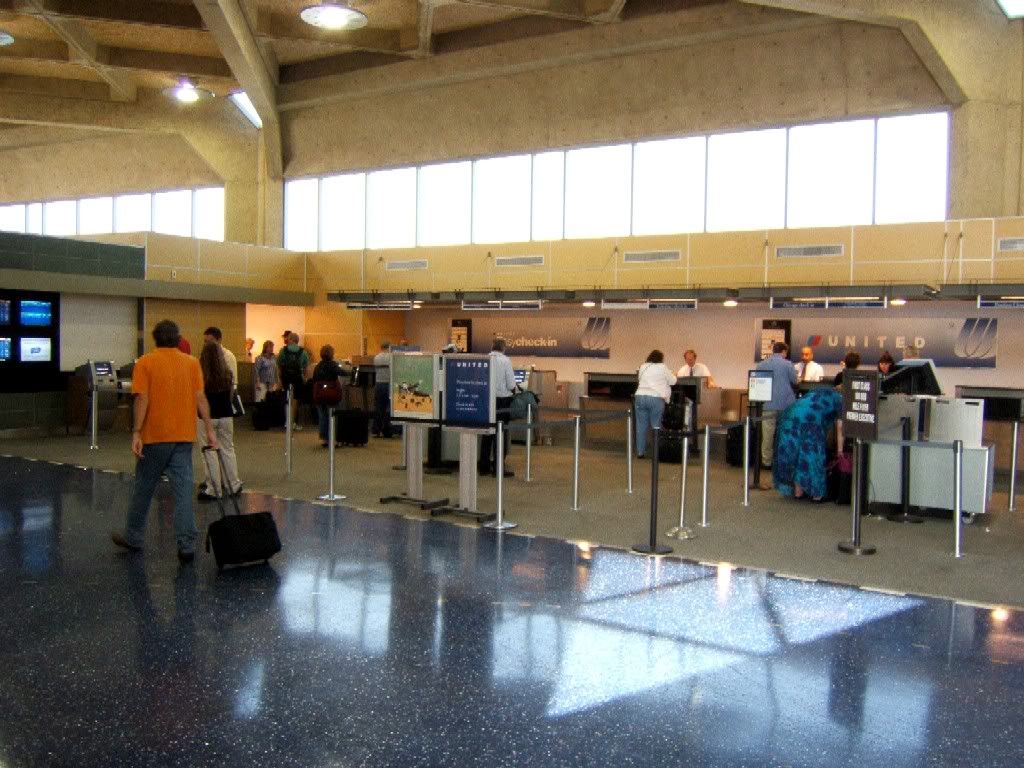 Arriving at Terminal A about an hour before the flight, I checked my voicemail: the cheery male voice of United's EasyUpdate tells me that my flight is scheduled on time, with the emphasis on the word, "on." Caving in to a sense of privilege and heavy bags, I took advantage of the skycap service. This did not help me recapture the glamour of pre-deregulation air travel. United now charges $2 a bag at MCI for the service. The skycap, a stickler for detail, clarified without my asking, that the $2 charge goes to UA and not to him. A subtle hint that he expected a tip!
"We'll have to weigh these," he said in a two-pack a day voice, "They're overweight." Noticing that he and the bags had something in common, I suggested that they couldn't be more than about 55 pounds. He tagged the bags and then started to wheel the two largest bags inside to the ticket counter. Was I supposed to follow him? What about my third bag? Deciding to follow the action, I went with the skycap into the terminal, where he went directly to an open ticketing position and placed the bags on the scale. My TravelPro roll-aboard, being light enough to escape the shame of a public weigh-in, was instead placed on the exterior conveyer belt for a trip into MCI's bowels.
I won the bet that I didn't place: my two larger suitcases were not overweight, just big-boned. I paid the skycap the six dollars and tipped an extra five. That's when I noticed on the TV monitor that my flight was now delayed until 13:30. The skycap didn't mention that. Perhaps he was preoccupied with his weight guessing.
Remodeling project to put restrooms inside the secure gate areas – a long overdue improvement
With an extra hour a choice was staring me in the stomach: a little hunger now or a lot of hunger later, when I would have a tight connection in DEN. Unfazed by this choice (I am always one to gladly tackle a gastronomic challenge) I returned to the Fountains of Seville restaurant, featured in a previous trip report, and once again ordered the Arthur Bryant Barbeque Pork sandwich and a glass of Boulevard Pale Ale. Let me say that for a microwaved sandwich, it was quite tasty, and the accompanying side of pit beans could hold its own against those served at any of KC's finer barbeque establishments.
Afterwards I brushed my teeth with my handy SQ travel toothbrush. Ah, memories of SQ First Class!
My phone rang: United EasyUpdate again. We're now delayed to 13:40. I stopped back by the ticket counter and asked the agent to check the status of my connecting flight. If everything stayed on this schedule, I would only have sixteen minutes to connect. The following flight to SJC was sold out, as were the next two flights to SFO. The agent offered to reserve a back-up seat for me on the 20:20 flight to SFO, an offer I accepted. Like a sailor looking into a bank of dark clouds who is able to see a coming squall I, too, recognized that this had the potential to be a mess. But I remained optimistic.
With nearly an hour remaining, I stopped at Starbucks for a grandé, extra-hot two raw sugar latte and a New York Times. I spent twenty minutes reading about the Vatican's plan to prohibit homosexuals from becoming priests, the differing costs for knee replacement surgery, and other headlines. This was "all the news that's fit to print?"
So I proceeded through security where there was no line. This is the advantage of a delayed flight: everyone has already gone through security. There were exactly seven security personnel – as near as I can tell none of them were TSA, their uniforms indicate a private security company – and it took five minutes for me to complete the screening of my bags. No exaggeration. A small glass vase was in one carry-on, and proved to be the first point of confusion for the screener. Three people clustered around, conferring with each other like ancient shaman consulting the organs of a newly slaughtered chicken. The signs were not favorable. Then there was the small camera tripod in the other bag, necessitating further consultation and several re-screenings. The oracle spoke in the form of one of the security personnel, a man in his twenties, who pronounces the cause of my delay: "Sorry, we have an idiot working the scanner." His words. Ouch. And why am I paying extra security taxes for this?
The gate area was fairly crowded and cleared up shortly as the 13:35 ORD departure boarded. It was an A319 and I enjoyed comparing it to my 737, which pulled up a few minutes later. It amazes me how much higher the 'bus stands than the Boeing in a wingtip-to-wingtip comparison.
N831UA – a United A319-131
My United B737-322 to Denver, N305UA, taxis into gate 12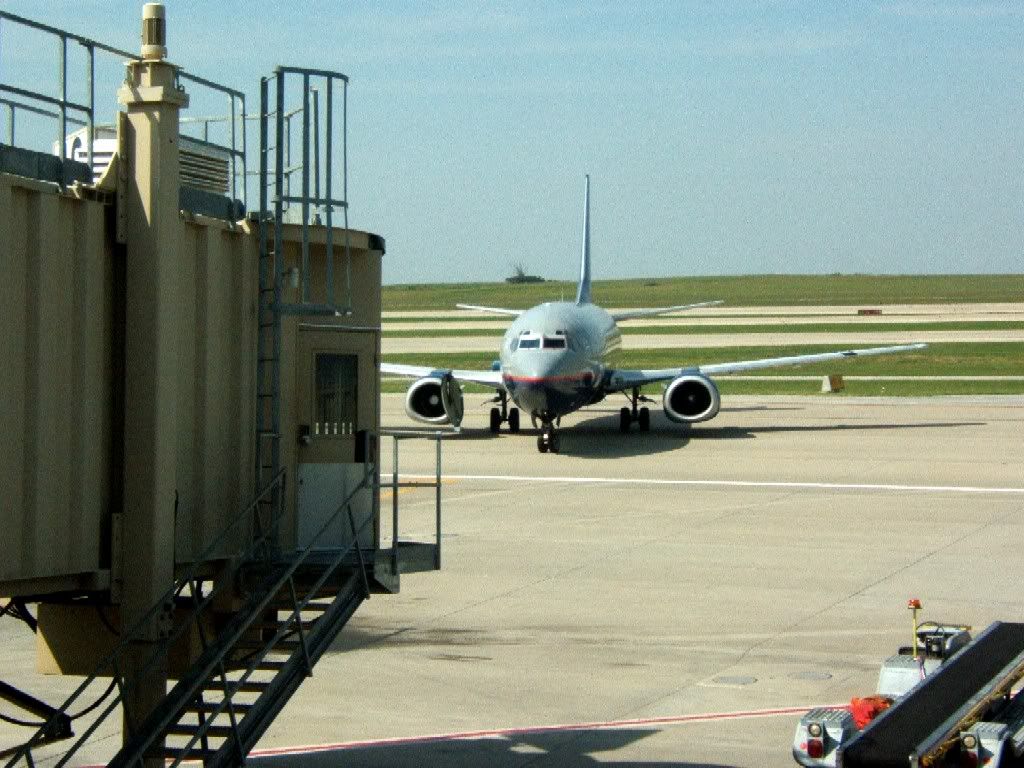 About twenty-five minutes later we began our boarding. Even though it is a smaller plane, the agents board First Class, well… first. A nice touch that was followed quickly by Seating Area One. I was the last of the eight passengers in First Class to board, but there was still plenty of overhead space. Taking my bulkhead window seat, my view was obstructed by the canopy of the jetway. Unable to look out the window, I did that "settling in routine": thumb through the magazine, listen to channel 9, read the safety card, go back to the magazine.
Browsing through the issue of Hemispheres, I make a mental note to remind myself to grab a copy when I fly from NRT to BKK this weekend: there is a small article about a 3-day river cruise on the Chao Praya river that would make a great treat when visitors come to see me in Bangkok.
Daphne, our purser, took drink orders. This was not an "OJ or H2O" flight: she gave us free choice over our pre-departure drink. My seatmate and I both ordered sparkling water. This was a really nice touch. It doesn't take significantly longer to open up some cans, but it makes the environment much more welcoming. It was especially nice given our delay and the ensuing anxiety that passengers are prone to: "Are we going to make our connections?" Nothing you can do about it now, so enjoy a drink and sit back and relax.
Boarding went quite smoothly even though we were completely full. The line in the aisle never stopped moving for more than just a few seconds. In short order the agent brought down the final paperwork, made the farewell announcement, and then closed the door.
Richard retracts the jetway – we're ready to push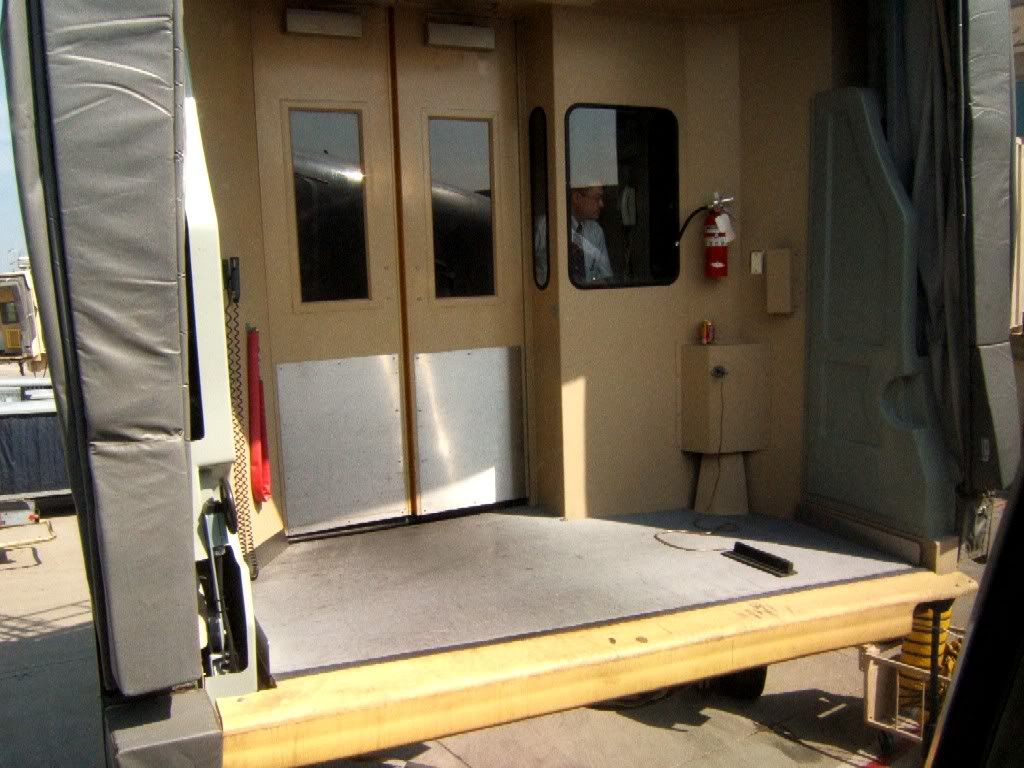 We pushed back from gate 12 and as soon as the flight attendants had completed the safety demo we were on our way our to runway 1L. During the demo I noticed that one of the flight attendants, a man, was wearing a Star Trek pin on his sweater vest on top of the embroidered United crest. Fortunately, his ears weren't pointed.
Along the way we had a good view of construction being done on taxiway B and the new mid-field firehouse. It seems like they've been working on the firehouse for nearly a year. Because it is constructed from pre-formed concrete walls that are just tipped up into place, I wouldn't expect it to take so long to build.
Taxiway B undergoes reconstruction
As we reached the end of the runway we were cleared for position and hold with a Comair jet on a five-mile final. We turned wide on the piano keys with the nose pointing north. Just as we were cleared to roll, a brightly colored monarch butterfly flew across our left-hand side and toward the grass at the edge of the runway. After our recent rains, the green was especially vibrant, making a very nice contrast to the butterfly. It was one of those moments that captures your imagination the image is so evocative. Our mechanical might mocked by the graceful beauty of nature flight, as if to point out that man's folly to fly will never equal the ease with which nature takes to the sky.
We flew runway heading immediately after departure and once we contacted departure control at 1500' we were cleared to turn to the left and join the Salina transition. From the ground the day was nicely sunny but as we climbed out of MCI it became evident that there was a lot of haze: the humidity was trapped in the lower atmosphere. Only about 8 miles from the field it was hard to see it clearly.
An incredibly hazy afternoon as the field is hard to see
A curious thing: as we climbed through 12,000 feet we were cleared by ATC to flight level 320, but the captain told the controller that we could only go to 240. About fifteen minutes later when the seatbelt sign was turned off, the captain came on the PA and welcomed us aboard. He then said that he understood that it was warm back in the cabin and explained that we were operating with only one of our two air conditioning packs. He suggested that if passengers on the left (south-facing) side of the plane weren't enjoying the view they could lower their window shade it would help the plane cool down. So my question is: is the altitude restriction because of the inoperable air condition pack?
The flight was smooth. Daphne was attentive and after serving drinks, checked back three times during the flight for refills. For a 70-minute flight, that's quite good. This compares favorably with a recent MCI-DEN flight I wrote about where I wasn't happy that the purser just gave us the can and never came back around. Now, a few people thought I was a bit picky, but I'd argue that Daphne demonstrated that it doesn't take a lot of extra effort to make a great impression.
During the flight I worked on this trip report. Flying at only 24,000 feet the view out the window was quite good. Of course, I kept the window shade closed between peeks out so as to contribute to a cool cabin environment.
Descending through the clouds east of Denver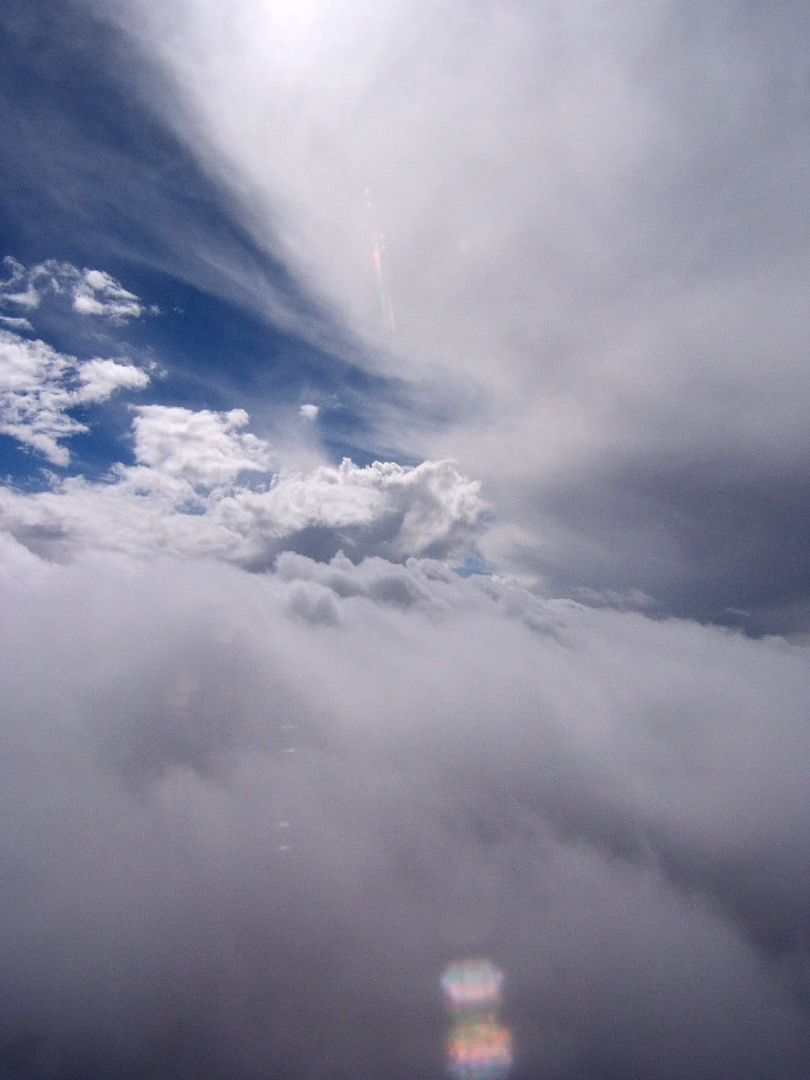 The pilot calls ATC to confirm a ceiling of about 8,000 feet and the field in sight
As we began our descent into DEN there were some fantastic clouds, remnants (or the beginning pieces?) of a thunderstorm against a brilliant blue sky. We came in from the southeast and did a visual approach for runway 35R. An RJ was making a simultaneous parallel approach for 35L. Strong winds buffeted us in the last minute or two before touchdown, but the touchdown was smooth.
Trying to make up as much time as possible – especially since we were parked at the last gate on the B concourse at the opposite end of the terminal from our runway – the captain taxied really fast all the way end. As we pulled up at the gate it looked like we went just a bit too far. The gate agent in the jetway had a surprised look on her face and walked to the edge of the jetway to look down and see if they were going to put the blocks in or push the plane back. No time – we were late – so the blocks were placed and the agent maneuvered the jetway to the plane door in less than a minute.
A Horizon Air CRJ-700 taxies out to the runway in Denver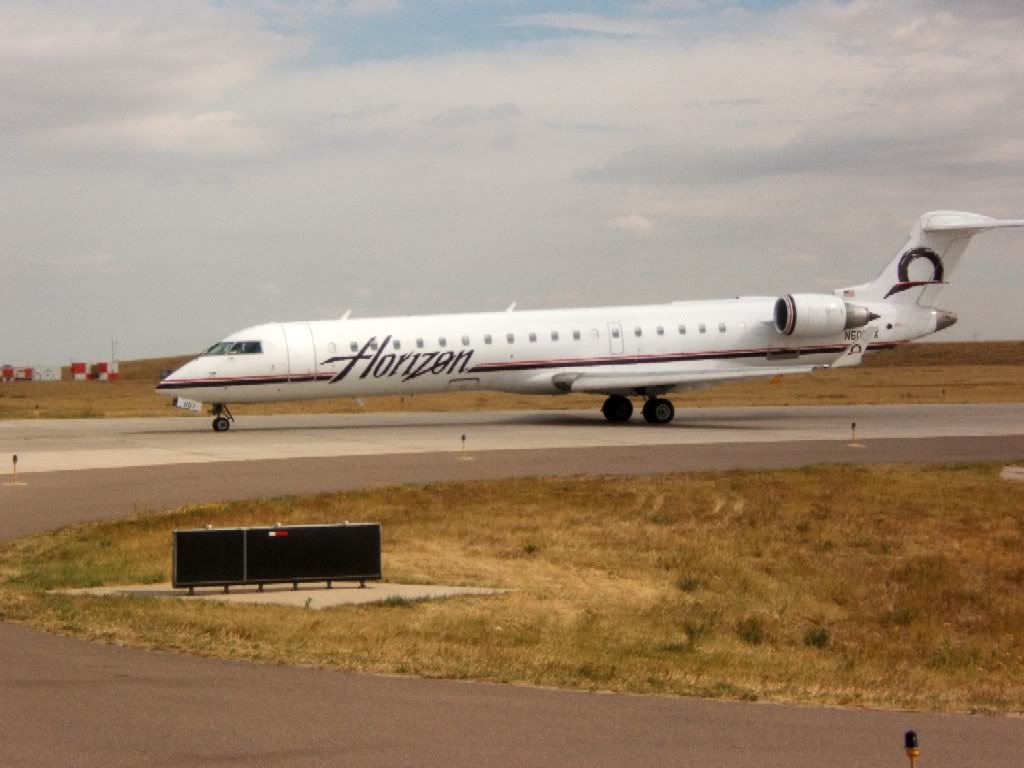 The gate agent grabbed the paperwork from the flight attendant but didn't make any gate announcements, especially frustrating as the delayed flight meant that many people had tight connections. Having the gate information would have helped speed us on our way. As I entered the gate area I looked at the TV monitor: my connecting flight to SJC was not listed and the next one was at 17:10, 2½ hours away.
Thankfully I still have my Red Carpet Club membership. On the way to the club I walked past my original departure gate, B27, and there was my A319 being pushed back. The signs had been changed and, of course, the flight was closed. Only a few extra minutes and I could have made it.
I stopped by the West Concourse RCC and an agent at the ticketing desk provided me with options: I could wait for the 17:10 flight and have a confirmed First Class seat or I could take a flight to SFO that had originally been scheduled at 14:37 but was delayed until 15:30. San Francisco was my final destination anyhow, so it worked just as well if not better to fly directly there. There was only Economy Class available, but the agent was able to put me in an exit row window seat.
The only problem: there probably was not enough time to locate my bags and get them on the SFO flight, but she assured me they could be on the 17:30 flight to SFO. Good enough for me. Little did I know that I was staring another impending squall right in the eye but didn't recognize it.
It took nearly 20 minutes for the agent to get me re-ticketed. Apparently she had to release my e-ticket, turn it into a hard ticket and then transfer the routing to SFO. It was so tough that she had to call a reservations agent for help. But kudos to her for making the effort; I really appreciate it. As soon as we were done she told me I'd better get on down to gate B44 as boarding would be starting shortly.
Segment 2: DEN-SFO
Flight:
UA 573
Equipment:
B757-222 N549UA
Seat:
9F (Economy Plus Exit Row)
Departure:
14:37 Scheduled, 15:49 Actual
Arrival:
16:05 Scheduled, 17:26 Actual
Load Factor:
100% minus 1 seat
Arriving at B44, there was a large crowd milling around the doorway. This led me to think that perhaps boarding had started. The crowd was not moving, the door was still closed: not boarding yet.
Agents and passengers standing around waiting to begin boarding at gate B44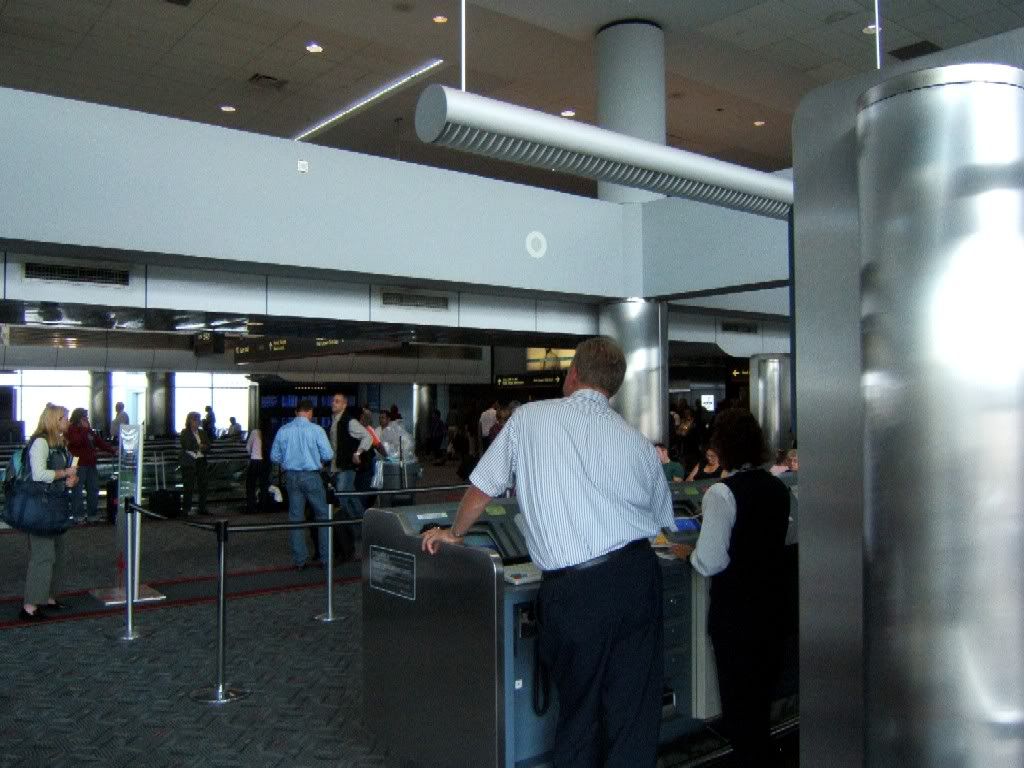 My aircraft to SFO, a United B757-222 (N549UA)
In fact, it was another twenty minutes before boarding did start and when it did, I witnessed the largest Seating Area One I've ever seen. My conservative estimate is that about 60 people boarded all at once. It was chaotic.
Seating Area One stuck in the jetway
A big thumbs up for the flight attendants, who had closed the overhead bins for the first rows in the Economy cabin. As this was a 757 and United boards at door 2L, the people sitting in rows 8 and 9 often find themselves in the unfortunate circumstance of having no overhead storage and having to find storage many rows behind them. By closing the doors to the first few overhead bins, the flight attendants were able to save that space for the exit row passengers. This was a really good example of
attention to detail
and
anticipating customers' needs
.
Boarding was a slow process. In the end, at least a dozen trolley bags had to be gate checked. This is strange, as even on a full flight there is usually enough overhead space during the summer months. It is usually during the winter with all the heavy jackets that the space becomes constricted.
My exit row seat behind door 2R – long and skinny legroom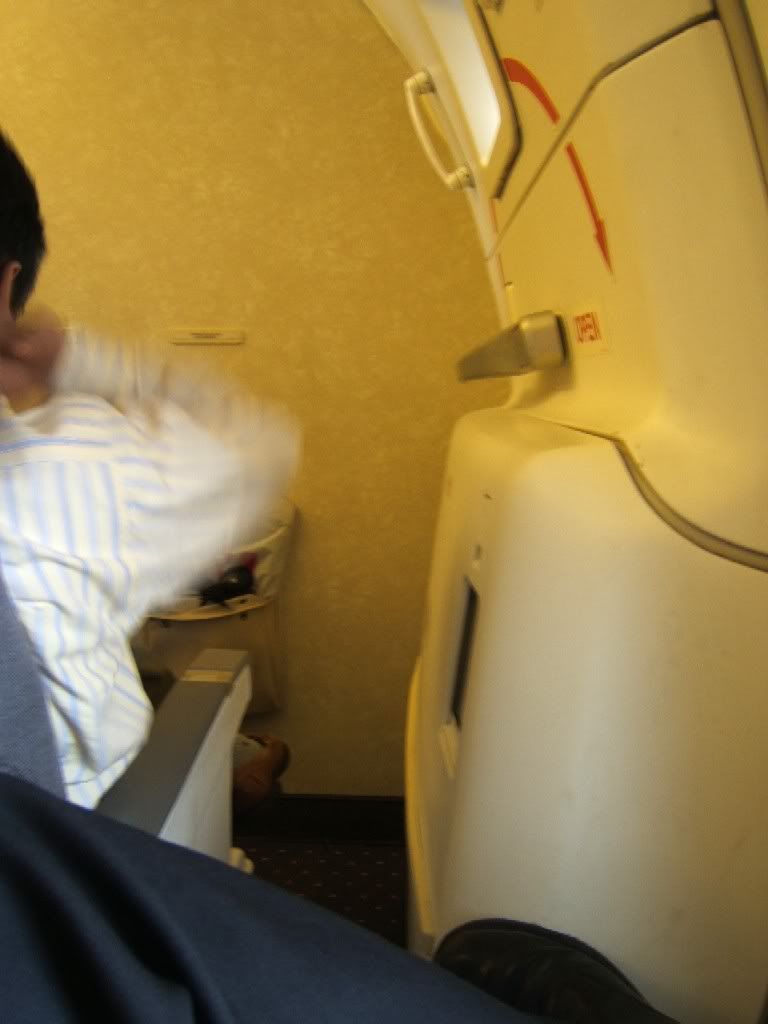 Sitting on the right hand side I had a fantastic view of an AC A319 in their new "frosty mint" color scheme. The only noticeable difference to this color scheme compared to the older one is that the tail is now a screened frosty mint instead of the solid forest green it used to be. Not very different, really. And something about the minty color just feels cold, reinforcing the "frozen north" stereotype of Canada. There was also a nice view of the LH B747-400 that had just arrived from FRA.
An Air Canada A319-114 (C-GBHZ) and a Lufthansa B747-400 just in from FRA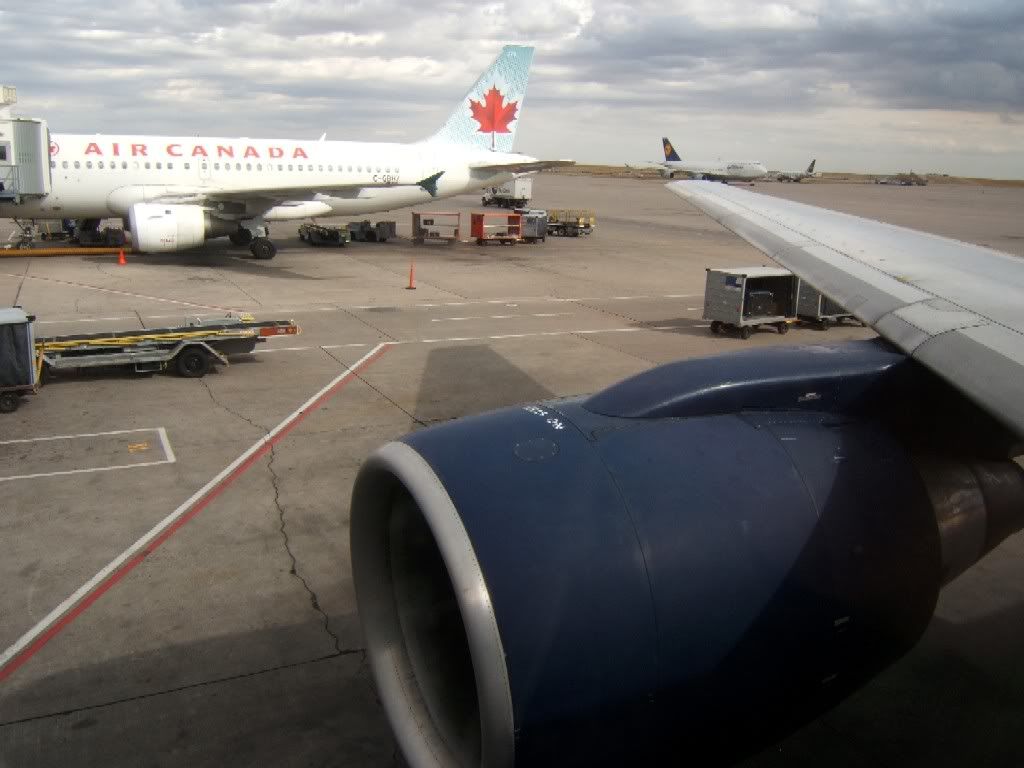 A pair of rampers wait for the last bags to be brought down from the gate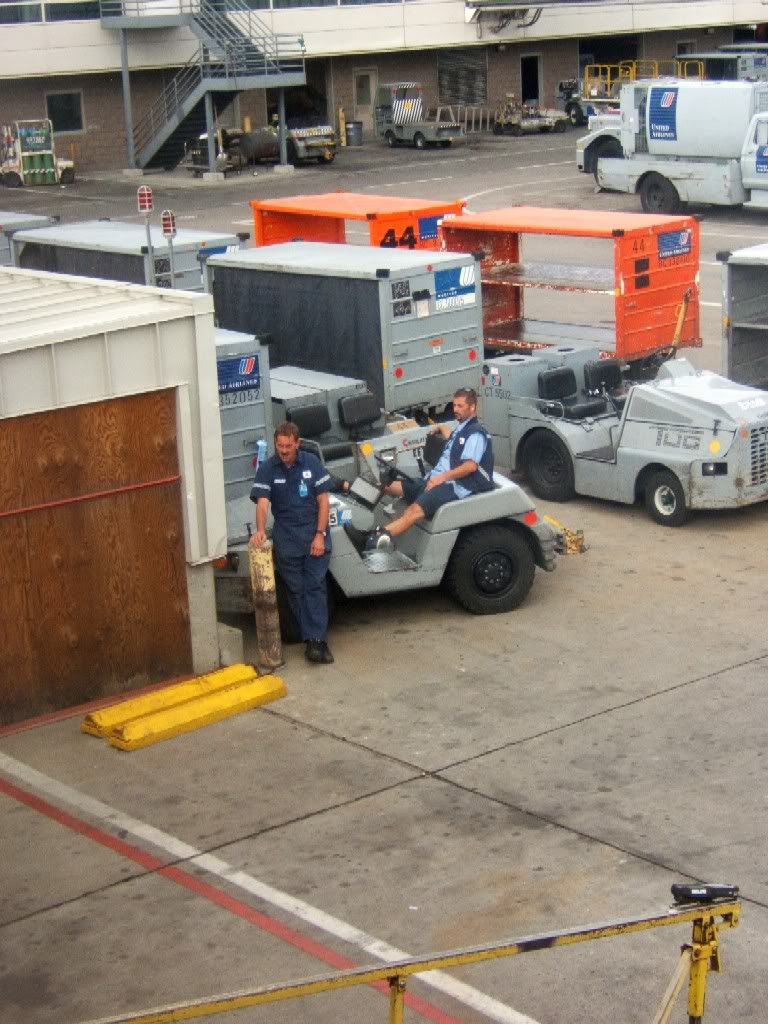 Once we finally completed boarding and sorted out two different seating issues (people who didn't seem to understand that center seats were the only option – there was only one empty seat on the plane) the door was closed and we pushed back.
Our departure was expedited, as there was no traffic in front of us as we taxied out to runway 34L. This is the new runway at DEN, especially long at 16,000 feet. We had a pretty long takeoff roll as it was warm and we were fully loaded, but we still had thousands and thousands of feet left as we gained altitude. We made a slight left turn on the climb out and there was a fantastic view of the departure ends of both 34L and 34R. I really wanted to take a picture but the seat next to me was occupied by a UA crewmember and the last thing I needed was to receive another snap about turning off electronic items (à la Reneé the unfriendly skies purser on a previous trip).
While it was a beautiful afternoon over the Rockies, the ride out was rough. The chop continued for about twenty minutes, but I was given a great view of the aspen trees as they are starting to turn. While it is early – probably another few weeks until the mountains really turn golden, there were some large stands of aspen that had already turned. Are aspen pretty much unique to the Rockies or do they exist in other parts of the world? If they don't, I'd encourage everyone to come visit the Rocky Mountains during the early autumn. The site and sound of the golden aspen leaves as they shimmer in the breeze is fantastic.
A stand of aspen trees has turned golden in the Rocky Mountains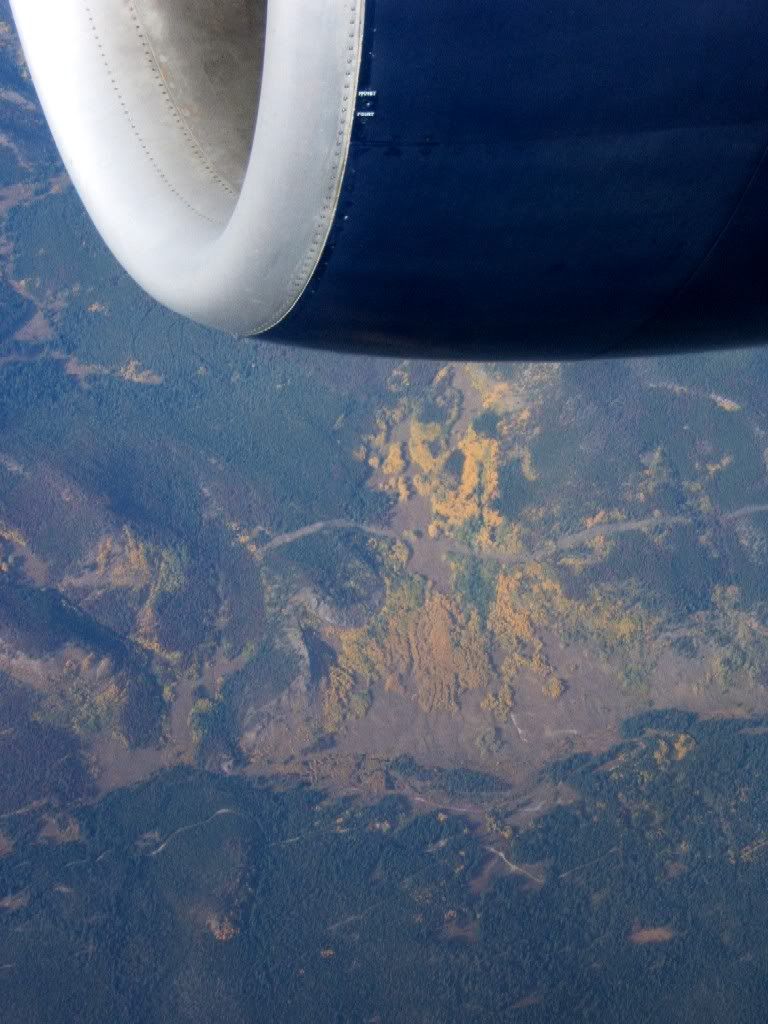 Speaking of aspen, who remembers
Aspen Airlines
? Flying through DEN my entire life, I remember the Convair 580s that Aspen used to fly. There's a good collection of photos at
this Denver Stapleton website
.
Beverage service was efficient and friendly. Our flight attendant was talking with people, and came back through with a second service for refills on coffee and water. She started brewing a pot of coffee on our climb out and it just smelled great. Don't know why but she had a lot of takers! In fact, I had coffee, something I usually don't do on flights just because I don't like to get dehydrated. But it smelled
so
good.
Setting up the beverage service – is that Starbucks coffee I smell?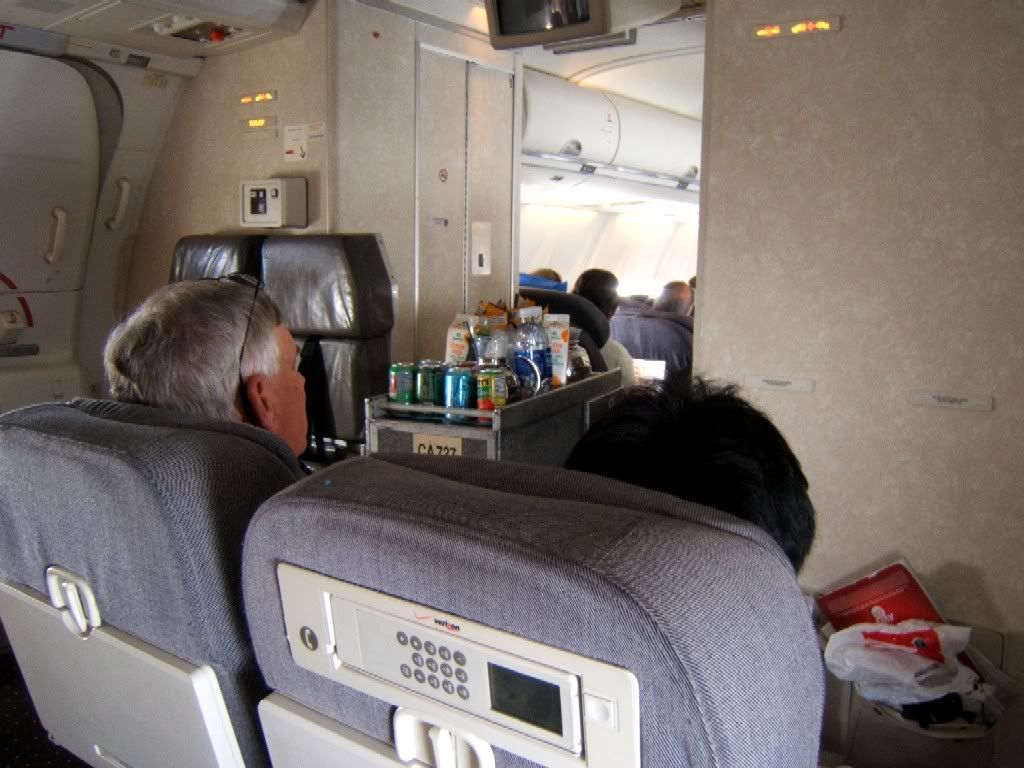 Gratuitous self-portrait – a UA crew member naps next to me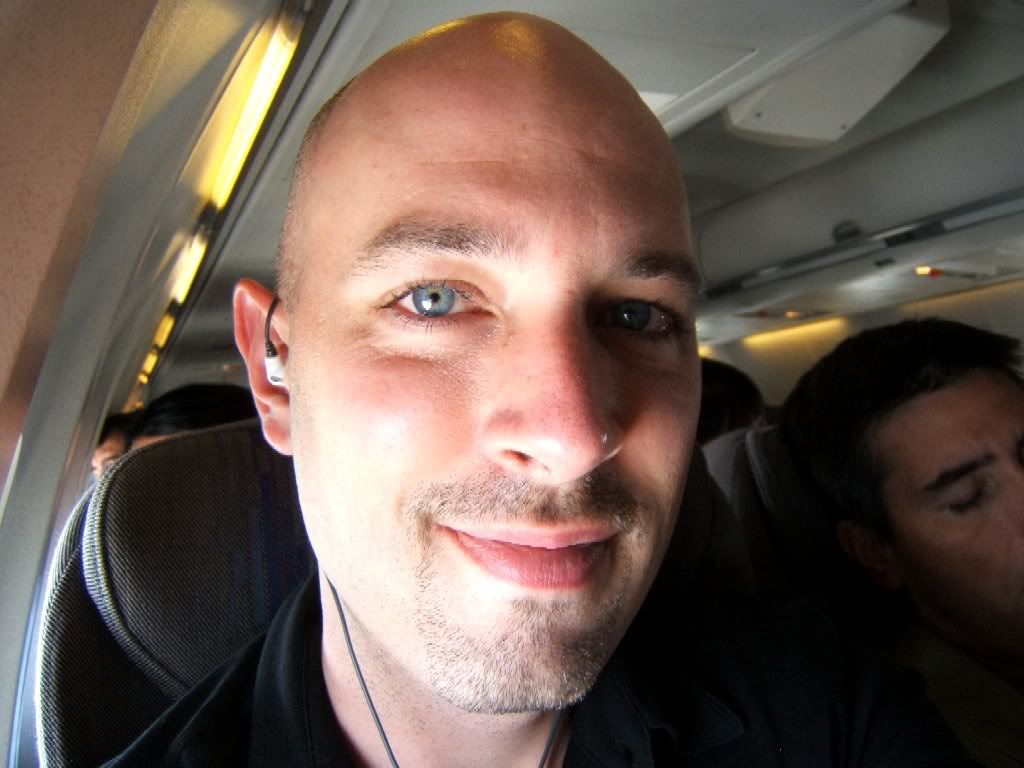 The "blue mountains' majesty" referred to by Francis Scott Key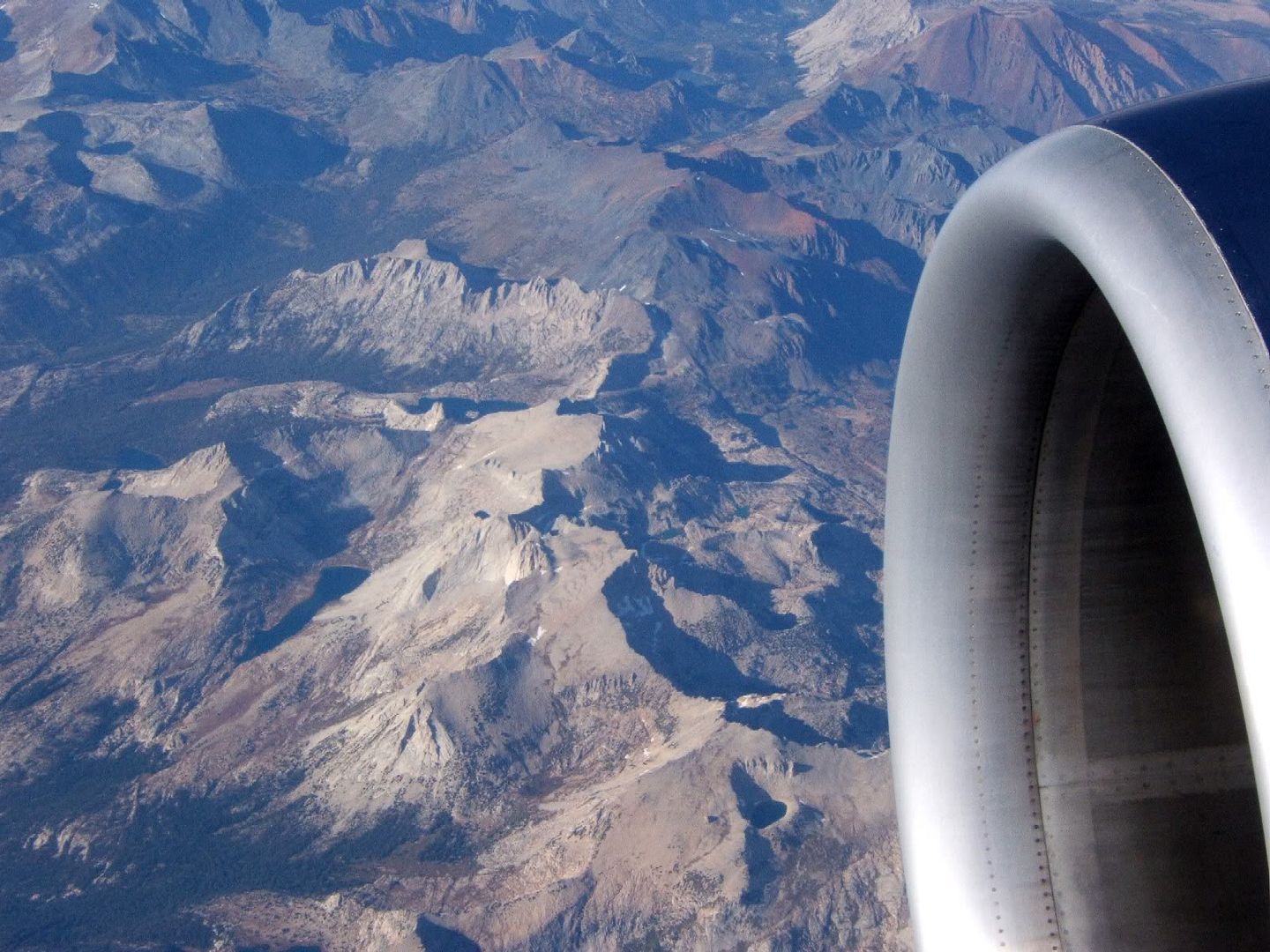 Most of the flight I worked on this trip report. Occasional looks out the window – it was a nice day but a bit hazy. Before I realized it we had been cleared for the Modesto 2 arrival. The gentleman next to me, who might have been a pilot – asked if we had passed Mono Lake yet. We hadn't yet but did just a few minutes later. It is an impressive looking lake but there were a lot of clouds and I didn't get any good pictures to share.
A beautiful wing and engine shot as we descend over California's Central Valley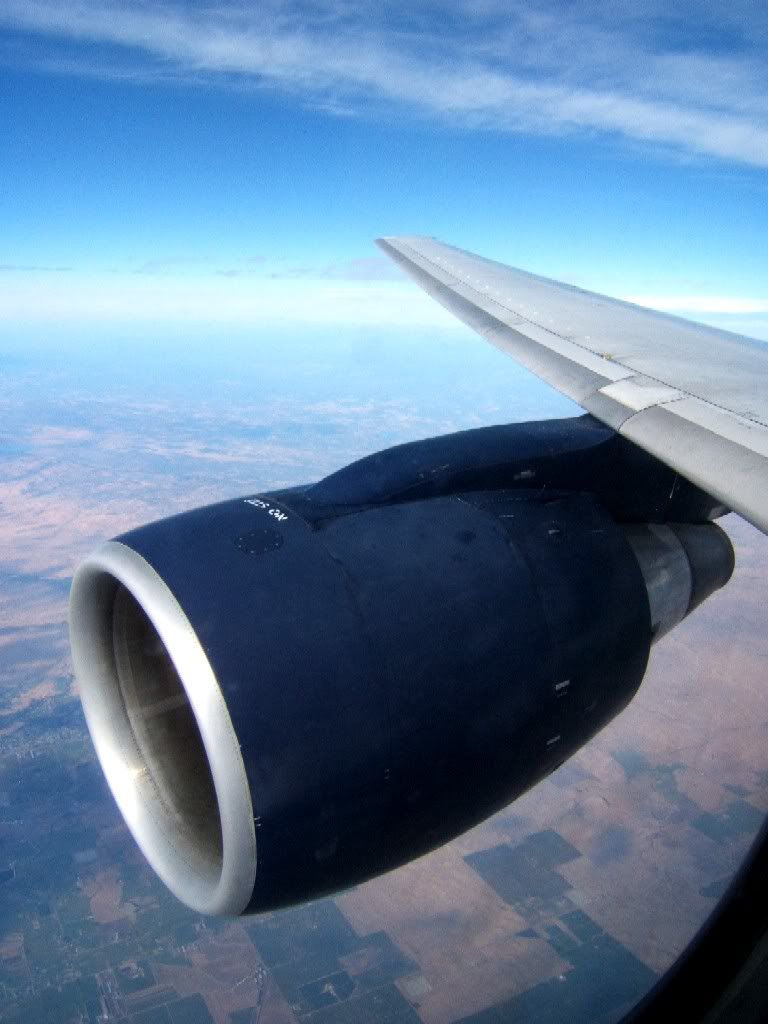 Our approach into SFO took us further north and then south than usual. We approached the Bay Area just south of I-580 and Livermore, and then turned south over the East Bay hills and continued almost to Milpitas before turning west and coming in over Fremont and Newark. It was the FMS bridge visual for 28R and while San Francisco had a layer of fog rolling in, the remainder of the Bay Area was clear.
The San Francisco Bay from San Jose / Milpitas on the left to Oyster Point near SF on the right. Much of the wetlands area to the left is part of the San Francisco Bay National Wildlife Refuge – there are many fine trails in that area.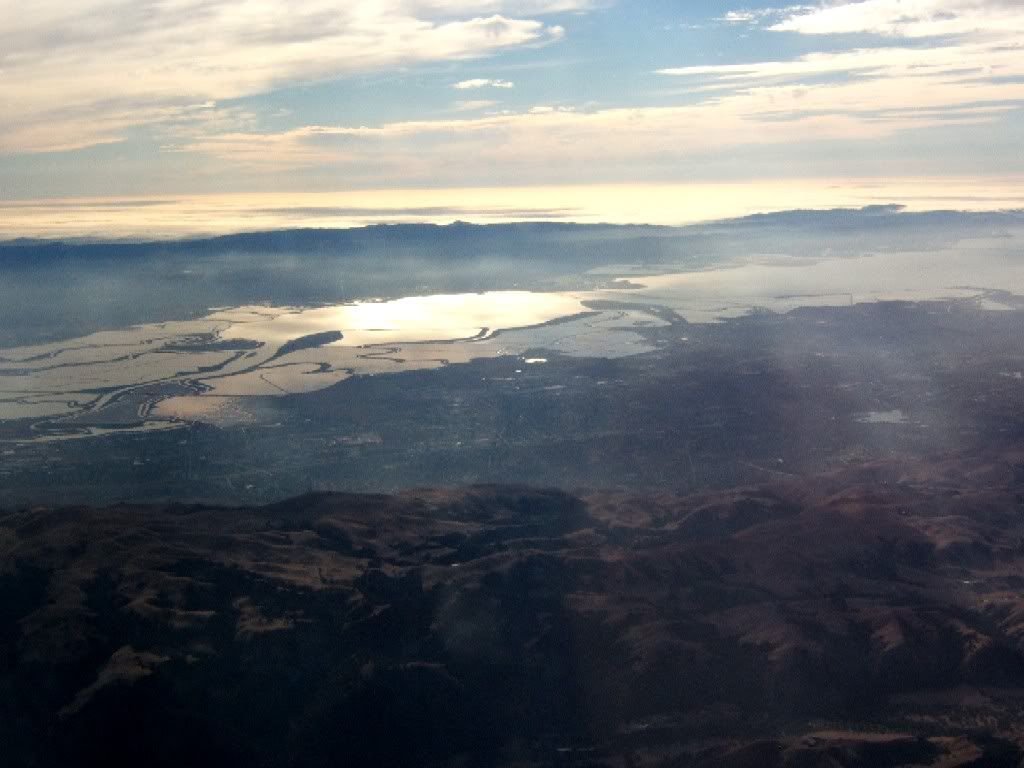 There was a great view of the Cargill salt evaporation ponds in Hayward. Right to the south of them is Alameda Creek and the Coyote Hills Regional Park. A great biking trail runs along the creek from the Bay about 10 miles inland to Niles Community Park in the Fremont hills. It is a fantastic ride that is easily accessible by BART.
Salt evaporation ponds in Hayward owned by Cargill
Crossing over the San Mateo Bridge, the point where pilots switch over to the SFO tower frequency
Crossing the shoreline at the end of 28L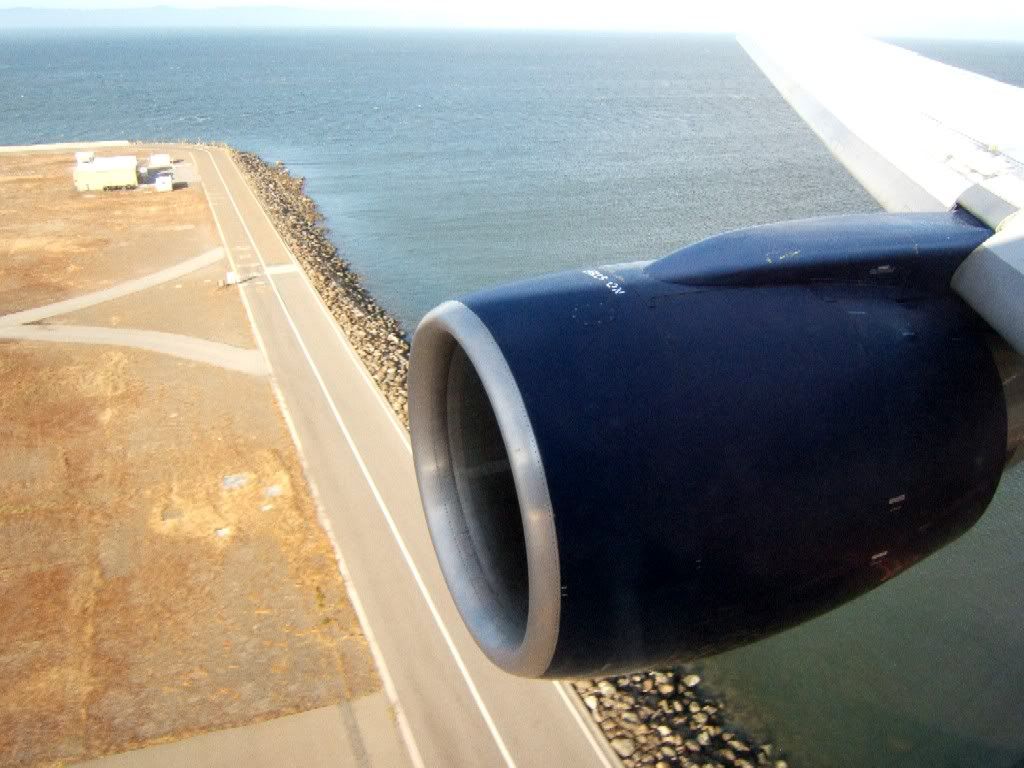 Thrust reversers deployed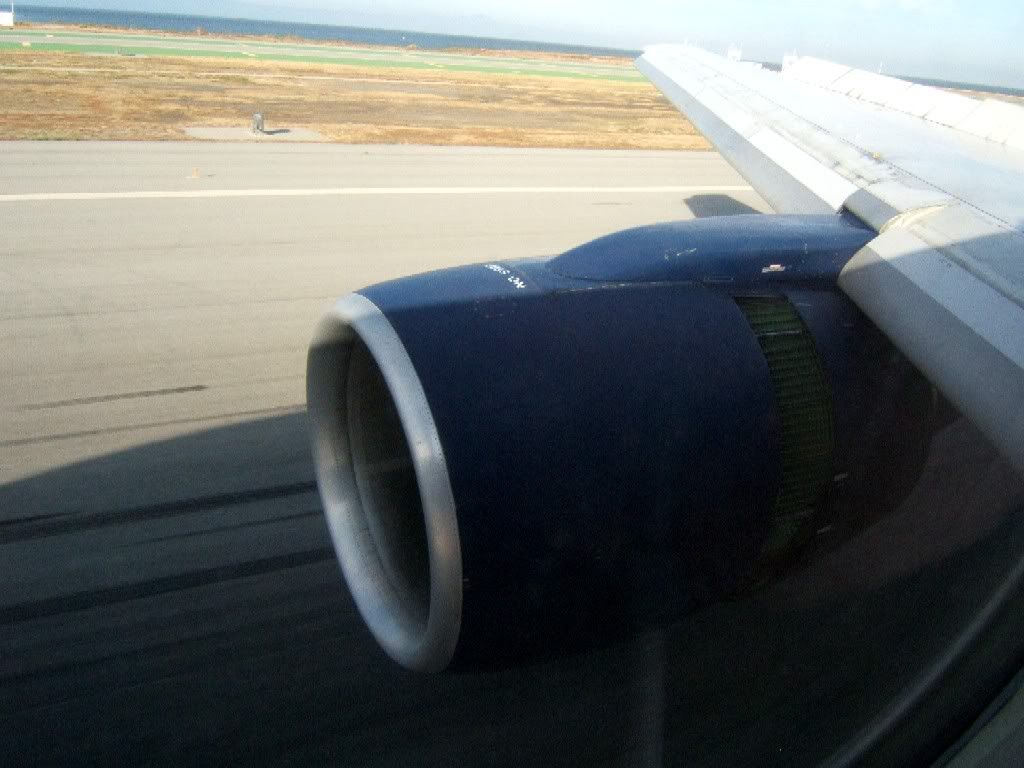 After our smooth landing we taxied to gate 73. The purser requested that people not making tight connections remain seated so as to allow others to catch their flight. One thing she asked, which I found helpful, was for the people with tight connections to ring their flight attendant call buttons. This provided a visual guide to others and a lot of people actually remained in their seats.
International Terminal Pier G in silhouette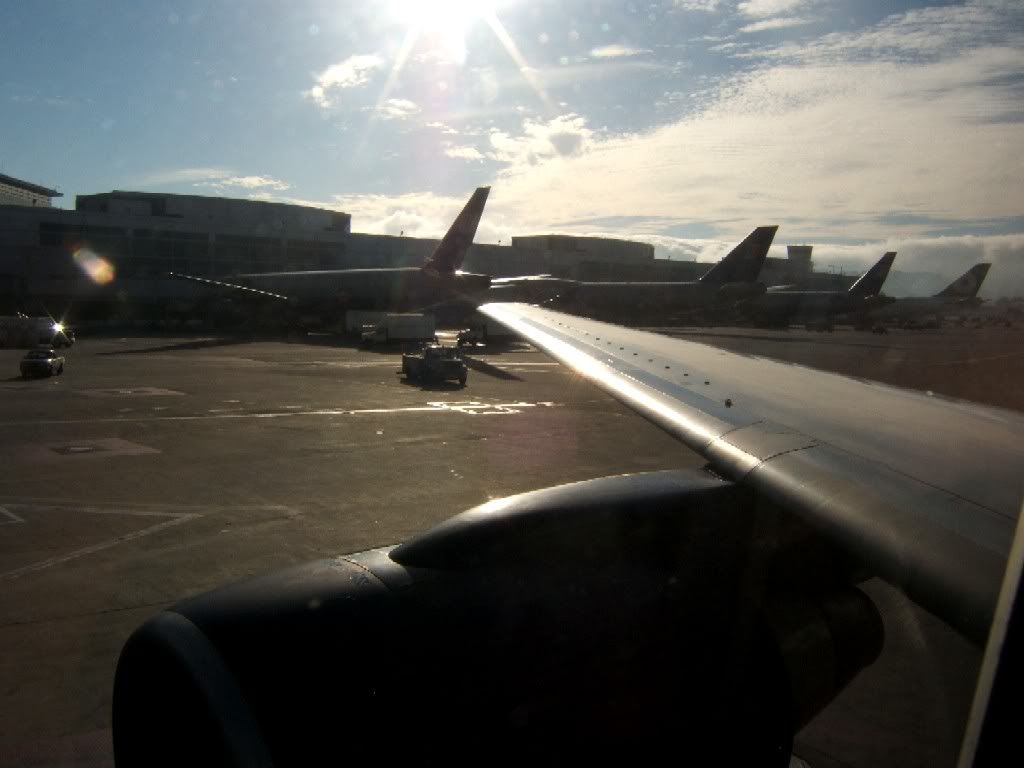 Upon exiting, my otherwise pretty smooth trip took a turn for the worse. Since my bags were going to be on the 17:30 flight (arriving about 19:00 in SFO) I figured I'd just work at the Red Carpet Club and wait for my bags. Arriving at the club, I checked in with a ticketing agent just to confirm that my bags were on the flight.
The agent looked the bag claim receipts up on her computer and announced that the bags were in DEN. I explained what happened and she looked at me like she couldn't understand why I would have come to SFO instead of SJC. A phone call was placed to the baggage claim office and they didn't have any information. So she wrote a toll-free number on a piece of paper, handed it to me, and told me to call the number to find out what happened to my bags.
As you might imagine, this was not an acceptable response to me. Summoning a great deal of patience, I explained that I had been rerouted to SFO by an agent at the Red Carpet Club in DEN who had assured me my bags would be sent to SFO. Further, I added, if a mistake had been made in routing my bags then I didn't see why I should be the one to do the legwork of finding out where the bags are. The agent didn't seem happy that I wasn't going to just walk away and leave her alone.
So she made another call to the baggage claim office. By this point they decided that perhaps one of the bags had made it to SJC but they didn't know about the other two. So I finally agreed to go down to the baggage claim office myself, taking the agent's assurance that they could help me with a very large grain of salt.
Waiting more than fifteen minutes at the baggage claim office, I suddenly discovered where all the unhappy employees at United are assigned. When I finally made it to the front of the two-person line, the agent who would have helped me decided to leave on break. He pointed at the other agent and mouthed the words, "She'll help you." A few minutes later the other agent walked away with the two customers she was assisting leaving me standing in front of the counter by myself. No acknowledgement that I was standing there. No, "I'll be back in a moment, sir."
So I stood at the counter for about three minutes. A supervisor and another employee walking through the area didn't acknowledge me or even notice that I was just standing in front of the unmanned counter. Finally, another employee, Charles Brown, arrived at the counter and started logging into his computer. He didn't look up, didn't tell me that he'd be with me in a moment. Just started typing on the computer. Finally, about a half-minute later, he looks up and says, "yes?"
Over the course of the next ten minutes, Mr. Brown finally determined that one of my bags had in fact been scanned in at SJC but that the other two had not been scanned since they arrived in DEN. Actually, at one point he told me the bags were in Orlando but we quickly determined that he was referring to the original station (MCI) and was confusing it with MCO (Orlando). So the best Mr. Brown could do was to tell me that he didn't know where the other bags were and didn't have any idea when they might know.
Seizing upon an idea that seemed pure genius to me, I suggested that perhaps we could call the baggage claim office at SJC and ask them to check if my bags were there. No, he told me, not possible. Pointing at the bags that were standing around him, he said that all of these bags here needed to be scanned in and that, certainly, they had hundreds of bags at SJC and there was no way they could go look for the bags.
Getting a little frustrated, I explained to Mr. Brown that all three of my bags had a distinctive fluorescent green strap on them so they would be easy to spot. And, I pointed out, I grew up in San Jose and was pretty sure that given United's minimal operation there, it was unlikely that there were "hundreds" of bags.
Mr. Brown offered to fill out a form and enter it into the computer and United could arrange to have the bags delivered to me. But that might take an undetermined amount of time. Not trusting United to get my bags to me before I left for BKK in 60 hours, I told him that I would just rather receive a phone call and I would get the bags for myself.
After getting my rental car, I decided to take a chance that all three bags were already in SJC. So I drove 35 miles from SFO to SJC, managing to get some great shots of the sunset behind a UA 757 at SJC when I arrived.
Sunset in San Jose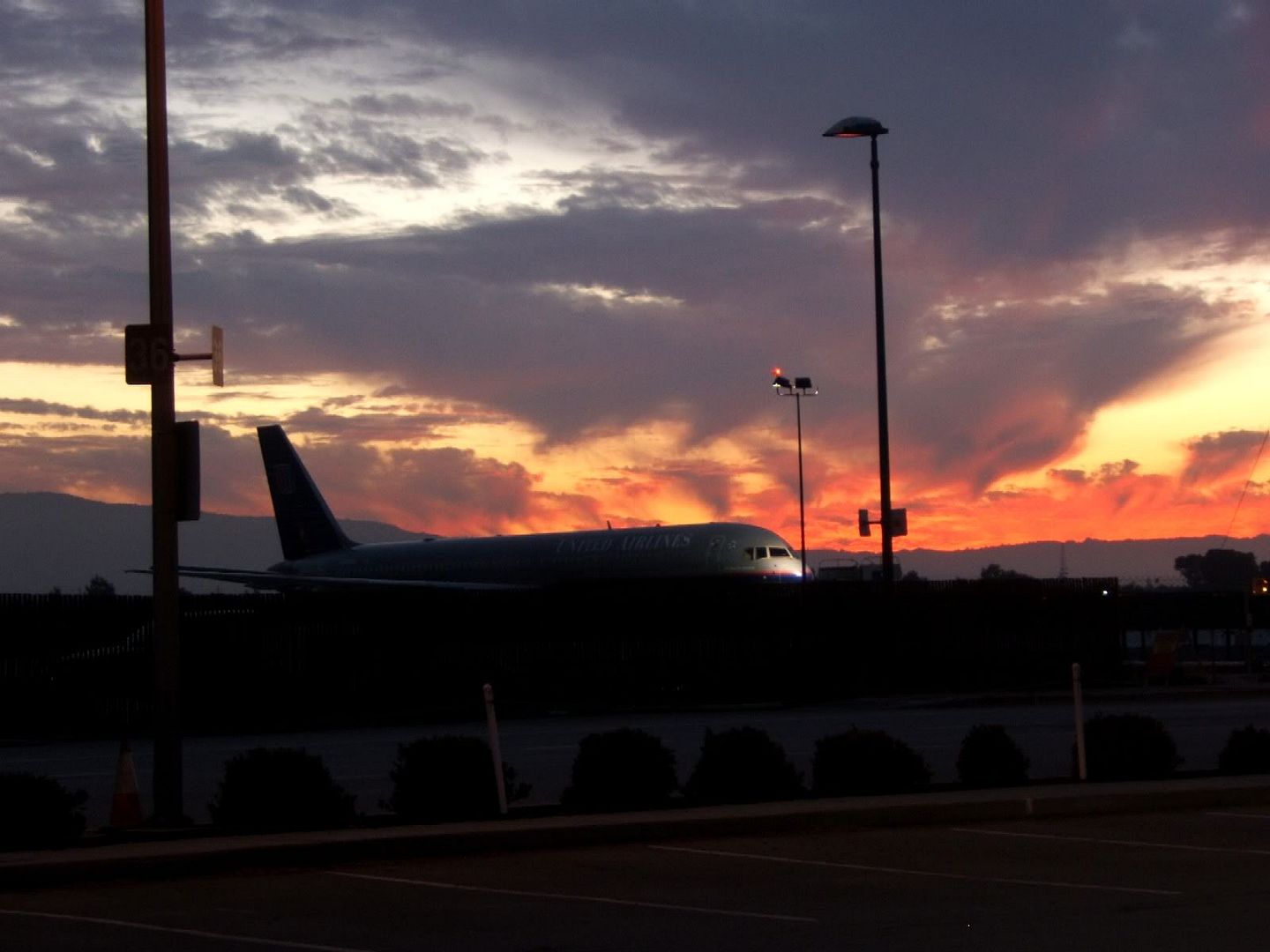 What did I find when I arrived at the SJC baggage claim office? My three bags, along with about nine others (not "hundreds") sitting just outside the office in plain view of the person at the counter.
In all fairness, the agent in SJC was friendly and helpful. I was on my way with my bags in just a few minutes. I asked him to check which flight the bags had arrived on, and I knew the answer before he told me: they arrived on my originally scheduled flight 1217.
That's right – even though according to United's records there were only four minutes between the arrival of my MCI-DEN flight and the departure of the DEN-SJC flight, and even though I was the third person off the incoming flight, my bags were able to make a connection that was impossible for me to make as the passenger.
Astounding.
The next afternoon I received a call from the baggage claim office in SFO wanting to confirm that I had received my bags from SJC. I assured the lady that the case was closed.
What's even more astounding, though, is that of the four UA employees (SFO Red Carpet Club, SFO Baggage Office, SJC Baggage Office, and the person on the phone) I dealt with on this issue of misrouted baggage,
none of them ever apologized for my inconvenience.
This will be going in a letter to UA's customer service department. But what's really frustrating is that, until I arrived in SFO, the entire trip had been pleasant, the employees helpful, and even my missed connection was handled fairly smoothly. Because just a few people couldn't demonstrate a little empowerment, some initiative, or even just basic customer service skills, the rest of the trip was marred.
Well, that's the trip. I'm off to SFO-LAX-NRT-BKK aboard UA Business Class this weekend, along with a Tiger Airways BKK-SIN trip in another week. I'll post those reports as soon as I can. And in October, I fly TG's New York Express nonstop from JFK-BKK.