Well I have rattled on about this trip (to those who'd listen!) for months, and it sneaked up on me really fast. So at 5.30am on Saturday 24th September, I set off from sunny Salford enroute for the first leg of the trip:
I'm no techie so if you're expecting lots of gumph on that you may be disappointed! This is more geared to reviewing the airline and the airports than other reports on here
FR553 MAN-DUB EI-CJG Boeing 737-200
View Large
View Medium


Photo © Alexandru Magurean
Arrived at MAN T1 just short of 6am, having made my way to the airport in record time! Had posted a thread
HERE
about my chances of landing a 732 prior to Ryanair retiring them from service. Luck was on my side, and EI-CJG pulled up (late) as we sat at Gate 15.
Check in was quick and efficient. The checkin agent actually physically laughed at my friends passport photo too. Secured boarding card sequence 11 and 12, so was confident on getting my window seat for the flight.
Departure was scheuled for 0810, having been rescheduled from 0825 a few weeks previous, However, strangely for FR, the inbound aircraft was late arriving from Dublin, and in typical FR fashion, no announcements were made at any time. Ultimately, we were called for boarding at 0820, and this was done without observing the FR boarding policy. In effect, my being 11th to check in was totally irrelevant, and somewhat annoying. This was made worse by some of Manchesters finest chavs pushing their way through when boarding started.
Nevertheless, we settled into 9E and 9F, and it was immediately clear how old this aircraft was. The seats were rock hard, the cabin was dim, and seriously showed it's age. But this was what I wanted, I didnt care. I just wanted to go. Boarding was very qucik, and the flight totally full. Didnt see a single empty seat. A little over 20 minutes late, we pushed back, and I grabbed this shot of a WW 735 (I think)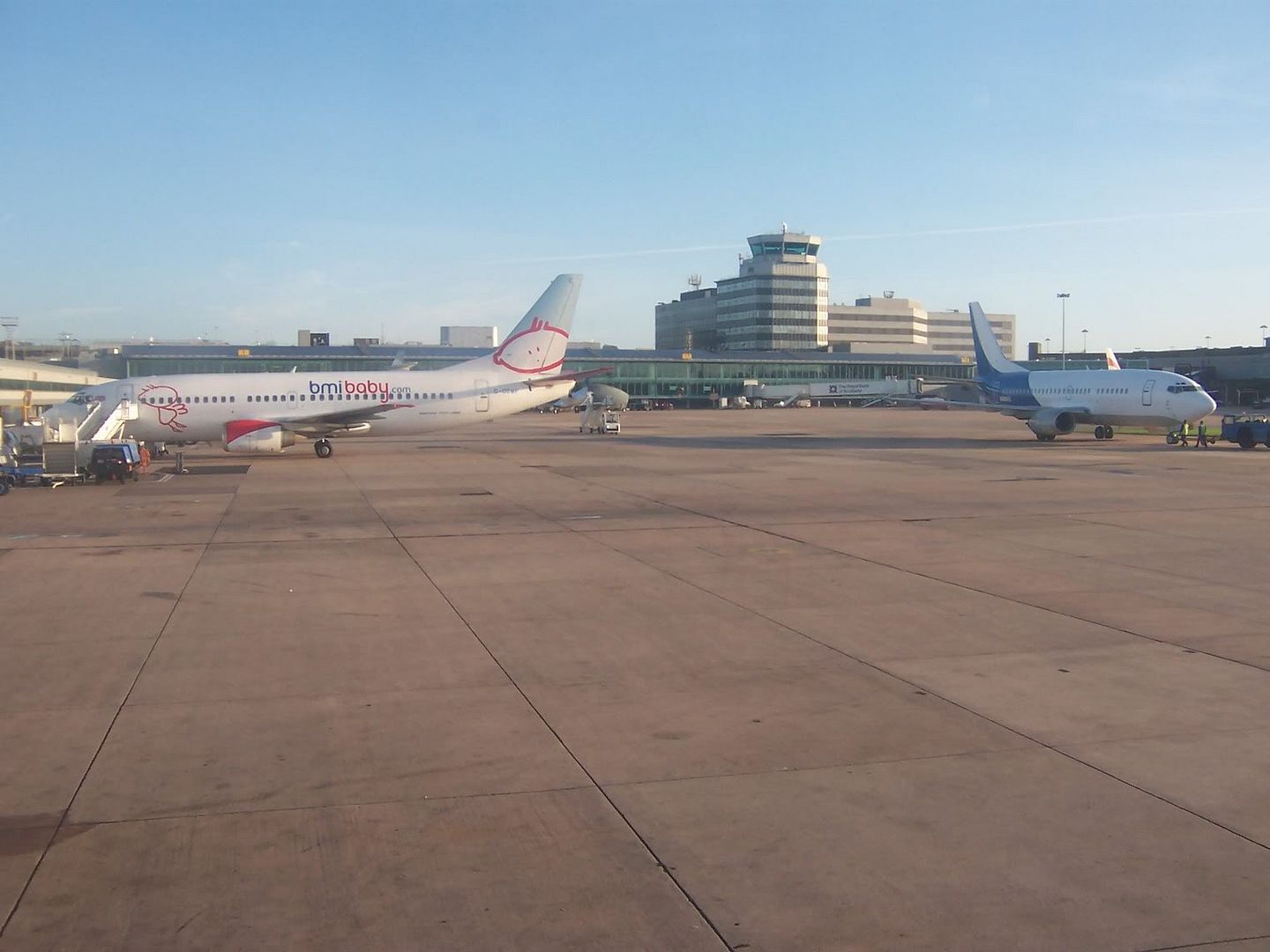 . Also visible is EI-CDG (to the right) though I'm not sure who she was operating for.
We taxied straight out and strangely for the time of day, didnt have any holding to do. We turned right straight onto the runway and then she roared. And what a sound it was. The aircraft shook, vibrations rattling almost every bone in my body loose, and we slowly left the Mancunian concrete behind.
The noise was actually not what I expected. From outside it's a deafening sound, but this wasn't so apparent inside the cabin.
Flight time was 35 minutes. Literally we were up, the seat belt signs went off, some rancid FR crew member marched up and down the cabin throwing the inflight magazine and anyone who gave her the slightest glance! This is where FR are simply appalling. Inflight service is extortionately priced (and this becomes more apparent later on.). The crew, again, just didnt give a sh*t. I kept telling myself that this is what I paid for - but still - smile would have been nice.
Anyway, in no time at all, we were on final approach. The '10 minute warning' chimed for the crew, but due to congestion at DUB, we circled for at least a further 15 mnutes, before finally beginning to descend into Ireland.
The pilot eased -CJG down slowly and for the smoothest landing. Then the thrust reversers deployed. Damn! I knew I shoud have sat further back. I managed to twist my neck about 150 degrees, but could barely see anything. Still, the noise was amazing. Looking out the window I saw the Hertz and Vodafone logojets, and a few other FR 738's. Also, it was rush hour for the heavies as DL, CO, EI and AA all had equipment on the ground. Unfortunately I never managed a picture!. Pulled up on stand about 50 minutes late, with a slight snigger to myself about the knockon effect the delay would have on FR's schedule for the rest of the day. (Rahahaha!)
EI524 DUB-CDG EI-DEC Airbus A320-214
View Large
View Medium


Photo © Paulo carvalho
Leg two of my world tour of Europe. At 9am on Monday morning, we made our way to DUB for our 1200 departure to CDG. Having had just a few too many Jameson's the previous evening, (and a Guinness and Baileys Coffee!!) poor 7LBAC111 wasn't feeling to good. But alas I had a duty to report to you guys, so I dragged myself to the airport. DUB is a much bigger airport than I had expected. Depsite living in Belfast for 19 years, and working st SNN for 3 years, this was my first time at DUB. So when I navigated the escaltor to departures, I was somewhat surprised to see a departure hall not unlike Schiphol. Though a little smaller, and with more farmers.
Tried to use the EI self check in booth. As a travel agent it concerned me greatly when it simply would not find my booking. Requested the immediate assistance of an EI Queue Buster (Therese) who pointed out that in fact my booking reference didnt end 55, but SS, and that perhaps I should check my contact lenses were in the right eyes. Embarassed, I thanked her for her help and made my exit - forgetting my boarding card. Could today start any worse? LOL.
So anyway, looked at the departures board and was horrified to see DELAYED next to every flight. Hadn't a clue whay - was a fine sunny morning, but thought I'd find a quiet spot, a strong coffee, and rest. Unfortunately this wasnt that easy.
At 1200 on the button, EI announced our flight would board at 1245. No big deal really, the coffee was working now! FR were having a nightmare. I have never heard so many gate changes in all my life. People were back and forward like yoyo's some ending up right back where they started. An AC 767 was boarding (up steps!) from nearby, and it was a busy flight, so you can imagine the number of people.
1245 came and went.
1300 Boarding Call. Yay!
A number of flights began boading at the same time. It was difficult to see where EI queues started and FR queues ended. Nevertheless we managed it, and onboard EI-DEC, I grabbed a few shots from my seat 12A.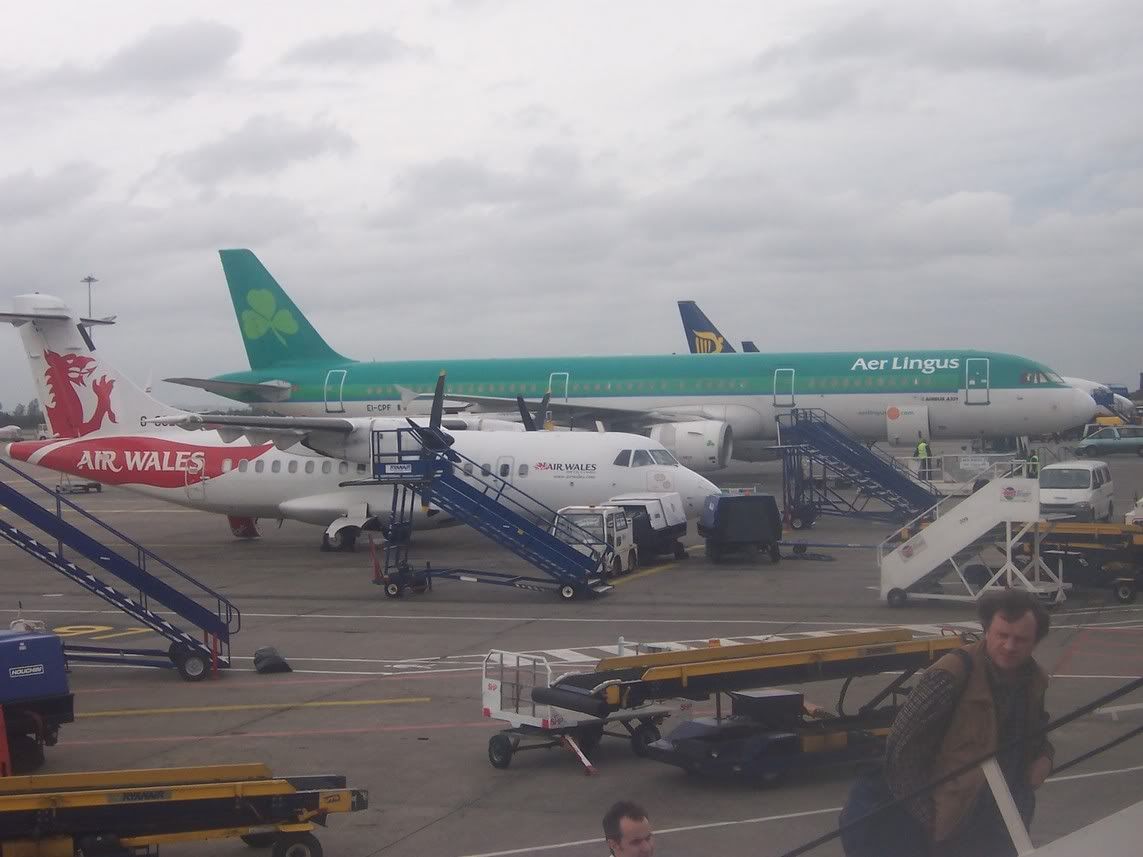 An EI A321 and an Air Wales ATR located in the middle of a quagmire of ramp equipment. Note from Wiggy's hair (climbing the steps) how windy it was?? Suddenly the reason for the delay seemed apparent.
Boarding was frustratingly slow. It never ceases to amaze me how many people can be late for a delayed flight. Still, we finally began pushback at 1320 some 80 minutes late.
As we taxied, we were informed by the captain that the delay was caused by the now daily occurence of congestion at DUB earlier in the day. He did say however, that due to the tailwinds, he'd hope to make up a little time on the way.
I did get the opportunity of a few snaps as we made our way to the runway. Notably this LO E170 just seconds from touchdown.
We joined a short queue and were soon airborne. The Airbus seemed mightily quiet compared to the 732 a few days earlier. The progression of technology!
The captain applied full throttle and the engines pulled us into the sky. The take off being remarkably smooth given the winds.
The cabin crew were kept busy. Delays mean hoardes of hungry irishmen. Me included. I was very impressed with the menu selection EI offer, which included a Full Irish breakfast for just EUR7.00. I declined that, but had a greta snack, which cost just under EUR6.00. Good value too compared to the FR offering.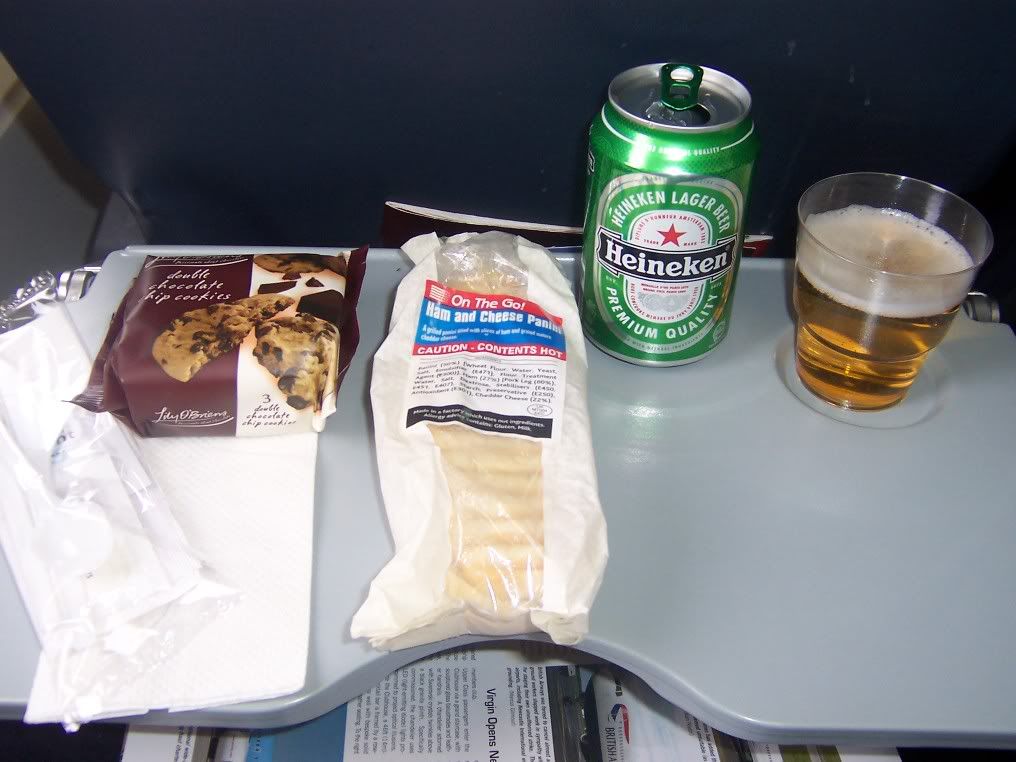 Ialso felt hair of the dog would benefit me. So had a Heiniken with my Bacon and Egg panini, and Cookies.
It was an uneventful flight. 1 hour 20 minutes later we landed smoothly at CDG. Processed immigration qucikly and into baggage reclaim at CDG> A new experience for me. A display actually telling us how long we'd have to wait for our bags. A nice touch, and made even better as it said 'Arrivee' almost imediatley. And sure enough, the bags where at the belt within 15 minutes of us leaving the aircraft.
Outside arrivals, I managed this pic of two EI aircraft side by side at Terminal 1 at CDG.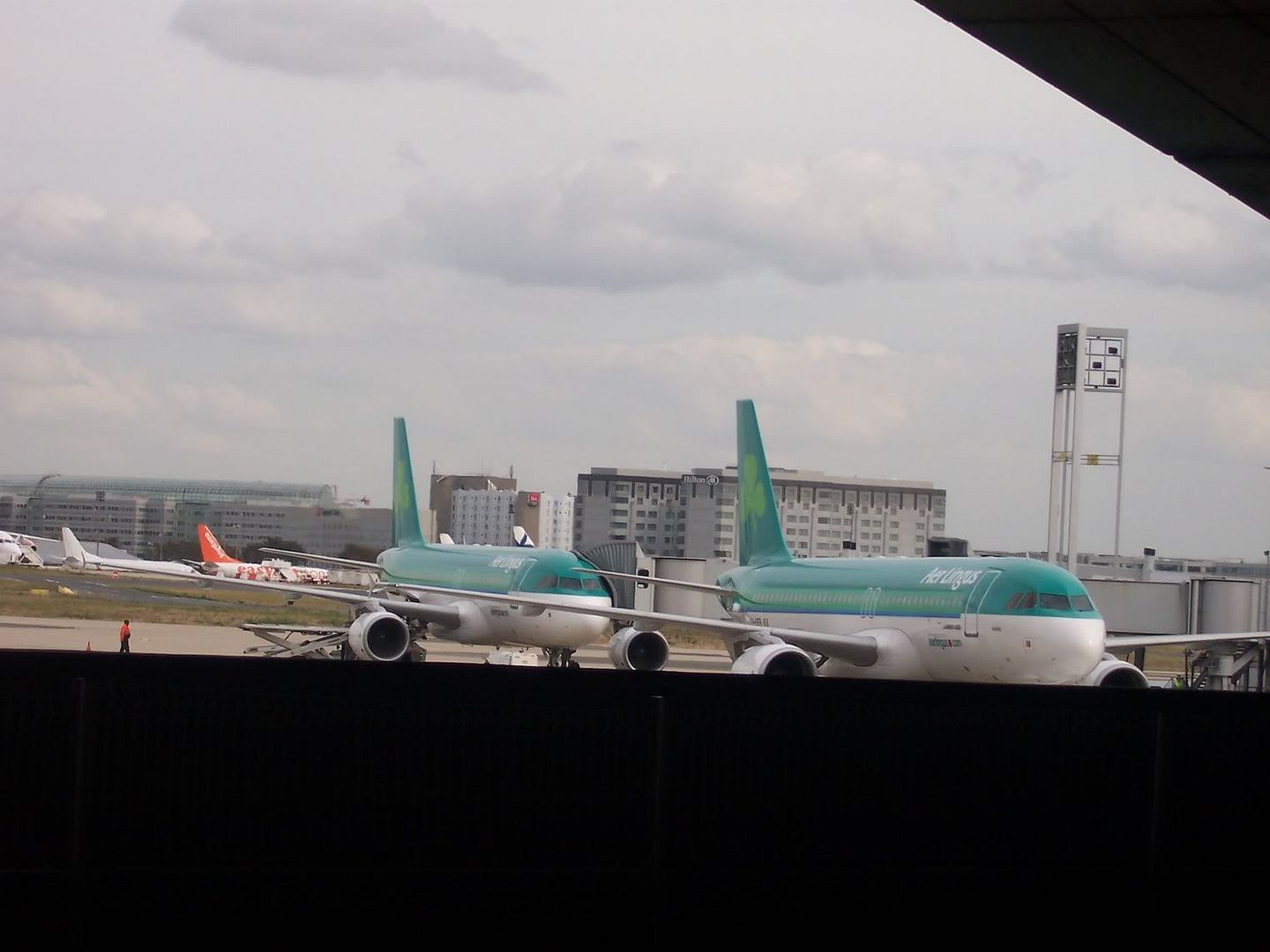 NE327 ORY-BUD HA-LKU Boeing 737-300
View Large
View Medium


Photo © AdamS
Well this was a leg of the journey I was looking forward to the most. Having booked NE a few times at work, and heard good reports about them, I was eager to experience the service.
We arrived at ORY Sud early as we simply hadnt any idea how long it would take us from central Paris. Check in wasn't open either, but there was a few souls loitering with intent. The flight confirmation said checkin wouldnt open until 2 hours before departure. We had 40 minutes to kill, so grabbed a quick bite to eat.
When we did get back to check in, there was still nobody there. But we joined the queue. When the staff did arrive, they were very quick in organising the maybe 30 or so people into and orderly queue. We benefited from choosing the right desk, and were about 3rd in line. Managed to bag exit row seats here too, on row 14E & F (I think).
In keeping with the rest of the flights thus far, we were informed of a 20 minute delay at check in, and told to watch the screens for a gate. Spent what seemed like ages in a deserted ORY-Sud terminal. Most facilities were closed or closing at 7.30pm. No Bureau de change facilities or anything. Most disappointing.
I was expecting a 735 on this leg. It was dark outside and I couldn't tell for sure. But when we did board, I was surprised to see a very orange cabin. Put two and two together and realised that this must have been a 733, and had previously seen service with U2. Can anyone confirm this?
Departure was again quick and painless, and another very busy flight.The cabin crew were all stunning too. (Unlike the FR and EI offerings). They spoke perfect English after doing their preboarding announcements in whatever tongue it was.
The pilot informed us of the delay, and how very sorry he was, but they had been struggling to make up time all afternoon apparently. I didnt catch the reason for the delay, but I didnt care. 20 minutes was no big deal.
9pm at Orly is a quiet time. A couple of Tunisair aircraft enroute to Tunis and Djerba (A300-600R and A320 respectively) and that was all the traffic that we could see. This made for a direct departure, and the take off roll commenced.
It was a steep climb too. Quite exhilarating. Why,I have no idea, but it was. The 733 gliding into the sky. This was where SkyEurope reminded me of how it was to fly a few years ago. there is no IFE (obviously) on these flights, but the captain chatted away on and off giving us updates as we passed various cities such as Zurich enroute. He told us we were crusing at 35000ft, that the outside air temperature was -56C, that we wer travelling at a little over 940kph. These all things that you just never seem to hear anymore, another example of the impersonalisation of air travel these days. Well done to SkyEurope for this little touch.
Approach ito BUD was fast, and we landed without any issues whatsoever. A long taxi then to Ferighy 1 at BUD. We pulled up alongside an SkyEurope EMB120 I think, and a 735 belonging to the same carrier. Also there was a Wizz A320 parked up too, so a colourfull ramp. I never got a single picture here either. Sorry.
LS898 BUD-MAN TF-ELZ Boeing 737-400
View Large
View Medium


Photo © Michael Priesch - Spotterteam Graz
My first experience of Jet2. I was looking forward to this one, having heard so many good things about them. And on the whole I was impressed.
We arrived at BUD at 0940am - just as check in shoud have opened. I was horrified to see a queue of what seemed like 200 people already a the check in desks. I couldn't comprehend this. Where were all these people going to sit? Then I began to panic, thinking maybe there was a cancellation a few days earlier and these were stranded pax. All sorts of things going through my mind. You see, I dont do queues! LOL.
Anyway I remembered that LS have a couple of 757s now. Then I got a bit excited. Maybe there was a change of aircraft here. Maybe we;d have one fo these 757's? Could I get lucky?
We queued for little more than half an hour. When our turn came around, I was somewhat surprised to find we were only sequence 68 and 69 to check in. But all these people.... how could that be?
In keeping with every other flight this trip, we were told of a 35 minute delay. I'm glad I had packed a good book! We didnt get the Exit row on this occasion either. Bummer.
Terminal 2B at BUD is a bright modern terminal - quite a surprise actually. Don't know what I was expecting but not the modern airiness we experienced. Made use of the Duty and Tax free shopping, and bought the mandatory Toblerone for the team back at work.
At around 1140, the aircraft arrived from MAN. A 734 as expected. But still all these people at check in. Thought I'd do a scan around and noticed that a number of the people I'd seen at check in were alone. My amazing powers of deduction ascertained that in Hungary, the entire family must queue in the checkin queue with you, to ensure safe departure!
. Alas - no 757 today!
I assume from the TF- registration that this aircraft isn't Jet2's? I hope it wasn't because this was a tired, dirty plane. The Leather seats going someway to increase the passenger comfort, but thats it. Both our tray tables were broken, meaning our drinks slid around. Thankfully the seat next to us was free, so my travel buddy moved to the aisle and we shared
We boarded about 15 minutes after STD, and this was done in an orderly fashion too. Maybe a little slow in hindsight. The flight wasn't too busy either.
This time we were in 25A & B. For some reason though, I decided to tell the people in 24A & B that they were in our seats and would have to move. Imagine my embarassment as I realised I was wrong!!! I took up my position in 25A, and Doris and Dennis (a couple who were both 90 years old it appeared) took up residency behind me.
Unfortunately though our holiday benefited from Englands finest scum on the return in the same way as we did at MAN on the outbound. A Stag party returning after a few days away. I could only wonder what Dennis and Doris were thinking as these lads managed to inform the whole aircraft, indirectly, of their conquests over the past few days. It was simply embarassing, being on a plane in Hungary as 6 chavs from Liverpool compared Hungarian women to Llamas.
Anyway, we left as promised, 35 minutes late. I got this shot of Malev's presence at BUD as we took off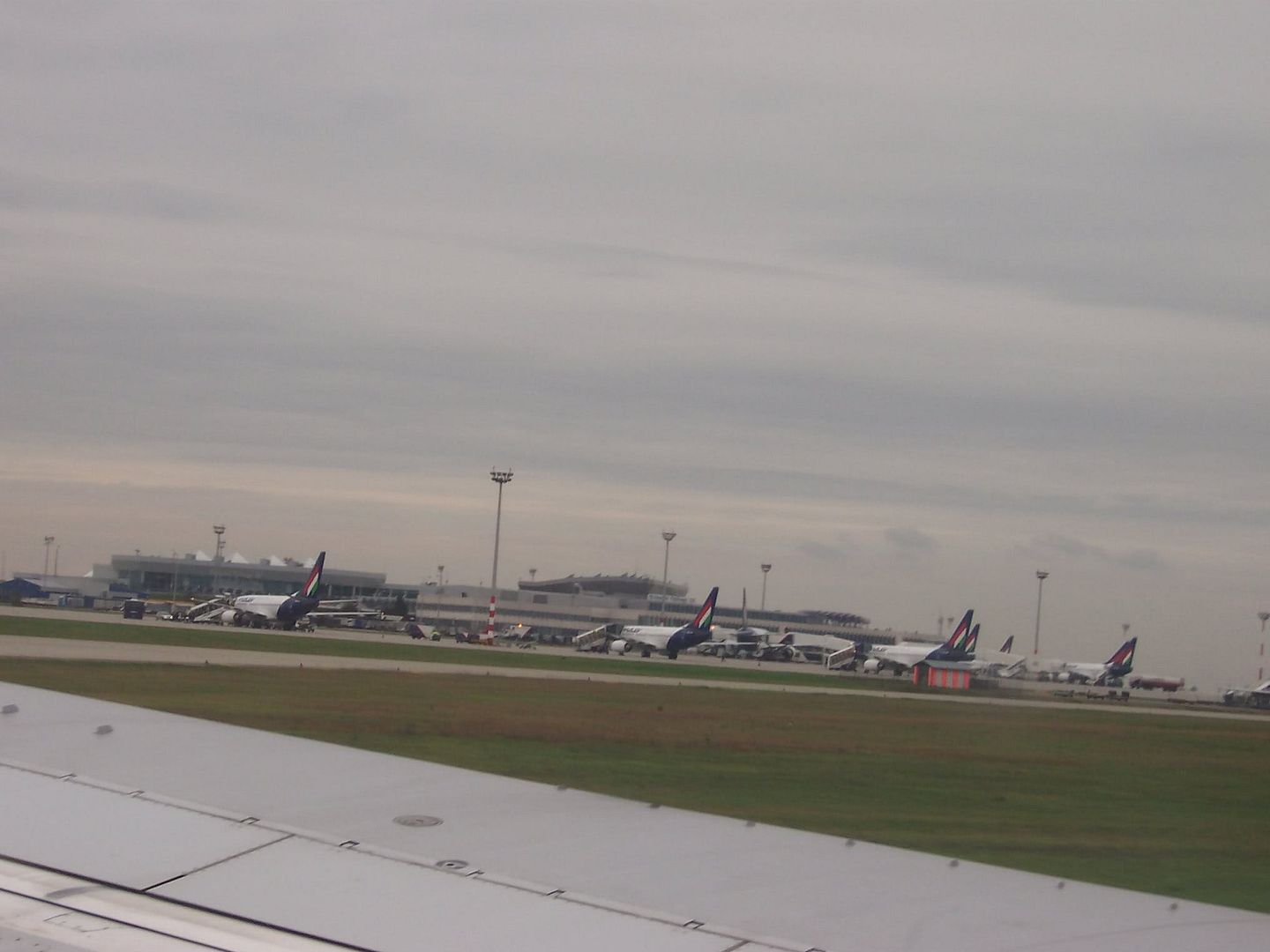 Jet2 are very reasonable. A drink, sandwich and Pringles for £5.00. Batgain. I added a large bag of Maltesers and 2 cans of Pepsi to my shopping list. Well, I was hungry! Not bad for £8.20 though - no?
It was a strange flight. Steep take off, sharp turn to the left, then long bank right before settling into cruise. I dont normally notice these things, but this time I did. There seemed to be more turns than I would normally recollect. But this made it more interesting. I snapped a few shots enroute to MAN.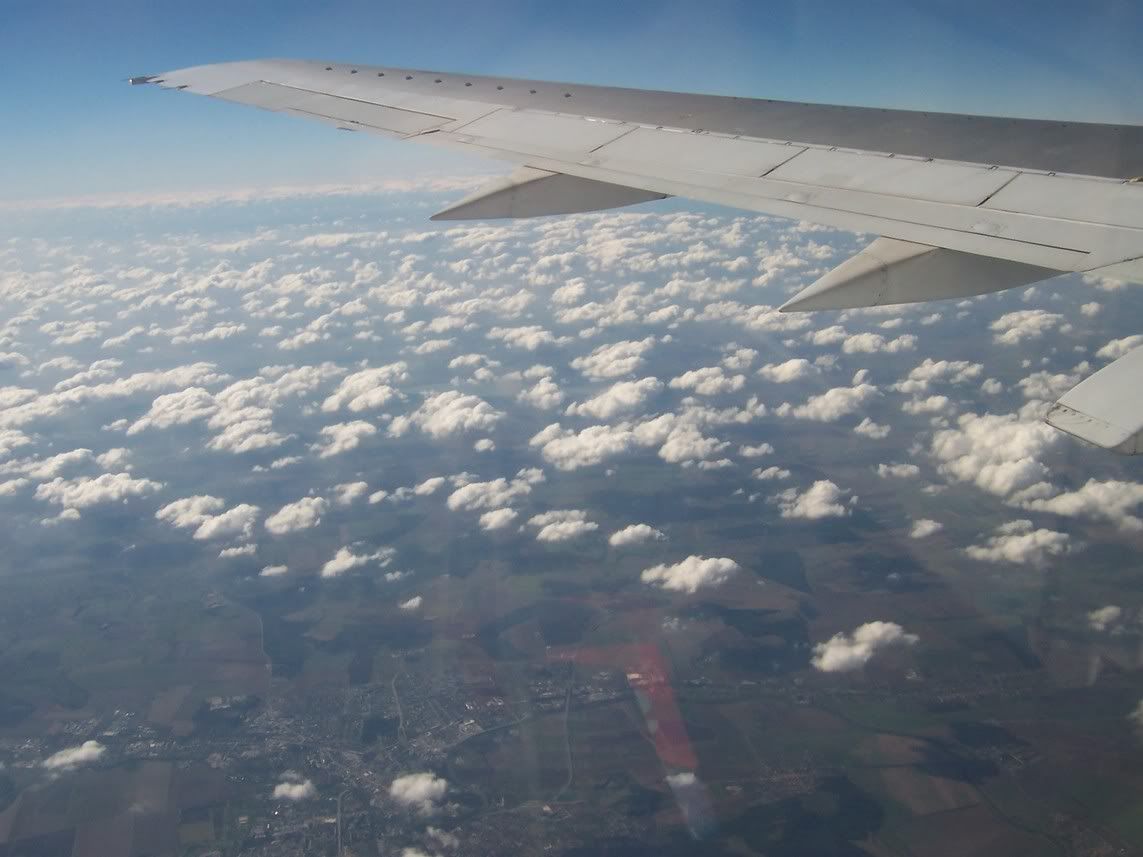 Final approach into MAN was nice and bumpy!
. Heavy rain on the airport as we arrived, and this made for what really was a hard and fast landing at MAN. I grabbed a few shots nonetheless.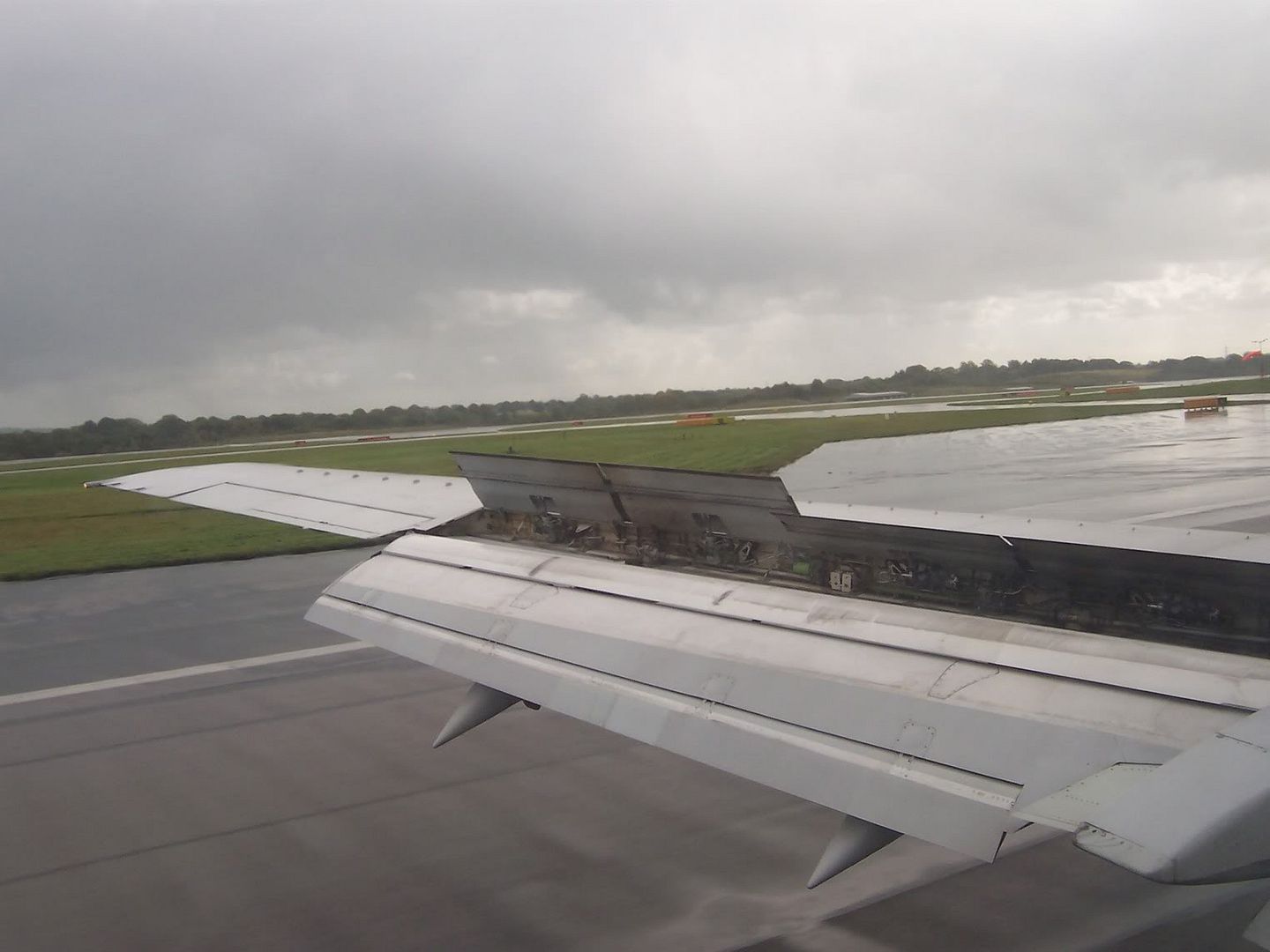 -------------------------------------------------------------------------
So thats it. A reasonably good trip to three amazing cities. Not the mix of aircraft I was hoping for still. As I said at the start, I'm not up to the technical skills of some on here, so aplogies if this seems less detailed than others, but thought I'd share it with you all nonetheless. Let me know what you think.
7LBAC111
Mark