I am going to school in Ottawa, and decided to come home for (Canadian) Thanksgiving weekend. Air Canada's new Ottawa to Hamilton service seemed the perfect choice. I booked a few weeks ago and got a great fare: $79 each way.
I was awoken at 5:45 to catch my 8:00 departure from YOW. I caught a cab to the airport, arriving at 6:30, plenty of time to check-in and wander the terminal a little.
I decided to use Air Canada's express check-in kiosk. There were no lines and it only took a few minutes, but after it printed out my boarding pass it told me the transaction could not be completed, and I needed to go to the "triangle position". I waited in line for a few minutes, and the agent told me because I wasn't checking any baggage I really didn't need to go there. A little annoying, but the agent was really friendly, and I very early, so I didn't mind.
I walked to security, on the way enjoying the atmosphere of Ottawa's terminal, especially the inukshuk perched up high. Security took about 5 minutes, and after that I went to my gate, which was empty of both aircraft and people. Boarding was scheduled to start at 7:25, but my aircraft, a CRJ 200 (fin 168), didn't arrive until 7:20 so that was delayed a little.
View Large
View Medium


Photo © Paul Robbins
Eventually we boarded and got settled in. I must admit, my first thought upon entering a CRJ for the first time was, "wow, this is small!". We pushed back about 3 minutes before scheduled departure, taxied a short distance, and then waited for a few minutes. I wondered if there was a line-up for departure this early, but soon the captain came on and explained our weight and balance was a little off, so we would have to add ballast. This added a good 20 minutes to our take-off time, but at least the captain explained the reason for the delay and added his apologies.
We taxied into position and finally took off. Those CRJs certainly have some power - we were off the wet runway in 25 seconds flat. Gradually the ground below disappeared as we entered into some thick clouds, topping out between two layers of cloud at 26,000 feet. Interestingly, the person sitting beside me was a twin-engine pilot, so it was kind of neat to chat with another aviation enthusiast. The flight was mostly uneventful. We were served a (very!) light sesame snack, and I snapped off a few photos of the clouds. There was some mild to moderate turbulence in the clouds, but nothing too out of the ordinary.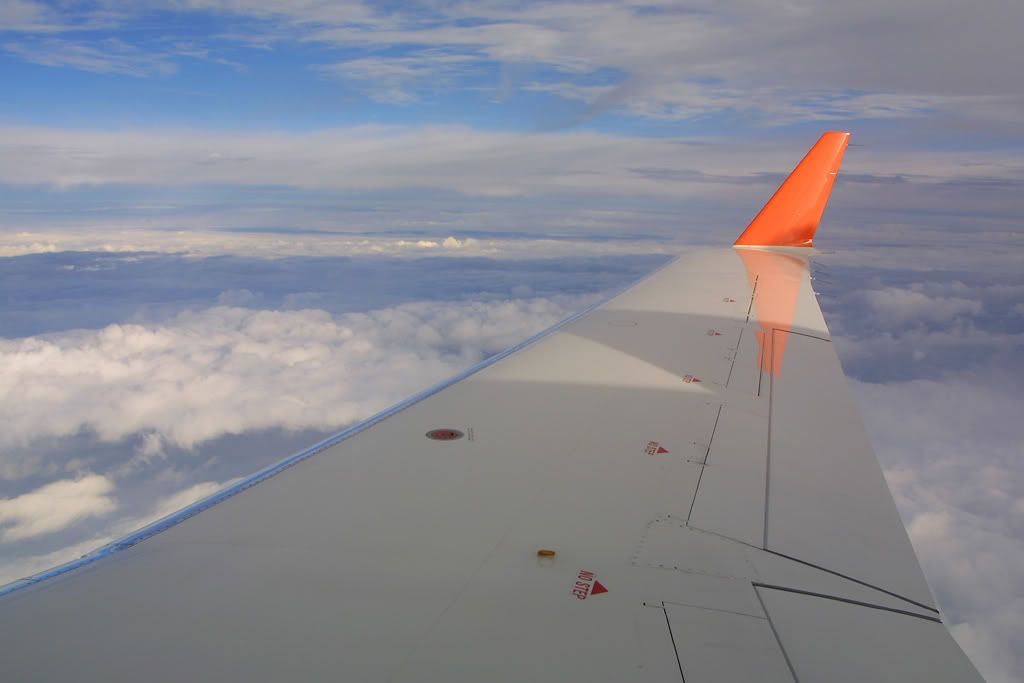 About 30 minutes after take-off, we began our descent into Hamilton from the north. I noticed we passed the 403 below on our descent. Touch-down was firm and the deceleration was pretty quick considering that it was on a very wet runway. We taxied to the terminal, arriving about 20 minutes after scheduled arrival time. I quickly realized there was no jetway and we would have to make a mad dash to the terminal in the rain!
Overall the flight was good and I look forward to my return flight in a couple of days, which I hope to report on as well. Thanks for reading!
A346Dude
[Edited 2005-10-08 16:59:34]