***First off, let me apologize for the delay in posting this trip report. I have been so busy of late with work; I just haven't gotten around to transferring the photos from my camera to my desktop, and then further to photobucket.com.
The first two legs of this trip report can be found at the following links:
BR First Class LAX-TPE (with Pics)
(by
Echster
Sep 12 2005 in Trip Reports)
BR Premium Laurel TPE-BKK (with Pics)
(by
Echster
Sep 12 2005 in Trip Reports)
27 August 2005
Bangkok International (BKK) - Taipei International (TPE)
EVA Air Flight 212 (BR 212)
Boeing 773ER
B-16701
Scheduled Departure – 1215, Actual – 1235, Airborne – 1247
Scheduled Arrival – 1655, Actual – 1702, Gate – 1707
Premium Laurel, Seat 7A (Window)
BKK – Gate 53, TPE – Gate C9
I must say, of all my trips to Thailand with EVA Air, this was the first time they had ever begun check-in prior to 2-hours prior. I'm not sure why, but maybe it was because immigration was really backed up. I'm not kidding when I say every line seemed to be 10 people deep. It took me a good half-hour to clear immigration and I was still one of the first into EVA's BKK lounge.
Minor Complaint Alert: In most of my travels with any airline, I bring my golf clubs. This time, and only on the BKK leg, did I have a problem. As I was checking-in, I was told my clubs could not go on the plane. I didn't get mad, I simply asked how that was. I pointed to the EVA priority tags still on the bag and said they arrived with EVA, I need them to depart with EVA. I had a hard time following the conversation, but they were checked-in but placed to the side. I was told a supervisor would be there to further explain. So the supervisor shows up and tells me there have been problems with BKK and golf clubs. I was told it's not a theft problem, but a breakage one. I told her I've flown with my clubs close to one hundred times, never with a problem. She then told me I needed to sign a waiver or the clubs would have to stay. Of course, I signed. I've had to do the same with Delta on all my flights with them. However, the thing that was most frustrating was learning this "policy" was only implemented the day prior. The supervisor mentioned there was a larger mess yesterday with the golf club issue.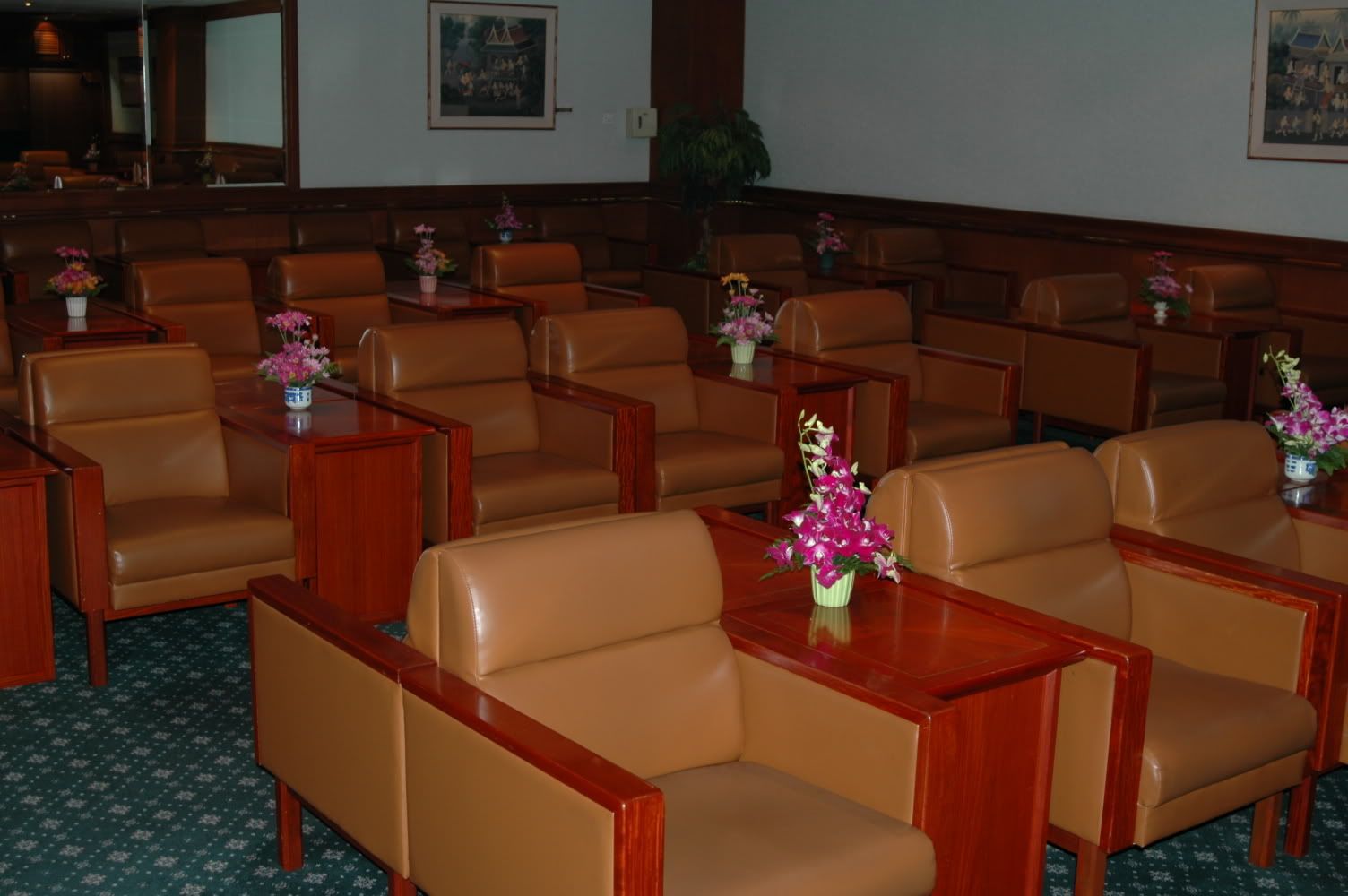 This lounge is decent, but far from superior. The sitting area is quite large, seating all comers. There are no separate F, C, and FF lounges. Also, there are no restroom facilities inside the lounge. If you need to go, you need to hike to the public restrooms.
Walking through the smoked-glass doors, you are greeted by an attendant at the welcome desk. The person working there kindly takes your pass and points you to the seating area. To the right hand side are the newspaper racks. There were roughly 12-15 papers there to read in English (BKK Post, Nation, IHT, USA Today, WSJ Asia), Thai, and Chinese. There were also a few magazines, including Time's Asia edition.
To the left is the large seating area. I tried to take one photo of the room, but it was so large the lighting doesn't look too well. The seats were leather and tables were interspersed throughout.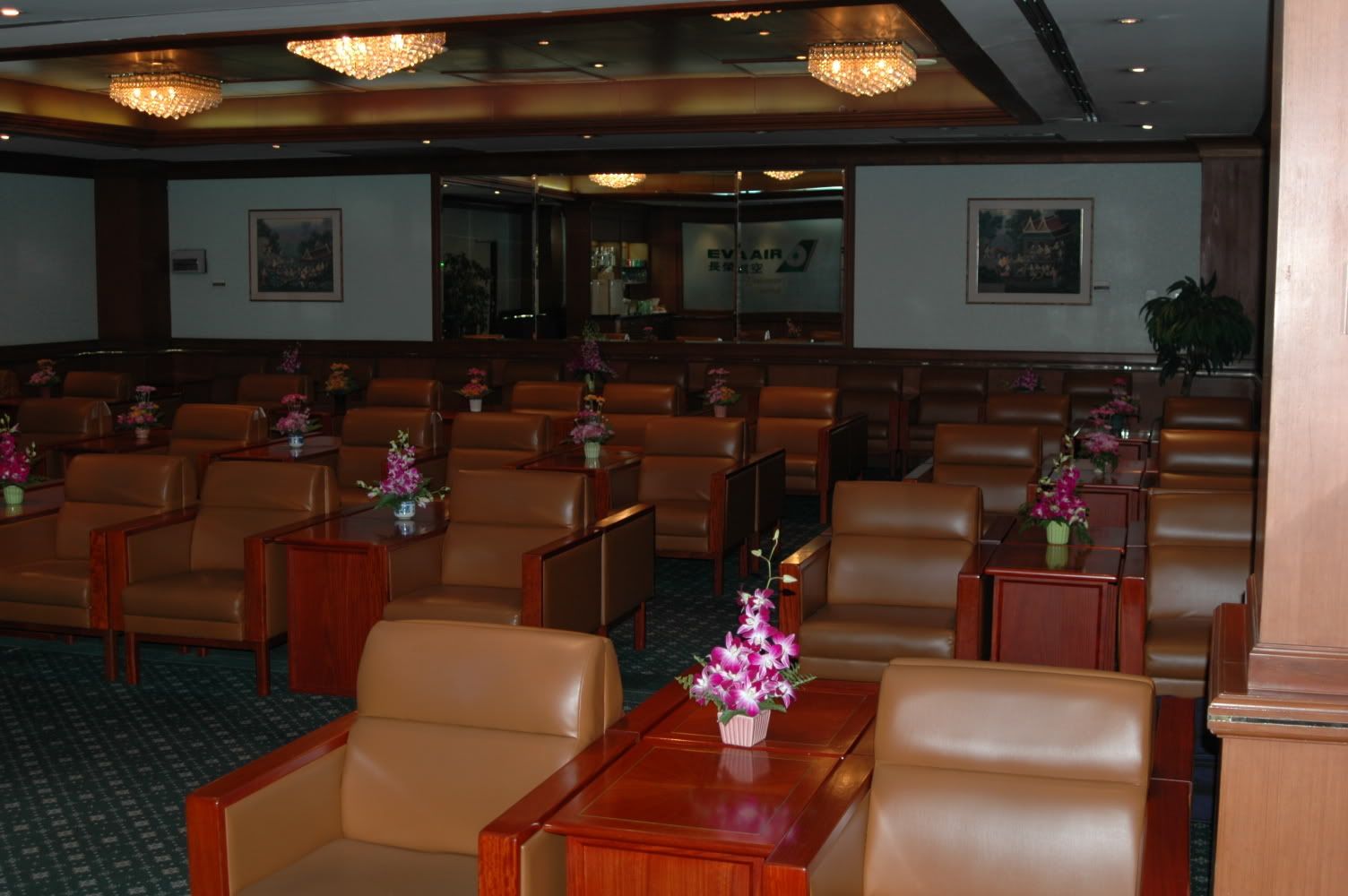 Further to the left was the snack and beverage area. There is nothing here to fill you up, just a few snacks before the flight.
Leaving the lounge for Gate 53 was not an ordinary walk. I've been on hikes in the Army that lasted less than this trek! I'm no expert in the layout of BKK, but I could swear this hike would rank in the top few as far as distance from lounge to gate.
Boarding at BKK always seems to be a free-for-all. For this reason, I decided to take my time this trip and concentrate on taking a few pics of the aircraft. I lucked out as there happened to be no other aircraft on our side of the ramp, so I took these photos before passing through the final security stage and finally at the gate.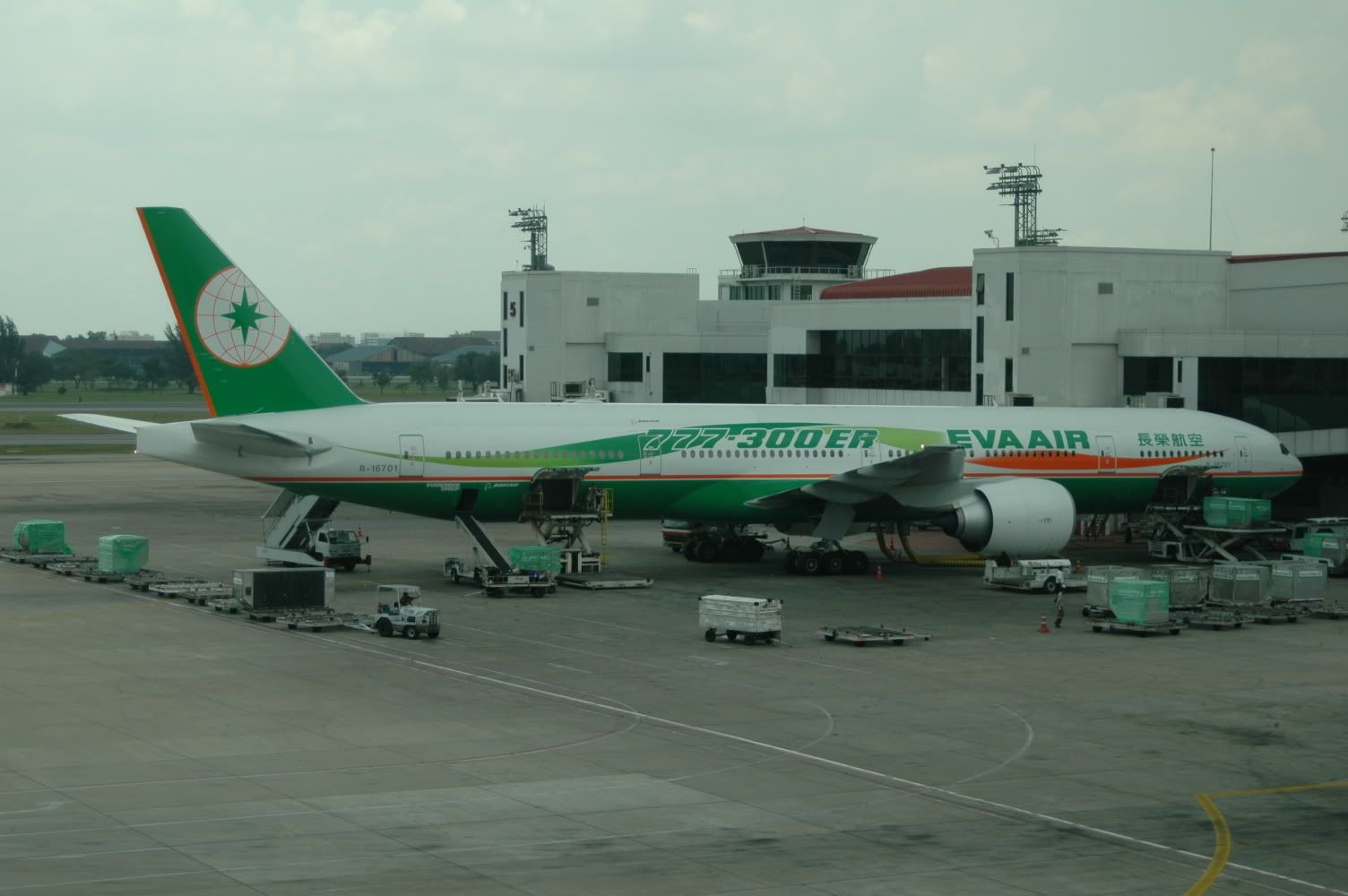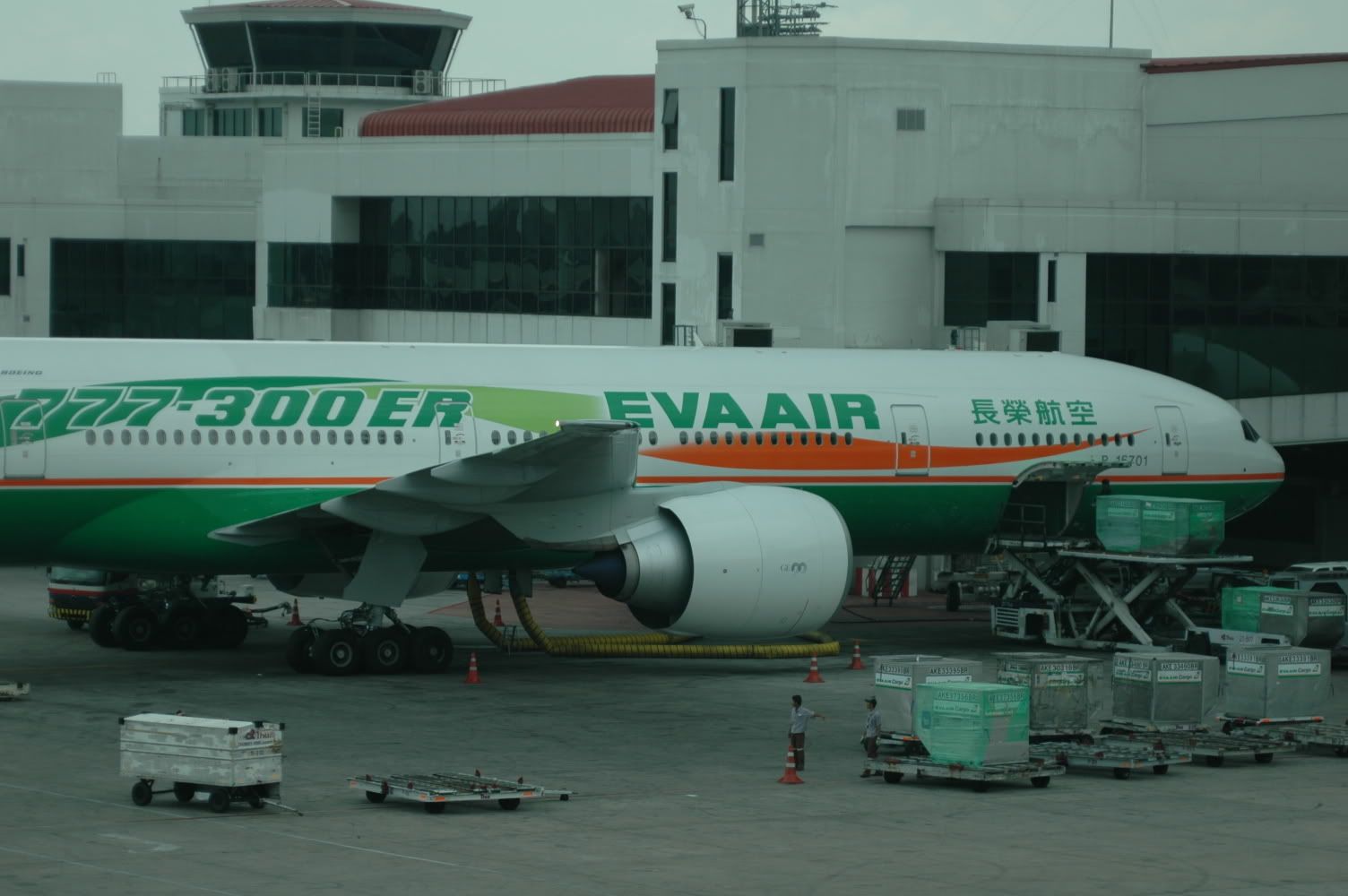 Boarding had just begun when I reached the gate. There was a long line to the right and next to no one in the line to the left. Premium and Gold or higher FFs boarded to the left, Elite and Economy classes boarded to the right. There was no wait as the boarding agent took my boarding pass. Walking down the ramp, I managed to take these shots of EVA's first B773ER. It was also at this time that the heavens opened up and a short downpour began. The ceiling was overcast so I wouldn't get many good departure pics.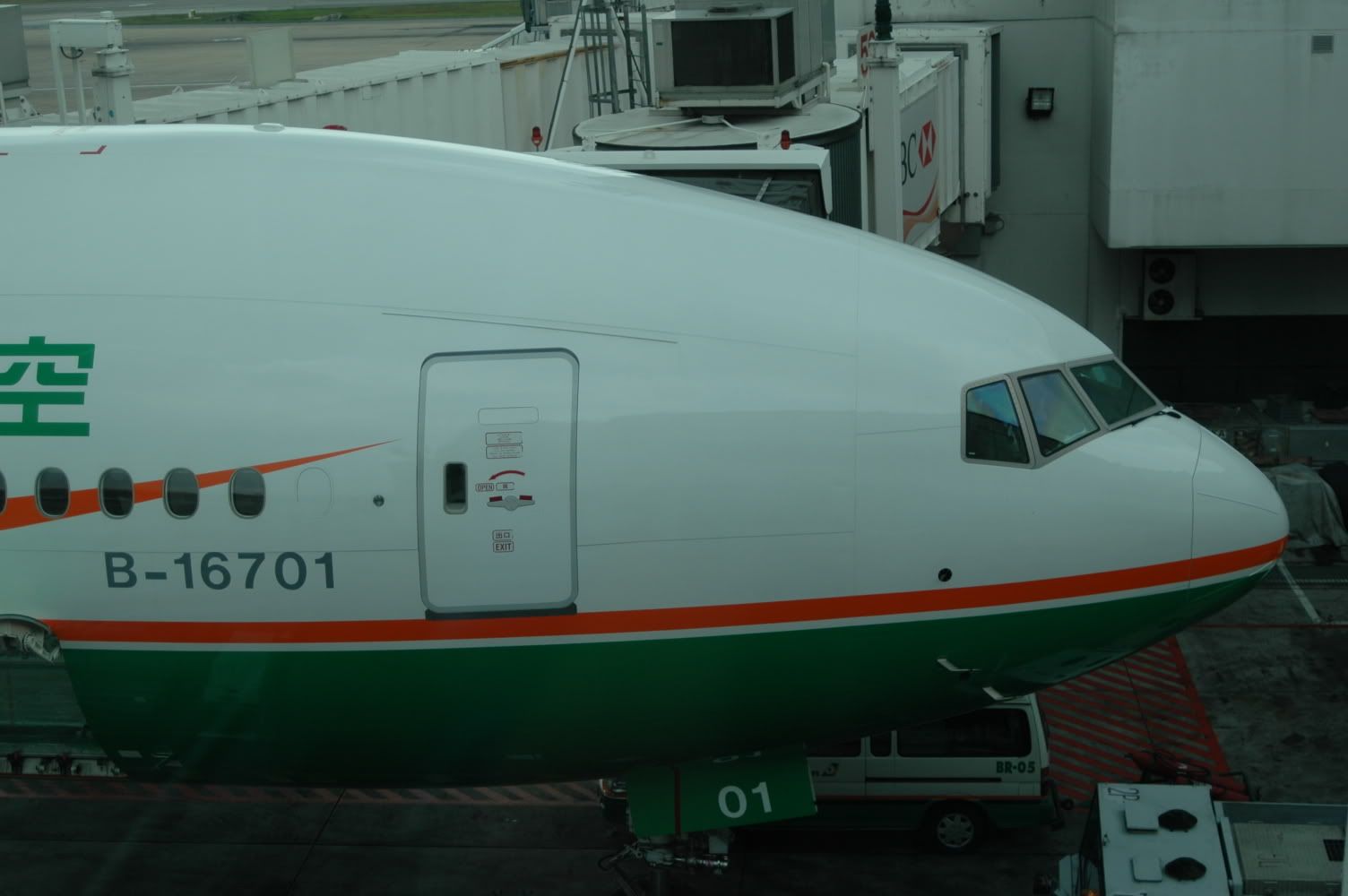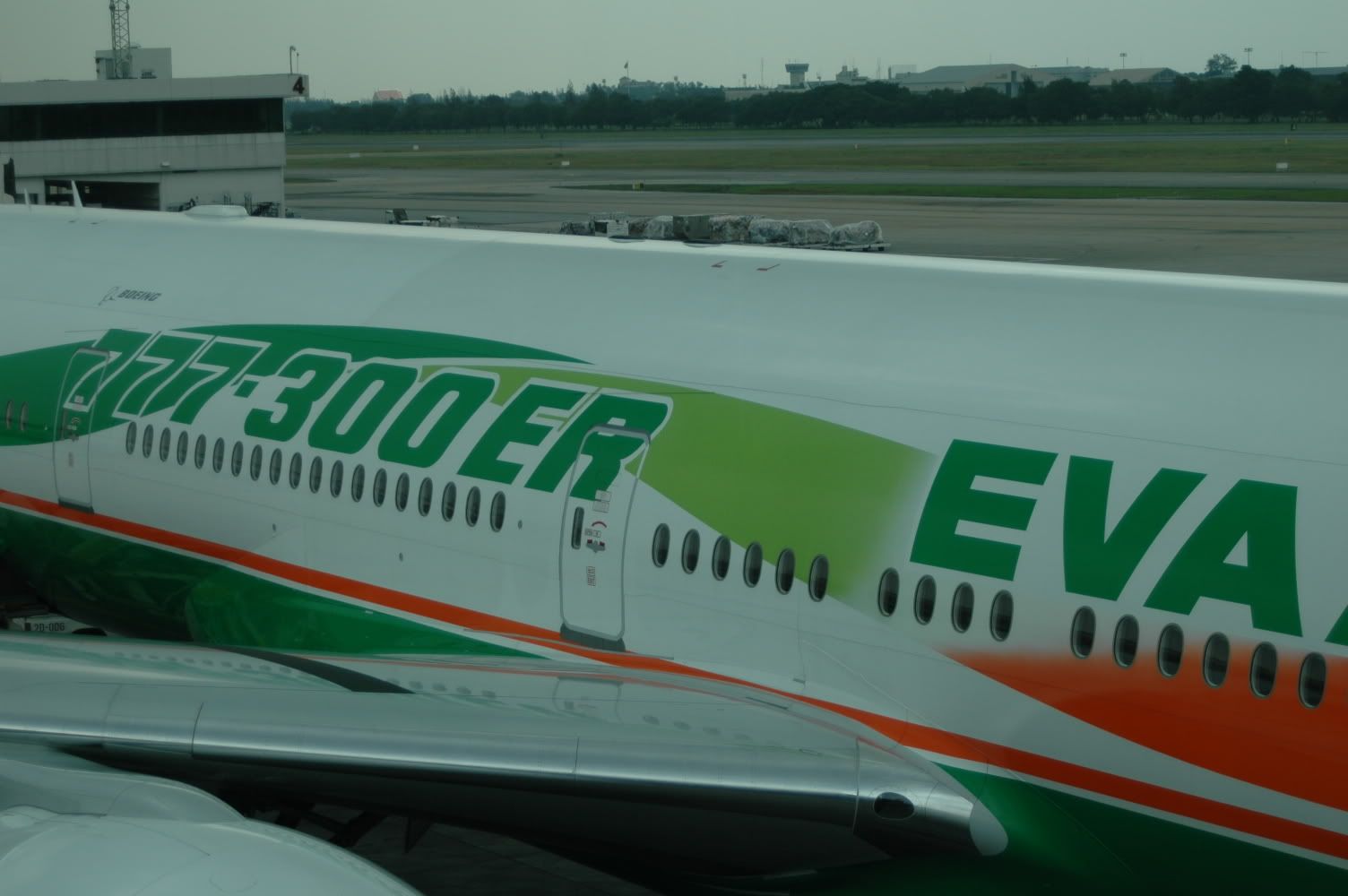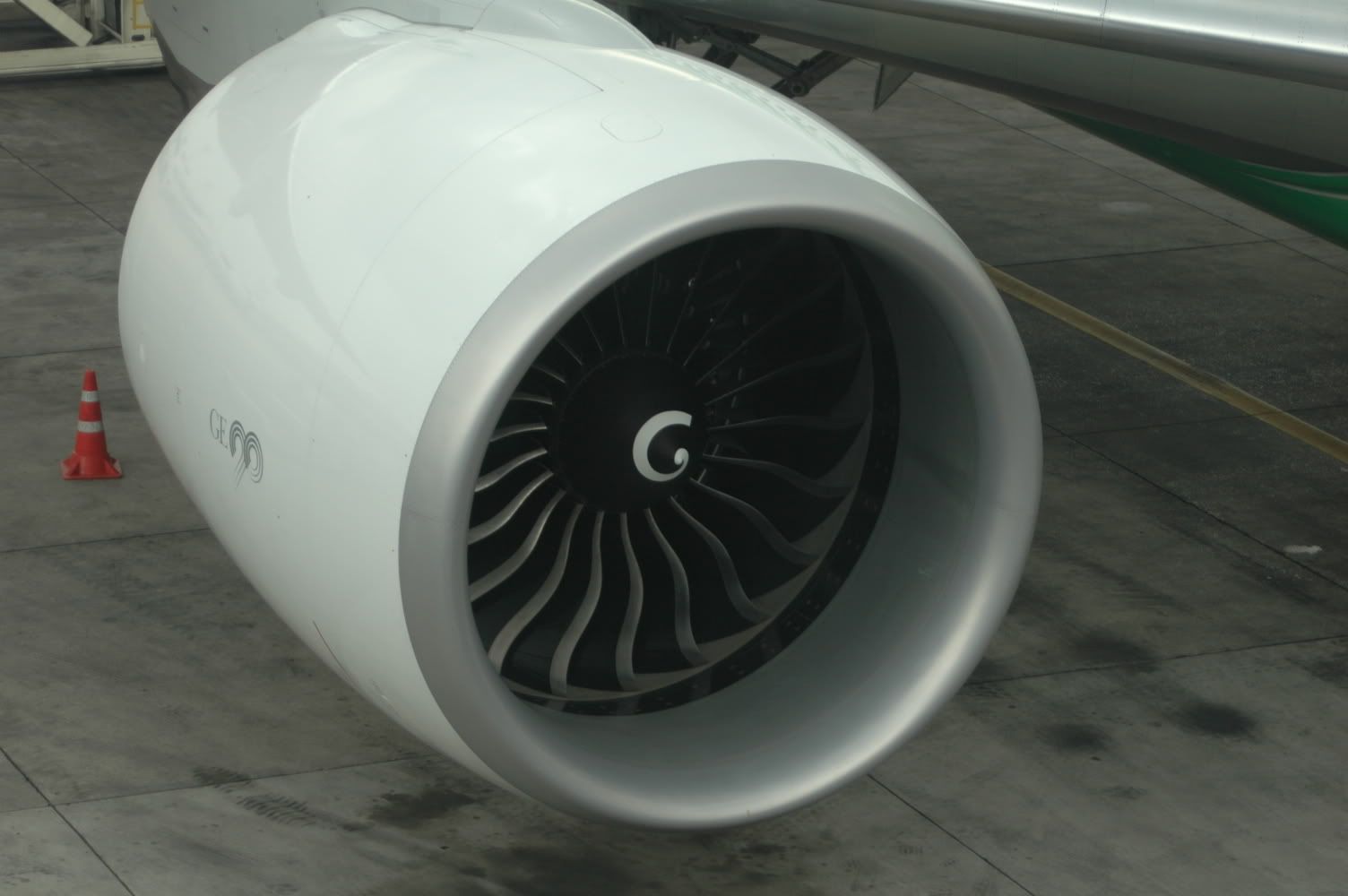 At the jetway, Premium Laurel passengers went through the left door and Elite and Economy passengers took the right door. I managed the same seat from BKK as I had arriving to BKK. Once again, there was no one sitting in the seat next to me. I would put the Premium Laurel cabin at roughly 40% and Elite and Economy classes at 90%+ for this flight. I stowed my carry-on and was soon greeted by a flight attendant with a cold towel. While there, she took my pre-departure beverage order. I opted for a couple bottles of water as I explained I was dehydrated from a final night of drinking too many tasty adult beverages! LOL
The doors were soon closed and jetways pushed back. We were pushing back from the gate 20 minutes late. IMHO, that's not too bad for a BKK departure. As we were taxiing out, I noticed by the time we reached the end, we'd be number 1 for departure.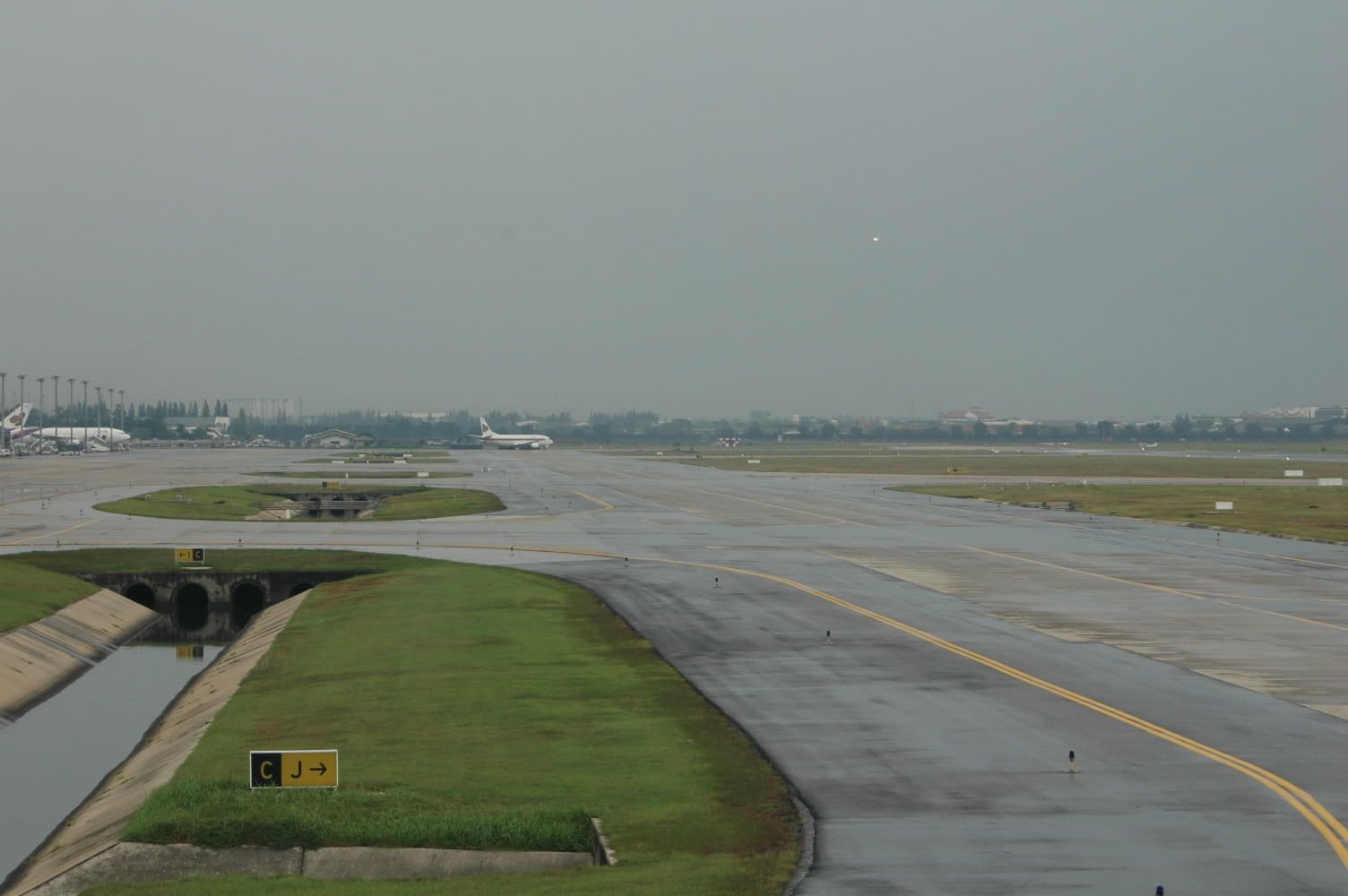 I also managed to take a few pics of aircraft at their gates or on the ramp.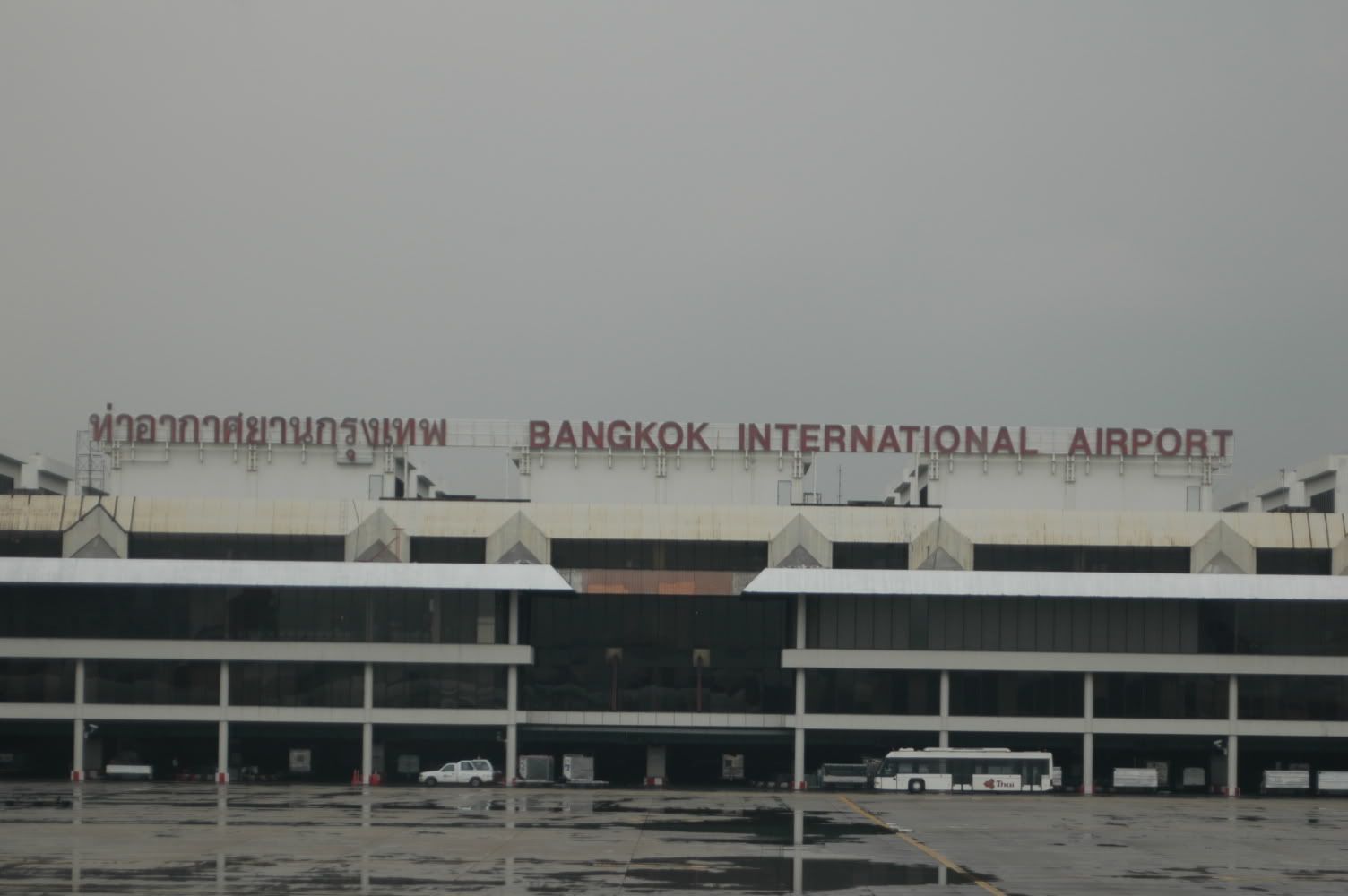 Kenya Airlines B763ER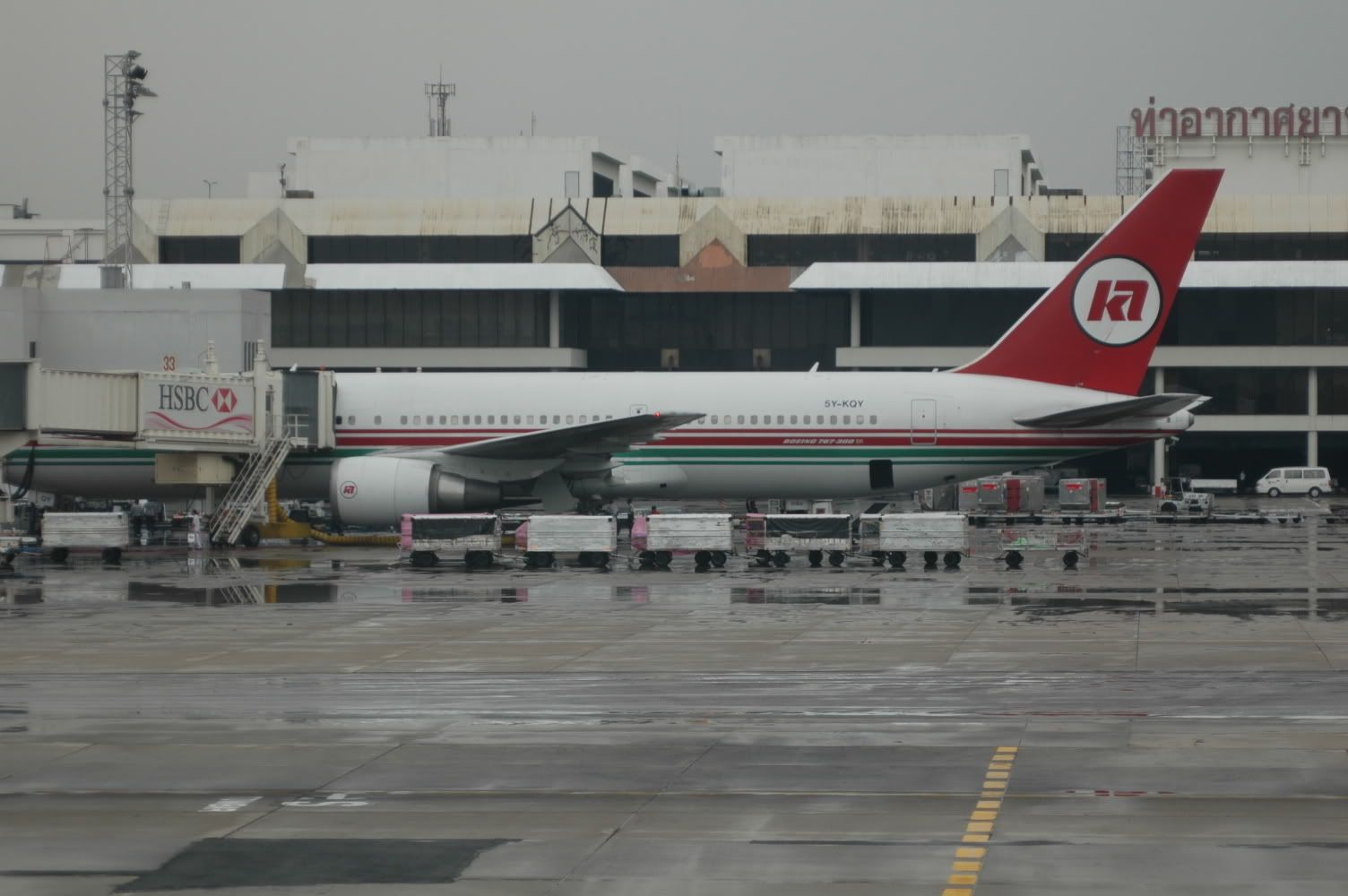 China Airlines A343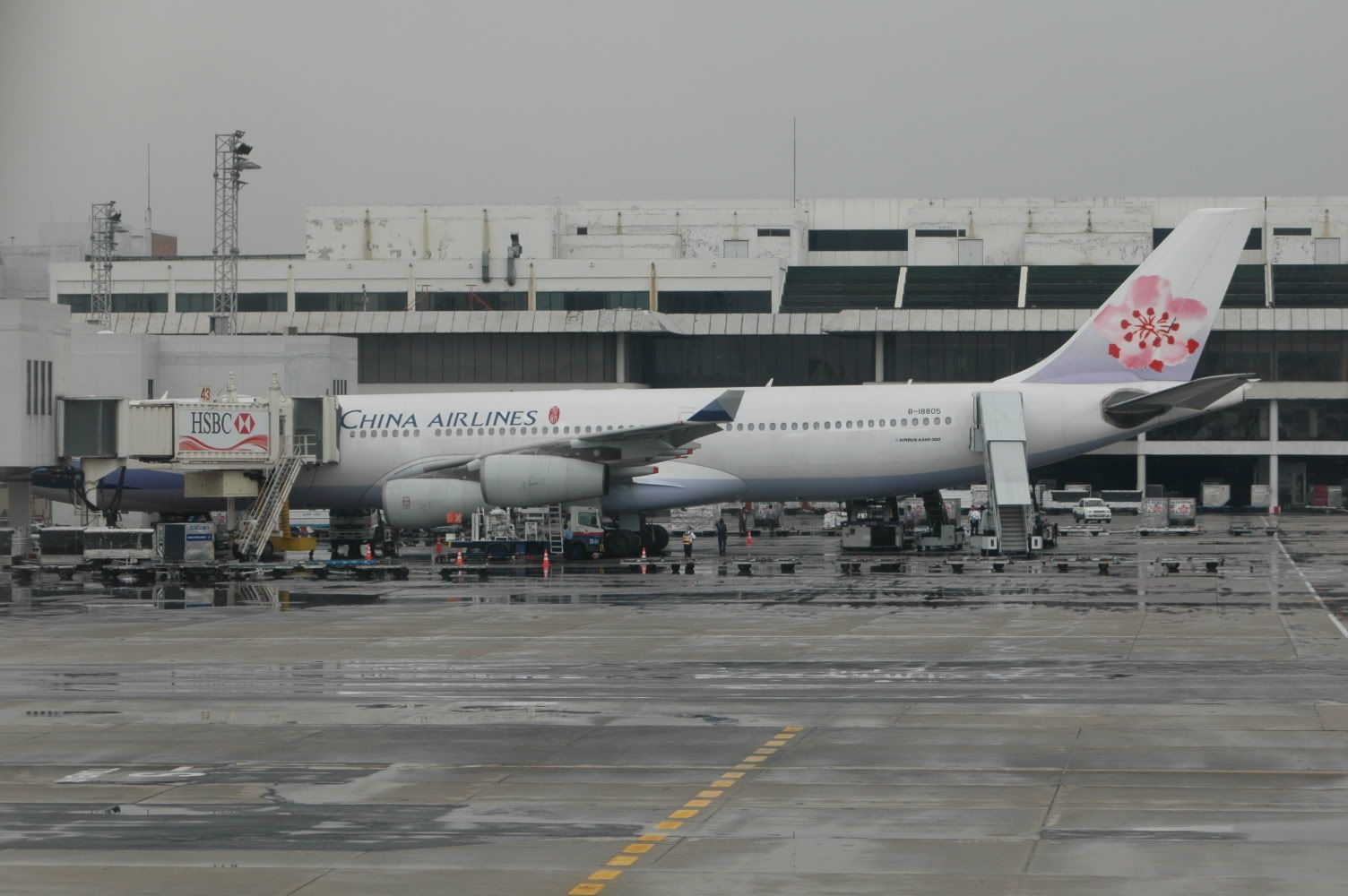 Aeroflot B763ER
Singapore Airlines B772ER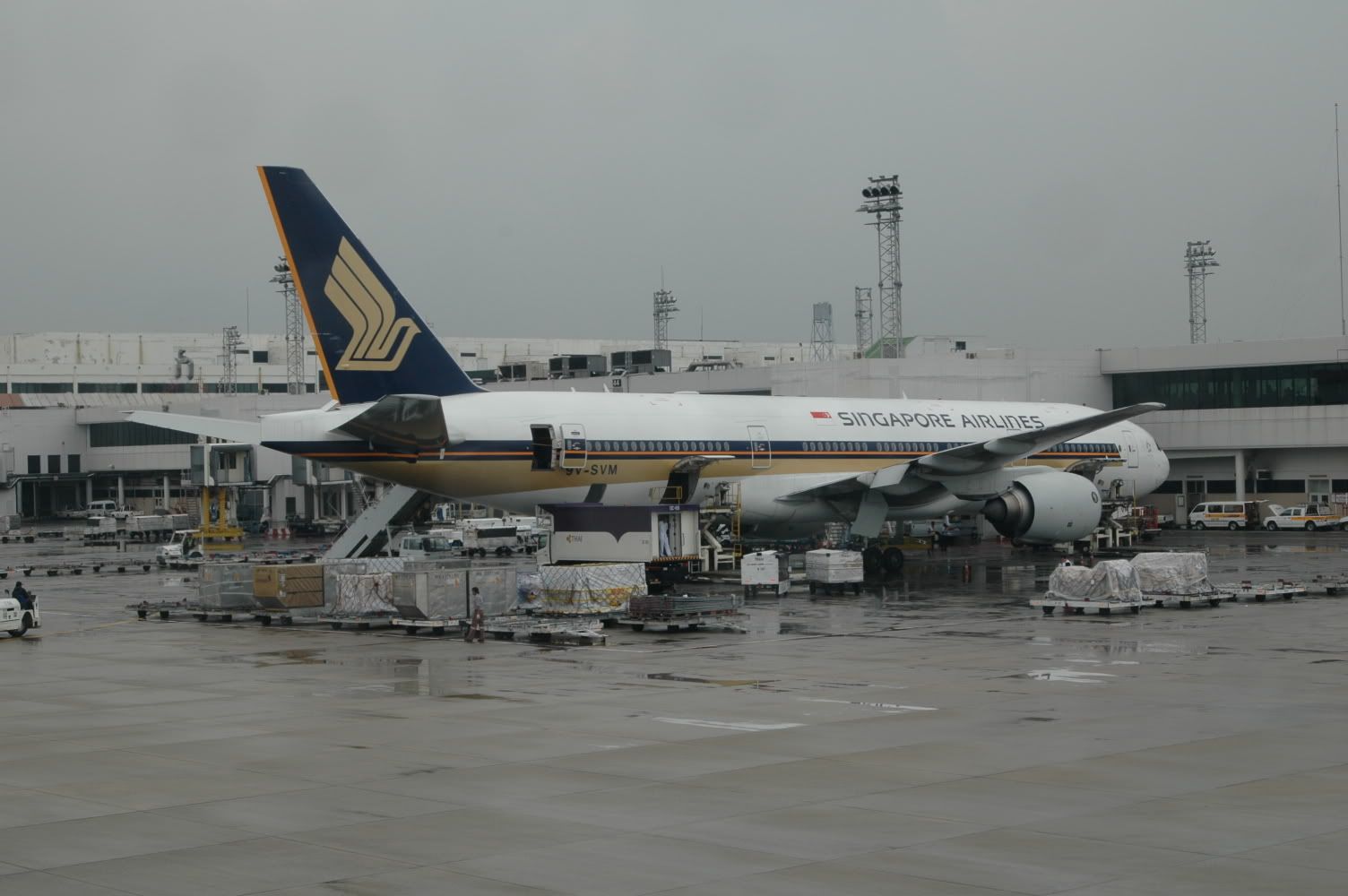 Ethiopian Airlines B763ER
One-Two-Go by Orient Thai B752
Royal Bhutan Airlines (Drukair) A319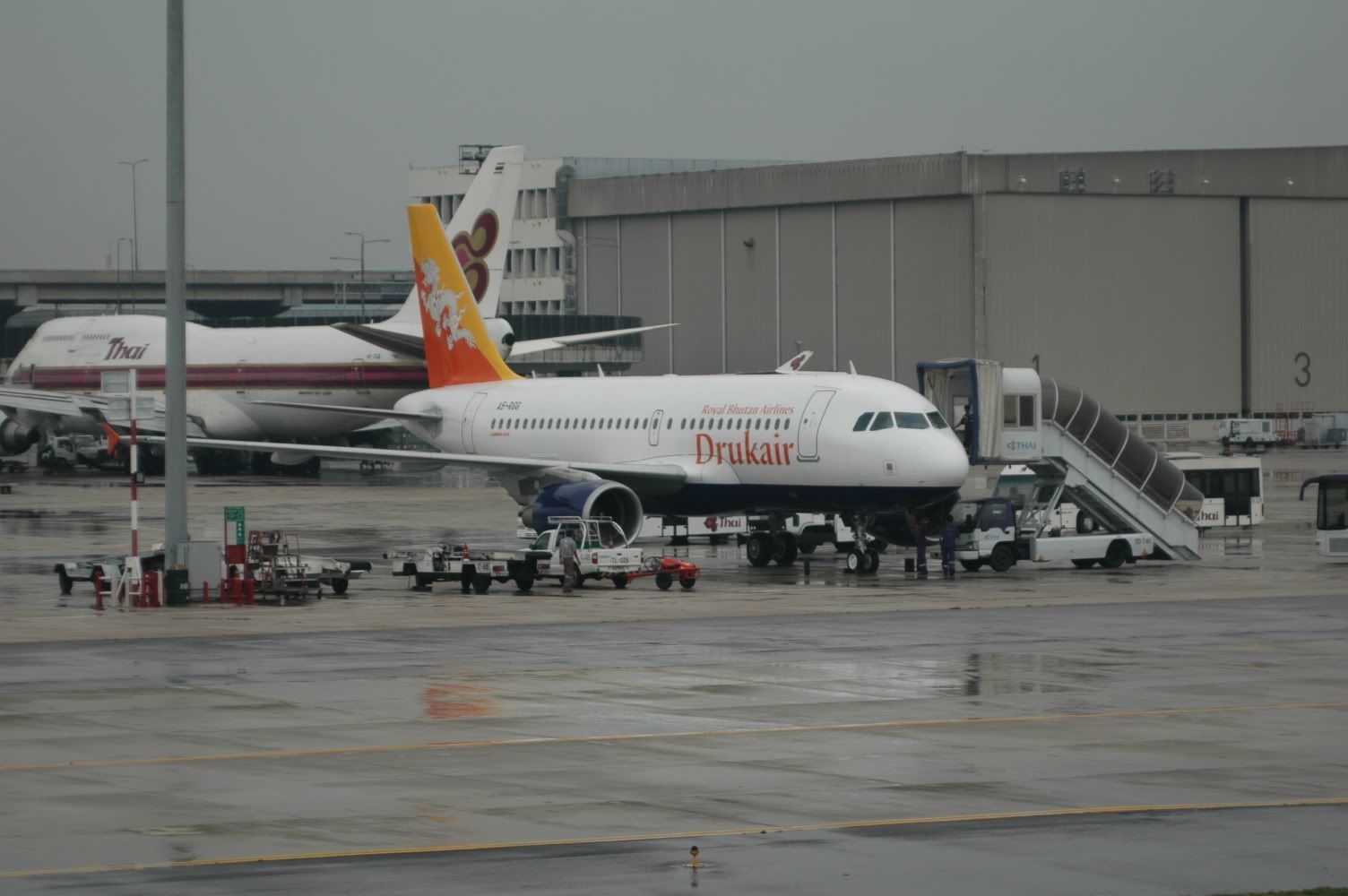 Thai Airlines B744
Thai Airlines A333
Thai Airlines A306
Turning right onto Runway 21R, we paused ever so briefly before full power was applied and we were on departure roll. For a heavily loaded aircraft, we used less than 7k feet of the runway before we were airborne. After passing the departure end of the runway, we began our left-hand turn for NE Thailand and eventually the Vietnam coast. We didn't overfly Danang, but wherever we were, it sure looked like there were beautiful beaches below.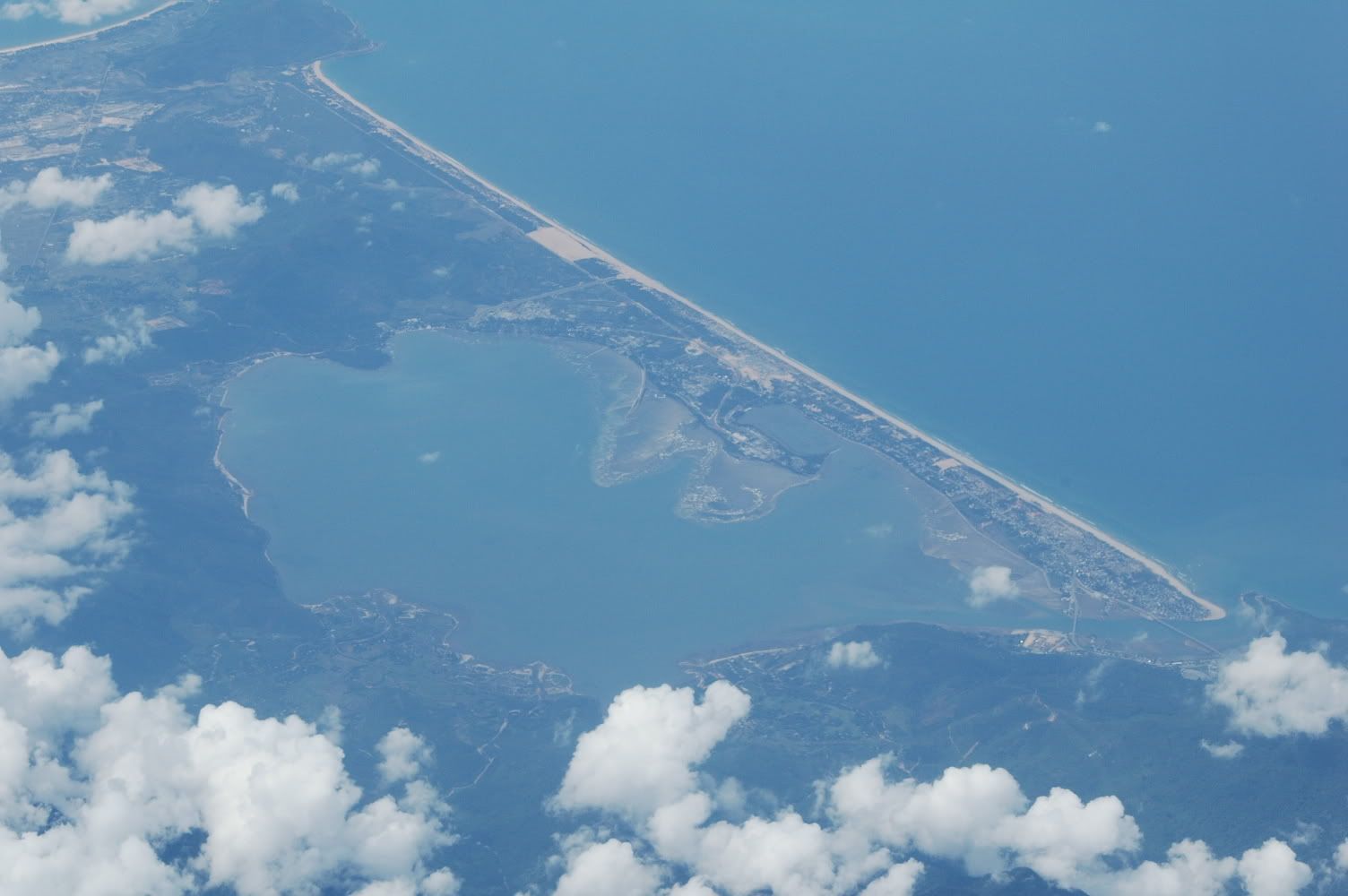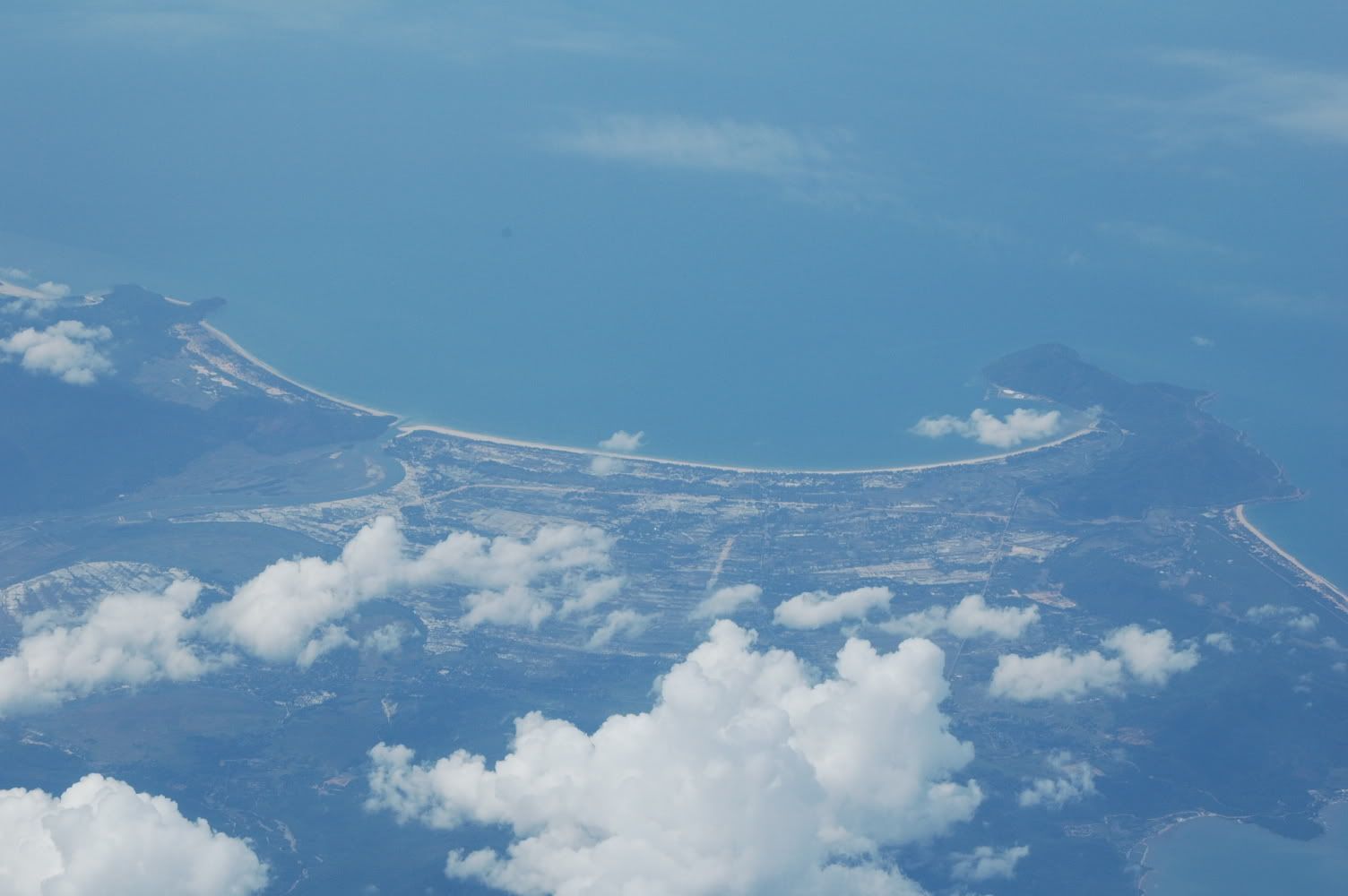 Not long after reaching our initial cruise altitude, the flight attendants began lunch service. It started with a hot towel, followed by snack mix with a nice glass of red wine. As with my previous legs, I selected my lunch via EVA's meal order service at their homepage for the extra 500 FF miles per leg.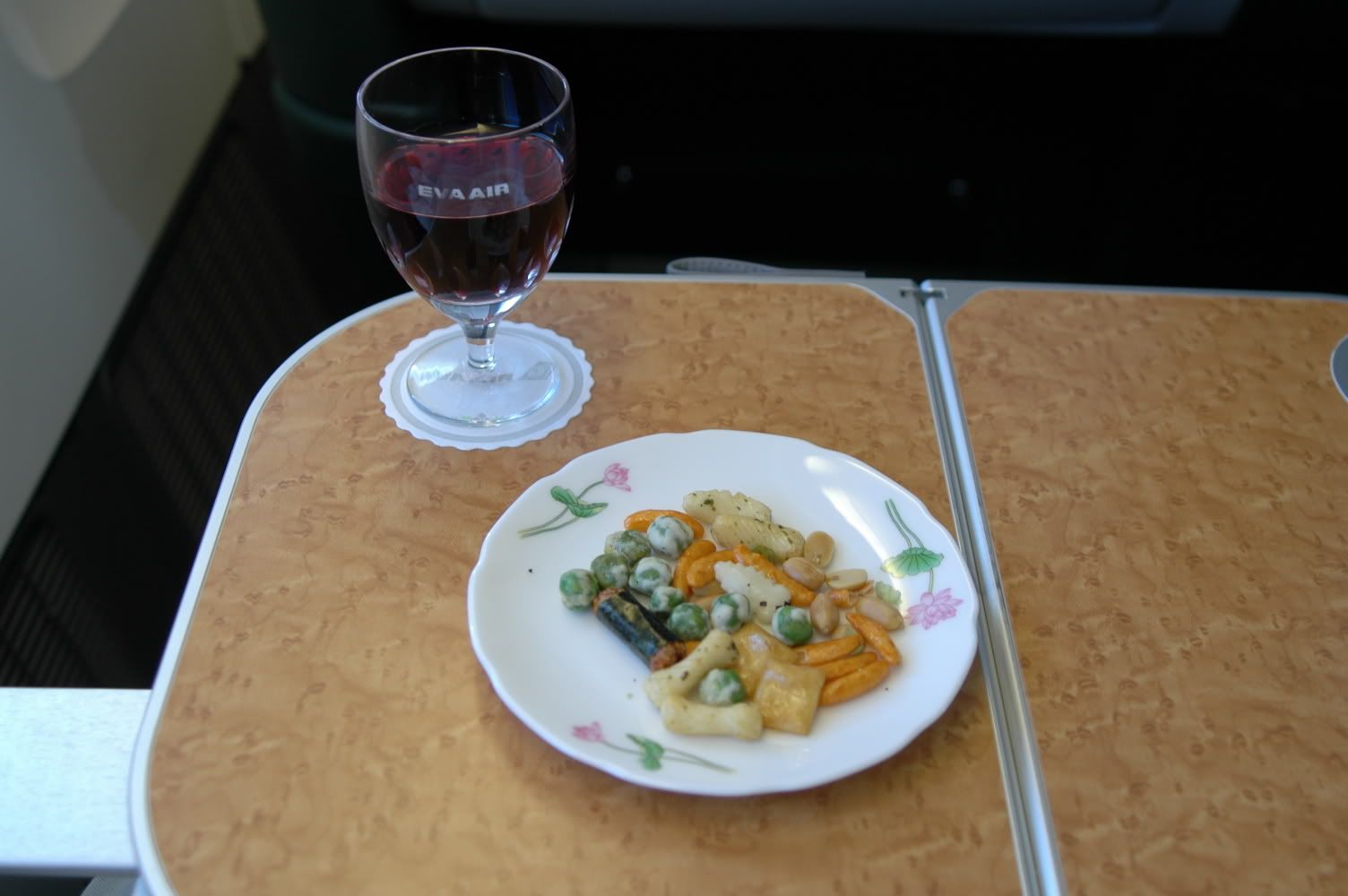 Today's lunch menu was:
BR212 BKK-TPE

Lunch

Hors D'oeurve

Roasted Sesame Salmon and Marinated Prawn with Olive Balsamic Vinaigrette Sauce
Main Courses
Grilled Beef Tenderloin with Green Peppercorn Sauce
- Shallot Confit
- Carrots and Broccoli
- Gratin Potatoes
Prawn with Red Curry Sauce Thai Style
- Vegetable Melange
- Chonburi Noodles
Stewed Chicken with Pineapple
- Mixed Vegetables
- Fried Rice
Cheese and Seasonal Fruit
Dessert
Pumpkin Cake with Orchid Cream
Or
Mocha, Vanilla, and Strawberry Ice Cream
Freshly Brewed Coffee or Tea
I chose the ice cream but lost my mind and forgot to take pics!
There wasn't an opportunity to go back to the other cabins for more pics so I snapped a few of the Premium Laurel restroom and "bar". The "bar" is an interesting concept for long haul flights. In it are drinks and snacks. Those in Premium Laurel can get up at any time and have at it. I didn't sneak a peak, but read in an IFE magazine it'll be stocked with premium water, sodas, and juices. I imagine there might be alcoholic beverages, as well. After the self-tour, I went back to my seat and plugged in my trusty mp3 player and played video games on the AVOD until reaching TPE.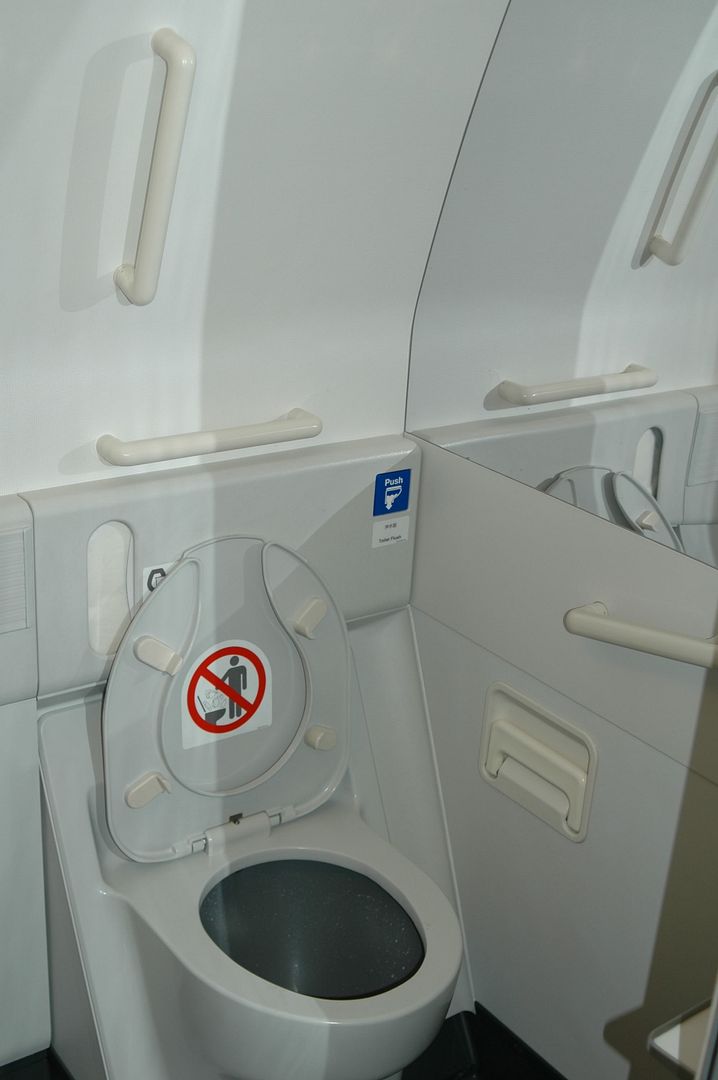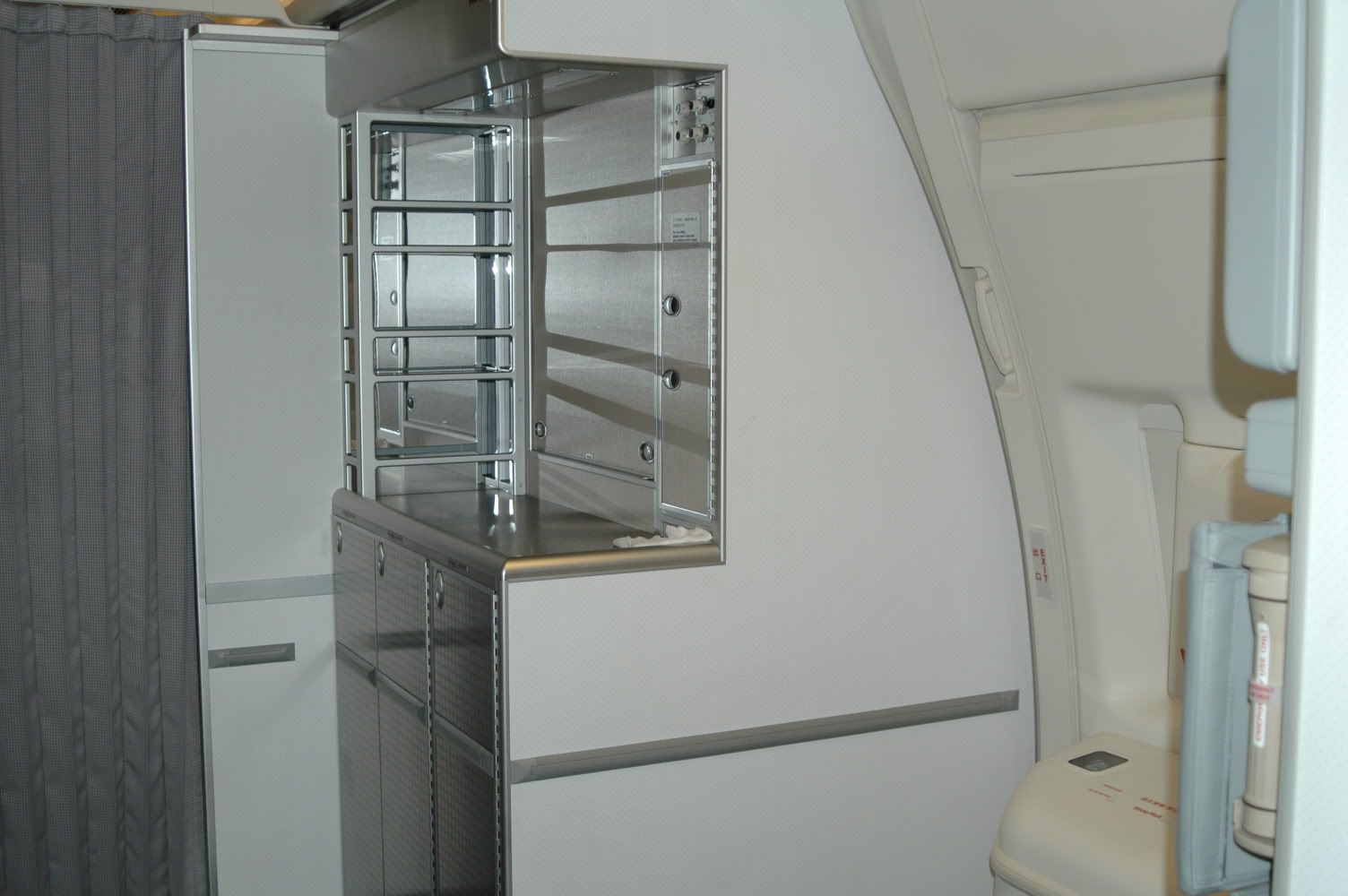 The flight was very smooth and we were soon descending west of the island. The weather in TPE was similar to that experienced in SoCal – nice and smoggy! TPE Approach vectored us beautifully for the ILS and we coasted down the final 10-12 miles through the haze to Runway 24.