...or shall I say pics only with a few notes. Now that Swiss is going to retire the Saab 2000, I had planned a last flight on one of those - this plan unfortunately didn't come true, but I made a trip on the Swiss ERJ145, my 12th and most probably also my last flight on the Swiss ERJ, as the ERJ will be retired early next year. It was my third flight on HB-JAN, and by the way HB-JAN was also the aircraft for my very first Swiss ERJ flight in 2002. It was a great time, I always enjoyed flying on Swiss' regional fleet, so i thought I'd share my pics of this last flight with you.
ZRH-STR
LX1168
11 October 2005
STD: 12:35 ATD: 12:35
STA: 13:20 ATA: 13:15
ERJ145
HB-JAN
cn 434 delivered to Crossair in May 2001
Named "Schopfenspitz 2104m" but as the aircraft was still in Crossair colours, the name was not painted onto the aircraft.
View Large
View Medium


Photo © Jan Jørgensen
My train arrived at ZRH at 11:15. I went to check-in 1, a small queue, but some staff walking through the queues to pick out passengers who were either in the wrong queue (LX-flights operated by their code-share partners AA, AY and IB do not check in here), also passengers with only carry-on baggage were asked if they want to do check-in at the machines. After only about five minutes in the queue I was checked in by one of the about 10 agents, friendly as always, got my boarding pass and proceeded directly to my gate A09 where boarding started soon and we were bussed to our aircraft. A total of 20 passengers on this tuesday noon flight.
Taxiing towards runway 28 with a Swiss A320 taking off in front of us:
Turning onto the runway:
Some Swiss and Helvetic aircraft:
Airborne, with a Swiss A321 taxiing to the runway:
Doing a 270° turn to the left: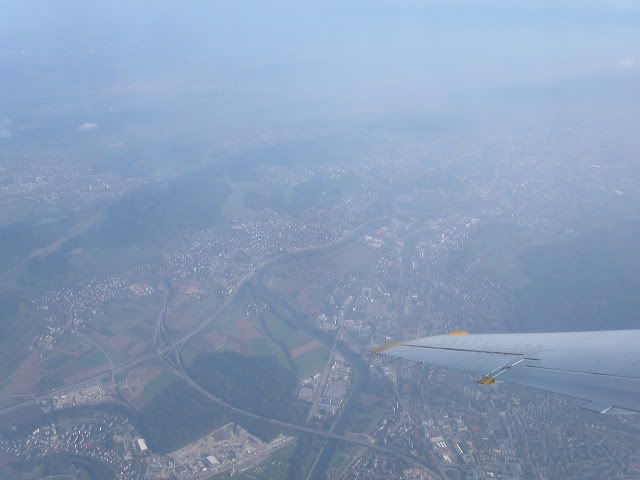 From my seat 18A (last row) I had a view inside the engine: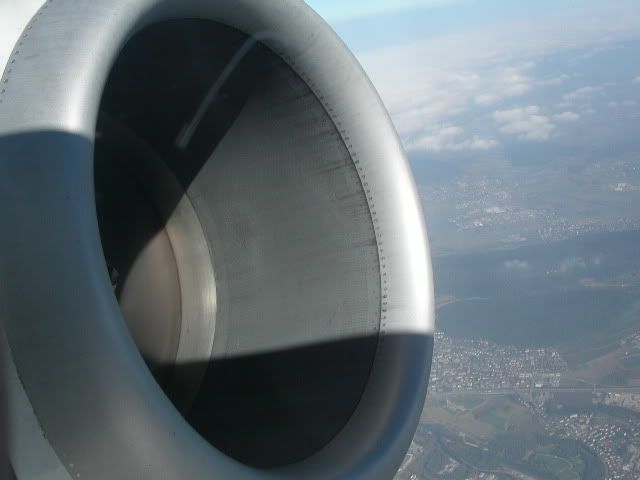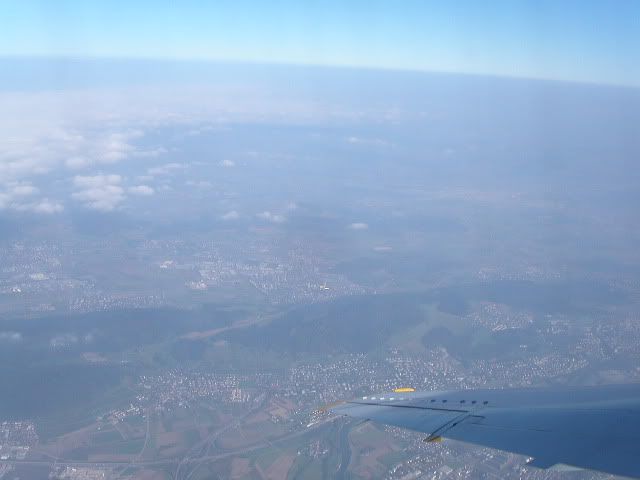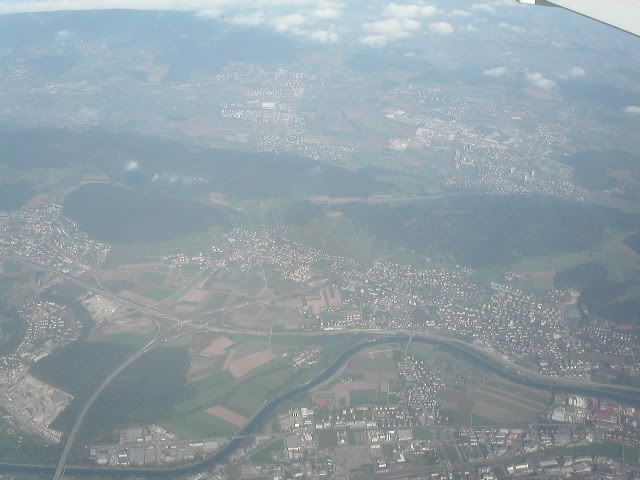 A cabin shot, the dark blue leather seats are comfortable and create a nice and modern atmosphere: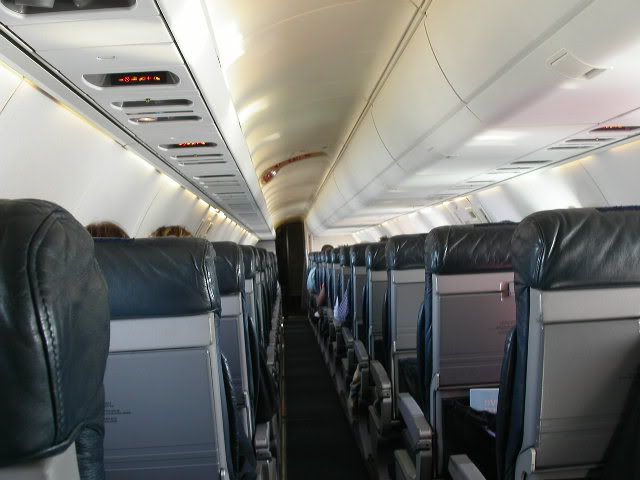 Flying over ZRH: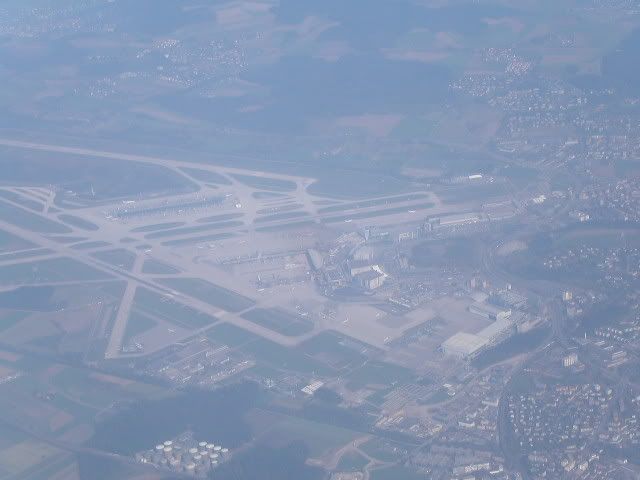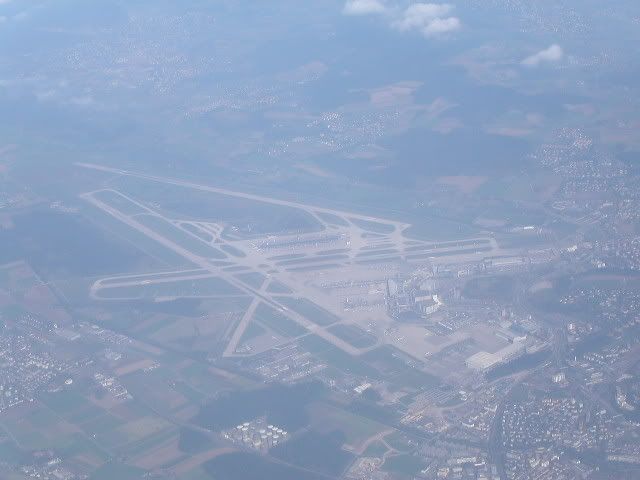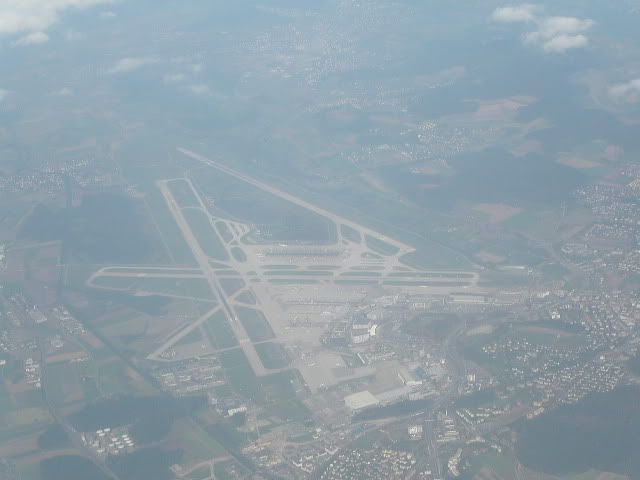 Gaining some more altitude before entering German airspace: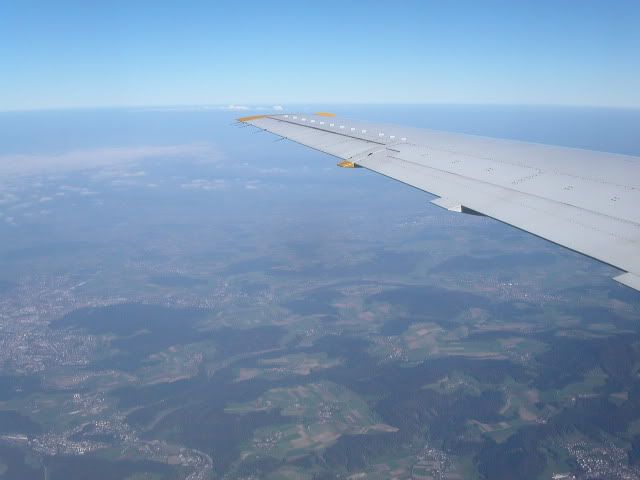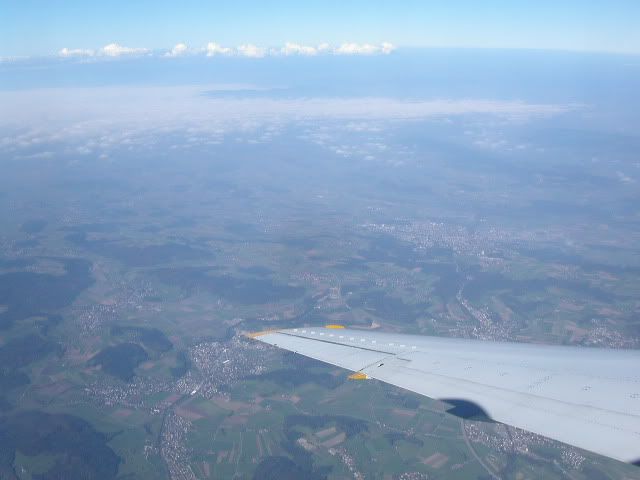 Flying over the Lake of Constance, I think you can also see the Island Mainau on this pic: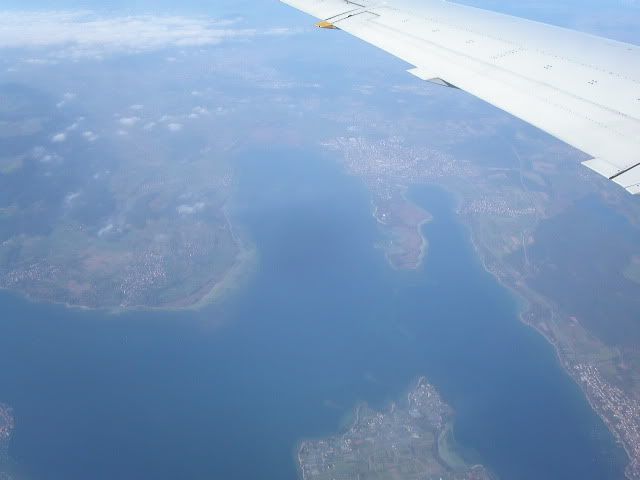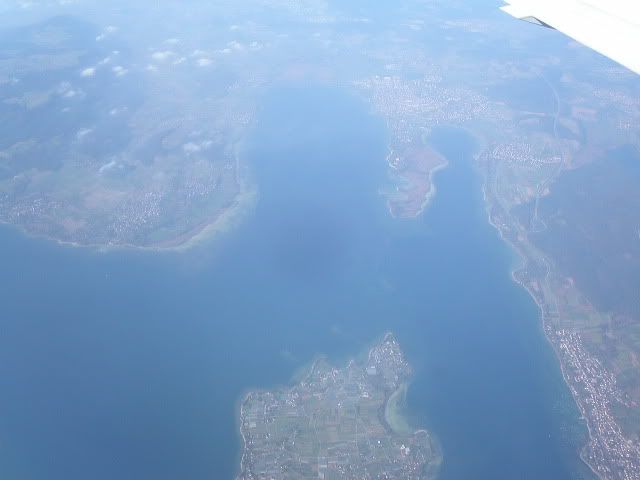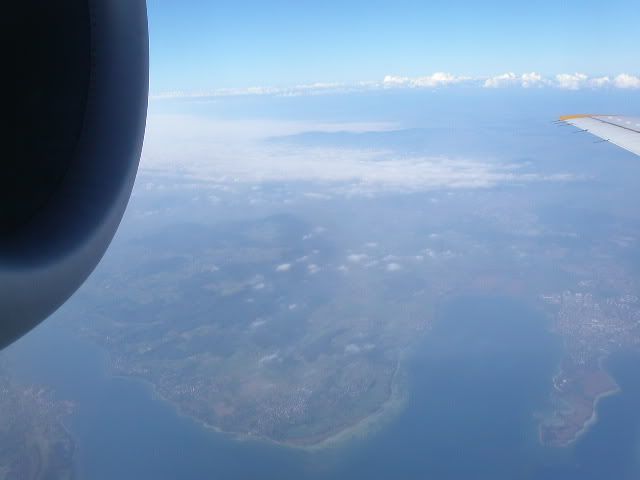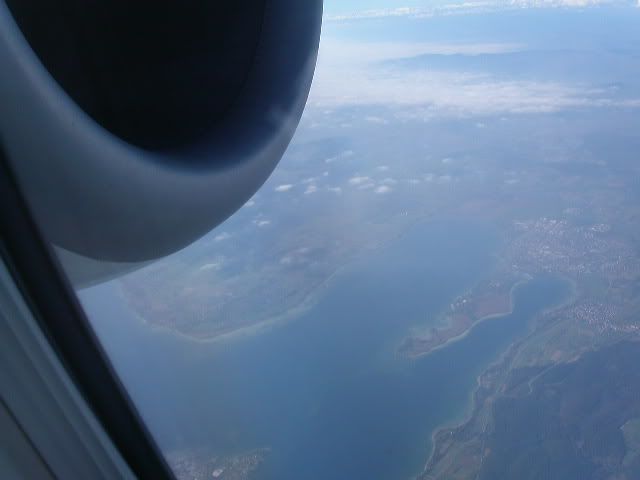 The friendly young flight attendant came around, offered Swiss chocolates to us Economy passengers and later she came around with water. This flight took only 22 minutes from take-off until landing, so I think this was okay for a short flight like this. I know that Swiss service on longer regional flights is outstanding, and the a.net reports confirm this. Also the views outside were just great, a crytal clear sunny October day now that the fog has disappeared, even the two business men in row 17 put their newspapers away, changed their seats and told each other that they had just seen their houses (I guess they live in Tuebingen). We had already started our descend.
The (international) airport of Eutingen/Poltringen - EDSP. A possible alternate airport for our ERJ when there's fog at STR? I don't think so...
The quarry of Ehningen: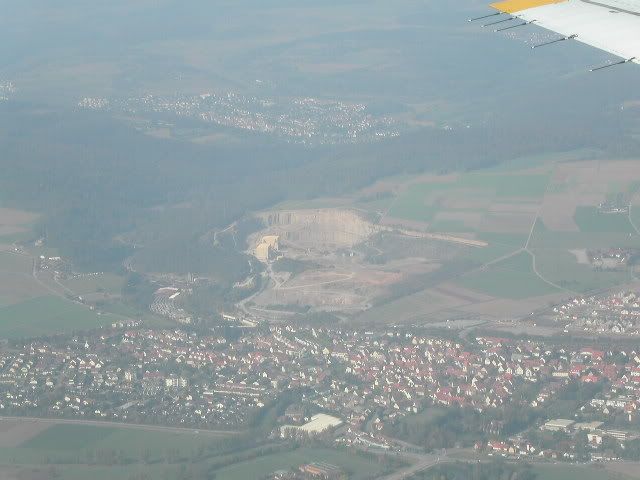 The DaimlerChrysler factory at Sindelfingen: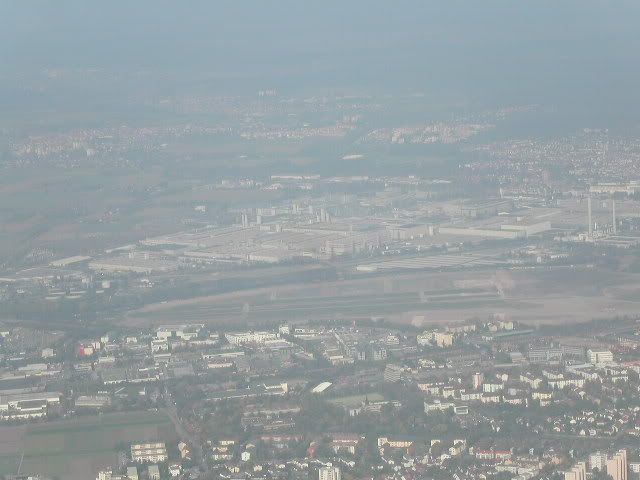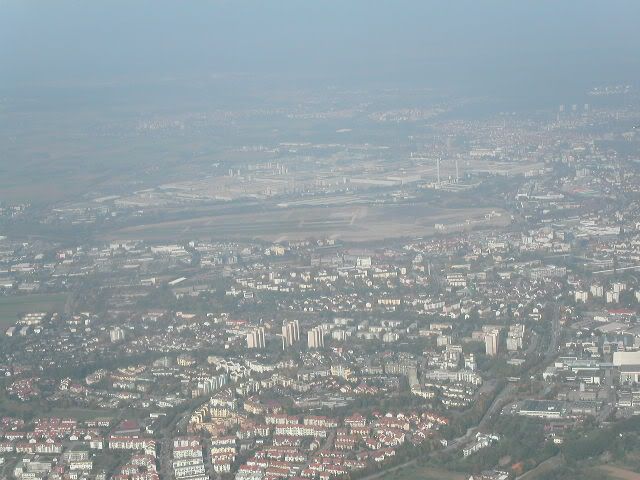 Boeblingen: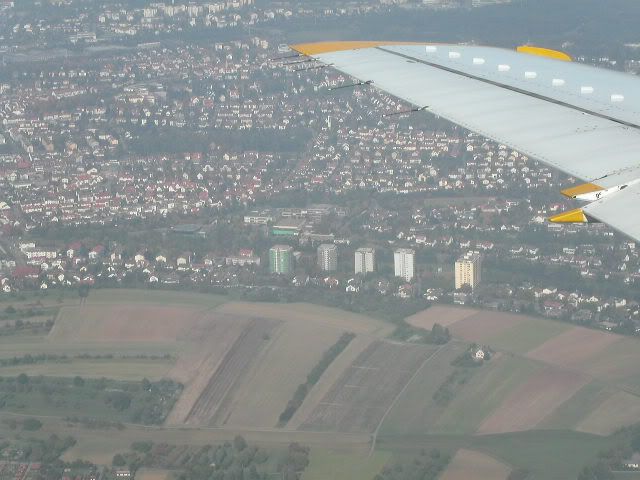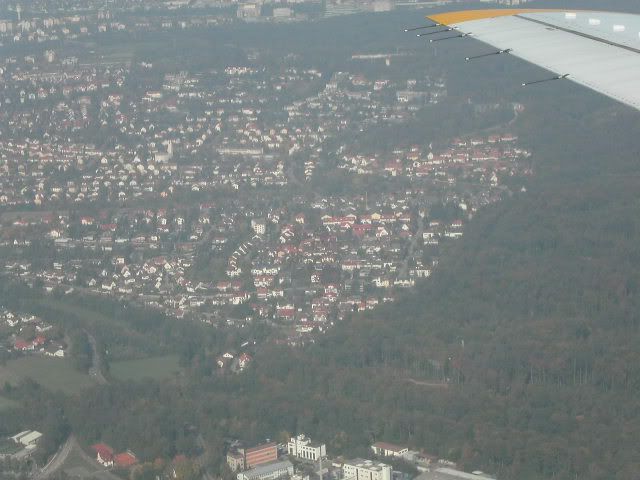 Still Boeblingen, with the Schill & Seilacher factory in the bottom of the pic: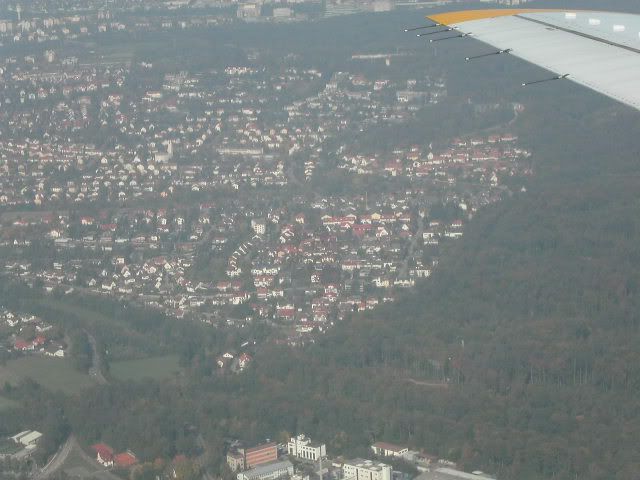 Schoenaich: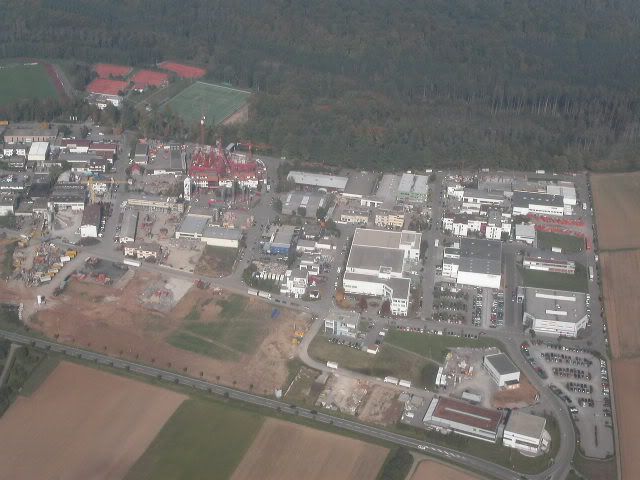 The forest between Steinenbronn and Stuttgart: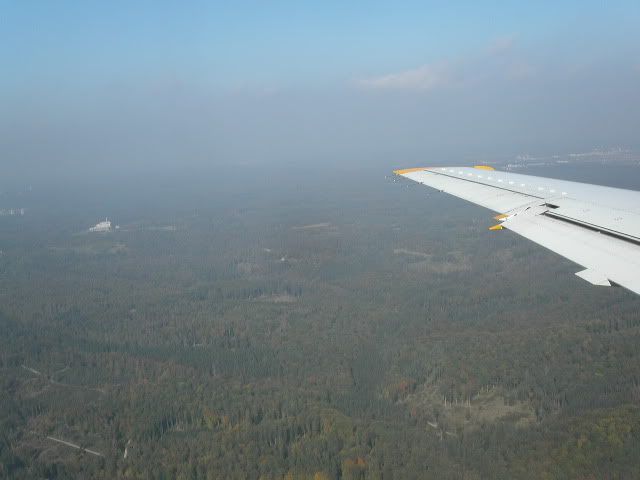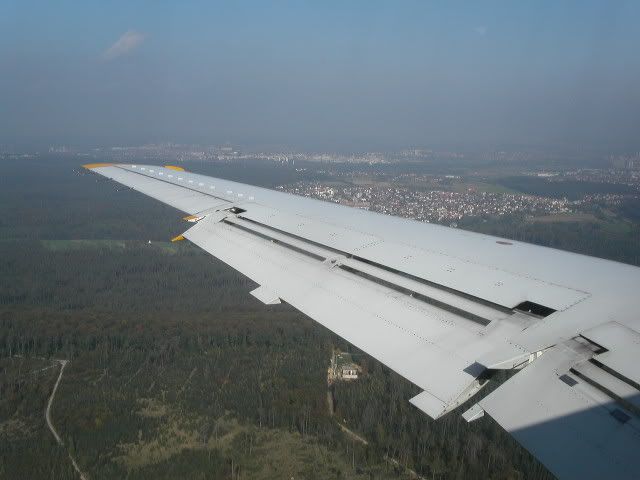 The shadow of our aircraft: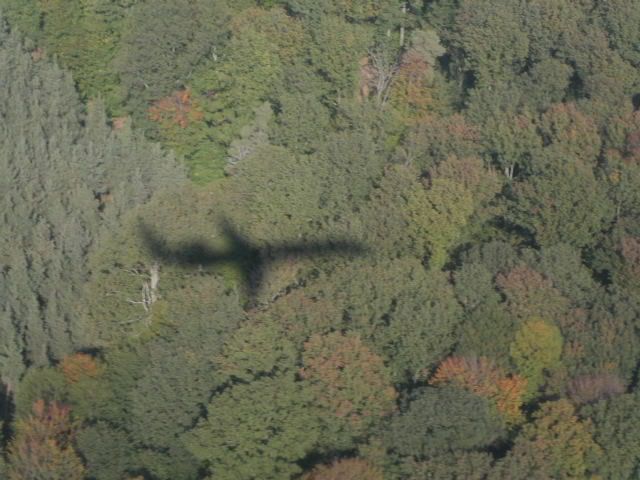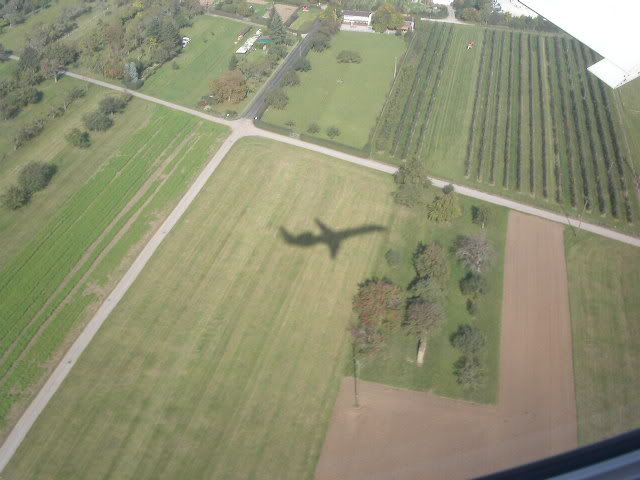 Echterdingen: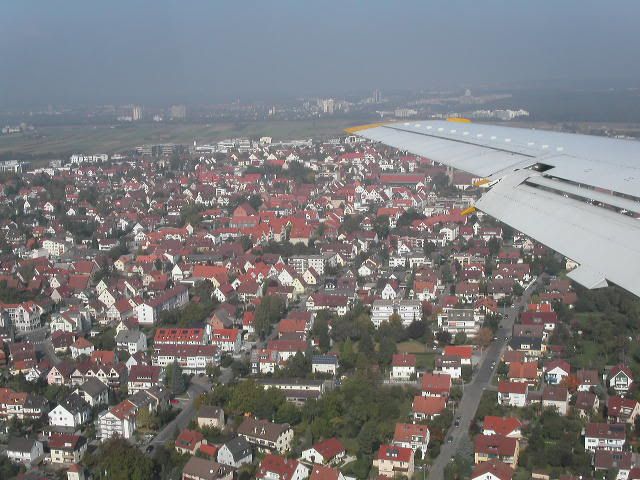 The B27: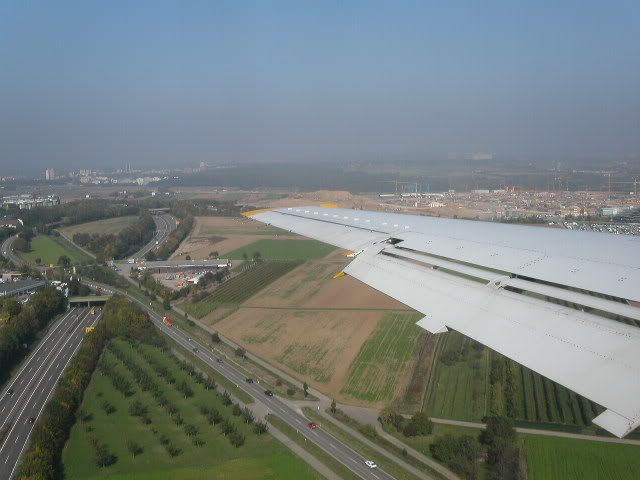 Final approach: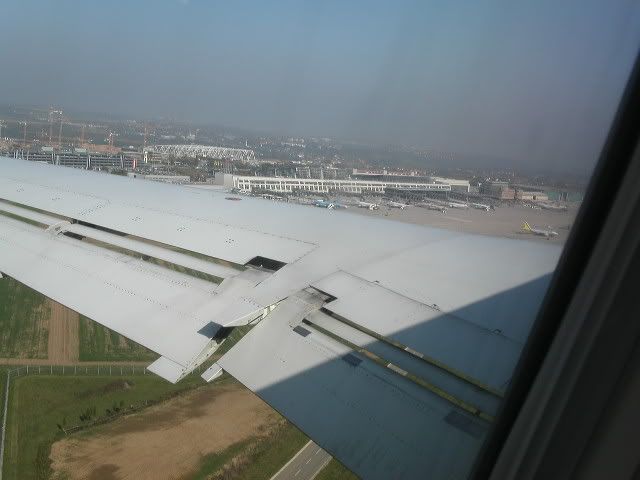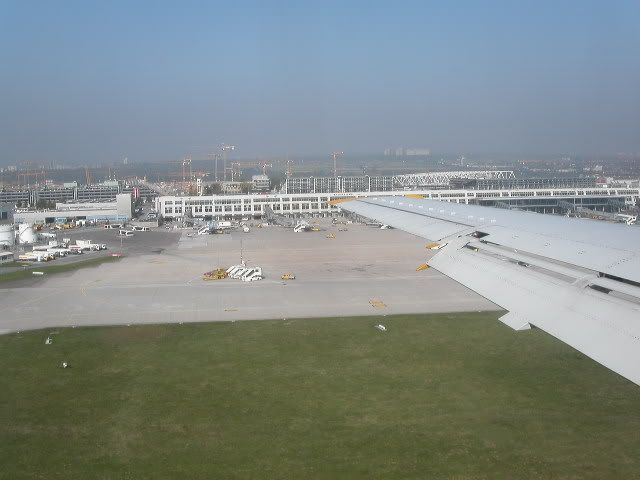 A Jordan Aviation A310: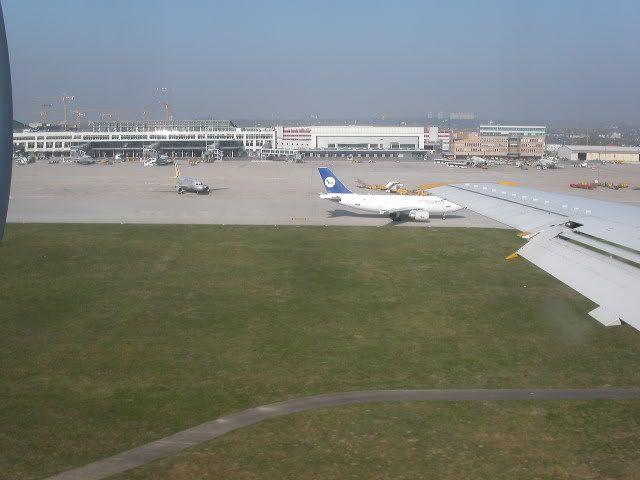 A Condor B757-300: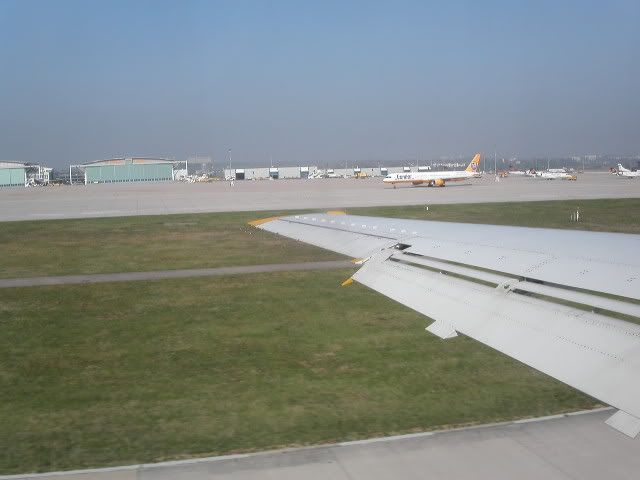 Seconds from touch-down: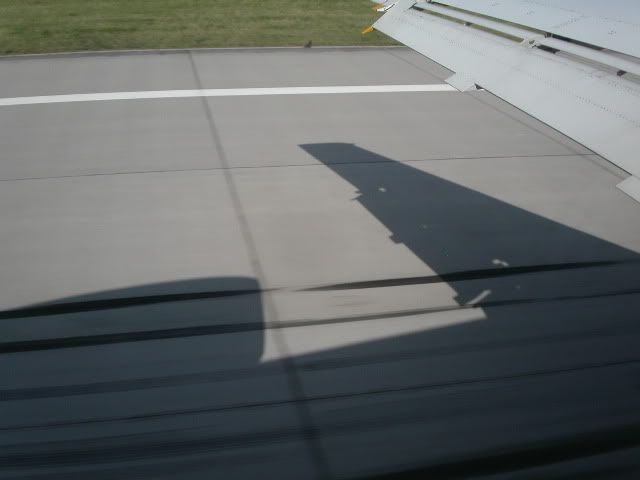 Leaving the runway: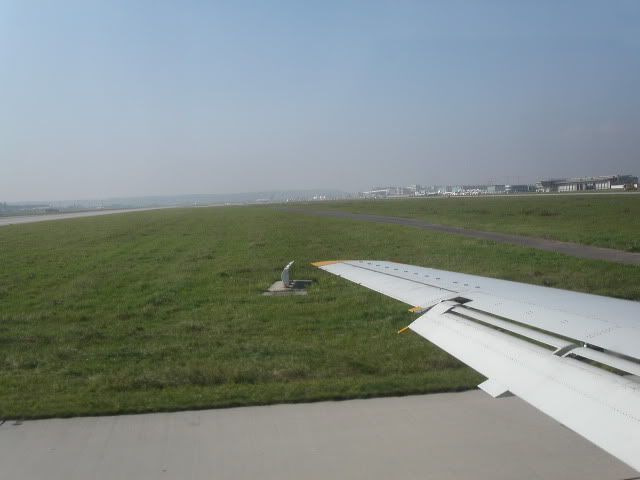 The Jordan Aviation A310 taking off: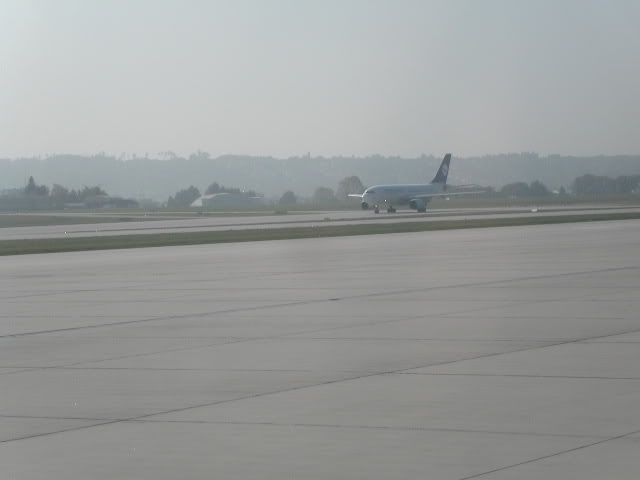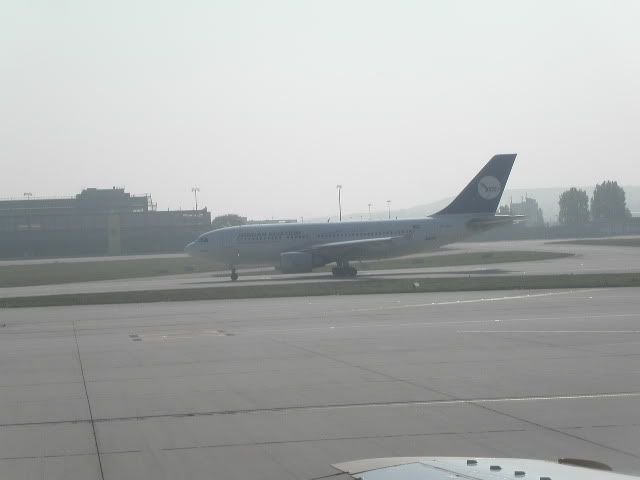 Arriving at our stand, five minutes ahead of schedule.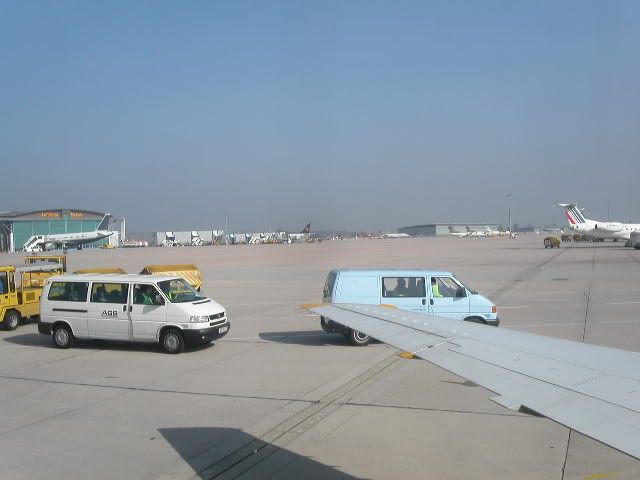 The end of my probably last flight on a Swiss ERJ145.
We were bussed to Terminal 3, and later I took some photos of HB-JAN taking off back to ZRH: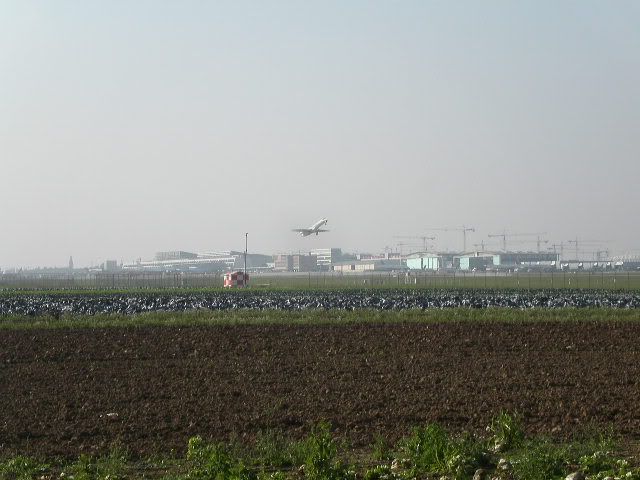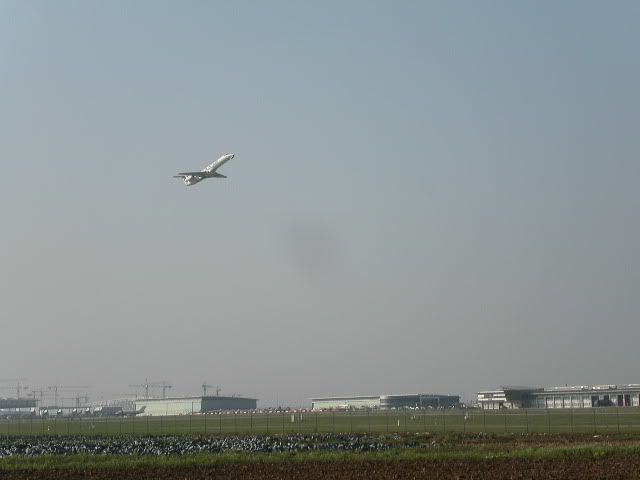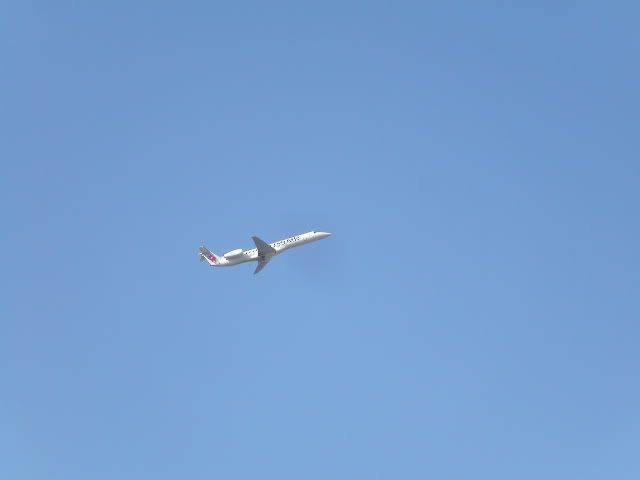 Not the best take-off pics I know, but my camera doesn't have much zoom - also, this ERJ took off much earlier than I had expected. Anyway I guess you all can imagine what a Crossair-ERJ take-off looks like, and here's a video I found on
www.flightlevel350.com
of HB-JAN taking off at MAN:
http://www.flightlevel350.com/viewer.php?id=2880
Thanks to the crews on all of my flights, I always enjoyed the service and the warm and friendly atmosphere on board. And thanks to you for reading my report, hope you enjoyed it, looking forward to reading your feedback. Regards, Alex.