I recently had an opportunity to sample a lengthy trip on my favourite airline, UA. It lasted 6 days and I covered 16000 miles, visiting many different cities. Here is my report with a few pictures, which I do hope you will enjoy. As always, comments are welcome.
Date: Thursday 29th September 2005
Leg 1:-
Departure Apt: LHR
Arrival Apt: ORD
Aircraft: Boeing 777-222 (N771UA)
Flight No: UA 929
Callsign: United 929
Arriving at Heathrow by National Express coach (at 0538), I was dropped off at the Central Bus station. This area is currently under construction, due to a new 'state of the art' facility being built, according to the BAA poster. Well, I collected my luggage and proceeded to Terminal 3, to find a lengthy line for check in. Remembering my star alliance status, I bypassed this line and went straight to the business class check-in desk, where I was greeted by a friendly fellow with a cheery smile.
Handing over my documents, he assigned me an aisle seat in Economy Plus (21G). After a few security questions, including asking me for details of my address whilst in the U.S, he handed me my boarding cards, tagged my luggage to its final destination (DEN) and wished me a pleasant flight. Making my way to security, I found only 8 people in front of me, and within 10 mins I was sat in the lounge of Terminal 3.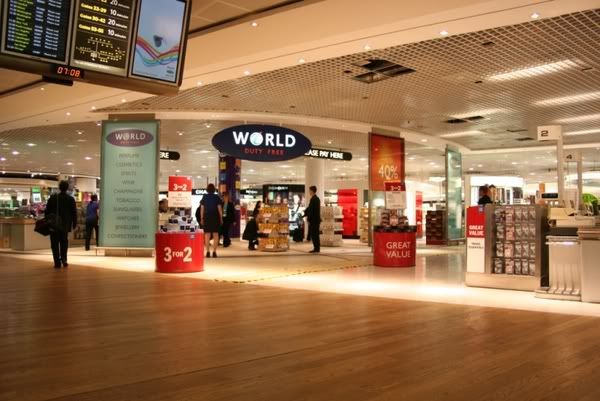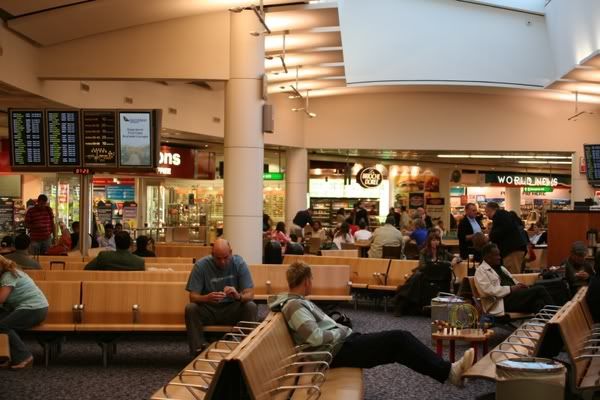 I wandered around for a while, visiting Starbucks for breakfast (yummy) then decided to take a photo of this car in the middle of the lounge.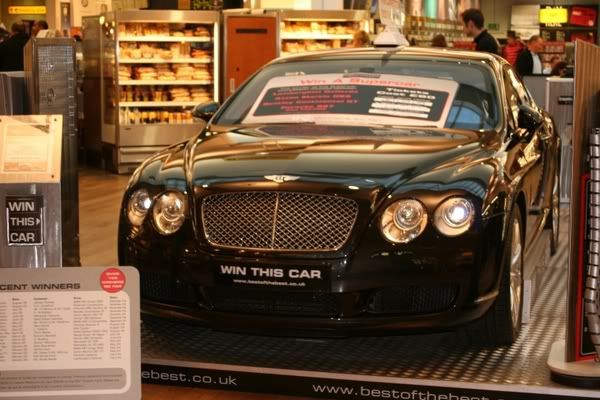 This car was on offer as part of a prize draw, with tickets being £50 each if I remember correctly. Naturally I decided not to purchase a ticket. Finishing my mini tour of the lounge, I proceeded towards the gate area to do some spotting. On the way I checked on the status of my flight.....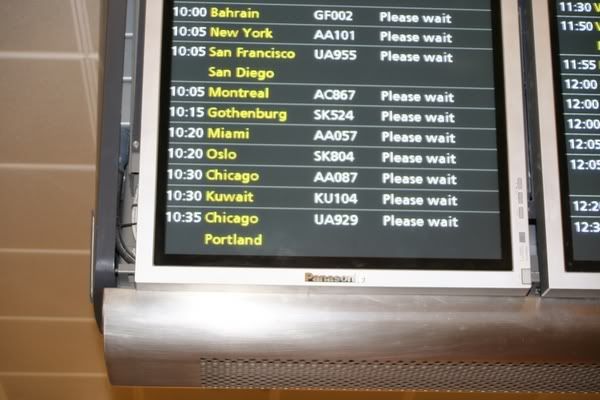 Touring the terminal gates area, I took a few pictures on my fairly new camera.
United 767-300 N644UA
The new LHR Tower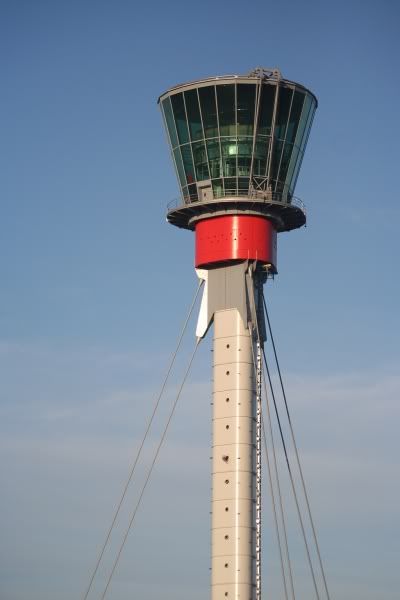 Air Canada 767 (no reg)
Pretty soon, my flight was announced. I made my way towards gate 314 to see N771UA waiting to take us across the pond.
View Large
View Medium


Photo © Kyle Donagher
The flight was scheduled to depart at 1035 local time, and boarding commenced at about 09:50. My seat today was in Economy Plus, giving me a bit more welcome legroom, something I always appreciate when 'crossing the pond' which I do as often as I'm able to. The F/A announcement at 10:05 gave us details of the flight. Today our take-off to landing time was estimated at 8hrs 30 mins, mainly due to strong head winds over the Atlantic.
At 10:15 headsets were offered, and about 5 mins later the aircraft doors were closed. I now had the good fortune of all 4 seats on my left being empty, so if I needed to sleep I could stretch out across the seats. We pushed back on time at 10:35, with the captain (who was based in DEN) telling us that Channel 9 would be operational for the full flight, and invited us all to listen.
The safety demo was shown while we taxied towards runway 27R, via taxiways "Romeo" and "Alpha". After being handed over to the tower, we joined the line for take-off, and waited, and waited. Eventually at around 11:15 we received our clearance for take-off, with wind data given as 310/11. Climbout was uneventful, being nice and smooth which made a change. An interesting step climb from ATC was ordered, comprising FL150 - 170 - 240 - 260 - 300 and finally our initial alt of FL340. Passing over Cardiff, the view was quite interesting (I could see out of the window as we banked slightly), bearing in mind we had reached around 30,000 Ft by that point.
Our routing from Cardiff took us direct to Cork, then over Shannon for the Atlantic crossing.
While over Wales, I heard the following callsigns over ATC:- "Ryanair 995", "Evergreen 1306", "Ascot 7306", "Reach 974" and finally the most interesting of them all, "Supertransport 03 Tango Charlie" (Beluga?).
At 11:45, I glanced at the 'Airshow' on my PTV and noted the following:- Groundspeed 486MPH, Alt 34000ft, Headwind 96mph. Slightly later on, I took a picture of the screen.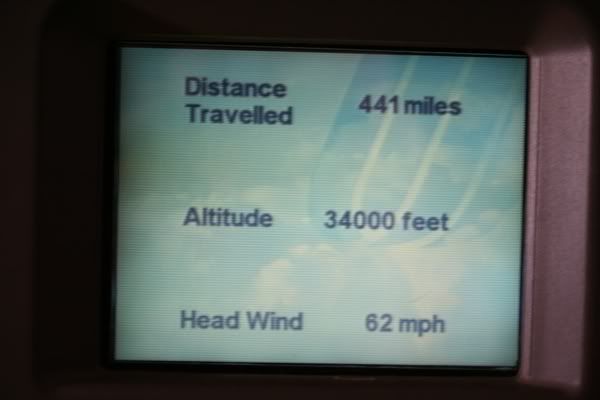 in flight service was now commencing and to start we were offered "Refreshment" comprising Pretzels and for me, Orange Juice (I don't drink beer in flight).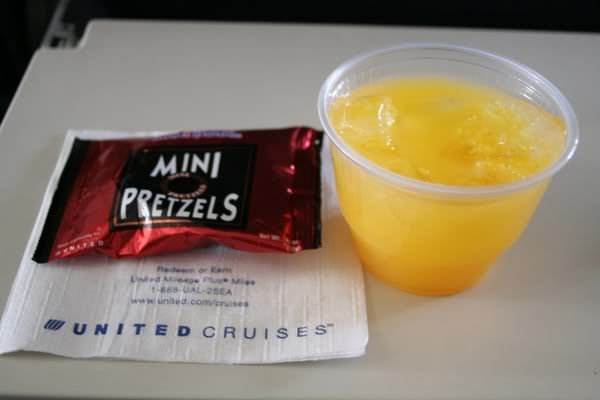 Soon this was followed by a very tasty and well presented lunch.
As you can see, I had Chicken in Sauce, Vegetables, Salad, Crackers and Cheese, Bread Rolls, Grapes and Ice Cream - all washed down with a nice cuppa. I was still hungry even though I had recently ate breakfast, and therefore I finished the full meal.
After the meal I listened to the VHF chatter on Channel 9. There were a few pilots talking to each other about various subjects - ball games, current winds, airline management and of course there were many DL and NW bankruptcy jokes. I also heard a few USAF tankers and also awacs aircraft too, relaying information back and forth from Gander control for various pilots in the area. I looked up from my book (Losing My Virginity - Richard Branson) and glanced at the airshow screen again. It was showing 2998 miles from destination, 513mph speed, 49mph headwind.
The next few hours were all a blur, because I decided to have some welcome sleep. When I woke up at about 17:00 UK time, we had finished the Atlantic crossing and were now cruising over Canada. Over ATC I noticed we were now under the control of Montreal Center, and we were now cruising at FL390 with 883 miles to go till ORD. I wasn't awake for long before the F/As came around offering us a drink. I had Tea.
At 18:15 UK time, the afternoon snack service commenced, and I was more than happy to accept the offer of more food!!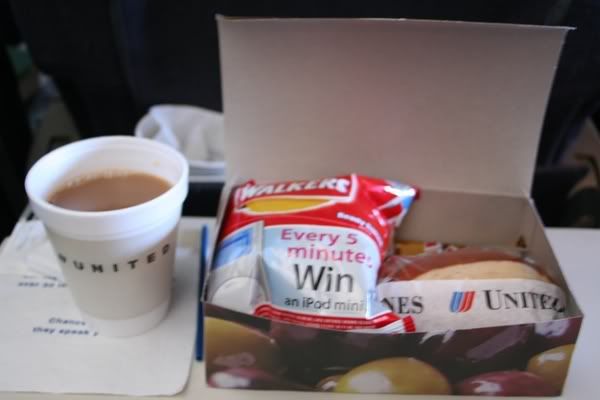 Status Update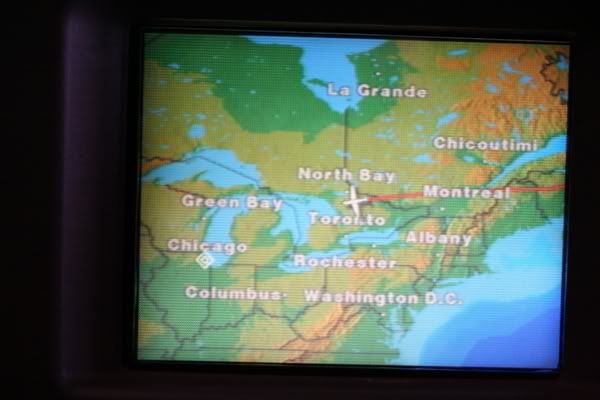 We were now under control of Minneapolis center and over the airwaves I can hear UA909 and BD705 are close by. I kinda hoped we would arrive into ORD before them, or I'd have to endure hours of waiting for the immigration check, something I hate, although I know that it is necessary.
Descent soon commenced and our landing at ORD was on 22L at 13:40, with our arrival at Terminal 5 - Gate M19 being 13:50, some 50 mins late. I was in line at immigration by 14:00, but my next flight was due to depart at 15:25, so at that point I gave up hope of making my connection.
---------------------------------
Leg 2:-
Departure Apt: ORD
Arrival Apt: FSD
Aircraft: Bombardier CRJ-200 (N467AW)
Flight No: UA 5709
Callsign: Wisconsin 5709
Immigration was actually quite a breeze, I managed to clear it and customs at 14:25. I dropped of my bags at the recheck point then high tailed it to the Terminal shuttle train. I arrived at T2 soon afterwards, and had managed to clear security by 14:45, arriving at my gate at about 14:58 to find my next flight was already boarding.
I boarded the aircraft, having being assigned seat 10A. I found the seat was already occupied so I spoke to the F/A about it. She spoke to the person in my seat and found that she had the same seat assignment. Erm, right ok that's new for me. Anyway, the F/A told me to take any seat that was empty, as I was now the last person to board the aircraft. I got seat 12F - one of the last 2 empty seats on board, and stowed my carry on.
View Large
View Medium


Photo © Tim Samples - CFI-CFII-MEI
We taxied to our assigned runway - 32L - to find that we were number 13 for take-off (always an adventure at ORD during the rush hour!). We eventually took off at 15:50 and quickly climbed to FL320. I took a pic during the climb....
In flight service comprised a light snack of the usual Savoury Mix and a drink, but I wasn't expecting much more than that due to the flight time.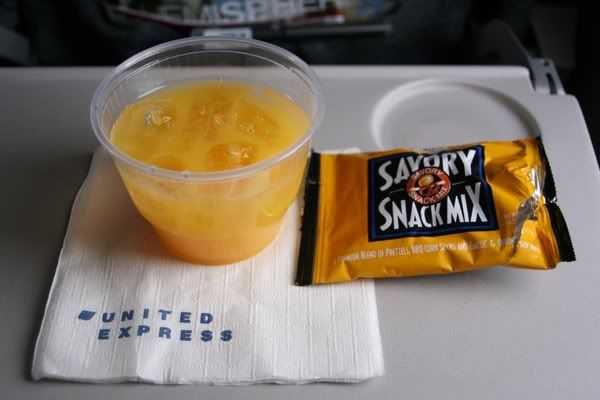 We landed on runway 21 at FSD at about 16:50 local time, then taxied to gate 7. The airport only has 8 gates and once inside the airport I took this picture....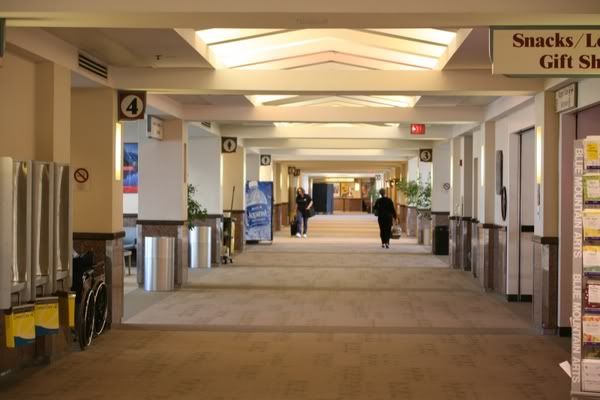 ---------------------------------
Leg 3:-
Departure Apt: FSD
Arrival Apt: DEN
Aircraft: Bombardier CRJ-200 (no reg)
Flight No: UA 6638
Callsign: Skywest 6638
After a beer in the bar at the airport, I went to gate 7 again for the next flight. I found that it was showing as "delayed" and was asked to listen for announcements. At 1845, when we should have been pushing back, an announcement was made that the aircraft was still in DEN and would be arriving into FSD at about 20:15. Ok, well back to the bar I went.
The aircraft arrived at the time mentioned - 20:15. The ground staff managed to 'turn' the aircraft in 10 mins and we were cleared to board at 20:25!! I took my seat - 9A - and we pushed back at 20:35 and headed for the runway. The in flight service was repeated from the previous flight, and the
very
gorgeous and young Skywest F/A could not stop apologizing for the delay. Her customer service was excellent and she never stopped smiling at us, even when one passenger had a go at her for the delay (always 1 person to spoil it huh?).
We landed at DEN on runway 16L (nice approach by the way) and taxied to gate B48. I thanked the F/A for the nice ride and then met up with a.net user An-225 at the gate. A while later I proceeded to the baggage reclaim for my luggage to find it had not arrived. I was told by the guy at the UA baggage desk that my bags did not make it onto the flight with me in ORD and that id have them delivered to me at my hotel in Denver the next day. I was given a toiletry kit to tide me over, then I made my way to the hotel.
Continued.......