Purpose of this trip was a tour around the Northeast of Germany and the Northwest of Poland I wanted to make. On the other hand, it offered two new airports to me (Mannheim – MHG and Usedom / Heringsdorf – HDF), a new type of aircraft (the Dornier 328) and a new airline (Cirrus Airlines), plus two more landings and take-offs at Berlin Tempelhof, (one of) the most interesting and fascinating airports in Germany.
By the way, for those of you who don't know: Usedom is an island in the Baltic Sea, located in the Northeast of Germany close to Poland (in fact, a small part of the island belongs to Poland). The airport on the island is named after the most important holiday destination on the island "Heringsdorf".
Cirrus Airlines operates these flights in code-share with Lufthansa. You can book your ticket at both airlines. As it was cheaper to book through LH (even after EUR 10.00 ticket service charge and EUR 8.00 for a paper ticket as no ETIX is available on this route), I booked there. For those who are interested: I got 1,500 miles for my Miles-and-More account for the round-trip.
Tuesday, 20 September 2005
Mannheim (MHG) – Berlin Tempelhof (THF)
Airline: Cirrus Airlines, operated in code-share with Lufthansa
Flight number: C9 1562 / LH 9516
Scheduled departure time: 10:00
Scheduled arrival time: 11:15
Type of aircraft: Dornier 328-100
Registration: D-CCIR
This aircraft was built in 1999. It was planned to be delivered to UNI Airways and later to Air Marshall Islands, but not taken up by both airlines. Cirrus Airlines bought the plane in 2001.
I took the train from my home town Stuttgart to Mannheim, a ride of about 30 minutes. From Mannheim main station, I took the tram to Mannheim airport, about 15 minutes, EUR 2.00. I arrived there about two hours before the departure of my flight.
The rather small but modern terminal of Mannheim Airport: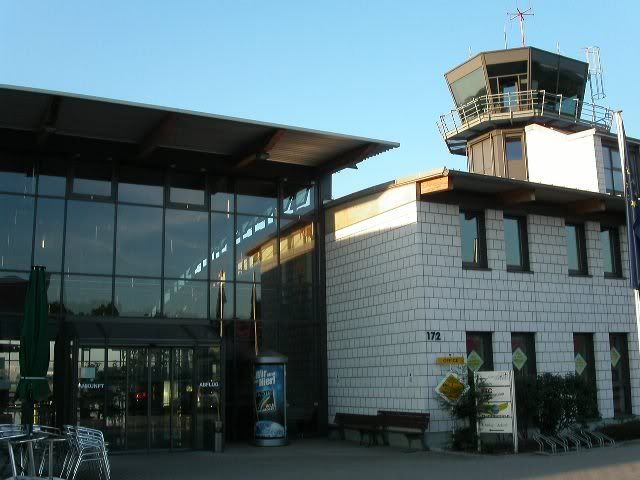 The terminal consists of two check-in counters (still closed), an office of Cirrus Airlines and a small coffee and snack bar. It offers a nice view to the apron: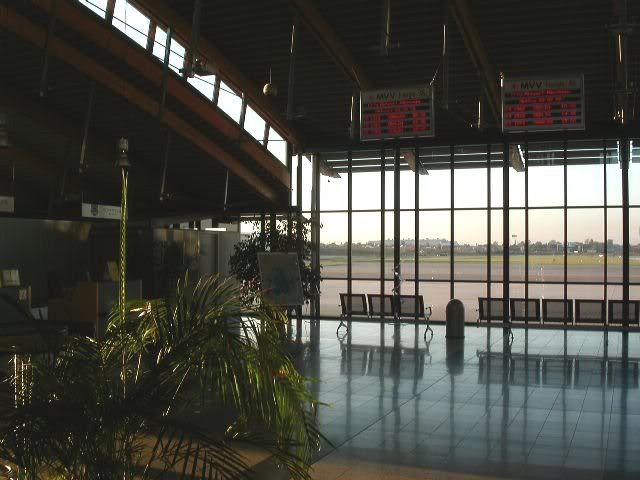 At this time, the morning flights had already left but not yet returned, so the terminal was deserted. Elvis-music was playing in the background. Check-in opened at 9:00, one hour before departure, with one counter. The friendly lady took my ticket and gave me my boarding pass for the first segment MHG-THF, seat number 10A. She told me that unfortunately she wasn't able to check me in for THF-HDF as THF was using a different computer system, so I would have to go to check-in at THF again. She apologized for the inconvenience but assured me that she would send a telex to THF so that all passengers would get the same seats for the onward flight if possible. My luggage was checked through to Usedom / Heringsdorf.
I walked over to the small car-park and awaited the arrival of D-CPRP from HAM: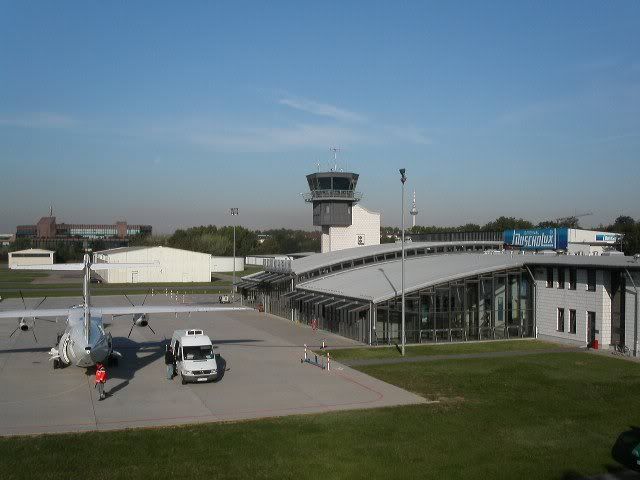 Shortly after, "my" aircraft D-CCIR arrived as well – from THF: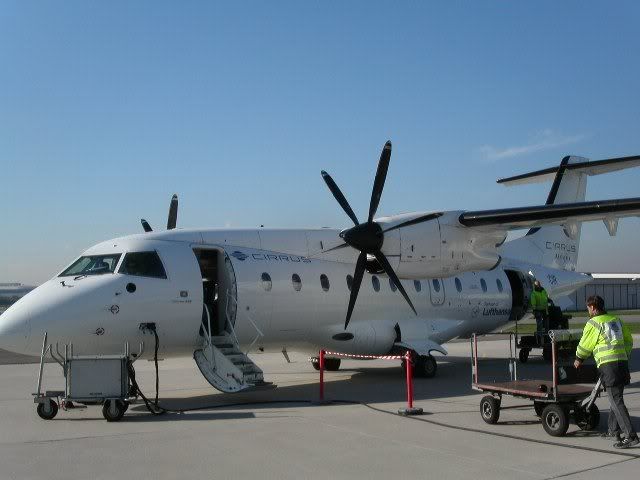 I passed security check quickly and made my way to the waiting lounge. As there was no further flight to HAM now, D-CPRP was pulled to the maintenance facilities. D-CCIR remained on the apron for the flight to THF and then to Usedom (HDF). The floor was covered with marks of green paint saying "HAM" and "THF" (the only destinations offered from MHG), so that passengers (and staff?) know which aircraft goes to which destination:
I watched luggage being loaded into the aircraft, plus several large parcels with units of stored blood. I also saw that there was a crew-change here after only two segments (MHG-THF-MHG), but this was necessary as the aircraft would now go on the long rotation MHG-THF-HDF-THF-MHG and would return to MHG in the late afternoon. I noticed a very young flight crew making their way to the cockpit. Boarding started at 09:45. Umbrellas for free use were available at the gate, but fortunately nobody needed them today as the weather was great. The other passengers and me walked the short distance to our aircraft where we were welcomed by a friendly male flight attendant. Free local and national newspapers were available.
Cabin looked modern with dark blue leather seats, the first two rows marked as "Business Class" with different head-rest covers, but no curtain: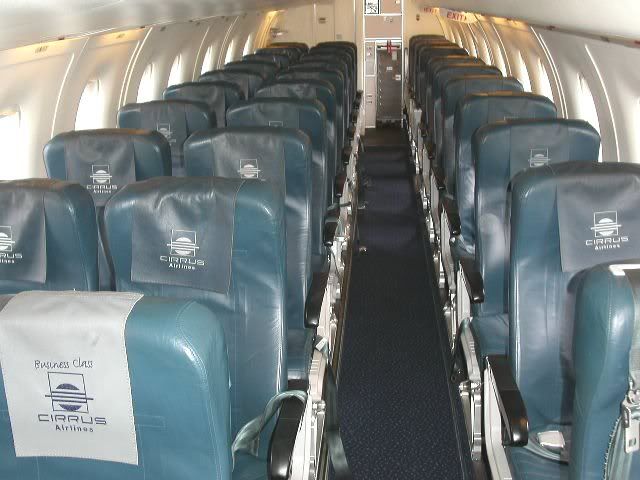 I took my seat 10A, a single seat on the left in the back of the aircraft. The seat pocket contained two in-flight magazines: the one of Cirrus Airlines and the one of Lufthansa. Cirrus Airlines seem to be rather proud to be partner of Lufthansa – they made several announcement about the LH code-share and the Miles-and-More programme. Six or seven seats remained empty, so load factor was between 75 and 80%, not too bad for an off-peak flight time. Passengers were a mixture of business travellers and leisure travellers – the latter mostly continuing their journey to HDF. The business class passengers got free magazines. The flight attendant performed the safety demonstration, then he distributed sweets before take-off to all passengers. We were off-block on time and taxied on the runway to the end of it where we made a U-turn. Then we took off into the clear and sunny sky.
Mannheim airport overview, shortly after take-off: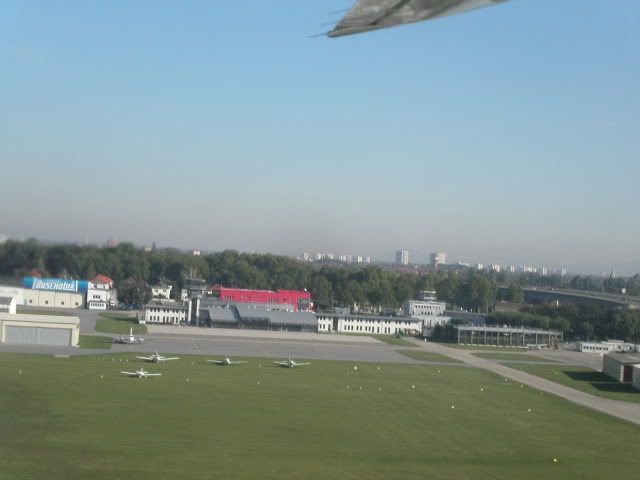 A motorway and some suburbs of Mannheim. Note that the airport is located very closely to some housing estates: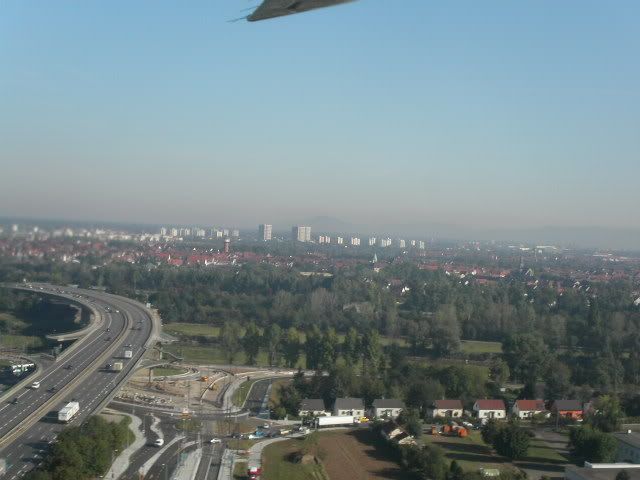 The River Neckar: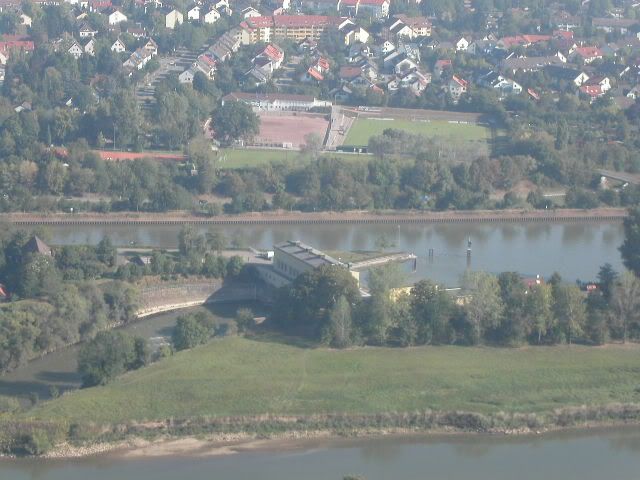 The cabin was very quiet inside – travelling on this modern prop-liner is really comfortable. The first officer gave us some details about the flight: our route was from Mannheim to Wuerzburg – crossing the Thueringer Forrest to Leipzig, along the River Elbe and then to Berlin.
Some in-flight pics taken over the North of Bavaria: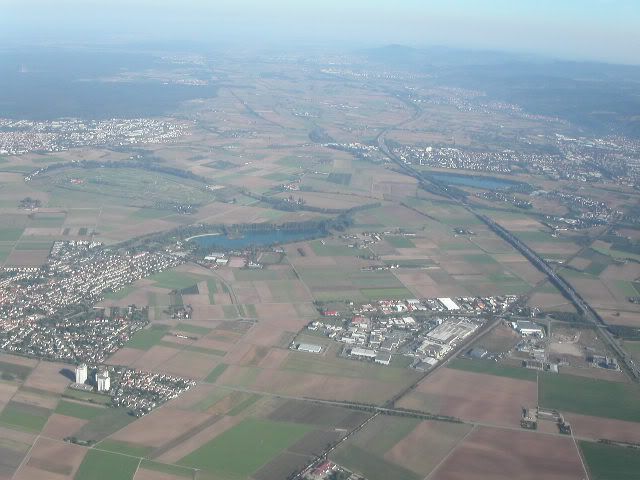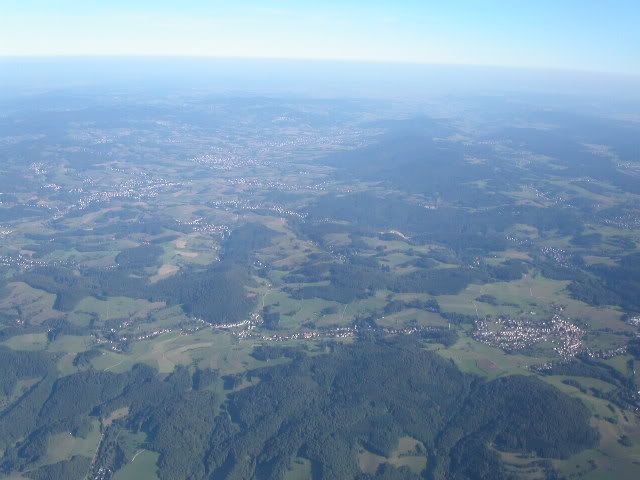 The flight attendant started the meal and drinks service. The Business Class passengers got a full breakfast tray while Economy Class passengers got a paper box containing a roll with ham and cheese, a Mars chocolate bar and a refreshing towel, plus free hot and cold drinks: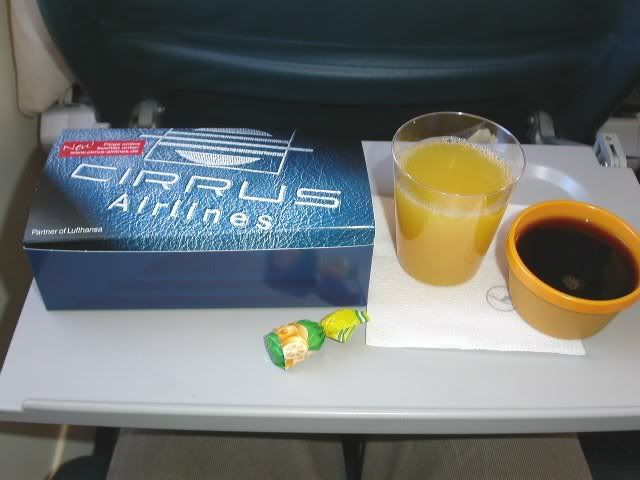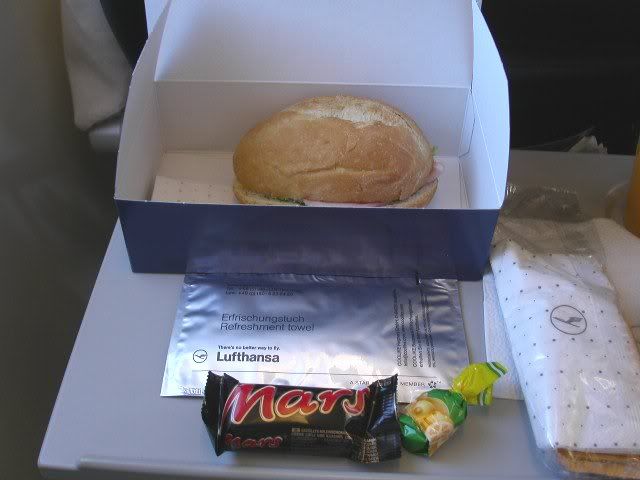 Very good and much more than you get on LH mainline or any other airline in Germany on a domestic flight. After all passengers had got their meals, the flight attendant came around with a second drink service. He was interested in flying himself and told the passengers who were interested which sights could be seen on that route. For example, the airport of Leipzig / Halle (LEJ), according to the flight attendant the only airport in Germany with a village between the two runways – I have never realized that before: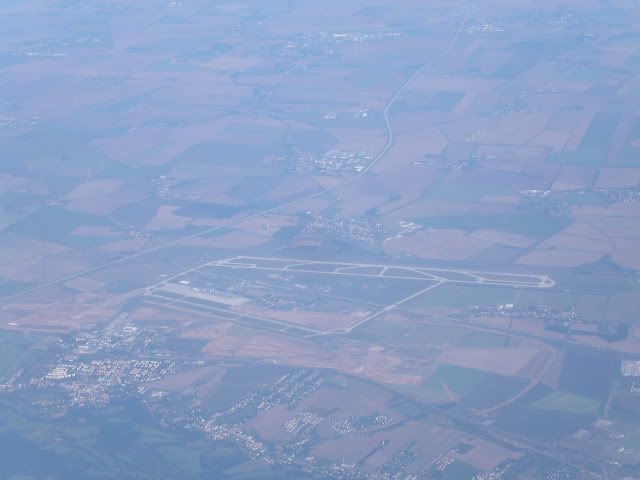 The City of Leipzig: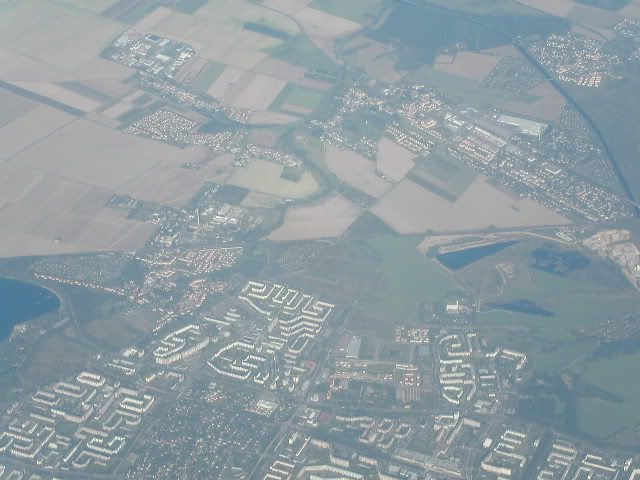 A town in Brandenburg: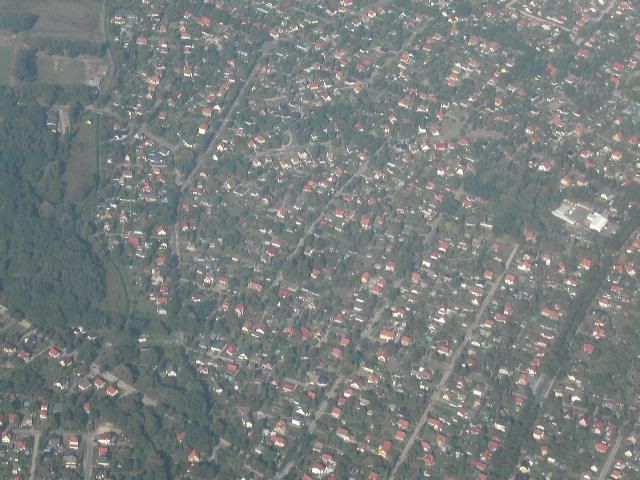 Berlin Schoenefeld Airport (SXF):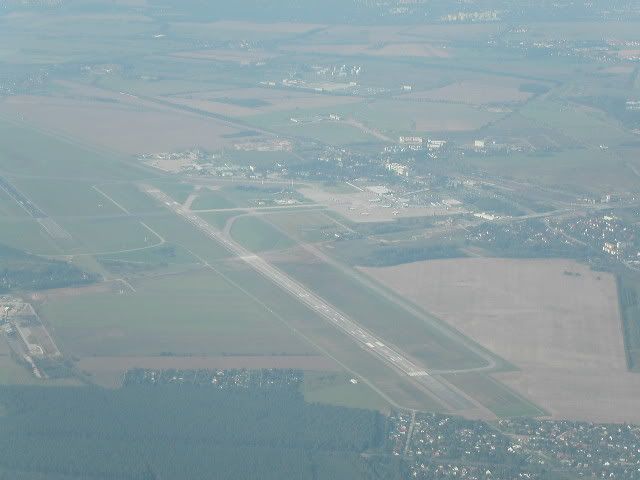 Shortly before the end of the flight, the flight attendant distributed small chocolate bars and other sweets. We started our descent into THF which offered some nice views to the Southern parts of Berlin: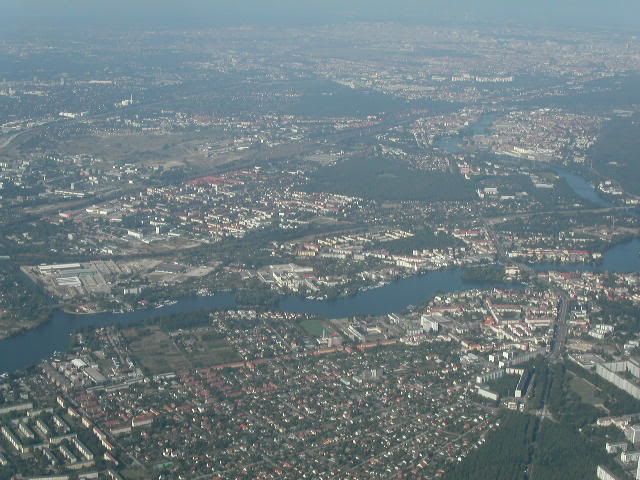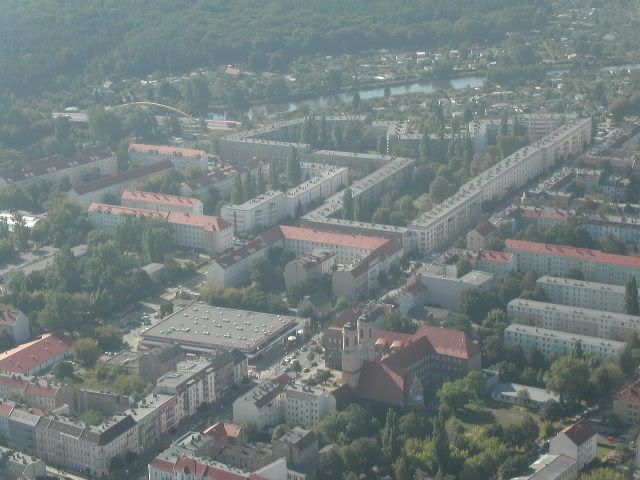 Approaching THF is really impressive as the airport is located in the heart of the city. It's a bit like Hong Kong Kai Tak – only with smaller aircraft and buildings that are not that tall: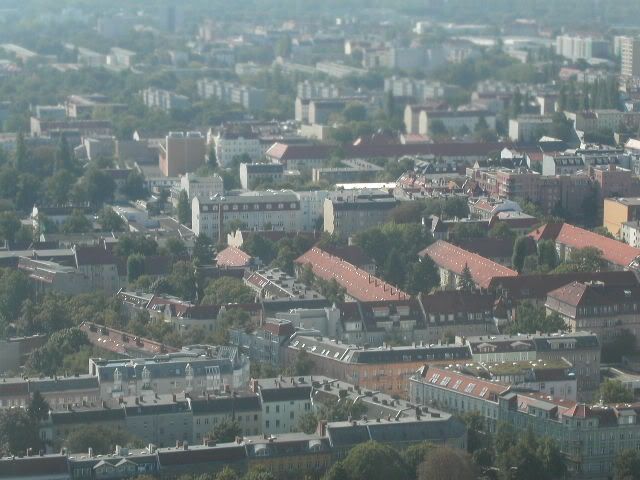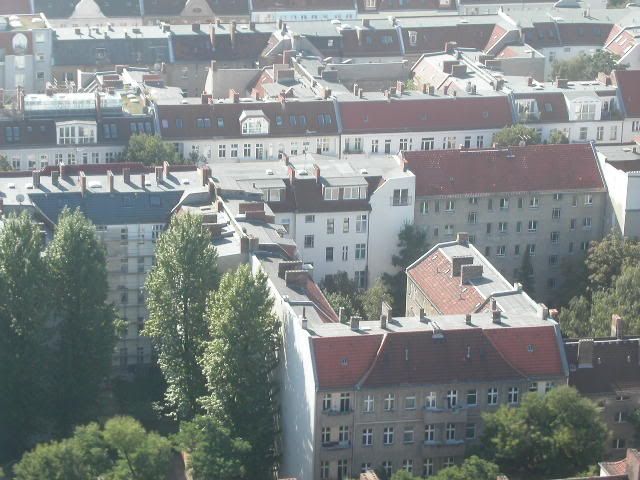 We touched down and taxied to a parking position on the apron. A bus took all passengers to the terminal. I made my way to the main terminal hall that was built in the 1930's (like the whole airport) where the check-in counters are located on the right side while the left side is occupied by offices of the airlines: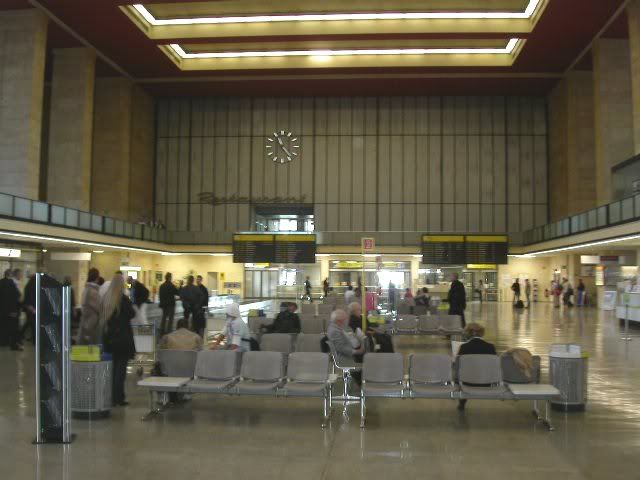 Tuesday, 20 September 2005
Berlin Tempelhof (THF) – Usedom / Heringsdorf (HDF)
Airline: Cirrus Airlines, operated in code-share with Lufthansa
Flight number: C9 1520 / LH 9510
Scheduled departure time: 12:15
Scheduled arrival time: 12:50
Type of aircraft: Dornier 328-100
Registration: D-CCIR
They had a separate counter for the HDF-flight; I was the first one of the connecting passengers to arrive and got a boarding pass for the same seat as on the first leg (10A) in no time. The flight to HDF was to depart one hour after the arrival of the aircraft from MHG; it would be the same aircraft. The Cirrus-flight from Saarbruecken (SCN) arrived some minutes later (on that day the Emb 145 D-ACIR), so passengers from SCN could connect to HDF as well. During summer, Cirrus offers two flights per week from THF to HDF (Tuesday and Saturday), always with connections from MHG and SCN. On two other days, the aircraft goes to Westerland / Sylt (GWT) instead, so the aircraft is occupied during the off-peak hours in the early afternoon as well. On the remaining days of the week and during winter, the aircraft stays idle at THF for several hours.
I passed security and entered the small gate area with only four Schengen-gates and one international gate. All gates offer a nice view to the apron which was not very busy at that time of the day. An SN Brussels Airlines Avro had just left for BRU and a DBA F 100 was waiting for its departure to CGN: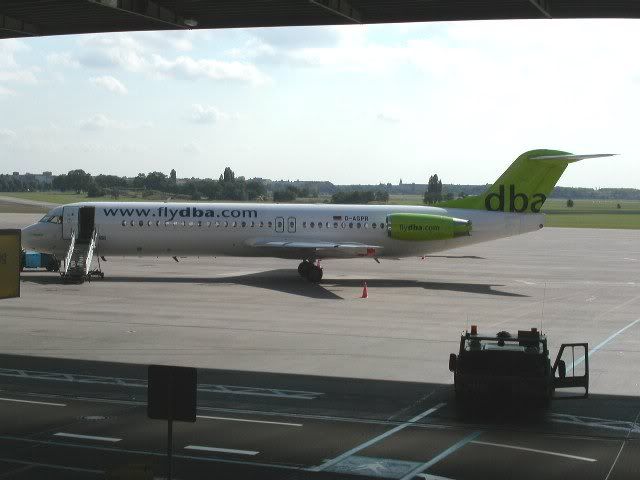 Apart from that, several regional aircraft which were used on typical business routes were parked for some hours until the late afternoon, like an EAE Metroliner on an LGW Do 228. I watched our Do 328 being refuelled. Boarding started and all passengers (only 16 on this segment) were bussed to the aircraft. About half of the passengers had come with me from MHG while the others joined from SCN.
D-ACIR, still wearing the old "Team Lufthansa" colours, arrived from SCN, in front of the impressive terminal building: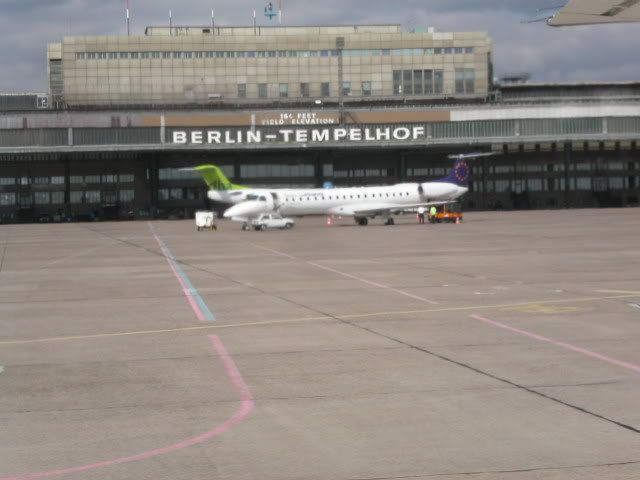 We were welcomed by the same crew again and I took the same seat in the back of the aircraft. Safety demo followed; this time it included also the use of the life vests as we would fly over water. Again sweets were offered before take-off. We taxied to the runway and were airborne in no time: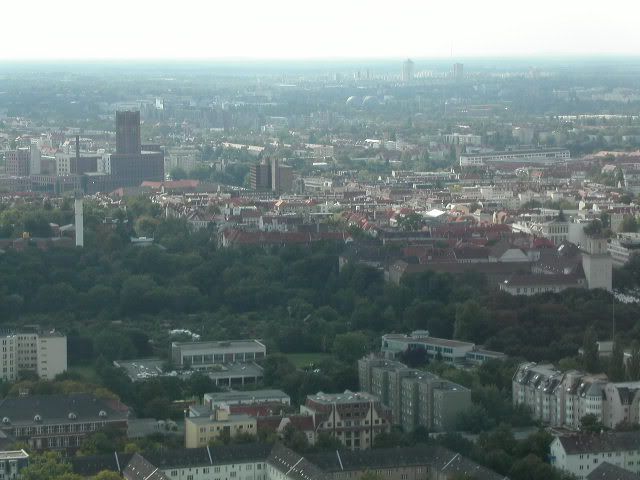 Unfortunately, it became rather clouded in the Northern part of Germany, so there was not much to see outside on that flight. Flight time was only 30 minutes, so service was limited to the distribution of sweets and refreshing towels. Also no Business Class service on this flight.
The airport of Usedom is located in the Southeast of the island, very close to Poland. As we approached from the East, we were crossing Polish territory.
Wollin, the Polish neighbour island of Usedom, and the lagoon of the River Oder: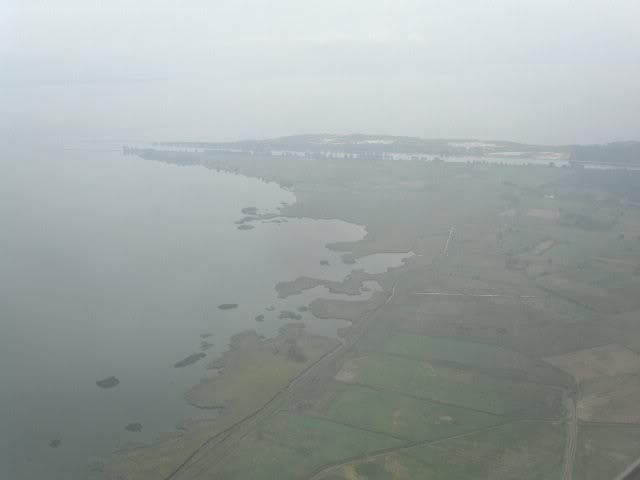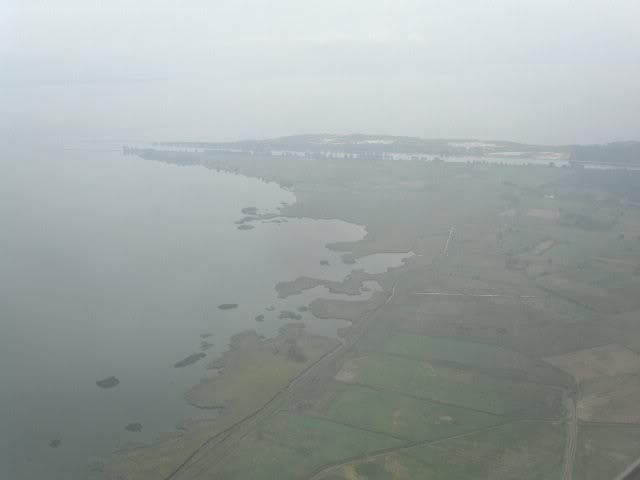 We touched down on the only runway of this regional airport and came to stand in front of the terminal building. On leaving the aircraft, I thanked the flight attendant for the very good service.
A last farewell-picture of our aircraft – the only one on the whole airport: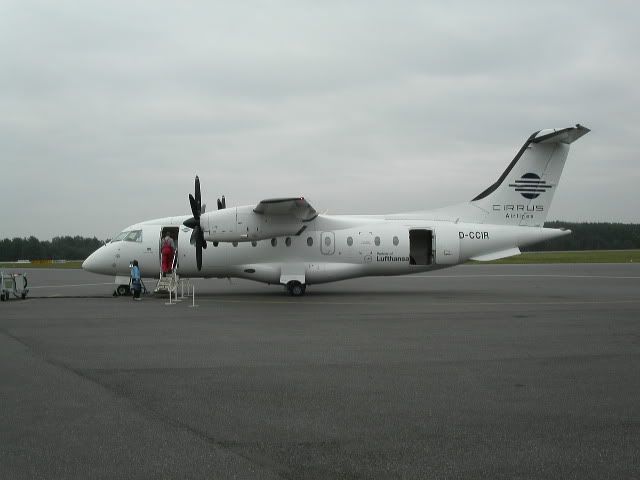 We walked the short distance to the terminal building. By the way: the terrace in the left of this picture is a viewing deck with a restaurant: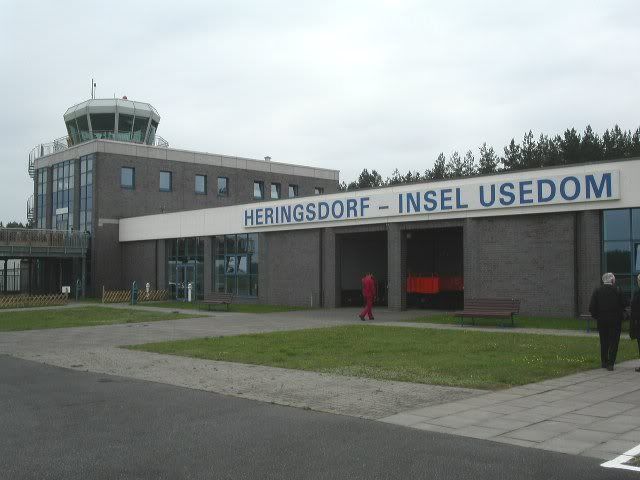 In the baggage hall, a young lady from Usedom Airport awaited the passengers and everybody got a glass of champagne. Free champagne for all passengers – a really personal touch and obviously still possible at this small airport with only four flights per week, but imagine this at FRA or LHR…
Luggage arrived before I could finish my drink. I took a taxi to my hotel.
During the next week, I explored the Island of Usedom (very nice with long beeches, but the countryside inside the island is interesting as well) and continued my journey by train to Poland (Szczecin / Stettin) where I also got the chance to try out LOT on a domestic flight (trip report will follow). I returned to Usedom for my flight back home a week later.
Tuesday, 27 September 2005
Usedom / Heringsdorf (HDF) – Berlin Tempelhof (THF)
Airline: Cirrus Airlines, operated in code-share with Lufthansa
Flight number: C9 1521 / LH 9511
Scheduled departure time: 14:25
Scheduled arrival time: 15:00
Type of aircraft: Dornier 328-100
Registration: D-COSA
This aircraft was built in 1997 and delivered to Arcus Air Mannheim which operated their scheduled flights under the name Cosmos Air. In 1999, Cosmos Air was taken over by Cirrus Airlines and so the aircraft changed its owner as well.
I had spent the last night of my journey in a small guest house in the village "Kamminke" in the South of the island at the lagoon of the River Oder. I was surprised to see that there was a direct bus service from Kamminke to the airport (about four or five km). Unfortunately, the bus timetable was not linked to the flight schedule, so the only suitable bus left Kamminke at 10:00 in the morning, more than four hours before the departure of my flight. Nevertheless, I took this bus and was not too surprised to be the only passenger.
So I was at the airport much too early. The terminal building (here a landside picture) was still closed – as there are only four flights per week, it is open only shortly before and after one of these flights: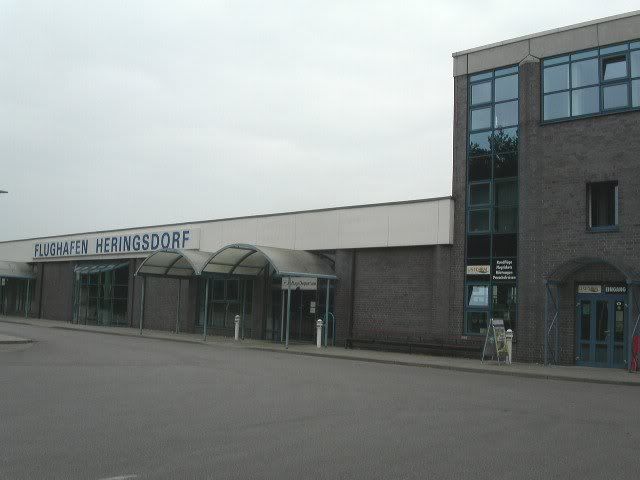 So what to do for the next hours? The answer to this question was found soon: besides the new, very modern terminal which was built in the 1990's, the airport still has its old terminal building from the times of the GDR: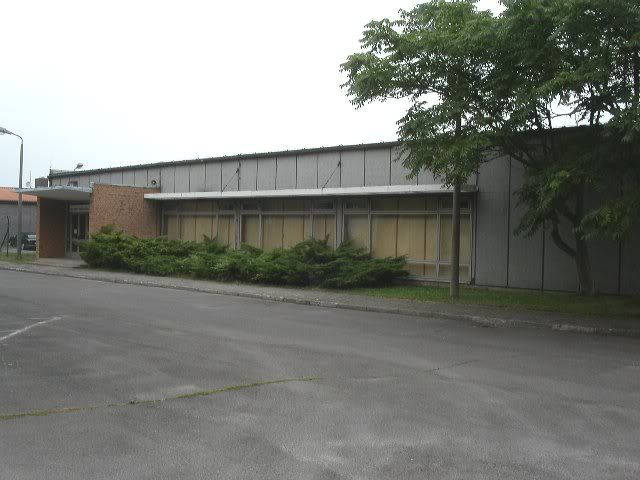 This building is no longer in use as a terminal, but instead it hosts an impressive model plane exhibition where Frankfurt Airport has been rebuilt in the scale of 1:45 and lots of different aircraft models are on display: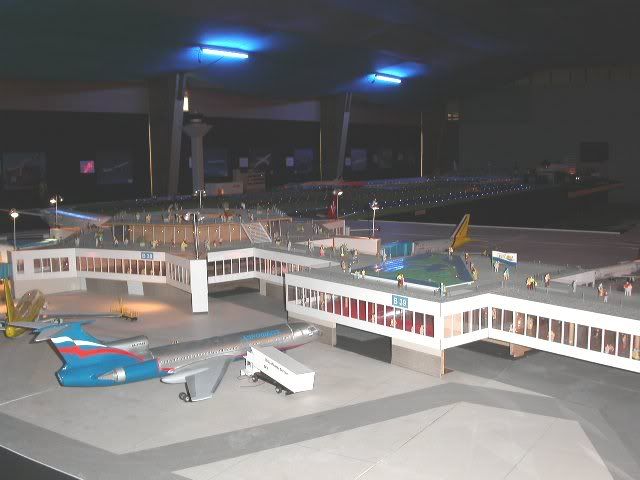 Most of the aircraft can be moved on small tracks in the floor: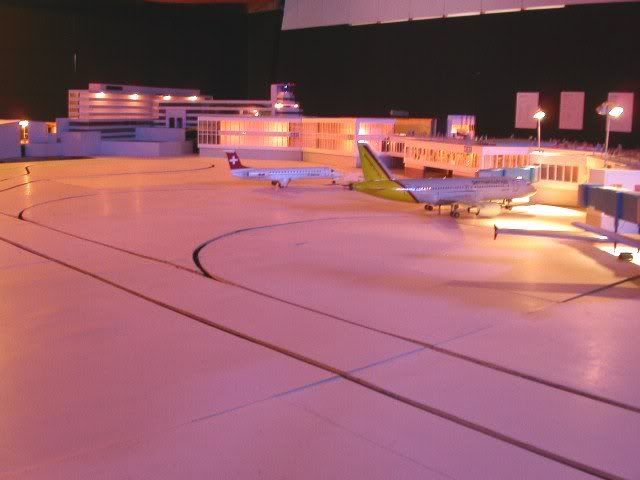 I talked for some time to the man who has built all model planes and the whole exhibition by himself – with lots of remarkable details like the planes being lightened and all of them having their own realistic sound when moving. He told me that he had spent much time to build all these models and was hoping to do this as a full-time job now (his wife is doing the cash-point; entrance fee is EUR 3.50, so if they get enough visitors, it might work).
Even the A 380 is already present, as well as some planes that don't exist (yet?) in reality, like this HLX B 737-800: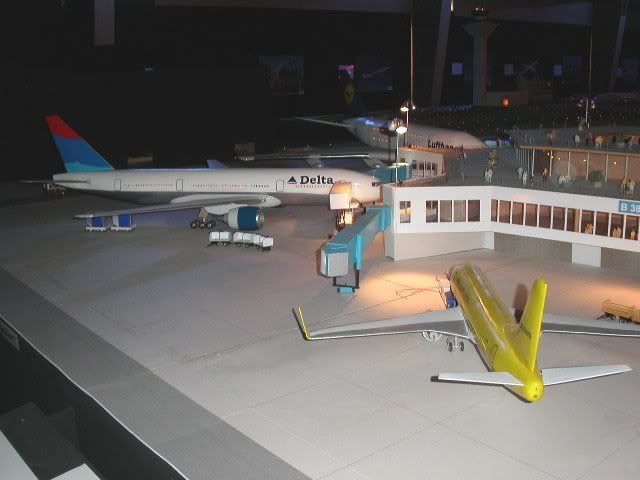 All around the model area, there are many buttons you can press, and then always something is happening, like a car or a train starts to move, or you can open and close the nose of this Cargo-B 747: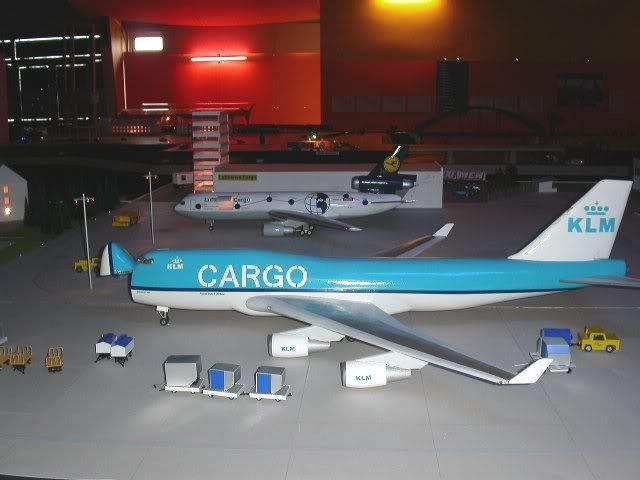 The aircraft can only be moved by the owner of the exhibition, to avoid collisions. So the whole scenery is extremely lively. The whole project is always extended. Before leaving, I watched a film about Frankfurt Airport that was shown in the small cinema. If you should ever come to Usedom (by air or on the ground), this place is really worth visiting if you like (model) planes as it is really unique.
After I had left the old terminal, I walked over to the new one which was opened at 12:00. The whole airport is more or less only a one-(wo)man-show: There is a small travel agency located in a separate part of the airport building where one lady is working. When there is a flight, she closes her travel agency and walks over to the terminal to open it. The same lady is responsible for arrivals (including the champagne service), check-in, boarding and ramp service. She is only assisted by security staff (three persons), an elderly man who arrived later for a second check-in counter, a cleaning lady for the aircraft and two baggage loaders.
The terminal building is modern and not too big: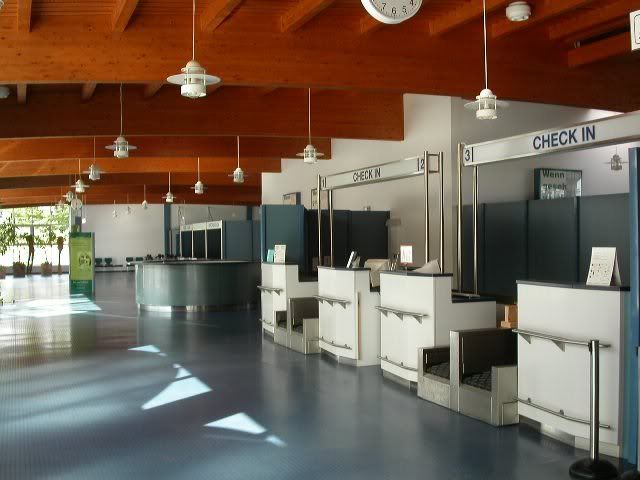 Nevertheless, it might still be a bit oversized for only four flight per week during summer (2x Cirrus Airlines Do 328 to THF, 2x White Eagle Aviation ATR 42 to MGL / FMO) and no flights at all during winter). As check-in wasn't open yet, I went to the restaurant on the viewing deck to have lunch. A hot meal (the dish of the day - paprika filled with meat and potatoes) for only EUR 3.00 – imagine this at any larger airport…
At 12:50, the Do 328 arrived from THF on time, this time D-COSA: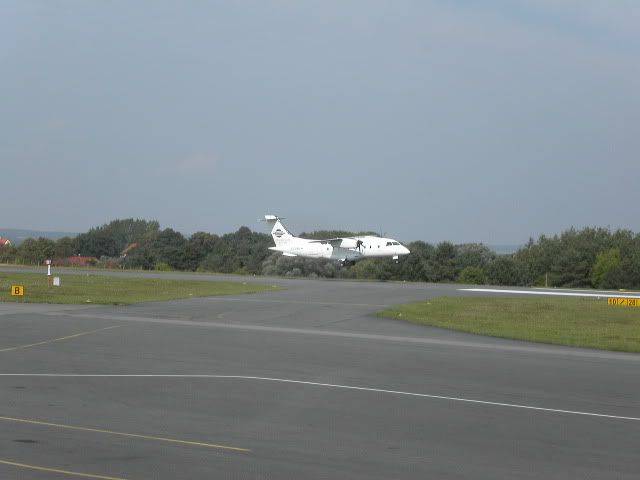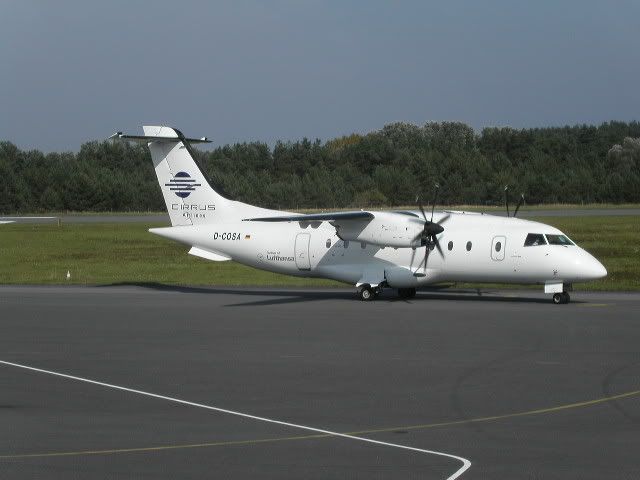 Only eight passengers left the aircraft from the inbound flight – not too surprising as it was shortly before the end of the season and the last flight of the year would leave HDF only one week later.
I returned to the terminal where the agent had just finished her champagne service for the arriving passengers. As there was still some champagne left, the waiting passengers at check-in got a glass as well. Then she opened two of the four check-in counters, assisted by an elderly man who didn't seem to be very experienced with this job. I was checked in by the friendly young lady and got a hand-written boarding pass:
Computers were available at the counters; nevertheless, check-in was done manually. Baggage was checked through to the final destination, but of course no boarding passes for onward flights could be given out due to the manual process.
After check-in, most passengers proceeded directly through security control to the waiting lounge. Boarding started shortly after. With only 15 passengers booked on that flight and the short ways within this airport, the whole process from check-in until entering the aircraft was finished very quickly. I really like these small regional airports a lot.
We were welcomed by a young female flight attendant. I took my seat 4A. We were off-block soon and taxied to the runway, then we took off in Western direction.
The airport terminal surrounded by forests and fields: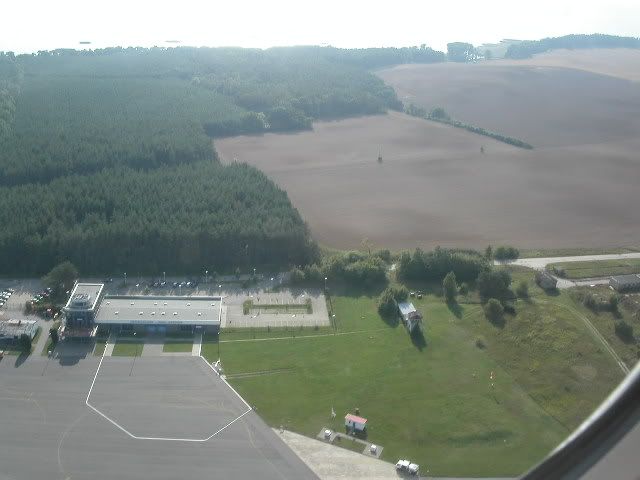 The Southern part of the Island Usedom with some villages and the Oder lagoon: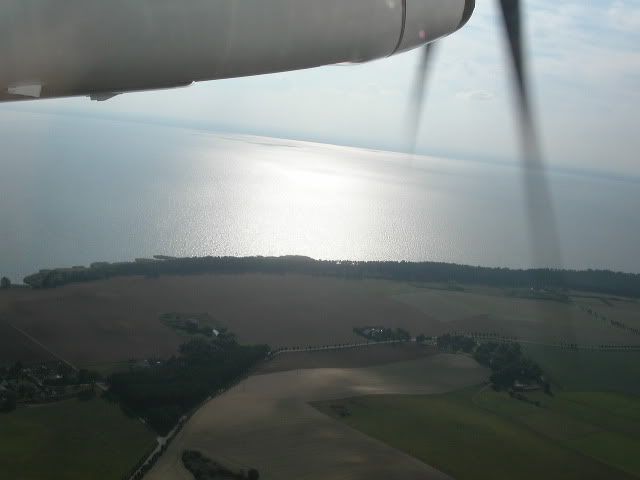 The remaining part on an old railway bridge that had once linked Usedom to mainland but was destroyed during Second World War (in the downside part of this photo):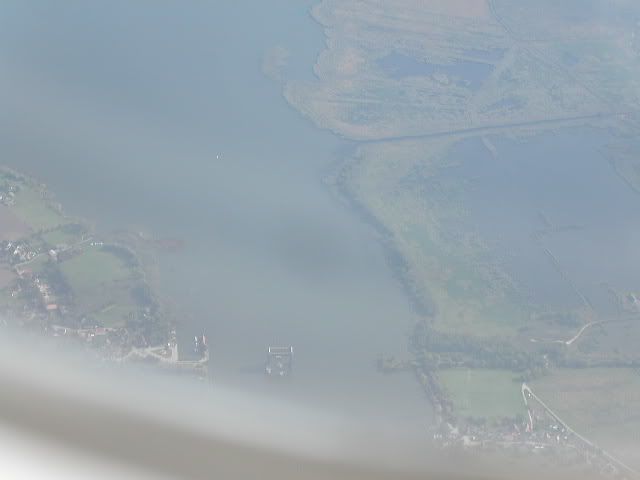 Service on this short flight (like on the outbound sector) consisted of a sweet before take-off and a small chocolate bar during flight. An elderly lady in front of me asked the flight attendant about the exact flight route. She promised her that she would ask the flight crew to provide some additional information, so the female first officer made an extremely detailed announcement covering nearly every village and every lake we crossed (and there are many lakes in Mecklenburg-Vorpommern…). The main points: after leaving Usedom, we turned South to Neubrandenburg, the Lake Mueritz and the "Mecklenburgische Seenplatte" (lots of lakes) and then to THF. Flight level was only 4,200 metres. Later the flight attendant asked the elderly lady if this had been all right for her, but she replied that she couldn't hear very well, and she hadn't understood anything… So the flight attendant repeated the most important things.
An airfield: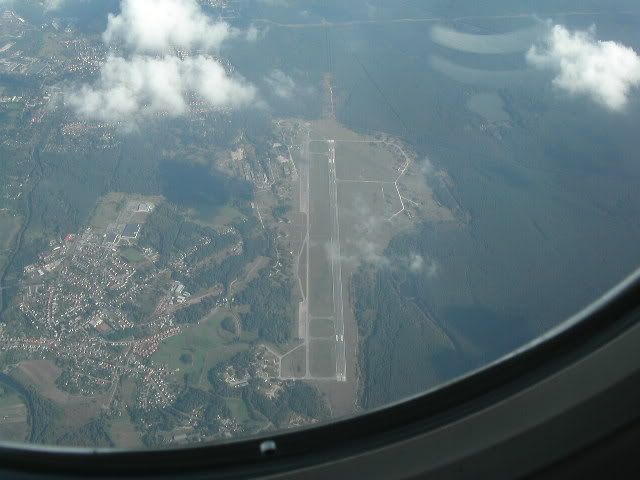 Approaching THF again: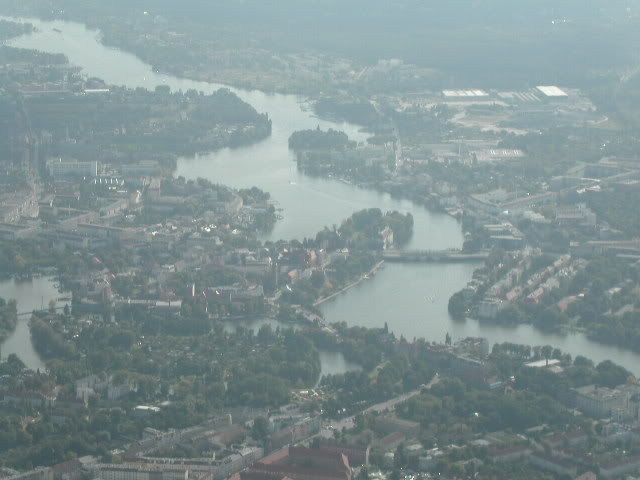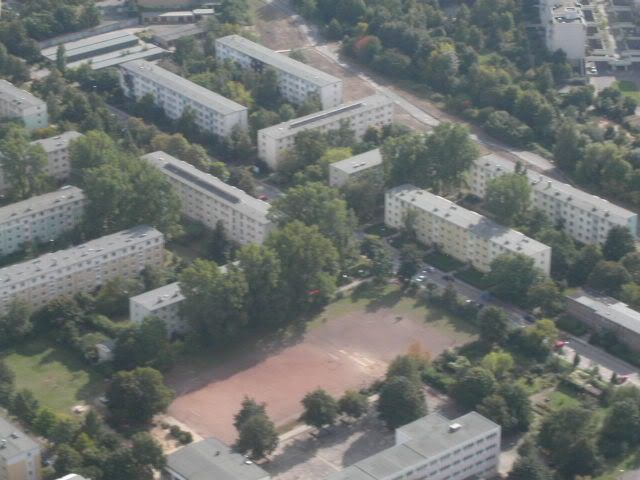 We touched down on the runway and taxied to a parking position on the apron where a bus awaited the passengers. This time, connection time for my onward flight was only 30 minutes, but this was no problem at a small airport like THF. And there was no risk of missing the connection – even in case of a delay – as it was the same aircraft again.
Tuesday, 27 September 2005
Berlin Tempelhof (THF) – Mannheim (MHG)
Airline: Cirrus Airlines, operated in code-share with Lufthansa
Flight number: C9 1565 / LH 9519
Scheduled departure time: 15:30
Scheduled arrival time: 16:45
Type of aircraft: Dornier 328-100
Registration: D-COSA
When I arrived at Cirrus check-in, the two agents were busy with solving a problem as one passenger to SCN had obviously several different bookings. So they didn't take too much notice of me – one of them handed me over my boarding pass for MHG without saying anything. I got seat number 10A once again. After passing security control I still had some minutes to watch the movements on the apron a bit.
The SCN-service today was performed by the brand new Cirrus Emb 170 D-ALIE: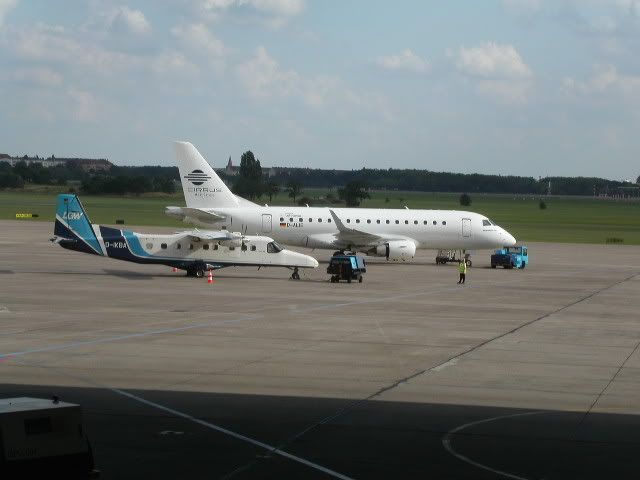 "Our" Do 328, together with an EAE Metro and some Biz-Jet: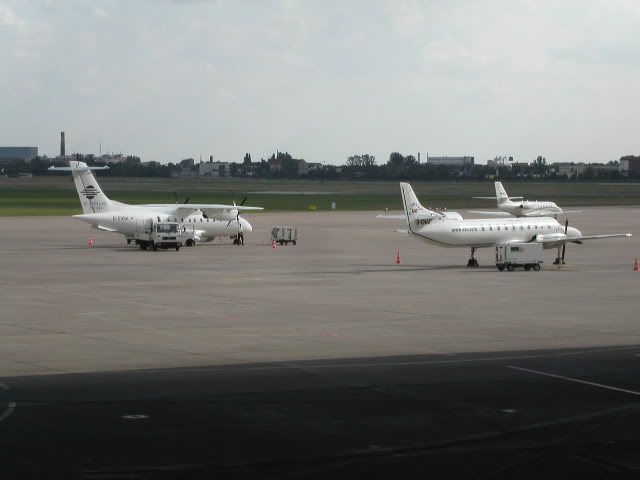 After this quick turn-around, all passengers for MHG were bussed to the aircraft again; some of them had already travelled with me from HDF. Before we could enter the aircraft, all luggage from the connecting passengers had to be identified. Then we were welcomed by the same crew again.
We were off-block in no time, and after the EAE Metro had cleared the runway, it was our turn to take off on runway 27 in Western direction: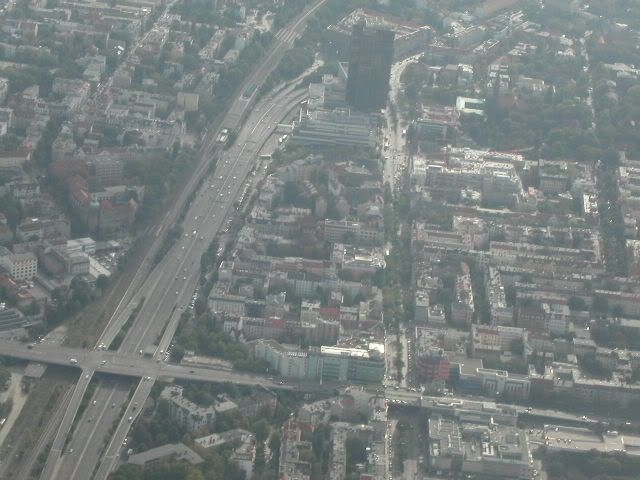 Flight route this time was THF – Magdeburg – Leipzig – Erfurt – Wuerzburg – Spessart – Odenwald to MHG. As soon as we had reached our flight level, the flight attendant started her cabin service for the 19 passengers. Business Class pax again got a tray meal while Economy pax received a paper box with a bread and a yoghurt, plus three (!) rounds of drink service: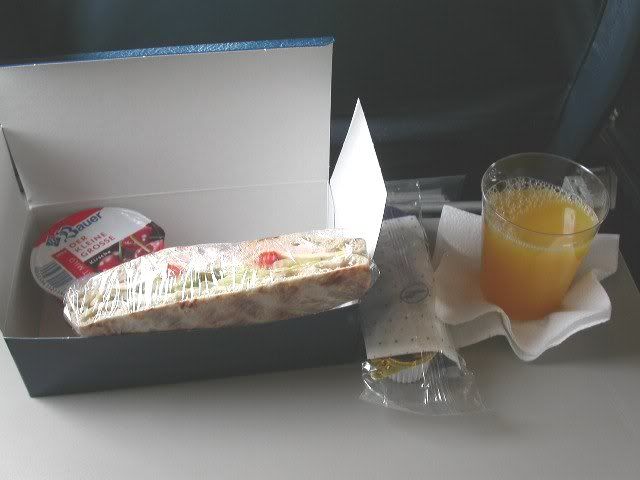 Later, sweets were distributed again and the flight attendant asked everybody if he / she needed a taxi at MHG as these would be ordered in advance.
Shortly before landing: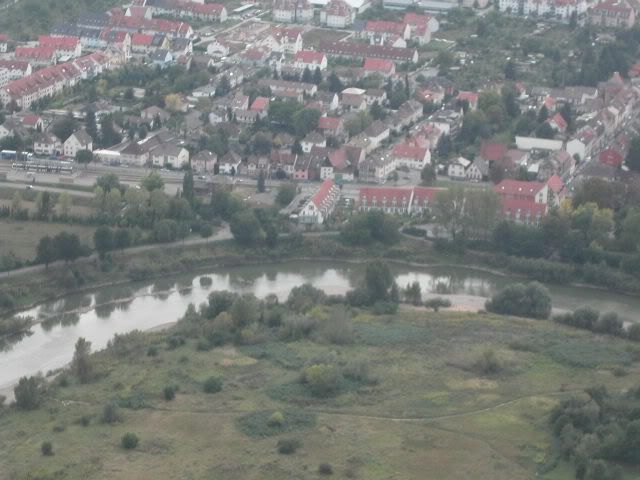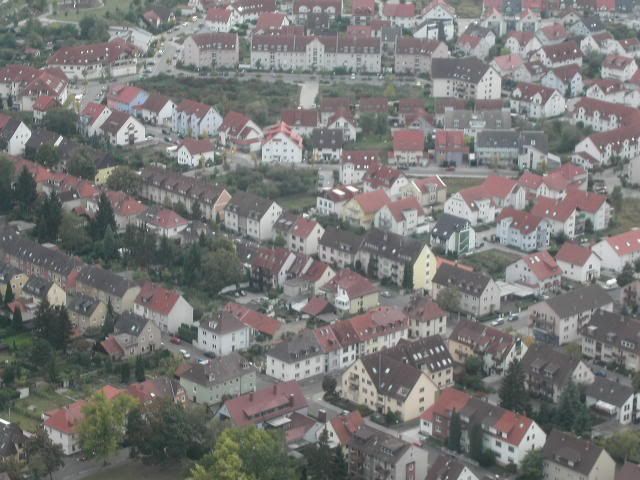 We landed and came to stand on the "HAM" parking position, so this aircraft would perform the afternoon service to HAM next.
All passengers walked the few metres to the terminal where I collected my luggage. Then I took a tram to Manheim main station and a train to Stuttgart.
Conclusion
This was a great trip; I enjoyed the flights on the Do 328 a lot as it is a very comfortable prop-liner. Cirrus Airlines offers an outstanding in-flight service on domestic flights; food is high above average and flight attendants were extremely friendly and attentive on all of my flights. On the other hand, flight prices are higher than on LH mainline domestic routes as well, so finally I think you always get what you pay for. Nevertheless, I can only recommend Cirrus Airlines if you find an acceptable fare.
Thanks for reading my report – questions and comments are always welcome.
Regards
Christoph