Hi folks, this is my second trip report on A.net after my Super constellation experience last August .
I wanted to dedicate this report to my visit to the Airbus site. For that I booked last july already my tickets to TLS.
My girlfriend was very cool to come with me and I really thank her for that ;I enjoy sharing my passion for aviation with her .
This trip was also the chance to fly an EMBRAER for the first time.
Our trip started on a sunny Friday morning on October 14th. We got to GVA with a bit of advance to check in and then go spot a bit on the terrace.
We then went for a bit of coffee and pastry .Boarding time was at 11:50am since the flight departed at 12:20. At around 11:30 we passed the customs into the French sector of GVA.
Since part of GVA lies on french territory, there is a special sector dedicated to French domestic flights. Once we're in there we're considered in french territory .Its convenient
since once you get to your final destination in France you don't need to pass through the customs .
Once inside the sector, we walked around before being called in for the flight . It was great to visit for the first time the new terminal in GVA...looks so modern...very nice.
At 11:50 am we were called in for boarding. We got on a bus that drove us to our destination
Here is a pic of our E135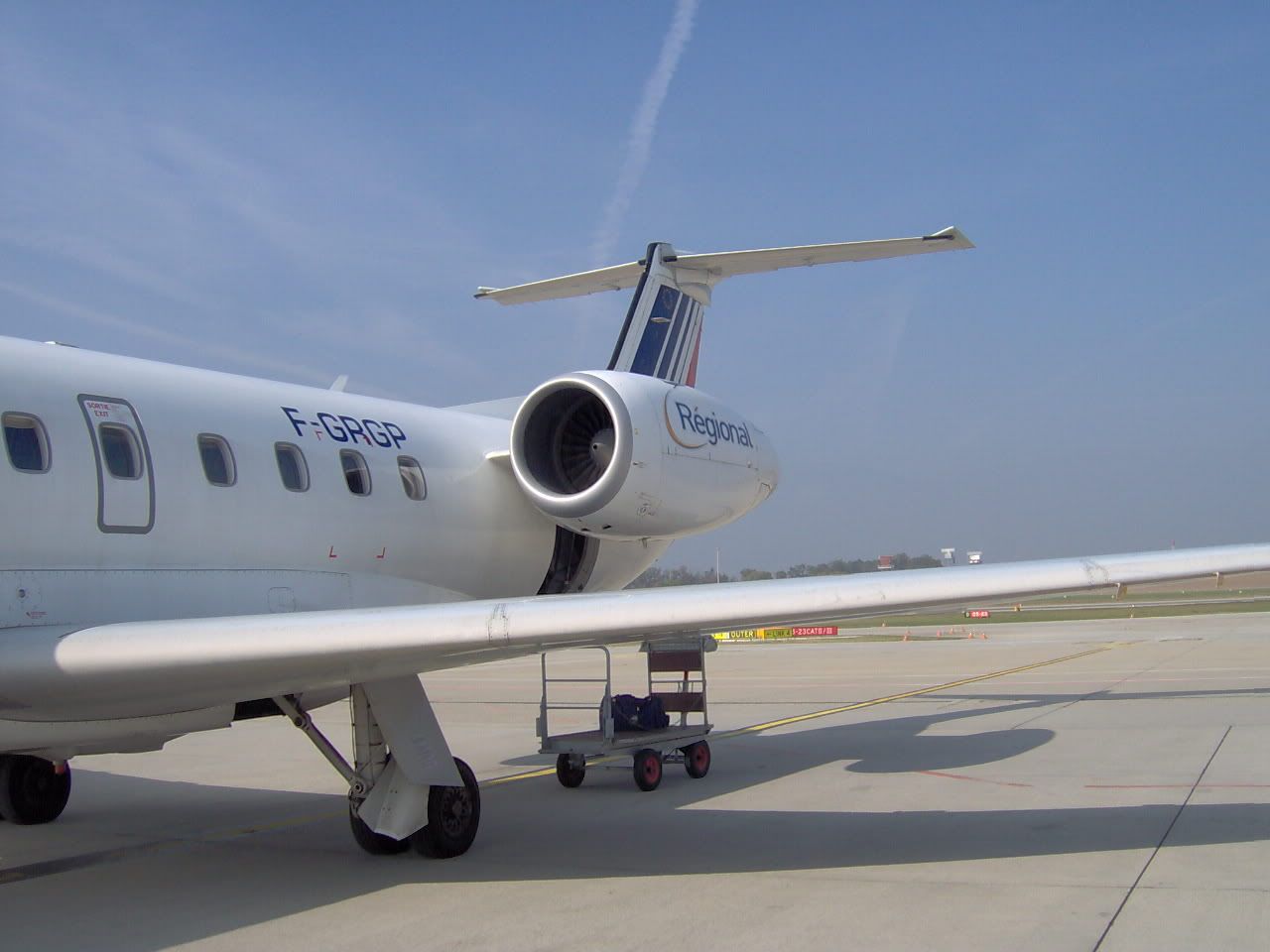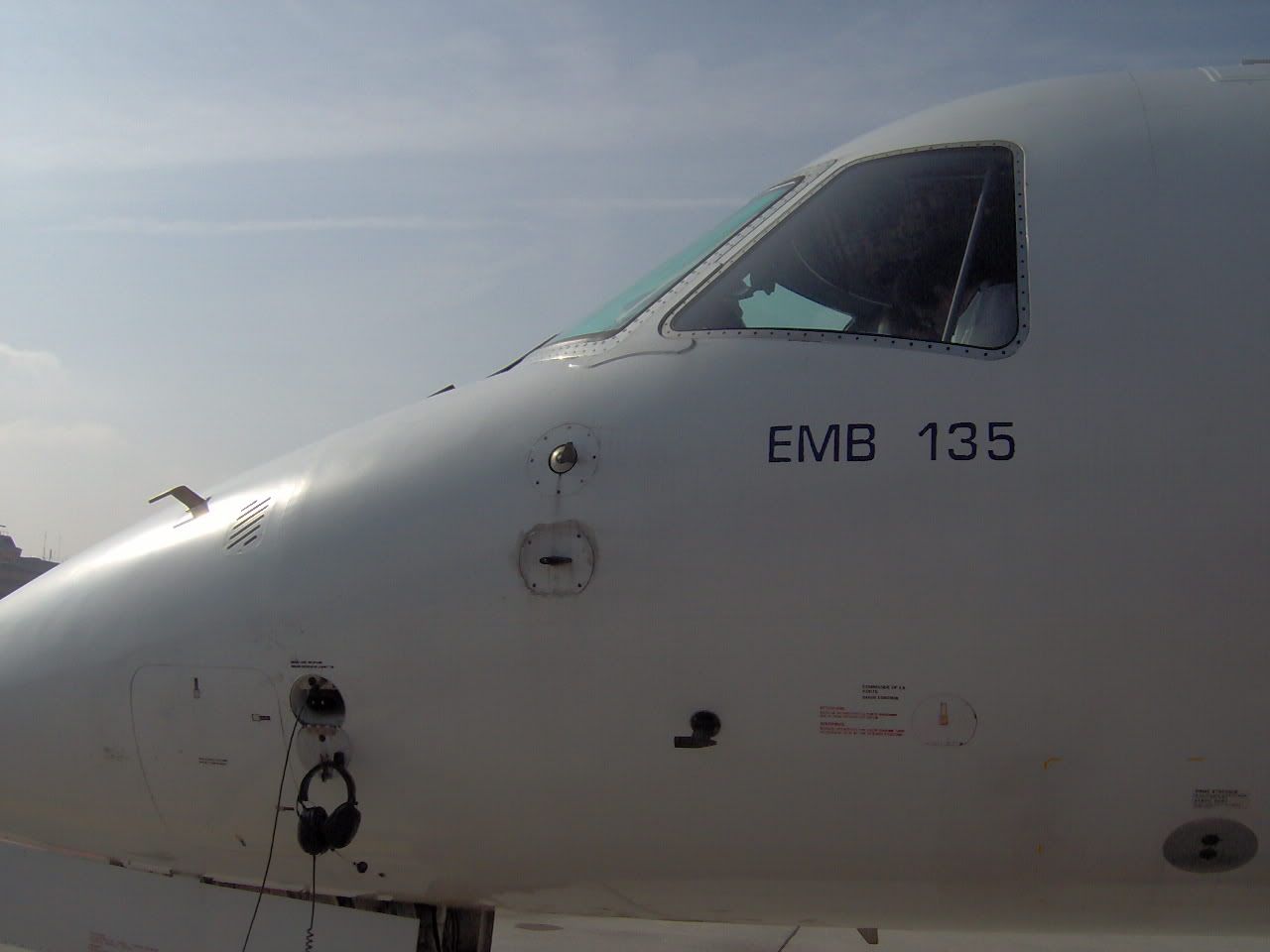 I was excited to get on an EMBRAER for the first time and add the E135 to my list on a/c I've flown on
Airline:
Air France(operated by Regional)
Flight no:
3129
Gate:
64
Aircraft:
Embraer 135
Registration:
F-GRGP
Seat:
05D
Destination
Toulouse-Blagnac
Date:
October 14th
Time of departure:
12:20(on time)
Time of arrival:
13:35
Load Factor:
80%

On board I saw for the first time an Aeroflot A/c in new colours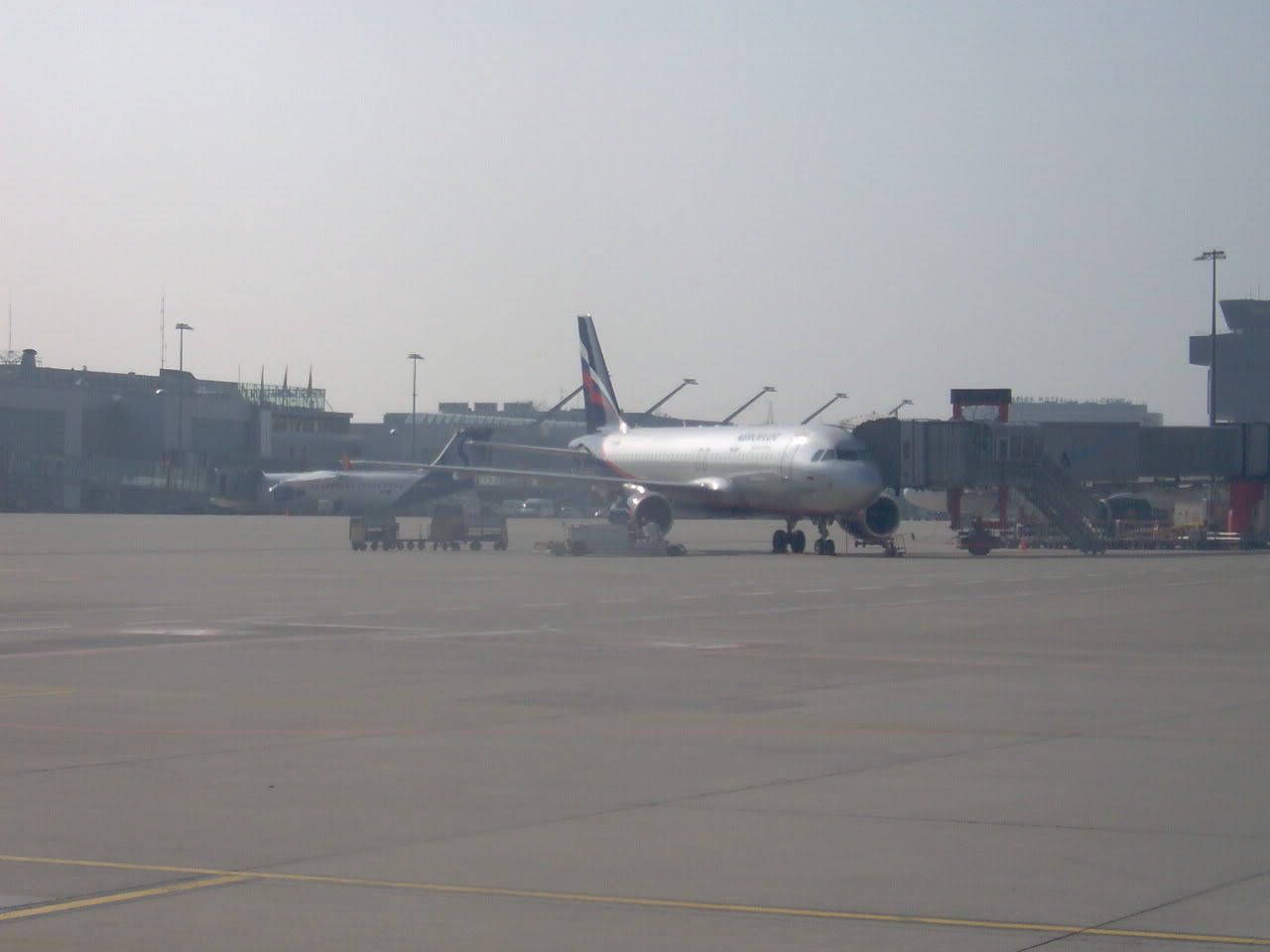 Departure was on time. There was once flight attendant and after having handed refreshing towls she started to explain the safety procedures as we taxied



Before departure was A BA 737"poland" heading towards Gatwick that was going to take off before us



Two minutes later the captain said"Membre de l'equipage préparez vous au décollage"(crew member pepare for take off)
We turned on the runway and the acceleration of the E135 was very impressive. since its a small aircraft you can notice the speed even better
than on the bigger a/c.

Since it was a really sunny day we had a great view over GVA. Alas I took a picture but since the sun was on the other side it didn't appear as nice as it should have

The view of the alps as also very great as you can see from this picture with Mont blanc in the middle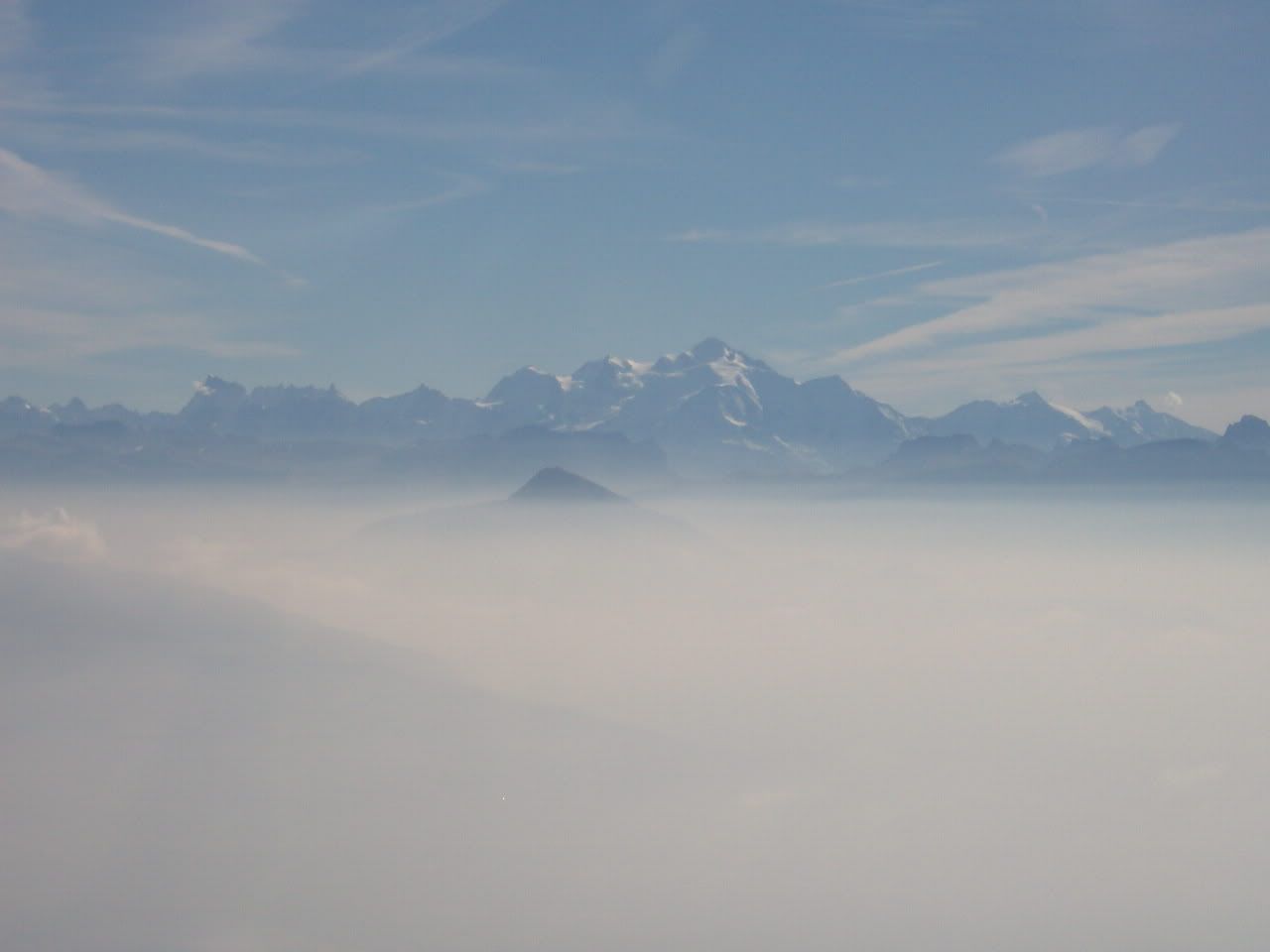 The airplane continued on a straight line Nothrward for another 10km and then turned a few km before my hometown Nyon which you can see here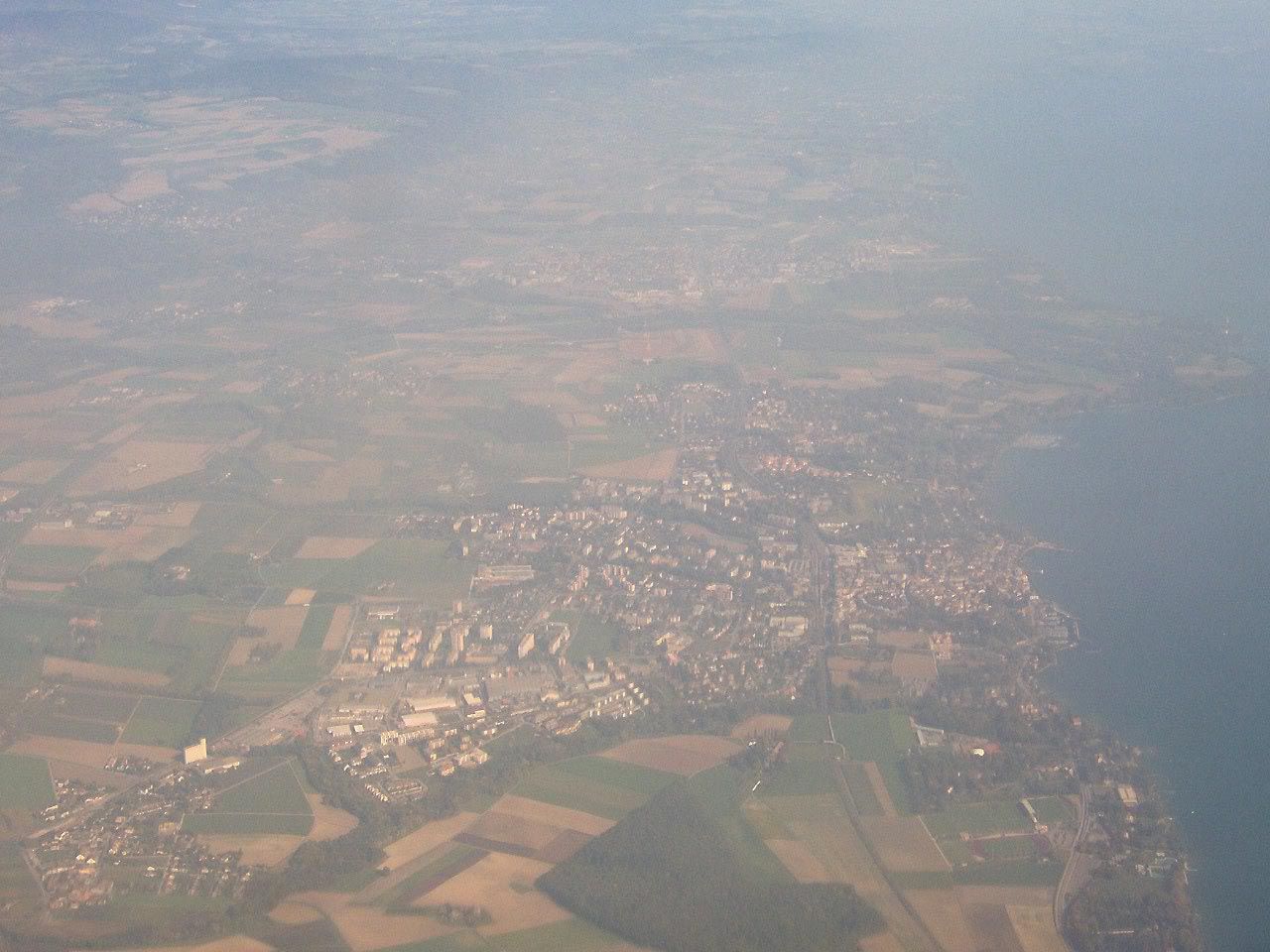 The pilot then turned to head south for TLS. We now had the Jura on our side. They were amazing with their all the autumn colours on the trees.
I love this time of the year just for the beauty of those mountains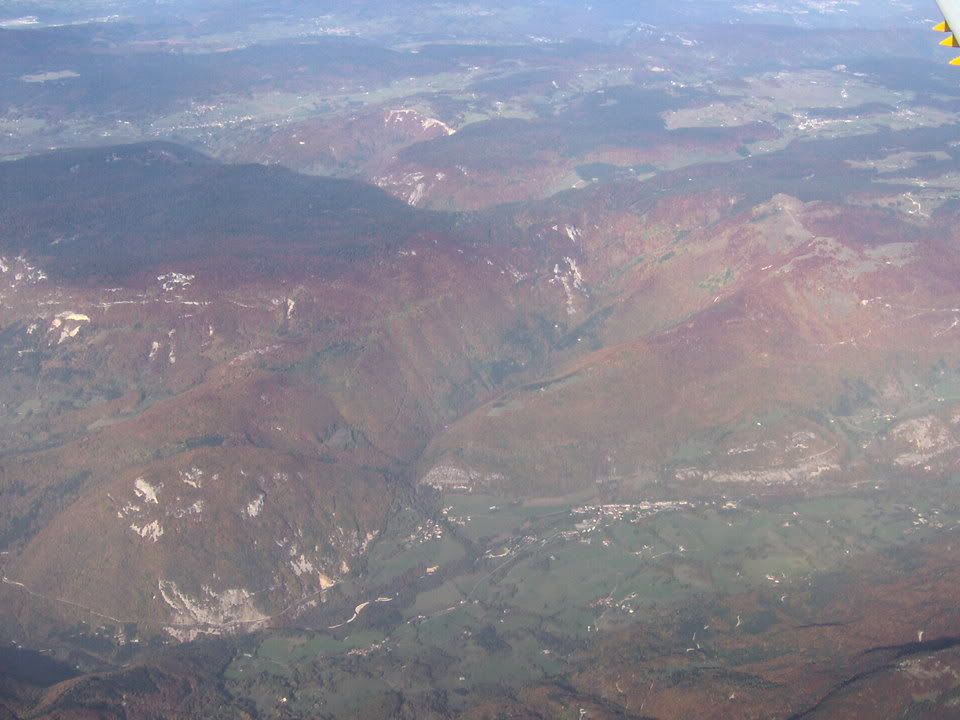 The aircraft then headed towards Lyon. Before reaching the city the attendant started to serve drinks and a sandwich
I chose ham sandwich and a coke and my girlfriend Orange juice and cheese sandwich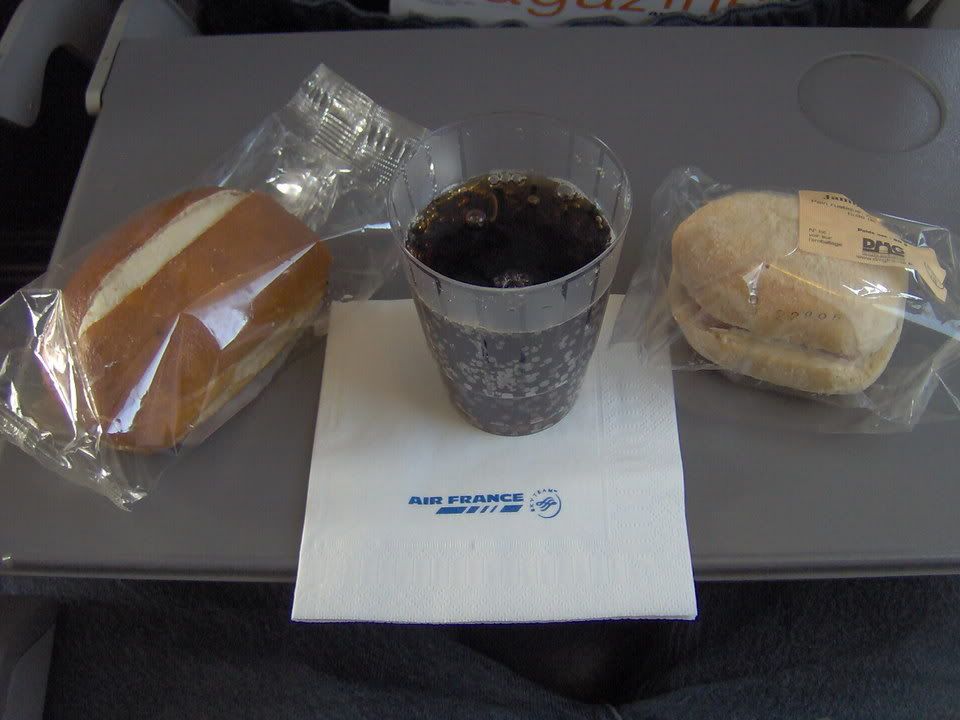 At this moment we were flying right over the city of Lyon

.

The flight carried on for another 40 minutes and we were flying beteen two layers of clouds.Suddenly I saw the airplane was inclined starting its descent. Then suddenly turbulence started to make its appearance.
Since the E135 is so small its easy to feel turbulence as compared to other airliners. Then it was funny, it swinged as though it was a boat in the sea! The weather in Toulouse was cloudy. While landing we flew for
at least 3 minutes inside the clound and finally saw some land really nearby. TLS was just a few hundred metres away.
Seconds later we landed, it was smooth and the first airplane I saw was a Beluga ready to take off. It might not be the most beautiful airplane
there is but once you've ssen it for real you see it other wise. I really love it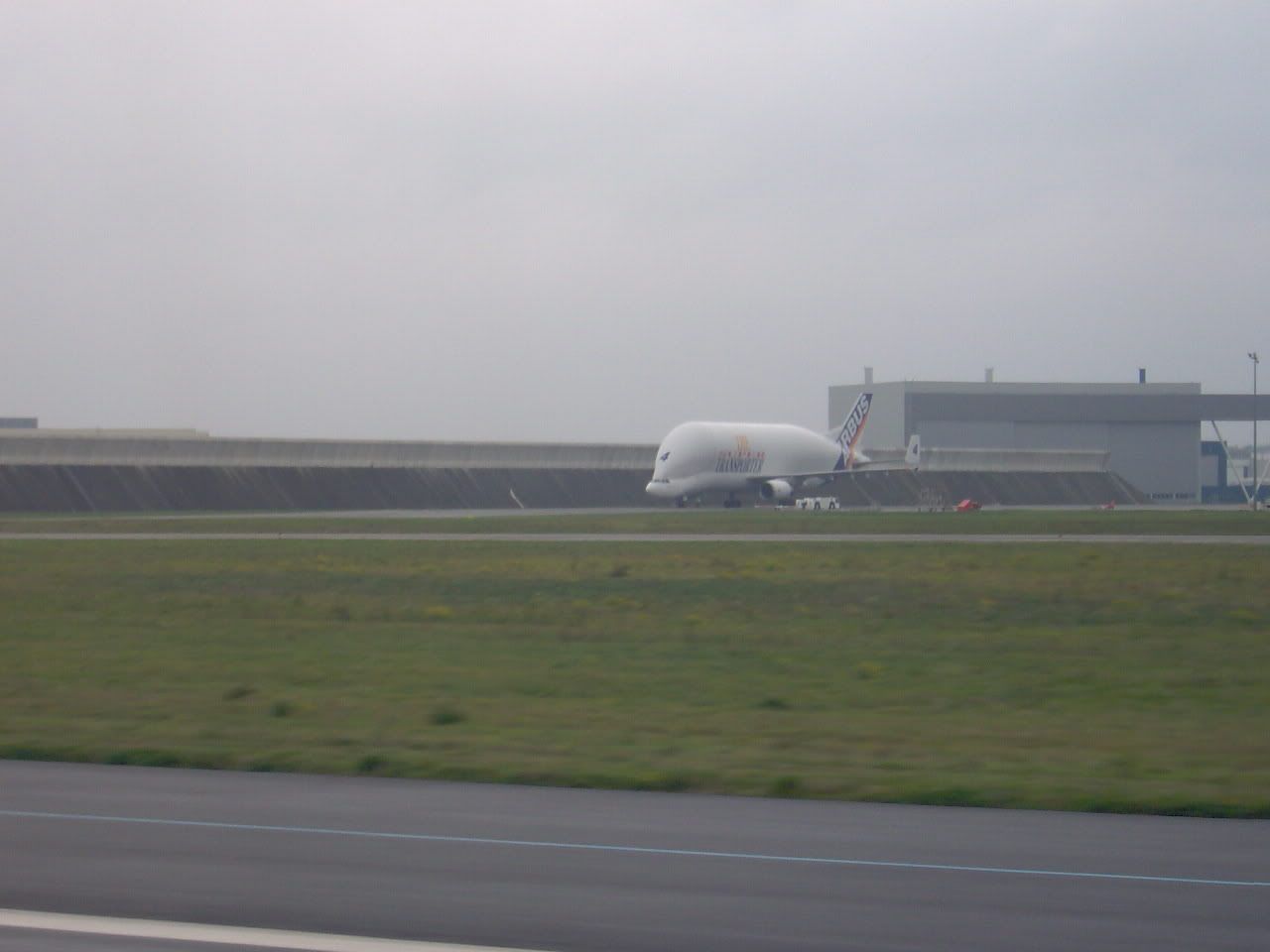 There was also an A340 without engines nor paint. Wonder to whom it is going to go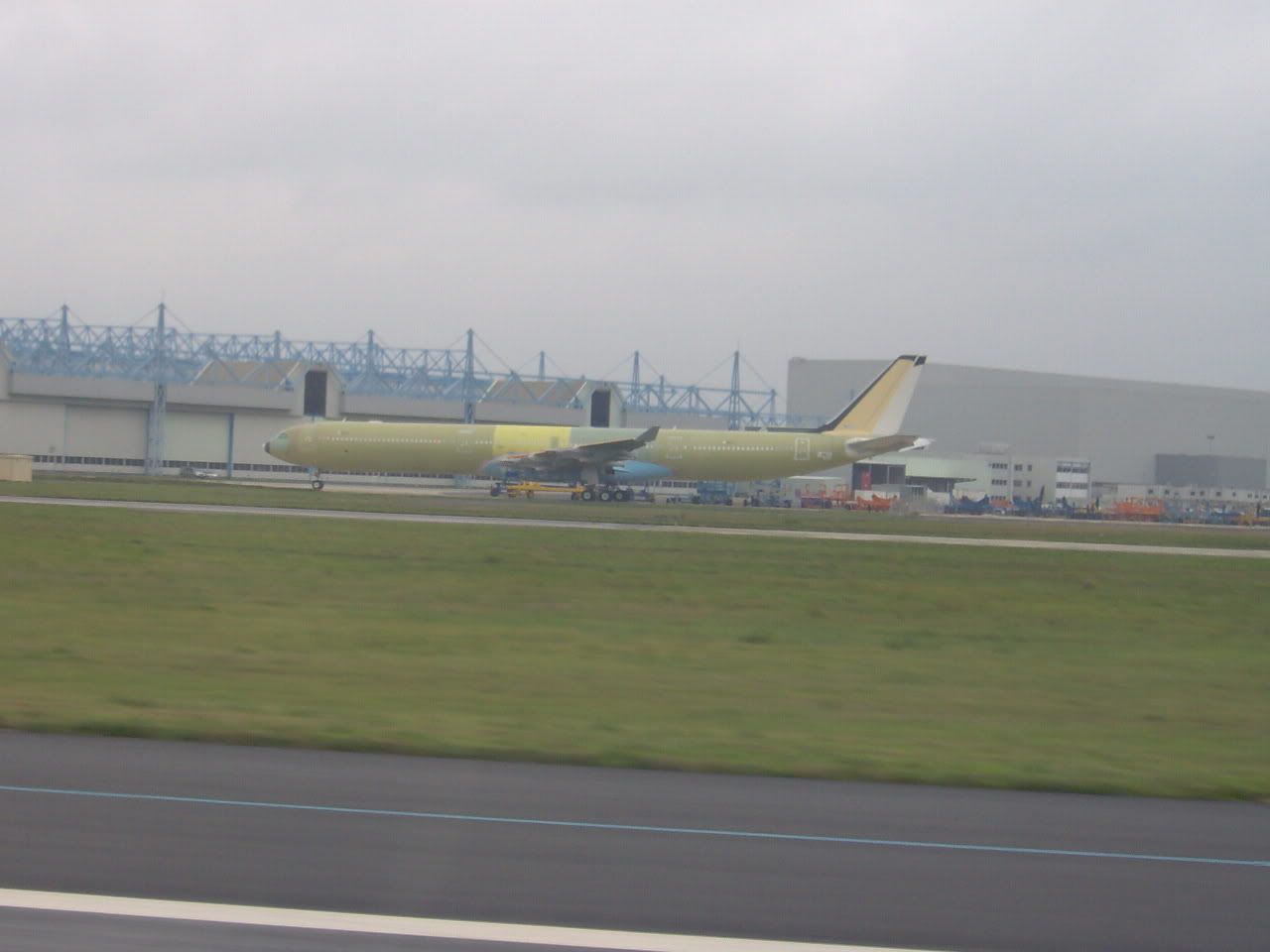 Then the most beautiful came....the two A380 parked at some distance....I was REALLY REALLY REALLY EXCITED TO SEE THEM...WWOW !!!

We were arrived at TLS on time. We got off the aircraft, tried taking a picture but told it was forbidden (WHY????).
The bus took us to the terminal where we claimed our baggages

TLS airport itself is pretty modern with a nice architecture I found


jpg[/img]


The afternoon we spent our time visiting the city of Toulouse as we did Saturday morning.

Our tour of the Airbus site was expected for 3:30 pm. It was quite a way from the centre having to
take the subway and the bus. The bus left us at a stop not too far from the meeting point of the visit. It was next to the airbus complex. Being at least an hour and a half a head of time so I decided
with my GF to go see if we could spot any aircraft. Our curiosity was rewarded.
n AF concorde F-BFVC! It was the number 9 of the production .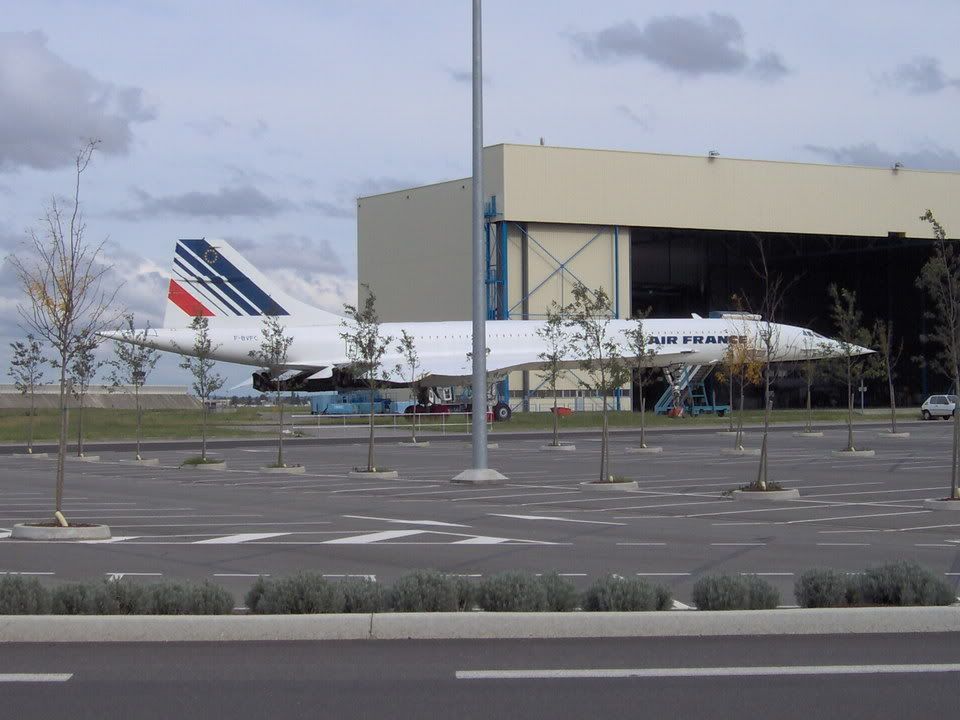 We walked through a parking lot.

On the other side were 3 Airbus A320 parked ready to be painted. There was a TAM, JetStar and one without the airline logo painted.




We then went for lunch at a resto nearby before going towards the meetin point.

We arrived there 45 minuted ahead of schedule. We went to the cashier where we not only had to pay, but hand in our cameras, and our passports....and for the latter I didn't get why!!!!!!!!!!!!

but well! Having some time ahead of us, we wENT to the boutique where I bought a small Herpa like model of the Beluga. Once my GF and I got away from the boutique we stayed in the waiting area wathcing this really cool video of Airbus...
It shoWed different cities in the world, the members of its fleet, Airbii in the colours of different airlines... very interesting video.

At 3:30 we were called for the tour....
THE TOUR

There were at least 50 people on the tour. We started by passing through the concorde and A320's that I took a picture of before, and then , from a distance was the A380 F-WWOW...it was in a hangar so I couldn't get such a great view of it. We then passed by A340'sand 330's that were half painted

The was a China airlines, Virgin and this Qatar airways airplane that was painted in a special livery for the Asian games 2006....the tour guide however, said Olympic games......please!!!!!!
The bus then took us to the A340/330 assembly plant. As we got off the bus, we could see at least 3 Belugas some 100 m away....Its incredible seeing them...
its only in a very few airports they can be seen!

We then entered the plant .Before seeing anything we watched this 10 minute long video showing different aspects of Airbus . Once the movie ended we were taken to where the aircraft were assembled .It was interesting to see all those A330's and 340's being built ....The tour guide told us how the assembly was a rather physical job, explaining why so few women worked there. Work takes place from Monday till friday with day and night shifts!
.We were explained how the parts were assembled and how once that was done they were taken to the part next doors where the aircraft were tested all their different functions during 12 opening days!

Once the tests were passed succesfully they could go to the paint plant...On average there is one ton of paint on each aircraft.

It was already 5:30 and the tour was almost over. I was REALLY DISAPPOINTED they didn't take us closer to the A380! Really I had come for that! But our luck was to come later. We got back to the initial meeting point, got our Cameras and passports back and went towards the bus station to head back to TLS very disappointed!
We were pretty close and it kinda made my afternoon

We happily went back to the city centre where we had dinner.