This is my first attempt at a trip report ;so, forgive me if there are any intial problems.
Date : Monday 19th September 2005
Route : LHR(London Heathrow, Terminal 3) to SIN( Singapore Changi)
Flight : SQ 317
Equipment ; 747-400 (9V -SPL) Delivered to the airline on 30/01/1997
Depature Time: 12:00 (Actual 12:20)
Arrival Time : 07:45 (Actual 07:10)
Seat : 3F
Off to London Paddington Train Station to grab the Heathrow Express train to Terminal 3.
Strange that Singapore Airlines do not have a complmentary limo service for their premium class passengers.Virgin, Malaysian , and Cathay all supply limos to the airport.
The train was efficient and took 15 minutes to arrive at the Heathrow terminals 1,2,3 stop.Then its a long walk to the check in.
Heathrow Terminal 3 is really a dump. Elevators not working, torn and dirty carpets, ceiling panels missing, portable fans on the floor. A real mess.
Check in was very slow, due to a man using the check-in counter to complain about having to pay an extra bagguage charge.
The check in area itself, was dark and cramped , not pleasant!
Finally got my boarding card and its up to the "fast track' security line, which was very long , as only one X=ray machine was working.
The normal security line(non-fast track) moved faster!
Through to the general departure lounge , which was typical Terminal 3, busy and hectic.
Went directly to the Singapore airline lounge complex. The first class lounge is on the lower level while the business class/raffles is on the upper level.
The first cless seating area offered a good view of the gate/ramp normally used by SAS MD80's.
There are Internet stations and large plasma screens with CNN.
The first class bar area. No hot food. Only Sandwiches, pastries,drinks,
The flight was called. The gate was a good 15 minute walk away.
9V-SPL at the gate.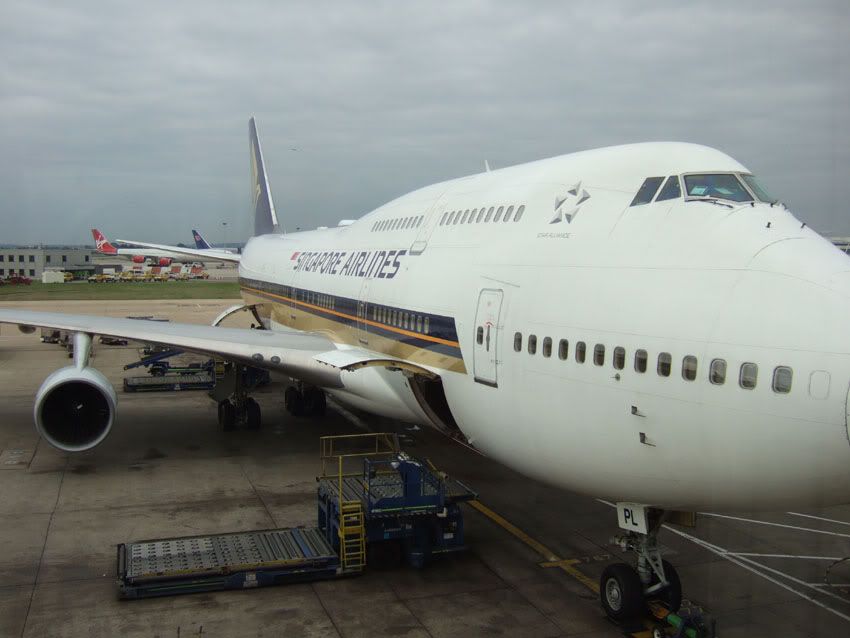 Boarding was called. With First and Raffles class given priorty.
First and business class passengers also have their own boarding pier.
I was shown to my seat 3F by the chief steward and my jacket taken to one of the two closets in the nose of the aircraft.
A view forward of my seat.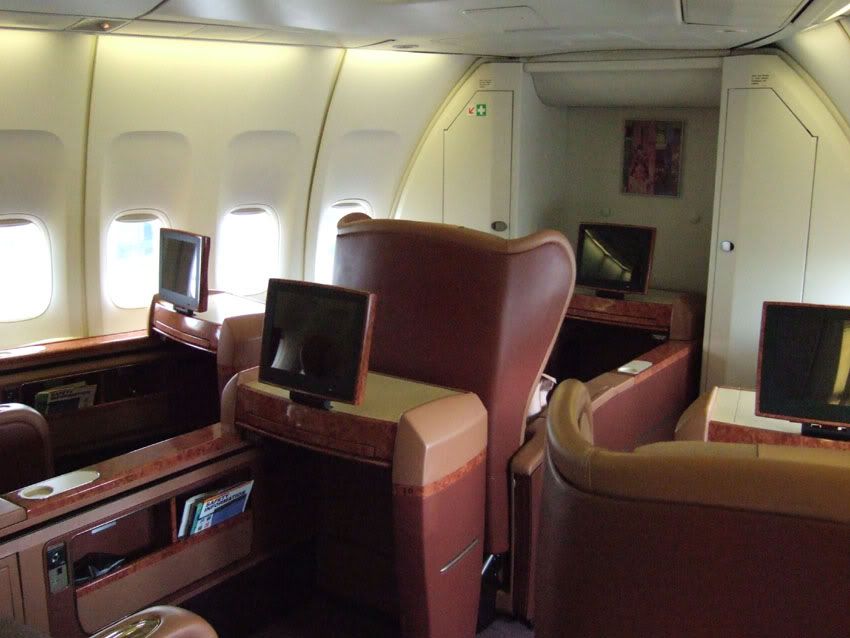 The IFE screen .....with the stationary drawer open.
The ramp view from my seat.
One of the FAs serving us came around with drinks Krug or Dom were the champange marques offered. Then there was the supply of goodies; The 'Bulgari' toiletry bag, the slippers and eyeshades bag, a 'designer' sleeper suit and todays menu (lunch and breakfast) in an burgandy coloured leather folder.
Every seat was taken in First class and some people already began going to the toilets to change into their sleeper suits.
The push back was delayed about 20 minutes due to a missing passenger.
We then got in line behind an Iberia A320.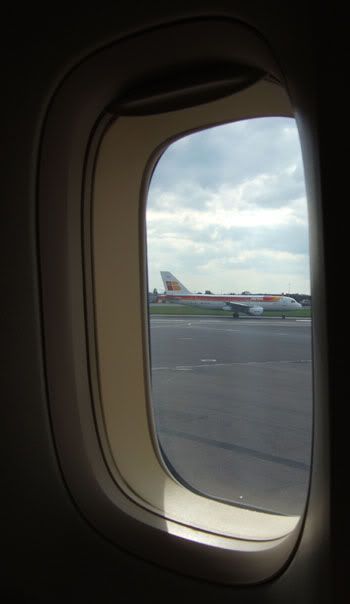 After take-off we turned right and flew over north London, towards the Channel. Initally routing over Amsterdam.
A appetzier of Satay in peanut sause was served soon after the seat belt sign went off.
The IFE "wiseman' was turned on . With 60 on-demand feature films. This system seems a tad better than Virgins IFE.
There was also internet access available via Boeing Connexion.
The table was laid.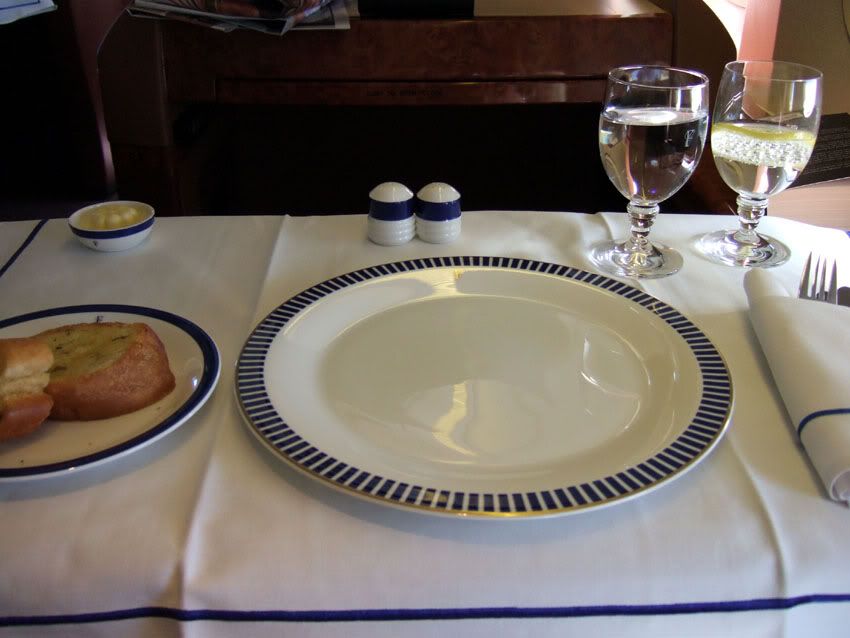 The main meal performance started.
This was my choice:-
Petrossian Caviar with condiments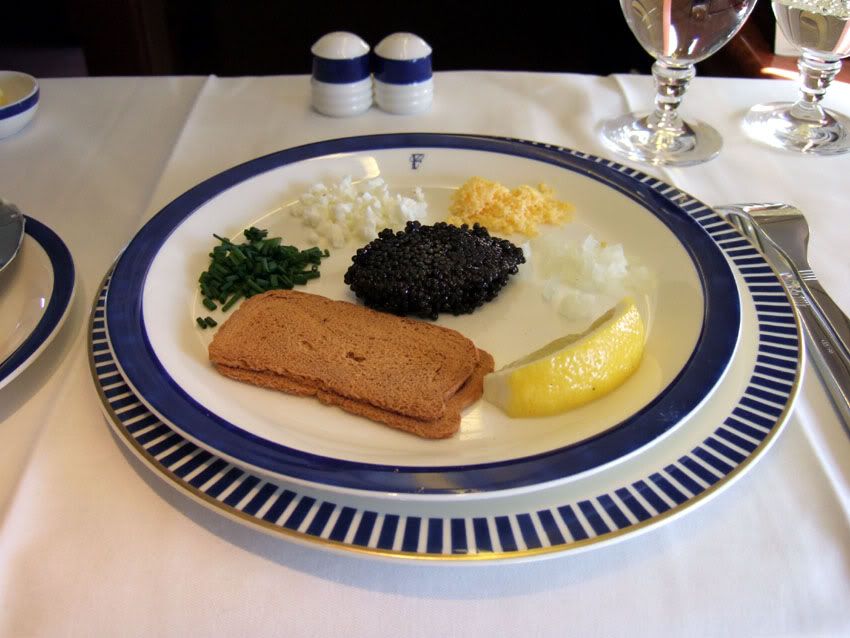 Oriental broth of bamboo fungus
Fine field greens with Thousand Island dressing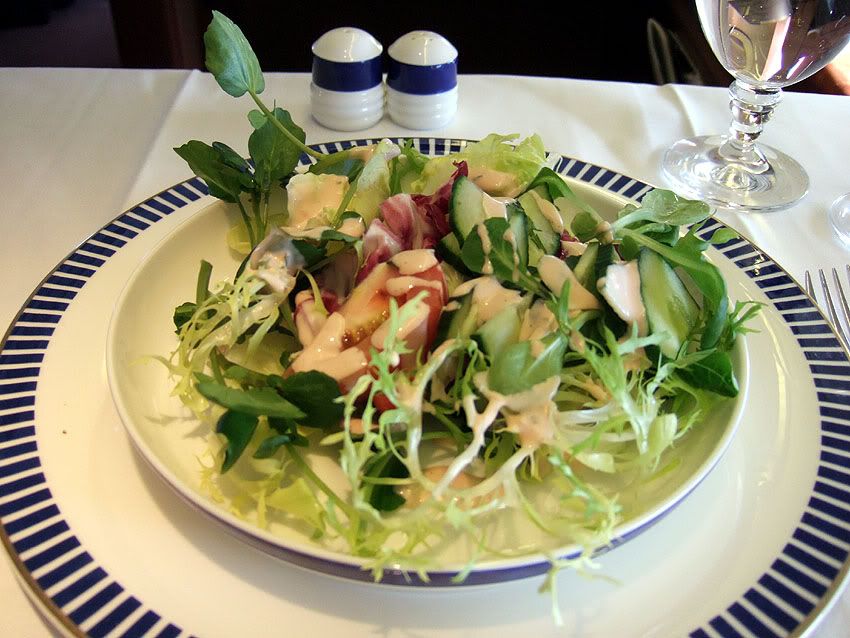 Stir fried Lobster in sweet and sour sauce, braised beancurd with seasonal vegetables and steamed rice.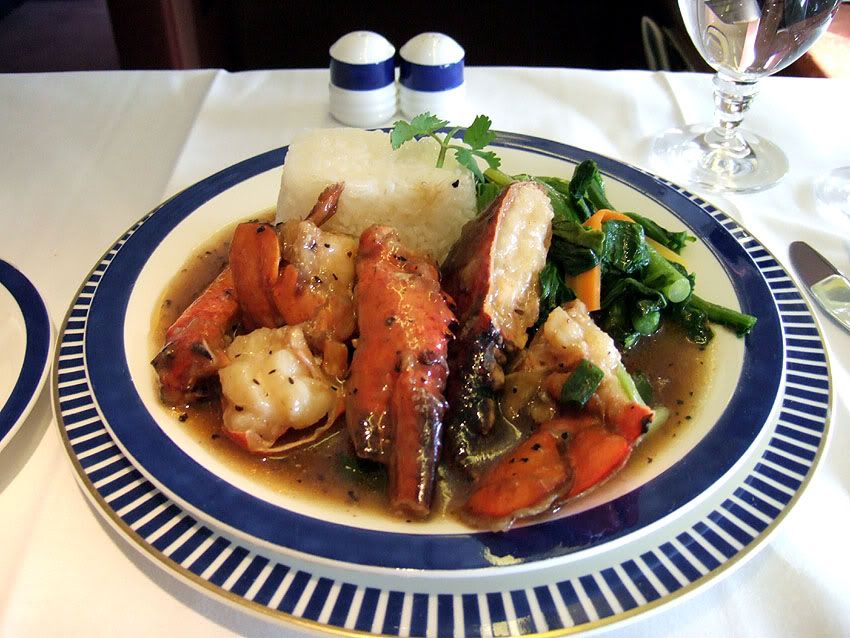 Gourmet cheese selection.
Warm sticky date pudding with butterscoth sauce and vanilla ice cream.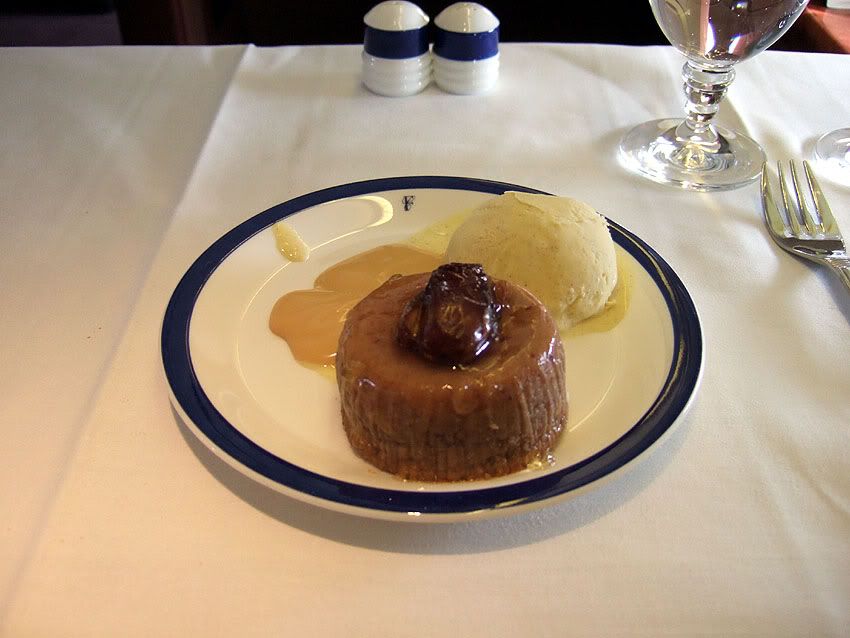 Cappuccino and pralines.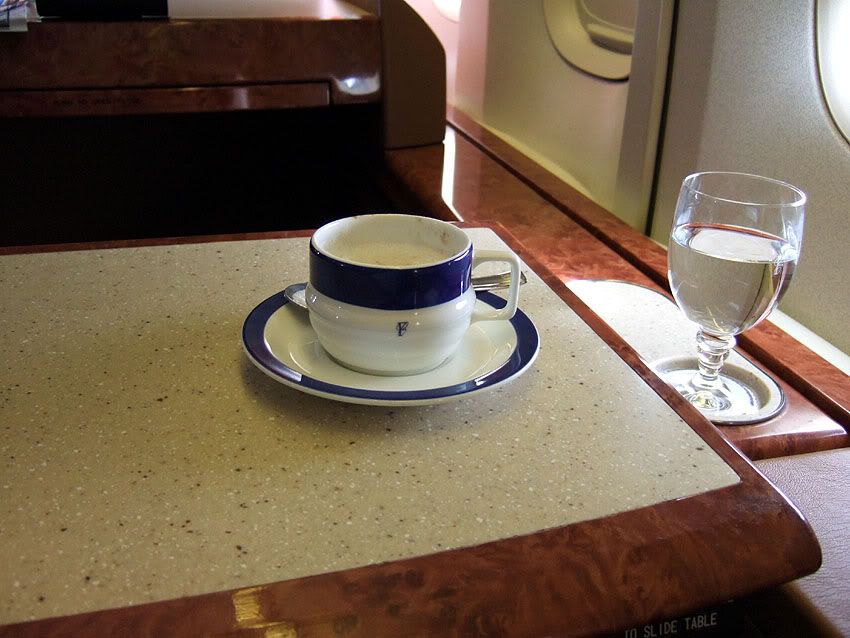 The whole 'Lunch' affair took more than an hour.
Then the FA offered to make up my bed.
The seat was flattened, an under-sheet was fitted, an large extra pillow and a duvet provided.
Window shades down and sleep time.
During the night the FAs made fequent cabin patrols
The toilets were cleaned by the FA seemingly after every use!
I had a few hours of sleep and enjoyed the fact that I can just lie in bed watching films while being served snacks and tea.
About 2 hours before ETA at Singapore.
The Breakfast service began.
Orange juice, freshy squeezed.
Coffee.
Fresh Fruit plate.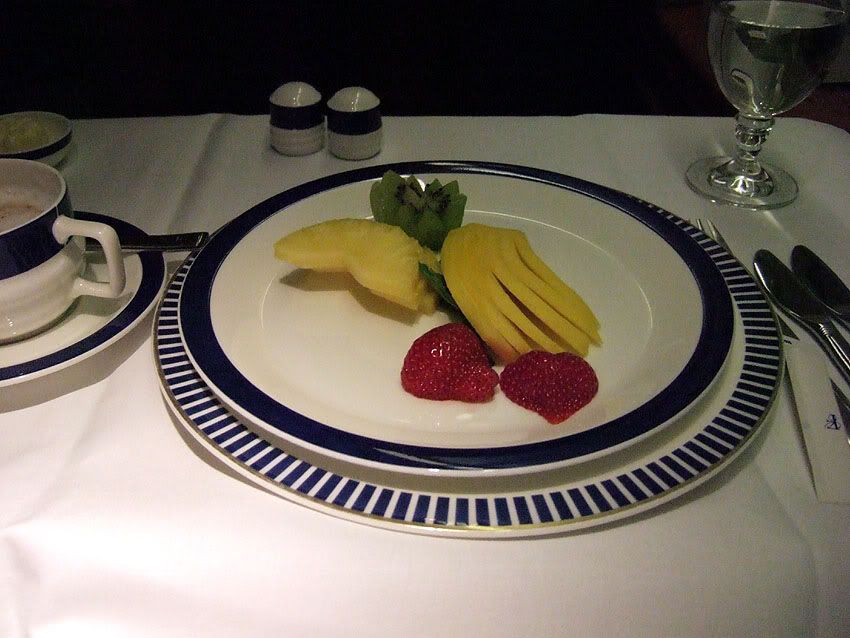 A choice of Bread and Pastries.
Birchermuesli.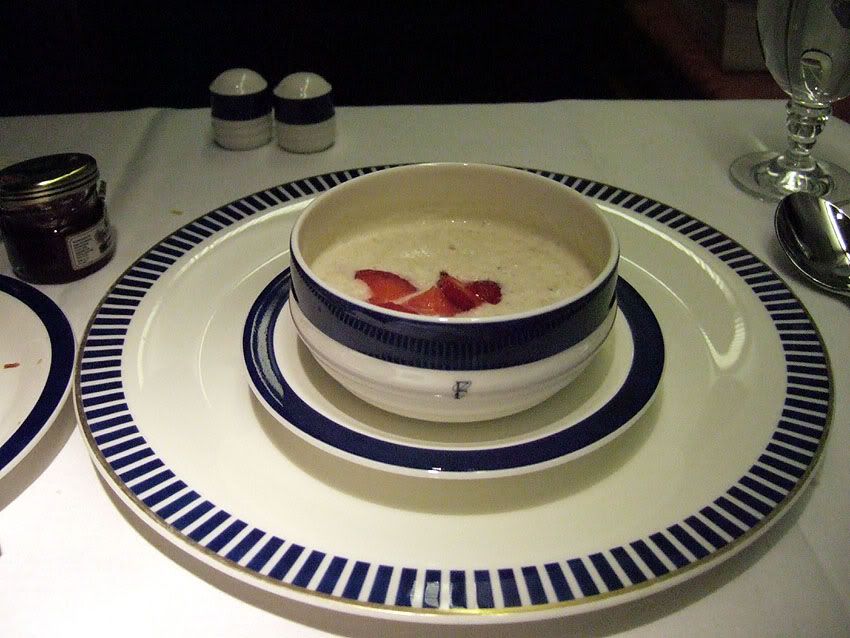 Salmon and conpoy congee.
coffee.
Landing was from the south over Changi beach.
The shadow of our plane as we were about to land in Singapore.
An Air Hong Kong/DHL cargo AB300.
Again we had priorty and our own pier for deplaning.
All in all, another very good flight with Singapore Airlines.